NCF Nation:

Tigers-Gamecocks-100111
October, 1, 2011
10/01/11
10:18
PM ET
COLUMBIA, S.C. – Auburn is trying to teach all of us, but we haven't been listening.
Yes, the Tigers are young. Yes, Cam Newton is gone. And, yes, this team entered the weekend equipped with the worst statistical defense in the SEC.
But it also entered as a 3-1 team and unbeaten in the SEC.
Guess what? That same group of Tigers, fielding the same young players and the same stumbling defense left Williams-Brice Stadium with a win against No. 10 South Carolina and is
still
undefeated.
Maybe, we'll listen now.
[+] Enlarge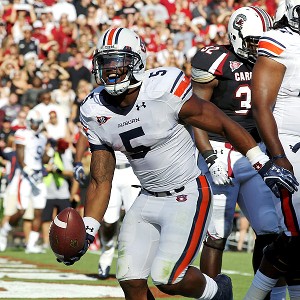 Streeter Lecka/Getty ImagesAuburn's Michael Dyer was one of two SEC running backs to average over 100 rushing yards in league games. The other? Heisman finalist Trent Richardson.
It's hard to believe, but that
16-13 win
that literally came down to the final second – again – proves as much. It also proves that despite this team's flaws, the Tigers have some of the best resiliency of any team in this league.
"This was a game that they willed to win," Auburn coach Gene Chizik said. "They willed that one.
"It wasn't always pretty, as we've experienced in three other wins, but we beat a good football team tonight and that's the third time we've beat them in three tries. I don't know that there's a whole lot of people out there that can say that right now."
Sure, South Carolina made mistakes (four turnovers and seven penalties). The nine completions and two interceptions for
Stephen Garcia
will no doubt be brought up. Or the fact only two South Carolina receivers –
Alshon Jeffery
and
Bruce Ellington
– caught passes.
And they should be because Auburn was a major reason for them. Auburn's defense pressured Garcia (getting three sacks). Auburn's defense eliminated the Gamecocks' other receiving threats. And Auburn's defense shut down
Marcus Lattimore
.
The backbone of the South Carolina's offense was broken and gained 66 yards. Chizik said the goal was to eliminate Lattimore from South Carolina's offensive equation and his defense, which entered the game allowing an SEC-high 226.5 rushing yards a game, did that.
"We went into the game and said we gotta stop him," Chizik said. "That happened tonight. We went into the game and said we really gotta do a good job with getting turnovers. That happened tonight."
And how about that offense? It wasn't much to look at for more than three quarters, but with 5:27 remaining, it was super cool as junior quarterback
Barrett Trotter
and the Tigers marched right down the field and scored.
It was a little unorthodox, but Auburn scored on the "Five delay" play that beat Alabama a year ago. You know, the one where
Philip Lutzenkirchen
springs free from the right side and is wide open in front of the end zone? Yeah, that one worked – again.
He fumbled and a review had to determine if he retained possession, so it eventually worked.
That entire drive summed up Auburn. It's back was against the wall and even with a band of youngsters, it converted three third downs, including the touchdown, to stun the Gamecocks.
"That's something we pride ourselves in, is fighting until the very last play, until it says 0:00 in the fourth quarter," said Trotter, who was 12-of-23 passing for 112 yards and two touchdowns. "We're going to keep fighting until the end.
"All these guys that are old on this team have seen too many crazy things happen to give up in the first, second, third or even fourth quarter."
You can add one more crazy thing in running back
Michael Dyer
going down with what looked like a rather painful ankle injury, but returning on the very next drive to play the rest of the game like nothing happened.
He even pulled a Lattimore, in Lattimore's house, rushing 41 times for 141 yards and a touchdown.
That determination to refuse to stay out is what fuels this Auburn team. Dyer could have rested a series, but he didn't. That is the attitude of a team that arrived in Columbia with people laughing at its defense and it left giving up just 289 to the Gamecocks.
This team is getting better; that's obvious now. But will the respect start to come? The Tigers don't know and don't care. They just feed off it.
"I don't say it gets personal, but when you work 365 days a year and somebody tells you what you can't do, you want to prove them wrong," defensive end Nosa Eguae said. "That's what we ended up doing tonight.
October, 1, 2011
10/01/11
7:36
PM ET
COLUMBIA, S.C. -- South Carolina's offensive problems finally caught up with the Gamecocks as Auburn's late touchdown drive gave the Tigers
the 16-13 upset win
Saturday.


Auburn used a 12-play, 57-yard drive that was capped off by an 8-yard touchdown pass from
Barrett Trotter
to
Philip Lutzenkirchen
to put the Tigers up by three with 1:38 remaining.
The Gamecocks had one last shot to win the game, but
Stephen Garcia
's pass last-ditch effort was too little too late as the clock expired on a completion to
Bruce Ellington
over the middle to the Auburn 30.
We'll have more after postgame interviews.
October, 1, 2011
10/01/11
6:37
PM ET
COLUMBIA, S.C. -- We knew it would only be a matter of time before
Marcus Lattimore
joined us at Williams-Brice Stadium.
South Carolina's best offensive weapon hadn't done much for most of the game until he found just the right seam and broke around five tackles before he steamrolled into the end zone (Auburn players stuck to him like glue) for a 15-yard touchdown to put the Gamecocks back on top 13-9 in the third.
Auburn's rushing defense had played very well up until that play, holding him to just 36 yards at halftime.
As for the other star running back in this game, Auburn went through a scary couple of minutes when
Michael Dyer
went down with a what looked like a leg injury. He was on the ground for a couple of minutes before hobbling off the field and hanging out at the training table for another few minutes.
Dyer made it back into the game toward the end of the quarter and didn't look like he lost much speed. He had a couple of big runs and took a couple of big hits, but popped right back up.
Both of these teams are going to need to have these guys running as hard as they can here in the fourth quarter.
October, 1, 2011
10/01/11
6:19
PM ET
COLUMBIA, S.C. -- Auburn running back
Michael Dyer
went down halfway into the third quarter with what looked like a leg injury.
Dyer was on the ground for a couple of minutes in obvious pain before getting up and slowly walking off the field with trainers. He limped over to the training table, and before he got there, he threw his helmet down to the ground.
Trainers are still huddled around him, and if he can't return that would be a major hit to Auburn's offense. He has been a total workhorse for this team, getting the tough yards and really trying to tire this South Carolina defense.
Onterio McCalebb
will have to do much more if Dyer can't return. McCalebb has had spurts here and there today, but he's had a problem with wanting to run sideline to sideline as opposed to running down the field.
October, 1, 2011
10/01/11
5:52
PM ET


COLUMBIA, S.C. -- We are finally out of that ugly first half and Auburn leads South Carolina
9-6
:
Stat of the half:
South Carolina running back
Marcus Lattimore
had just 36 yards on nine carries heading into the half. Coming into the game, Auburn's rush defense was the worst in the SEC, giving up 226.5 yards per game. The Tigers' defense has packed the box and isn't giving Lattimore much breathing room at all.
Player of the half:
Even though his team is losing, South Carolina defensive end Melvin Ingram has been a beast yet again for the Gamecocks. He has six tackles, two sacks, three tackles for loss and had a huge interception on a fake field goal right before the half.
What Auburn needs to do:
The Tigers need to keep handing the ball off to
Michael Dyer
. He is only averaging 3.3 yards per carry at the half, but he has come very close to breaking a few long runs here and there. If Auburn is going to wear down this defense, Dyer is the man to get the job done. He has 69 yards on 21 carries. Also, the defense needs to bring more pressure on Garcia. He started the game off well, but he made some poor throws in the second quarter, including an interception on a badly overthrown ball up the middle. The more pressure, the more mistakes he's prone to make.
What South Carolina needs to do:
For South Carolina to regain the lead, the offensive mistakes have to get cleaned up. After starting the game off well, the Gamecocks regressed in the second quarter. The penalties are starting to mount and Garcia is getting a little rattled. Lattimore has been a non-factor thus far, so other running threats need to emerge for this offense. Also, only two players have caught passes for the Gamecocks --
Alshon Jeffery
(four catches for 67 yards) and
Brandon Wilds
(one catch for 14 yards). Stats like that won't win you many games. The Gamecocks are a little too one-dimensional right now, and even the league's worst defense is stopping them.
October, 1, 2011
10/01/11
4:42
PM ET
COLUMBIA, S.C. -- Last week, we tried to come up with as many jokes as we could about how bad South Carolina's offense looked against Vanderbilt.
Today, we're a little more impressed with what we're seeing.
There hasn't been a tremendous overhaul for the Gamecocks and they aren't lighting up the scoreboard, but the mistakes that killed South Carolina last week haven't been too much of a problem today. For starters, quarterback
Stephen Garcia
isn't throwing blindly downfield. He's hitting the underneath routes when nothing is open downfield and he isn't letting the defense read him like an open book.
We saw his patience at work when he hit
Alshon Jeffery
in stride for a 50-yard touchdown to
put South Carolina ahead 6-3
and we saw improved decision-making when he decided to run out of bounds instead of chucking the ball up on a play where the pass protection broke down.
South Carolina ended the first quarter with 91 yards of offense and only 10 of them came from
Marcus Lattimore
, and Garcia was 4-of-5 passing. That, my friends, is improvement.
October, 1, 2011
10/01/11
4:28
PM ET
COLUMBIA, S.C. -- Usually, teams like to make last-minute game plan or personnel changes.
For South Carolina, the Gamecocks decided to make a costume change as they came out in their regular black uniform tops instead of the Wounded Warrior tops. Outside of the fact that the names on the backs were replaced with the "core values" the camo design inside the numbers made them pretty hard to read all the way up here, so figuring out who was who was pretty tough just before kickoff.
It was probably pretty hard for the TV people as well.
For whatever reason, the Gamecocks decided to change out of them. It hasn't hurt them as
they lead Auburn 6-3
after a 50-yard reception by
Alshon Jeffery
. Jeffery just manhandled Auburn's T'Sharvan Bell on the play and there might have been a little bit of a push off, but it's hard not to get a little physical when you're a monster like Jeffery.
October, 1, 2011
10/01/11
3:59
PM ET
COLUMBIA, S.C. -- Kickoff is almost here inside Williams-Brice Stadium and you can tell these teams are really itching to play.


South Carolina is looking to show that its offense can actually do something when
Marcus Lattimore
isn't touching the ball, and Auburn wants to prove that it does have a defense somewhere out there.
These teams picked the best time to play each other and someone will come away from this game feeling much better about one particular side of the ball.
For Auburn, I'm interested to see what kind of pass rush the Tigers generate. Dee Ford, who had been rotating in and out at defensive end, is out for the season after undergoing back surgery earlier this week. That means redshirt freshman LaDarius Owens and sophomore Craig Sanders will get rotated in behind Nosa Eguae and Corey Lemonier. Expect Owens to get most of the snaps.
But the Tigers should benefit from left tackle
Kyle Nunn
being out of the starting lineup for South Carolina. Freshman Mike Matulis will start in his place. This is a great opportunity for Auburn to get its pass rush going by attacking the freshman. Remember, the Tigers have just three sacks on the season.
Auburn will also be without
Trovon Reed
at wide receiver, meaning freshman
Quan Bray
and senior
Quindarius Carr
will get much more action today. Jonathan Mincy will also start over Chris Davis at cornerback for the Tigers.
October, 1, 2011
10/01/11
2:55
PM ET
COLUMBIA, S.C. -- Hello, from Williams-Brice Stadium. It feels like my home away from home.


You know who else feels like that? Auburn. The Tigers strolled, check that, strutted onto the field and walked right through South Carolina's warmups. Leading the charge was running back
Michael Dyer
, who was singing along to some song buzzing in his earphones.
A few Tigers walked all the way to the goal posts and started hollering something. It seemed to be all in fun and most of the Gamecocks players didn't pay them any mind, but Auburn is looking to get some sort of edge before game time.
Dyer should be a major focal point of the South Carolina defense and he wanted to make sure those players got a good look at him before kickoff.
South Carolina will be honoring the Wounded Warrior Project's "Believe in Heroes" campaign with their custom Under Armour uniforms. The uniforms feature sweet camo design on the jerseys and pants. The last names of the players on the backs of the jerseys will be replaced by the "core value" embellishment – Duty, Honor, Courage, Commitment, Integrity, Country, or Service.
It is an absolutely gorgeous day here. It's not too hot or too cold. It's just about perfect.