NCF Nation:

Tigers-Hokies-100111
October, 2, 2011
10/02/11
12:53
AM ET
By
ESPN.com staff
| ESPN.com
Shortly after Clemson fell to South Florida 31-26 in the Meineke Car Care Bowl on New Year's Eve, losing for the fourth time in its last six games to finish 6-7 in 2010, Tigers coach Dabo Swinney gathered his players in the locker room of Bank of America Stadium in Charlotte, N.C.
"I'll fix it," Swinney told his players. "I'll fix it."
To fix the Tigers, who hadn't won an ACC championship since 1991, Swinney knew he'd have to do more than hire a new offensive coordinator, which he did, and more than simply injecting his team's roster with a highly ranked recruiting class, which he also did.
Swinney knew he'd also have to adjust the mentality around Clemson's program.
"I told our guys, 'If you're going to change Clemson, you've got to change it from the inside out and eventually it will blossom,'" Swinney said.
Swinney also shared one of his favorite quotes with his players: "If you'll do the common things in an uncommon way, you'll command the attention of the world."
Swinney must have also added a few ounces of Miracle Grow to his recipe for success, because it sure didn't take the Tigers long to turn things around.
The No. 13 Tigers defeated a nationally ranked opponent for the third game in a row on Saturday night, defeating No. 11 Virginia Tech 23-3 in front of a sold-out crowd of 66,233 fans. Clemson became the first ACC team to accomplish that feat and it also ended the Hokies' 12-game winning streak against ACC foes.
For more of Mark Schlabach's piece,
click here
.
October, 2, 2011
10/02/11
12:04
AM ET
By
ESPN.com staff
| ESPN.com
Heather Dinich interviews Virginia Tech quarterback
Logan Thomas
.
October, 1, 2011
10/01/11
11:59
PM ET
BLACKSBURG, Va. -- This is not normal for Virginia Tech.
Virginia Tech has owned this conference since joining it, winning four ACC titles and four Coastal Division crowns. Entering Saturday's game against Clemson, the Hokies had won 12 straight ACC games -- including last year's ACC championship -- and 14 straight regular-season games.
Those streaks came to a halt as quickly as the Hokies' offense on Saturday night in a
23-3 loss to Clemson
.
That's right, Clemson.
This is not normal for Clemson.
The Tigers are known for their inconsistency, their letdowns. Clemson had not defeated Virginia Tech since 1989. It had lost five straight games to Virginia Tech.
[+] Enlarge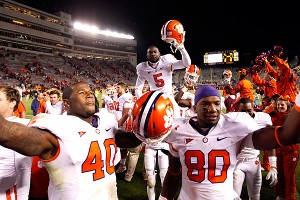 AP Photo/Steve HelberClemson had plenty of reason to celebrate after knocking off Virginia Tech.
On Saturday, Clemson started a new streak. The Tigers became the first ACC team to defeat three straight ranked opponents. With the upset of the Hokies, there was a monumental shift of power in the ACC. Fleeting? We'll see. Georgia Tech might have something to say about that. But Virginia Tech's offense looked inept. Clemson's offense looked efficient. Virginia Tech's defense looked good. Clemson's defense looked great. Virginia Tech looked like a team playing its first ranked competition. Clemson looked like a championship-caliber team.
The ACC race is just beginning -- Virginia Tech coach Frank Beamer will be the first to tell you that -- but in a game that has revealed the most about the defending ACC champs, Clemson looked like the team to beat this year.
"That's the mindset we had since after the South Florida game last year," quarterback
Tajh Boyd
said. "Coming into the offseason workouts, we were like, 'We have a championship team.' Clemson always has a championship team. But things are starting to change, and the tide's starting to roll a little bit.
"We haven't had our best game yet. That's the best part about it. We still haven't peaked. I don't think it will happen in the next few games. But when it does, it's going to be something special."
Clemson's offense has stolen the spotlight this season, but the Tigers' defense was equally as effective against the Hokies, if not more. Andre Branch had three sacks and 11 tackles. Quarterback
Logan Thomas
was just 15 for 27 for 125 yards and was sacked four times. The Hokies fumbled the ball three times and lost it once, and Thomas threw an interception. The Hokies were ineffective in third-and-long situations and converted just 4 of 16 third downs.
It was only Beamer's second loss in a conference opener, but it was the program's biggest margin of defeat and first time the Hokies had failed to score a touchdown at home since 2005.
When asked about starting off behind in the ACC race as opposed to leading the standings, Beamer brought up the Hokies' loss to Boston College in October 2007.
Former BC quarterback Matt Ryan threw two touchdown passes in the final 2:11 for an improbable 14-10 win over then-No. 8-ranked Virginia Tech in Lane Stadium.
"I felt awful that night," Beamer said. "It was a game we had wrapped up. All of a sudden they go right down the field. But you know what? We came right back and beat them in the ACC championship game. That's why I'm saying next week will be a real important game. There's no question we need to improve as a football team. But this one's not over. It's our first conference game.
"I think this game makes next week more important. … Now it becomes win your side and try to get to the championship game."
In order to win their side, though, the Hokies have to first beat Miami at home in a week. Virginia Tech has rebounded before: After starting out 0-2 last year, the Hokies reeled off 11 straight wins and became the first ACC team to go undefeated in conference play since Florida State in 2000.
"We've got to respond like we did last year," said free safety Eddie Whitley. "It was the same feeling. We knew we were better than them, but things happen. We felt the same way when we played JMU last year. As a senior, we have to come back Monday, get the troops right, get our heads back on right, because we've got Miami coming in here. We can't slip up. We can't have two losses in a row. We have to come back strong on Monday."
Problem is, Clemson already proved it's stronger.
October, 1, 2011
10/01/11
9:19
PM ET
BLACKSBURG, Va. -- Another week, another upset in the ACC. Clemson did it again. With its
win over Virginia Tech
, Clemson became the first ACC team to defeat three straight ranked opponents. It's been an impressive run for Clemson, which has finally found some consistency. Here's a look back at some highlights of the game:


How the game was won:
Clemson had the better quarterback in
Tajh Boyd
, and the Tigers were able to put pressure on Virginia Tech quarterback
Logan Thomas
and keep him off his feet in the second half. The Hokies' passing game wasn't a factor, and
David Wilson
-- as effective and dazzling as he was -- couldn't do it all by himself. The Hokies were inept on third downs and the punting problems continued.
Turning point:
The Hokies had the ball on Clemson's 12-yard line, and on fourth-and-4, Thomas threw an incomplete pass to
Danny Coale
. A touchdown there would have closed Virginia Tech's deficit to 17-10 and helped the Hokies with some momentum, but it was a poor pass and Thomas came up short in the clutch.
Stat of the game:
The last time Virginia Tech was held scoreless at home? A 16-0 defeat to Cincinnati in 1995.
Unsung hero of the game:
David Wilson. He was electrifying. Fun to watch. And couldn't have done much more. Wilson had 120 yards on 19 carries and two catches for 21 yards.
What Clemson learned:
The Tigers are just as good on the road as they are at home. After starting out 4-0 in the cozy confines of Death Valley, Clemson proved it can keep it up on the road against ranked competition in one of the ACC's toughest venues.
What Virginia Tech learned:
It doesn't have a championship-caliber offense. Thomas is still going through some growing pains, and the offensive line could help him out more, particularly on the left side. The Hokies fared well in four wins against unheralded opponents, but were brought to reality by what looks like the ACC's best team.
October, 1, 2011
10/01/11
8:44
PM ET
BLACKSBURG, Va. -- Can't tell which is colder -- Virginia Tech's offense or the weather.


If Virginia Tech fans are surprised, they shouldn't be. The Hokies have struggled offensively against lesser competition through all of September. It took Virginia Tech four quarters to put up 17 points against East Carolina. UNC has scored twice already against the Pirates in the first quarter.
Virginia Tech running back
David Wilson
is amazing. He's one of the most exciting players I've seen live this season, but he can't do it all. Not when the Hokies get into second- or third-and-long situations. The passing game is not a threat, and the punting game has been horrific. This is not your typical Virginia Tech championship-like team.
These Hokies are getting beat
. At home. And there's only a quarter left to change that.
October, 1, 2011
10/01/11
7:52
PM ET


BLACKSBURG, Va. -- Just as with Clemson's place in the ACC race, Tigers' fans should by no means feel comfortable with this
halftime lead
. Virginia Tech is a good team, a better team than I gave it credit for heading into this game. You can count on the Hokies' staff to make good adjustments in the second half, but Clemson is undaunted by the Lane Stadium crowd, and has found a way to move the ball on the Hokies' stingy D. Here's a look back at the first half:
Turning point:
On third-and-eight, Clemson quarterback
Tajh Boyd
completed a 23-yard pass to freshman receiver
Sammy Watkins
. Three plays later, Virginia Tech went ahead with the first touchdown of the game.
Stat of the half:
Virginia Tech has passed for just 38 yards. This is first-year starting quarterback
Logan Thomas
' first game against a ranked opponent, and the Hokies' passing game is hurting. Tailback
David Wilson
can, will and is getting his yards on the ground, but the Hokies' can't afford to rely only on Wilson in this game. Thomas hasn't had to win a game yet, but the game could be in his hands if it continues to stay close.
What Clemson needs to do:
The Tigers need to continue to put pressure on Thomas and dare him to throw. Limit Wilson as much as possible, but with Virginia Tech's passing game struggling, Clemson needs to take advantage of that while at the same time being more efficient in its own.
What Virginia Tech needs to do:
Get the ball to Wilson, but also put Thomas in comfortable positions and keep him out of third-and-long situations. The Hokies also have to limit the turnovers in the second half, and fare better on third downs (3-of-8).
October, 1, 2011
10/01/11
6:48
PM ET
BLACKSBURG, Va. -- The Hokies are lucky.
They're lucky because they've had two turnovers and a roughing the kicker penalty that gave Clemson's offense new life, and yet Virginia Tech only trails
3-0
.
Virginia Tech's defense has been impressive in this game so far, and the Hokies' defensive line is is living up to the praise it's been receiving since the spring. Clemson's defense, though, began to make strides last week and has continued that progress here today. So far, the defenses have been the highlight, though on Clemson's lone scoring drive the Tigers did prove they can move the ball here. Quarterback
Tajh Boyd
isn't forcing things, is running the ball well, and is getting the ball to his playmakers.
Andre Ellington
could help out by catching it. Virginia Tech could help itself out by holding onto it.
October, 1, 2011
10/01/11
5:46
PM ET
BLACKSBURG, Va. -- There are plenty of
streaks on the line
today in this game, and the ACC will have one less undefeated team when it's all over.
Virginia Tech has won 12 straight ACC games, and Clemson has lost five straight to the Hokies. Which streaks will survive?
If Clemson is going to snap its losing streak, it will have to play better run defense. Virginia Tech tailbacks David Wilson and Josh Oglesby have combined for 10 of the Hokies' 11 rushing touchdowns this year.
If Virginia Tech is going to extend its ACC winning streak, the Hokies defense will have to adjust quickly to Clemson's up-tempo offense. The Tigers ran about 30 more plays than Florida State last weekend and wore the Noles' defense out.
You could debate who needs this win more, but consider what a Clemson win would mean for the ACC: It would be the first time an ACC team has defeated three straight ranked opponents.
October, 1, 2011
10/01/11
5:00
PM ET
BLACKSBURG, Va. -- This place never gets old. I've been here enough times now that my car could drive itself down 81-South, but coming into campus and seeing Lane Stadium loom large among the hills is a true "Welcome to College Football" sign. This place is like a fortress, and if Clemson isn't ready to start fast, the Tigers might not get started at all. Night games here are truly something special, and not even a biting cold and whipping wind could keep Virginia Tech fans from packing this place.


In typical Blacksburg fashion, there's a wind advisory until 10 p.m., it's about 45 degrees, and it's only the first day of October. Clemson's players are on the field right now in long-sleeve shirts and gloves, running around and trying to get warm. The smoke coming out of the tent for the giant turkey legs looks inviting, and the tailgates have been in full swing for hours.
This is Frank Beamer's 300th game as coach of the Hokies and it's a big one. We'll soon find out the answers to two very important questions:
1. Is Virginia Tech ready to beat ranked competition?
2. Can Clemson continue its success on the road in arguably the ACC's toughest road venue?
You could easily make an argument for either team to win this game. Clemson so far has the better resume. It's up to the Hokies to prove they've got the better team.