September, 17, 2011
9/17/11
2:13
PM ET
Georgia Tech's option attack lends itself to winning ball-control battles, and that's especially true in games the Yellow Jackets lead.
That hasn't been the case in the first half, where
Georgia Tech leads Kansas 24-17
.


Kansas dominated the time of possession 19:34 to 10:26, but trails.
Blame a 95-yard touchdown run on the first offensive play for the Yellow Jackets. Georgia Tech's three touchdown drives took a combined 10 plays, compared to 70-plus-yard touchdown drives of 11 and 13 plays for Kansas.
The Jayhawks have also converted 7-of-10 third downs.
A big reason for that is the much-improved play from quarterback
Jordan Webb
, who has completed 9 of 13 passes for 141 yards. That included a 28-yard completion to
Tim Biere
to convert a 3rd-and-9, and a 42-yard completion to
D.J. Beshears
to set up a field goal just before the half ended.
Time of possession won't tell you much in this one, but Georgia Tech's 337-246 advantage in total offensive yards says plenty. The Jayhawks can't win if the defense has another half like that.
June, 22, 2011
6/22/11
9:00
AM ET
The Big 12 might be weak at the top of the running back heap, but it's definitely not at receiver. The conference has at least three of the top five receivers in the country, and the top two. They highlight a very strong group of receivers across the league, and I continue our position rankings with receivers today.
Remember that depth plays a big part of these rankings. We'll be ranking the top 10 individuals at each position later on before the season begins.
Other position rankings:
1. Oklahoma
[+] Enlarge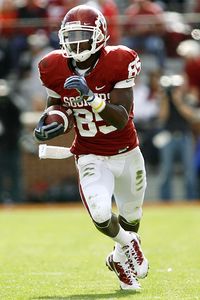 J.P. Wilson/Icon SMIRyan Broyles finished the 2010 season with 131 catches for 1,622 yards and 14 touchdowns.
The Sooners have the nation's No. 2 receiver,
Ryan Broyles
, but found a handful of others to surround him in 2010 and should have a couple more in 2011. Sophomore
Kenny Stills
broke Broyles' freshman receiving record and looks like a budding star.
Dejuan Miller
came on strong before a season-ending knee injury, but he's back. The Sooners lose
Cameron Kenney
, but
Trey Franks
had a strong freshman campaign, and freshmen
Justin McCay
(redshirt) and Trey Metoyer could provide even more playmakers.
2. Oklahoma State
The Cowboys boast the returning Biletnikoff Award winner and 2011 favorite,
Justin Blackmon
, with a great group around him, too. Slot machine
Josh Cooper
returns for his senior year, and fellow senior
Hubert Anyiam
(the team's leading receiver in 2009) is hoping to return to form after being slowed by an ankle injury in 2010.
Isaiah Anderson
is a shifty speedster, while
Michael Harrison
and
Tracy Moore
offer a more aerial approach to receiving.
3. Texas A&M
The Aggies have the Big 12's No. 3 receiver,
Jeff Fuller
, who is arguably one of the top-five in the college game. But they also have the Big 12's most experienced receiving unit, with guys who won't be surprised by anything they see in Big 12 play. Juniors
Ryan Swope
and
Uzoma Nwachukwu
are the team's second and third options, but fellow juniors
Kenric McNeal
and
Brandal Jackson
could be bigger pieces of the offense in 2011. Tight end
Nehemiah Hicks
should see his profile rise in his coming sophomore year.
4. Baylor
Top target
Kendall Wright
will likely end his career as the Bears' leading receiver for all four of his seasons on the field, and 6-foot-4, 220-pound junior
Josh Gordon
looks like the new Jeff Fuller.
Terrance Williams
,
Lanear Sampson
and Tevin Reese round out the Bears' top five, who all had at least 40 catches last season, and all return.
5. Missouri
Missouri still lacks a proven big-play threat, but has two pass-catchers who have some of the best hands in the game. Receiver
T.J. Moe
and tight end
Michael Egnew
won't drop many passes, and combined to catch 182 for 1,807 yards and 11 touchdowns.
Wes Kemp
and
Jerrell Jackson
bring a lot of experience and both had at least 39 catches last season. If
Marcus Lucas
or
Rolandis Woodland
can become a consistent downfield threat, Missouri will rise up these rankings by season's end.
6. Texas Tech
Tech's top two receivers,
Lyle Leong
and
Detron Lewis
, must be replaced, but the Red Raiders have a few solid candidates to do it. Junior
Alex Torres
will likely lead the group, but fellow junior
Austin Zouzalik
and seniors
Jacoby Franks
and
Tramain Swindall
will be counted on for more production. Dark horse/juco newcomer Marcus Kennard could blossom into a household name across the Big 12 by season's end.
7. Texas
Sophomore
Mike Davis
and redshirt freshman
Darius White
are loaded with potential, but two of the team's top three receivers (
James Kirkendoll
,
John Chiles
) are gone, and no Texas receiver caught more than two touchdowns last season.
Malcolm Williams
and
Marquise Goodwin
are as different as two receivers could be, but both need to break out to help whoever becomes the Longhorns quarterback next fall.
8. Kansas State
Brodrick Smith
will be back this season after breaking his leg in a loss to Nebraska. But two of the team's top three receivers are gone, leaving converted quarterback
Chris Harper
as the leading returner, though Smith might have held that title if he'd stayed healthy. Sophomore speedster
Tramaine Thompson
can make plays if he gets the ball with some space.
9. Iowa State
The Cyclones will be breaking in a new quarterback this season and they will need a playmaker to step up. Tight end
Collin Franklin
led team in receiving last season but he is now gone.
Darius Reynolds
looks like a possible candidate to fill the role, although incoming slot receiver Aaron Horne might rack up a few catches in space.
Darius Darks
and
Josh Lenz
should earn some more targets too.
10. Kansas
Converted defensive back Daymond Patterson is the team's top receiver, but the team's No. 3 receiver junior
Bradley McDougald
, moved to safety in the middle of the season. Tight end
Tim Biere
is one of the Big 12's best and led the team with four touchdowns last season.
Chris Omigie
and
D.J. Beshears
have some potential, and converted quarterback
Christian Matthews
keeps showing up in spring games. But all three, along with the rest of the group, would benefit from some consistency at the quarterback spot.
September, 4, 2010
9/04/10
10:28
PM ET
Even though Kansas outgained North Dakota State by 126 yards and held the Bison to six points, the Jayhawks still dropped their season opener
6-3
.
You can blame the three turnovers, among other things, in Kansas coach Turner Gill's disappointing debut as a BCS conference coach.
No turnover was more costly than the fumble by tight end
Tim Biere
after a 20-plus yard reception with under four minutes to play. The reception would have brought the Jayhawks near midfield, with plenty of time to set up either a game-tying field goal or a go-ahead touchdown.
Offensive struggles forced the Jayhawks to replace starter
Kale Pick
with redshirt freshman
Jordan Webb
. But Webb did not significantly outplay Pick, which should provide an interesting week of discussion in Lawrence. You'd expect fans to call for Webb, but we'll see what Gill has to say after the loss.
Pick finished with 138 yards and an interception on 13-of-22 passing. Webb completed 6-of-11 passes for 59 yards.
August, 17, 2010
8/17/10
9:50
AM ET
Three players from the Big 12 made the watch list for the Mackey Award, presented to the nation's best tight end at the completion of the season.
I'm going to take a leap of faith here and assume that unless one of these three players plays for your team, you've probably never heard of them. I say that because the three Big 12 players on the list combined for 32 receptions, 317 yards and no touchdowns last season. Also, Jones no longer starts for Missouri; fellow junior
Michael Egnew
has assumed that role.
It's worth noting that none of the three earned any sort of All-Big 12 distinction in 2009.
Here's a look at their numbers from 2009:
Biere: 14 rec, 183 yards
Deehan: 10 rec, 91 yards
Jones: 8 rec, 43 yards
I should mention, with a new quarterback, Biere is probably the most likely of the three to have a breakout year, but don't count on any of these three making the trip to Orlando for the awards ceremony as a Mackey finalist this winter.
Obviously, if a guy like Texas'
Barrett Matthews
or Egnew has a big year, they won't be excluded from contention for the award, but more than anything, what the list reveals is this: If the conference's figurative tight end talent pool were a literal pool, you wouldn't be able to buy enough "No Diving" signs to get your point across.
That's a big change for a conference used to big-time talent at the position. Just in recent years, Oklahoma's Jermaine Gresham, Missouri's Chase Coffman and Martin Rucker, Oklahoma State's Brandon Pettigrew and Texas A&M's Martellus Bennett have been dominant at the position. A quick look across the conference doesn't reveal anyone who touches that group.
If a tight end for any team wants to step up in 2010, they won't have to beat out much for people to take notice.
Egnew and Matthews look like the two most likely candidates to do it.
August, 13, 2010
8/13/10
11:03
AM ET
If you haven't noticed just yet, Friday's college football content at ESPN.com is all about the quarterbacks. We've
ranked the conference's top 5 individual quarterbacks
, but now it's time to take a broader look at who's in good shape behind center and who's in trouble across the conference.
The discrepancy between the South's QBs and the North's is somewhat jarring, especially when you see it on paper (bandwidth?) like this. Only one North team made the top six, and the bottom five teams are all from the North.
Five schools (four in the North) still have their starters up in the air, and that makes this a little tricky, but here's how I'd rank them:
[+] Enlarge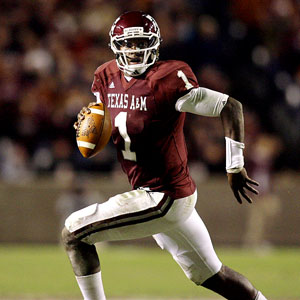 Brett Davis/US PresswireJerrod Johnson is not only the best quarterback in the conference, he's also the best player.
1. Texas A&M
: The Aggies boast the preseason player of the year at quarterback and the man at the top of our Big 12 player list from earlier this summer,
Jerrod Johnson
. I also got a few e-mail requests from some Aggies fans to stress -- once again -- that it's juh-RAHD, not Jared from Subway. Word has apparently not reached every corner of Big 12 country just yet. It might if the Aggies can win more than six games like they did in 2009. But Johnson broke out in a big way last season, throwing for 3,579 yards, 30 touchdowns and just six interceptions while also running for 506 yards and eight touchdowns.
2. Baylor
: Trust in
Robert Griffin
's knee lands the Bears here, significantly higher than they're used to considering the strong quarterback tradition across the Big 12 for the past decade. But Griffin will still have to regain his status as the conference's most electrifying player on a reconstructed knee after missing the final nine games of the previous season with a torn ACL. Baylor also has a nice situation at backup quarterback because of the injury with sophomore
Nick Florence
, who threw for 427 yards in Baylor's lone conference win -- at Missouri -- last season.
3. Missouri:
Blaine Gabbert
has a claim as the conference's best quarterback, and he'll try to snatch it as a junior after playing much of his sophomore season with a bum ankle, courtesy of a soggy Ndamukong Suh sack. Despite being hobbled for most of conference play, he still racked up 3,593 passing yards and 24 touchdowns. If he stays healthy, he might get a chance to showcase his underrated wheels, too. Freshman James Franklin is impressing in camp and hanging on to his job as Gabbert's backup over
Jimmy Costello
,
Ashton Glaser
and little brother Tyler Gabbert.
4. Oklahoma
:
Landry Jones
should benefit from his first full spring and preseason camp taking the first-team reps, but he'll need a second reliable target opposite
Ryan Broyles
to emerge if he wants to improve on his 26 touchdowns and 3,198 yards as a redshirt freshman. Jones also needs to limit his turnovers after throwing a league-high 14 interceptions in 2009, but it's worth noting that seven of those came away from Owen Field against top-tier defenses in Texas and Nebraska. He didn't play a good defense in Norman, but he threw 18 touchdowns to just four interceptions and helped the Sooners stretch their home streak to 30 games. Backup
Drew Allen
is untested and inexperienced, but has potential and wouldn't inspire panic if Jones finds injury in 2010.
5. Texas Tech
: No team has two quarterbacks with as much skill and experience as Texas Tech, but unlike receivers or running backs, the Red Raiders can't play both of them. Regardless of who wins the competition in Lubbock, Texas Tech will be in great shape with
Taylor Potts
or
Steven Sheffield
. You heard
a few hundred words on the details of this race
earlier this morning.
6. Texas
: This may look silly in November, but it's tough to put
Garrett Gilbert
on top of anyone else on this list who has already proven themselves. Clearly, the potential is there, and he's inspired a lot of confidence from his coach and team, but making good on that potential will mean finding a solid target to replace the only player he's ever thrown a real touchdown to: Jordan Shipley. If Gilbert goes down, Texas would have to rely on a pair of true freshmen: Connor Wood or Case McCoy, Colt's little brother.
7. Oklahoma State
: This won't be the last time you hear about the Cowboys 26-year-old former minor leaguer,
Brandon Weeden
. Just make good decisions, make easy throws to open receivers who make plays with the ball and he should put up big numbers in new offensive coordinator Dana Holgorsen's version of the Air Raid. Oklahoma State got to see Houston's offense in person last season and wanted it for themselves. Now they've got the man who coordinated the best offense in college football a year ago and an unquestioned, mature starter to run it. If he's injured, the Cowboys would have to rely on one of two freshmen,
Clint Chelf
or most likely Johnny Deaton, to run the offense.
8. Iowa State
: Coach Paul Rhoads says no player on his team has improved from Year 1 to Year 2 more than
Austen Arnaud
, but he'll need to prove it on the field to move up this list. He's probably likely to improve on his 2,015 yards passing to go with 15 touchdowns, but he's right behind Jones in the interception column, with 13. That number has to shrink for the Cyclones to get back to a bowl game. Talented sophomore Jerome "JT" Tiller led the Cyclones to their marquee win over Nebraska and should take the reins next year. The future looks bright in Ames.
9. Colorado:
Tyler Hansen
not emerging from preseason camp as the starter would be shocking, and he'll get a lot more help this year with a beefed-up receiving corps that's among the conference's most underrated. Newcomers Paul Richardson, Travon Patterson and preseason Big 12 Newcomer of the Year
Toney Clemons
will join the reliable
Scotty McKnight
. If Hansen goes down, at least they'll have an experienced vet behind him in
Cody Hawkins
. Freshman Nick Hirschman looked good in the spring and provides some hope for the position in the future.
10. Nebraska
: A two-quarterback system is never ideal, but it might work for the Huskers.
Zac Lee
is the best passer of the group competing for the starting job, but using the athletic
Taylor Martinez
or
Cody Green
in spot duty, similar to last year, could very well happen. But Bo Pelini would much prefer if one player -- most likely Lee, in my opinion -- would emerge and improve on his play from 2009, when he threw for 2,143 yards, 14 touchdowns and 10 interceptions.
11. Kansas
:
Kale Pick
is untested, and so are
Jordan Webb
and junior college transfer Quinn Mecham. Pick, however, seems like the favorite to win the job. The Jayhawks need a spark on offense, and Pick could provide it. He'll have some nice receivers to throw to in sophomore
Bradley McDougald
, senior
Johnathan Wilson
and tight end
Tim Biere
. Former cornerback Daymond Patterson looks ready for a good year in the slot.
12. Kansas State
:
Carson Coffman
needs to improve from his play last year that cost him his job early last season. Beating out
Collin Klein
and
Sammuel Lamur
won't be easy -- and the competition between the three is still pretty tight -- but Coffman's experience gives him a slight edge. Whoever wins the race will lean on the league's leading rusher,
Daniel Thomas
, and a revamped receiving corps with transfers
Brodrick Smith
from Minnesota and
Chris Harper
from Oregon. The Wildcats hope the duo will add the spark that was missing from the team's offense in 2009.