May, 23, 2013
5/23/13
10:30
AM ET
Syracuse defensive coordinator Chuck Bullough has no problem with the fact that his boss, coach Scott Shafer, was in the very same position for four years before being promoted to head coach in January.
"I know coach Shafer," Bullough said. "He's one of my best friends. It's not like you're coming in not knowing the head coach at all. There's no tension when we sit down to discuss stuff. It's just like two buddies talking about football."
[+] Enlarge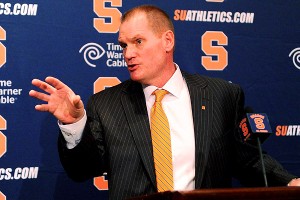 Rich Barnes/USA TODAY SportsNew Syracuse head coach Scott Shafer and his staff have a history with each other.
Bullough and Shafer were last together at Western Michigan in 2005, and their friendship is a microcosm of the familiarity within the entire staff. Western Michigan, Illinois, Northern Illinois -- all programs that have connected some of these coaches in their careers. Their wives and children know each other. The assistants aren't just acquaintances, they've coached together before. While an entirely new staff often is cause for bumps in the road, the familiarity on the Syracuse sideline helped make for a smooth transition this spring.
"How the coaches interact and how the coaches get along and how they coach together, the team sees that and this is a very tight-knit group of coaches," Bullough said. "We all coached with one another throughout our whole careers. There's nobody on the staff, except for the DB coach, Coach [Fred] Reed, that has never coached with another guy on this staff. That's amazing. That makes the transition so much easier. That I think really goes a long way. The players see everything."
With an ongoing quarterback competition heading into fall camp and having to replace its top two receivers and three of four starters on the defensive line, there are plenty of questions facing Syracuse this fall. While the players spent this spring adjusting to their new coaches, the staff didn't have to waste any time with introductions or philosophies.
Running backs coach DeAndre Smith was at Northern Illinois from 2001-2004, overlapping with Shafer's time there. Defensive line coach Tim Daoust was a holdover from the previous staff, but he was also a graduate assistant at Northern Illinois when Shafer was there. Quarterbacks coach Tim Lester and offensive coordinator George McDonald were both on staff with Shafer at Western Michigan in 2005-06.
The six degrees of Scott Shafer go on -- and have paid off.
"It's a lot of familiarity with our coaching styles and our beliefs, so from a coaching standpoint, it's just like coaching with your friends, because we've all worked together before at prior stops," said McDonald. "It helps because it shows solidarity, everyone understanding and speaking the same language, having the same vision. So when you come in as a new staff and everyone is on the same page, just because we're familiar with the expectations of coach Shafer, and on the defense and offensive side, the kids buy in a little faster because they feel the unity from all the coaches."
January, 17, 2013
1/17/13
9:10
PM ET
Syracuse made several coaching announcements Thursday:
George McDonald will serve as offensive coordinator.
Tim Lester will coach quarterbacks.
Receivers coach Rob Moore and defensive-line coach Tim Daoust will remain on staff.

The McDonald news had been widely reported, so it comes as expected. McDonald had just taken a job at Arkansas in December after spending two seasons coaching receivers at Miami. He and new Syracuse coach Scott Shafer worked together at Northern Illinois and Western Michigan.
"When I worked with the Browns in Cleveland I spoke often with Jim Brown," McDonald said in a statement. "He always told me what a special place this is. I am excited to be here to continue the tradition of Syracuse football and to continue to build what Coach (Doug) Marrone, Coach Shafer and Coach (Nathaniel) Hackett have started," McDonald said. "Our offense will be physical, fundamentally sound, and aggressive. We will strive to be balanced by getting the ball to the best playmakers, make the defense defend the whole field and play with a great tempo."
Lester just completed his fifth season as the head coach at Elmhurst College, where he guided the Bluejays to the most successful season in school history. He had a record-setting career as a quarterback at Western Michigan, throwing for 11,299 yards passing and 89 touchdowns. Quarterback will be a huge story line for the Orange in the spring as they work to replace their own record-setting quarterback,
Ryan Nassib
.
As for Moore and Daoust, having them remain on staff is huge for the Orange when you consider that Marrone essentially hired away nearly every Syracuse assistant to join him with the Buffalo Bills. Moore and Daoust are two of the stronger coaches on the staff. Moore helped
Alec Lemon
and
Marcus Sales
blossom. Daoust worked with first-round pick Chandler Jones in 2011 and helped develop
Brandon Sharpe
in 2012. The Orange ranked sixth nationally in tackles for loss in 2012.
April, 20, 2011
4/20/11
10:00
AM ET
SYRACUSE, N.Y. -- Bodies are smashing into one another in a Syracuse goal-line drill, but new Orange defensive line coach Tim Daoust has his eye on defensive end Chandler Jones.
"Be more violent!" he yells to Jones.
[+] Enlarge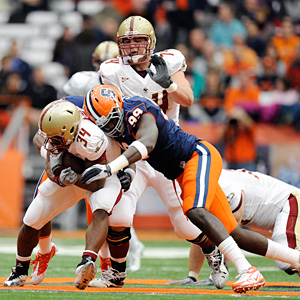 Richard Mackson/US PresswireSyracuse defensive end Chandler Jones is hoping to build on a 2010 season that saw him finish with 57 tackles, 9.5 for loss and three forced fumbles.
Daoust pays special attention to the fourth-year junior for good reason. Jones has as much potential as any defensive player in the Big East, and Syracuse will need more out of him to reach its goals this season.
Jones has had a fine start to his college career. After starting eight games as a freshman, he made the All-Big East second team in 2010 with 57 tackles, 9.5 for loss and three forced fumbles.
And yet there's a feeling that he's only scratching the surface. His older brother Arthur was a dominating defensive tackle for the Orange who is now in the NFL. Another brother, Jon, recently became the youngest fighter in UFC history to win a title belt. Chandler Jones is a 6-foot-5, 250-pounder with limitless potential.
"I feel like I've played decent," he said. "I feel like I haven't peaked yet. Hopefully, this will be the year."
One number sticks out to Jones as he evaluates his career thus far: six. That's his sack total for the past two seasons, including four last season (half of those came against Maine). It seems way too low.
"I see Bruce Irvin at West Virginia, and he has 14 sacks in one season," Jones said. "Then you've got other guys like Julian Miller from West Virginia, Brandon Lindsey from Pitt. I look at their stats and am like, 'Wow, what are they doing?'"
Jones's goal is to get his name up on that Big East sacks leaderboard this season, and he's hoping some new methods Daoust is teaching will help him in that quest.
"I've changed my whole stance," Jones said. "I used to be more of a reactor -- I would wait and let the ball snap, watch the play and go get it. Coach Daoust has me attacking. My butt is up, and I'm leaning forward like I'm in a track stance. That should give me some better takeoff, and I should be in the backfield more this year."
Linebackers Doug Hogue and Derrell Smith were the point men for the attacking Syracuse defense a year ago. Now that they've graduated, the linebacker group is young and inexperienced, and the Orange also lost both starters at defensive tackle. The defensive ends, led by Jones and Mikhail Marinovich, should be the strength of the front seven this season.
Head coach Doug Marrone says Jones' skill set reminds him of when he was coaching in the NFL, and he'd have to draw up game plans for stopping intimidating pass rushers like Dwight Freeney.
"There were times last year with Chandler where -- I don't know if dominating is too much of a word -- but he was flat-out playing well," Marrone said. "He has that type of ability where he can be a force."
The Orange need those times to be more frequent and that force to become stronger this season. Being more violent is one place to start for Chandler Jones.
March, 24, 2011
3/24/11
1:30
PM ET
As spring practice kicks into high gear around the Big East, here's your handy-dandy guide to all of the offseason coaching moves around the league. Clip and save: (Oh, wait. This is a blog. Do not clip your computer screen.)
Cincinnati
No changes
Connecticut
Out:
Randy Edsall, head coach (to Maryland)
Todd Orlando, defensive coordinator/inside linebackers (to Florida International)
Lyndon Johnson, outside linebackers/special teams coordinator (to Maryland)
Terry Richardson, running backs (to Miami)
In:
Paul Pasqualoni, head coach
George DeLeone, offensive coordinator
Don Brown, defensive coordinator
Clayton White, special team coordinator/running backs
Internal moves:
Former offensive coordinator Joe Moorhead is now quarterbacks coach
Quick take:
Pasqualoni, the Connecticut native, comes aboard with two new coordinators (three if you count special teams). But the rest of the staff stayed intact. Edsall took only one assistant with him to Maryland, which is strange. There should be more continuity in this coaching change than most. The trick will be getting the old and the new styles to mesh.
Louisville
Out:
Mike Groh, quarterbacks (to Alabama)
In:
Shawn Watson, quarterbacks
Quick take:
Charlie Strong scored a victory by keeping his staff almost fully together after a successful first year. Watson, the former Nebraska offensive coordinator, looks like a great addition to coach a position in flux.
Pittsburgh
Out:
Dave Wannstedt, head coach (forced resignation)
All of Wannstedt's assistants
In:
Todd Graham, head coach
Paul Randolph, executive associate head coach/co-defensive coordinator/defensive line
Calvin Magee, assistant head coach/co-offensive coordinator/running backs
Mike Norvell, co-offensive coordinator/wide receivers/director of recruiting
Keith Patterson, defensive coordinator/linebackers
Tony Dews, tight ends
Todd Dodge, quarterbacks
Tony Gibson, cornerbacks,/recruiting coordinator
Spencer Leftwich, offensive line
Randall McCray, safeties/special teams coordinator
Quick take:
It's certainly a sea change at Pitt, with an new staff and a whole new philosophy. The presence of several West Virginia assistants lends a little more spice to the Backyard Brawl, as well. Graham has done a good job of building some excitement after the whole Wannstedt/Mike Haywood mess.
Rutgers
Out:
Kyle Ciarrocca, co-offensive coordinator/quarterbacks (not retained)
Randy Melvin, defensive line (not retained)
Ed Pinkham, co-defensive coordinator/defensive backs (to Elon)
In:
Frank Cignetti Jr., offensive coordinator/quarterbacks
Brian Angelichio, tight ends
Jeff Hafley, defensive backs
Internal moves:
Phil Galiano moves from tight ends to defensive line
Robb Smith will coach linebackers as well as special teams
Quick take:
After a 4-8 season, Rutgers needed to make some major changes. Head coach Greg Schiano took advantage of the Pitt staff turnover to hire three former Panthers assistants. Hafley's ties in New Jersey already helped in recruiting. Cignetti will be charged with fixing a stale offense.
South Florida
No changes
Syracuse
Out:
Bob Casullo, assistant head coach/special teams (parted ways)
In:
Tim Daoust, defensive end
Internal moves:
Nathanial Hackett was
promoted to offensive coordinator
John Anselmo becomes assistant head coach and will work with linebackers
Dan Conley will concentrate on inside linebackers
Defensive coordinator Scott Shafer will work with defensive backs
Jimmy Brumbaugh will coach defensive tackles
Special teams will be divided among the staff
Quick take:
Casullo left before last season ended, so Syracuse had already moved on. The changes in responsibilities reflect the areas of concentration for the Orange this summer, as they have many young players who need tutoring.
West Virginia
Out:
Jeff Mullen, offensive coordinator/quarterbacks (not retained)
Lonnie Galloway, receivers (to Wake Forest)
Dave Johnson, offensive line (not retained)
Chris Beatty, running backs/slot receivers
(not retained)
Dave McMichael, tight ends/special teams (not retained)
In:
Dana Holgorsen, offensive coordinator/head coach in waiting
Shannon Dawson, receivers
Bill Bedenbaugh, offensive line
Robert Gillespie, running backs
Quick take:
The entire offensive staff was let go except for Galloway, who left for Wake Forest a couple of weeks ago. West Virginia hasn't named a replacement for Galloway yet, but Dawson and Holgorsen will likely coach the receivers, with someone coming on board for special teams. The defensive staff remains intact, and Bill Stewart will coach his final year before handing the reins to Holgorsen. It will be a fascinating chemistry test.