April, 5, 2012
4/05/12
9:00
AM ET
LOS ANGELES -- No story about USC safety
T.J. McDonald
would be complete without talking about the suspensions, his aggressive style of play and the reputation he has around the conference.
No problem, says McDonald. Let's clear the air and put it out there front and center.
"I've been playing this game the same way for so long," McDonald said. "I've been growing up watching guys like my father [six-time NFL Pro Bowl safety Tim McDonald]. Watching guys like Ronnie Lott. Watching big hitters. Playing safety, we don't get to do too much. It's not like we can go out there and catch touchdowns or take a handoff and make a highlight. It's either you get an interception or you are hitting somebody. That's the part of the game I love, is being physical, and being able to make those plays.
"But at the same time, you have to stay within the rules. I never tried to hit anybody in the head or the helmet or even lead with my helmet because that's going to hurt me. I'm not going to try to knock myself out.
[+] Enlarge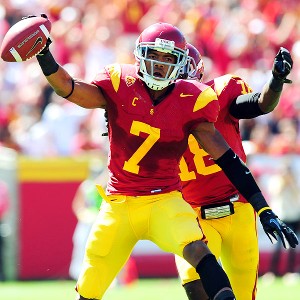 Chris Williams/Icon SMI"He's heading for a really, really good year," USC defensive coordinator Monte Kiffin said of safety T.J. McDonald, entering his senior season.
"It's one of those things that you have to accept. It's the rule. The only thing I can do is try to change technique-wise in terms of bringing my arms and not making such a big collision. But you can't sit there and say I'm going to aim lower, because that's when you start thinking too much and I don't have that time to think. When that ball is in the air, you're gone. It's hard. I don't think it's fair to say I'm a dirty player. You can ask anybody in my locker room and they won't say I'm a dirty player. Am I physical? Yeah, I'm a physical player. And I'm not going to change my physical play. But I'm going to play within the rules."
Sufficient? Good. Now that we've gotten that out of the way, let's get to what McDonald has planned for his USC swan song in 2012.
It's going to be tough build on his already-stellar resume. In 2011, he was first-team All-America, made almost every defensive-honors list in the country and was a semifinalist for the Thorpe Award. But McDonald knows he can get better.
"I want to take my game from being a playmaker to a game-changer type of player," McDonald said. "I feel like there is a lot I can improve on. There is a lot of stuff left out there that I want to get better at. And as a defense as a whole, we haven't put up great numbers. As far as the score and wins and losses go, we did a better job. But we need to get more turnovers. We need to stop the pass better. I want to be the captain of the defense and be able to fix that."
In 23 career starts, McDonald enters 2012 with 163 tackles and six interceptions. Last season he led the team with three picks. And it's not like he's using this spring to slow down, either. Defensive coordinator Monte Kiffin said McDonald has been one of the most motivated players on the field.
"He's having a really, really good spring," Kiffin said. "He was fast last year, but he's getting better and better and faster and faster. Sometimes guys come back for their senior year and they take a kick-back approach to spring. Been there, done that, you know? He's not doing that. He's heading for a really, really good year."
Last season USC ranked third in the conference in scoring defense (23.6 points per game), second in rush defense but ninth in pass defense, where the Trojans surrendered 263.3 yards per game in the air. The good news is that they led the Pac-12 in fewest touchdown passes allowed with 17. Another year in the system plus an excess of talent returning in the back seven leads Kiffin and McDonald to believe USC will be better against the pass this season.
"It's my third year in the system and other guys it's their second and third," McDonald said. "You have a good feel for what we're trying to do and being able to play fast. We're at that level right now where we can play fast and coaches can throw adjustments at us and it's not going to faze us."
Not surprisingly, there was a tremendous amount of buzz when quarterback
Matt Barkley
announced his return. McDonald's announcement wasn't met with quite as much fanfare -- at least outside of the USC locker room. But the guys he plays with know how important it is to have McDonald back for one more season.
"Yeah, they were all pretty excited," McDonald said of his teammates. "I sent them all a text before I made my announcement. Hopefully it's a confidence boost for the team and we can go out and do something with it."
February, 11, 2010
2/11/10
11:10
AM ET
Who will breakout and make a move toward stardom this season?
Most of these guys aren't "new," but they could make the next step up in their careers this spring.
Arizona
Juron Criner, WR, Jr
: Criner (6-foot-4, 210 pounds) is already a familiar name to Wildcats fans. Heck, he led the team with nine touchdown receptions in 2009. The reason he makes this list is this: It would be a surprise if he's not first-team All-Pac-10 at season's end.
Arizona State
Aaron Pflugrad, WR, Jr
: Hmm. Name seems familiar? Pflugrad is a transfer from Oregon, who left the Ducks after his father, Robin, was fired as receivers coach. He was expected to start for the Ducks in 2009, and he should be in the same position with the Sun Devils, who need help at receiver.
California
Ernest Owusu, DE, Jr
: Owusu looked like a budding star early last season when he recorded two sacks and three tackles for a loss against Maryland, but that was about it for his production in 2009. Still, he combines good intelligence and speed with special power -- he's the Bears' strongest player -- and that could all come together as he fights to break into the starting lineup.
Oregon
Diante Jackson, WR, RFr
: Many thought Jackson would offer immediate help to the Ducks' receiving corps as a true freshman, but, instead, he was a scout team star last year. The Ducks are looking for a dynamic, play-making presence at wideout and Jackson might be the guy.
Oregon State
The Unga brothers
: The Beavers lost Keaton Kristick to graduation and Keith Pankey may miss 2010 with an Achilles injury, so there are opportunities at linebacker. These twin brothers -- Kevin "Feti" Unga and Devin "Uani" Unga -- could fight their way into the mix.
Stanford
Shayne Skov, LB, So
: Skov started seven games last year as a true freshman and ended up third on the Cardinal with 62 tackles. The early returns are Skov will be first-team All-Pac-10 before he's done.
UCLA
Cory Harkey, TE, Jr
: With the departure of
Logan Paulsen
and
Ryan Moya
, Harkey will finally get his chance to take center stage. He caught eight passes for 41 yards and a touchdown in 2009. His production will be many times that in 2010.
USC
T.J. McDonald, S, So
: First off, the son of former USC legend Tim McDonald is listed at 205 pounds. Really? He looks bigger -- in a good way. And he's a hitter. He had seven tackles as a backup to strong safety Will Harris last year, but he could play either free or strong.
Washington
Talia Crichton, DE, So
: Crichton was forced into action last year as a true freshman -- he started four games -- because the Huskies lacked depth on the defensive line. With the departure of both starting ends -- and the questionable status of Kalani Aldrich's knee -- Crichton is almost certain to ascend to a first-team spot. Here's a guess he's better prepared in 2010.
Washington State
Travis Long, DE, So
: Back in the Cougars' glory days -- folks, it wasn't really that long ago, either -- they always had ends who were disruptive. Long led the Cougars with 6.5 tackles for a loss and two sacks as a true freshman in 2009. Those numbers will more than double in 2010.