October, 28, 2013
10/28/13
9:00
AM ET
We have status quo in the top three this week. But there was plenty of shuffling in the middle of the pack. Again. Par for the course in the ACC.

1. Florida State (7-0, 5-0 ACC, last week: 1).
The Seminoles remain in the hunt for a national championship after a thoroughly dominant win over NC State.
Jameis Winston
threw for 229 yards and three touchdowns in the first quarter -- the most pass yards in the first quarter of any quarterback this season. Another top-10 matchup looms this weekend, this time against rival Miami.
2. Miami (7-0, 3-0, LW: 2).
The Hurricanes have had to overcome double-digit deficits in their last two games to stay undefeated. In fact, ESPN Stats & Information says Miami had less than a 25 percent chance of winning in the fourth quarter against both North Carolina and Wake Forest. Voila -- Miami beat the odds thanks to its run game and now has to face revved-up Florida State in Tallahassee.
3. Clemson (7-1, 5-1, LW: 3).
The Tigers did not look pretty at times in their win over Maryland. But the key word in that sentence -- win. Clemson remained in the conversation for an at-large BCS berth thanks to solid performances from
Sammy Watkins
(single-game school record 14 catches), Rod McDowell (season-high 161 yards) and
Tajh Boyd
(15th 300-yard passing game).
4. Duke (6-2, 2-2, LW: 7).
Congratulations are in order for the Blue Devils, who became bowl-eligible for the second consecutive season with a win over No. 14 Virginia Tech, their first win over a Top 25 team since 1994. It also happened to be the first Duke win over Virginia Tech since 1981. When you consider how badly the offense struggled throughout, major props go to a vastly improved defense that has put the clamps down in the second half in its last three games.
5. Virginia Tech (6-2, 3-1, LW: 4).
You could probably pick a lot of words to describe the Hokies' loss to Duke. Disappointing fits best, considering another stellar defensive effort was wasted in one of the worst offensive performances of the season.
Logan Thomas
threw four interceptions, ending a string of three straight games without one. The loss kicked Virginia Tech clear out of the rankings.
6. Georgia Tech (5-3, 4-2, LW: 5).
Welcome to the murky part of the ACC power rankings. Georgia Tech beat Duke earlier this year, but also lost to Miami and Virginia Tech. The Jackets also played a terrible game against Virginia -- turning the ball over five times -- and still managed to win. At this point, we have no idea which Georgia Tech team will show up every week.
7. Wake Forest (4-4, 2-3, LW: 8).
The Deacs did lose, but they led Miami for nearly the entire game and played well enough to beat a top-10 team. Wake Forest is playing much better today than at the start of the season, and you can easily tell when you flip on the television. That is a big reason we have them here. Plus, they beat Maryland head-to-head.
8. Maryland (5-3, 1-3, LW: 9).
After a 4-0 start, Maryland has lost three of its last four and is going to have to fight for a bowl spot. The Terps put up a valiant effort with just about every key offensive player on the bench against the Tigers. They get a week to rest before playing Syracuse at home. That game could get them to win No. 6, especially if
C.J. Brown
and
Brandon Ross
are healthy enough to return.
9. Pitt (4-3, 2-2, LW: 6).
The Panthers lost on a last-second field goal to Navy, a team that Duke blew out earlier this year. They essentially let a winnable game against an average nonconference team slip from their grasp. These are the types of games ACC teams have to win. Pitt lost, and as a result has to take a tumble down.
10. Boston College (3-4, 1-3, LW: 10).
We both thought Boston College would go into Chapel Hill and win. Instead, the Eagles lost 34-10, unable to find any consistency on offense against one of the worst defenses in the ACC. The bye week did not seem to do them any favors.
11. Syracuse (3-4, 1-2, LW: 11).
Speaking of bye weeks, Syracuse was off after a demoralizing loss to Georgia Tech. We will see how the Orange regroup this week against Wake Forest, a game with major bowl implications for both teams.
12. North Carolina (2-5, 1-3, LW: 13).
Congrats to the Tar Heels for picking up their first league win of the season. The two-quarterback system Larry Fedora is now using with
Bryn Renner
and
Marquise Williams
seems to be working, at least for now.
13. NC State (3-4, 0-4, LW: 12).
The Wolfpack have lost three straight and are off to their first 0-4 start in league play since 2009. Coach Dave Doeren has had to deal with his fair share of injuries, but still, nobody expected this team to be winless in ACC play headed into November.
14. Virginia (2-6, 0-4, LW: 14).
The Hoos have now lost five straight. How did this team beat BYU again? Virginia got career games from
Darius Jennings
and
Tim Smith
, five gift-wrapped turnovers from Georgia Tech, and still lost 35-25. It gets worse: They still have to play Clemson, Miami and Virginia Tech.
April, 10, 2013
4/10/13
10:30
AM ET
At 6-foot-6, 325 pounds, Virginia left tackle
Morgan Moses
is impossible to miss. That's a good thing, because he's going to be the face of the offensive line this fall. UVa returns four starters up front, experience the program will need as it gets acclimated to first-year offensive coordinator Steve Fairchild. Moses' decision to return to school instead of leaving early for the NFL was a big boost to the program and the offense. He started 11 games last year and helped the Hoos rack up over 500 yards of total offense multiple times in a season for the first time since 2004. I spoke with Moses recently to get his take on the offense and his decision to return. Here are the highlights of our conversation:
How do you think your role is going to change? Do you have to be more of a leader this year?
Morgan Moses
: Definitely. Me being a four-year starter and a guy who played every game last year on the offensive line, I know there are a lot of people looking up to me and I just have to help the team as a leader and push them forward.
What was really the driving force that made you decide to come back?
MM:
Just being able to play with these guys for my last year, having those guys call me over break and tell me they wanted me to be a part of the team. Just sitting down with Coach London, and all of the changes we had with the coaching staff. I felt comfortable with the coaches, and of course, the schedule we're playing. I always talk to Coach London about it. If you want to be the best, you have to play the best, so it's set up for a great senior year. I love to be back here.
[+] Enlarge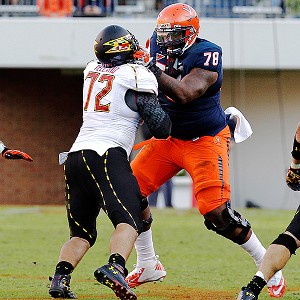 AP Photo/Steve HelberVirginia's Morgan Moses, No. 78, said he's eager for the challenge of playing left tackle in 2013.
Who called you to try to convince you to stay?
MM:
David Watford
,
Kevin Parks
, a whole bunch of guys,
Tim Smith
.
Sometimes that just doesn't really resonate with guys. Why did what they say have such an impact on you like that?
MM:
Just because these guys, I've been with them for the last three years. They know what I went through, I know what they went through. Just being able to finish out my last year here, plus to graduate with a degree from the University of Virginia, you can't get any better than that.
What's your degree going to be in?
MM:
Anthropology.
Anthropology? What are you going to do with anthropology? What have those classes been like?
MM:
It's been really good being able to learn about the culture of people. I really don't know what I want to do with that after football, but I have some plans.
It never fails that offensive linemen are among the most interesting interviews I have. So tell me a little more about the staff changes. You said you sat down with Mike London. What was that conversation like and what did he tell you about the guys he brought in?
MM:
Through that whole situation about coming back to school for my senior year, Coach London was really helpful. He was beside me 100 percent on any decision that I made. Just being able to have coaches like Coach O'Brien, who's been around for a long time – he's been a head coach, he's coached offensive line, he's a high-energy guy. To have those guys and Coach Fairchild brings a great opportunity for me and the offense as a team.
How is the offensive line looking this year? With four starters back you guys should be a pretty strong group this year, right? How excited are you about the experience returning?
MM:
I'm excited. Right now we're learning a new offense and trying to get everyone on the same page. We've got a lot of young guys we're bringing along that haven't really played games yet, but they have some opportunities to have some playing time this year. Us older guys who have been around know what's expected from the coaches. We're trying to take them under our wings as we move forward.
You don't come back to school to be 6-6 or not go back to a bowl game. What encouraging signs did you see on the field that led you to believe you can have the kind of season you did in 2011?
MM:
You just think about it: Offense and defense, we didn't really lose that many players. Of course you lose a stud tackle like
Oday [Aboushi
] and a great running back like
Perry Jones
, but we got a lot of guys, a lot of quarterbacks, running backs … we've got the pieces, it's about putting them together and putting them in the right places.
So who filled in for Oday this spring and what has the competition been like there?
MM:
I moved over to left tackle, and they are battling at right tackle.
What's that change been like for you?
MM:
It's been interesting. I've been wanting to play left tackle since the first day I stepped on campus. Just being able to switch from right to left and being able to play guard my first year has really helped me learn the offense. I know what every position is doing.
No kidding. Now you're on the blindside. What's that like?
MM:
It's great to be there. I played a little bit last year, switching with Oday, so I have some experience at it, and I know the quarterbacks feel way comfortable to have me at left tackle knowing they've got the big guy on their back side.
Ya think? I could play quarterback if you're watching my back. Tell me more about the quarterback competition. I know you mentioned Watford. What's going on there?
MM:
It's a competition. David Watford, he brings so much to the table with his running ability and his throwing ability. Same with Phil. He's able to move around in the pocket, and then we have
Greyson [Lambert
], who has a helluva
arm. He can make any throw. He's not as mobile as the other two, but he's definitely making strides. They're all good. I'm pleased with their work ethic and whoever is back there, I'm going to fight for them regardless.
What are you looking forward to most this fall, your last year?
MM:
It came so fast, too. I was just talking about it the other day. But just being able to compete with these guys. We're playing BYU, Oregon and these great teams we have on the schedule. Being able to have those guys in Scott Stadium, and you never hear about eight home guys. I'm excited to just get out there with the guys and compete.
November, 2, 2012
11/02/12
2:30
PM ET
Virginia has had its share of struggles offensively this season, a big contributing factor to the Hoos' 2-6 start to the season.
I had a chance to catch up with offensive coordinator Bill Lazor to get his thoughts on what has gone wrong, and what Virginia focused on during its bye to prepare for the stretch run, beginning Saturday against NC State.
What was your No. 1 priority to fix on offense during the bye week?
Bill Lazor:
I thought we had a really nice week as far as putting pressure on them. We made it a difficult week of practice, did a lot of blitz drill, a lot of two-minute drill, things you can do to put the most pressure on the quarterback. It isn't often in the game that you might go 20 or 25 plays in a row being blitzed and having to handle a blitz, but that's what we did in practice and you just feel like when you put a quarterback under those kinds of extreme conditions, it's like you're baking them in the oven, you're putting them under fire but that's how they grow. That's how they turn into quarterbacks. I thought we had a good week of doing that. We made a couple mistakes we'll learn from but at the same time, I saw our quarterbacks grow in that area. As we look at where we are at this point in the season, we know our No. 1 issue is turning the football over. That certainly leads to not scoring as many points as we'd like to, so we tried to deal with that.
How much has the quarterback change impact the consistency of your offense?
[+] Enlarge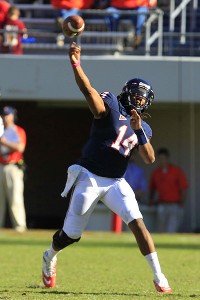 AP Photo/Steve HelberPhillip Sims took over the starting quarterback job, but has struggled recently, throwing four picks in the past three games.
BL:
There are a lot of changes that have been going on this year, but there aren't any excuses for not playing as well as we'd like to play. Coaches and players are very focused on what their job is and Coach [Mike] London and the staff, we're making what we believe are to be the best decisions for the team so I don't think we can look back and just say it's that. The guys that are playing, whether it be from injury or earned playing time or rotation -- whoever is on the field is who we feel is the best.
Why has the run game been up and down this year?
BL:
We've had some really good weeks. I think two weeks ago, we played Maryland. They come into the game as one of the top rush defenses in the country and I thought we ran the ball well enough to win that game. When you look at the first half of the game against Wake Forest, we did not run the ball in the first half at all. So it has been up and down. We're trying to stay true to what we think we're good at. We do play a number of different running backs, and I've got to make sure I'm putting each of the running backs in to do the things he does well. I feel confident that the young guys we've had play on the offensive line are ready to go now. Wake Forest will be a blip on the screen. The rushing offense you saw two to three weeks before that will end up being who we are the rest of the season. I feel we've developed that and we're on track.
How much have injuries at receiver impacted your passing game?
BL:
Tim Smith
returning to us shows why he is a key component to that group. When we looked at the kind of production we had last year and the big plays down the field, Tim was involved in a pretty high number of those. In the bye week as we looked at our explosive plays for the small amount of time he played for us, he gets a large portion of plays for us also. He's the only player in that group who's a junior or above so when Tim's missing, they're all freshmen and sophomores. It makes a difference, even to how the other guys play. Getting him back was very important for us. I think he'll be productive going forward. I'm really excited about the future. Unfortunately, we have to deal with the present and all these young receivers have to no longer be young receivers. We've really got to produce right now. It can be an exciting group because they've got some speed and some ability to make plays.
Did you see an increased sense of urgency this past week, because you guys need to win out to become bowl eligible?
BL:
I don't know if it was as much about how our record is or just getting back to the basics or fundamentals, giving guys an opportunity to compete in practice. I think the No. 1 thing you've got to teach players at this level is that it doesn't take a losing streak to make you motivated to practice. You need to come out every single day and be intense about getting better. You need to teach them to have a little bit of anger, to set a standard in practice that's going to be good enough to use that to win in the game. That's our job as coaches. We all know some guys get it faster than others and some have it inside of them and some you have to teach that. But I know this: An old coach taught me a long time ago a streak starts with one and so we're hoping to start a new streak. But we have to be focused on that one game and that's where we're focused right now.
August, 13, 2012
8/13/12
4:00
PM ET
Virginia coach Mike London held a teleconference with reporters Monday. Here is a little of what he had to say.
London gave a quick update on what is happening at quarterback, with Michael Rocco, David Watford and Alabama transfer Phillip Sims. "We're at a point where Phil is now this week is going to be exposed to more things," London said. "We're going to have a couple scrimmages. The only way you can really know is when coaches are off the field and they're calling plays and have to execute. They're progressing nicely. Michael, his knowledge of the offense continues to improve, same with David. With Phillip having been in a pro-style offense before, he understands the concepts." What will they be judged on? "Accuracy, every throw they make, every situation they're in -- whether it's one-on-one, team, throwing with running backs, tight ends on air, they they they're being evaluated. This is an important week for us to see if there is going to be some separation made."
Finding players to step up in the defensive backfield is of paramount importance this season, with only one starter returning. Though it is early in camp, one true freshman has stood out so far -- Maurice Canady, a versatile in-state athlete who played a variety of positions in high school. Canady came into Virginia and wanted to try and play defensive back first. What has helped him so far is his background as a receiver and quarterback, because he understands route running, from how deep a route goes to where a quarterback is going to throw the ball. "So far he's shown the physical and athletic skills that show promise for him," London said. "Now as we start to add more coverages, more things, we're going to see if he can handle it. But right now, he's doing a nice job."
London also has been pleased with the way receivers Dominique Terrell and Darius Jennings have started to mentor the younger players. Terrell and Jennings are not exactly veterans themselves, with Tim Smith being the elder statesman of the group, but they are actively helping out in any way they can. "What you see is more of a mature approach," London said. "They're guys that played in college games before. ... They want everybody to get it. They know our passing game is a timing game. If these young guys understand how to run their routes, it's going to help the entire team."
There is plenty of talent and depth at the running back position, and London said the team will explore creative ways to get all of his playmakers involved. That means seeing more guys on special teams, specifically a player like Khalek Shepherd on punt returns. "People talk about two halfbacks in the game, which is very possible, very doable for us because of the matchups they present," London said. "We'll come up with creative ways, not only through offense but also through special teams. We are going to try to utilize all their skills, that's for sure. As we get the plays and the opportunities, I can guarantee each one will be cheering each other on."
At guard, another player who has stood out is Cody Wallace. "Cody's a tough guy, tenacious guy," London said. "Might not be the most athletic guy, but he'll try to hit you, bite you on your ankles, whatever it takes. You like that kind of attitude from a guy. He's quietly inserted himself or put him in position to battle for that guard position. Right now, Cody has that spot because of what he's done to this point."
June, 23, 2011
6/23/11
10:30
AM ET
You asked, I answered. Readers (particularly @AsylumGodfather) were calling for more position rankings, so the receivers are up next. This could be the strongest position group in the conference, and one of the more difficult to rank, so I looked back on a few stats to help me separate them, including how some of these guys did against their best competition (i.e.
Danny Coale
versus FSU, wow). Here's the final verdict of which teams in the ACC have the best combination of depth and talent:
1. Virginia Tech:
With
Jarrett Boykin
and Coale returning, the Hokies' passing game has a chance to flourish this fall. Boykin, Coale and
Dyrell Roberts
were the team's top three receivers last year for the second straight season, combining for 113 catches, 1,882 yards and 11 touchdowns. Add to that
Marcus Davis
,
D.J. Coles
,
E.L. Smiling
-- it's a bottomless cup of depth and talent.
2. Duke:
Conner Vernon
has 128 catches in his first two collegiate seasons and
Donovan Varner
ranked fourth in the ACC in pass receptions (60) and seventh in yardage (736). Their combined 274 receptions are the most of any active duo in the ACC. They are the top two returning leaders in catches per game, and Vernon is the ACC's returning leader in receiving yards per game. The Blue Devils also have sophomore
Brandon Braxton
(14 catches), who could make a name for himself as the third option this year.
3. Florida State:
Every Seminole who caught a pass last season returns.
Bert Reed
,
Taiwan Easterling
and
Rodney Smith
return with a combined 50 career starts. Reed ranks second among all returning ACC receivers with 141 career receptions.
Willie Haulstead
had 38 catches last season, Smith had 31, and there's plenty of rising talent like
Christian Green
.
4. North Carolina:
Like Florida State, North Carolina returns all of its receivers, including two who redshirted last season.
Dwight Jones
, who had 946 yards and 62 receptions, leads the group, but
Erik Highsmith
(25 catches, 348 yards and three touchdowns) must be accounted for as well. Defenses also can't forget about
Jheranie Boyd
, who is a deep threat.
5. Miami:
The Canes will miss the production of Leonard Hankerson, but they don't have to if one or two of the other players show more consistency.
Travis Benjamin
has big-play capabilities and averaged 17.3 yards on his 43 catches last season. There is no shortage of other options with
LaRon Byrd
,
Aldarius Johnson
,
Tommy Streeter
,
Allen Hurns
and
Kendal Thompkins
. Which one will rise to the occasion?
6. Clemson:
It was the
DeAndre Hopkins
show last season, and he should again highlight the Tigers' passing game. As a true freshman, Hopkins had 52 catches, the most by a first-year player in school history.
Jaron Brown
returns with 10 career starts, and the Tigers also have
Marquan Jones
(21 catches) and
Bryce McNeal
(19).
7. Maryland:
The Terps have to replace their top two receivers from a year ago in Torrey Smith and
Adrian Cannon
, and no clear frontrunners emerged this spring.
Quintin McCree
leads all returners with 16 catches, followed by
Kevin Dorsey
(15),
Ronnie Tyler
(13),
Kerry Boykins
(10), and
Tony Logan
.
8. Boston College:
True freshman
Bobby Swigert
led the Eagles last year with 39 catches and four touchdowns in five starts. The Eagles are hoping to get a significant boost from the return of
Colin Larmond Jr.
, who missed all of last season with a knee injury, but the young group should be better regardless because of the experience gained last season.
9. Virginia:
The Cavaliers will miss
Dontrelle Inman
, who averaged 16 yards per catch on 51 receptions, but returning starter
Kris Burd
finished fifth in the ACC last season in pass receptions (58). The group will also get a boost from the return of
Tim Smith
, who missed almost all of last season with an injury, and
Matt Snyder
(30 catches) and
Ray Keys
(three catches).
10. NC State:
NC State has to replace its top two receivers from a year ago, and
T.J. Graham
is the team's leading returning receiver with 25 catches.
Steven Howard
,
Jay Smith
and
Quintin Payton
all have experience, and redshirt freshman
Bryan Underwood
,
Tobias Palmer
and Everett Proctor have also been competing for playing time.
11. Wake Forest:
Chris Givens
(35 catches, 13.7 average),
Michael Campanaro
(10 catches) and
Danny Dembry
are the lead candidates to start, but the Deacs are missing a spark like Kenny Moore (2007) and D.J. Boldin (2008) provided. There were too many dropped passes in the spring game, so this group has some work to do in summer camp.
12. Georgia Tech:
Yes, Georgia Tech throws the ball, just not often enough or efficiently enough to be anywhere but last place on this list.
Stephen Hill
led the Jackets last year with 15 catches for 291 yards and three touchdowns. He should show progress this fall now that there's no pressure on him to be the next Demaryius Thomas. If he doesn't show more consistency, the Jackets could turn to
Daniel McKayhan
,
Tyler Melton
or
Jeremy Moore
.
April, 4, 2011
4/04/11
9:00
AM ET
The focus at Virginia this spring has been on the quarterbacks, as coach Mike London needs to name a new starter, and
Michael Rocco
led the group on Saturday in the Cavaliers' spring game at Scott Stadium.

Rocco completed 10 of 22 passes for 95 yards for the Blue team and seven of 10 throws for 57 yards for the Orange team.
Ross Metheny
, who also played for both teams, combined to complete 3 of 6 passes for 60 yards. True freshman David Watford completed 1 of 5 passes for 6 yards with both teams.
Michael Strauss
completed 6 of 14 attempts for 85 yards.
The teams played four 10-minute quarters in a standard game format that included special-teams play. The Blue team featured the majority of the Cavaliers' returning starters on offense while the Orange team included the returning starters on defense. The Blue team won 17-7. Veteran receivers
Kris Burd
,
Matt Snyder
,
Tim Smith
and
Bobby Smith
did not play because of injuries. Snyder, Jones, strong safety Rodney McLeod and defensive tackle Nick Jenkins were named team captains for the 2011 season.
Offensive highlights:
Perry Jones scored on a 15-yard reception from Rocco and had a game-high five receptions for 35 yards and 7 yards on 11 carries.
Rocco threw a 3-yard touchdown pass to Brendan Morgan.
Robert Randolph made a 40-yard field goal.
Jones Khalek Shepherd had 15 yards on 10 attempts.
Defensive highlights:
No player had a run longer than 8 yards.
Steve Greer led all defenders with nine tackles, a pair of sacks and one pass breakup. The two teams combined for 19 sacks since quarterbacks were whistled down when touched by a defensive player. Billy Schautz accounted for three solo sacks.
Mike Ahunamba and Henry Coley both had five tackles to lead the Blue team.
Chase Minnifield intercepted Rocco on the opening drive when the receiver slipped while running his route.
Dom Joseph intercepted Strauss and returned it 65 yards for a score.
February, 15, 2011
2/15/11
10:00
AM ET
We've already looked at who and what to watch in the Atlantic Division this spring. Here's a breakdown of three issues facing each program in the Coastal Division:

DUKE
Spring practice starts:
Feb. 16
Spring game:
March 26
What to watch:
Jim Knowles taking over as defensive coordinator. After coaching the safeties last season, Knowles was promoted in late January following the departure of Marion Hobby to coach Clemson's defensive line. It's not a complete overhaul on defense, but for the third time in as many seasons, a different person will be calling the plays. Knowles has also assumed the lead role with Duke's practice scheduling and weekly preparation.
New faces at linebacker. Duke graduated its leading tackler from 2010, Abraham Kromah, and freshman All-American Kelby Brown is out while recovering from knee surgery. Those two slots will be wide open this spring and the competition will be among Austin Gamble, C.J. France, Tyree Glover and Kevin Rojas.
Offensive line shuffling. The Blue Devils return four starters up front, but they'll be missing the glue of the line in Bryan Morgan, who graduated. Brian Moore, who has started the past two seasons at right guard, will make the transition to center. John Coleman and Laken Tomlinson are expected to compete for the right guard spot.

GEORGIA TECH
Spring practice starts:
March 28 (tentative)
Spring game:
April 23
What to watch:
Starting quarterback competition. Tevin Washington enters the spring at No. 1 on the depth chart, and it's his job to lose, as he has the most experience after taking over for injured starter Joshua Nesbitt in 2010. Synjyn Days will give him legitimate competition this spring, though, and it will increase this summer with the addition of standout recruit Vad Lee to the roster. For now, though, it's between Washington and Days, as David Sims is expected to move to B-back.
Offensive line reshuffling. Georgia Tech will have to replace three starters in all-conference center Sean Bedford, right tackle Austin Barrick and left tackle Nick Claytor, who decided to leave early for the NFL draft. Phil Smith, Barrick's backup last year, is the only one with any experience at tackle. The staff will likely have to move a player or two from guard to tackle, and only it knows who those candidates might be right now.
Revamped secondary. Jerrard Tarrant's decision to leave school early and enter the NFL draft left the Jackets without any returning starters in the secondary. Junior cornerback Rod Sweeting, sophomore cornerback Louis Young, redshirt freshman cornerback Ryan Ayers and sophomore safety Fred Holton are front-runners, but they all have a lot to prove this spring. Holton and Young played sparingly as true freshmen and combined for 21 tackles. Sweeting played in all 13 games and had one fumble recovery and eight passes defended, including one interception. Senior cornerback Michael Peterson may help, and safety Jemea Thomas played as a true freshman in 2009 but redshirted last year. There's some talent, but the inexperience makes it a question mark.

MIAMI
Spring practice starts:
March 5
Spring game:
April 9 or 16
What to watch:
New staff, new schemes. Defensively, first-year coordinator Mark D'Onofrio will work with two other assistants who were with him and first-year coach Al Golden at Temple, so there is familiarity there. Linebackers coach Michael Barrow has to learn D'Onofrio's system, but the players tend to pick it up faster if the majority of the staff is already acclimated to it. Offensively, everyone will be working together for the first time. Jedd Fisch wants to run a pure pro-style offense based on matchups, and the good news is that several of the assistants, because of their respective backgrounds, are already schooled in at least a version of it.
Quarterback battle. Golden has said he would like to name a starter by the end of the spring, making these practices critical auditions for both Jacory Harris and Stephen Morris. Harris has both flourished and flopped as a starter for the Canes, and his injury last year gave Morris the opportunity he needed to win the people's choice award. Has a new era of quarterback begun, or will Harris finally have the breakout season Miami fans have waited for in his final year as a Cane?
Corner competition. Following the departures of Ryan Hill, DeMarcus Van Dyke and Brandon Harris, Brandon McGee is the only corner remaining on the roster with any significant experience. He played in 11 games, started one, and had 15 tackles. Redshirt freshman Devont'a Davis, sophomore Kacey Rodgers, and redshirt sophomore Jamal Reid will also compete for playing time. There are also several incoming freshmen who could be immediate contributors.

NORTH CAROLINA
Spring practice starts:
March 16
Spring game:
April 9
What to watch:
The rookie quarterbacks. There's no guarantee that Bryn Renner will be the Tar Heels' starter in 2011, but he enters the spring slightly ahead of the race, as he was No. 2 on the depth chart last season and was pushing T.J. Yates for the starting job at this time a year ago. The staff would also like to see what true freshman Marquise Williams, who enrolled in January, has to offer. Braden Hanson and A.J. Blue will also compete for playing time. Blue was injured two years ago and redshirted last season.
Running backs race. The Tar Heels graduated three key players from 2010: Johnny White, Anthony Elzy and Shaun Draughn. Ryan Houston is back for his fifth year after redshirting last year and is the most experienced of the returnees. Giovani Bernard was a true freshman last year and had been expected to get some playing time, but he tore his ACL on the third day of training camp. It's not clear yet how much he'll be able to participate this spring. Hunter Furr played sparingly last year and true freshman Travis Riley, who enrolled in January, are also in the mix.
Another strong defensive line. If Quinton Coples was an all-conference selection as a defensive tackle, he could be scary good at his natural position, defensive end. Coples played there as a freshman and sophomore, but switched to tackle out of necessity last season. The defensive line should once again be the strength of the team, but it will be reconfigured again, as Coples' move will leave a defensive tackle spot up for grabs. Junior college transfer Sylvester Williams, who enrolled in January, could fill that role.

VIRGINIA
Spring practice starts:
March 16
Spring game:
April 2
What to watch:
The search for a new starting quarterback. With Marc Verica graduated, the lead contenders to replace him are the ones who saw the field last year -- Michael Rocco and Ross Metheny. Neither of them started, but Rocco played in six games and Metheny five. Nobody has thrown the ball more than Rocco's 25 times. The staff will also look at Michael Strauss, who redshirted last year, Miles Gooch, and David Watford, who enrolled in January.
Competition at running back. With leading rusher Keith Payne graduated, the question becomes what can Kevin Parks do after redshirting last year? There's a lot of depth at the running back position, but Parks, the No. 56 running back in his class by ESPN.com and national prep record-setter out of the state of North Carolina, came to Charlottesville facing high expectations. With Payne gone, this could open the door for him to meet them, but returning starter Perry Jones will also be competing for carries.
Development of the receivers. In January, Jared Green Tweeted that he had decided to transfer after finishing his degree in Charlottesville this spring, according to a school spokesman. His departure, coupled with the graduation of Dontrelle Inman, leaves the Cavaliers without two of their top wideouts from 2010. With Tim Smith coming off an injury, the development of other receivers will be critical -- especially with a new starting quarterback.

VIRGINIA TECH
Spring practice starts:
March 30
Spring game:
April 23
What to watch:
Quarterback Logan Thomas. The Tyrod Taylor era is over, and Thomas is the front-runner to succeed the winningest quarterback in school history. Ju-Ju Clayton is the only other quarterback on the roster who's ever taken a snap, and he'll push Thomas this spring. It's Thomas' job to lose, but the staff is looking for him to improve his accuracy. He played quarterback in only his final two high school seasons and was projected as a tight end. He's still raw and learning the position, but physically, he's a clone of Cam Newton. If he develops some poise in the pocket, look out.
Competition on the defensive line. The Hokies have to replace starters John Graves (defensive tackle) and Steven Friday (defensive end), who both graduated. They've got Antoine Hopkins and Chris Drager back, but it's possible Drager could move back to tight end after starting 10 games at defensive end last year. Tackle Kwamaine Battle, who started the first two games before he tore his ACL and Hopkins took over, is another front-runner. Hopkins' younger brother, Derrick, will also be in the mix, along with James Gayle and J.R. Collins. Redshirt freshman defensive end Zack McCray, the cousin of Logan Thomas, has also impressed the staff so far.
Tight end auditions. The graduation of Andre Smith leaves the Hokies with only one returning tight end who's caught a pass in a game, Randall Dunn (one). Redshirt freshman Eric Martin was the second tight end when the Hokies used two-tight end sets, but he missed three games mid-season with an injury.
September, 27, 2010
9/27/10
6:39
PM ET
Virginia receiver
Tim Smith
will miss the rest of the season with an ankle injury and is scheduled for surgery on Oct. 1, the school announced in its Monday injury report. Smith had played in two games and caught three passes for 28 yards before missing Saturday's game against VMI. He was No. 3 on the depth chart and expected to be a contributor.
Smith's speed would have been an asset to that offense. He got 16 yards on a reverse at USC that was set up with great blocks, and he might have scored had he not been hurt, because he couldn't accelerate.
Dontrelle Inman
and
Kris Burd
have played so well that Smith was the third option in an offense that uses a lot of two-back sets.
Jared Green
and
Matt Snyder
played well against VMI, but they lack Smith's speed.
Colter Phillips
and
Joe Torchia
at tight end are both great options, which makes losing Smith hurt less. But if Virginia can't run the ball -- in order to work the play-action pass properly -- it won't matter much who's on the receiving end.