NCF Nation:

Time Warner Cable
August, 8, 2011
8/08/11
11:00
AM ET
Pac-12 commissioner Larry Scott has gone from outsider with no name recognition -- a former head of the Women's Tennis Association? -- to perhaps college football's most dynamic power broker in just two years on the job.
How has the conference changed under Scott?
A conference that was known for its stubborn adherence to tradition expanded by two teams, but only after an attempt to create a 16-team super conference -- a proposition that terrified all the other automatic qualifying conferences -- was left at the altar at the moment vows were supposed to be exchanged. A conference that lagged behind the Big Ten and SEC now owns the richest TV deal among all conferences -- $3 billion over 12 years from ESPN and Fox. A conference that lacked exposure will own a national network and six regional networks, which will ensure every football and men's basketball game is televised.
[+] Enlarge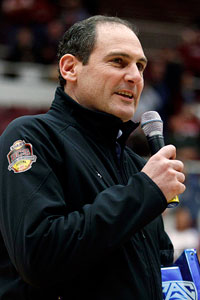 Jason O. Watson/US PresswireLarry Scott predicts there will be "further consolidation" within college football.
Utah and Colorado are now aboard; there are North and South divisions; the conference will play a championship game on Dec. 2 -- a Friday night, no less.
Much has changed.
With what's happened and will happen, it seemed like a good time to check in with Scott.
So you've expanded the conference, reorganized the officiating, signed a new TV contract and started a network: What's next?
Larry Scott
: Well, we've got an awful lot to do in the next year to make this all work and work well. Our championship game has all kinds of operational challenges, given that with home hosting we don't know in which venue it is going to be. A lot of work has to be done on that. We are currently looking at the future of our basketball tournament and evaluating its location. And with what we've just announced, we've got a monumental amount of work to do in terms of building a management team and launching a year from now seven different TV networks, as well as building a digital business, too. The next year is going to be a very busy and challenging one.
With the network: Can you explain the revenue model? How will the conference profit from the national and regional networks?
LS
: In its simplest form, there are basically two revenue streams for TV networks. One is subscriber fees, one paid by the satellite or cable or telecom companies [a monthly fee for each subscriber]. And the second is advertising. Those are the revenue streams. There are a lot of costs in terms of production and operations and marketing [which come from the Pac-12 coffers].
The biggest negative response has been from folks with satellite TV: How reassuring to them can you be that they are not going to miss Pac-12 football?
LS
: Our vision is that the other satellite companies and cable companies and telecom companies will also take the network. But all we have announced so far is our partnership with these cable companies [Comcast, Time Warner Cable, Cox Communications and Bright House Networks]. All I can say to fans is I hope the satellite companies will take it further into discussions, and as deals get done they will be announced.
You've talked before about your belief that there's another wave of expansion ahead. Any insights as to what that might look like?
LS
: No, I really don't have any insights or predictions about how and when. But I still believe, the way I have consistently said, that over time further consolidation will make sense. I couldn't begin to predict when that might happen.
Do you think it's likely the big conferences will eventually break away from the NCAA?
LS
: I certainly hope not. There's no talk about that going on now that I know of. But we've got a very interesting and creative time coming up, with [NCAA president] Mark Emmert, a new leader, and trying to set a new agenda, trying to engage presidential leadership. It will be interesting to see if the NCAA can be more nimble and responsive and bold in terms of creating a reform agenda than has been heretofore.
Speaking of the NCAA, there's been a lot of frustration at USC about first how harshly it was treated, then by how the NCAA has handled other major violations cases, most notably Ohio State. Has anyone explained to you this apparent double standard?
LS
: Well, I don't want to get ahead of ourselves. We don't know what the final outcomes of some of the other cases will be, the ones you're probably referring to. But I certainly think the USC decision was a harsh one, and my view is that it's important from a standards perspective that there not be a double standard and that people be treated fairly and evenhandedly. That's what we will be looking for.
The Pac-12 has a TV deal that is more than competitive and now it has new networks. Is the conference on equal footing with the SEC and Big Ten, or is there more catchup ahead?
LS
: I guess it depends on how you look at it, what metrics you're looking at. But I feel extremely good about where we are, from an exposure standpoint, from a revenue standpoint and from a competitive standpoint.
The SEC has won five national titles in a row. Is the consensus among commissioners from other conferences that the SEC plays better football, or is this just a historical cycle?
LS
: I'm probably not the best historian in terms of analyzing the cycles of college football, but definitely they've been a real powerhouse. You have to admire their recent run. But if you look at USC in our conference, it's probably been the strongest program over the past decade. It depends on how you look at it. Long term, I see it being very competitive. I think there will be trends and cycles.
You've been on the job a couple of years now. Can you tell me what the biggest surprise has been about your job?
LS
: It's probably been the amazing amount of potential. I took the role in the first place because I was inspired by the vision of Pac-12 presidents. I thought it was a great opportunity. Now that I've gotten to see under the hood, to see how much potential there is for change and uplift, it's been a very pleasant surprise.
August, 26, 2008
8/26/08
9:00
AM ET
Posted by ESPN.com's Adam Rittenberg
Several more Week 1 depth charts came out Monday, but few major questions were answered. Penn State still doesn't have a starting quarterback, and neither does Indiana or Michigan. The first Big Ten coaches' teleconference is later Tuesday, so perhaps some light will be shed on the league's top position battles. Check back for updates.
Link time:
August, 26, 2008
8/26/08
12:49
AM ET
Posted by ESPN.com's Adam Rittenberg
The Big Ten Network cleared its last major hurdle Monday night and reached an agreement in principle with Time Warner Cable to be carried by the provider. The agreement would make the Big Ten Network accessible in both Ohio and Wisconsin, allowing fans in those states to watch the Buckeyes and Badgers play their season openers Saturday. Time Warner Cable was the last major cable provider in the Big Ten area not to carry the Big Ten Network. It will carry the network as part of its expanded basic package.
The likely agreement ends a week of bickering that began with a letter from Ohio State athletic director Gene Smith to Buckeyes fans urging them to switch from Time Warner Cable to another provider because negotiations had reached a standstill. Despite some harsh words from both sides, the Big Ten Network and Time Warner Cable found common ground.
The Big Ten Network also is nearing an agreement with Mediacom and should reach the entire league market this season.
August, 23, 2008
8/23/08
10:34
AM ET
Posted by ESPN.com's Adam Rittenberg
One week away. 'Nuff said.
August, 22, 2008
8/22/08
7:36
PM ET
Posted by ESPN.com's Adam Rittenberg
COLUMBUS, Ohio -- Taking a Buckeye breather to see what else is going on around the league. A lot of Big Ten Network news.
August, 22, 2008
8/22/08
11:17
AM ET
Posted by ESPN.com's Adam Rittenberg
COLUMBUS, Ohio -- After relocating a little closer to The Shoe, it's time to take a look at the Ohio State Buckeyes, the back-to-back Big Ten champs and, as they're better known around the country, the back-to-back national runner-ups.
Before getting to the questions, I must say it was a bit odd to drive past a huge Time Warner Cable building about a mile and a half south of Ohio Stadium. From my vantage point, there wasn't a mass protest going on outside, though it can't be a popular spot among Buckeyes fans after what's happened with the Big Ten Network. The Cleveland Plain Dealer's Doug Lesmerises recently wrote that both sides are still at fault for no agreement being reached, and the left-in-the-dark Buckeyes fans should respond to Gene Smith's letter with one addressed to all parties involved. Hard to argue with that.
| | |
| --- | --- |
| | |
| | AP Photo/Terry Gilliam |
| | All of Buckeye Nation is looking forward to Terrelle Pryor's debut. |
Moving on, here are three questions facing the Buckeyes this fall.
1. How will the team use freshman quarterback Terrelle Pryor?
It's the biggest preseason debate for a team with few position battles and a ton of experience returning on both sides. Senior Todd Boeckman is the starter and Joe Bauserman the likely backup, but all eyes will be on Pryor when the season opens Aug. 30. Some Buckeye backers don't think offensive coordinator Jim Bollman and his staff are creative enough to effectively use Pryor, but Pryor might be making it easier for them. The common belief was that he would be used in special situations (goal line, etc.), much like Florida used Tim Tebow as a freshman. But Pryor's progress as a passer in training camp should expand his role. The first two games provide Pryor with opportunities to acclimate to the college game, but the coaches would be wise to save any custom packages and super-secret plays for USC in Week 3.
2. Can Boeckman take the next step?
He shares a backfield with a Heisman candidate (Beanie Wells) and shares a position with the program's future poster boy (Pryor), but the senior has a chance to elevate his own profile this fall. Boeckman turned in a solid first season as the starter, completing 63.8 percent his passes with 25 touchdown strikes. Interceptions were his bugaboo, as he threw multiple picks in four games, including the BCS national championship. Boeckman had the third-highest interception total among Big Ten starters (14) despite having the third-fewest number of pass attempts (299). Expect the first number to drop this fall as Boeckman builds on last season with the Brians (Robiskie and Hartline) back at wide receiver.
3. Will the defense force more turnovers?
Ohio State returns nine starters from a unit that led the nation in both total defense (233 ypg) and scoring defense (12.77 ppg) last season. But a stingy unit wasn't exactly an opportunistic one, as the Buckeyes tied for 93rd nationally in takeaways with 19. Cornerback Malcolm Jenkins has four interceptions in each of the last two years, but the Buckeyes could use more takeaways from standout linebacker Marcus Freeman and safeties Anderson Russell and Kurt Coleman, neither of whom recorded an interception last fall. It might sound nitpicky to knock this defense, but turnovers decide games more than any other statistic and the Buckeyes need more of them. Given who's back, it shouldn't be a problem.