October, 19, 2012
10/19/12
2:30
PM ET
Toben Opurum
is one of the bright spots for a Kansas team that's struggled to a 1-5 start under new head coach Charlie Weis this season. The former running back led the Jayhawks in rushing in 2009 before becoming a force at the line of scrimmage for KU under Turner Gill and again this season.
He's got four tackles for loss this season and 29 total tackles. He's also forced two fumbles, broken up three passes and has a sack.
This week, he took some time out to talk to ESPN.com.
How would you describe your play so far this season?
Toben Opurum:
I feel like I've improved drastically from last year. I'd like to continue to improve and make a couple more plays on the quarterback, but I think I've been distruptive a lot in the run game and passing game in different ways without the sack number being up there.
What are you most proud of from this season?
TO:
I think from me and the defense overall, we've done a really good job of tightening up as teams get closer to our end zone and kind of protecting our home as we call it, and not letting people get in. That's one thing we've improved on. For myself, I think I've done a much better job just understanding the whole defense that we're running and understanding my role, from bouncing around multiple positions to kind of finally understanding what's expected.
This season obviously hasn't started like you guys had hoped, but how would you describe the attitude of this team right now?
[+] Enlarge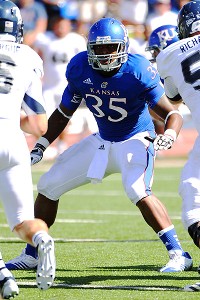 AP Photo/ David DurochikToben Opurum said he's finally getting comfortable on defense after starting his Kansas career at running back.
TO:
You would think that with our record we'd be down in the tank and dreading coming to practice, but guys are still coming in every day and enjoying practice and just doing everything we can to make sure we can turn this program around. Obviously, we're not in the position we want to be in right now, but I've got to play for these last couple games and also for the players who are coming after me.
You talked a little bit about it earlier, but where do you think this defense has improved the most from last year?
TO:
I would definitely say in the red zone again. I feel like we've done a good job of tightening up there. Teams have been able to move the ball a little better than we'd want them to between the 20-yard lines, but as soon as they get in there, the whole mentality changes and guys step up to the challenge of keeping people out of the end zone.
What's the biggest difference between the staff that was coaching you last year versus the staff you've got this year?
TO:
There's multiple differences. I really feel like the biggest change is the players more so than the coaches, though. Obviously, they've got coach Weis and coach (defensive coordinator Dave) Campo, who have got a lot of history in the NFL and coaching in the NFL and in college, so they bring a lot of experience and a big variety in their playbooks and they're able to adapt to multiple things, and that's not something we've always had available to us.
So, I think they've done a good job of being able to adjust to different offenses and defenses that we see in the Big 12.
That NFL experience you mentioned, for you as players, where does it come into play the most? Where do you see it?
TO:
They recognize talent when they see it. A lot of coaches get stuck on kind of putting players in based just off your reputation of what you can and can't do, and I think they did a good job of evaluating talent for themselves and putting players where they believe can have an impact and help us in the best way.
What has to happen for you guys to end this Big 12 losing streak?
TO:
For us to end this streak, it's going to have to start with us winning a game that no one believes we have a chance in. We've been in position to end it multiple times, against teams like TCU and even just last week against Oklahoma State. We've had opportunities to do so, but it's just something that we're not over that hump yet because we weren't able to finish.
I feel like if we were able to capitalize and do so, people would be talking about us in a different light than they are now, but it just shows that we've got a little further to go. I don't think the gap is as big as our record would indicate.
So how close is it, and what has to happen to get this team over that hump?
TO:
Hopefully, it's just a matter of days. Like I said, it's going to take us winning a game that no one believes we can win and obviously people have us losing to Oklahoma by 1,000 points, so this will be a good opportunity for us to get over that hump and it's going to take everything in our power to do so.
What has coach Weis done to change the attitude of this team and the mindset going into the season?
TO:
Well, you know he doesn't have a magic wand. He's still searching for the right way to change the attitude of every player. It's worked on a majority, but it takes everybody and you've got to have everyone with a winning attitude and guys trying to learn how to win, and not waiting for bad things to happen because that's what they're used to. You've got to get past it and be ready to step up and make the plays, rather than the guys sitting back and waiting for somebody else to do it.
February, 21, 2012
2/21/12
9:00
AM ET
Spring football is already under way at Texas Tech, but in the coming weeks, the Big 12's other nine programs will join the Red Raiders in taking the field as a team for the first time since January, December or November for some.
Here's a preview of what to expect:

BAYLOR BEARS
Spring practice start date:
March 19
Spring game:
April 14
What to watch:
Nick Florence: It's not official, but the Baylor quarterback job is Florence's to lose. That means he inherits the unenviable task of replacing the school's first Heisman winner. He replaced RG3 in 2009 with mixed results, but showed some major potential in a win over Texas Tech when RG3 took a shot to the head and sat out the second half. Can he keep the bowl streak alive at Baylor? We'll get an idea this spring.
The defense's progression: You didn't need to see much more than the 67-56 Alamo Bowl win over Washington to know the Bears needed some work on defense. In the month of November, Baylor became the first team in FBS history to win four consecutive games in a single season while also giving up at least 30 points in each of those games. The defense can't make Florence pick up the slack to that level. Year 2 under Phil Bennett must be better. Baylor has no excuses. The Bears have the athletes on campus necessary to be at least a decent defense.
The team's attitude/motivation: Baylor played with a lot of purpose the past two seasons, and made history in both, cracking a 16-year bowl drought and winning 10 games this year. Is that fire still there? Baylor has to prove it is without RG3 (and Kendall Wright) carrying the team on the field, emotionally and mentally.

IOWA STATE CYCLONES
Spring practice start date:
March 20
Spring game:
April 14
What to watch:
The quarterback battle: Or is it? Jared Barnett looked like the man of the future in Ames late in the season, leading the Cyclones to an historic upset of No. 2 Oklahoma State. But in the ugly Pinstripe Bowl loss to a mediocre Rutgers team, Barnett's inaccuracy posed big questions. He was benched and Steele Jantz stepped in, though he didn't play much better than Barnett. Turnovers were an issue for Jantz early on, but Barnett has to bounce back in the spring to make sure the job doesn't come open.
The receivers: Darius Reynolds was the big-play man for the Cyclones, but he's gone. It's going to be tough to replace him. Slot receivers Aaron Horne and Josh Lenz were productive, but did little to stretch defenses like Reynolds did. Can ISU find someone to fill the void?
The new man at left tackle: Iowa State had the luxury of having a future pro, Kelechi Osemele, at left tackle for the past three seasons. He earned All-Big 12 nods in each of those seasons, but he's gone now. Junior Carter Bykowski was behind Osemele on the depth chart, but will the converted tight end be the new man at tackle for the Cyclones?

KANSAS JAYHAWKS
Spring practice start date:
March 27
Spring game:
April 28
What to watch:
Uh, everything?: I mean, what's not to watch at KU? Charlie Weis steps in for the fired Turner Gill and tries to build KU up from nothing. The Jayhawks were one of the worst teams in Big 12 history last season, losing six games by at least 30 points. Weis will speak his mind and watching him rebuilding the Jayhawks is going to be fun. It all starts next month -- on the field, at least.
KU's new pass-catch combo: Dayne Crist is on campus, and so is Oklahoma transfer Justin McCay, a former blue-chip recruit who didn't quite catch on in Norman. Quarterback and receiver were arguably the two biggest positions of need for KU last year, and we'll get a preview of what could be a productive combo next season. McCay isn't officially eligible for the 2012 season yet -- he needs the NCAA to waive its mandated redshirt year after a transfer -- but the coaching staff is confident he'll have it granted.
The uncertainty on the depth chart: When a new staff comes in, you never know what to expect. Kansas' leading rusher in its final season under Mark Mangino, Toben Opurum, is now one of its best defensive linemen. Look for Weis to shake things up, too. Where? Who knows?

KANSAS STATE WILDCATS
Spring practice start date:
April 4
Spring game:
April 28
What to watch:
Collin Klein's maturation: Kansas State's quarterback could be fun to watch this spring and next fall. His throwing motion isn't pretty, but his accuracy improved in a big way throughout the season. If that continues at a pace anything close to what we saw last year, K-State's going to be a load for everyone. Look out.
Developing depth at running back: John Hubert is back, and so is seldom-used Angelo Pease. Bryce Brown is gone, though. Klein handles a lot of the heavy lifting in the running game, but it'd be some nice insurance if K-State could establish some more depth in the backfield. Making Klein carry the ball 300 times again is tempting fate.
Stars becoming superstars: Kansas State brings back more starters than all but seven teams in college football, so this team is going to look remarkably similar in 2012 to the way it did last year. However, it should get better. And its two transfers could look dominant this spring. Cornerback Nigel Malone and linebacker Arthur Brown emerged as stars last year, but we could see the duo emerge as true game-changers this spring. Look out, Big 12 offenses.

OKLAHOMA SOONERS
Spring practice start date:
March 8
Spring game:
April 14
What to watch:
New faces on, off the field: Mike Stoops' arrival as the defensive coordinator was the biggest news this offseason in the Big 12, and Brent Venables, who had been at OU for all of Bob Stoops' tenure, left for Clemson rather than become co-defensive coordinator. Hopes are high that Stoops can revitalize Oklahoma's defense. He was in charge when the Sooners rode a dominant D to the 2000 national title, and the Sooners have the talent to win it all in 2012. Receiver Trey Metoyer joins the team this spring, and could be a major contributor immediately. Two of the team's four new tight ends are also enrolled early.
QB Blake Bell's role: The Belldozer is back … but so is full-time quarterback Landry Jones. How will the balance between the duo look this spring? And what new wrinkles will we see in Oklahoma's simple, yet near-unstoppable short-yardage formation that scored 13 touchdowns in the second half of 2011?
The battle at defensive end: Oklahoma must fill two huge holes at defensive end. Big 12 Defensive Player of the Year Frank Alexander is gone, as is possible first-round pick Ronnell Lewis. R.J. Washington contributed late and has potential, but David King filled in for Lewis in the final three games of the season. The duo could be great, but it could also be pretty pedestrian. We'll get an idea this spring, but Lewis and Alexander set a high, high bar.

OKLAHOMA STATE COWBOYS
Spring practice start date:
March 12
Spring game:
April 21
What to watch:
The quarterback battle: This will easily be the highest-profile, highest-quality quarterback battle in the Big 12. It won't be at the level of Texas Tech in 2010, but it won't be too far off. Clint Chelf, J.W. Walsh and Wes Lunt will go head to head. All have plenty of potential, though Lunt may have the most. The big-armed true freshman also has the least experience. Anything could happen here.
Which receivers rise: Justin Blackmon and Josh Cooper leave huge holes behind. It's not every day a two-time Biletnikoff Award winner walks on campus. Hubert Anyiam is gone, too. Michael Harrison is unlikely to play for the 2012 season, but the school has offered no confirmation on his status. He had the most potential, but OSU is deep at the position. Who emerges as the top target? Isaiah Anderson? Tracy Moore? Josh Stewart? Anything could happen there, too.
Defense needs a leader: Safety Markelle Martin has been the heart of the defense the past two seasons, but his big-hitting days are over. Who becomes the new voice of the defense? It needs to find leadership this spring heading into summer voluntary workouts.

TEXAS LONGHORNS
Spring practice start date:
Feb. 23
Spring game:
April 1
What to watch:
The quarterback competition: I still think having a competition at the spot, which Texas says it will, isn't the best option, but David Ash and Case McCoy will go at it alongside early-enrolling freshman Connor Brewer. If Ash secures the job, expect an announcement heading into summer officially anointing the sophomore.
More sophistication on both sides of the ball: The progression is natural and likely. Offensive coordinator Bryan Harsin and defensive coordinator Manny Diaz had good first years in Austin, but this is Year 2. The spring won't be devoted to learning the playbook. It's time to master it. Both units could look markedly different, and much more refined next fall. Deny it all you like: Texas is back on its way to the top after a rough two years.
Maturing offensive weapons: Last season, the Longhorns relied on two true freshman running backs (Malcolm Brown/Joe Bergeron), a freshman/sophomore rotation at quarterback and its top receiver (Jaxon Shipley) was a true freshman. No. 2 (Mike Davis) was a sophomore. I hope I don't have to tell you what freshmen and sophomores do in college football. Look. Out.

TCU HORNED FROGS
Spring practice start date:
Feb. 25
Spring end date:
April 5
What to watch:
Can TCU shut out the scandal? Four team members were arrested in a recent drug sting and kicked off the team. How much of a distraction will that be for a program undergoing the most monumental change in its history? Quantifying the effects of the scandal will be pretty impossible, and we've got no idea how they'll handle the change, but will it be on players' minds?
The offense tightens up: The Horned Frogs' offense is absolutely loaded and ready to go for 2012. Quarterback Casey Pachall returns and brings his top three weapons (Josh Boyce, Skye Dawson and Brandon Carter) with him. Running backs Waymon James, Ed Wesley and Matthew Tucker each topped 700 yards rushing in 2011 and all return. The spring will be all about fine-tuning an already stellar offense, and it'll be fun to watch.
Replacing departed starters: All-America linebacker Tanner Brock was among the four football players arrested and booted from the team, as was all-conference defensive tackle D.J. Yendrey and likely starting safety Devin Johnson. Those were unforeseen losses, but TCU can't feel sorry for itself. Gary Patterson has no choice but to find new faces to fill those holes.

TEXAS TECH RED RAIDERS
Spring practice start date:
Feb. 17
Spring game:
March 24
What to watch:
Once again, a new defense: Texas Tech sounds like a broken record these days when it comes to defensive coordinators. This time, Art Kaufman will be stepping to the microphone as the fourth defensive coordinator in Lubbock in four years. He's bringing a 4-3, a shift back to what Ruffin McNeil ran in 2009. Chad Glasgow's 4-2-5 and James Willis' 3-4 failed miserably in 2011 and 2010, respectively, the first two years under Tommy Tuberville.
The battle at running back: No one knows yet if Eric Stephens will be back next season. There's still a long way to go in his rehab from a dislocated knee he suffered last season in a loss to Texas A&M. DeAndre Washington is also out this spring after tearing his ACL against Missouri. Harrison Jeffers hung up his cleats. Who will prove to be reliable this spring? Look for the Red Raiders to try to use sophomore Bradley Marquez, freshman Javares McRoy and junior SaDale Foster in a manner similar to the way Oregon uses scatback De'Anthony Thomas, with lots of short passes and bubble screens to get them the ball in space, where they can use their speed and shiftiness to make plays.
Team health: Tuberville said earlier this month that the team is missing 15 players this spring. It can't afford any more injuries. It's already going to be tough to get enough done this spring, but Tech can't start getting banged up.

WEST VIRGINIA MOUNTAINEERS
Spring practice start date:
March 11
Spring game:
April 21
What to watch:
Dana Holgorsen's offense in Year 2: Holgorsen didn't get a chance to coach his talented offense at Oklahoma State in its second year. The results could have been crazy. They might be at West Virginia in 2012, and the beginning steps will be taken this spring as Geno Smith & Co. get more and more comfortable with the system and Holgorsen adds more wrinkles.
The battle at running back: Sophomore Dustin Garrison hurt his knee in practices leading up to the Mountaineers' 70-33 Orange Bowl win over Clemson, and won't be there for the spring. What does senior Shawne Alston have in store for the spring? Garrison was the featured back last season, but a big spring could help Alston earn a few carries next year.
Defense needs help: Najee Goode leaves a big hole at linebacker, and defensive back Eain Smith's exit means the Mountaineers enter the season without two of their top three tacklers from a year ago. Bruce Irvin and Julian Miller's talents on the defensive line will be tough to replace, and in a league that requires a great pass rush, Irvin, Goode and Miller's 19 combined sacks must be replaced somehow.
February, 16, 2011
2/16/11
9:00
AM ET
Springtime is almost here. And here's a look at what to expect across the Big 12 when it gets into full swing here in the next couple weeks.
BAYLOR BEARS

Spring practice starts:
February 28
Spring game:
April 2
What to watch:
Big changes on defense. Baylor brought in Phil Bennett as its new defensive coordinator, and he says his scheme will be multiple, built to fit the Bears' personnel. Considering the Bears' recent recruiting successes in the secondary, look for a 4-2-5 type of look.
Recruiting stars: time to shine. Both safeties, Tim Atchison and Byron Landor, are gone. Baylor, though, has two former ESPNU 150 recruits at safety who would be well served to start filling their potential. Prince Kent was a reserve last season and at one time, the nation's No. 51 overall recruit who originally signed with Miami. Ahmad Dixon, meanwhile, was the No. 15 overall prospect in the 2010 class. The opportunity is there. Baylor needs big talent at the position. Briles has recruited it. Can they develop into players who make Baylor a contender?
Running back competition. Jay Finley topped 1,200 yards in 2010, but he's gone. Who steps into his void? Terrance Ganaway is a bowling ball at 5-foot-11, 235 pounds, but the shifty Jarred Salubi could get a good amount of carries, too. They could begin to share carries this spring.
IOWA STATE CYCLONES

Spring practice starts:
March 22
Spring game:
April 16
What to watch:
Quarterback competition. It should be a good one in Ames this spring. Jerome Tiller is the name most recognize after getting lots of meaningful time and starts because of injuries to Austen Arnaud over the past two seasons. But juco transfer Steele Jantz sounds confident he can win the job. Rising sophomore James Capello and redshirt freshman Jared Barnett will compete, too.
Paging Cyclone receivers. Iowa State had one of the most underwhelming receiving corps in the league during the past season, and three of its top five pass-catchers won't return in 2011. Of those three, however, one is a tight end (Collin Franklin) and another is a running back (Alexander Robinson). The new quarterback will need some help, and Darius Darks and Darius Reynolds will need to provide it as seniors.
Shontrelle's time or not? Freshman Shontrelle Johnson looked like the running back with the most pop behind Robinson for most of 2010, but two other freshmen running backs jockeyed for carries, too. Paul Rhoads is hardly handing the job over to Johnson, but spring could be the time when he really separates himself from the pack.
KANSAS JAYHAWKS

Spring practice starts:
April 1
Spring game:
April 30
What to watch:
What are they doing behind center? Kansas never got much consistent play out of the quarterback position last year, but freshman Brock Berglund is one of the 2011 class' top recruits, and enrolled early to compete in the spring with Jordan Webb and Quinn Mecham. With a building program like Kansas, there's perhaps some value in handing the program to a younger player like Webb or Berglund, but they'll have to earn it. Doing so will start in the spring, but don't expect the Jayhawks to have a set-in-stone starter by spring's end.
Top linebacker back on the field. Huldon Tharp missed all of 2010 with a foot injury, but he says he's 100 percent and ready to get back on the field. As a freshman in 2009, he was fifth on the team in tackles, with 59, and looked like one of the league's possible budding stars. Now, he'll get his chance to join fellow linebacker Steven Johnson as one of the team's top tacklers, and he'll do it as a sophomore after redshirting in 2010.
Toben rising? Turner Gill raised plenty of eyebrows when he moved his team's leading rusher in 2009, Toben Opurum, to linebacker in fall camp, and eventually slid him up to defensive end. But toward the end of 2010, Opurum started showing some major signs of growth at the position. We'll get a better idea this spring if he's one of the league's most unlikely new stars at defensive end.
KANSAS STATE WILDCATS

Spring practice starts:
April 6
Spring game:
April 30
What to watch:
Prodigal Kansan sons come home. There's no doubt that the Wichita native Brown brothers are the main attraction at Kansas State this spring, a season after transferring back home. Bryce Brown, the running back, was the nation's No. 8 prospect in the 2009 class. Arthur Brown, the linebacker, was the nation's No. 6 prospect in the 2008 class. Bryce transferred from Tennessee and Arthur from Miami. The Wildcats are pinning much of their hopes on the duo, and we'll get a good sense of what they can provide soon.
Quarterback competition. Carson Coffman is gone, and two new faces will challenge for the job: juco transfer Justin Tuggle and Daniel Sams. Sammuel Lamur is also up for the gig. Collin Klein may or may not be; Bill Snyder hasn't explicitly confirmed a past comment from Sams saying Klein had moved to receiver. Don't expect a starter to be named by spring's end, but a general order could start to form.
Can the defense show improvement? Kansas State had the Big 12's worst overall defense last year, and the worst rushing defense in college football, giving up 3,008 yards on the ground. Coordinator Chris Cosh looks like he'll still be around in 2011, and defensive backs David Garrett and Tysyn Hartman are solid pieces to try and build around. But this young maturing defense must get better to make a bowl game again with so many questions on offense. That starts in the spring.
MISSOURI TIGERS

Spring practice starts:
March 8
Spring game:
April 16
What to watch:
Franklin comes alive! Blaine Gabbert bolted to the NFL early, and Missouri has a gaping hole a quarterback. The position, however, is surrounded by a lot of quality talent that likely makes the Tigers a Top 25 team. There's no understating the importance of the position for the Tigers, and that will begin to be decided in the spring. James Franklin, a rising sophomore, saw spot duty in 2010 as more of a runner, and may have the inside track on the job, but Tyler Gabbert, Blaine's younger brother, and Ashton Glaser should make it an interesting competition in the spring. If neither of them impress early, don't count out incoming freshman Corbin Berkstresser.
Here is the new secondary. Same as the old secondary? After years of pass defense being one of the Tigers' biggest weaknesses, it became a strength in 2010 behind the leadership of senior corners Kevin Rutland and Carl Gettis. But the Tigers lose them and safety Jarrell Harrison. Rutland emerged as one of the team's most impressive players last spring, but was Missouri's success in the secondary a one-time thing or the beginning of a welcome trend?
Time to dominate the trenches? Missouri played without likely first-round pick Aldon Smith for much of the previous season, but the defensive and offensive lines for the Tigers were as good as ever in 2010. How will they look in 2011? Impact juco transfer Sheldon Richardson won't be enrolled by the spring, but the four returning starters on the offensive line should get some solid work against Brad Madison, Jacquies Smith and Terrell Resonno.
OKLAHOMA SOONERS

Spring practice starts:
March 21
Spring game:
April 16
What to watch:
Freshmen on display. Coach Bob Stoops hasn't been shy about saying his 2010 recruiting class was his best ever, but it could look even better after this spring. Two of his best emerging recruits, Justin McCay and Geneo Grissom, didn't even play in 2010, and could start to make an impact. The same goes for Corey Nelson, who will try to earn some more time somewhere backing up star Travis Lewis.
Is there a golden boot in Norman? Jimmy Stevens was much more accurate in 2010, finishing 19-for-23, but his attempts outside 45 yards were sparse. The good news is he missed none of his 53 extra points. Field goals have been a bit of an adventure for the past couple years, but continuing in the spring what he started last year would be a good sign for Oklahoma. The Sooners are strong everywhere and need good special teams play to reach their lofty title goals.
Are the Sooners' backs back? Roy Finch missed the Fiesta Bowl with a stress fracture, and his durability is certainly questionable entering 2011. When he's healthy, he looks like the next star in the Sooners' backfield, but they'll need some depth behind the 5-foot-8, 173-pounder. Jermie Calhoun, Jonathan Miller and Brennan Clay have all looked good at times, but there should be some good competition from newcomers Brandon Wegher, an Iowa transfer who'll be in camp this spring and eligible next season, and blue-chip recruit Brandon Williams, who enrolled early.
OKLAHOMA STATE COWBOYS

Spring practice starts
: March 7
Spring game
: April 16
What to watch
:
Every piece of the offense. The spring in Stillwater is all about keeping or improving upon the status quo. Had it kept Dana Holgorsen, there'd be little doubt that would happen, but Oklahoma State must make the most of its five returning offensive linemen, quarterback Brandon Weeden and receiver Justin Blackmon. The opportunity for a historic season is there, but they'll have to pick up the nuances of the new offense quickly in the spring like they did last year.
What about the kicker? Dan Bailey won the Lou Groza Award as the nation's top kicker in 2010, but he's gone. Oklahoma State needs to fill that role quickly, and we'll likely know who will get the nod after the spring.
Who steps up on the defensive line? The Cowboys lose three starters up front on defense, including All-Big 12 performer Ugo Chinasa and tackles Chris Donaldson and Shane Jarka. Can senior Richetti Jones become a star in the Big 12? We'll have a good idea if he, or any of the Cowboys' other defensive linemen, can by the end of April.
TEXAS LONGHORNS

Spring practice starts
: February 24
Spring game
: April 3
What to watch
:
New coaches and their students/players. Texas has five new coaches. Although it's hard to get a good read early on, how they relate with the players on the field, in the film room and around the facilities will have a big impact on how the 2011 season plays out in Austin. The young-blooded coordinators could serve themselves well by relating to players and the players will need to spend plenty of extra time learning new schemes and plays.
Quarterback competition ... or not? Mack Brown says the gig is open and it is, for now. Garrett Gilbert can close it with a strong spring. If Garrett struggles on the field or has difficulty grasping the new system, the door will be wide open for Connor Wood or Case McCoy to step in and close it. Gilbert didn't get much help, but he did very little in 2010 to inspire a lot of breathing room with McCoy and Wood clamoring for playing time.
And you've got to defend the pass, too. Texas loses its top three cornerbacks to the NFL, and only Carrington Byndom and A.J. White got much meaningful playing time last season. Younger players can earn some rare early playing time with a strong spring. Will anyone step up?
TEXAS A&M AGGIES

Spring practice starts
: March 22
Spring game
: April 16
What to watch
:
New linebackers in the running. Spring isn't so scary when you bring back nine defensive starters, but the two Texas A&M lost were the heart of its defense. Linebackers Michael Hodges and Von Miller are gone. Kyle Mangan didn't look fantastic when forced into action during the Cotton Bowl, but the time is now for Damontre Moore and Dominique Patterson, a pair of sophomores, to make their impact.
Tannehill's tuning things up. Quarterback Ryan Tannehill played about as well as anyone could have hoped late last season, but he'll need it to continue his performance with a solid spring nailing down the timing with his receivers, who all return. He's already got a leg up on last year's quarterback, Jerrod Johnson, who was held out of team drills last spring after shoulder surgery that eventually derailed his senior season.
Christine's back. Christine Michael missed the second half of the season with a broken leg, giving way to Cyrus Gray's rise among Big 12 backs. It should make Texas A&M's depth at the position even more impressive, but we'll see how Michael looks coming back from the injury.
TEXAS TECH RED RAIDERS

Spring practice starts
: February 19
Spring game
: March 26
What to watch
:
Past defending that pass defense. Texas Tech had the Big 12's worst pass defense last season, but has a pair of big potential players at cornerback in rising sophomores Tre Porter and Jarvis Phillips. Starters LaRon Moore and Franklin Mitchem are gone, but if returning starters Cody Davis and Will Ford can continue to mature, the defense should improve in the area most important for success in the Big 12.
And they're off! There's a four-man quarterback derby set in Lubbock this spring between Seth Doege, Jacob Karam, Michael Brewer and Scotty Young. I don't expect it to be settled until midway through fall camp, similar to last season, but there should be a solid front-runner and more clarity after spring. Coach Tommy Tuberville was extremely impressed with Doege and Karam last spring after Taylor Potts and Steven Sheffield went down with injuries.
Time to find new stars. Most of the big names on Texas Tech's defense are gone. Colby Whitlock, Bront Bird, Brian Duncan will all continue their careers elsewhere. The leaders on the defense will have to begin to emerge in the spring. Is it Scott Smith? Cody Davis? A younger, unexpected player? We'll find out. Sometimes these types of situations aren't as easy to predict as they might seem, like Missouri's strength in 2010 emerging in the secondary.
September, 1, 2010
9/01/10
6:22
PM ET
Toben Opurum
's move to linebacker was the most intriguing depth chart-related story of the preseason, after leading the Jayhawks in rushing last season as a freshman and one of Kansas' top recruits.
But Opurum took what some might interpret as an insult and impressed Jayhawks coach Turner Gill at his new position.
"I've seen that he has been aggressive, that he's a physical player," Gill said of the 6-foot-1, 240-pound linebacker, who came to Kansas because coach Mark Mangino said he could play running back when others wanted him as a fullback. "There still are some things that over the next two to three weeks he needs to do, getting fine-tuned in getting lined up and the looks he'll have to see ... He will help our football team definitely at the linebacker spot."
Gill backed that up on Tuesday, including Opurum on Kansas' depth chart as its No. 2 strongside linebacker, and defensive coordinator Carl Torbush
told the Kansas City Star
he expects Opurum to play 10-20 snaps in the season opener against North Dakota State.
The move was much needed for the Jayhawks, who lost returning starter Huldon Tharp for the season with a foot injury and Jacoby Thomas for the season because of academics.
Starters Justin Springer, Steven Johnson and Drew Dudley should be solid and among the Big 12's best, but Opurum gives the unit additional depth after the losses of Tharp and Thomas.
"I can't sit here and say how many reps we are going to play him. He is going to play at our strong side linebacker, and give him some reps and go from there," Gill said. I know he probably isn't going to play the majority of the game, but yes, he is planning on playing and we will go from there."
For Opurum, that has to be nice to hear.
August, 23, 2010
8/23/10
5:49
PM ET
Preseason camps are about half gone. Opening weekend is less than two weeks away, and it's just over a week away for teams like Iowa State.
But plenty has been resolved in camps so far. Here's the best of what we know:
1. Three quarterback battles have been won.
Two (Kansas State and Nebraska) have yet to be decided, but
Tyler Hansen
won the job over
Cody Hawkins
at Colorado.
Kale Pick
beat out
Jordan Webb
at Kansas.
Taylor Potts
beat out
Steven Sheffield
in an epic duel at Texas Tech between two seniors who could start for about anyone in the conference.
[+] Enlarge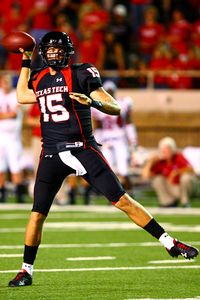 Karl Anderson/Icon SMITaylor Potts beat out Steven Sheffiled to be Texas Tech's starting quarterback.
2. Nebraska and Kansas have been hit hardest by injury.
Nebraska lost linebacker Sean Fisher and utility lineman Mike Smith for the season, each with a broken leg. Backup cornerback Anthony Blue will also miss the season with a torn ACL. Tight end Dreu Young also required back surgery and may miss up to the entire season. None figured to be game-changers, but without them, the Huskers depth suffers, leaving them more reliant on less experienced players. That's not the case in Lawrence, where Turner Gill will coach his first season without Huldon Tharp,
one of the conference's best linebackers
and one of his most exciting young talents. Backup running back
Rell Lewis
will miss the season with a knee injury, as will offensive lineman Jeff Spikes, who had a chance to start.
3. Gill: What have you done for me lately?
Turner Gill cares not about your recruiting stars, Jayhawks.
Toben Opurum
was the Jayhawks leading rusher as a freshman, with 554 yards. As one of the nation's best fullbacks, he came to Kansas because Mark Mangino planned to let the 6-foot-1, 240-pounder play running back. He was injured in the spring, but returned to full strength by preseason camp. Unable to crack the depth chart at running back, he's been moved to linebacker to help solve the Jayhawks' depth problems at the position. Meanwhile, two-year starter at center Jeremiah Hatch was sent to the bench in favor of senior captain Sal Capra, who played both guard positions last year.
4. Iowa State is even more huggable.
The team rallied behind rookie head coach Paul Rhoads in 2009 and raced to a seven-win season after just five wins in the previous two seasons combined. This fall, one of the teams practices was canceled so the players could sandbag the athletic facility to prevent damage from a major flood in Central Iowa. To do the team's laundry, team managers had to travel nearly 20 miles to the nearest source of fresh water.
5. Robert Griffin's arm isn't rusty.
The Bears sophomore quarterback has strung together two masterful scrimmages through the air, completing 33 of his 44 passes for three touchdowns and one interception. He has yet to prove he can run with the same explosiveness he showed as a freshman, but coach Art Briles isn't going to be getting Griffin hit many more times than is necessary.
6. Texas is talking up its defense.
Coach
Mack Brown
isn't keeping quiet about his expectations for his defense in 2010. ""I do think this could be our best defense," Brown
told the Dallas Morning News last week
, noting health and depth as variables. "We should be really, really good on defense." The Longhorns already ranked No. 3 nationally in total defense last year, but bring back one of the nation's best secondaries and perhaps the best and deepest group of defensive ends anywhere.
August, 10, 2010
8/10/10
10:00
AM ET
1. Texas:
Texas' big-time freshmen receiving recruits Darius White and Mike Davis are on campus to compete with the remainder of the Longhorns receivers after the departures of Jordan Shipley and
Dan Buckner
. Whoever develops solid chemistry with quarterback
Garrett Gilbert
first should have a nice advantage heading into the season. Very few questions surround the Longhorns on defense, who also have exciting freshman Jordan Hicks competing for playing time at linebacker.
2. Oklahoma:
Honestly, my gut tells me to slide the Sooners above the Longhorns based on
coach Bob Stoops comments at media days
, but I'll give the champs their due entering the preseason. Oklahoma loses its top three blockers from a season ago, and any growth from Oklahoma's eight-win team last season will have to start on the offensive line. Stoops believes it will. If it does, look for the Sooners and Longhorns to switch positions if Oklahoma earns wins against Florida State and Cincinnati while Texas beats up on Rice and Wyoming. A convincing win at Texas Tech might keep the Longhorns on top.
3. Nebraska:
The Huskers quarterback issues can't end soon enough. The Big 12 blog's pick:
Zac Lee
. With its offensive line and quality running backs, Nebraska will be able to run the ball. If Lee can establish himself as the best passer of the group, his skills will better serve the offense than the more athletic
Cody Green
and
Taylor Martinez
. We won't know very much about how good the defense will be again this year until the Huskers' date with
Jake Locker
and the
Washington Huskies
on Sept. 18 in Seattle.
4. Missouri:
A solid contender in the North, Missouri's key to hopping over the Huskers lies in the secondary. That group returns all four starters and has another experienced player in junior Kenji Jackson entering camp as a new starter at safety. If it solidifies, Missouri will be a force that spends most of the season in the top 25.
Jerrell Jackson
and
Wes Kemp
should share the spotlight catching balls from
Blaine Gabbert
along with slot man
T.J. Moe
and tight end
Michael Egnew
.
5. Texas A&M:
The Aggies have
the conference's best player
, but its worst defense. Both will need to improve for the Aggies to earn a South title. On defense, new defensive coordinator Tim DeRuyter will have to build around tackle Lucas Patterson, linebacker Von Miller and safety Trent Hunter. Three freed-up offensive line spots -- which might all be filled by freshman -- will have to be solid and consistent for the offense to remain one of the Big 12's best, despite the Aggies' talent at the skill positions.
6. Kansas State:
Running back
Daniel Thomas
led the Big 12 in rushing with almost no help from the quarterback spot last season, so the competition between
Carson Coffman
,
Collin Klein
and
Sammuel Lamur
isn't immensely important to Kansas State's success. No doubt, they'll be a lot better with great play from one of those three, but they won't be a bad team without it. Two of the Wildcats' top four tacklers will be junior defensive backs in 2010, Emmanuel Lamur and Tysyn Hartman.
And yes, I am very proud that I'm still batting 1.000 in not mixing up Sammuel and Emmanuel Lamur. Stay tuned, though.
7. Texas Tech:
The Red Raiders have a great chance to move up this poll after hosting Texas on Sept. 18. Whoever wins the quarterback competition between
Taylor Potts
and
Steven Sheffield
should excel, which not every team in the Big 12 with a quarterback battle can say. Tech's aggressive new defense will have to limit big plays to see success in the first year under coach Tommy Tuberville and defensive coordinator James Willis. A convincing opening-week win against SMU will look better in December than some Tech fans might think after the team's Sunday, Sept. 5 debut.
8. Oklahoma State:
One of the conference's wildcards, the Cowboys bring back just eight starters from last season, and will showcase a radical new offense in Dana Holgorsen's version of the Air Raid. Oklahoma State's receiving corps, led by
Hubert Anyiam
and
Tracy Moore
, is extremely underrated and could surprise plenty of folks in 2010. Their first real test comes Sept. 30, when they'll get a chance to knock off media darling Texas A&M in Stillwater.
9. Iowa State:
The Cyclones nonconference schedule has made plenty of headlines this offseason, and Iowa State isn't shying away from its dates with Northern Illinois, Iowa and Utah. The legal issues surrounding defensive star
David Sims
appear to be resolved with an opening-game suspension, and running back
Alexander Robinson
looks ready for another big season after rushing for over 1,000 yards in his 2009 breakout season. Iowa State will need to steal a few games like last season to qualify for a second consecutive bowl game.
10. Baylor:
Freshman safety Ahmad Dixon is impressing early in camp with a few big hits, and is making good on his status as one of the best recruits in Baylor history. Another -- Robert Griffin -- is already dealing with the pressures of delivering a bowl game to Waco. Coach Art Briles will need more players like Dixon and Griffin to move the Bears goals past just making a bowl game.
11. Colorado:
The only team to move up from its position in
the post-spring power rankings,
Colorado simply brings back more talent than Kansas, and added two new receivers in UCLA non-qualifier Paul Richardson and
Travon Patterson
, whose transfer from USC was finalized on Monday. The offensive line has a lot of talent in Nate Solder and Ryan Miller, but the other three members will have to improve if the Buffs are going to rush for more than 1,055 yards like in 2009 (11th in the Big 12) and give up fewer than 43 sacks, 11 more than any other team in the Big 12.
12. Kansas:
Losing your three best players from a team that finished last in the Big 12 North a season ago -- plus implementing a new coaching philosophy -- is a recipe for a rebuilding year. That's where the Jayhawks sit to begin 2010. They've got good young talent in linebacker Huldon Tharp and receiver
Johnathan Wilson
, who are both sophomores, but they face major questions at quarterback with inexperienced candidates
Jordan Webb
and
Kale Pick
battling for the No. 1 spot. Last season's leading rusher,
Toben Opurum
, is also nowhere to be found on the depth chart after battling injuries throughout the spring. The Jayhawks were the only team in the conference to return all five starters on the offensive line, but
a season-ending injury to tackle Jeff Spikes
eliminated that status. Brad Thorson, who played both guard and tackle last season, is also recovering from a broken foot. A win against Southern Miss and a competitive loss to Georgia Tech would earn the Jayhawks some more respect.
March, 5, 2010
3/05/10
4:00
PM ET
1. Texas
Texas has plenty of question marks, namely at receiver. Repeating as Big 12 champs would be a lot easier if one of its talented running backs emerges to flirt with 1,000 yards and takes some of the pressure off first-year starter
Garrett Gilbert
.
Tre' Newton
is the most likely candidate, but
Foswhitt Whittaker
, or
Fozzy Bear
as I prefer to refer to the running back, wins if the tiebreaker is best name.
2. Oklahoma
The defense will be fearsome again, even after losing both starting cornerbacks and defensive tackle Gerald McCoy.
DeMarco Murray
looks to take on an expanded role in the run game, but the offensive line will have to improve quickly for his increased touches to translate into increased yardage.
3. Nebraska
Nebraska finally made it back to the Big 12 title game after a two-year run by Missouri representing the North. Even after Ndamukong Suh's exit, the teeth of the Husker D should be strong, with junior defensive tackle Jared Crick and sophomore defensive tackle Baker Steinkuhler mucking up the front lines. Both will be on display during the spring. The offense had one of its best performances of the season against Arizona in the Holiday Bowl, but enters the spring with plenty to prove.
4. Missouri
Blaine Gabbert
will continue to mature along with his young receivers, who lose the lanky
Danario Alexander
. Gabbert could put up gawdy numbers as a junior, but he'll need the secondary to improve if the Tigers can challenge for the North.
5. Texas A&M
The Aggies looked like a trainwreck at moments in 2009, (48-point loss to Kansas State? What? 55-point loss to Oklahoma? Ouch.) but their entertaining offense will take a backseat to Tim DeRuyter's new 3-4 defense as the main attraction for spring.
6. Kansas State
The dark horse to win the North in 2010 came within a game of matching up with Texas in Dallas in 2009. Year 2 of the Bill Snyder Reboot could be fun to watch. The Wildcats had the fewest turnovers (18) of any team in the Big 12 last season, but losing
Brandon Banks
removes some of K-State's explosiveness on offense.
7. Oklahoma State
Oklahoma State hoped they could make a run at the Big 12 South last season, but got embarrassed in losses to Texas and Oklahoma. A South title in 2010 might be a stretch, but the spring could set up another solid season for Mike Gundy's Cowboys.
8. Baylor
Finding replacements for All-Big 12 defenders Joe Pawelek and Jordan Lake should be the prime concern for the spring, but it will definitely be good to see
Robert Griffin III
get back on the field.
9. Texas Tech
What injustice! The Red Raiders below the Bears? Tommy Tuberville is a good coach, but the transition to Tech could be a difficult one. Don't be surprised if the Red Raiders prove me wrong, but somebody's got to finish last in a great South division. There won't be an easy win for anyone against South teams this season. I mentioned this in Thursday's chat, but I'm interested to see how Tuberville's second go-around with the spread offense (see:
Tony Franklin
) goes. Easing up on his trigger finger might be a good idea.
10. Kansas
Turner Gill loses a lot of offense without
Todd Reesing
,
Kerry Meier
and
Dezmon Briscoe
. Sophomore running back
Toben Opurum
could emerge as one of the conference's young stars this spring.
11. Colorado
Tyler Hansen
and
Toney Clemons
bring some excitement to the Buffaloes spring, but the offensive line is also a concern. Maxwell Tuioti-Mariner returns from injury to help talented lineman Nate Solder protect Hansen and pave the way for running back
Rodney Stewart
, one of just three scholarship backs who will practice this spring.
12. Iowa State
The Cyclones depleted defense (only four starters return) could make it tough for
Austen Arnaud
to produce wins no matter how well he plays. Plenty of spots up for grabs there, and linebacker Jake Knott is one to watch as a new starter. Paul Rhoads impressed with a bowl win last season, but what does it say about a team when its best win (Nebraska) came by only two points when it forced eight turnovers and committed none?
Thanks for the support the first week, fans. Enjoy the weekend.
March, 5, 2010
3/05/10
9:28
AM ET
Some of you have asked for it, and since it makes sense to do it early on, I'll be breaking down the Big 12 over the next couple of days. Today, I'll give my take on the North and South races. Tomorrow, I'll put them together for my own pre-spring power rankings.
Update
: My pre-spring power rankings will go up later this afternoon.

1. Nebraska
The Huskers will do without the services of the House of Spears, but the Pelini brothers' defense was hardly built around one player. Replacing linebacker Phillip Dillard and safeties Matt O'Hanlon and Larry Asante won't be easy, but the Nebraska defense should still be stout.
As for the offense, last season's home loss to Iowa State in which the Huskers had more turnovers (8) than points (7) would suggest the only way to go is up.
To repeat in the North, the Huskers must defend Memorial Stadium, where they'll get to face Missouri and Texas.

2. Missouri
Missouri returns 18 starters, including junior quarterback
Blaine Gabbert
, who threw for 3,593 yards and 24 touchdowns as a sophomore.
He'll need support from still-maturing senior corners Carl Gettis and Kevin Rutland, who gave up 427 yards passing to Baylor freshman quarterback
Nick Florence
(almost 200 more yards than he had in any other game last season) in an ugly home loss to the Bears, negating Gabbert's career high of 468 yards.
For Missouri, taking back the North will mean surviving a difficult early conference schedule, which opens with Colorado but then forces the Tigers to play at Texas A&M before hosting Oklahoma. The next week, they travel to Lincoln for another showdown with Nebraska that would give the winner the inside track at a North title.

3. Kansas State
The Wildcats busted in their bowl-or-bust game against Nebraska to close out last season, but will try and rebound with a run at the North title. They'll miss Brandon Banks' kick returns, but
Daniel Thomas
(1,265 yards in 2009) wouldn't mind getting his number called almost 250 times again like he did last season. For Kansas State, the earlier the uncertainty ends at quarterback, the better.
Three candidates enter spring
with a chance to start.

4. Kansas
The personnel behind Kansas' missing offensive firepower last season is gone. Kansas standouts QB
Todd Reesing
, receivers
Dezmon Briscoe
and
Kerry Meier
and running back
Jake Sharp
won't return, and new coach Turner Gill will try to patch back together a team that finished last season on a seven-game losing streak after winning its conference opener against Iowa State.
Sophomore running back
Toben Opurum
provides a nice foundation for Gill's new offense after playing well when Sharp sat out or was slowed with injuries.

5. Iowa State
Paul Rhoads' team showed progress in 2009, finishing the season with a win over Minnesota in the Insight Bowl for the program's first winning season since 2005. He'll try to improve on that with only four defensive starters returning this season.
Quarterback
Austen Arnaud
and running back
Alexander Robinson
return, but on the Cyclones' schedule, so do Oklahoma and Texas. They'll also face Utah, Iowa and Northern Illinois in nonconference games. Returning to a bowl for a second consecutive season won't be easy.

6. Colorado
The Buffaloes didn't earn much respect around the conference after giving up 54 points to Toledo in an early-season loss in 2009. They finished with three close losses at Iowa State and Oklahoma State before finishing the season with a home loss to North champ Nebraska.
If Colorado wants to dig itself out of the North basement, it'll need
Tyler Hansen
to play like he did in the first half of a win over Kansas in Hansen's first start, when the Buffaloes charged to a 24-3 second-quarter lead behind two Hansen touchdowns.
February, 10, 2010
2/10/10
11:19
AM ET
By
Tim Griffin
| ESPN.com
With spring practice set to begin soon -- Texas opens its camp on March 2 -- here's a quick look at how I have the teams ranked heading into spring practice. In formulating my rankings, I took into account returning players, transfers, arriving freshmen and a teams' schedules.
1. Texas
(14 starters back: 6 offensive, 7 defensive, 1 special teams).
Garrett Gilbert
got a head start on replacing
Colt McCoy
with his considerable playing time in the national title game, an invaluable learning experience for a young player. The Longhorns return most of the defense that improved in its second season under Will Muschamp. The biggest chores will be for offensive coordinator Greg Davis, who has to boost running game production and find a replacement for record-breaking wide receiver
Jordan Shipley
.
2. Nebraska
(18 starters back: 8 offensive, 8 defensive, 2 special teams). Bo Pelini has the Cornhuskers positioned for a potential top-10 preseason ranking. Most of the offensive weapons will be back from a unit that sputtered down the stretch before breaking out in the Holiday Bowl victory. Quarterback
Zac Lee
will miss some of spring practice as he recovers from postseason surgery.
Cody Green
and
Kody Spano
will get most of the work until Lee returns. Nebraska coaches think the defense can be better this season, even without the up-the-middle strength of Ndamukong Suh, Phillip Dillard, Larry Asante and Matt O'Hanlon.
3. Oklahoma
(15 starters back: 9 offensive, 4 defensive, 2 special teams). The Sooners overcame a debilitating run of injuries last season to finish with a flourish, knocking Oklahoma State out of a BCS game and winning the Sun Bowl in their final two games.
Landry Jones
will be infinitely better in his second season as a starter and
Ryan Broyles
and
DeMarco Murray
may be the best one-two receiving/running back combination in the conference. Bob Stoops will be facing a big renovation on defense where key players like Gerald McCoy and Dominique Franks left early for the NFL draft. Look for Travis Lewis to be the key to a defense that will need to improve by the time Big 12 play begins if the Sooners are to have any hope of claiming a seventh Big 12 title this season.
4. Missouri
(19 starters back: 9 offensive, 9 defensive, 1 special teams). The Tigers will miss
Danario Alexander
and linebacker Sean Weatherspoon, who were arguably the best players at their positions in the conference last season. But
Blaine Gabbert
is back for a second season as starting quarterback and some talented recruits are expected to emerge on defense. A key for the Tigers' success will be a more productive running game and consistency from the offensive line. Improvement on both will be critical for coordinator David Yost during the spring.
5. Texas Tech
(15 starters back: 7 offensive, 6 defensive, 2 special teams). New coach Tommy Tuberville immediately will have to sort through a potentially difficult decision at quarterback between
Taylor Potts
and fan favorite
Steven Sheffield
. New coordinator James Willis hopes to install a 3-4 defense that should be a haven for athletic linebackers. But the group's success will hinge on replacing Jamar Wall at cornerback and finding some pass-rushing threats to replace Brandon Sharpe, Richard Jones and Daniel Howard along the front.
6. Texas A&M
(19 starters back: 8 offensive, 9 defensive, 2 special teams). With
Jerrod Johnson
,
Jeff Fuller
,
Uzoma Nwachukwu
and
Christine Michael
back, the Aggies shouldn't have trouble scoring points, although the line needs to do a better job of protecting Johnson. But the Aggies' success will depend on the returning starters quickly taking to new coordinator Tim DeRuyter's teachings. The group was blistered for at least 35 points in seven games last season and allowed at least 30 points in two other games. So needless to say that even with nine starters back, DeRuyter has his work cut out.
7. Kansas
(16 starters back: 7 offensive, 7 defensive, 2 special teams). New coach Turner Gill inherits an uncertain quarterback situation, but has the framework for a strong running attack with all of his starting linemen back, along with
Toben Opurum
and heralded back Brandon Bourbon as running threats. The Jayhawks will need to fill in for the loss of Darrell Stuckey in the secondary, but new coordinator Carl Torbush should find the elements for a blitzing, attacking defense among the returnees. But the biggest reason the Jayhawks might be bound for a bowl game in Gill's first season is swapping Texas, Texas Tech and Oklahoma for Texas A&M, Oklahoma State and Baylor in their cross-divisional schedule.
8. Iowa State
(13 starters back: 8 offensive, 4 defensive, 1 special teams). Paul Rhoads returns most of the offensive weapons that led the Cyclones to the Insight Bowl, most notably quarterback
Austen Arnaud
and running back
Alexander Robinson
. But the team loses all of its starting linebackers; veteran coordinator Wally Burnham will be challenged to cobble together a serviceable unit. The Cyclones could actually be a better team in 2010 but post a worse record. A tougher schedule featuring nonconference games against Utah, Iowa and Northern Illinois and the addition of South Division powers Oklahoma, Texas and Texas Tech will make last season's bowl trip much tougher to duplicate.
9. Oklahoma State
(10 starters back: 4 offensive, 4 defensive, 2 special teams). The Cowboys must find replacements for key players like
Zac Robinson
, Keith Tosten, four offensive linemen (including Outland finalist Russell Okung) and six of their back seven on defense. New offensive coordinator Dana Holgorsen finds an uncertain quarterback situation but will lean heavily on a healthy
Kendall Hunter
. A manageable nonconference schedule should have them in bowl contention, but this should be a step back from Mike Gundy's last two teams.
10. Kansas State
(15 starters back: 7 offensive, 6 defensive, 2 special teams). The Wildcats missed out on a bowl trip last season only because they scheduled two FCS teams, but they surprisingly challenged for the Big 12 North title up to their last game of the season. It might be tougher to do that this season, although
Daniel Thomas
will provide the foundation on offense.
Carson Coffman
has the inside track at quarterback, but keep an eye out for Oregon transfer
Chris Harper
at either that position or wide receiver. Players like Jeffrey Fitzgerald and John Houlik will be missed on defense, but all four starters are back in the secondary.
11. Colorado
(16 starters back: 8 offensive, 7 defensive, 1 special teams). Dan Hawkins' seat is the hottest in the Big 12 and arguably in college football after missing a bowl for a second straight season last year.
Tyler Hansen
returns as the starting quarterback, but the Buffaloes need to find some help in the backfield with only three scholarship backs in spring practice. The defense was young last season and should be improved, but will miss the leadership provided by Jeff Smart and Cha'pelle Brown. A bowl trip likely will be necessary to save Hawkins' job and a tough nonconference schedule featuring games at California and against Hawaii and Georgia will prove troublesome even before Big 12 play begins.
12. Baylor
(14 starters back: 6 offensive, 6 defensive, 2 special teams). The Bears' hopes of stopping the conference's longest bowl drought will hinge largely on the health of Robert Griffin, who is recovering from knee surgery that forced him to miss the final nine games of the 2009 season. New offensive lineman "Big" Robert Griffin will have to protect his quarterback if coach Art Briles has any hope of making a bowl trip.
Jay Finley
and
Kendall Wright
are underrated offensive threats, but the Bears will miss key defensive leaders like Joe Pawelek and Jordan Lake who were stalwarts for several years.
October, 8, 2009
10/08/09
8:01
AM ET

Posted by ESPN.com's Tim Griffin
1.
The battle of young guns at Columbia:
Missouri and Nebraska both will be bringing largely untested quarterbacks into Thursday night's pivotal North Division showdown. Nebraska's
Zac Lee
has a small edge because he's played in a big game before -- losing by one point at Virginia Tech on Sept. 19.
Blaine Gabbert
will be facing his toughest test to date against the Cornhuskers. Whoever wins this battle likely will win the game.
2. Missouri's running game:
The Tigers are averaging only 3.8 yards per carry this season -- down significantly from last season's average of 5.2 yards per carry. Missouri's line needs some push against the talented Nebraska front, keeping Gabbert out of too many second-and-long and third-and-long situations. If
Derrick Washington
, De'Vion Moore and
Kendial Lawrence
can be productive and keep the Tigers in productive yardage situations, it will go a long way toward a Missouri victory.
3. Oklahoma State's reaction to the loss of Dez Bryant:
The Cowboys already are facing serious injury woes. But now they'll have to account -- perhaps for the rest of the season -- for the loss of their top offensive weapon and most explosive player after Bryant's suspension by the NCAA. His abilities as a receiver and punt returner made him a threat to score every time he touched the ball. Without him, the Cowboys won't be nearly as explosive. It will place more pressure on receivers like
Hubert Anyiam
,
DeMarcus Conner
and
Josh Cooper
. They have a combined career total of 21 receptions.
4. The Aggies respond to a blowout:
Texas A&M needs to blot out bad memories from a 47-19 loss to Arkansas last week in Arlington, Texas. The Aggies jumped to a quick 10-0 lead before Arkansas blew their doors off with 30 straight points. But their chances of stunning the Cowboys -- particularly with Bryant not playing -- might be better than you suspect. The first two or three possessions for the Aggies will be critical. A key will be whether the young A&M tackles can block better on the perimeter for
Jerrod Johnson
. And can they do a better job in sticking with the Oklahoma State offense that won't be nearly as explosive as it typically is. Kyle Field will be rocking. Will the Aggies feed off that support?
5. Sam Bradford's playing status:
The returning Heisman Trophy winner has hinted he'd like to return to action this week, building confidence before the pivotal game with Texas next week. The Baylor game would give him an ideal game to get his feet wet. But whether he is ready physically remains a question. And also, will Bradford be willing to jump back into battle with an Oklahoma offense stripped of its most potent weapons with the loss of
Ryan Broyles
and
Jermaine Gresham
?
6. Who starts for Baylor at quarterback?
The Bears have questions of their own as
Blake Szymanski
attempts to return to action after sustaining a bruised shoulder two weeks ago.
Nick Florence
had a strong debut last week in directing the victory over Kent State. But beating the Golden Flashes and Sooners is a completely different manner. Baylor coach Art Briles would feel more comfortable with an experienced player like Szymanski calling signals.
7
. Will Colt McCoy's first-half struggles continue?
Texas' Heisman Trophy contender is off to a slow start, having thrown four of his first five interceptions in the first half this season. He shouldn't be challenged against a Colorado defense that has produced only two interceptions this season, tied for 10th in the conference.
8. Colorado's struggling defense against talented Texas:
The Buffaloes have been gashed for 11 gains of 40 yards or more this season. Colorado defensive coordinator Ron Collins will face a huge challenge trying to curtail Texas' big-play abilities, especially considering the Longhorns' across-the-board edge in athleticism.
9. What do Grant Gregory and Steven Sheffield do for an encore?
Kansas State backup quarterback Grant Gregory engineered a victory from the start of the game over Iowa State. Texas Tech backup Steven Sheffield directed a Tech triumph over New Mexico after starter
Taylor Potts
was dinged late in the first half, scoring touchdowns on his first four possessions in charge. With both backups set to likely start again, who will emerge from Saturday's game in Lubbock better prepared to make it two straight triumphs?
10. Iowa State's attempts to account for Kansas' playmakers in space.
Kansas offensive coordinator Ed Warriner does a good job of getting his playmakers outside for big plays, with a talented array of standouts like running backs
Toben Opurum
and
Jake Sharp
and wide receivers
Kerry Meier
,
Dezmon Briscoe
,
Johnathan Wilson
and
Bradley McDougald
. Iowa State has been challenged to keep those kind of athletic players in check all season, particularly by an overachieving starting secondary that averages only 5-foot-9 in height. The Cyclones will be challenged to stick with Wilson, Briscoe, Meier (all 6-foot-3) and McDougald (6-foot-2). ISU will face its stiffest defensive test so far this season in terms of containing the Jayhawks' tall, talented and deep receiving crew.
September, 28, 2009
9/28/09
9:58
AM ET

Posted by ESPN.com's Tim Griffin
Here's a look at the Big 12 rankings for this week:
1. Texas:
The Longhorns finally put together a complete game, snuffing out UTEP with a huge effort. Their big victory resulted in their largest margin of victory since the 2005 Big 12 Championship Game, taking apart the Miners with their best offensive and defensive effort of the season.
Colt McCoy
overcame an early interception to help the Longhorns score on eight of their first nine possessions. The offense gained 639 yards with more than 300 yards rushing and passing in the same game for only the second time in school history. And the defense was even better, limiting UTEP without a touchdown and 53 yards on 51 snaps.
2. Oklahoma:
The week off gave the Sooners a chance to rest up for the game against Miami, which lost to Virginia Tech.
Sam Bradford
left to meet with Dr. James Andrews, providing some hope that he will be able to return by Saturday's game. But if he's not ready, there's not the immediate pressure because of Landry Jones' recent passing binge. The Sooners' defense will remain pivotal for whoever plays at quarterback. Oklahoma's defense has notched back-to-back shutouts for the first time since 1987 and hasn't allowed a score in opponents' last 32 possessions.
3. Oklahoma State:
Even without
Dez Bryant
,
Kendall Hunter
and Perrish Cox, the Cowboys cruised to a big victory over Grambling State.
Zac Robinson
orchestrated an offensive explosion that produced 587 yards, despite having the starters play for only a half.
Jeremy Smith
raced for 160 yards in his first substantial action to set a school first-game freshman rushing record. And the Cowboys only passed 23 times in the game. The defensive starters were nearly as good, keeping Grambling without a first down on its first six possessions and only one first down in their first seven.
4. Kansas:
The Jayhawks had their toughest game of the nonconference schedule, but their best building block with the strong late finish that propelled them past Southern Mississippi. The offense overcame some uncharacteristic mistakes to still pile up 35 points.
Todd Reesing
passed for 331 yards and stretched his touchdown pass streak to a nation-best 22 games. The Jayhawks played without leading rusher
Jake Sharp
, but backup
Toben Opurum
provided 109 yards and scored a pair of touchdowns. Wide receiver
Kerry Meier
had a career day with 141 yards and two TD grabs. But the defense was the biggest story as it turned away Southern Mississippi without a score on four-straight fourth-quarter possessions to salt away the victory. It's a defensive performance for the Jayhawks to build on heading into Big 12 play.
5. Nebraska:
Bouncing back from their loss at Virginia Tech, the Cornhuskers had no hangover against Louisiana-Lafayette. Nebraska scored 27 points in the first 19 minutes of the game, scoring on their first five possessions.
Zac Lee
rebounded from last week's struggles to complete 15 of 18 passes for 238 yards. And the Nebraska defense limited Louisiana-Lafayette to 222 yards, forcing three turnovers and even getting a touchdown on Larry Asante's 74-yard pass interception return. It was a good victory that should build some momentum heading into their pivotal early-season showdown at Missouri next week.
6. Missouri:
The Tigers' national television performance at Nevada punctuated the Tigers' record 14th-straight nonconference victory.
Blaine Gabbert
threw for a career-high 414 passing yards and had five passes of at least 30 yards.
Danario Alexander
is emerging as one of the Big 12's top deep threats with a career-high 170 receiving yards. The running game struggled a little, but Gabbert picked them up. And the defense overcame allowing 218 rushing yards to produce two interceptions against Nevada. Still the Tigers have room for much defensive improvement heading into the Nebraska game.
7. Texas Tech:
The Red Raiders are kicking themselves for losing at Houston. The Red Raiders appeared to have taken control when their running game starting kicking in late in the first half.
Baron Batch
rushed for a career-best 114 rushing yards as they repeatedly gashed the smaller Houston defense. But they got away from that strategy and inexplicably started throwing the ball when they could have killed the clock on the ground. The defense played well before wearing down in the cauldron of heat and humidity at Robertson Stadium. The best example could be seen by the fact that four Texas Tech defenders had double-figure totals in tackles, and two others had nine and eight stops. That's the best indication of how tough it was to withstand Houston's 94-play onslaught.
8. Baylor:
It was fun while it lasted. Robert Griffin gave the Bears hope of making their first bowl trip since 1994. But his season-ending knee injury could be too much for Art Briles' team to overcome. The Bears are coming off a landmark performance in Griffin's last game this season, rolling for a 68-13 victory over Northwestern State.
Jarred Salubi
rushed for 137 yards as he started in place of
Jay Finley
as the Bears had a balanced offensive attack. And the defense played well after allowing a touchdown on the opening drive, yielding only two field goals during the rest of the game as they limited the Demons to 248 yards.
9. Texas A&M:
We'll find out about the Aggies soon enough -- like Saturday in Arlington against Arkansas. The Aggies rank among the top seven teams nationally in rushing, passing, total offense and scoring. For good measure, they also rank in the top 10 nationally in sacks, tackles for loss, net punting and pass efficiency. A&M's 56-19 beatdown of UAB featured
Jerrod Johnson
accounting for six touchdowns -- three TD runs and three passes -- as they didn't seem to miss
Jeff Fuller
very much. Most impressively, the Aggies converted 14 of 17 third downs as they limited UAB to a season-low 74 passing yards and thoroughly dominated play.
10. Iowa State:
Very quietly, Paul Rhoads has boosted his team to a 3-1 start, which might not make a bowl trip such a far-fetched scenario for the Cyclones. It's the best start for an Iowa State coach since George Veenker in 1931, who started 5-1.
Alexander Robinson
has keyed the recent offensive spurt with three-straight 100-yard rushing games and also added a pair of touchdown grabs against Army. The Cyclones are tied for the national lead after allowing only two sacks in their first four games and also rank fifth in net punting with Mike Brandtner. The defense came up big against Army, limiting the Black Knights to a season-low 186 rushing yards. This week's "Farmageddon" against Kansas State at Arrowhead Stadium in Kansas City will be huge in determining what team will be able to avoid the Big 12 North cellar.
11. Kansas State:
Brandon Banks
kick-started the Wildcats' big victory over Tennessee Tech, scoring a pair of touchdowns on kickoff returns. His recent struggles as a deep receiver appear to be over after he averaged 30 yards a catch. Sure, it was an FCS opponent. But rushing for 296 yards -- best for Kansas State since 2005 -- had to build confidence for the running game.
Carson Coffman
wasn't asked to do too much and he was fine. And the defense came up big by limiting Tennessee Tech to minus-19 yards rushing and 107 yards of total offense -- the best outing by a KSU defense since 2000. But the Iowa State game will determine how far the Wildcats still have to go.
12. Colorado:
The Buffaloes got the week off before a tough trip to West Virginia, which still remembers the Mountaineers' tough loss in Boulder last season.
Rodney Stewart
was the key in that triumph with a career-best 166 yards. He likely will be called on again against a tougher West Virginia run defense that ranks No. 14 nationally. Defensive improvement will be key this week for the Buffaloes as they gear up for a challenging West Virginia team led by multi-purpose quarterback
Jarrett Brown
and
Jock Sanders
, who ranks third nationally in receptions per game.
September, 15, 2009
9/15/09
5:45
PM ET

Posted by ESPN.com's Tim Griffin
Opposing teams have accounted for Kansas' potent passing game early this season. Nickel and dime pass defenses have been the rule as teams have tried to snuff out
Todd Reesing
's aerial attack on nearly every down.
| | |
| --- | --- |
| | |
| | Kenny Felt/Icon SMI |
| | Jake Sharp has gained over 100 yards in both of Kansas' games this season. |
It's almost seemed like opposing teams have been willing to dare the Jayhawks to beat them with a ground game and an offensive line that were presumed to be question marks entering the season.
Consider the dare answered after the first two weeks of the season, thanks to the potent one-two rushing attack of senior
Jake Sharp
and bullish freshman
Toben Opurum
.
"Teams have realized that we have a great quarterback and receiver combination and have been willing to do what they can to try to stop our passing game," Sharp said. "They've been willing to challenge us. And so far, we've been able to capitalize."
The Jayhawks' running game has been one of their biggest surprises as they have averaged a Big 12-leading 291.5 yards per game in their impressive 2-0 start.
Kansas started the season by gashing Northern Colorado for 334 yards. It was the Jayhawks' top rushing performance since 2001. And they followed that with 255 yards against UTEP to spark a 34-7 victory.
"A lot of people have had questions about the offensive line coming in," Opurum said. "They've had a lot of people moving around and some that maybe some people haven't heard of. But they've done a good job of opening holes for me and Jake. They've played well, exceeded expectations and can only get better."
Sharp has built on a fast 2008 finish to rush for 100 yards in both games, becoming only the second player in the Big 12 along with Kansas State's
Daniel Thomas
to accomplish that feat this season.
And the muscular 235-pound Opurum has also had a blazing start, inviting comparisons to former Kansas tailback Brandon McAnderson because of his size and tough inside running ability.
Despite the offensive line's lack of experience together, Sharp has been impressed with their work.
"Everything came together with confidence and a better understanding," Sharp said. "When I'm going to hit the hole, I have confidence it will be there. Our offensive line has done a great job so far."
And Oburum has quickly shown that same kind of ability, averaging 70.5 rushing yards per game to rank ninth in the conference.
Kansas coach Mark Mangino credits some of Sharp and Opurum's quick start to the growth of a precocious offensive line.
"Jake Sharp is quicker and faster than he was a year ago. And Toben is a young running back who is learning and has a lot of natural ability and a lot of tools," Mangino said. "But the other key is our line. We have a bunch of young guys, but they are very talented."
Mangino switched starting left tackle Jeremiah Hatch to center and inserted 285-pound redshirt freshman Tanner Hawkinson, a converted defensive end, into the starting lineup.
"The way I describe our offensive line is that you'd like to have experience, toughness and talent," Mangino said. "We have the talent and toughness, but what we lack in experience we are making up because of the other two. It's a combination of those things."
But the real test for the Jayhawks will be when they start facing conventional defenses that aren't skewed to the pass.
That trend, Sharp said, would be the biggest indicator that Kansas' ground game finally has arrived.
"I would like to think they would have to do that before long," Sharp said. "The spread offense we run is obviously very explosive and they have to account for that. But we take what people give us. We can throw the ball, no question. But we've shown we've got a balanced attack and can run the ball a little, too."
September, 10, 2009
9/10/09
8:10
AM ET

Posted by ESPN.com's Tim Griffin
Here are some items I'm interested in following in the Big 12 games this weekend.
1. Colorado handling adversity after its opening-game debacle:
The Buffaloes suffered an embarrassing loss to cross-state rival Colorado State in their opener Sunday night. Coach Dan Hawkins and his team have only five days as they travel halfway across the country to try to blot those painful memories against Toledo. It will be interesting to see how much heralded Colorado tailback
Darrell Scott
will play against the Rockets -- particularly after his pointed criticism of his lack of playing time earlier this week.
2. Landry Jones' first career start:
Oklahoma's replacement for
Sam Bradford
shouldn't be tested by Idaho State, which was drubbed by Arizona State last week. But it will still be telling to see how much leeway Bob Stoops will give Jones, a redshirt freshman. Coaches say they like his poise and demeanor, but I expect a conservative game plan that will feature heavy use of Oklahoma's running game that unexpectedly struggled to produce 118 yards last week against BYU.
3. What the Oklahoma State defense does for an encore:
The Cowboys punched out an impressive 24-10 victory over Georgia last week. The revelation for the Cowboys was a strong defensive effort that allowed a touchdown on its opening possession and three points during the rest of the game. They showed a physical nature that had been missing in recent seasons -- particularly noticeable because starters Orie Lemon and Markelle Martin were out of the lineup. It will be even tougher this week against Houston quarterback
Case Keenum
, who led the nation in total yards last season and got off to a fast start with four touchdown passes against Northwestern State last week. As good as Georgia was supposed to be offensively, the Cowboys will face a bigger test this week against the Cougars.
4. Can Blaine Gabbert match his opening-game success?
One game into his career, some Missouri media members are already anointing Gabbert after his scintillating 319-yard passing effort against Illinois. His big outing earned him the Big 12's offensive player of the week. He'll be challenged to duplicate that success against an underrated Bowling Green team that allowed 263 passing yards in a victory over Troy last week, but still notched two interceptions. Gabbert's continued development is the critical element that can help the Tigers continue as the Big 12's surprise early power.
5. Nebraska's front four:
The Cornhuskers' defensive front of Ndamukong Suh, Jared Crick, Pierre Allen and Barry Turner was expected to be the team's strength. The group struggled last week against FAU quarterback
Rusty Smith
, failing to notch a sack. Those struggles were part of the reason Bo Pelini rebuked his defense earlier this week, calling the Blackshirts "soft." And it won't be easy for them as they try to harass Arkansas State quarterback
Corey Leonard
, who wasn't sacked last week.
6. Wyoming freshman cornerback Shamiel Gray continue his success against Colt McCoy:
Gray had an auspicious start to his college career with three interceptions in the Cowboys' season-opening victory over Weber State. But he'll face a huge challenge against McCoy, who has been intercepted only six times in his last 335 attempts dating back to last season. Gray hasn't faced the athletic collection of receivers he'll meet from Texas, which will make continuing his turnover spree that much more difficult.
7. How Iowa's defense will handle Iowa State's new no-huddle offense:
The Hawkeyes and veteran defensive coordinator Norm Parker have seen a variety of offenses come and go over the years at Iowa State. But they haven't faced anything quite like Tom Herman's no-huddle attack that seemed to work well in the Cyclones' first game against North Dakota State. The Cyclones likely didn't show everything and will be ready to try to continue their recent success that has enabled them to win four of their last five games against the Hawkeyes at Jack Trice Stadium.
8. Ground-bound Jayhawks:
After gashing Northern Colorado for 328 yards, Kansas may have similar opportunities against the Miners, who allowed 150 yards in a loss last week to Buffalo and 199 yards per game last season. Mark Mangino has growing confidence in his ball carriers with
Jake Sharp
,
Toben Opurum
and quarterback
Todd Reesing
all rushing for at least 79 yards rushing last week.
Dezmon Briscoe
will be back with a chance to stretch the UTEP defense, but the Jayhawks have been so successful in the trenches that I look for them to at least start the game with a similar strategy against the Miners.
9. Improvement on Kansas State's special teams:
Blunders in the kicking game led to two easy touchdowns for Massachusetts, making the Wildcats' 21-17 season-opening victory way too close for comfort. Back in the day, Bill Snyder's teams were always renowned for their special-teams success and Ron Prince continued that strategy during his tenure. They can't afford similar mistakes Saturday night, or it could mean a long, nightmarish visit to hot, sticky Cajun Field.
10. Texas Tech's running game looks for a comeback:
After struggling to produce only 40 yards rushing and only two rushes of at least 10 yards against FCS opponent North Dakota, the Red Raiders' running backs, and particularly
Baron Batch
, were called out by coach Mike Leach. It will be noteworthy if that lights a fire under them -- especially considering that Rice was gashed for 295 rushing yards last week by UAB.