June, 4, 2010
6/04/10
10:07
AM ET
ESPN's "College Football Live" is running down its list of the most irreplaceable players for the 2010 season. So we thought we'd take a stab at it for every Pac-10 team, including a
different take
for USC.
Arizona
: C Colin Baxter. Centers are the quarterbacks of the offensive line, and Baxter is a good O-line QB. He earned second-team All-Pac-10 honors in 2009 and his backup, sophomore Kyle Quinn, has little experience. With Baxter, the Wildcats should be strong up front. Without him, the line would be a question.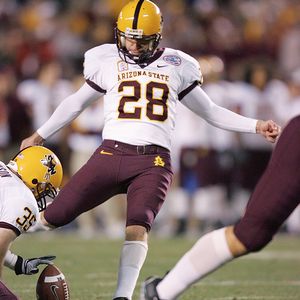 Icon SMIThomas Weber is 11-for-15 on field goals of 40 or more yards during his career.
Arizona State
: K Thomas Weber. Weber, the 2007 Lou Groza Award winner, is a weapon when healthy. While his backup, sophomore Bobby Wenzig, didn't do a terrible job filling in for a hurt Weber last year -- he made 3 of 4 field goals and 10 of 12 PATs -- he's no Weber, who's 11-for-15 from 40 or more yards during his career. The Sun Devils may struggle again on offense next fall, which means that Weber's range will be critical for getting points on the board.
California
: LB Mike Mohamed. Mohamed earned first-team All-Pac-10 honors in 2009 after leading the conference with 112 tackles, 16 more than any other defender. The Bears are replacing two of their four starting linebackers and, oh by the way, they didn't play the position terribly well last fall. It would be a big hit to lose both Mohamed's skill as well as his experience and leadership.
Oregon
: WR
Jeff Maehl
. With the demise of quarterback
Jeremiah Masoli
, the Ducks likely will be a little more pass-happy next fall. That makes Maehl, the Ducks' best receiver, critical. He caught 53 passes for 696 yards and six touchdowns in 2009 and steadily improved throughout the season. The Ducks' next two returning receivers,
D.J. Davis
and
Lavasier Tuinei
, combined to catch 47 passes for 450 yards and two TDs.
Oregon State
: RB
Jacquizz Rodgers
. It's not just that Rodgers is the conference's leading Heisman Trophy candidate. It's also about the Beavers' uncertain depth at the position.
Jovan Stevenson
and
Ryan McCants
combined for 164 yards rushing in 2009. Rodgers had 1,440. McCants turned in his best work yet this spring and the running game had its moments even without Rodgers, but let's just say the ground production likely would suffer -- big -- if Rodgers went down.
Stanford
: QB
Andrew Luck
. Pretty obvious, eh? The Cardinal's offense is already replacing Toby Gerhart. It can't afford to lose Luck also and expect to compete in the top half of the Pac-10. Backups
Josh Nunes
and
Robbie Picazo
are both redshirt freshmen, though if Luck went down, it's possible senior
Alex Loukas
could move from safety back to QB, where he started one game in 2008.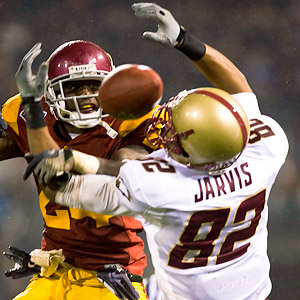 Jason O. Watson/US PresswireThe Trojans are already replacing four starters in the secondary and can't afford to lose their best corner, Shareece Wright.
UCLA
: LB Akeem Ayers. Ayers is an All-America candidate who has a knack for making big plays. If the Bruins' already-rebuilding defense lost him, it would then be replacing all three starting linebackers from 2009. His backup, Isaiah Bowens, is a redshirt freshman.
USC
: CB Shareece Wright. Michael Lev of The Orange County Register already beat me to this one in his
list of indispensable Trojans
. Wright's career has been riddled by injuries and he was academically ineligible last year, but he's long been considered the Trojans' best cover corner. USC is replacing all four starters in its secondary. Wright has four career starts and was a standout this spring. If he went down, the Trojans would have one career start returning in the secondary. That is not a good thing.
Washington
: QB
Jake Locker
. Locker is the Huskies' best player and their unquestioned leader. He's likely going to be a high first-round NFL draft pick next spring. But it's not just how important Locker is. Because last year's backup,
Ronnie Fouch
, opted to transfer, Locker's backup in 2010 will be either redshirt freshman
Keith Price
or true freshman Nick Montana. Neither, obviously, has any playing experience.
Washington State
: DE Travis Long. Long, though just a sophomore, is the Cougars' best pass-rusher and best overall defensive lineman. After a year of getting bigger and stronger, he's expected to be much better in 2010. The Cougars' defensive line already lost tackles Toby Turpin, who was kicked out of school for an academic incident, and Josh Luapo (academic ineligibility) and is waiting to find out the academic status of tackle Bernard Wolfgramm. They are not deep enough up front to recover from the loss of Long. His backup, sophomore Adam Coerper, has no experience.
May, 26, 2009
5/26/09
10:15
AM ET
Posted by ESPN.com's Ted Miller
Every team enters spring practices with at least a couple of personnel questions, even those with their starting lineup returning nearly intact.
Sometimes those questions get answered. Other times they don't.
Such as...
Arizona: The Wildcats didn't walk away from spring practices worried about their quarterback spot -- Matt Scott and Nick Foles acquitted themselves fairly well. But if you look up and down the depth chart, quarterback is where you eyes linger. Yes, Willie Tuitama's shoes are big.
Arizona State: You, of course, know what's coming. Sorry to be a broken record: offensive line. Matt Hustad, Zach Schlink and Adam Tello have to get healthy and the entire unit needs to get good or the Sun Devils won't bounce back.
California: It's as simple as this: If the Bears get solid -- not spectacular, solid -- play at quarterback, this is a top-10 team. And quarterbacks can do a lot in the offseason to firm up their foundation on the team (hint, hint).
Oregon: The Ducks lost three multi-year starters from the offensive line to the NFL. Projected starters Bo Thran and C.E. Kaiser sat out spring practices. In their absence, the O-line mostly got stuffed. If Steve Greatwood works his magic again, the offense again hits ludicrous speed. If not...
Oregon State: The Beavers lost two multi-year starters at cornerback to the NFL. The secondary got burned throughout spring, though there was some redemption in the spring a game. The general feeling is there's plenty of athleticism here, but recall that it took a while for Keenan Lewis and Brandon Hughes to become Keenan Lewis and Brandon Hughes.
Stanford: Let's just go ahead and say that Andrew Luck is going to be an outstanding quarterback. So who's going to catch the ball? There's plenty of experience at receiver and there some athleticism, but you ain't it until you do it.
UCLA: Much like Arizona State, this one is embarrassingly predictable, but Bruins fans are well-aware that their season hangs on getting at least adequate play on the offensive line. Injuries clouded the issue during the spring, so the hope is a clean bill of help will bring significant improvement.
USC: The Trojans need a kicker, but we're going to go with quarterback. While it's easy to be impressed by the talent and spring performances of Aaron Corp and Matt Barkley, they still haven't done squat when the lights are on.
Washington: An 0-12 team has a lot of need areas, but the Huskies must replace both specialists. As any coach will tell you, special teams are critical, and here's a guess that at least a couple of games will swing one way or the other for the Huskies, depending on how good their answers are at kicker and punter.
Washington State: Only one starter, tackle Toby Turpin, returns on the defensive line, a position that was a decided weakness in 2008 in any event. After spring practice, redshirt freshman end Cory Mackay, who'd played well during spring practices, suffered a serious back injury in an automobile accident. Young and unproven players will need to step up. And the Cougs are due for some good fortune.