December, 7, 2012
12/07/12
6:30
PM ET
Welcome to the mailbag.
Follow the Pac-12 blog on Twitter
.
To the notes!
Angry USC fan from Heritage Hall writes
: Would you please, please, please comment on what is going on with former USC assistant coach Todd McNair's case against the NCAA?
Ted Miller
: Who the heck is Todd McNair, USC and this NCAA of whom you speak?
Kidding.
Been getting a lot of notes -- this was a less salty, self-created amalgam of them -- about Los Angeles Superior Court Judge Frederick Shaller stating in a ruling the day before Thanksgiving that the NCAA was "malicious" during its
investigation of McNair and the NCAA
.
My response? Well, duh.
McNair, of course, was the linchpin for the NCAA slamming USC with a two-year bowl ban and a loss of 30 scholarships over three years.
The NCAA really, really wanted to hammer USC. But to do so it had to prove USC
knew
that former running back Reggie Bush and his parents were getting extra benefits from a pair of would-be sports marketers during Bush's time as a Trojan. The problem the NCAA had, as the
Pac-12 blog has pointed out a few times
, is there was no credible evidence that USC did. So, as the
Pac-12 blog has pointed out a few times
, the NCAA just decided there was evidence and McNair was it and it didn't care that it was utter malarky.
(The position USC
should have known
is not unreasonable. The Trojans weren't blameless.
That's never been our position
. If the NCAA went that way, however, sanctions wouldn't have been nearly as severe).
Yes, the NCAA railroaded McNair and USC. That's been the position of just about every neutral observer who is knowledgable about the case. Some folks in the comment section below will argue differently. And what they will do is type things that are ignorant, irrelevant or untrue.
But this was true before Shaller's broadside to the NCAA. What USC fans really want is relief, and that's not happening. USC won't get its scholarships restored in 2013 and 2014. The single reason for that is there won't be any resolution in time to make USC whole. The McNair vs. NCAA case will take a while, and then any backward looking inquiry from the NCAA, unlikely in any event, would then move at its typical glacial pace.
USC AD Pat Haden isn't interested in talking about the McNair case. Why? Through a spokesman, USC told me it reasonably views the case as McNair vs. the NCAA, not USC vs. the NCAA. USC has moved on.
Further, McNair still has a ways to go to win his case, though Shaller did note "the former coach has shown a probability he can win his defamation claims."
What would be great fun, however, is the case going forward and the NCAA getting embarrassed for its shoddy investigation and ethically dubious behavior.
From
Dennis Dodd's story on Nov. 27
:
Documents that the NCAA is aggressively trying to keep under seal appear to show improper involvement by NCAA staff and committee members in the landmark USC decision more than two years ago.

A judge's decision made public last week -- and obtained in full by CBSSports.com -- shows that at least three persons may have improperly tried to influence the NCAA's powerful infractions committee to find former USC assistant Todd McNair complicit in the Reggie Bush case. Lawyers for McNair are trying to show the association violated its own rules and procedures in investigating their client.

Two non-voting members of the NCAA infractions committee and NCAA staffer allegedly tried to influence voting members inside the 10-person committee. The judge's decision contains excerpts of emails that he has determined show "ill will or hatred" toward McNair.
If those documents get unsealed, I've got a $5 bill that says it will be really, really embarrassing for the NCAA. As noted by Dodd, Shaller himself already concluded that the NCAA had a "reckless disregard for the truth."
I'm no lawyer, but a "reckless disregard for the truth" sounds to me like a bad thing for the NCAA to have.
A New York Times columnist went as far to wonder if leaked documents here
might turn out for the NCAA like they did for Big Tobacco
.
Or the NCAA might just settle with McNair and hope he goes away quietly.
---
Aaron McCool from Portland writes
: I keep hearing how Manziel is "the one the got away" for Oregon. I'm not disputing that he's an amazing athlete, but it seems that A) if Oregon had to rely on Mariota in the same way the Aggies rely on Manziel instead of handing the ball off a large percent of the time, their stats might be similar; B) if Mariota had played an extra 8+ quarters (instead of sitting a number of second halves), their stats might be similar; C) Mariota checks his progression better than Manziel and tends to tuck and run less as a result. Again, Manziel had a great year against some great competition, but I don't think that they can be compared based solely on stats and I don't think the talent gap is there. What do you think?
Ted Miller
: Both redshirt freshmen are great players. Manziel topped my Heisman ballot for ESPN.com.
If you're asking me which player I'd rather have, I'd say Mariota. Without a pause.
Mariota is a better passer. He ranks sixth in the nation in pass efficiency, completing 70 percent of his passes with 30 touchdowns and just six interceptions. Manziel is 17th, completing 68 percent of his throws with 24 TDs and eight picks.
Of course, Manziel passed a lot more, throwing for 3,400 yards compared to 2,500 for Mariota.
And Manziel rushed for 1,181 yards with 19 touchdowns. Those are good numbers for a running back. Mariota rushed for 690 yards and four scores.
Further, the most impressive performance of the season was Manziel against No. 1 Alabama. Mariota had some nice games, but he was mediocre against the best defense he faced: Stanford.
There is no question who should be getting Heisman and All-American attention: Manziel.
But, as you note, Mariota barely played in the second half of games this year, and certainly didn't need to throw much when he did see a third quarter. If Oregon had played a lot of close games, Mariota's numbers would have been better.
I also think the 6-foot-4 Mariota is a better NFL prospect.
---
Theo from Portland writes
: I am an Oregon State Beaver fan and feel disrespected by the "2012 Pac-12 regular-season wrap" post. The Beavers are not mentioned ONCE in the article even though everyone would agree that this season was unexpected and we had an incredible turnaround. I think the article should be amended or a "2012 Pac-12 regular-season wrap Part 2" needs to be written to give credit where credit is due. The comments on the original post mirror my frustrations. Please fix this oversight.
Ted Miller
: I made note of Oregon State's turnaround in the
video above the story
, which was about the Pac-12 Coach of the Year. The Pac-12 blog tapped Stanford's David Shaw for that, but took not of Mike Riley at Oregon State and Jim Mora at UCLA.
In this week's
power rankings
, I also noted about Oregon State, "If it's not the best one-year turnaround in Pac-12 history, it's certainly one of the best."
In retrospect, I do wish I'd in some way noted the Beavers turnaround in the body of the article, but noting the nice performance by the third-place team in the North Division didn't fit in with the more general, big picture themes of the article.
---
June, 6, 2011
6/06/11
10:36
AM ET
Former USC running backs coach Todd McNair isn't going to just walk away after the NCAA essentially ended his career over what he allegedly knew -- or didn't know -- in the Reggie Bush case.
McNair
filed suit against the NCAA
on Friday, accusing the NCAA of libel, slander tortious interference with prospective economic advantage, tortious interference with contractual relations, breach of contract, negligence and declaratory relief.
You know, lots of nasty stuff.
The NCAA previously ruled that McNair, the Trojans running backs coach for six seasons under Pete Carroll, knew or should have known about extra benefits provided to Bush by a pair of would-be sports marketers and that he misled investigators. His
appeal was denied in late April
, so a one-year show-cause penalty against McNair was upheld, meaning any school attempting to hire him during the year period would have to seek permission from the NCAA to do so.
A "show cause" penalty makes it very difficult for an assistant coach to get a job. USC did not renew McNair's contact after the infractions committee published its original report.
You can
read the entire lawsuit here
.
This was not unexpected. And the NCAA has a long history of being sued -- winning, losing and settling -- over a variety of issues.
The question for us is not whether McNair ever gets some money. It's whether this ever get interesting. (My guess: No. But we'll see).
The NCAA lacks subpoena power during investigations. It can't compel witnesses to testify if they are no longer involved in college sports. Such as Reggie Bush. That won't be the case in Los Angeles Superior Court.
Ergo: Potentially a lot more information could be exposed about the NCAA's inner-workings on this case. And USC's.
A part of the lawsuit is McNair's claim that the NCAA committed misconduct in the process of its investigation. The Pac-12 blog does not have a law degree, but it feels safe saying that McNair
will have a strong case on those grounds
based on what already has been reported.
To quote the great American Michael Corleone: "Just
when I thought I was out
... they pull me back in."
January, 21, 2011
1/21/11
8:00
AM ET
USC will meet with the NCAA Infractions Appeals Committee on Saturday, and if the Appeals Committee is fair and reasonable it will significantly reduce sanctions imposed on the football program when a ruling is made public in four to six weeks.
[+] Enlarge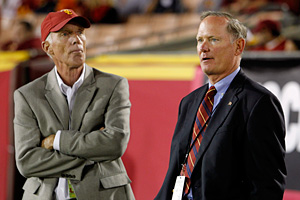 AP Photo/Alex GallardoUSC's athletic director Pat Haden, right, and associate AD J.K. McKay will meet with the NCAA Infractions Appeals Committee on Saturday.
Of course, seeing that the NCAA Committee on Infractions was unfair and unreasonable when it clobbered USC in June, Trojans fans would be well-advised to not hold their breath.
It doesn't appear new athletic director Pat Haden is. While he turned down an opportunity to talk to the Pac-10 blog this week -- I know; why would anybody do that? -- he's repeatedly told people he's not optimistic because
he's realistic
.
Why? Because, in 2008, the NCAA changed its bylaws to make it incredibly difficult to win an appeal. From the
NCAA website
:
An appeal is not a new hearing or a second chance to argue the case. The Infractions Appeals Committee does not consider evidence that was not presented to the Committee on Infractions. The Infractions Appeals Committee will reverse or modify a ruling of the Committee on Infractions only if one of the following standards is proven:

The ruling by the Committee on Infractions was clearly contrary to the evidence.

The individual or school did not actually break NCAA rules.

There was a procedural error that caused the Committee on Infractions to find a violation of NCAA rules.

The penalty was excessive and is an abuse of discretion.
Contrary to evidence? While there's
scant evidence
that supports the notion that former USC running backs coach Todd McNair knew what
Reggie Bush
, his parents and a couple of would-be agents were up to, that scant evidence, nonetheless, became the club with which the NCAA bludgeoned USC, imposing a two-year bowl ban and a loss of 30 scholarships over three years, penalties that were worse than even the most
egregious pay-for-play cases
in recent years. It would be a massive repudiation of the Infractions Committee to reverse course on said evidence, and it appears USC isn't even going to venture in that direction.
NCAA rules? They were absolutely broken. Bush and his parents took all kinds of extra benefits that were not allowed by NCAA rules.
Procedural errors? That appears to have
happened multiple times
, but mostly with the treatment of McNair, whose case the NCAA separated from USC's. Don't expect USC to venture in that direction, either.
Penalty was excessive and is an abuse of discretion? Bingo.
"Our primary contention is given what we were found to have done, these are the harshest penalties ever handed out," USC's associate athletic director J.K. McKay told the
LA Daily News
.
That is the case that Haden, McKay, new USC President Max Nikias, David Roberts -- the school's vice president for athletic compliance -- and a university lawyer are expected to make in a brief presentation.
The reason Haden is not optimistic is that only one appeal out of the past 11 has been successful since the Appeals Committee bylaws were changed. The odds are not good, at least based on recent cases.
Haden also has told reporters he doesn't believe recent controversies involving preseason
agent cases
centered on North Carolina and other schools, the
Auburn and QB
Cam Newton
imbroglio and the
oddly ruled
Ohio State case will have any affect on USC's appeal. He said it was like comparing "
apples and oranges
."
With all due respect to Haden, I'm not sure that's correct, particularly with the Trojans going with the "harshest penalties ever handed out" defense. Members of the Appeals Committee will be well-aware of the current climate as USC pleads its case. There's a lot of sordidness out there that makes using USC as a benchmark for serious violations dubious and problematic.
The Trojans are going to ask that the scholarship penalties be reduced from 30 to 15 -- so five per season over three years -- and the bowl ban be reduced to one year, which means the Trojans would be eligible for a bowl game in 2011.
Again, not likely. But not impossible. And there could be a middle ground, where the Appeals Committee splits the difference.
What it will take for USC to get its sanctions reduced is simple: A fair and reasonable assessment.
December, 16, 2010
12/16/10
6:28
PM ET
Ever get into a debate with someone, and they keep changing the subject because they know they are wrong?
Welcome to the world of USC and Todd McNair vs. the NCAA.
USC fans might want to
hold off reading this until Dec. 26
. It might ruin your Christmas. While this is obviously from a USC-oriented website -- and it uses documents coming from the former Trojans assistant coach's side of things -- it does demonstrate the uphill battle against an entrenched foe that USC faces when it meets with the NCAA Infractions Appeals Committee next month.
The gist:
The former USC football assistant [McNair] says the Committee has made a flawed case far worse by bringing in, contrary to its own rules of procedure and evidence, new, mistaken, immaterial, irrelevant, contradictory and false allegations against him, even to the point of inventing quotes and making a first-ever "phantom finding."
A "fundamental violation of due process," is how McNair describes what the NCAA has done here.
The Infractions Committee's response "confirms that the findings against McNair are clearly contrary to the evidence," McNair and his attorney, Scott Tompsett of Kansas City, say in a November rebuttal to the Infractions Appeals Committee that was obtained by USCFootball.com.
It's worth a read, in large part because it shows how
sloppy and arbitrary
the NCAA has been in its handling of the entire USC case. Trojans fans have a right to wonder if other recent cases involving agents and pay-for-play schemes will get the same aggressive, take-no-prisoners treatment.
This final portion is pretty darn amusing, though. Remember that notorious 1996 Impala that was one of Reggie Bush's improper extra benefits provided to him by would-be agents? There apparently was some discussion of just how rocking cool this car was. The NCAA took a dim view of McNair for not being properly impressed, even though the car was not dudded up with fancy features until after Bush declared that he would enter the 2006 NFL draft a year early.
So ingrained was the misguided mythology of the Bush Impala in the mind of the Infractions Committee, former USC head coach Pete Carroll had to interject himself at the end of his Tempe hearing testimony to correct a comment from COI member Missy Conboy, Notre Dame's deputy AD.
Carroll said this: "Okay I just wanted to say we left something out there, that Missy [Conboy] said that the car was a cool car. It was not. It was not a car that kids really cherished and all that. That is - anyway, the kind of car that everybody would covet. It was kind of 'Why would you get that one?' It was really more so. You kind of left it out there like it was a hot-shot car and it really wasn't."
McNair's rebuttal finishes off the Committee's car silliness with this comment: "The COI has wide latitude in making credibility determinations. But that latitude does not extend so far as to denounce a person's credibility for voicing his personal opinion about a 1996 Impala."
This is a
1996 Impala
. The Pac-10 blog now rules that all members of the NCAA Infractions Committee must drive one for two years.
August, 17, 2010
8/17/10
1:39
PM ET
Former USC assistant coach Todd McNair is appealing the NCAA's rulings against him,
claiming misconduct by investigators
as well as factual inaccuracies used in the Committee on Infractions' report.
And his
85-page appeal is compelling
. Consider this from
USCFootball.com
:
The most serious charge leveled by McNair was of post-hearing misconduct by the NCAA. According to the appeal, the committee [COI] had ex parte communications with the enforcement staff by sharing a draft of the committee's infractions report in order to correct "factual errors." NCAA bylaws 32.8.8 and 32.8.8.1 prohibit such ex parte communication.
"That kind of communication is strictly forbidden," former committee chairman Tom Yeager said. "The committee has so many attorneys on it that would raise all kinds of red flags; they just wouldn't go down that way. In my years on the committee, the conversation with any NCAA [staff] is almost exclusively with the committee's own staff people. They just don't talk to the enforcement staff."
It's been fairly well established that the NCAA's
investigation of USC was sloppy
. The bigger issue for McNair and USC is whether pointing out any of these flaws will matter to the Infractions Appeals Committee.
The Appeals Committee is not allowed to consider new evidence. So McNair and USC are basing their appeals on process and precedent and hoping that a new set of eyes will see a two-year bowl ban and loss of 30 scholarships over three years as too harsh based on the already presented evidence -- and, in McNair's case, a "show cause" penalty against him which prevents him from having contact with recruits for one year because he provided "false and misleading" testimony.
McNair and USC have strong cases. If they presented their cases in front of a judge and jury, they'd win. But the NCAA doesn't work like that, so USC fans should still see any potential mercy from the Appeals Committee as a long shot.
July, 6, 2010
7/06/10
5:00
AM ET
1. The World Cup, the biggest sporting event on the globe, allows two teams on the same pitch to wear different colored jerseys. Spain wore blue, Paraguay wore red and white, and everyone knew the difference. The NCAA Football Rules Committee didn't decide until last year that the visiting team no longer must wear white. Even then, it allows the home team to veto the visitors' apparel choice. Why? Change the rule. Here's hoping more teams wear their colors on the road.

2. When a college athlete commits an error in judgment, it's easy to shrug it off with, "He's 20 years old. He's not old enough to think." Georgia athletic director Damon Evans doesn't have that excuse. He's 40 years old. You can't dismiss his indiscretions. But he hurt himself more than he hurt Georgia. Sanctimony does no good. In the end, the news of Evans' resignation brings nothing but sadness. Evans will survive. So will Georgia. But what a waste.

3. The departure of Todd McNair from the USC coaching staff is one more example of how the Trojans and the NCAA never spoke the same language. Given the NCAA's case against McNair regarding the Reggie Bush matter, you would think that USC would fire McNair with fanfare, hoist him onto the sacrificial spit and roast him for all to see. Instead, the university quietly allowed his contract to expire. Nothing to see here, nothing to see. Keep moving, folks. Nothing to see.
June, 10, 2010
6/10/10
10:12
PM ET
You can now read USC's 2009
defense against NCAA charges online (PDF)
.
After talking to many sources familiar with the investigation, it's clear that USC representatives believe the infractions committee didn't treat the program fairly -- not an unusual response from a sanctioned program, by the way -- and the university will take its issues to the Infractions Appeal Committee.
USC has two central contentions: 1. There's only tenuous evidence that connects running backs coach Todd McNair to the would-be sports agents, Lloyd Lake and Michael Michaels, who courted Reggie Bush with cash and lavish gifts; 2. That marketing representative Mike Ornstein was falsely named as a representative of USC athletic interests.
From USC's response to the NCAA:
In football, the NCAA Staff has attempted to establish a direct link between USC and the issues surrounding student-athlete 1 in two ways: (l) by pursuing unethical conduct charges against the assistant football coach for allegedly knowing about the benefits and failing to disclose them (Allegations I and 3); and (2) by pursuing a novel and flawed theory that a sports marketing agent became a representative of USC's athletics interests solely as a result of employing three USC student-athletes (including student-athlete l) in the summer of 2005. These allegations against the assistant football coach and USC are not supported by the evidence and should be rejected.
Suffice it to say, USC's defense isn't passive. One might, in fact, call it a bit combative with NCAA investigators.
USC believes the [NCAA] has pursued these weak institutional allegations in football because it recognizes that without a direct institutional link, the allegations surrounding Student-Athlete I involve only amateurism issues with no institutional violation. After 3 1/2 years of intensive public and media scrutiny, including repeated public questions as to why USC football has not yet been "brought to justice" by the NCAA, the pressure to accuse USC of having had actual knowledge of and a direct connection to the alleged impermissible benefits is very real.
In other words, USC believes the NCAA is kowtowing to pressure to make an example out of the school.
USC risks prolonging the controversy with an appeal, and it's unclear which portions of the NCAA's argument it will challenge. An appeal likely wouldn't be resolved until the spring of 2011 -- at the earliest -- so there is a risk in merely pushing the sanctions into the future.
June, 10, 2010
6/10/10
3:56
PM ET
Turns out the NCAA did give USC the
Alabama slammer
. And then some.
The NCAA hammered USC with sanctions on Thursday, as the Trojans were banned from postseason play for two seasons, lost 30 scholarships over the next three years and must vacate all wins from December 2004 -- the BCS title game included -- through the entirety of the 2005 season.
USC was cited for a lack of institutional control, impermissible inducements, extra benefits, exceeding coach staff limits and unethical conduct by a running backs coach Todd McNair. Because of violations in 2001, the program also was considered a "repeat violator."
The penalties, USC's sixth case of major infractions since 1957, exceed in severity sanctions Alabama received in 2002 and what Washington received in 1993 -- major violations cases you
can review here
.
USC can appeal the ruling, but then it runs the risk of simply delaying the penalties further into the future.
The first question: Why did the NCAA hit USC so hard with sanctions?
Answer: It didn't buy any of USC's defenses.
"The general campus environment surrounding the violations troubled the committee," the report said.
"The committee noted that the violations in this case strike at the heart of the NCAA amateurism principal, which states that intercollegiate athletics should be motivated primarily by education and its benefits," the report said.
The 67-page public report recounts a laundry list of extra benefits provided to Reggie Bush and his family, much of which has been widely reported. The committee also found that McNair not only knew about Bush's dealings with would-be agents and sports marketers, he lied about what he knew to NCAA investigators. McNair, whom new coach Lane Kiffin retained as the Trojans running backs coach, is banned from all recruiting activities for a year.
"The committee finds ample reason in the record to question the credibility of the assistant football coach [McNair]," the report said.
The only gesture of mercy: No television ban. Said the report, "The committee seriously contemplated imposing a television ban penalty in this case. However, after careful consideration, it ultimately decided that the penalties below adequately respond to the nature of violations and the level of institutional responsibility."
So what does it mean?
First, there's the embarrassment of the vacated wins, which could mean the BCS takes away the 2004 national title.
But the NCAA obviously wanted to make a strong statement, and the only way to do that is to hit a program where it hurts: The present and future.
Losing 10 scholarships from each of the next three recruiting classes is a significant blow. Losing potential bowl berths for the next two seasons also will be a blow to recruiting as well as school finances.
In other words, these penalties will send the program that has won seven of the past eight Pac-10 titles back to the pack. Will it crush the program? Probably not. But let's just say the Trojans probably won't win the Pac-10 when they are again eligible for the postseason in 2012.
The unfortunate thing is the folks who will suffer most under these penalties -- players who weren't around in 2004 and 2005 -- are not the ones to blame. Most of the principals have moved on to bigger and better things. Bush and O.J. Mayo are NFL and NBA millionaires. Bush's parents, stepfather Lamar Griffin and mother Denise Bush, used their son's fame for profit, breaking NCAA rules in the process, probably couldn't care less. Former coach Pete Carroll signed a five-year, $33 million contract with the Seahawks. Tim Floyd is the basketball coach at UTEP.
USC looked like a slight Pac-10 favorite entering the 2010 season. Now that they are only playing for pride, who knows what the product will look like on the field.
The door is open for another program, or two, to make its move. Further, in 2012, the Trojans will re-enter the race after Pac-10 expansion in a weakened state, which means the opportunity window figures to be open for a few more years.
The NCAA doesn't like to talk about sending a message, but the USC ruling should do just that.
You can run -- or run your program loosely -- but ultimately you can't hide. Even if it takes four years, the NCAA will eventually have its say.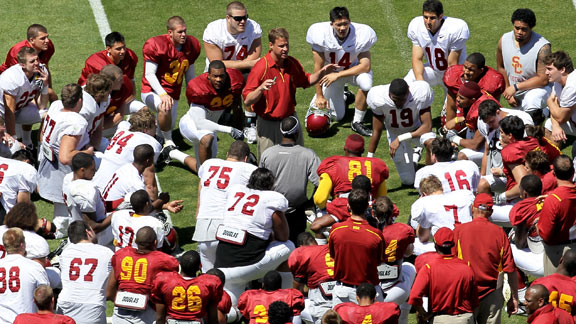 February, 20, 2010
2/20/10
10:02
PM ET
TEMPE, Ariz. -- And after three days, they rested. Their case.
USC's hearing before the NCAA infractions committee ended at 6:30 p.m., local time, Saturday, after nine hours of deliberation.
A hotel worker strained to roll away an overloaded cart of documents that included seven boxes and two massive bound folders that contained USC's responses to allegations of NCAA violations for the football and basketball programs.
To be accurate, USC was done -- football coach Lane Kiffin quickly said goodbye and raced to a town car so he could catch a flight back to L.A. -- but the infractions committee's work continued into the evening.
USC's ultimate fate still requires a verdict, which will require further deliberation for the infraction committee at another location. The ultimate ruling won't be made public until a final report is completed. That typically takes six to 10 weeks.
NCAA officials refused to comment afterwards, and USC officials weren't much more forthcoming.
"I can't even say no comment on no comment," USC president Steven Sample joked with reporters, then added. "It will come out. It will be great."
Said USC spokesperson James Grant, "We've been asked by the chairman of the committee not to discuss the proceedings. But we do want to thank the committee and NCAA staff and everyone involved for these proceedings and we are pleased we were able to present our side of the events and we look forward to an outcome and to moving on."
The first two days of the hearings focused on football, with Trojans running backs coach Todd McNair seemingly spending the most time being questioned. McNair reportedly was aware of a relationship between former running back Reggie Bush and a pair of aspiring agents who allegedly provided him with cash and gifts that would break NCAA rules against athletes receiving "extra benefits."
Basketball was the subject on Saturday, with former Trojans coach Tim Floyd appearing before the committee.
ESPN's "Outside the Lines" reported in May of 2008 that former basketball player O.J. Mayo accepted cash and gifts -- extra benefits -- from Rodney Guillory, who was connected to Bill Duffy Associates Sports Management. Moreover, Floyd was alleged to have provided a $1,000 cash payment to help steer Mayo to USC, according to a Yahoo! Sports report.
"We got the opportunity to present our side of the case," said one of Floyd's lawyers, Jim Darnell.
USC already admitted wrongdoing with the basketball program and
sanctioned itself
, including a ban on postseason participation, a reduction of scholarships and vacating all of its wins from 2007-08.
However USC chose to contest the allegation against the football program, its ultimate goal is to overcome the perception of a lack of institutional control, which could result in significant sanctions, including scholarship reductions, TV and postseason bans, recruiting restrictions and probation.
Moreover, if USC is found guilty of major violations, the NCAA also could rule that the Trojans are "
repeat violators
." Per NCAA rules, "An institution shall be considered a 'repeat' violator if the Committee on Infractions finds that a major violation has occurred within five years of the starting date of a major penalty."
The athletic program was last sanctioned in August of 2001, so if the Bush allegations are found to be major violations, they would fall within that time frame.
So a lot is at stake.
David Price, the NCAA's vice president of enforcement, wouldn't discuss any details of the case but he admitted the hearings were "the longest in my 11 years" as an NCAA enforcement officer.
USC athletic director Mike Garrett's only comment afterwards probably reflected sentiments shared by all participants on both sides of the conference room.
"I'm glad it's over," Garrett said.
Of course, it won't be over until the NCAA finally sings.
February, 20, 2010
2/20/10
6:54
PM ET
TEMPE, Ariz. -- After nearly eight hours in front of the NCAA infractions committee, former USC basketball coach Tim Floyd, carrying a folder overflowing with hastily gathered papers, walked out of a conference room at the Marriott "The Buttes" resort and shared a handshake and what appeared to be a warm exchange with new Trojans football coach Lane Kiffin.
Floyd hopes the hearing and the handshake afterwards aren't his last contact with college coaching, which is one of the reasons he attended the hearing.
[+] Enlarge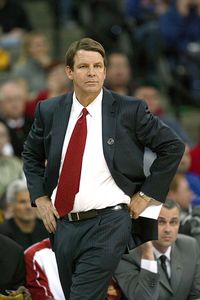 Jamie Squire/Getty ImagesFormer USC basketball coach Tim Floyd met with the NCAA infractions committee for nearly eight hours on Saturday.
The other?
"It's the right thing to do," he said.
Floyd, now an assistant coach for the New Orleans Hornets, was shortly hustled away by his lawyers, Jim Darnell and David Scheper, into a waiting elevator.
Floyd appeared before the committee because ESPN's "Outside the Lines" reported in May, 2008, that his former player, O.J. Mayo, accepted cash and gifts from Rodney Guillory, who was connected to Bill Duffy Associates Sports Management. Moreover, Floyd was alleged to have provided a $1,000 cash payment to help steer Mayo to USC, according to a Yahoo! Sports report.
His lawyers said their intention was to present their side of the case and clear Floyd's name. They said they felt the hearing was fair. While they wouldn't talk about what went on behind closed doors -- or whether things got contentious -- they admitted there were some unexpected twists.
"Over eight hours there are always surprises," Darnell said. "But nothing that big of a deal."
As far as their odds of success, Darnell said he didn't have "the slightest idea."
"I'll know that in two months," he said.
USC already admitted wrongdoing with the basketball program and
sanctioned itself
, including a ban on postseason participation, a reduction of scholarships and vacating all of its wins from 2007-08.
While the details aren't available -- USC's status as a private institutions allows it to keep NCAA allegations from public scrutiny -- it's fair to say USC's version of events and Floyd's version don't match.
In fact, in recent interviews with the
LA Times
and New Orleans Times-Picayune, Floyd talked about how he believed USC athletic director Mike Garrett made him the program's scapegoat.
"Mike's reputation took precedence over the truth," he told the newspapers.
Floyd and his lawyers left at 3:30 p.m., local time, but the hearings continued.
Former football coach Pete Carroll was interviewed on Thursday. Current running backs coach Todd McNair, who allegedly was aware of former running back Reggie Bush's dealings with a couple of would-be sports agents, was interviewed Thursday and all day Friday.
When the committee is finished with USC, it will reconvene -- at an "undisclosed location," NCAA spokesperson Stacey Osburn said -- to evaluate the testimony and reach a verdict.
That could last well into the evening, and it remains possible that the committee won't be able to finish its business.
But, when the elevator doors closed behind Floyd, the last of the star witnesses departed.
February, 19, 2010
2/19/10
4:13
PM ET
TEMPE, Ariz. -- USC and NCAA infraction committee members returned from their lunch break around 1:30 p.m. local time, as did Trojans running backs coach Todd McNair.

McNair is an important figure because it has been alleged that he was aware of former running back Reggie Bush's dealings with a couple of would-be sports agents.

While an NCAA spokesperson noted that McNair's presence in the room for a second day doesn't necessarily mean he is still being questioned, it seems meaningful that former basketball coach Tim Floyd apparently hasn't yet appeared before the committee.

While no one will go on record as to what is going on behind closed doors, it appears that football remains the committee's focus after a day-and-a-half of proceedings that are scheduled to last through Saturday.
February, 18, 2010
2/18/10
8:58
PM ET
TEMPE, Ariz. -- They shuffled by at 5:30 p.m. local time, sharing a message for those who might wonder how things went during USC's meeting with the NCAA infractions committee on Thursday.
"No comment."
Said USC athletic director Mike Garrett, "I can say hello. I can say goodbye."
Pac-10 commissioner Larry Scott was amused by a reporter's attempt to chat about how things might be going for USC as it defended itself against alleged
NCAA rules violations
for its football and basketball teams. "Thanks for asking," he said.
USC president Steven B. Sample enjoyed a cookie and used a pregnant pause to support his quip that he wasn't even going to say no comment.
The silence wasn't terribly surprising.
"We have been instructed by the
chair of the proceedings
not to discuss the proceedings," USC spokesperson James Grant said.
That would be former Miami athletic director Paul Dee, who slipped by before a reporter collecting various forms of "no comment" could acquire his.
So what can we say about Day 1 of USC's hearing, which will continue Friday and Saturday?
Former USC coach Pete Carroll was in attendance. He said he was leaving Thursday night and headed to LA for a charity event.
That, paired with the apparent absence of former Trojans basketball coach Tim Floyd as well as the presence of running backs coach Todd McNair, would suggest strongly that football was the focus of the first day. And that Carroll and McNair answered question about their knowledge of extra benefits former running back Reggie Bush allegedly received from a pair of would-be agents, among other things.
New football coach Lane Kiffin, sporting an impressive suit that Carroll took a moment to admire, also was on hand. He provided the day's best -- only -- analysis when he called the interaction inside the meeting "interesting" but the expressions of most folks' faces when they left the meeting room suggested that even James Cameron couldn't make the proceedings lively.
The big question for Day 2?
Will Floyd and the basketball program take the stage? Or will football still lead the agenda?
According to a source with knowledge of the proceedings.
"No comment."
February, 18, 2010
2/18/10
2:43
PM ET
TEMPE, Ariz. -- Pete Carroll didn't seem stressed at all. Bored, but not stressed.
USC's hearing with the NCAA infractions committee broke for lunch at noon, and Carroll stopped by for a brief chat about the Seattle Seahawks and being back in the NFL.
Not surprisingly, he said he's not going to talk about what happened inside the secret hearing.
Carroll didn't have to appear here, something he made note of: "I'm being a good soldier," he said.
He said he was leaving Thursday afternoon. Carroll will be in L.A. this weekend for his
A Better LA charity event
.
So that means he will be interviewed by the NCAA today. The gist, of course, will be what he knew of former running back Reggie Bush's dealings with would-be agents. And if he should have known.
Carroll has long contended that he knew nothing.
It's likely that Trojans running backs coach Todd McNair, who is also on hand but refused comment, will face tough questioning on the Bush matter. One of Bush's former agent suitors, Lloyd Lake, who is embroiled in a contentious lawsuit with Bush, has claimed that McNair was aware of his association with Bush.
After chatting, Carroll bolted for lunch with Lane Kiffin.
Carroll proposed that Kiffin would be buying.