December, 30, 2014
12/30/14
4:15
PM ET
NEW ORLEANS -- Alabama and Ohio State spent an hour apiece at the Mercedes-Benz Superdome for Tuesday's media day leading up to their meeting in the College Football Playoff semifinal on New Year's Day.
Here are some of the highlights from Alabama's morning interview session:
Alabama coach Nick Saban on Jim Harbaugh's return to college coaching at Michigan:
"I have a tremendous amount of respect for the Harbaugh family. I knew his dad when he was a secondary coach at Michigan and I was a secondary coach and we used to spend time together. So to see both of the Harbaughs do really, really well as NFL coaches in Baltimore and San Francisco, tremendous amount of respect for the entire family, and Tom Crean, who is the head basketball coach in Indiana, is married to another Harbaugh coach, which I'm sure she does a good job of supporting him just like my wife does me. And they were at Michigan State when we were there. He was an assistant for Tom Izzo, and we were really good friends. So I've had a good relationship with the entire Harbaugh family for probably 30 years. So I'm happy and excited that someone of Jim Harbaugh's character and quality is going to come back and be a part of college football."
[+] Enlarge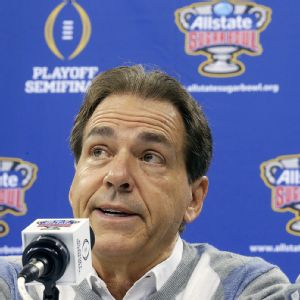 AP Images/Gerald HerbertAlabama coach Nick Saban answers reporters' questions on everything from the matchup against Ohio State to Jim Harbaugh's hiring at Michigan.
Receiver Amari Cooper on what he has learned from Saban:
"I've learned many things from him. He has a lot of parables he likes to tell. He once told the team something about this, I don't know, a rock hitter or something like that, I don't know what the guy was hitting a rock for. But he said the guy hit the rock 100 times and the rock didn't do anything. The 101st time he hit it and the rock split. He used that to try to give an example to the team that even though you may be working hard or might not be seeing the results so quick, we have to keep working hard because at the end of the day all the results will come from your hard work."
Alabama linebacker Trey DePriest on growing up in Ohio and the difference between Alabama and Ohio State fans:
"It's similar. Ohio State, they've got some diehard fans, too, regardless of the situation, whether it's up or down, just like the fans in Tuscaloosa. They do a good job regardless of the situation with us. If we're down, they're still going to scream for us."
Quarterback Jake Coker on the importance of winning to protect SEC bragging rights:
"We always talk, I guess trash-talk, because we are in the SEC. If we didn't say the SEC was the best, then there'd be something wrong with us because we came to play in the SEC for a reason. So heck, we've just got to make the SEC look good."
Coker on whether he felt that way last season as a Florida State player before transferring to Alabama prior to this season:
"I don't know. There were some really good ACC teams, and hey, the ACC's a really good conference, especially this year now that they've acquired all those other teams. But my stance on it this year is the SEC's the best, I'll tell you that."
Alabama safety Landon Collins on whether it's difficult for an opposing offense to function because of the way the Crimson Tide defense disguises its coverages:
"That would be a question to ask
Blake [Sims
, Alabama's quarterback] because he plays against us all the time. I mean it would be one of the hardest because we sometimes will sit there. Then I know me and
Nick [Perry]
, we'll try to mess with the quarterback. We'll look at the quarterback and just sit there and just stare at him the whole time while he's looking at us to see whether we're going to move or anything like that. But by the time he thinks it's going to be something, we've totally changed the whole front."
Collins on how Ohio State quarterback Cardale Jones might have difficulty against those disguised coverages since this will be only his second career start:
"When you mess with a quarterback that just got in the game and has to play a defense like ours, definitely it's going to be a competition for him because they don't know what we're going to throw at them and what we're coming with."
Alabama linebacker Reggie Ragland on how his family and his roommate Collins' family typically hang out together at their apartment after games -- for a little while, anyway:
"After the game and stuff, we'll crack up and have jokes, and then it's time for them to get up out of our house."
Cornerback Eddie Jackson on the key to defending Ohio State's speedy receivers:
"Basically just keeping the receivers cut off, not letting them stretch the field vertically because they are pretty fast, nice route-running receivers so they can get down the field. And also going to get the ball at its highest point when it's in the air. A lot of times quarterbacks just throw the ball up and receivers go up to make plays, so we're going to try our best to keep them cut off."
Fullback Jalston Fowler on what it takes to play multiple positions (also including running back, tight end and receiver) like he does:
"It's a whole bunch of knowledge I have to have. You have to look over that playbook a lot because you've got to know what you're doing at receiver, you've got to know what you're doing at H-back, you've got to know what you're doing at running back. So it's just a lot for me, but I appreciate it because it helps me show my versatility."
January, 30, 2014
1/30/14
9:00
AM ET
As the coach hiring season nears an end, we're examining the Big Ten coaching landscape and some recent trends. We wrap up the series today with a look at the importance of coaching continuity in the Big Ten going forward.
It's no coincidence that a historic downturn in Big Ten football has coincided with a historic stretch of instability among the league's coaches.
[+] Enlarge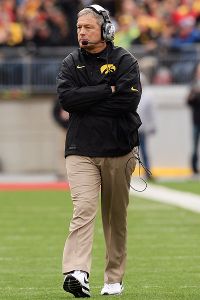 Jamie Sabau/Getty ImagesIowa's Kirk Ferentz has been at his post eight years longer than any other Big Ten coach.
Think back to 2005, a season that ended with two BCS bowl wins and teams ranked No. 3 (Penn State) and No. 4 (Ohio State) in the final polls. Seven of the league's 11 coaches had been at their schools for six or more seasons. Ohio State's Jim Tressel, three years removed from a national title, logged his fifth season in Columbus. Three coaches -- Penn State's Joe Paterno, Wisconsin's Barry Alvarez and Michigan's Lloyd Carr -- all had held their jobs for more than a decade (in Paterno's case, four decades).
The Big Ten coaches that year had combined for four national championships, five Rose Bowl titles and seven BCS bowl victories.
Since 2005, the Big Ten has gone through 17 coaching changes (not counting Nebraska's after the 2007 season). Seven teams have made multiple changes, including Penn State, which introduced new coaches earlier this month and in January 2011 after not doing so since February 1966. Last season, Indiana's Kevin Wilson was the longest-tenured coach in the Leaders division. He was hired in December 2010.
As the Big Ten
invests more in its coaches
, it also must ensure it has the right leaders in place for the long haul.
"If you believe strongly in the person you have," Iowa athletic director Gary Barta told ESPN.com, "continuity is invaluable."
Few programs value continuity more than Iowa, which has had two coaches (Kirk Ferentz and Hayden Fry) since the 1978 season. Ferentz, who just completed his 15th year at the school, has been at his post eight years longer than any other Big Ten coach. He's one of only four FBS coaches to start before the 2000 season (Virginia Tech's Frank Beamer, Oklahoma's Bob Stoops and Troy's Larry Blakeney are the others).
Iowa awarded Ferentz with contract extensions both in 2009 and 2010, the latter a
whopping 10-year deal with a salary of $3,675,000
. The Big Ten hasn't set the pace nationally in coach compensation, but Iowa's pledge to Ferentz, often the subject of NFL rumors, jumps out. Ferentz's salary is frequently debated and scrutinized, especially when Iowa struggles like it did in 2012, but Barta's loyalty to him hasn't wavered. Iowa rebounded to win eight games last season.
"Because of that commitment, we made our statement," Barta said. "We're going to fight through this with the person in whom we have great confidence and trust. There's no guarantees in life, but because of Kirk's past performance, because of his long-standing approach at Iowa and his proven success, it was a risk I was willing to take. Knock on wood, so far it has worked out terrific."
Barta sees a similar approach from Big Ten schools like Michigan State, which won Big Ten and Rose Bowl titles in Mark Dantonio's seventh season as coach.
Dantonio in 2011 received a contract
designed to keep him a "Spartan for life," and his newest deal is expected to more than double his salary from $1.9 million in 2013.
"Continuity breeds success," Michigan State athletic director Mark Hollis said, "and that's the hardest part sometimes on the institutional side, to keep that commitment, keep that contract whether it's an assistant or a head coach. … It requires a high level of confidence and a high level of trust."
"

The day of playing musical chairs with coaches, of making change just for change's sake, is over because any changes you make are going to be expensive and important. You've got to get them right.

"

Michigan athletic director Dave Brandon
There have been similar long-term commitments at other Big Ten schools. Northwestern
awarded coach Pat Fitzgerald a 10-year contract in 2011
. When Indiana hired Wilson, it gave him a seven-year contract, longer than the initial deals new coaches typically receive. Athletic director Fred Glass links Indiana's lack of continuity -- the school has had five coaches since 1996 -- with its on-field struggles (only one bowl appearance since 1993) and knows the school needs a more patient approach.
"Stability is an important thing in our league," said Ohio State athletic director Gene Smith, who applauded recent moves like MSU retaining Dantonio and Penn State hiring James Franklin. "The best example I'll use is men's basketball where we're having tremendous success, in large part, because of the stability we have in a number of our programs. I think we need to get that in football."
While Big Ten football has struggled in recent years, the league is surging on the hardwood, in large part because of veteran coaches like Michigan State's Tom Izzo (19th year), Wisconsin's Bo Ryan (13th year) and Ohio State's Thad Matta (10th year). Six of the league's 12 basketball coaches have been in their jobs for at least five seasons.
Continuity doesn't guarantee success, but it often correlates. Barta has tried to create "an environment of longevity and long-term commitment" at Iowa, while also recognizing the pressure to win and, in some cases, the need to part ways with a coach.
"The day of playing musical chairs with coaches," Michigan athletic director Dave Brandon said, "of making change just for change's sake, is over because any changes you make are going to be expensive and important. You've got to get them right."
After several years of transition, the Big Ten hopes it has the right men at the top -- and the ability to keep them there.
December, 26, 2013
12/26/13
11:00
AM ET
You've probably seen The Scowl. Just about everybody has.
Michigan State coach Mark Dantonio is often typecast on the sideline, where he's most exposed. His standard game-day expression -- furrowed brow, piercing eyes, pursed lips often forming a scowl -- creates a default image.
[+] Enlarge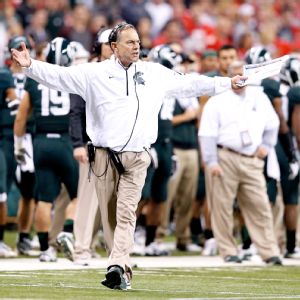 Joe Robbins/Getty ImagesMark Dantonio might be best known for his sideline scowls, but his success at Michigan State has made Spartans fans smile.
Saturday snapshots create lasting labels for coaches, as the Mad Hatter (LSU's Les Miles) or The Vest (former Ohio State coach Jim Tressel) can attest. For Dantonio, it's the scowl.
"People always ask me questions, about how he's grumpy or scowling," said Dan Enos, an assistant for Dantonio from 2004 to '09. "My daughter's even said that to me, watching him on TV. I don't know how he portrays himself to the public, but he's very funny, very engaging, obviously very bright -- one of the most pleasant, best people I've ever been around."
There's much more to Dantonio than the scowl. There's the meticulous mind who impressed his superiors as a young defensive coach by providing scouting reports, recruiting evaluations and game reviews. There's the chief who grants autonomy to his deputies while creating a culture of confidence fueled by themes -- this season's: Chase It -- and gutsy decisions.
There's the 57-year-old who names his trademark special-teams fakes after children's movies such as "Little Giants" and dances to hip-hop -- specifically, Rich Homie Quan's "Type of Way," MSU's anthem this season -- in the locker room after wins. There's the man dedicated to faith and family whose beliefs have been strengthened in recent years after a health scare and his father's death.
There's another label Dantonio has earned: elite coach. He has won 41 games since the start of the 2010 season, guiding Michigan State to two Big Ten championships, including its first outright title and Rose Bowl appearance in 26 years. Only five coaches have won more games than Dantonio in that span, including Alabama's Nick Saban, a Dantonio mentor known to scowl occasionally.
"He's just been rock solid," said Tressel, who had Dantonio on his staff at Ohio State and at Youngstown State. "He's always known what he wants to accomplish with his kids. He knew if he established a good, steady program, the winning would come, and it certainly has."
Dantonio's plan is blossoming at MSU, but the seeds were planted decades ago. As a graduate assistant at Ohio State, Dantonio oversaw live scouting (then permitted) and compiled extensive reports.
While serving as Ohio State's defensive coordinator, Dantonio wouldn't let the team recruit defenders unless they were sound tacklers and unselfish, regardless of their raw athleticism.
"He was very strict and stringent in his evaluation," Tressel said. "He wanted to meet every one of those defensive kids."
Dantonio's ability to "take the entire picture of a recruit," as Enos puts it, sets him apart. It helped when he left the brand-name program in Columbus for his first head-coaching post at Cincinnati, which he boosted in three years there.
Michigan State had greater recruiting reach, but, other than the 2009 class, Dantonio's hauls haven't landed on the national radar. Even this year's team, which featured the nation's No. 1 defense, had just three players rated in the ESPN 150/300, including two redshirting freshmen (
Shane Jones
and
Damion Terry
).
"They might not have a lot of four- or five-[star] recruits, but they play like four- and five-star," said Big Ten Network analyst Glen Mason, who had Dantonio on his staff at Kansas from 1991 to '94. "That's what he went after, that's what he's built it around."
Michigan State men's basketball coach Tom Izzo sees similarities between Dantonio's program and his own, from player development -- "It's not like either of us are loaded with top-five guys," Izzo said -- to core values. The difference: Spartans hoops is a national powerhouse.
Dantonio's teams had been very good but not elite until this year. Player development and staff continuity helped -- only four assistants have departed in seven years, two for head-coaching jobs -- but Dantonio's handling of adverse situations pushed MSU a step further.
"He's gotten better at making tough decisions," Izzo said.
Dantonio suspended 13 players for the 2009 Alamo Bowl for their roles in an on-campus fight after the team banquet. He showed patience with a messy quarterback situation early this fall.
Connor Cook
eventually emerged.
"Everybody ripped him for having three quarterbacks in the same game," Izzo said. "Nobody stood out; he's trying to give each a chance. He did what he knew was right."
Dantonio made one of his toughest calls Wednesday night,
suspending starting middle linebacker
and two-time captain
Max Bullough
for the Rose Bowl Game presented by Vizio.
Dantonio's coaching trials have been interspersed with personal challenges. He suffered a mild heart attack in the 2010 season and missed two games. Five days before the 2011 season, Dantonio's father, Justin, died at age 86.
"You hope that all these experiences shape you," Dantonio said.
Defensive coordinator Pat Narduzzi has seen a more relaxed Dantonio, who often reminds players that life is short so enjoy every moment.
"Mark is still the same Mark, but, when you lose your dad, it has an impact," MSU athletic director Mark Hollis said. "Do you shift the rudder a bit? Absolutely.
"But he's used those life experiences, I believe, to complete his life in a positive way."
Hollis hopes Dantonio will complete his coaching career at MSU. Hollis built bonds with Dantonio and Izzo while all three served in assistant roles at MSU in the 1990s. The triumvirate talks daily about player conduct, recruiting, academics and other issues.
"The three of us literally are like brothers," Hollis said.
Hollis has kept the family intact despite NBA overtures to Izzo. He must do the same as Dantonio's stock soars.
Named Big Ten Coach of the Year in 2010 and again this season, Dantonio is arguably the nation's best bargain, earning about $1.96 million, ninth among Big Ten coaches. A substantial raise is coming.
"Coach D and I are in a very good place," Hollis said. "We both know what the future is going to look like for him and his staff."
Deep-pocketed programs such as Texas still might court Dantonio, but the Zanesville, Ohio, native is rooted in the Midwest and at MSU, where both of his daughters are students.
Asked recently about the Texas job, Dantonio called it flattering but said, "I see Michigan State as a destination, not a stop."
Those who know him best agree.
Mason: "He might want to be the Tom Izzo of football at Michigan State. He's definitely put his footprints all over that program."
Izzo: "Mark's not all about the money, he's not about the name, he's about building something that's his. I'd say this is home for him."
Tressel: "He's never been a guy that's bounced around. All signs are he'll be wearing that green and white."
For Spartans fans, that's nothing to scowl at.
July, 1, 2013
7/01/13
11:00
AM ET
It's nothing new for major college coaches to have access to planes for business and personal use. Many of them have provisions in their contract allowing plane privileges.

But Michigan State's use of state-owned planes for athletic officials has come under scrutiny. The
Federal Aviation Administration has launched a preliminary investigation
into the state's history of leasing its four passenger planes to Michigan State athletic officials for recruiting trips. The probe comes shortly after a series of stories by the Lansing State Journal about
how the planes are used and who uses them
.
The newspaper found that Michigan State football coach Mark Dantonio and Spartans men's basketball coach Tom Izzo are among the most frequent users of the state-owned planes. Dantonio used the planes 47 times in the past five years, while Izzo used the planes 55 times in the same timespan.
From today's story:
Flights for their recruiting trips are paid for out of MSU's athletics department budget, which is self-sufficient and does not receive taxpayer funding. The athletics department pays MDOT [Michigan Department of Transportation] a per-hour fee to use the planes, officials have said, and the state planes are one of several charter options that the athletics department uses.

In all, MSU employees and guests used the state planes at least 150 times during the five-year period analyzed by the State Journal. That was third-most among any state entity, behind MDOT and the Michigan State Police. At least two-thirds of the passengers on the MSU trips were affiliated with the university's athletics department, the State Journal found.
There's not much information available about the preliminary investigation, which is seeking billing documents and receipts from Michigan State. It could trigger a formal investigation by the FAA.
Officials from Michigan's 15 four-year public universities have access to the planes for work purposes, but the University of Michigan isn't involved in the FAA probe.
Many major-conference coaches have access to private planes for recruiting trips and personal use. It'll be interesting to see if Michigan State will go that route or have its access to the planes reduced in the future.
May, 16, 2013
5/16/13
11:00
AM ET
CHICAGO -- The Big Ten reported another
record revenue total for the past fiscal year
, and although its members on average sponsor many more sports than their counterparts in the SEC, athletic directors say their football programs have the financial resources to compete at the highest level.
"We all make the investments necessary in football," Ohio State athletic director Gene Smith said at the spring meetings.
Smith cited the higher salaries Big Ten programs like Ohio State and Michigan are now paying top assistant coaches, a push that accelerated at Ohio State when head coach Urban Meyer arrived. Still, the Big Ten on average
pays assistants less than SEC programs
. Many of the nation's highest-paid assistants are also in the ACC and Big 12.
But according to Smith, who oversees 36 varsity sports at Ohio State, money isn't holding back Big Ten football. He instead looks to the league's other major sport, men's basketball, as a road map for greater success on the gridiron.
While Big Ten football took a beating on the field and in public perception last fall, Big Ten basketball enjoyed the label of "nation's best conference" during the 2012-13 season.
"What we need in our football programs is really what we endured this past year in basketball," Smith said. "We had huge stability among our basketball coaches."
Michigan State basketball coach Tom Izzo just completed his 18th year at the helm in East Lansing, while Wisconsin's Bo Ryan just finished his 12th campaign. Other coaches like Ohio State's Thad Matta, Purdue's Matt Painter, Michigan's John Beilein and Indiana's Tom Crean are no longer newbies at their schools.
Big Ten football, meanwhile, has only one coach -- Iowa's Kirk Ferentz -- who has been in his post longer than six seasons.
The second part of the football equation, according to Smith, is "strategic, high-level recruiting."
It's undeniable that more Big Ten basketball programs consistently recruit at a nationally elite level than Big Ten football programs. In basketball, it's not just the usual suspects -- Michigan State, Indiana, Michigan, Ohio State -- but others (Illinois, Purdue) that can rise up.
"Part of that is recruiting in geographies where, frankly, the people are," Smith said. "We do not enjoy the environment that we had in the '70s and the '80s in Michigan and even some parts of Ohio or Pennsylvania or Illinois. Families aren't there. We've got to go to where they are."
College football and college basketball are different sports with different challenges in recruiting, but comparisons are always made, as Smith did this week. If Big Ten football can regain greater coaching stability and spread out its recruiting reach, more success should come.
November, 5, 2012
11/05/12
3:30
PM ET
We don't quote a lot of basketball coaches on this football-specific blog. But few basketball coaches like football -- or are bigger straight shooters -- than Michigan State's Tom Izzo. And Izzo had a couple of interesting things to say related to Spartans football on Monday.

Speaking at his own basketball news conference, Izzo mentioned his
disappointment with the student turnout
at the Nebraska-Michigan State game on Saturday. There were large swaths of empty seats in the student section.
"I don't want to hear about it being too cold," Izzo said. "If it is, we've got a bunch of wimpy students, you know?
"I love our students. I think students have got to hold students accountable. We ain't putting this on [athletic director Mark] Hollis, and definitely not [Mark] Dantonio. We've got to self-evaluate."
Izzo said the Spartans' 5-5 record shouldn't have anything to do with the turnout since the student tickets had already been sold.
"I can't figure it out, but hopefully, in both sports we'll try to get to the bottom of it because there's got to be some reason," Izzo said. "It disappoints me for Mark because I think he's earned the right, and I do think it is a right. You can tell me about the ticket prices. You can tell me all that. Baloney, because the tickets are sold. It's not about the ticket prices. It's about passion and enthusiasm."
Izzo also took a few swipes at the officials from Saturday's game, who made some questionable calls, including the late pass interference flag in the end zone that helped Nebraska score the game-winning touchdown. Asked if he could get fined for criticizing the zebras in another sport, Izzo said: "Probably. It would be worth the fine, though."
Maybe we should quote basketball coaches more often.
May, 25, 2012
5/25/12
9:00
AM ET
Today wraps up Coaches We Love to Hate week, a theme that brought the readers out in full force the past few days.
On Tuesday, we
asked you who the most hated Notre Dame coach was
, in addition to fielding your feelings toward opposing coaches.
Unsurprisingly given his performance in South Bend, Charlie Weis
has run away in the most-hated poll
, with Dan Devine coming a distant second. Why? One reader, Aaron Short, suggested that could have more to do with his portrayal in "Rudy" than anything else.
Ah, the power of Hollywood.
As for opposing coaches you guys hate, the usual suspects filled my mailbag: Lane Kiffin, Urban Meyer, Pete Carroll and Mark Dantonio.
Here's why ...
Joe from Danville, Pa.:
Two words: Little Giants. Mark Dantonio by a margin so wide science has yet to determine a system of measure that can determine it.
Brian from Raleigh, N.C.:
Currently, I dislike Kiffin the most. If you really listen to nearly any interview he gives, he's still the snotty little brat we always thought he was. I don't know how the media can listen to him and not get that impression. I actually respect Dantonio a lot. I hate MSU, and fortunately that particular school is unable to have more than one really good sports team in a season so committed to mediocrity they are. So as long as [basketball coach Tom] Izzo is there, we won't have to worry about them being too good too often. The ND coach I disliked the most? Gotta be Weis in my lifetime. They all have driven me nuts from time to time ( was born under Devine, grew up under [Gerry] Faust and [Lou] Holtz) but those ND teams simply were not what Notre Dame football is about.
[+] Enlarge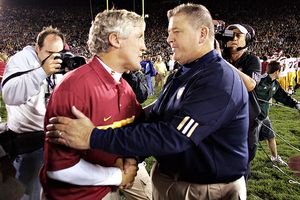 AP Photo/Tom StrattmanYears after their respective departures, coaches Pete Carroll, left, and Charlie Weis, seen here in 2005, still rub Irish fans the wrong way.
Rose from Los Alamitos, Calif.:
No longer a college coach, but Pete Carroll was the worst. The hair at my nape stood on end when I would hear him speak. Just a bad feeling that the guy was not to be trusted.
Jim from Notre Dame, Ind.:
Pete Carroll is far and away my least favorite (former) coach. The man never stopped badgering the officials about any call against his team (even blatant cheap shots ... which, with the players he recruited were frequent), was constantly on the playing field and outside of the coaches box (AT LEAST ISSUE HIM A WARNING!), and honestly, I've never hated an opposing coach more. That said, his replacement is making a run at Carroll's title. His comments about Notre Dame make me irate, and his general demeanor and pouting face are loathsome. I hate them, I hate USC (University of Spoiled Children/University of Sanctioned Cheating), I REALLY HATE USC, and I would love nothing more than for them to be undefeated when the Irish roll into town and beat them. P.S.: When USC was sanctioned (I thought they deserve the death penalty... REGGIE BUSH GOT A HOUSE!!!! A HOUSE!!!) and Pete Carroll got out of dodge, it showed just how slimy he really is.
Brett from Denver:
Im younger so I couldnt tell you about coaches predating the mid to late 90's, but since then, to me it has to be Lane Kiffin. Its not even about the ND USC rivalry either, its what he did to Tennessee. Then pile on his arrogance and I despise no one more.
Aaron Short from Bloomington, Ill.:
Do you think Devine is coming in second on the Notre Dame coach list because of how he was portrayed in "Rudy"? And in response to the opposing coaches. Lane Kiffin has to take this one. The guy jumps to the NFL, fails ... miserably, which I'm not putting the guy down for taking a chance but then Tennessee gives him a great opportunity. So he takes it and talks it up, saying and I quote "We'll be singing Rocky Top all night long after we beat Florida"... Urban Meyer's Florida, that is. Once again FAILS, miserably ... Pete Carroll darts out of LA before his crap hits the fan leaving Lane Kiffin a back door out of Knoxville. And even though he wants to try to beat Florida again because he reaallllyy wants to sing rocky top all night long, he leaves the Vols in the gutter and jumps back into the loving arms of USC, knowing that a 2 year post season ban would still be better than getting wiped up and down in the SEC. Him and Todd Graham need to set a lunch date together, if the two could commit to a place.
Mullin from Hamilton, N.J.:
Without a doubt it's Urban Meyer. Now we know why he wouldn't come to his dream job at Notre Dame. He already has secondary violations at OSU and complaints about his recruiting tactics ... and how come nobody ever brings up the 30 guys that got arrested in his tenure at FLA? That doesn't work at ND. Throw in the fact that he's stolen several top recruits from ND at those 2 schools puts him as public enemy #1.
And we have a voice from the other side, too, as reader Tom Jeffries from Gas City, Ind., defends Charlie Weis' work ...
Tom:
Matt I love reading your stuff every week. You do a great job. That being said, this poll was way off. Charlie got the most votes, but it was totally undeserved. First and foremost lets not forget that the last 2 BCS bowls ND was in, was under Charlie. Also I think we can all agree that he was a great person off the field. He did tons of charity work and donated more money than I will ever make in my lifetime. [He] is a good mind, who had trouble adjusting to the college game and getting the right staff together. [He] belonged in the press box, calling the plays. That why he went to Kansas City and dominated, had a good run at Florida, and is now back coaching at the BCS level at Kansas. Lets at least state the facts and give credit where credit is due.
As always, thanks a bunch for sharing your feelings. And for keeping things civil in a post like this. I can't say I'm too surprised by the amount of hatred toward USC's former and current coaches, and the expectations surrounding the Trojans this season should only add to the intrigue and animosity.
December, 2, 2011
12/02/11
6:00
PM ET
INDIANAPOLIS -- Michigan State head coach Mark Dantonio held his pregame news conference Friday at Lucas Oil Stadium.

Here are some notes and nuggets:
Cornerback Darqueze Dennard will return to the starting lineup after missing the past two games with an ankle injury. Dantonio said Dennard practiced all week and is full-go. Redshirt freshman Tony Lippett would be the next man in at cornerback. Safety Kurtis Dummond (head) also will play and split time at nickel safety with Jairus Jones.
Dantonio had roses placed at each player's locker this week to remind them of what's at stake Saturday night: the program's first trip to the Rose Bowl in 24 seasons. "We've got Rose Bowl things up around our facility," Dantonio said. "[Assistant coach Mark Staten] was out there recruiting in the summer and brought back a bunch of rocks from the Rose Bowl. So we gave everybody a little rock. We'll do whatever it takes to keep that focus in front of them."
Dantonio had high praise for sophomore safety Isaiah Lewis, who is tied with fellow Spartans safety Trenton Robinson for the Big Ten interceptions lead with four. Lewis is an Indianapolis native. "Isaiah Lewis is, to me, one of those guys who can take over a football game and be an impact player," Dantonio said. "... He's one of our finest football players as a sophomore, and he has great things in store for him as a player in this league, and has a future beyond this league. He tackles, great ball skills, big-play ability. He will make some big plays out there tomorrow night."
Although Michigan State will be the home team Saturday night, Dantonio had the team prepare for a normal road game this week. The routine didn't change, and Dantonio reiterated a point he has made about stress vs. pressure. "Pressure is good," he said. "You can succeed with pressure. It makes you have greater attention to detail. You're more focused. Stress is not. Stress is the enemy. We don't want to stress out about this."
One oddity of Michigan State's season is that the Spartans won the Legends division despite having the Big Ten's worst rushing offense (139 ypg). Dantonio stressed the need to be balanced against Wisconsin and get top backs Le'Veon Bell and Edwin Baker in space. "We've got to have explosive plays," he said. "When we get eight-plus explosive plays, we're 37-5 as a program."
Dantonio talked this week with Spartans men's basketball coach Tom Izzo, whose team played at Lucas Oil Stadium in the 2009 NCAA tournament. Izzo also talked to Dantonio about facing the same team multiple times in a season.
Dantonio talked about how Michigan State is changing its regional and national perception, pointing to the team's 14-2 mark in Big Ten play and its 24 Big Ten wins in the past four seasons -- the most in the league (Ohio State vacated its seven wins from 2010). Despite these numbers, the Spartans are once again underdogs heading into the title game. "We've been underdogs in six games this year, five or six, whatever it is," he said. "We're sort of unfazed by it. I tell our players, 'Don't worry about what the so-called experts say. The experts are in that locker room, and they're the coaches. We're the people who study that football field. We're the people who have to go out and play in it, live it. And in Wisconsin's locker room, they're the experts.'"
Dantonio on Wisconsin: "The respect is there for the University of Wisconsin and how they play. We recognize they're a very big challenge for us. They're always going to be up there. They've got a great program, they've risen up the ranks and I think both of our football teams are going to be on top for a while."
September, 21, 2010
9/21/10
4:12
PM ET
It has already been a busy news day around the Big Ten, particularly in East Lansing.
Michigan State received some good news and some bad news this afternoon.
THE GOOD NEWS
Very good, indeed, as head coach Mark Dantonio
has been released from the hospital
and is back home with his family. According to a team spokesman, Dantonio was discharged from Sparrow Hospital around 3 p.m. ET.
Spartans offensive coordinator Don Treadwell, who is handling the head-coaching duties in Dantonio's absence, said on the Big Ten teleconference today that Dantonio "is doing so much better, and we're very excited about his progress." There's still no work on when Dantonio might return, but his release from the hospital less than 72 hours after he suffered a mild heart attack and underwent surgery is a very promising sign.
Treadwell has visited with Dantonio the last few days and expects to keep things running as smoothly as possible. The longtime assistant will continue to call the offensive plays, but he'll be on the field rather than the press box for Saturday's game against Northern Colorado.
"We try to keep things as normal as we can as a staff," Treadwell said. "We're all rolling up our sleeves a little bit and making sure we continue to follow the plan that coach Dantonio puts in place."
Michigan State should be in good hands with Treadwell, who carries himself well and has the makings of a future head coach.
"Don Treadwell's a special guy," said Ohio State coach Jim Tressel, who had Treadwell on his staff at Youngstown State. "I know Mark Dantonio feels very comfortable that Donnie will do whatever needs to be done."
THE BAD NEWS
Very bad, indeed. Sophomore tight end
Dion Sims
is
one of 10 people facing felony charges
as part of an alleged crime ring that stole and resold more than 100 laptop computers from Detroit Public Schools. Prosecutors in Wayne County
allege Sims and nine others stole more than $158,000 worth of laptops
and sold them on the Web or to friends.
Sims, who appeared in all 13 games last season as a true freshman, is charged with receiving and concealing stolen property, a felony punishable by up to 10 years in prison.
Michigan State athletic director Mark Hollis said the school has known about Sims' legal situation since February, and Sims was held out of the Spartans' first three games. Sims now has been indefinitely suspended from all team-related activities.
"Dion informed the coaching staff of the police investigation and has kept them apprised of the progress of the investigation," Hollis said in a statement. "During his indefinite suspension, Dion will continue to have access to all of the available resources in the Clara Bell Smith Student-Athlete Academic Center. We will allow the legal process to play out before we make any final decision regarding his future status with the team."
This is a very disturbing story, especially given the struggles in Detroit right now. College football players do a lot of stupid things, but if true, this is one of the worst I can remember.
Sims came to Michigan State as an extremely decorated athlete, and he even had an audition with Tom Izzo's basketball squad last year.
Let's see how this plays out, but it's not a good situation.
February, 5, 2009
2/05/09
11:40
AM ET
Posted by ESPN.com's Adam Rittenberg
Lots to link after national signing day, so we'll go in alphabetical order.
"Rodriguez proved once again that challenges only fuel him. There were those at West Virginia who said he couldn't win with two- and three-star recruits. Opposing recruiters said the 3-9 record would be his death, that it would run him out of Ann Arbor, leaving his offense there and a new coach who didn't care. Through it all, the opportunity for playing time and the vision Rodriguez presented to players and parents, resonated. Others said at Michigan he couldn't recruit and keep the warm-weather players he loved, yet this class features eight from Florida and a few from Arizona."
"I believe every one of the skilled kids have a chance to get on the field because that's where we have the biggest need," Hope said.