NCF Nation:

Tom Luginbill
May, 18, 2011
5/18/11
10:00
AM ET
Texas A&M already has the nation's biggest recruiting class for 2012, with 21 players committed to next February's class. Of that group, 11 are on the ESPNU 150 Watch List, which will be released soon. I got in touch with our national recruiting director, Tom Luginbill this week to break down the developments in College Station.

What are your impressions of this class right now?
Well, the first thing that jumps out is it's stunningly large. Usually you don't see this many verbal commitments out of anybody outside of usually the University of Texas, so it's very clear that they're making significant inroads within the state and seem to be resonating in a positive manner faster than ever before.
I would venture to say that there will be a
minimum
of five guys in the first edition of the ESPNU 150 that will be Texas A&M verbal commits.
Now, with that being said, and here's the part we focus an awful lot on: Everybody seems to have the fixation on that five-star and four-star guy. But the reality of the situation is that the bulk of the roster of a top 25 team isn't made up of those guys. It's made up of the guys who were in the middle third and the bottom third of your class. Because if you took an 85-man roster and spread it over the course of four years and you have 3-4 classes with 20 guys in each class and the top 4-6 were five-star guys, that's only making up a quarter of those 85 guys, if that.
So the strength needs to come from the middle third or the bottom third of the class, and I would say that from probably the sixth or seventh guy down -- you get out of the way of the Matt Davises and the Trevor Knights and the Trey Williamses -- if you start looking at the next 6-8 guys, that's where I think the strength is at. And as good as the top-level and the big-name guys are, you look at the middle range guys in this class, and that's what stands out to me as being really impressive.
Where do you see this class once you release the first set of rankings?
That is so hard to answer, because first and foremost, I'll tell you this: The single thing I most despise doing is class rankings. Because it's nothing other than a projection on paper and it means absolutely nothing, but fans eat it up. So we recognize that. If I were to sit here and tell you, OK, we're going to be coming up on June 1 and ESPN said they wanted me to do a top 10 classes, there would be no question that this would be a class right now that would be in the top 5-7. No question. Where that stands come next February? You just don't know.
What were your impressions of the Aggies' 2011 class last year that signed in February?
I think last year was when you kind of started seeing maybe the transition of this coaching staff really cementing themselves, because it takes time to do that. That's not an easy thing to do. So we were impressed with it. We thought it was one of the top classes in the country. Not any, in my opinion, at the top end of the scale. Last year's class did not have anything near the top end of what this class looks to have right now. Twenty-three guys ended up signing with them. I'd say the top half of those guys are bona fide, BCS conference-caliber potential starters who can win games for you. This class this year, in comparison, could have 4-6 potential difference makers on top of what I mentioned earlier about that middle third that can be so important.
Why has recruiting for them been so much better this year?
It's a difficult question to answer, but I would venture to say that, again, the cohesiveness of the staff working together for an extended period of time and the type of individual that's out there. What programs are doing now is they're going out and they're getting that young, energetic grinder to hit the road, find players, resonate with the prospects, their parents and the high school coaches.
So, I think it can be attributed to the kind of staff he's put together, and the selling approach. Whatever they're selling, in terms of how they approach prospects -- because they've got to battle Texas, they've got to battle Oklahoma, to some degree they have to battle Oklahoma State with their emergence and Tommy Tuberville is making it tougher out at Texas Tech -- but whatever it is they're doing as far as the sales pitch of what they have to offer, for whatever reason, seems to be hitting home stronger than the predecessors, at least since R.C. Slocum.
It's tough to know exactly what that is, but there's something there that's obviously happening that hasn't been happening before.
If you put yourself in Mike Sherman's shoes, what would you be selling?
I would be selling tradition, BCS conference affiliation, the ability to contend for a conference championship. The facilities are as good, if not better, than any within the conference and within the country. There's a lot to offer. The following there is about as good as it gets.
If you're going to bring a kid in on an official visit, bring him in on a home game weekend, because that's an impressive atmosphere. So, I don't think there's any point in selling bowls. Everybody's going to bowl games. There's got to be something that sets you apart, and I think A&M has always been one of those schools that maybe has resources other programs don't that can give them an edge.
How much better can this class get then? How much more room will they have to sign a few more guys?
It's all going to depend on their numbers, because you can only go so far. You can manipulate your scholarships, you can oversign if you need to and you know you're going to be able to make room, but it's really more about the numbers. I wouldn't anticipate this class being any bigger than 26-29 total prospects, so they're going to be pretty close to being done. I don't think that they're too far off from that right now.
The difference right now, in my opinion, between Texas and Texas A&M, is when it comes to verbal commitments, very, very few times will Texas have to fight to keep a guy. They don't see guys swaying. They don't see guys decide to decommit. I think that's going to be more of a challenge for Texas A&M than it's going to be for the Texas Longhorns. Not only fulfilling the rest of the class, but the challenge of maintaining this level of a class over an extended period of time could be one of their greatest recruiting challenges.
It's a long way between now and February.
A question I get a lot is, with Texas falling last year, what is it going to take for Texas on the field before you really start seeing some problems on the recruiting trail for them?
I think you would have to see successive down seasons. I don't think there's any question about that. They're in such a unique position within the state, because there's not that constant battle to keep kids once they've committed, because they can get them so early and because they put so much time into their summer camp circuit. And they're seeing so many of these kids who have wanted to be a Longhorn since they were in the sixth grade.
They get them into camps as an eighth, ninth and 10th grader, and by the time it comes to their class, they know who they're going to get a couple years in advance, and they can kind of focus their efforts on the next class and beyond. And until that apple cart gets upset, if you will, you're not going to see too much of a significant change in Texas recruiting, unless you see successive losing seasons.
How many is successive?
I think you'd have to see a minimum of, not counting last year, another two after this. If you count last year, three total before you see a significant drop.
And if that happens, it obviously benefits everyone in the conference, but I think it would benefit A&M and Oklahoma the most.
March, 9, 2011
3/09/11
2:47
PM ET
By
ESPN.com staff
| ESPN.com
Ivan Maisel and Mark Schlabach
react to Ohio State's suspension

of Jim Tressel. Plus, Maisel covers the Oregon allegations and assesses the state of recruiting with George Schroeder and Tom Luginbill.
February, 2, 2011
2/02/11
9:00
AM ET
National signing day is here, and who better to break down the Big Ten recruiting scene than
Tom Luginbill
, national recruiting director for ESPN Scouts Inc.
I recently checked in with Luginbill, and here are some of his thoughts on this year's Big Ten recruiting crop.
Generally, how do you think the Big Ten did in recruiting this year?

Grant
Tom Luginbill:
The obvious team to focus on is Ohio State. I don't think there's any surprise by that. I believe it'll be one of their stronger classes overall. They're going to lead the pack, there's no doubt about it. And with such a young defense, there may be some guys like
Doran Grant
who play right away and have nice roles.
The team that has made up some ground that I was really concerned about two months ago is Penn State. They don't have a lot of numbers, which is more a reflection of available scholarships than anything else. That's not a bad thing; it just means the bulk of their roster is returning. They've really upgraded in the offensive line and made some headway there closing down the stretch.
Michigan State is another program I think has done a really, really nice job overall. I believe
Lawrence Thomas
, who's their top-rated guy, will probably end up either being an inside linebacker or defensive end. I don't think he can play on the outside.
The quarterback that's intriguing and stands out to me in the conference is the kid that's going to sign with Iowa,
Jake Rudock
. He is the quintessential, perfect Iowa QB. He fits everything that they're about and what they want out of their quarterback. They're getting a steal on him because not enough BCS schools paid close enough attention to him in my opinion.
If there's a team where you've got to be really impressed with what they've been able to do, it's Northwestern. The top one-third to even two-thirds of their class far exceeds what people expect Northwestern to be able to go out and get.
With Penn State, you mentioned all the heat they took early on. Do people make too much of the Joe Paterno factor and everything around it, or were those concerns legit?
[+] Enlarge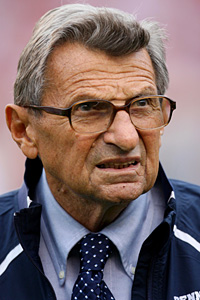 Marvin Gentry/US PresswireAfter a slow start, Joe Paterno and Penn State have made up ground in the 2011 class.
TL:
It was before all that. The offseason, the summer, even the early part of the season, they just didn't have a lot of guys and the guys that they had weren't guys you would think would be Penn State-caliber guys. What you want to attribute it to, that can be debated, but we always say recruiting's a marathon, it's not a sprint. What's happened down the stretch with them to be able to make up some ground is just further proof that it's a process. Paterno's going to be as involved as he feels he needs to be in recruiting. With what happened last year in recruiting -- I thought they had a fantastic class -- and then this year on the field when they played so many young guys, I think it's going to pay off down the road. I think they've got a chance to be really good the next couple of years.
With Iowa and Wisconsin, what would you say is the ceiling for those programs in recruiting? Can they take another step?
TD:
Wisconsin certainly can. They probably have more upside to do that than Iowa as far as closing the gap with Ohio State. Wisconsin very clearly can not only compete with Michigan State but surpass them. But keep in mind with Wisconsin, it's every bit as much about the right player and what that guy gives as it is the great player. They're recruiting a certain type of guy. If there's ever a team in college football where you're looking for a certain fit for an identity, it's Wisconsin. So they're going to take some guys other people didn't recruit, not because other people didn't think they're good players, but because it doesn't fit what they are. But it does fit with Wisconsin.
To some degree, you have the same thing with Iowa. The challenge for both of those programs is not going to change. They're not in states that produce a high volume of players. They're having to go into other peoples' backyards to compete and that creates a recruiting challenge.
What have you seen so far from the three new coaches in the league in recruiting?
TL:
With Michigan, the greatest thing that's happening right now with Brady Hoke is he's able to keep the defensive guys intact. I don't care who they are, just get some more defensive guys in there, and they've got some good players in there, so that's important.
As far as Kevin Wilson, what you're seeing is their real, true challenges of recruiting at Indiana, going out and convincing guys that this can be a successful program over the long haul. The top quarter of this class is of BCS caliber, bowl-type team talent. But you're going to see a significant drop-off when you get to the bottom half of the class, which can be expected to some degree.
With Minnesota, I think Jerry Kill over the long haul is an ideal hire at the right time, at the right place, but you may not see those effects right off the bat. I rarely judge a first-year recruiting class on behalf of a staff that didn't recruit the players, didn't start the process off and is tasked with keeping it together. Where you judge it is if you see guys defecting left and right because that's giving an indication that whoever got the job maybe isn't making the greatest early impression. But we haven't seen that.
What do you think of Nebraska's class and what kinds of challenges lie ahead for them in transitioning to the Big Ten?
TL:
There are more positives than challenges because they have an automatic contingency in the state of Texas that most teams in the Big Ten do not have. Their top three overall prospects in the ESPNU 150, all three of them are from Texas. They've got to maintain that presence because it is an advantage and it is unique to them more so than anybody else. Iowa dips down there a little bit, Michigan to some degree because they can be a bit national, but Nebraska will come in with, outside of Ohio State, the strongest recruiting class in the Big Ten. The key will be to continue that presence in Texas.
Who are the Big Ten's top incoming recruits who could make an impact in 2011?

Green
TL:
I like Doran Grant at corner for Ohio State.
Aaron Green
at Nebraska, it's fair to say he could have an opportunity to be very, very good. Nobody else truly stands out in a major way. Ohio State could have multiple guys play and have a role. You don't know what they're going to do with
Braxton Miller
in the first few weeks. They've got a lot of youth on defense, so some kids that are talented enough could come in and have some sort of a role.
Big Ten fans look at our ratings and see so many players from the south and southeast. How much of a concern is that for the league, especially with oversigning and things like that?
TL:
The challenges are conference wide. This isn't a knock on the Midwest, but the Midwest just doesn't provide and produce the same level of speed and athleticism in huge volume that the southeast does. There's a reason why Ohio State's better than anybody else in the conference. Look at where all the skill people are from. Not all of them, but they add speed and athleticism, particularly on defense, from the south. And until the other teams start truly following suit and beating them on some kids or at least be able to match them, they're going to continue to have a significant advantage.
At Purdue, Danny Hope's made it a priority to have a huge presence in Florida and he signs a lot of guys from Florida that I think are going to help them get better and more athletic. Rich Rodriguez was on his way to doing it. I don't know how much Brady Hoke's going to continue that trend. But you look at the fastest, most athletic guys in the conference, like Denard Robinson, they're southern kids. It's a bit of a challenge when you're competing against SEC schools, but within the conference itself, the onus is on the other teams to have a presence in the south and the southeast the way Ohio State does. Because that's the difference between Ohio State and everybody else.
July, 9, 2008
7/09/08
4:00
PM ET
Posted by ESPN.com's Ted Miller
ESPN.com's Tom Luginbill updated his recruiting rankings, and Pac-10 folks only need to know two things that won't surprise them in the least.
USC is ranked very high (No. 2)
No other Pac-10 team even merits an honorable mention.
Luginbill's top-10 includes:
Three from the SEC (No. 4 LSU, No. 5 Georgia and No. 10 Tennessee)
Two from the Big 12 (No. 1 Texas and No. 7 Oklahoma)
Two from the ACC (No. 6 Clemson and No. 8 Florida State)
"On the Cusp" teams are Auburn, South Florida, Alabama, Michigan, North Carolina, Penn State and Texas A&M
It's early but it's also fair to say the Pac-10 needs to pick it up, eh?