September, 28, 2011
9/28/11
1:00
PM ET
Let's pause and take stock.
Stock up
Illinois running back depth:
The Illini have three backs who have rushed for at least 210 yards this season. Fifth-year senior
Troy Pollard
surprisingly leads the team with 260 yards -- including his first two career 100-yard days -- while averaging a whopping 10.4 yards per carry. Freshman
Donovonn Young
is averaging 7.9 yards per attempt. They make nice complements to
Jason Ford
, who has four rushing touchdowns this season.
Devin Smith:
The Ohio State passing game hasn't exactly been firing on all cylinders lately. But true freshman Devin Smith looks impressive. The 6-foot-3 receiver made two touchdown grabs last week against Colorado despite playing only about 30 snaps. "Devin can make plays," head coach Luke Fickell said. "He's a guy that can get on top of you, have some speed. Obviously good balls were thrown to him and he made the plays. We need that."
Tom Nardo:
It was neat to see the Iowa senior defensive lineman win Big Ten defensive player of the week honors after his 12-tackle performance against Louisiana Monroe. That's because Nardo was a walk-on his whole career until being awarded a scholarship this spring. He's tied for the team lead with three tackles for loss this season.
Rex Burkhead:
The Nebraska I-back has run for 290 yards and four touchdowns his past two games, averaging nearly eight yards per carry. He now ranks third in the Big Ten in rushing, just one yard behind teammate
Taylor Martinez
. So much for those who doubted whether Burkhead could be a star without Roy Helu Jr.
James Vandenberg:
The Iowa quarterback has been a man on fire since late in the third quarter of the Pitt game. He has thrown for 669 yards his past two games, with six touchdowns. For the season, the junior has tossed for 10 scores and just one interception, and he's on pace to throw for well over 3,000 yards. Not bad for a first-year, full-time starter.
Stock down
[+] Enlarge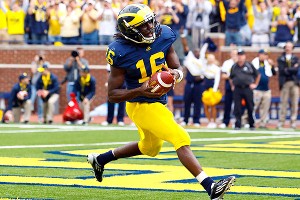 Rick Osentoski/US PresswireMichigan quarterback Denard Robinson is having a fantastic season on the ground, but is struggling in the passing game.
Denard's passing:
Denard Robinson
is a joy to watch when running the ball -- and right now often painful to watch throwing it. He was just 8 of 17 for 93 yards with two interceptions against San Diego State, and many of the misfires weren't close. That followed a 7-for-18 passing day against lowly Eastern Michigan. Brady Hoke says the passing problems aren't all Robinson's fault, but clearly this area has to improve for Michigan to compete for a division title.
The Illinois band's timing:
Western Michigan was flagged for a false start on Saturday, but the head official waved it off and explained that the Marching Illini Band didn't stop playing in time for the Broncos to call out their snap count. At least he didn't criticize their rhythm.
Indiana kickoff returns:
Frankly, the stock is very low on most things Hoosiers-related. But here's one glaring stat: Indiana is second-to-last nationally in kickoff return average, getting a little more than 15 yards per return. Considering the one strength IU seemingly has is some speedy skill players, this is surprisingly bad.
Minnesota's pass rush:
The Gophers had one of the worst pass rushes in the country last year with only nine sacks for the season. Things aren't much better this year; in fact, Minnesota is on pace for an even worse year for getting to the quarterback. It is tied for last nationally with only one sack so far in four games (Indiana also only has one). The Gophers' secondary gets a lot of blame for the team's problems defending the pass, but that futility is a group effort.
September, 26, 2011
9/26/11
1:00
PM ET
Wake me when September ends. Oh, wait. September Big Ten football is already over. Let's review the last week of the first month of the season.
Team of the week:
Michigan. The Wolverines take home this honor for the second time in three weeks, as their win over a motivated, previously unbeaten San Diego State team was probably the best of the week in the Big Ten. Michigan is 4-0 and will be heavily favored to make it 5-0 against Minnesota this week. Then the fun starts.
Best game:
Honestly, Week 4 was mostly a yawner in the Big Ten. Illinois' 23-20 win over Western Michigan had some good moments, though. The Broncos threw the ball just about every down, tied it up in the fourth quarter and got the ball back with about a minute left with a chance to tie or take the lead. That provided the best drama of an off-off-Broadway kind of weekend.
Biggest play:
Right after San Diego State failed to convert a fourth down in the fourth quarter, Michigan's
Denard Robinson
sprinted for a 30-yard gain. That set up
Vincent Smith
's touchdown to make it 28-7 and get the Wolverines out of harm's way. Robinson struggled again throwing the ball, but there's no one better at ripping off a big play at the right time.
[+] Enlarge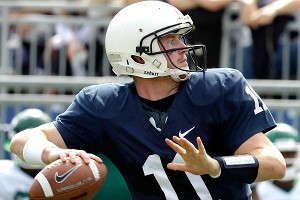 AP Photo/Gene J. PuskarPenn State QB Matthew McGloin has earned praise from coach Bill O'Brien during spring workouts.
Best call:
Luke Fickell's mid-week decision to promote freshman
Braxton Miller
to starting quarterback. Ohio State needed a spark on offense, and while Miller completed only five passes against Colorado, he did throw two touchdowns and run for 83 yards. The Buckeyes probably could have beaten Colorado with
Joe Bauserman
, but Miller provides them some optimism.
Big Men on Campus (Offense):
Denard Robinson and
Matt McGloin
. The two quarterbacks each had big days in different ways Saturday. Michigan's Robinson completed a standout September by rushing for 200 yards and three touchdowns in a win over San Diego State. He moved into second place on the Big Ten's career rushing yards list by a quarterback with 2,605, second only to Indiana's Antwaan Randle El (3,895). McGloin didn't start but was terrific for Penn State against Eastern Michigan. He went 14-of-17 for 220 yards and three touchdowns after coming in during the second quarter. During his time at quarterback, the Nittany Lions increased their lead from 3-0 to 31-0.
Big Man on Campus (Defense):
Iowa defensive lineman Tom Nardo. The senior had a career-high 12 tackles, including two for loss, as the Hawkeyes beat Louisiana-Monroe 45-17.
Big Man on Campus (Special teams):
Illinois kicker Derek Dimke drilled all three of his field goal attempts, from 39, 35 and 21, including the game-winner as the Illini survived against Western Michigan. Dimke is a perfect 6-for-6 on the year.
Worst hangover:
(Tie) Minnesota and Indiana. Both teams are 1-3 and have a lot more questions than answers at this point. The Gophers somehow have played their best football against USC and Miami (Ohio) while looking their worst against New Mexico State and North Dakota State. The Hoosiers committed the unforgivable sin of falling behind North Texas 24-0 before losing 24-21. These are two teams not anxiously awaiting Big Ten play, because they're going to have a hard time finding more wins.
Strangest play:
With five seconds left in the first half, Minnesota set up a fourth-down heave from midfield. North Dakota State's Colten Heagle picked it off near the 18, was tackled around midfield and just tossed the ball out. Marcus Williams picked it up and raced the rest of the way untouched for a score and a 28-14 Bison lead. Williams, who scored twice on defense, is from the Twin Cities but was not recruited by Minnesota. That's the kind of year it's been for the Gophers.
April, 8, 2011
4/08/11
6:00
PM ET
IOWA CITY, Iowa -- Greetings from the press box at Kinnick Stadium. Am I early for kickoff?
Unfortunately, football season is about five months away, but Iowa is gearing up for the 2011 campaign in spring practice. I had a chance to visit with head coach Kirk Ferentz and several players earlier today. Most of my Iowa coverage will appear early next week, but there were several interesting nuggets from today.
QUARTERBACK SITUATION

No surprise here, but
James Vandenberg
has established himself as Iowa's No. 1 option. The junior's experience filling in for
Ricky Stanzi
in 2009 certainly helps, but he has continued to make progress this spring after a strong pre-bowl session.
[+] Enlarge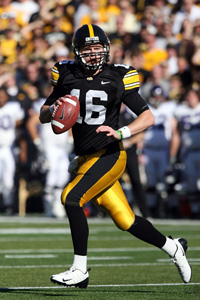 Reese Strickland/US PresswireAs expected, James Vandenberg has taken the lead in the race to replace quarterback Ricky Stanzi.
"James has separated himself from the other two guys," Ferentz said. "And after that, it's a pretty good competition between John [Wienke] and A.J. [Derby]."
Vandenberg's teammates
expressed complete confidence in him
at the start of the spring, and nothing has changed. Barring a significant change between now and Sept. 3, Vandenberg will start the season for the Hawkeyes.
"James is one of those guys, he's not not going to leave the door open too much," Ferentz said. "He really gives himself a chance to be a good player."
LATEST ON RHABDO FALLOUT
Ferentz confirmed that defensive back Willie Lowe, one of 13 Iowa players hospitalized with rhabdomyolysis in January, is not with the team. Lowe and Ferentz last spoke in March before Iowa's spring break, and Lowe's situation with the team is "clearly unresolved," Ferentz said.
Although the school has granted Lowe his release, Ferentz echoed AD Gary Barta in saying he hopes Lowe remains with the team.
The other 12 players remain with the team. There have been non-rhabdo-related injuries within the group that have limited players, but the expectation is all will remain on the squad.
"Everybody's out working, and nobody else has asked for a release," Ferentz said.
Ferentz reiterated his support for head strength and conditioning coach Chris Doyle and Iowa's strength program, which drew criticism after the rhabdo situation.
"Chris Doyle is the top guy I've been around in that realm, and he's widely recognized," Ferentz said. "Chris' name is very highly regarded in the NFL circles, he's had a lot of opportunities to go that route. Fortunately, he's stayed here and I'm very appreciative of that. ... There's no question in my mind he's a huge part of any success we've experienced."
INJURIES
Ferentz mentioned Iowa has 6-8 players who would normally be in the two-deep who aren't practicing this spring because of injuries. Defensive lineman Steve Bigach is out following offseason surgery, and defensive lineman Tom Nardo has been out with a foot injury.
"Those are two older guys we'll have back in the fall," Ferentz said.
Wide receiver
Marvin McNutt
, linebacker Shane DiBona and safety Tanner Miller all are missing the spring with injuries. McNutt looked good walking around the complex Friday and should be fine for preseason camp.
PERSONNEL NUGGETS
It will take some time for Iowa to figure out the secondary for 2011. Micah Hyde, who has played the past two seasons at cornerback, is seeing time at safety this spring, and Jordan Bernstine is being used at both safety and cornerback. Shaun Prater has the left cornerback spot essentially locked down. "If he gets beat out, there's something wrong," Ferentz said. "He's practicing well and performing well." Up to eight players are in the mix for the other three spots.

Ferentz has been pleased with sophomore running back Marcus Coker, who is building off of his superb performance in the Insight Bowl. You never know how success affects young players, but Coker seems to be approaching it the right way. Ferentz noted that if Coker hadn't fractured his collarbone in preseason camp, he could have played a much bigger role in the run game last season. "He showed us a lot about his mental makeup, just how he caught up," Ferentz said. "He did remarkably well from a mental standpoint for all the time that he missed. He's got the potential to be a lot better football player as he moves along."

Ferentz also seems pleased with the spring progress of older defenders like linemen Mike Daniels and Broderick Binns, linebacker Tyler Nielsen and Prater. The offensive line returns three starters and Ferentz noted that Adam Gettis, who would have been a starter if not for injuries last season, has had a good spring.

A final thought from Ferentz on the team: "We're a young team, but we have a good core of seniors that are good players, good leaders and good team guys. We've been pretty enthusiastic about the last couple groups of recruits we've brought on campus. Some of those guys have played and other guys have not played but we feel good about [them]. But I like what I see about the way guys are working. We're not a real good team right now, but I like what I see with the potential they have."