May, 6, 2010
5/06/10
10:30
AM ET
There's always the potential for a surprise contender, a late-season push by an unheralded opponent (see: Duke, 2009).
The ACC race is so wide open this fall it wouldn't be a true surprise if any of the following teams won the conference title: Clemson, Boston College, Florida State, Georgia Tech, Virginia Tech, Miami or North Carolina.
So who would be a surprise, that darkhorse who creeps up on everyone?
My early pick is the
North Carolina State Wolfpack
. Here are three reasons why:
1. It's about time.
Coach Tom O'Brien is due. He's entering his fourth season and hasn't been able to catch a break. Injuries or other setbacks prevented O'Brien from showing what he can do when he's got everything in place. O'Brien is a better coach than his 2-6 ACC record last year indicates, and wins over Pitt and UNC are proof. If everyone on this team can stay healthy and out of trouble, the Pack should be back in the postseason.
2. Russell Wilson should still be one of the best quarterbacks in the league.
He completed 59.3 percent of his passes last year for 3,027 yards and a league-leading 31 touchdown passes. He finished 15th nationally in pass efficiency with a 147.77 rating. He also finished 19th nationally in total offense.
3. The defense will be better.
Linebacker should be a strong position, especially with the return of Nate Irving, who had 80 tackles and four interceptions in 2008, and Audie Cole, who was NC State's leading tackler a year ago with 73. They'll be under the guidance of former Georgia Tech defensive coordinator Jon Tenuta, who was hired to coach the linebackers. The secondary was young and ever-changing last year but should be better with the return of two starters in C.J. Wilson and Brandan Bishop. Four other defensive backs started last year.
January, 21, 2010
1/21/10
9:05
AM ET
Only two programs in the ACC -- Florida State and Virginia Tech -- have had the same head coach for the past 10 years. A total of 27 different coaches have made their way through the conference in the past decade, and some of the best have been the least tenured. Only one, though, stands out above the rest when it comes down to wins and losses -- Virginia Tech's Frank Beamer. Even though the Hokies have only been in the conference since 2004, no other coach has compared to Beamer's six straight 10-win seasons. Others, though, like Duke's David Cutcliffe, have made progress that isn't as easily measured. Six of the following coaches were named the ACC's Coach of the Year at least once in the past decade. One major accomplishment separates the coaches at the top of the list from the ones at the bottom -- an ACC title.
Here's a look at the ACC's top 10 coaches over the past decade: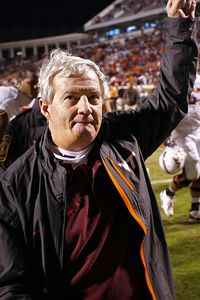 Geoff Burke/US PresswireVirginia Tech coach Frank Beamer has led the Hokies to six-straight 10-win seasons.
1. Frank Beamer, Virginia Tech:
Beamer has compiled a 62-18 record for a 77.5 winning percentage since joining the ACC in 2004. He has led the Hokies to three ACC titles and four first-place finishes.
2. Bobby Bowden, Florida State:
Don't let recent history fool you. Bowden earned a winning percent of 65.8 percent over the past decade (85-44). He led FSU to its third straight BCS national championship appearance and won four ACC titles.
3. Jim Grobe, Wake Forest:
After inheriting a 2-9 program from Jim Caldwell in 2001, Grobe transformed the smallest school in the BCS to a championship contender in the ACC. He led the school to the ACC title in 2006, its first since 1970 and second ever. He has only had one losing season in the past four.
4. Paul Johnson, Georgia Tech:
His tenure is short, but his list of accomplishments long. After just two seasons, Johnson led the program to an ACC title, BCS bowl berth, and road win over rival Georgia. He has won 74 percent of his games (20-7) and put the team in the final top 25 in back-to-back seasons for the first time since the 2000-2001 seasons.
5. Ralph Friedgen, Maryland
: Terps fans have suffered recently, but it was Friedgen's first three seasons that earned him his lengthy 10-year contract in College Park. Three straight finishes of at least 10 wins and top 20 rankings, plus an ACC title earned the Fridge some clout.
6. Jeff Jagodzinski, Boston College:
He left Chestnut Hill with his ego guiding him, but before he chased the NFL, Jagodzinski led the Eagles to back-to-back appearances in the ACC championship game, and compiled a 20-8 record in two seasons.
7. Tommy Bowden, Clemson:
The former head coach finished no better than second place in the Atlantic Division and won 62.8 percent of his games. He also led the Tigers to four Top 25 finishes in the Associated Press rankings.
8. Al Groh, Virginia:
He was named the ACC's Coach of the Year in 2002 and 2007, both nine-win seasons that tied for second place in the conference or Coastal Division. He won 56 percent of his games and had two top 25 finishes.
9. Tom O'Brien, Boston College:
It seems like O'Brien has been around forever, but he only had two seasons at BC while the program was in the ACC and just finished three at NC State. In '05 and 06, though, O'Brien led the Eagles to 9 and 10-win seasons, respectively, and won bowl games both years to finish with two top 20 rankings. He also pushed NC State into the postseason with four straight regular-season wins in 2008.
10. Duke coach David Cutcliffe:
Cutcliffe has guided Duke to a 9-15 overall record in two seasons. While it might not look like much, consider that the Blue Devils had won 10 games in the previous eight seasons combined. During that span, Duke had won just three conference games. They've won four in just two years under Cutcliffe. The 5-7 record in 2009 was the program's highest win total since 1994.
November, 19, 2009
11/19/09
5:00
PM ET
Boston College coach Frank Spaziani and Clemson coach Dabo Swinney are both in their first full seasons as head coach. Georgia Tech's Paul Johnson is in his second. So is David Cutcliffe at Duke. Miami coach Randy Shannon is wrapping up his third, as are Tom O'Brien and Butch Davis, who, considering the transition in the league, seem like longtime neighbors at their respective schools after just three seasons.

That's more than half the conference that has made a head-coaching change in the past three seasons, and there could be as many as three more at the end of this year, though it's more likely there will be one or two. While coaching carousels have become more common as the pressure and paydays to win have increased, the ACC seems to have dealt with an unusual amount of turnover in recent years, and it's a trend that's likely to continue if high-ranking officials at Virginia, Maryland and Florida State decide it's time for a change.

The least likely early exit would be Maryland coach Ralph Friedgen, as his $4 million buyout would put the athletic department in a serious bind, and possibly cause the elimination of some nonrevenue sports. FSU coach Bobby Bowden has indicated he'd like to return, but he and Virginia coach Al Groh might not have a choice.

The lack of staff stability is one of the most glaring yet overlooked reasons as to why the conference has struggled to develop much consistency. It affects recruiting, it affects in-house relationships, and it affects Saturdays. The one program that has been the ACC's rock since it joined the league has been Virginia Tech, and it's no coincidence considering the tenure Frank Beamer has held and the loyalty his assistants have to him. The same can be said at Wake Forest, where Jim Grobe has turned down more lucrative offers because unless his whole staff goes, he stays.

Different coaches bring different philosophies and different schemes, which makes what Johnson has done at Georgia Tech in just two seasons even more impressive. The same can be said for Boston College, where Spaziani, Jeff Jagodzinski and O'Brien have all had an opportunity to put their stamp on the program while still managing to contend for the ACC title.

What the ACC needs now is for those programs to do what's necessary to keep those coaches in place to help build their programs and develop identities. It's starting to happen at Miami, but with two new coordinators and a young roster that still needs more time to develop. Progress is also evident at Duke, which is still in the midst of its most successful season since 1994. Mission accomplished for Swinney and Spaziani, who have both put their programs in a neck-and-neck race for the Atlantic Division. Davis is on the right path at North Carolina, where recruiting is going well and he's in a position to increase the win total again. And O'Brien is a proven veteran with a winning record who still needs more time.

But change -- wanted or not -- continues to be imminent in this league. The new offensive scheme at Virginia didn't work. The coach-in-waiting plans at Florida State and Maryland are backfiring. For better or for worse, it's time for those programs to follow their counterparts and decide which direction they want to go. Because right now, the rest of the conference has a one-to-three year head start.
October, 8, 2009
10/08/09
8:00
AM ET

Posted by ESPN.com's Heather Dinich
You know the drill. Keep an eye on …
1. Interceptions in Blacksburg.
Virginia Tech quarterback
Tyrod Taylor
showed significant progress in the passing game last weekend against Duke, and didn't throw any interceptions in the process, but the Eagles have picked off five passes this year. Both teams have a knack for interceptions. Virginia Tech, in fact, has registered more interceptions (182) since the start of the 2000 season than any program in the country. Oklahoma (174) is second, and BC (173) is third during that time span.
2. Miami running back Javarris James moving up the charts.
He's coming off a career-best 150 yards rushing against Oklahoma and needs just 13 yards to pass Frank Gore for seventh place all-time on Miami's rushing list and 37 more yards to become just the seventh player in school history to amass 2,000 career rushing yards. With 19 more carries, James (456 career attempts) will pass his cousin Edgerrin (474) to move into sole possession of third place on the school's all-time rushing attempts list.
3. Maryland's offensive line.
It will make a significant difference if left tackle Bruce Campbell is able to play against Wake Forest's sturdy defensive line after injuring his MCL against Clemson last week. Campbell has missed practice time this week, but hasn't been declared "out" for this game. Paul Pinegar has been taking the reps at left tackle, though.
4. Upset alerts.
It's an odd weekend in the ACC, where even the most heavily favored teams -- like, say, No. 5-ranked Virginia Tech -- could lose and it wouldn't exactly be a shock. So far the home teams have had the advantages, and that works in Florida State's favor against No. 22 Georgia Tech. Can NC State hold off a feisty Duke team, though, that just played four quarters of competitive football against the Hokies?
5. Another record-setting weekend for Skinner.
Wake Forest quarterback
Riley Skinner
needs just 81 passing yards to become the school's all-time leader. Skinner has thrown for 1,004 yards over his past three games and has thrown at least one touchdown pass in six straight games, dating back to last season.
6. Virginia's passing defense against Indiana quarterback Ben Chappell.
He threw for 210 yards and two touchdowns against Ohio State last weekend, and the Hoosiers are averaging 233.2 passing yards per game. The Cavaliers pass defense, though, is No. 8 in the country, holding opponents to 156.5 yards per game.
7. Running quarterbacks who are starting to throw.
Tyrod Taylor earned his first-ever 300-yard passing game last weekend at Duke, the first time a Hokie quarterback has met that mark since Sean Glennon in 2006. Georgia Tech quarterback
Josh Nesbitt
is coming off a career-high 266 passing yards against Mississippi State. Was it just a passing fancy, or can they keep it up?
8. NC State's new secondary lineup.
Tom O'Brien said this week he's swapping potential for experience at both safety positions, as senior Clem Johnson will replace freshman Brandan Bishop, and senior Bobby Floyd will take over for redshirt freshman Earl Wolff. That's a smart move against accomplished Duke passer
Thaddeus Lewis
.
9. Carolina's quarterback of the future.
UNC coach Butch Davis told the Raleigh News & Observer he hasn't ruled out the possibility of playing true freshman
Bryn Renner
, who was expected to redshirt this season. Renner hasn't taken a snap yet, but if he's going to burn his redshirt, Georgia Southern would probably be a good time to do it.
10. Florida State's will to win.
If the Seminoles are going to turn this season around, now is the time. A win at home would stop a two-game losing skid and give them some positive momentum heading into the bye week. Georgia Tech will require their full attention and focus, though, and that's something that might have been tough to gather amidst the controversy surrounding the program this week.