NCF Nation:

Tommy Sanders
September, 22, 2013
9/22/13
12:43
AM ET
COLLEGE STATION, Texas -- Coming off a thriller that few will soon forget, No. 10 Texas A&M had a few questions to answer going into Saturday's battle with SMU.
Though it's way too early to surmise that they've permanently answered some of those questions, the Aggies certainly took steps toward a few solutions in their dominant 42-13 win over the Mustangs at Kyle Field.
The biggest question about the Aggies after three games surrounded their defense, or lack thereof. If Texas A&M (3-1) couldn't prove that it could get stops against an opponent like SMU (the Aggies already allowed significant yardage to Rice and Sam Houston State, though the unit was shorthanded for both games), when would it ever show that? The rest of A&M's SEC schedule is coming, starting with a road game at Arkansas on Sept. 28.
Fortunately for the Aggies, the unit showed some progress.
[+] Enlarge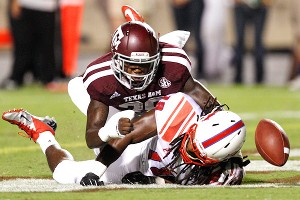 AP Photo/Bob LeveyDeshazor Everett's move to safety this week was one of several moves that help jumpstart the Texas A&M defense.
Though SMU compiled 292 yards in the first three quarters as A&M built a 42-6 lead, the Aggies were stellar on third downs, holding the Mustangs to just four conversions on its first 14 attempts in that span and 5-of-16 for the game.
"We looked pretty fast out there tonight," Aggies defensive coordinator Mark Snyder said. "There were times where we looked extremely fast, which is what I was hoping was the case. We still have some areas that we've got to work on, but it was a much better game from our sideline tonight."
Snyder made two key personnel changes this week. He moved starting cornerback
Deshazor Everett
to safety to help address the issues the Aggies have had in coverage and he inserted true freshman
Darian Claiborne
into the starting lineup at middle linebacker.
"I think we have the right guys on the field right now," Snyder said. "[Claiborne] needs to play and needs to be on the field. He was able to make the adjustment from [weakside linebacker] to [middle linebacker] in a week. … I was really proud of him. He handled getting the front [seven] set, he brought a lot of energy, he's a lot like
Steven Jenkins
and I was very, very happy with that."
Everett spent time at both cornerback and safety last season, so it's not an unfamiliar move for the junior. By moving him back there, the Aggies moved third cornerback
Tramain Jacobs
to the starting lineup next to
De'Vante Harris
, and he didn't appear to miss a beat. Everett said because SMU runs an offense similar to A&M's, the transition was smooth.
"It was pretty simple," Everett said. "I see those formations a lot and I know what the safety's checks are to me at corner. … It kind of helped me because I know where the corner is going to be and where I should be if I were a corner, to want safety help."
Was Saturday a sign that a cure-all is coming to a defense that ranked in the bottom 20 in the nation in total yards allowed and rushing yards allowed coming into the game? Far from it. But it was a much-needed positive performance from a group that has struggled through youth, inexperience and missing personnel because of suspensions or injuries in the first three games. On-field communication and the ability to make adjustments in the first three games was a chore simply because of the lack of consistency in starting personnel from week to week.
"In the first couple, three weeks … there were a lot of moving parts and guys out there just worrying about doing their job, not being able to communicate," head coach Kevin Sumlin said. "There's definitely a comfort factor with having all your pieces back and being able to not only play that play but also make adjustments as the game moves on."
With the Aggies resuming SEC play next week in Fayetteville, Ark., having some success on defense is key.
Offensively, the Aggies ran smoothly, as they have most of the year. Quarterback
Johnny Manziel
threw strikes when he stayed in the pocket and chewed up rushing yards when he darted out of it. His night, which included 244 passing yards, 102 rushing yards and three total touchdowns, was done by the 10:06 mark of the third quarter with the Aggies leading 39-6.
Malcome Kennedy
(six catches, 83 yards) continued to show that will be a legitimate receiving threat to complement star sophomore receiver
Mike Evans
and the running game was productive and efficient, led by Manziel and
Ben Malena
(13 carries, 71 yards, two touchdowns).
The win wasn't without its warts though. Like SMU, the Aggies were heavily penalized (there were 29 accepted penalties in the game, 13 of which went against the Aggies for 114 yards) and the kicking game continues to be a struggle. Sophomore place-kicker
Taylor Bertolet
missed back-to-back point-after-touchdown kick attempts in the first half and was replaced thereafter by junior walk-on
Josh Lambo
. And what happened when Lambo entered the game? Holder
Drew Kaser
bobbled a snap -- the second time that's happened this season -- and as a result, Lambo's first PAT attempt failed.
When Lambo connected on a PAT after a Malena touchdown run with 11:34 remaining in the third quarter, it almost seemed as if the cheers for Lambo were as loud as those for Malena's touchdown. Finding a solution at place-kicker is critical if the Aggies expect to remain contenders in the SEC West. Against SMU, those points left on the field didn't matter. Against Ole Miss or LSU on the road later this season, they might.
Sumlin, when asked who will be kicking field goals and PATs moving forward, called the situation "a competition."
"We're going to keep the competition up just like we do at every position," Sumlin said. "Lambo came in and did a good job. … It's just like any other position. … We evaluate guys every week, no matter what the position, so there will be competition there."
But the Aggies made some plays on defense. They forced a turnover that led directly to points when defensive back
Toney Hurd Jr
. jolted the ball loose from receiver
Jeremiah Gaines
, a fumble that Everett returned for a 12-yard touchdown. Linebacker
Tommy Sanders
intercepted a pass late, and though he fumbled, freshman defensive end
Daeshon Hall
was able to scoop it up for a 39-yard return. The secondary was tested a few times in the first half by SMU quarterback
Garrett Gilbert
(37-of-62 passing, 310 yards) but passed with flying colors when it came to third downs or plays near the end zone or red zone.
"I feel like going back into SEC play [next week] it was great for us to come and play well," Hurd said. "It was great for our defense to put a good showing out tonight."
September, 5, 2013
9/05/13
4:00
PM ET
COLLEGE STATION, Texas -- The statistics weren't pretty.
Rice compiled 509 offensive yards, 306 of which were chewed up on the ground, against Texas A&M in its season opener. The most important stat -- the score, 52-31 in favor of the Aggies -- was what mattered in the end but with a defense that was gutted by suspensions and filled with newcomers playing for the first time, it provided for some early growing pains for Texas A&M defensive coordinator Mark Snyder.
Of the 16 true freshmen that saw the field in the Aggies' opener, 11 were defensive players. That doesn't include yet another newcomer, junior college transfer linebacker
Tommy Sanders
, meaning a dozen defensive players who appeared on Saturday were newcomers.
[+] Enlarge
Thomas Campbell/USA TODAY SportsTexas A&M freshman corner Alex Sezer got some much-needed game experience against Rice.
"They all had goods and bads, all the guys that played," Snyder said. "You could tell, pregame, over at the hotel there was a little bit of nervousness. You can imagine being 18 and being in front of all those people."
The Aggies have FCS opponent Sam Houston State this week, but they still won't have their full arsenal of defensive players. Cornerback
De'Vante Harris
, linebacker
Steven Jenkins
and defensive end
Gavin Stansbury
-- all three of whom are starters -- will miss the game while serving the second of a two-game suspension for violating athletic department rules. Cornerback
Deshazor Everett
will miss the first half because he was ejected for targeting in the second half of the Rice win and, by rule, must sit out the first half of this game as a result. Freshman defensive end
Daeshon Hall
will also miss the first half after being ejected in the second half for throwing a punch at Rice player.
While the Aggies are heavily favored and the losses are unlikely to keep Texas A&M from winning this week, it does pose an interesting dilemma for Snyder and his staff moving forward. The first time the full complement of defensive players will be available for the Aggies will be Sept. 14, for the showdown against Alabama.
"The good thing is we're going to be fresh, that's for sure," Snyder joked. "We're going to be injury-free and we're going to be fresh."
Snyder noted that the advantage for Alabama in that regard might not be as significant since the Crimson Tide have an open date this weekend, so they'll only have one more game under their belts than the Aggies' suspended players do come next weekend. Those players are still practicing -- with the second-team -- and getting repetitions in the meantime.
There were some short-term struggles with so many new bodies on the field, even in play-calling. Snyder said he couldn't "get in a rhythm," calling plays because of how many new pieces and moving parts there were.
"[Rice] came out and showed us some things that we had not seen and not having a veteran group, I can't call timeout and run out on the field and say 'Hey, they're getting in diamond formation and running three levels, or they're getting three out into the flat weak,'" Snyder said. "Those are things that we had to get adjusted."
Snyder was encouraged by how much better the defense performed in the second half, making adjustments and responding to the coaching given at halftime. The unit came up with two turnovers and didn't allow the Owls to score in the first three series of the third quarter. Snyder looks as the growing pains and the game experience that freshmen like linebacker
Darian Claiborne
, cornerback Alex Sezer and a host of others received as an advantage down the road.
"We're building depth right now for our future, for the rest of this season," Snyder said. "So what might be hurting us right now, in the future is going to help us. We've got to live with that and we've got to deal with that."
April, 13, 2013
4/13/13
8:26
PM ET
COLLEGE STATION, Texas -- In all its crystal glory, college football's national championship trophy made a brief stop at Kyle Field on Saturday.
Parked on the sideline for a live television shot during Texas A&M's Maroon-and-White spring football game as well as for photo opportunities for those who walked by, it was a seemingly symbolic placement of the sport's most coveted piece of hardware, mere feet from a team that might have a realistic chance to hoist it next January.
[+] Enlarge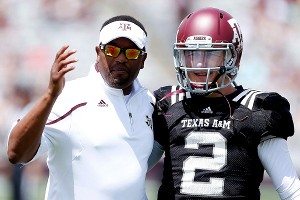 Scott Halleran/Getty ImagesIf Kevin Sumlin and Johnny Manziel want to make it to Atlanta for the SEC championship game, they can take a big step forward with a win over No. 1 Alabama.
Yes, it currently belongs to Alabama, the reigning BCS champions, and it will remain that way for the months to come. However, the Aggies were the only team in 2012 to defeat the Crimson Tide, and if they are able to repeat that accomplishment in September, the Aggies should control their own destiny in the title chase.
But that's many months away. In the meantime, the nation got its first extended glimpse of the 2013 Aggies, a team that could be ranked in the preseason top five come August. The score was Maroon (offense) 43, and White (defense) 23, but that mattered little. What the record crowd of 45,212 came to see were how the Aggies looked and, more specifically, what their reigning Heisman Trophy winning quarterback,
Johnny Manziel
, would do.
Johnny Football didn't disappoint. He was 24 of 30 for 303 yards with three touchdowns and no interceptions against an overmatched second-team Aggies defense. He got out of the pocket and scrambled a few times (three carries, 18 yards) but that was not going to be part of the show today in interest of keeping him healthy. Nobody was going to touch Manziel, although he almost found himself in harm's way anyways when he tried to throw a cut block on sophomore defensive back
Sam Moeller
to pave the way for a
Brandon Williams
touchdown.
Just one of those Johnny Football moments for the redshirt sophomore.
"I went up and apologized to Sam after it," Manziel said. "The way I am and the way my motor drives me, it was just an instinct play. As much as Coach [Kevin] Sumlin was shaking his head and wasn't happy about it, it was more of 'Hey, in a game, this is how it would have been.' It just naturally took over for me."
He stayed healthy, as did most of the rest of the players who played. The only notable injury to come out of Saturday's scrimmage was an MCL sprain for junior linebacker
Tommy Sanders
, who'll be ready in the fall.
Several other things about the 2013 Aggies became clear on Saturday. Williams showed why he was such a coveted recruit coming out of Brookshire (Texas) Royal High School, racking up a team-high 59 rushing yards on seven carries and catching three passes for 29 yards while recording a rushing and a receiving touchdown. The Aggies' starting running back from 2012,
Ben Malena
, is back, as is
Trey Williams
, who contributed as a true freshman. Adding Williams and Oregon transfer
Tra Carson
to the mix (both sat out per NCAA transfer rules last season) adds more dimensions to the Aggies' backfield and their offense.
"Brandon Williams is very talented. He's a home run threat from anywhere on the field," Texas A&M offensive coordinator Clarence McKinney said. "We plan on [using all four backs]. ... It's a good problem to have. The thing about those four guys, is that they all bring something different to the table."
While the defense didn't have its best of days, it can be taken with a grain of salt with three surefire starters sidelined by injury and another two defensive linemen who have taken first-team reps also sitting out. The unit out there Saturday isn't exactly what will suit up for the Aggies this fall.
What the Aggies are hoping to develop is leadership. Defensive coordinator Mark Snyder said that safety
Howard Matthews
is emerging as a leader, as is middle linebacker
Donnie Baggs
. Having that presence is critical because the Aggies waved goodbye to two of their best defensive leaders, linebackers
Sean Porter
and
Jonathan Stewart
, who both graduated.
But plenty of the signs Aggies fans were looking for were present on Saturday. Manziel looked in top form. So did sophomore receiver
Mike Evans
. The offensive line -- though missing soon-to-be first-round pick
Luke Joeckel
and graduated center
Patrick Lewis
-- is coming together well. The remainder of a top-10 recruiting class is on the way in the fall and could produce a few more quick contributors.
Manziel will go back to work and team up with George Whitfield Jr., the private quarterback coach he worked with last summer. Manziel said he's ready to eliminate any doubts about what is ahead for him and this year's Texas A&M squad.
"The big conversation that [Whitfield and I] had before Alabama was 'Be a dragon slayer, slay the dragon,' " Manziel said. "Now there's a big dragon out there for us with all the people that are doubting A&M and all the people that are doubting me that last year was a fluke. So that's a chip on my shoulder and that's a dragon we need to slay this year."