NCF Nation:

Tommy Saunders
October, 24, 2010
10/24/10
2:37
AM ET
COLUMBIA, Mo. -- Tim Barnes remembers well. He should, he was there.
Missouri's senior center had -- in the most frustrating sense -- a front-row seat to Oklahoma's dominance on the line of scrimmage in three victories over the Tigers in 2007 and 2008.
Missouri left as losers, never coming within single digits of the Sooners, who celebrated a pair of Big 12 titles and a national championship appearance at the Tigers' expense.
"They pretty much handled us up front," Barnes said.
The quiet flights home from Norman and later San Antonio in 2007. A year later, the bus from Kansas City.
[+] Enlarge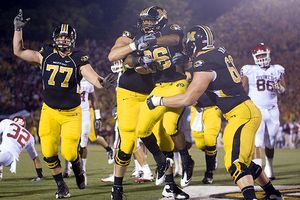 AP Photo/L.G. PattersonDe'Vion Moore celebrates one of Missouri's two rushing TDs against Oklahoma. The Tigers rushed for 178 yards against the nation's No. 1 team.
There wasn't much silence in Columbia, Mo., on Saturday night and into Sunday morning, following the Tigers'
36-27 win
over No. 1 Oklahoma -- and there won't be in this midwestern college town for some time.
The Tigers' linemen on both sides of the ball are to thank.
"Our ability to run the football for 178 yards was huge. The offensive line played very, very well," said Missouri coach Gary Pinkel, who earned his first-ever win over Oklahoma and the program's first-ever win over a No. 1 team.
Blaine Gabbert
completed 30 of 42 passes for 300 yards and a touchdown. Why? Well, it was obvious.
"He got a lot of time to throw," Pinkel said.
Way more than Chase Daniel got. The holes were bigger than the ones former backs Tony Temple and
Derrick Washington
tried to fit through. These Tigers won, and they did it by imposing their will on two Sooner lines filled with piles of recruiting stars that couldn't do anything about it.
This was a win over a No. 1 team, and it was a win over one of the Big 12 bullies that have tormented the Tigers, beating Pinkel 11 consecutive times before tonight.
It was a win for the program, and those players from the recent past were there to celebrate. Former receiver Tommy Saunders smiled amidst the sea of students on the turf, looking for someone to hug. Former linebacker Brock Christopher found one of his old teammates, defensive lineman Bart Coslet, and welcomed him with a huge, congratulatory hug.
There's no ceiling for Mizzou anymore. It left Faurot Field with the students carrying the goalposts to Harpo's downtown, celebrating through the steady rain. Players like Saunders, Washington, Christopher, Daniel and Temple helped Missouri reach that ceiling.
A new generation of players like Gabbert, Aldon Smith,
T.J. Moe
,
Jerrell Jackson
and
Henry Josey
helped shatter it.
"We wanted to come out there and prove to everyone that this year," Barnes said, "it was going to be a little different."
[+] Enlarge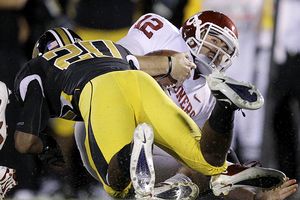 AP Photo/Jeff RobersonKevin Rutland and the Missouri defense disrupted the Oklahoma offense -- forcing two interceptions and holding the Sooners to just 99 yards rushing.
Message received. The defense held the Sooners to just 99 yards rushing.
Missouri knew this would be different early. The first time a Tiger touched the ball,
Gahn McGaffie
raced into the end zone on an 86-yard kickoff return. The first run from scrimmage: 20 yards by
De'Vion Moore
, longer than any other carry by a tailback in any of those three games in which Missouri failed to take its next big step as a program.
"We have a lot more experience and guys are getting better," Barnes said. "We wanted it so bad. I know for the linemen, it's just a little different for us."
It's different for Mizzou as a whole now, too, and Gabbert left no doubt as to what "it" was.
"I give all the credit in the world to our offensive line. They did an extremely good job winning the battle in the trenches," he said, "and that's why we were successful tonight."
The defensive line played just as well, pressuring the Sooners and hurrying Oklahoma quarterback
Landry Jones
.
The only thing the Missouri defense seemed to do wrong all night was fail to take an interception return into the end zone, a pick only created by Aldon Smith's pressure on Jones. Smith tipped the ball to himself and had to settle for a 58-yard return into Oklahoma territory, swinging the game's momentum and setting up a touchdown that put Missouri ahead 14-7 early.
"We'll talk about that later," Gabbert said of the return with a wide smile.
Pinkel couldn't help but crack a joke at the weaving return, too: "He's always talking about playing tight end," he said.
Smith's return to the field -- one he later said he had to make against the No. 1 Sooners -- from a broken fibula, helped spur a line that disrupted Oklahoma's passing attack, limiting them to just 60 yards passing in the second half after 248 in the first. None of Jones' final seven passes found their receivers; one found Missouri linebacker Zaviar Gooden deep in Oklahoma territory, which set up a field goal that put Missouri up 29-21.
"Our defensive line did really, really well, and that tempo of offense is very, very difficult," Pinkel said of the Sooners' high-speed attack. "When you win games like this, generally you go to the line of scrimmage and that tells the story."
It was a different ending this time for the Tigers, a story in Missouri's history that will be retold for decades. But after Saturday's celebration late into the night, they'll wake up on Sunday knowing that what happened on Faurot Field on Oct. 23, 2010, is exactly that: history. And that story's ending has yet to be written.
"We play Nebraska next week," Pinkel said. "This isn't the national championship."
July, 13, 2009
7/13/09
9:10
AM ET
Posted by ESPN.com's Tim Griffin
There are several obvious games that are already noticeable that should carry an extra bit of trepidation for Big 12 teams as they prepare for the upcoming season. Even with Big 12 teams likely to be solidly favored in these games, here are five games that should come with a warning label considering the opponent and the circumstances of the game.

North Dakota State at Iowa State, Sept. 5: Craig Bohl will have the Bison fired up for their game in Ames. And he knows a little bit about beating the Cyclones, considering his history as a defensive coordinator at Nebraska.
This game has all the marking of one to worry about for the Cyclones. It's Paul Rhoads' first game as a head coach. The Bison have been tough in other road games at FCS teams in recent seasons, losing by three points at Wyoming last season, beating Minnesota and Central Michigan on the road in 2007 and losing by one point at Minnesota and beating Ball State on the road in 2006. Even with the talent disparity, this game might be closer than expected.
Rhoads should ask Colorado coach Dan Hawkins how much losing to an FCS team in your first game at a Big 12 school can ruin your first season. That 2006 opening-game loss to Montana State was a particularly bad start for Hawkins' coaching tenure there.
Houston at Oklahoma State, Sept. 12: This game is coming at a tricky time for Oklahoma State, which will be coming back for a second game after a huge emotional opener against Georgia the week before. The Cougars will have 5,000-yard passer Case Keenum along with 1,000-yard rusher Bryce Beall and 1,000-yard receiver Tyron Carrier among a group of 15 returning starters.
And not only do the Cougars return a lot of experience, but they also have a modicum of confidence against OSU. Houston led the Cowboys last season, 16-7, late in the first half before the Cowboys' offense blitzed them for four touchdowns in a span of barely 7½ minutes. If Houston can do a better job defensively this season, it could make Mike Gundy sweat against the preseason Conference USA West Division's favorites.
Kansas at UTEP, Sept. 12: The trip to the Sun Bowl might be a little more harrowing than expected for the Jayhawks.
UTEP quarterback Trevor Vittatoe threw for 33 touchdown passes and 3,274 yards last season. The Miners also surround him with 14 other returning starters. If Vittatoe can stay protected, he might be able to singe the Jayhawks' questionable linebacking corps and perhaps win a shootout. Stranger things have happened -- particularly playing in front of what should be a sellout crowd at the Sun Bowl.

And here's a statistic to keep in mind before the game: The Jayhawks have lost their last three true nonconference road games and haven't claimed a nonconference road game since winning at Wyoming in 2003. Their trip to El Paso won't be a picnic.
Wyoming at Colorado, Sept. 19: On paper, this looks like a game the Buffaloes should easily win. But a couple of trends might prove to benefit new Wyoming coach Dave Christensen, who will be playing his first road game.
Christensen was the offensive coordinator of a Missouri team that beat Colorado by a combined margin of 113-10 over the past two seasons, including a 58-0 victory last season. He won't have Chase Daniel, Jeremy Maclin or Chase Coffman in this game, but he still has confidence of being successful against Colorado's defense.
The Cowboys won at Tennessee last season so they aren't intimidated by hostile road environments. They have 17 starters back, including eight defensive players who will be facing Colorado's defense with some confidence after strong play late last season.
Colorado has a history of struggling as a big favorite in previous nonconference home games, winning by seven against Eastern Washington last season and losing at home to Montana State in Hawkins' first game in 2006. The signs point to this being a game where the Buffaloes potentially could struggle.
Missouri at Nevada, Sept. 25: This Friday night game will set up nicely for veteran Nevada coach Chris Ault and the Wolf Pack, who will showcase their program on national television in this game.
Nevada has the explosive Pistol offense keyed by quarterback Colin Kaepernick, the returning Western Athletic Conference player of the year who will be looking to make a national name for himself with a big performance. Also back are 2008 WAC leading rusher Vai Taua and 2007 leading rusher Luke Lippincott, who sustained a season-ending knee injury in the second game last year. And they'll be facing a retooled Missouri defense.
The Wolf Pack still remember a gadget pass for a touchdown by Missouri wide receiver Tommy Saunders when they were behind 45-17 midway through the third quarter of a game they eventually lost 69-17 in Columbia last season. Could revenge spur a better effort at home? It will be interesting to see if the Wolf Pack can similarly make the Tigers sweat in a game played at high altitude at Reno.
May, 7, 2009
5/07/09
1:30
PM ET
Posted by ESPN.com's Tim Griffin
Who said that May is supposed to be the "dog days" of college football?
How great is it that some topic or another seems to percolate for conversation about the Big 12 almost all the time?
Today was no exception.
"One thing we're looking at [in the Big 12] is television because the SEC kind of stole the march on us with its pact with ESPN, which is very lucrative," Osborne told the Journal-Star. "The Big Ten has its own network. We think that's probably OK but not necessarily a super arrangement for them. So I think there's some thought in the Big 12, with our Fox contract expiring in a couple years, that we need to be ready to make a move. That's something in the next year or so that will need to be more clearly defined."
December, 6, 2008
12/06/08
10:29
PM ET
Posted by ESPN.com's Tim Griffin
KANSAS CITY, Mo. -- Oklahoma came into the Big 12 title game needing to make a statement to prove their legitimacy as the South Division title-game participants.
After one half, the Sooners' resounding 38-7 lead shows that they not only belong in Kansas City, but likely in Miami for the BCS title game as well.
The Sooners have scored on all but one first-half possession as they have manhandled the Tigers from the start. They've already piled up 359 yards on 54 first-half plays, averaging 6.6 yards per snap.
It's that high-powered offense that has enabled them to score 678 points for the season, setting a modern-day NCAA record.

Oklahoma's defense has been fearsome, notching two sacks and forcing two turnovers. Cornerback Brian Jackson has notched a fumble recovery and an interception that set up scoring drives.
How dominant has it been? Leading Oklahoma rusher DeMarco Murray sprained his ankle on the opening kickoff and hasn't played. And he's hardly been missed as the Sooners have piled up 119 rushing yards.
The onslaught could best be seen late in the first half. After Chase Daniel was tackled with seven seconds left, the Tigers decided to meekly let the rest of the clock tick away despite having the ball on the Sooners side of the 50.
Oklahoma scored 28 points in the second quarter and blew the game open. The Tigers look beaten and like they want to go sit where it's warm instead of coming out for the second half.
Here are some items of interest I've noticed in watching the first half.
The South Division has dominated the Big 12 in the last several years and it's continuing tonight with Oklahoma's fast start. Including the last four years and tonight's first half, the South Division teams have outscored the North, 202-37.
The Sooners have taken advantage of their huge size edge on the left side, running behind clearing blocks by massive left tackle Phil Loadholt and Outland finalist Duke Robinson for success throughout the first half.
The Sooners became the first team in Big 12 history with a pair of 1,000-yard backs. Murray came into the game with 1,002 yards. And Brown has joined him with 83 yards and two touchdowns in the first half, giving him 1,071 for the season.
Missouri's secondary struggled throughout the season. And the loss of starting cornerback Castine Bridges appears to have worsened the condition. The Tigers have been susceptible to slants as they've been outclassed by Oklahoma's more physical and quicker collection of receivers. Ryan Broyles has six catches, Juaquin Iglesias has four and Quentin Chaney has two. And massive tight end Jermaine Gresham has run free through the secondary with six receptions for 59 yards.
The game has been chippy in the early going. Oklahoma defensive end Frank Alexander and Missouri tackle Elvis Fisher both were flagged for unsportsmanlike conduct after tangling in the first quarter.
Veteran Missouri wide receiver Tommy Saunders was flagged for taunting after the Tigers' touchdown, setting up good field position that the Sooners turned into a 53-yard touchdown drive. And Iglesias was flagged for taunting after his own touchdown later in the second quarter.

It prompted referee Randy Christal to call the teams together with about 12 minutes to go in the half, telling them to cool the extra energy.
Sam Bradford's Heisman candidacy has never looked stronger. Despite playing with an injured left thumb immobilized by a splint, Bradford has completed 22 of 31 yards for 240 yards and two touchdowns in the first half.
December, 6, 2008
12/06/08
9:12
PM ET
Posted by ESPN.com's Tim Griffin
KANSAS CITY, Mo. -- It hasn't been the smoothest of starts for Oklahoma so far.
But even after losing starting tailback DeMarco Murray on the opening kickoff and having the Sooner Schooner damage a wheel after its first touchdown, Oklahoma is cruising with a 10-0 lead over Missouri after the first quarter.
Murray hobbled off with what appeared to be an ankle injury on the opening kickoff. He hasn't played since, but hasn't been missed as Chris Brown has rushed for 44 yards on eight carries and a touchdown.
Sam Bradford has showed little effect of his thumb injury, passing for 96 yards. The Sooners have used the shotgun, an easier snap to handle, almost exclusively.

Oklahoma has played several snaps at the end of the first quarter in a defensive formation featuring two down linemen. The first play resulted in a loss and the second was a 15-yard gain from Chase Daniel to Tommy Saunders -- the Tigers' longest gain of the first quarter.
The Sooners have attacked Missouri early with a fierce defensive performance so far, limiting the potent Missouri offense to only 49 yards and 3.1 yards per snap.
The Oklahoma defense turned away the Tigers on two possessions inside their own 40. Jeff Wolfert missed a field goal on the Tigers' first possession and a devastating hit by Keenan Clayton on Daniel killed the Tigers' drive after Missouri had taken over at the Oklahoma 41.
September, 2, 2008
9/02/08
8:48
AM ET
Posted by ESPN.com's Tim Griffin
Teams and coaches were back at work Monday for perhaps the least-inspiring schedule of games in Big 12 history. Conference teams will play only one opponent from a BCS-affiliated conference when Oklahoma meets Cincinnati. Other than that, it's time for a visit to the pastry wagon for most schools.
As such, dive in and enjoy these tasty morning links.