March, 27, 2014
Mar 27
9:30
AM ET
COLLEGE STATION, Texas -- Will it be the pro day to end all pro days? The buildup certainly lends itself to such hyperbole.
There will be live national coverage, on television
and the web
. There will be countless hours of analysis on the airwaves in the aftermath -- and there already has been in the lead up to the event. Political figures, past and present, will be in the house.
Johnny Manziel
even
got to spend time with a former president on Wednesday
. Later in the day, Manziel's visit with Jon Gruden for Gruden's QB Camp will air on ESPN (
you can get a sneak peek here
). It's, as one NFL coach called it, "Johnny Day."
[+] Enlarge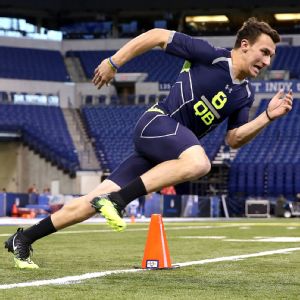 AP Photo/Ben LiebenbergAfter participating in several drills at the NFL combine, Johnny Manziel will throw for NFL scouts at his pro day.
In case you were unaware (if you follow college football or the NFL draft closely, it's hard not to be aware), Johnny Football's biggest job interview to date takes place at 11 a.m. at Texas A&M's McFerrin Athletic Center.
At the NFL scouting combine last month, Manziel did almost everything except throw for the 32 teams on hand. Thursday, he will finally display the fruits of the intensive labor he has put into his right arm (as well as his footwork, accuracy, arm strength and mental capabilities) over the last 10 weeks.
In mid-January, less than a week after officially declaring for early entry into the NFL draft, Manziel headed west for San Diego, the city that would become his training ground to prepare for the combine and pro day. Working with his personal quarterback coach, George Whitfield Jr., Manziel went to work in what they dubbed "Dime City," hoping to prove to the NFL, and specifically the Houston Texans, that the 2012 Heisman Trophy winner is worth the No. 1 overall pick.
"I want them to say absolutely, without a doubt, with 100 percent certainty, that I'm who they want," Manziel told the Houston Chronicle and Fort Worth Star-Telegram in February. "I want everybody from the janitor at Reliant Stadium to the front-office executive assistant all the way up to [owner] Bob McNair to say, 'This kid is 100 percent, can't miss. This is who we want being the face of our program. We want the Texas kid staying in Texas and leading the Texans.'"
Thursday, personnel from the Texans and almost every other NFL team will be present. Texans
general manager Rick Smith, head coach Bill O'Brien and quarterbacks coach George Godsey will be there
watching closely.
Cleveland Browns general manager Ray Farmer will not be
, but there won't be a shortage of pro personnel. NFL.com's Gil Brandt put the over/under on NFL folks at 125.
Manziel won't be the only one they are there to see, either. Receiver
Mike Evans
-- who like Manziel, did not work out at Texas A&M's first pro day on March 5 -- will also perform for the scouts on hand. A projected first-round pick, Evans has the opportunity to add to his already storybook career, one that includes him going from high school basketball star with no varsity football experience to one of the best receivers in college football.
Because Manziel is expected to be taken early and not every team needs a quarterback, there will be as many -- perhaps more -- eyes on Evans. Projected initially to be a mid-first round pick, some felt his performance at the combine last month might have given off a good enough impression to help Evans work his way into the top 10. Either way, there are plenty of teams that feel they might have a shot to take him.
At 6-foot-5 and 231 pounds, with a 37-inch vertical and a 40-yard dash time of 4.53 seconds, Evans has the physical tools coaches desire and was extremely productive in the SEC despite having only four years of football experience.
Joining the two projected first-rounders in the pro day performance will be their Texas A&M teammates, running back
Ben Malena
, receivers
Travis Labhart
and
Derel Walker
and tight end
Nehemiah Hicks
. Whitfield has been in town with the group this week working with them on the pro day script.
Texas A&M defensive back
Toney Hurd Jr
., who had to sit out the Aggies' March 5 pro day while awaiting medical clearance from offseason surgery, also plans to perform for scouts.
But the nation's attention will be on Manziel. He's a polarizing figure in this draft, just like he has been throughout his college career, for many reasons: his height (5-11 3/4), his scrambling ability, his tendency to orchestrate seemingly impossible plays and the headlines he has made, particularly off the field. The predictions and opinions about his future run the gamut, from those who feel he will excel at the next level to those who believe he will be a bust. Can he make all the throws? He has the opportunity to answer those questions now.
His accomplishments at Texas A&M are well-documented, but what kind of impression will he leave for his future employers? Most of his life, Manziel has been at his best when the lights have been brightest. A coach who knows him better than most expects that to be the case once again.
"I'm not going to be shocked when he does well," Texas A&M coach Kevin Sumlin said. "Some other people may but it won't shock me at all when he does well."
November, 9, 2013
11/09/13
10:38
PM ET
COLLEGE STATION, Texas -- Before walking through the tunnel behind the south end zone after pregame warm-ups on Saturday,
Johnny Manziel
stopped near the goal post where his parents, Paul and Michelle, stood waiting for him.
The last player in maroon and white to walk off the field, it seemed as if the Texas A&M quarterback was savoring every moment of the last Aggies game at Kyle Field this season. Before following his teammates into the tunnel, Manziel gave his mother and father each a warm embrace, and they reciprocated. With arms wrapped around each other tight, the emotion on their faces seemed telling.
If it wasn't Johnny Manziel's last game, period, at Kyle Field, it certainly had that feeling.
The rest was vintage Johnny Football. If you tried to sum up his short college career in four quarters, Saturday's 51-41 win over Mississippi State would serve as a pretty accurate microcosm. A spin move here, a juke there. Touchdown passes in bunches, oohs and ahhs from the crowd when he scrambled for yardage or to extend passing plays and, yes, a few interceptions mixed in for good measure, because Manziel is nothing if not a risk-taker.
[+] Enlarge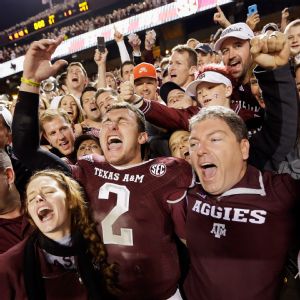 AP Photo/David J. PhillipJohnny Manziel wouldn't say whether this was his last home game, but he savored it nonetheless.
Heisman Trophy winner. Riverboat gambler. Highlight reel waiting to happen. Relentless and unapologetic. It all accurately describes Manziel, who is right in the middle of this year's Heisman race as he pursues a second consecutive trophy.
The numbers were good: 30-of-39 passing, 446 yards, five touchdowns, plus 47 rushing yards. There were those three interceptions that he'd like to have back, too, but in the end, he played well enough for his team to win. Was this it for Manziel in Aggieland? He's not ready to say.
"Not one bit," Manziel said, when asked if he has thought about or made a decision about his football future. "I'm focused on still trying to get us into a BCS berth and the best bowl that we can possibly get to. That's my only focus right now."
Whether or not this was his last game in front of the home crowd, Manziel made sure to enjoy the moment to the fullest. With less than two minutes to go and the Aggies trying to take a knee to secure a win, he waved his arms emphatically toward the crowd, hyping up the fans, ordering them to get loud. After returning to the sideline with less than a minute to go, his face showed up on the JumboTron and he smiled and saluted. The fans went nuts and began chanting in unison, "One more year! One more year!"
After the game was over, as the Aggie War Hymn played, Manziel ran into the stands to enjoy the moment with the fans and saw varsity's horns off with the people who have adored him throughout his nearly two-season stint, one in which he has captivated the college football world. He smiled from ear to ear almost every second, soaking it all in.
"It was just kind of spur of the moment," Manziel said. "The way that the crowd acted that last 1:30, for me and
Mike [Evans]
, with the chant and with the energy that they brought when the game was kind of slowing down, it kind of kept us focused. It was just a great way to end
this
year, celebrating with them."
If the Aggies can get to a BCS bowl, or at least win out with victories at LSU and Missouri to close out November, Manziel's chances of repeating as the Heisman winner are real. Oregon's loss to Stanford on Thursday significantly hindered
Marcus Mariota
's chances, and Florida State quarterback
Jameis Winston
, whose team beat Wake Forest 59-3 on Saturday, stands as Manziel's primary competition.
But Manziel will have to limit the mistakes he made on Saturday in those final games against LSU and Missouri, both of which are stronger opponents than the Mississippi State squad the Aggies played Saturday. The Bulldogs harassed Manziel quite a bit, sacking him three times and making him do a lot of work outside the pocket. Manziel admitted he got greedy at times, particularly on his final interception, when he tried to force a pass to Evans that was picked off by Mississippi State safety
Nickoe Whitley
.
"Greed is a terrible thing," Manziel said. "I really wanted to hit that touchdown to Mike. I tried to look off that safety, and still going to him anyway, as a football player and as a quarterback watching film, I know better than that."
But it was about more than just Manziel. It was a historic moment of sorts, because it's the last time Kyle Field will exist in its current state. Major work soon will begin as part of a $450 million renovation project to be completed in 2015 to turn the stadium into a pristine, 102,500-seat monstrosity. It was senior day, the last time guys such as left tackle
Jake Matthews
, running back
Ben Malena
, linebacker
Steven Jenkins
and defensive back
Toney Hurd Jr.
would play in College Station. The 13 seniors there on Saturday have been part of a 35-14 overall record and the Aggies' quick and surprising rise upon entry into the SEC.
And it also could be the last home game for Evans, arguably college football's best pass catcher this year, who also is a draft-eligible sophomore after this season. He'll have a decision to make, just like Manziel.
There still are two games left for the Aggies and a lot out in front of them, but there certainly was plenty of emotion in the air on Saturday night in Aggieland.
"We know who the seniors are, and we know who the guys are that could potentially leave," junior receiver
Malcome Kennedy
said. "We want to play hard every game, but there was something inside of us that urged us to play harder, because we know this team won't be the same next year. Every year, regardless, there will be change, but there will be some drastic changes next year, and I just wish those guys the best."
October, 26, 2013
10/26/13
6:27
PM ET
COLLEGE STATION, Texas -- Just like it has been all season, the attention going into Saturday was on Texas A&M quarterback
Johnny Manziel
.
Was he going to play, or would he sit? How was his shoulder? As he often has this year, Johnny provided a lot of drama.
But the real story from the Aggies' 56-24 win over Vanderbilt at Kyle Field was the performance of the A&M defense. A unit that came into the game ranked 118th in total defense, and was in the bottom 20 nationally in most major defensive statistical categories, put together what was easily one of its best performances of the season.
[+] Enlarge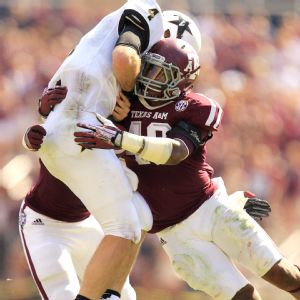 Thomas Campbell/USA TODAY SportsTexas A&M turned Darian Claiborne and its pass rush loose, which resulted in seven sacks against Vanderbilt.
Sure, Vanderbilt was playing with a backup quarterback (freshman
Patton Robinette
made his first start in place of injured
Austyn Carta-Samuels
), but honestly, that mattered little. This is an A&M defense that struggles to stop virtually everybody. The Aggies allowed 306 rushing yards to Rice. They allowed 240 to FCS opponent Sam Houston State.
After taking a gut punch from Auburn last week to the tune of 45 points and 615 yards (379 rushing), any positive sign is acceptable at this point.
"We need an example to show us how we should play, and now we have an example," sophomore defensive end
Julien Obioha
said. "We can always go back to the Vandy tape. This type of production we expect from the defense, and this is the standard that we expect from our defense. So, it was good to have a game like this."
There was an energy there that didn't seem to exist consistently in recent weeks for the Aggies' D.
Howard Matthews
(14 tackles, one interception return for a touchdown) played probably his best game of the season. The pass rush was relentless, led by
Gavin Stansbury
's two sacks, and the 12 tackles for loss. The unit matched its season total for sacks with seven against the Commodores and held an opponent to under 100 yards rushing for just the second time this season. It finally looked like the unit defensive coordinator Mark Snyder envisioned he'd have coming into the season.
"I dialed it up," Snyder said of what generated the consistent pass rush. "We pressured a lot more than we have pressured because we finally could. We felt like we finally got to the point where all the pieces were in place. We had practiced together, and I felt comfortable calling some pressures because everybody knew where they were supposed to be."
Much of that came from a few noteworthy personnel moves. True freshman cornerback
Noel Ellis
got plenty of time in place of
Toney Hurd Jr.
at nickel cornerback. Junior linebacker
Donnie Baggs
, who hasn't started since Sept. 14 against Alabama, got the starting nod at strongside linebacker. True freshman defensive end
Daeshon Hall
didn't start but saw heavy playing time rotating with starting ends Stansbury and Obioha. Starting defensive tackle
Alonzo Williams
missed the game with a foot injury, and junior
Ivan Robinson
replaced him.
The Commodores' best weapon -- receiver
Jordan Matthews
-- had a solid day (eight catches, 92 yards), but his longest reception was 21 yards. The biggest play came from
Jonathan Krause
on a 44-yard reception in the first half. Matthews, to his credit, became the SEC's career receiving yards leader with 3,172.
If the Aggies can build on this performance, the outlook for the rest of the season is bright.
Although the defense showed well, most eyes were on Manziel in the early going. For a guy with an injured throwing shoulder, it sure didn't seem to affect him. He completed his first 10 passes and led the Aggies to four consecutive touchdown drives to start the game.
Coach Kevin Sumlin was tight-lipped about Manziel's status all week leading up to the game, calling the Heisman Trophy winner "hopeful." He never budged from that statement but said Saturday that he wasn't playing coy and that Manziel was truly a game-time decision as he tried to recover from the shoulder injury he suffered last week.
Manziel began throwing Wednesday and participated in 11-on-11 drills Friday and even woke up Saturday with soreness. But he said there was no keeping him off the field.
"In my mind, I was always going to play," Manziel said. "It would take a lot to keep me off the field and away from these guys. They count on me, and they expect me to be there."
He completed 25 of 35 passes for 305 yards and four touchdowns with one interception. He ran much less than he usually does because it wasn't in the game plan, mostly to protect him from further injury.
Although Manziel was able to make every throw necessary to put the Aggies' offense in the right position, he got plenty of support from the running game as the Aggies combined for 189 yards, led by
Trey Williams
' 65 and
Brandon Williams
' 61.
It was far from a clean win. The Aggies committed five turnovers and allowed the game to get closer than it had to in the first half. But it's something they can build off of as they approach the homestretch.
"It's been a little frustrating as of late with some games a little closer than we wanted," Manziel said. "We felt we've played pretty good all around, but we just need to continue to get better. That's the thing. We're not where we were last year in every aspect of our game, but we have a coaching staff that won't quit until we're where we need to be."
October, 14, 2013
10/14/13
10:30
AM ET
When Texas A&M's defense got the stop it needed to give the offense a chance to win against Ole Miss late in the fourth quarter on Saturday, players and coaches on the sideline elicited a knowing reaction.
"Everybody on the offensive side of the ball had a smile on their face," Malena said. "Especially all the coaches. They were so fiery."
They knew what was about to happen. With a tie game and the ball in the hands of one of college football's best offenses and arguably college football's best player, the coaches, players and plenty who were watching could guess what was coming: The Aggies would drive downfield and score.
[+] Enlarge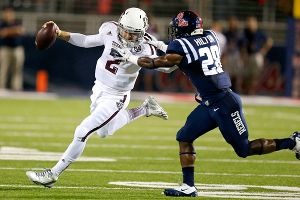 AP Photo/Rogelio V. SolisJohnny Manziel added to his legend with a game-winning drive at Ole Miss.
They did, pulling out a thrilling, 41-38 road victory over the Rebels.
It was the second consecutive season that Texas A&M had to go into Oxford, Miss., and fight tooth-and-nail for a victory. In 2012, the Aggies had to crawl out of a 10-point fourth-quarter deficit to escape with a 30-27 win.
What both instances showed is that the Aggies have tremendous poise when it comes to playing from behind and making plays with the game on the line.
"Championship teams know how to handle adversity," Malena said. "Just because we were down 31-24, with them having the momentum, as a championship team, you can't let that get you. Who said it was going to be easy every game? They have a great team over there, too. Hat's off to them."
There were plenty of ups and downs Saturday. From some brief uncertainty regarding the health of
Johnny Manziel
, to a couple of key turnovers in the second half, to a defense that struggled to get stops as Ole Miss made a charge and even a missed field goal, there were several situations that could have thrown the Aggies off course and given them their first road loss under Kevin Sumlin.
Instead, when crunch time came, the Aggies made the key plays in all three phases. The defense got a three-and-out on Ole Miss' final possession to force a punt. The offense drove downfield to put themselves in position for the winning points and, after missing an first-quarter field goal, kicker
Josh Lambo
drilled a 33-yarder to win it.
"I feel like our seniors and our captains, we lead by example," senior defensive back
Toney Hurd Jr
. said. "Starting with Ben and Johnny, they made big plays running behind
Jake Matthews
and our offensive line. On defense we just stepped up. In the fourth quarter we knew we had faced a lot of adversity, but we had to step up and make plays on offense, defense and special teams to win this game."
Sumlin noted earlier in the week that last year's battle in Oxford was significant because the Aggies needed a strong effort in the second half to escape. It gave the team confidence after 2011, when Texas A&M lost five games in which they held double-digit leads.
"The year before, I wasn't here, but I heard all the stories about what had happened and the mindset that those types of football games, we wouldn't win," Sumlin said. "There was a lot of emotion after the game [in 2012] and rightfully so and there's no doubt that it helped us gain confidence as the season went on and it helped us gain confidence at a time certainly at a time when we needed it."
Now you have an A&M team that finishes strong, even when behind. Even in losses, the Aggies have stayed in games until the final minute. When the Aggies trailed No. 1 Alabama by three touchdowns on Sept. 14, they kept rallying to keep it close but lost 49-42.
That type of effort is a big reason why the Aggies are 16-3 since Sumlin took over.
"One thing I'll say about our guys: They don't quit," Sumlin said. "It's been kind of a trademark here in the last year and a half. They're going to play until the end and then we'll see what happens."
October, 10, 2013
10/10/13
12:00
PM ET
COLLEGE STATION, Texas — It seemed like nothing went right.
When Texas A&M went into Oxford, Miss., on Oct. 6, 2012, to take on Ole Miss, it was a nightmarish beginning. The Aggies couldn't hold on to the football, turning it over six times. Quarterback
Johnny Manziel
, who dazzled onlookers in the first four games, looked human.
With the Aggies down by 10 points midway through the fourth quarter and deep in their own territory, Manziel was sacked at the 1, putting the offense's back against the wall. One of the SEC's newest teams appeared to be failing in its first road test.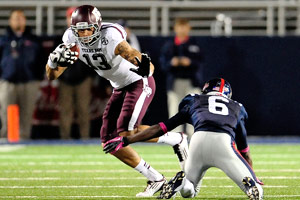 Stacy Revere/Getty ImagesTexas A&M's Mike Evans made eight catches for 105 yards against Ole Miss last season.
Then one
Mike Evans
catch changed it all.
An improbable, leaping, 32-yard grab over a defender on third-and-19 with just under seven minutes remaining kick-started a burst in which the Aggies scored 13 unanswered points and escaped Vaught-Hemingway Stadium with a 30-27 victory.
The rest is history. The Aggies went 11-2, finished tied for second in the SEC West and earned a berth in the AT&T Cotton Bowl, smashing preseason expectations by outsiders. Without the improbable comeback in Oxford, who knows what might have happened?
"I don't want to venture to the idea of us losing the game and how the season would have been, but that was an important game in our season," sophomore defensive end
Julien Obioha
said. "We needed a game where everything went wrong, but we still won the game, to show us how good we are."
Winning on the road in the SEC is rarely an easy thing to do and winning in Oxford was no exception. And thanks to a quirk in the conference schedule, No. 9 Texas A&M (4-1, 1-1 SEC) returns to the scene on Saturday (8:30 p.m. ET, ESPN) to see if they can repeat that feat against the Rebels (3-2, 1-2), and perhaps with less of a struggle.
"Oxford is a very tough place to play," senior running back
Ben Malena
said. "I can't remember one time when that crowd wasn't electrifying. They had a lot of momentum and one thing that we have to do is go over there and play our game. We understand that it's a hostile environment, we understand that their crowd is going to be in the game and that they feed off that energy that the crowd gives them."
Aggies coach Kevin Sumlin acknowledged that the victory played a pivotal role in the later success in the 2012 season.
"You can point back to that and say that it was a pretty big deal," Sumlin said. " At the time, people said, 'Oh, you beat a team that hasn't won very much,' but that team ended up being a thorn in everybody's side. Full of talent, a tough team to beat. I understand that and you make steps as a program.
"There are things you point back to that are steps in your growth, and certainly us going on the road and winning our first SEC game last year on the road was a big deal for this program and a step in the right direction. It was a lot of emotion after the game and rightfully so, and there's no doubt it helped us gain confidence as the season went on at a time when we needed it."
Several players contributed to the comeback effort. The defense made a critical fourth-down stop in Ole Miss territory. Ryan Swope caught the game-winning touchdown pass.
Toney Hurd Jr.
intercepted
Bo Wallace
in the final minutes to stop the Rebels' final offensive drive and seal the win.
Nobody knows what would have happened had the Aggies not completed the victory, but you can make some educated guesses. Having three losses instead of two might have affected their postseason destination. It would have made it that much tougher for Manziel to win the Heisman Trophy, despite all his dazzling performances, though it was the Alabama win that really cinched that for him.
The confidence gained from such a victory perhaps played a role in the Aggies' success later in the season. That's something they've carried over to this season, showing that fight in their 49-42 loss to No. 1 Alabama when the Aggies were down by 21 points but still continued to fight to make it a close game.
"It showed what type of resiliency we had as a team," Malena said of the Ole Miss win. "Everything is not always going to go as planned. Everything is not going to go Xs and Os like the coaches draw it up. Bad things do happen. Championship teams know how to handle adversity well and I think that was a really good game of us handling adversity and pulling it out."
September, 26, 2013
9/26/13
1:00
PM ET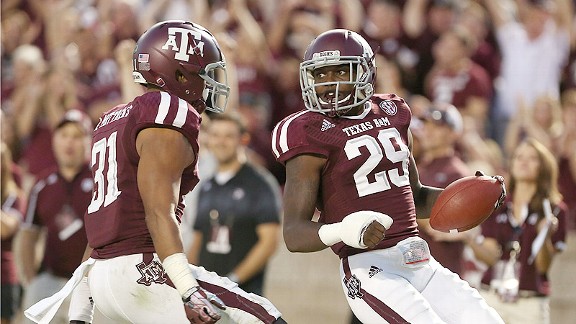 Thomas B. Shea/Getty ImagesTexas A&M's willingness to use starters such as safety Deshazor Everett (right) on special teams has allowed the Aggies to have one of the best units in the SEC.
COLLEGE STATION, Texas — When Alabama receiver and return specialist
Christion Jones
carried the ball out of the end zone on the Crimson Tide's first kickoff return against Texas A&M on Sept. 14, he was quickly faced with a host of defenders.
The first Aggie to make contact was cornerback
Tramain Jacobs
. Defensive back
Toney Hurd Jr
. followed him by wrapping up Jones for a tackle. If Hurd would have been unable to wrap him up, cornerback
Deshazor Everett
was nearby, and so was linebacker
Steven Jenkins
.
The common thread among the above names? They're all either regular starters or players who have started before for the Aggies.
Special teams -- kickoff and punt coverage units in particular -- are a place where many non-starters find their homes, and Texas A&M is no different. But the Aggies' coaching staff is also liberal about using its best players when the need arises.
The Alabama game was a prime example. With the threat of a return man such as Jones, who returned a punt and a kickoff for a touchdown in the Crimson Tide's season-opening win against Virginia Tech, Texas A&M special teams coordinator Jeff Banks wanted to ensure he had the best players available to prevent Jones from making a game-breaking play. The Aggies got the desired result, as Jones finished with 83 yards on four kickoff returns and just 5 yards on his one punt return.
"We're
always
going to use the best players," Banks said. "Coach Sumlin's an advocate of 'Jeff, you just tell me who you need and who you want and that's how we're going to do things.'"
Banks said offensive coordinator Clarence McKinney, defensive coordinator Mark Snyder or any of the other A&M assistants also have no qualms about the policy. Since he has been at Texas A&M, Banks said not one coach has said a word about who he can use or not use on special teams, whether it's in the return game or punt or kick coverage.
That luxury is something Banks, who is in his first year in Aggieland, hasn't always had in his career as a special teams coach.
"Usually you get a deal where it's 'Hey, take that guy off of there,' or 'Hey, don't use that guy,'" Banks said. "And here's my deal with that: That's fine. Because I try to be as flexible as I can because we're dealing with 60-80 people and players that have to go in and out, seniors, veterans, juniors, sophomores, freshmen, true freshmen, you've got to coach what you can get and get the best on the field.
"But you also have to be careful because if you practice them in training camp for 30 days and then you get them in the first week and someone says 'Oh no, he can't play on that many special teams,' now you're playing a guy with no experience.'"
So the planning has to begin in August when preseason training camp starts. Banks tries to get a feel for which newcomers have the size, speed or physicality to contribute, and the first week of camp is largely spent trying out numerous players in different roles to get a feel for who he can rely on. The rest of training camp is about getting those that are going to make his two-deep on special teams as many repetitions as possible so that he's comfortable with who is out there come the start of the season.
Playing offensive and defensive starters is nothing new for a Sumlin-coached team. It was something done regularly at Houston when he was there. One of the Cougars' special teams aces in their 12-1 season in 2011 was running back Michael Hayes, who played a major role in the Cougars' backfield, but could regularly be seen making tackles in punt coverage.
That attitude has carried over to Texas A&M. McKinney, who also coaches running backs, made it clear to his position group in the spring of 2012 that they would be expected to contribute on special teams. Players accepted the challenge, and
Ben Malena
and
Trey Williams
became key players on special teams.
Malena eventually emerged as the starting running back for the Aggies last season and remains that this season but can be seen on the kickoff return team making blocks and last season spent time covering kicks and punts at times, too.
"You have to realize that special teams wins and loses games," Malena said. "You need the best players out there, whether you're a starter or just a special teams guy. If you're the best player at that position, we need you on the field to help us win. I just took that to heart and will do anything for my team to win."
The example set by players with that attitude has an effect on the younger players, many of whom have a role on special teams. Many true freshmen such as
Darian Claiborne
-- who started at linebacker last week -- linebacker
Shaan Washington
, safety
Jonathan Wiggins
and cornerbacks Alex Sezer and
Tavares Garner
are already playing key roles on coverage units, and the example set by their elders is important.
"It's huge," Banks said. "They see Ben in practice, they see Jenkins in practice, they see those guys doing special teams drills at a high level.
Howard Matthews
,
De'Vante Harris
, Floyd Raven when he was healthy. That's huge. That's bigger than anything I can say. When they go out there and they give us great effort as a staff, that sells it and now you get the buy-in of the younger guys."
Banks said it helps increase the desire for the younger players to contribute, particularly in high-profile games.
"You see the Alabama game and go 'Man, I want to be out there,'" Banks said. "Tavares Garner's a prime example. He gets substituted in for Deshazor Everett and he's like 'Man, I know Deshazor's a veteran guy and he's going to make the play, but I want to be in there.' Then he gets in there and makes a tackle."
There's a balance to be struck, however. Playing starters constantly on coverage teams can fatigue them, especially if they're playing a large amount of snaps on offense or defense. So Banks is conscious to employ the personnel wisely.
"You can't wear a guy out because a Deshazor Everett or a Toney Hurd is so good at everything, you can't overuse them and start them on four special teams and expect them to play 60-80 snaps on defense," Banks said. "There's kind of a responsibility on my end, because I've gotten the leeway from the head football coach and the coordinators to use whoever we want. I think it's really important that you don't take advantage of that deal either."
Complementing players such as
Sam Moeller
, who has been the Aggies' special teams player of the week twice already this season and doesn't have a major role on defense, with some of these starters are what help the Aggies find a mix that Banks and Sumlin hope lead to one them having one of the best special teams units in the SEC.
"With Coach Sumlin being as awesome as he is about letting us use whoever we need to in order to be the No. 1 team, special teams-wise, in the conference, I think we've got a good mix of him and I of making sure we have the right guys on there, but also give an opportunity to guys who maybe aren't starting on offense or defense," Banks said.
September, 25, 2013
9/25/13
11:00
AM ET
COLLEGE STATION, Texas — Playing away from home is typically difficult in college football, but the road has been good to Kevin Sumlin in recent years, and as a result, Texas A&M last year.
After playing four straight games at home to start this season, the No. 10 Aggies (3-1) hit the road this weekend to resume their SEC schedule against Arkansas.
[+] Enlarge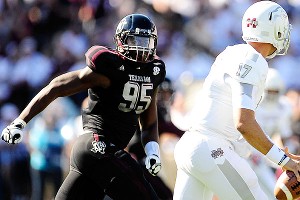 Stacy Revere/Getty ImagesKevin Sumlin has all sorts of ways to motivate the Aggies for road games, such as the unveiling of all-black uniforms last season at Mississippi State.
Last season, the Aggies were undefeated away from Kyle Field, going 6-0 in road games and winning their neutral site contest in the AT&T Cotton Bowl over Oklahoma. Sumlin's teams have won 13 consecutive away from their home stadium dating back to his final season at Houston, where the Cougars were 6-0 on the road in 2011.
Sumlin said he believes the reason is consistency in approach.
"We don't change our routine much," Sumlin said. "The same routine we use at home, we use on the road. I think, just like a lot of different things, you try to keep it all the same. You go on the road, you try to create your own energy. We don't make a big deal about road trips."
The term "creating your own energy" can mean different things to different players.
"You just look around and you see the crowd and a lot of the times, I don't know if other players get the feeling but I get the feeling that they're cheering for me," junior receiver
Malcome Kennedy
said. "It's something weird. Different players have different methods of approaching it but it's a very awesome experience."
The Aggies have tackled some tough opponents on the road. Last season, their road triumphs included No. 1 Alabama and two other regular season wins over teams that were ranked at the time the Aggies played them -- Mississippi State (ranked No. 15 at the time of the meeting) and Louisiana Tech (No. 23).
And though the Rebels weren't ranked, the Aggies' comeback win at Ole Miss proved to be a significant one for Texas A&M, since the team didn't play well from start to finish. The Aggies turned the ball over six times in that game but still climbed out of a 10-point fourth quarter deficit to win.
"I feel like when we go on the road, it's us against the world," senior defensive back
Toney Hurd Jr
. said. "We go into the stadium with a mindset that we have to come out here on top. Coach Sumlin has instilled in us that we have to focus and keep the same mindset, just like we're playing at home, but we're away."
Sometimes, Sumlin might try to do something to trigger the Aggies' energy level. Against Mississippi State last season, it was the unveiling of new all-black uniforms. When the Aggies played at Alabama, it was the first time that season that they donned what A&M calls the "icy whites," which is an all-white uniform, helmet included.
It isn't always easy to guess what it is, but Kennedy said Sumlin usually comes up with something.
"It's so hard to tell with him," Kennedy said. "It just happens. The great thing about it when it happens is that players get this new life about them. It's always something, because he cares about the team. He's such a players' coach. He knows what we need and he knows what we want, so he'll always make the best decision for us. We just lay back and we expect something but we don't know what it is yet."
It certainly doesn't hurt that Sumlin's teams have had elite quarterbacks running the show during the streak. Last season, it was Heisman Trophy winner
Johnny Manziel
. In 2011, it was Case Keenum, who broke eight career FBS statistical records and was a dark-horse Heisman candidate until the final regular season game.
Having a good team with strong leadership helps also. The Aggies had much of that last season, as did Houston before that.
"When you're away, it really takes that leadership from your players," Aggies' senior running back
Ben Malena
said. "It takes guts, especially in this conference, to go out there and win on the road."
September, 22, 2013
9/22/13
12:43
AM ET
COLLEGE STATION, Texas -- Coming off a thriller that few will soon forget, No. 10 Texas A&M had a few questions to answer going into Saturday's battle with SMU.
Though it's way too early to surmise that they've permanently answered some of those questions, the Aggies certainly took steps toward a few solutions in their dominant 42-13 win over the Mustangs at Kyle Field.
The biggest question about the Aggies after three games surrounded their defense, or lack thereof. If Texas A&M (3-1) couldn't prove that it could get stops against an opponent like SMU (the Aggies already allowed significant yardage to Rice and Sam Houston State, though the unit was shorthanded for both games), when would it ever show that? The rest of A&M's SEC schedule is coming, starting with a road game at Arkansas on Sept. 28.
Fortunately for the Aggies, the unit showed some progress.
[+] Enlarge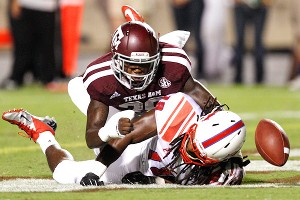 AP Photo/Bob LeveyDeshazor Everett's move to safety this week was one of several moves that help jumpstart the Texas A&M defense.
Though SMU compiled 292 yards in the first three quarters as A&M built a 42-6 lead, the Aggies were stellar on third downs, holding the Mustangs to just four conversions on its first 14 attempts in that span and 5-of-16 for the game.
"We looked pretty fast out there tonight," Aggies defensive coordinator Mark Snyder said. "There were times where we looked extremely fast, which is what I was hoping was the case. We still have some areas that we've got to work on, but it was a much better game from our sideline tonight."
Snyder made two key personnel changes this week. He moved starting cornerback
Deshazor Everett
to safety to help address the issues the Aggies have had in coverage and he inserted true freshman
Darian Claiborne
into the starting lineup at middle linebacker.
"I think we have the right guys on the field right now," Snyder said. "[Claiborne] needs to play and needs to be on the field. He was able to make the adjustment from [weakside linebacker] to [middle linebacker] in a week. … I was really proud of him. He handled getting the front [seven] set, he brought a lot of energy, he's a lot like
Steven Jenkins
and I was very, very happy with that."
Everett spent time at both cornerback and safety last season, so it's not an unfamiliar move for the junior. By moving him back there, the Aggies moved third cornerback
Tramain Jacobs
to the starting lineup next to
De'Vante Harris
, and he didn't appear to miss a beat. Everett said because SMU runs an offense similar to A&M's, the transition was smooth.
"It was pretty simple," Everett said. "I see those formations a lot and I know what the safety's checks are to me at corner. … It kind of helped me because I know where the corner is going to be and where I should be if I were a corner, to want safety help."
Was Saturday a sign that a cure-all is coming to a defense that ranked in the bottom 20 in the nation in total yards allowed and rushing yards allowed coming into the game? Far from it. But it was a much-needed positive performance from a group that has struggled through youth, inexperience and missing personnel because of suspensions or injuries in the first three games. On-field communication and the ability to make adjustments in the first three games was a chore simply because of the lack of consistency in starting personnel from week to week.
"In the first couple, three weeks … there were a lot of moving parts and guys out there just worrying about doing their job, not being able to communicate," head coach Kevin Sumlin said. "There's definitely a comfort factor with having all your pieces back and being able to not only play that play but also make adjustments as the game moves on."
With the Aggies resuming SEC play next week in Fayetteville, Ark., having some success on defense is key.
Offensively, the Aggies ran smoothly, as they have most of the year. Quarterback
Johnny Manziel
threw strikes when he stayed in the pocket and chewed up rushing yards when he darted out of it. His night, which included 244 passing yards, 102 rushing yards and three total touchdowns, was done by the 10:06 mark of the third quarter with the Aggies leading 39-6.
Malcome Kennedy
(six catches, 83 yards) continued to show that will be a legitimate receiving threat to complement star sophomore receiver
Mike Evans
and the running game was productive and efficient, led by Manziel and
Ben Malena
(13 carries, 71 yards, two touchdowns).
The win wasn't without its warts though. Like SMU, the Aggies were heavily penalized (there were 29 accepted penalties in the game, 13 of which went against the Aggies for 114 yards) and the kicking game continues to be a struggle. Sophomore place-kicker
Taylor Bertolet
missed back-to-back point-after-touchdown kick attempts in the first half and was replaced thereafter by junior walk-on
Josh Lambo
. And what happened when Lambo entered the game? Holder
Drew Kaser
bobbled a snap -- the second time that's happened this season -- and as a result, Lambo's first PAT attempt failed.
When Lambo connected on a PAT after a Malena touchdown run with 11:34 remaining in the third quarter, it almost seemed as if the cheers for Lambo were as loud as those for Malena's touchdown. Finding a solution at place-kicker is critical if the Aggies expect to remain contenders in the SEC West. Against SMU, those points left on the field didn't matter. Against Ole Miss or LSU on the road later this season, they might.
Sumlin, when asked who will be kicking field goals and PATs moving forward, called the situation "a competition."
"We're going to keep the competition up just like we do at every position," Sumlin said. "Lambo came in and did a good job. … It's just like any other position. … We evaluate guys every week, no matter what the position, so there will be competition there."
But the Aggies made some plays on defense. They forced a turnover that led directly to points when defensive back
Toney Hurd Jr
. jolted the ball loose from receiver
Jeremiah Gaines
, a fumble that Everett returned for a 12-yard touchdown. Linebacker
Tommy Sanders
intercepted a pass late, and though he fumbled, freshman defensive end
Daeshon Hall
was able to scoop it up for a 39-yard return. The secondary was tested a few times in the first half by SMU quarterback
Garrett Gilbert
(37-of-62 passing, 310 yards) but passed with flying colors when it came to third downs or plays near the end zone or red zone.
"I feel like going back into SEC play [next week] it was great for us to come and play well," Hurd said. "It was great for our defense to put a good showing out tonight."
September, 16, 2013
9/16/13
1:00
PM ET
COLLEGE STATION, Texas — Coming into the season, there were plenty of questions about Texas A&M's defense.
It didn't seem much different from the circumstances a year ago. Defensive coordinator Mark Snyder even said, on the first day of preseason training camp, that the challenges were "exactly the same."
By the end of 2012 the results were positive, with the Aggies performing much better on defense than many expected. If they're to do the same in 2013, they still have a long way to go. The Aggies statistically are among the worst defenses in the nation after a 49-42 loss to No. 1 Alabama on Saturday at Kyle Field.
"We're going to learn a lot of lessons come Monday when we watch this film," Snyder said. "Lots of lessons."
They had better, because on Saturday, once Alabama got its footing, it seemed able to do whatever it pleased. The Crimson Tide finished with 568 offensive yards -- 334 passing and 234 rushing. After forcing a punt on Alabama's first drive of the game, the Aggies allowed four consecutive touchdown drives, all of which covered 75 yards or more. In the second half, the Tide had three drives of 65 yards or longer, two that turned into touchdowns and another where the Aggies forced a turnover near the goal line.
[+] Enlarge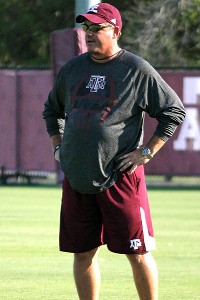 Sam Khan/ESPN.comMark Snyder's Texas A&M defense yielded 568 yards to Alabama on Saturday and gave up too many big plays.
One thing that stuck out to Snyder was how many big plays the Tide hit on. More than half of Alabama's yards (280) came on plays that gained 15 yards or more. Alabama had 11 such plays in the game.
"We knew it was going to be a day of big plays," Snyder said. "And I'm sure when I go back and look at the film, if you count up the number of big plays and subtract that yardage, you have a pretty good day. That's something we're going to have to learn from."
The Aggies generated virtually no pressure against Alabama quarterback
AJ McCarron
. He was never sacked and the Aggies only recorded one quarterback hurry as a team, by defensive tackle
Kirby Ennis
. Pressure was one of the Aggies' strong suits last year behind the efforts of defensive end Damontre Moore, who now plays for the New York Giants.
"You can't let a great quarterback like AJ McCarron not even get hit or pressured at all," sophomore defensive end
Julien Obioha
said. "They ran a lot of play action, which doesn't help the defensive line get any pressure, but we've got to come up with a way to get pressure on the quarterback. He can't sit there all day. He's too good."
Senior defensive back
Toney Hurd Jr
. detailed the struggles of the secondary, which allowed a 44-yard touchdown pass on a fleaflicker and a 51-yard catch-and-run touchdown in the first half to
Kenny Bell
.
"First and foremost, hat's off to AJ McCarron and their offensive coordinator [Doug Nussmeier]," Hurd said. "They dialed up some great plays. In the back end, I feel like sometimes we had bad eyes. Sometimes we just didn't trust our keys and techniques and they got us on a few big plays. But I'm sure on Monday we'll get back to work and get those things figured out."
Defending the run wasn't much better for the Aggies and that's been a consistent problem through three games. A&M yielded 6.3 yards per rush attempt on Saturday and it marked the third consecutive game that the Aggies have allowed at least 200 rushing yards.
In their first two games, the Aggies were missing starters at defensive end (
Gavin Stansbury
), linebacker (
Steven Jenkins
) and cornerback (
De'Vante Harris
) because of suspensions. All three returned to the lineup against Alabama, but it didn't stem A&M's struggles.
"Give Alabama credit," Snyder said. "They did a nice job; they had some nice wrinkles. It's hard if you haven't been playing and you haven't seen them to kind of adjust to them. But that's no excuse. We have our guys back and we just have to play better, period."
As it stands currently, the Aggies rank 112th nationally in total defense (489 yards allowed per game), 111th in yards allowed per play (6.92), 115th in run defense (260 yards per game) and 81st on allowing third-down conversions (44 percent).
It's worth noting that the Aggies have a lot of youth and inexperience on the field after graduating key players and suffering a key injury (safety
Floyd Raven
). True freshman linebacker
Jordan Mastrogiovanni
made his first start Saturday; junior safety
Clay Honeycutt
was making only his second career start. There are 11 true freshmen on A&M's defensive two-deep roster. Growing pains are a part of the deal.
But they'll have to grow up quickly. A&M players and coaches spoke on Saturday of their lofty goals still being intact despite one loss. But the defense must improve significantly for them to have a chance at fulfilling those goals.
Snyder believes his unit has that opportunity.
"I told the kids, 'I know what it looks like and we've got a chance to be good,' " Snyder said. "I thought last year as the season went on, we learned [how to minimize big plays]. Our big-play numbers came down and we started playing better defense. So for us today, it was a matter of big plays on our side of the ball and allowed them to get into a groove running the ball once they got the lead."
September, 6, 2013
9/06/13
12:00
PM ET
COLLEGE STATION, Texas -- In answering the final of several questions he received on Tuesday about his Heisman Trophy-winning quarterback, the negative attention said quarterback received after the game and what it's like to be in the middle of it all while shots are fired from critics across the nation, Texas A&M coach Kevin Sumlin looked at a reporter with a knowing smile and gave the world a peek into what's really happening inside the Bright Football Complex.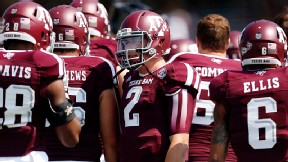 Thomas Campbell/USA TODAY SportsDespite much of the attention centered on Johnny Manziel, the Aggies say it's not affecting them inside the locker room.
Sumlin's message was clear: You might think the national scrutiny is getting to us, but it isn't. In fact, it might be doing us a favor.
"Obviously, after last Saturday, people want to make a story out of anything that happens on this team right now," Sumlin said as the smile slowly crept in. "And in a way, right now, for me as a coach, I'm not going to complain about it. Because it's kind of putting a wall up between us and everybody."
That wall became necessary because having the reigning Heisman Trophy winner and one of the most talked-about athletes on the planet,
Johnny Manziel
, on its roster has created an easy target for that attention. Last season, much of it was positive as Manziel set records, led the Aggies to a takedown of No. 1 Alabama and he became the first freshman to win college football's most coveted individual award.
This year is different. After an offseason in which Manziel checked items off a bucket list that most sports fans can dream of, endured criticism for tweets, leaving the Manning Passing Academy early and becoming the focal point of an NCAA investigation, a lot of the attention became negative. The scrutiny got to the point that Manziel was vilified by some for an unsportsmanlike conduct penalty he committed against Rice and celebratory hand gestures that he -- as well as his teammates and other players across the country -- have done before.
Texas A&M senior associate athletic director for external affairs Jason Cook recently told TexAgs Radio, a show that airs on local radio station KZNE-1150 AM, that he received as many calls from celebrity gossip site TMZ as he did from traditional sports media outlets during the NCAA investigation into Manziel.
But the Aggies say they're letting none of this get to them.
"I believe with the off-the-field issues, we really don't bother ourselves with that," senior defensive back
Toney Hurd Jr
. said. "… When it comes to the off-the-field issues, Coach Sumlin and the staff upstairs will definitely handle that. But as for on the field, right now, I feel like we're playing well and we can only get better from this point forward."
The wall is more than a metaphor. While the coaches and players might be taking an "us against the world" approach in their newfound fame, a wall is also what Manziel and the school have put up -- for now -- when it comes to him speaking publicly.
The 20-year-old has not spoken to the media since SEC media days in mid-July. Texas A&M wisely did not make him available to the media during the NCAA investigation into allegations that he profited from autographs and the school stayed mostly silent on the matter as well.
As reporters wait with bated breath, Manziel remains away from the microphone. Sumlin said Tuesday that he felt this isn't the "right time," for Manziel to speak but that when the time comes, he will.
"I think it's important now, based on where he is, that his focus is to try to be our quarterback and a student-athlete," Sumlin said. "That's his biggest challenge right now. It's not his challenge to be here. That's me."
Does having to answer for Manziel frustrate his teammates?
"No, it doesn't," senior running back
Ben Malena
said. "It comes with it. You want to have a defending Heisman Trophy winner as your quarterback. That's not a bad thing."
Malena stressed what life inside the Aggies' locker room was really like.
"What's perceived from the outside world is, nine times out of 10, a complete [180] of how the team looks at it," Malena said. "So how you guys might single him out or anything like that doesn't hurt us as a team, because right now, we're just focusing on getting ready for Sam Houston."
So far, life inside the emerging walls appears to still be business as usual. Whether that changes remains to be seen and the Aggies' showdown on Sept. 14 against Alabama could certainly play a role in that. Sumlin is aiming to keep his team's focus with what's happening on the field, not all the noise off of it.
"The discussion we had Monday, both in here and on the field, I think our players understand that," Sumlin said. "And there's not much confusion on what goes on here in this program."
August, 31, 2013
8/31/13
8:52
PM ET
COLLEGE STATION, Texas -- There are several reasons Texas A&M was so highly thought of and had lofty expectations coming into the 2013 season.
The No. 7 Aggies, who were ranked in the top 10 of both preseason polls (they were No. 6 in the coaches' poll), returned a Heisman Trophy-winning quarterback, a plethora of running backs and an All-America caliber tackle, and play a style of offense that many SEC teams -- defending champion Alabama included -- find hard to defend.
And while there were several positives to take away from Texas A&M's season-opening 52-31 win over Rice on Saturday at Kyle Field, the win also illustrated that the Aggies still have a long way to go in several areas if they plan on fulfilling championship expectations.
[+] Enlarge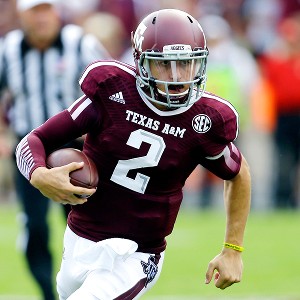 AP Photo/Eric GayThe good news is Johnny Manziel looked like his Heisman Trophy winning self once he got in the game. The bad news is the Aggies look like they still have lots of work to do if they want to win titles.
One of those areas is maturity. Head coach Kevin Sumlin discussed that after the game, and while he was specifically addressing it in relation to the ejection of freshman defensive end
Daeshon Hall
and the unsportsmanlike conduct penalty drawn by quarterback
Johnny Manziel
after a touchdown pass, Sumlin's words can apply across the board.
The Aggies had eight players miss at least the first half of Saturday's game. Four were suspended for "violating Texas A&M athletics department rules and regulations." Three were suspended after offseason arrests and Manziel was suspended for the first half after "inadvertent violations" that occurred as a result of signing autographs after the conclusion of an NCAA investigation.
That was also part of Manziel's message, according to Sumlin, to his teammates when he addressed them on Friday as part of the requirements of restoring his eligibility.
"Actions just like today and just like other guys on this team, those actions may be actions that you think just hurt you, but they end up hurting the whole football team," Sumlin said. "That was the real gist of [Manziel's] message to the team. That everybody's individual acts affect the team. When that happens, it's not good."
Of the suspended players, five were defensive starters (defensive tackle
Kirby Ennis
, cornerbacks
Deshazor Everett
and
De'Vante Harris
, linebacker
Steven Jenkins
and defensive end
Gavin Stansbury
). Another, Floyd Raven, is a key player expected to contribute this fall and was one time projected to start at free safety before
Clay Honeycutt
wound up first on the depth chart after a strong training camp.
As a result, the Aggies' defense was filled with true freshmen and newcomers getting significant playing time on Saturday and ended up surrendering 509 total offensive yards. Now, Rice is a good team in Conference USA that could contend for the league title, but it's not nearly the caliber of opponent Texas A&M will see on its SEC schedule. The Owls ran for a whopping 306 yards -- six yards a carry -- and appeared able to run right at the Aggies' defense.
The Aggies struggled with missed tackles and missed assignments, which are to be expected when you have a significant number of 18- and 19-year-olds on the field.
"We played 20 guys out there that had never played before," Sumlin said. "Is that an excuse for our play? No. I think we learned from today."
The Aggies regain the services of Ennis and Raven next week, though Everett will again have to sit out a half, by rule, because he was ejected in the second half after being called for a targeting penalty. The other four suspended -- Jenkins, Harris, Stansbury and receiver
Edward Pope
-- won't return until Sept. 14 when the Aggies host No. 1 Alabama.
But there were plenty of positives to be seen as well, most notably in the win column. Backup quarterback
Matt Joeckel
showed he was capable of moving the offense, leading the Aggies to 28 first-half points while putting up more than respectable numbers (14-of-19 passing, 190 yards). Joeckel's lone touchdown pass was a 71-yard catch-and-run completion to an apparent star in the making, 6-foot-5, 240-pound true freshman receiver
Ricky Seals-Jones
.
Players who are considered to be among the team's leaders, running back
Ben Malena
(100 total offensive yards, two touchdowns) and
Mike Evans
(84 receiving yards, two touchdowns) played their roles aptly. The kicking game was consistent as
Taylor Bertolet
was perfect on all his kick attempts, something he struggled with last season. And as Sumlin noted, the positive to having so many young players on the field on defense means they'll have a chance to learn from their mistakes and develop. Though there were struggles, they came up with turnovers and still did enough to win.
Most importantly, the Aggies got their quarterback, Manziel, back on the field in the second half and he looked like the player who captivated the nation a season ago. He was 6-of-8 passing for 94 yards with three touchdown passes and showed his trademark scrambling ability, though Rice did a solid job of keeping him from running too wild.
This is a team that has encountered a lot this offseason. From the headlines Manziel made and the NCAA investigation, to the suspensions and most importantly, the death of a teammate --
Polo Manukainiu
-- the Aggies have already dealt with their fair share of adversity.
The Aggies honored Manukainiu on Saturday by wearing decals with his number, first name and a Tongan-inspired design on their helmets and electing sophomore defensive tackle
Alonzo Williams
to wear Maunkainiu's No. 90. The team will elect a different defensive lineman to do so each week as a nod to Manukainiu and his family that he is "still out there with us," senior defensive back
Toney Hurd Jr
. said.
This team has lofty goals. Hurd mentioned Saturday the team would wear the Manukainiu decal "each and every week, leading [up] to the national championship." If they plan to get there, they have a lot of work still to do.
August, 10, 2013
8/10/13
8:00
AM ET
COLLEGE STATION, Texas -- Just days before the start of preseason training camp, the Texas A&M defensive linemen gathered at the home of position coach Terry Price for one of his signature backyard cookouts.
Price, a former Texas A&M defensive lineman himself, considers his group a family. So when the steaks and ribs hit the grill and his linemen gather, it's often a happy, joyous occasion.
The latest such reunion was missing one family member:
Polo Manukainiu
.
Manukainiu, a redshirt freshman defensive lineman for the Aggies, was one of three teenagers killed in a single car accident in northern New Mexico on the night of July 29. The crash also took the lives of Utah incoming freshman defensive tackle Gaius Vaenuku, 18, and 13-year-old Andrew Uhatafe.
Price's cookout, which took place just two days after Manukainiu's death, was a welcome occurrence as the Aggies mourned the loss of their teammate.
"I believe we needed to have that," sophomore defensive end
Julien Obioha
said Friday. "Come together as a family and celebrate [his life]. That's the one way we can always celebrate, is go over to Coach Price's house and eat some steaks. That's what we needed to do."
Today, the entire Texas A&M football team will turn its hearts and minds towards Manukainiu's family as the squad heads to the Church of Jesus Christ of Latter Day Saints in Colleyville, Texas for Manukainiu's funeral. Texas A&M head coach Kevin Sumlin plans to speak at the funeral.
On Friday, Sumlin welcomed Bill Johnston, the area director of the Brazos Valley chapter of the Fellowship of Christian Athletes and Mikado Hinson, the team chaplain at Houston where Sumlin coached previously, to speak to the team.
"[They talked] about reality, not ducking away from it but getting some things out in the open," Sumlin said. "It'll be an emotional situation for a lot of different people. For us to be able to deal with it openly as a team and to give support to each other and that family [today] is very, very important."
Teammates remember the 19-year-old Manukainiu as a hard-working young man of high character.
"He was a great guy, a very humble individual," senior defensive back
Toney Hurd
Jr. said Monday. "We were looking forward to him playing for us this year. It's extremely emotional going into camp but we'll dedicate our hard work and dedication to Polo throughout the season."
Defensive coordinator Mark Snyder joined the Aggies' staff around the time the Aggies began recruiting Manukainiu. He was rated as a four-star defensive tackle by ESPN and committed to Texas A&M on Jan. 29, 2012, following in the footsteps of a pair of relatives who also played at A&M, Semisi Heimuli (1996-99) and Lee Foliaki (2004-05).
"He's from a very strong family, a very tight family," Snyder said. "When I was in the home [for a recruiting visit], I had just got hired when we started recruiting Polo. I know how tight-knit they are and what a great kid he was. It's a little bit of a struggle [to cope with] to be honest with you."
Snyder remembers a pleasant Manukainiu.
"He always had a smile on his face," Snyder said. "Polo was a kid that liked to joke around quite a bit. He brought a smile to everybody's face....For a young guy, he brightened up a room when he walked in."
At 6-foot-5 and 275 pounds, Manukainiu was expected to be involved in the defensive line rotation after redshirting last season. He was a product of Texas high school powerhouse Euless (Texas) Trinity, the same school that Vaenuku attended.
"We talked [Friday] as a team about what time means to you and not taking time for granted," Sumlin said. "Everybody thinks that they have plenty of time. You never know."
Sumlin said it means a lot to be able to speak about Manukainiu at the funeral.
"For me to be able to talk and show our support to the family, to Polo's immediate family, is a big deal," Sumlin said. "He was a part of our family for a year-and-a-half but that's a son for 18, 19 years. For us to show our support, that's about all we can do at this point and it's a big deal for us to be there at that time."
Price said the last week and a half has been difficult for him and his defensive linemen.
"One thing I try to tell all of our guys, all of our group is that 'We're all a family,'" Price said. "Not only is the team a family, but the D-line group is a family. Any time you lose a family member, it hurts everybody. It's tough for everybody included, including myself, because I'm the leader of the group.
"We're all going to go up there together and try to help the family get through this tough, tough time and take part in the funeral. Then we'll come back and go back to work, but we're definitely going to miss Polo."