NCF Nation:

Tony Bergstrom
July, 26, 2012
7/26/12
11:00
AM ET
Want to see the unflappable Kyle Whittingham get a look of concern on his face? Mention Utah's situation at offensive tackle. Factor out two outstanding starters who are now in the NFL and factor in a quarterback with a history of injury and you have one concerned coach.
So Whittingham put a not-so-fine point on what his top four priorities were heading into preseason camp.
[+] Enlarge

Russ Isabella/US PresswireUtah coach Kyle Whittingham, right, is hoping to find some tackles to protect quarterback Jordan Wynn.

Find an offensive tackle.

Find an offensive tackle.

Find an offensive tackle.

Find an offensive tackle.
Two starters, two backups.
"That's priority one, two, three and four for us right now," Whittingham said. "Those tackle positions are as important as anything else we've got going on."
Finding steady replacements for John Cullen and Tony Bergstrom will go a long way toward helping to keep quarterback
Jordan Wynn
healthy while also, Whittingham hopes, continuing to build on the solid season of running back
John White
(1,519 yards, 15 touchdowns).
But it's no easy task. Bergstrom was first-team all-conference at right tackle and Cullen was second-team at the left spot.
"We've been blessed to have pretty good tackles," Whittingham said. "But right now, I guess you could say, we're starting over at that position."
The post-spring, pre-fall depth chart lists
Percy Taumoelau
, who appeared in six games on the line last season, and
Kala Friel
one-and-two respectively at left tackle. Friel is a former walk-on who received a scholarship when he returned from his LDS church mission. Redshirt freshman
Daniel Nielson
is slotted first at right tackle, though senior
Miles Mason
started in 11 games last year (10 at left guard, one at left tackle). But depth charts are fluid.
"I felt like we had some guys really emerge in the spring as candidates," Whittingham said. "... The starters won't be solidified until well into camp after we've had the opportunity to get a good look at the incoming recruits."
Among those recruits are JC transfers
Marc Pouvave
and
Carlos Lozano
and prep recruits
Hiva Lutui
and
Jeremiah Poutasi
. That means there are seven players to fill those two starting spots and two backups.
Whittingham described the line as "solid" on the interior and at center, where
Tevita Stevens
returns as a Rimington Trophy candidate and
Sam Brenner
is starting for the second year at right guard.
February, 23, 2012
2/23/12
10:00
AM ET
Pac-12 spring preview: South Division
Spring practice is almost here. Here's a snapshot at what to expect from the Pac-12 South in the coming weeks.

ARIZONA
Spring practice starts
: March 4
Spring game
: April 14
What to watch
:
Hello, my name is ... Like the other two teams in the South Division with new head coaches (Arizona State and UCLA) much of Arizona's first few weeks will be Rich Rodriguez evaluating his personnel and getting to know what he has to work with. Likewise, the players are going to have to figure out what this new coaching staff is about. Everything from how they do pre-practice stretches to how they call the cadence is going to change.
New scheme and a new scheme: A spread option on offense and a 3-3-5 on defense. That's a lot of new material to digest on both sides of the ball. Until Rodriguez can recruit the players he likes into his scheme, he's going to have to make it work with the players he has. Fortunately on the defensive side of the ball, Arizona has good depth in the secondary with Cortez Johnson, Marquis Flowers, Shaquille Richardson, Jourdon Grandon and Tra'Mayne Bondurant. The Wildcats should also get a boost with the return of injured players Jake Fischer (LB), Jonathan McKnight (CB) and Adam Hall (S).
Perfect fit? Former starter Matt Scott, who was beaten out by Nick Folesin 2009, is expected to reprise his starting role under Rodriguez. He redshirted the 2011 season and -- magically -- Foles never got hurt last year despite taking 23 sacks and countless hits. Scott is considered the more versatile quarterback and should fit nicely into the new run-based spread attack.

ARIZONA STATE
Spring practice starts
: March 13
Spring game
: April 21
What to watch
:
QB competition: We know what kind of offense new coach Todd Graham is going to run; now it's a matter of figuring out who is going to run it. Graham has his choice of three players -- Mike Bercovici, Taylor Kelly or Michael Eubank -- to replace NFL-bound Brock Osweiler. Graham said earlier this month that there are no favorites heading into the competition and each one brings his own skill set to the table. Eubank has the size (6-foot-5, 235 pounds), Bercovici (6-1, 205) is a mechanic and Kelly (6-1, 202) is a little bit of everything.
Get the locker room: By the end of the 2011 season, ASU's locker room wasn't just divided, it was completely splintered. Graham's task -- and that of his new coaching staff -- is to pick up the pieces, mend internal fences and find some chemistry on both sides of the ball. Linebacker Brandon Magee, long considered a great locker room leader, should help get the Sun Devils back on track as he returns from a season-ending Achilles injury.
Hands competition: The Sun Devils lose three of their top four wide receivers from last season -- Gerell Robinson, Aaron Pflugrad and Mike Willie. Jamal Miles returns after finishing second on the team last season with 60 catches and six touchdowns. Rashad Ross figures to be the No. 2 guy, but establishing depth in that corps -- especially if Graham wants to be up-tempo -- is key.

COLORADO
Spring practice starts
: March 10
Spring game
: April 14
What to watch:
Momentum, maybe? For as rough as 2011 was for the Buffs, they ended the year on a high note, winning two-of-three down the stretch -- including a 17-14 win over Utah in the season finale. But there is also the possibility that things might get worse before they get better. With just four returning starters on offense, spring in Boulder will likely be more about teaching and less about refining.
Where to start (offense)? Well, quarterback might be a good place. In the court of public opinion, Connor Wood, a transfer from Texas, seems to be the favorite. Nick Hirschman appeared in five games last season, mostly in mop-up time when the game was already out of hand. It's also possible a starter could be named by the end of spring ball. Finding offensive weapons to surround the new quarterback will also be a challenge. Wide receiver Paul Richardson caught 39 balls last season, and running back Tony Jones showed a flare for catching the ball out of the backfield. He'll likely step in as the new workhorse back for the departed Rodney Stewart.
Where to start (defense)? Last in this. Last in that. Last in almost every team statistic the Pac-12 has to offer. But there are some intriguing youngsters on the roster. Cornerback Greg Henderson was all-conference honorable mention as a freshman with a team-high nine passes broken up. Jered Bell also returns from injury after blowing out a knee last preseason. If healthy, he's expected to be a big contributor in the secondary. Linebacker Jon Majorreturns as the team's leading tackler, and if Doug Rippy is fully recovered from his knee injury, he'll look to build on what was a pretty good season last year before getting hurt.

UCLA
Spring practice starts
: April 3
Spring game
: May 5
What to watch
:
QB up for grabs: Like the majority of the conference, UCLA enters spring with a quarterback competition. New offensive coordinator Noel Mazzone said he doesn't care how much experience (or lack thereof) a player has -- if he can play, he wins the job. So don't be surprised if Brett Hundley passes Kevin Prince and Richard Brehautas the new man leading the Bruins. Fans have been clamoring for a change. Hundley might be it.
Attitude adjustment: One of the first things new head coach Jim Mora did was slam the team for its tradition of going "over the wall," a time-honored senior ditch day, saying if they want to jump the wall, they should just keep on going. How's that for sending a message? UCLA has earned a reputation for being soft and underachieving despite good talent. Attitude and toughness is needed -- and so far, Mora appears to be hammering that point home.
Speaking of toughness ... The defense has to get tougher. No two ways about it. It was weak against the run last season, allowing more than 190 yards per game on the ground; couldn't get to the quarterback; and couldn't get off the field almost 50 percent of the time on third down. It's time for potential all-conference players such as defensive end Datone Jones to start living up to the hype and the defense as a whole to stop getting pushed up and down the field. At 6-5, 275 pounds, Jones has the physical makeup to be a major force in the conference and catapult himself into the elite class of collegiate defensive players.

USC
Spring practice starts
: March 6
Spring game
: April 14
What to watch
:
Ignore the hype: Few teams ended last season hotter than USC and returning quarterback Matt Barkley. The Heisman talk has already started, the way-too-early rankings already have the Trojans as national championship contenders, and the public perception is that the offense is unstoppable. Nice to hear, but hype is a double-edged sword. Head coach Lane Kiffin has a knack for deflecting hype. This season will be his toughest test to date.
Insurance? The Trojans are loaded on both sides of the ball with returning players. But after the starting 22, things start to get dicey. Developing depth and keeping the starters healthy is a top priority -- particularly on the offensive and defensive lines and at running back, where experience is thin outside of the starters. The entire back seven returns on defense -- headlined by hard-hitting safety T.J. McDonald. Stopping the pass has been a major priority for Kiffin, and if this group stays healthy it should see the pass-efficiency numbers improve even more.
Other options: Along those same lines, wide receivers Robert Woods and Marqise Lee make up the most feared receiving duo in the conference -- maybe the country. But who are the Nos. 3 and 4 receivers behind them? George Farmer? Victor Blackwell? De'Von Flournoy? Don't overlook the tight end duo of Xavier Grimble and Randall Telfer, which should rival Stanford's Zach Ertz and Levine Toilolo as the best tight end tandem in the conference.

UTAH
Spring practice starts
: March 20
Spring game
: April 21
What to watch
:
Youthful approach: Head coach Kyle Whittingham turned some heads by naming former Utah quarterback Brian Johnson as his offensive coordinator. Johnson, who recently turned 25, said he's not looking to make wholesale changes to the offense, though he wants to put his stamp on it and continue to build around running back John White IV, who had a breakout season in his first year of major college football. Having quarterback Jordan Wynn back healthy should also help as the team transitions to Johnson running the offense.
Fixing the line: Who is going to protect Wynn (if he does indeed win back the starting job) and make holes for White? That's a major concern heading into spring as the Utes have to replace a pair of all-conference linemen in Tony Bergstrom and John Cullen. The Utes should be set at the interior but have to adjust to a new position coach, with Tim Davis leaving for Florida after just one season and Dan Finn -- a former Utah graduate assistant who was brought on to help Davis -- taking over the whole line following a one-year stint at San Diego State.
Work the experience: The defensive line should be one of the best in the conference, especially with the return of Star Lotulelei, who won the Morris Trophy last season as the conference's best defensive lineman. With the Kruger brothers returning to the line -- Joe at defensive end and Dave at tackle -- Derrick Shelby is the lone starter who has to be replaced. There's also some pretty good depth in the secondary that was tops in the conference last season in pass-efficiency defense.
February, 8, 2012
2/08/12
1:00
PM ET
Utah coach Kyle Whittingham put a lot of faith in his former quarterback-turned-quarterbacks coach Brian Johnson by
naming the 24-year-old Utah's next offensive coordinator
last week. One conversation with Johnson and it's clear he's energized and excited about the opportunity that many assistants wait decades for.
You're now the youngest coordinator in major college football. Is there some pressure that goes with that?
Brian Johnson
: I think with any job there is pressure with how competitive everything is. But I think we're just more excited to put together an offense that can help win a conference championship.
[+] Enlarge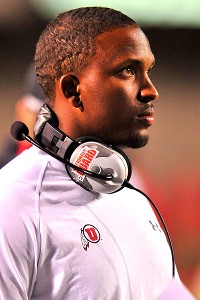 Boyd Ivey/Icon SMIFormer Utah quarterback Brian Johnson now takes over as the Utes' offensive coordinator.
Being so close in age to many of the players, is it tough sometimes to make the distinction between buddy and coach?
BJ
: Absolutely not. There are about four or five guys on the team I played with who are still here. I think, for the most part, this is my third year and I haven't had to deal with it my first two years. That distinction is there. We have a great group of kids so that hasn't been an issue.
On the flip side, you're going to be overseeing coaches 10, 15, 20 years your senior who have been at it a lot longer than you. Is that going to be awkward?
BJ
: Not at all. In this building, we have consummate professionals. Guys understand the task at hand and we understand what it takes to be successful offensively. We will work together and get this thing going in the right direction.
Any wholesale changes to the offensive philosophy or approach?
BJ
: Not wholesale. I think the baseline of what we've done here the last seven years, that's remained intact. We'll continue to tweak stuff here and there. Dan Finn is on board to coach the offensive line along with Tim Davis. Those guys have coached a lot of ball. I'm excited to be getting their ideas on paper and getting their input on the scheme.
What are the immediate holes, fixes that need to be addressed on the offensive side of the ball?
BJ
: I think the biggest concern is losing two all-conference tackles in
Tony Bergstrom
and
John Cullen
. Those guys have played a lot of football and were really good leaders for us. But that's the nature of the business in college football. There is a lot of turnover and you have to be able to replace those guys. Finding two tackles who can come in and provide immediate help for us will be important.
If Jordan Wynn is healthy, is he your quarterback? Or is there an open competition?
BJ
: I think the experience that Jordan provides will help us tremendously in our offensive production. Everything we do here, it's always competition. That will never change as long as Coach Whittingham is the coach here.
So ... is Jordan your quarterback?
BJ
: I think he goes in taking the reps with the ones and he's started a lot of football games and won a lot of football games. So yeah, he is.
How is his health?
BJ
: He's back to throwing. He'll be full-go for spring ball. He's had some bad luck with injuries, but hopefully we won't ever have to go through that again.
A nice breakout season for John White IV. What are you expecting from him next season?
BJ
: We expect him to continue what he started this season. He's obviously very explosive and dynamic with the ball in his hands. I think we have to build the offense around him. He's extremely talented. We have to find ways to get him the ball in space and get the ball in his hands as much as possible.
So you're approach is run first?
BJ
: I think in football you have to be. You have to establish the run in order to be balanced. From there, you build it all. We have to establish that physical presence at the line of scrimmage and you have to be creative and find ways to get our playmakers the ball and let them give us the best chance to win.
At this pace, you'll probably be up for an NFL head-coaching job in the next two years. Any aspirations of being a coach in the pro game?
BJ
: I think that's why you get in this profession. I've learned from some great coaches. I've been fortunate to be in this program for eight years and I've seen some great coaches come through here. Coach Whittingham has been almost a father-like figure to me for the last eight years and I strive to be like him as a coach. That's my ultimate goal. If I can do that, that would be OK with me.
Finish this sentence. If I can accomplish -- blank -- I will be happy with Utah's offense.
BJ
: A conference championship. That's why we play this game, to win the Pac-12 South and get a chance to play in the championship game and play for the Rose Bowl. That's the starting point. That's why we're all in this profession. That's why we're all in this business is to be the best at it. That's what we're working towards.
January, 13, 2012
1/13/12
11:00
AM ET
Our All-Pac-12 bowl team has two quarterbacks and a position we made up. And it wasn't easy to pick the defense, because many of the conference defenses underwhelmed during a 2-5 bowl run.
[+] Enlarge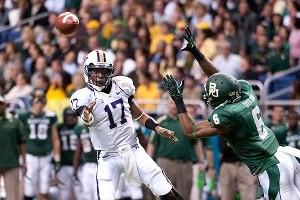 Brendan Maloney/US PresswireEven Andrew Luck would admire Washington QB Keith Price's seven-touchdown effort in the Alamo Bowl.
Offense
QB Andrew Luck, Stanford
: Luck completed 27 of 31 passes for 347 yards with two touchdowns and one interception in the Fiesta Bowl loss to Oklahoma State.
QB II Keith Price, Washington
: It's impossible to leave Price or Luck out. Price completed 23 of 37 passes for 438 yards with four TDs and zero interceptions in the Alamo Bowl loss to Baylor. He also rushed for 39 yards and three scores. Those numbers typically would eclipse what Luck did, but Baylor might have the worst defense in the Football Bowl Subdivision.
RB LaMichael James, Oregon
: James rushed for 159 yards on 25 carries with a TD in the Rose Bowl win over Wisconsin.
RB Stepfan Taylor, Stanford
: Taylor rushed for 177 yards on 37 carries with two touchdowns in the Fiesta Bowl.
WR Gerell Robinson, Arizona State
: Robinson caught 13 passes for 241 yards with a TD in the Las Vegas Bowl loss to Boise State.
WR Lavasier Tuinei, Oregon
: Tuinei caught eight passes for 158 yards and two scores in the Rose Bowl victory.
TE Zach Ertz, Stanford
: Ertz caught four passes for 38 yards and a touchdown in the Cardinal's Rose Bowl loss.
OL David DeCastro, Stanford
: The unanimous All-American dominated Oklahoma State's D-linemen in the Fiesta Bowl. The Cardinal rushed for 243 yards.
OL Mark Asper, Oregon
: Asper is the senior cornerstone of a line that led the way for 345 yards rushing in the Ducks' Rose Bowl victory.
OL Tony Bergstrom, Utah
: The senior tackle helped RB
John White
gain 115 tough yards against Georgia Tech in the Sun Bowl.
OL Hroniss Grasu, Oregon
: The Ducks freshman center made all the right line calls against Wisconsin.
OL Senio Kelemete, Washington
: The Huskies gained 620 yards and didn't allow a sack in the loss to Baylor.
Freak
: Our special position for
De'Anthony Thomas
, who scored TDs on runs of 91 and 64 yards in the Rose Bowl against Wisconsin. The Black Mamba also caught four passes for 34 yards and returned five kickoffs for 125 yards.
K: Giorgio Tavecchio, California
: Tavecchio capped a strong senior season with a 47-yard field goal in the Holiday Bowl loss to Texas.
RET: Rashad Ross, Arizona State
: Ross returned the third-quarter kickoff 98 yards for a TD against Boise State in the Las Vegas Bowl.
Defense
DL Josh Shirley, Washington
: While it's difficult to recognize anyone from the Huskies defense against Baylor, Shirley did sack Robert Griffin, the Heisman Trophy winner, three times.
DL Trevor Guyton, California
: Guyton had five tackles, with two coming for losses, and a sack in the Bears' loss to Texas in the Holiday Bowl.
DL Star Lotulelei, Utah:
The Utes DT had six tackles and a fumble recovery and generally blew up the middle of the Georgia Tech line in the Utes' Sun Bowl victory. He was named Most Valuable Lineman.
LB Jordan Zumwalt, UCLA
: Zumwalt had 10 tackles, including two for a loss, and an interception in the Bruins' loss to Illinois in the Kraft Fight Hunger Bowl.
LB Kiko Alonso, Oregon
: The Ducks LB had five tackles, including 2.5 for a loss, with a sack and a key interception in the Ducks' Rose Bowl win. He was named Defensive MVP.
LB Michael Clay, Oregon
: The Ducks LB had 13 tackles, including two for a loss, and a critical fumble recovery in the Rose Bowl victory.
LB Mychal Kendricks, California
: Kendricks had 10 tackles, including 1.5 for losses, in the Bears' loss to Texas in the Holiday Bowl.
DB Terrance Mitchell, Oregon
: Mitchell had five tackles in the Rose Bowl, but his most important contribution was forcing a Wisconsin fumble on the Ducks 27-yard line with four minutes left in the game. Perhaps even more important than that, he inspired coach Chip Kelly to jump up and down in a wonderful -- and slightly goofy -- show of spontaneous emotion (search YouTube for "Chip Kelly jumping").
DB Clint Floyd, Arizona State
: Floyd had seven tackles -- two for a loss -- and an interception in the Sun Devils' loss to Boise State.
DB John Boyett, Oregon
: Boyett had a bowl-high 17 tackles and half a sack in the Ducks' win over Wisconsin.
DB Marc Anthony, California
: Anthony had four tackles, one coming for a loss, and two pass breakups against Texas.
P Sean Sellwood, Utah
: Sellwood averaged 49.5 yards on eight punts against Georgia Tech in the Sun Bowl.
October, 3, 2011
10/03/11
5:56
PM ET
Utah's standing in the Pac-12 South Division is even more precarious after the school announced Monday that quarterback
Jordan Wynn
will be out at least two to three weeks with the injury to his left, non-throwing shoulder he suffered over the weekend in a loss to Washington.

The Utes (2-2 overall, 0-2 Pac-12) play host to Arizona State ( 4-1, 2-0) on Saturday in a key South Division game. They play at Pittsburgh on Oct. 15 and at California on Oct. 22.
It's not even certain Wynn
will be back at that point
. Said a statement from the school: "He will be re-evaluated at that time to determine if he is ready to return."
The statement didn't identify the nature of the shoulder injury.
Wynn will be replaced by junior
Jon Hays
. He transferred to Utah this summer after the team he initially signed with out of Butte College -- Nebraska-Omaha -- dropped its football program.
He has played in two games this season, playing out the fourth quarter of Utah's rout of Brigham Young on Sept. 17 and playing the entire second half of last week's loss to Washington. He's completed 10 of 17 passes for 156 yards with a TD and an interception. His backup will be true freshman
Tyler Shreve
.
"[Hays] showed a lot of poise on a lot of plays," coach Kyle Whittingham said. "I saw a lot of positives in the half that he played. He has a strong arm and runs fairly effectively."
Whittingham added that the offense might get some tweaks. "We have to change some things in our offense to play to our quarterback's strengths," he said. "It will necessitate that we do some different things. We'll play more shotgun and more spread. We're working through that as we speak. Jon is a better runner than Jordan."
On the plus side, Whittingham also said he expects to get offensive tackle Tony Bergstrom, tight end
Kendrick Moeai
and tight end
Jake Murphy
back this week.
September, 8, 2011
9/08/11
1:43
PM ET
Utah fans will file into their pie slice of the Coliseum on Saturday and they will enjoy the music. At first.
"Boy," one will say. "USC has great fight songs. 'Fight on!' is inspiring."
[+] Enlarge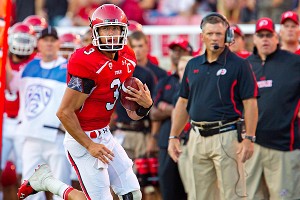 Russ Isabella/US PresswireJordan Wynn and coach Kyle Whittingham will lead Utah into its first Pac-12 game, at USC.
"I prefer 'Tribute to Troy'; it's cool how they play it after every defensive stop, even though I don't want our beloved Utes to be stopped," another will reply.
Then the third quarter will arrive. Upon the, oh, 132nd playing of each song, feelings figure to be a wee bit different for those adorned in red.
"I hate the USC band," the first will say.
"Me too," the other will respond.
And Utah will officially become a member of the Pac-12.
It's just another game against a quality foe, the coaches will say. And, sure, playing in the first-ever Pac-12 game doesn't change preparation. Still, it's pretty cool.
"It's awesome," Utah tackle Tony Bergstrom said. "To be a senior playing in the first Pac-12 game, I think it's awesome. It's a neat experience."
The Utes and Trojans will be coming at the game from different angles. Utah will be looking for validation. While the Utes have won two BCS bowl games, have finished ranked in the top-25 five of the past eight years and have an 8-5 record versus the Pac-10 over the past decade, more than a few skeptics are expecting things to be different when Utah enters the grind of a nine-game Pac-12 schedule.
USC? It's trying to maintain its perch in the top-half of the conference while it's dealing with severe NCAA sanctions, which include the second year of a two-year postseason ban.
A big game for the Trojans? Perhaps not in the locker room, but coach Lane Kiffin said he and the players are certainly aware of the perception.
"We do feel it from the media and people around here," he said.
Kiffin seemed more worried about what he called Utah's "very dominant front seven." The first key for USC is protecting quarterback
Matt Barkley
. If the Trojans' questionable offensive line can do that, the Utes are inexperienced in the secondary, and Barkley and receiver
Robert Woods
might be able to take advantage.
On the other side of the ball, Bergstrom and fellow tackle John Cullen, who missed the opener against Montana State with a concussion, will present a good matchup with USC's three defensive ends: Nick Perry, Devon Kennard and Wes Horton.
But for Utah's offense, it's not only about protecting quarterback
Jordan Wynn
, it's about Wynn gaining confidence in his surgically repaired shoulder and his ability to lead the Utes' new offense under coordinator Norm Chow. Against Montana State, Wynn was out of sorts, particularly in the second half when the Utes failed to score a touchdown.
"We need to dial up more shots downfield more than we did on [against Montana State] and Jordan Wynn has to gain confidence in his arm," Utah coach Kyle Whittingham said. "It's not a physical thing, but after surgery there is a period time where you have to figure out that you can cut loose and throw the way you want to without worrying about pain. He's battling through that psychologically, so it's a matter of getting over the hump mentally."
Of course, it's likely the Utes didn't show much against an FCS team in the opener. What might Chow have in his bag of tricks to spring on USC? Kiffin and Chow have plenty of history --
some of it not so good
-- having coached together at USC and against each other for the previous two seasons (Chow's previous team, UCLA, faced Kiffin in 2009 when he was at Tennessee).
Said Kiffin, "There's a chess match element to it."
Still, when it comes down to it, Utah and USC will be about blocking, tackling , big plays and miscues. Just like any other game.
The Utes have played in -- and been successful in -- plenty of big stadiums against elite programs. There's zero chance they will be intimidated by the opponent or the atmosphere. The history at hand is about before and after -- not between the white lines -- and is mostly a media and fan angle.
The contested issue is simple: Who draws first blood between these new South Division rivals?
"We don't place more importance on any other game than another," Whittingham said. "It's just our first conference game, which happens to be in a great venue against a team with a storied tradition like the program at USC, so that adds to the attention that this game's getting. We're just going to try to take care of business the same way we always do."
August, 12, 2011
8/12/11
11:00
AM ET
It's time for our preseason All-Pac-12 team.
Feel free to disagree.

Offense

QB
Andrew Luck
, Stanford
RB
LaMichael James
, Oregon
RB
Chris Polk
, Washington
TE
David Paulson
, Oregon
WR
Juron Criner
, Arizona
WR
Jermaine Kearse
, Washington
OL Jonathan Martin, Stanford
OL Matt Kalil, USC
OL David DeCastro, Stanford
OL Ryan Miller, Colorado
OL Tony Bergstrom, Utah
K Erik Folk, Washingon
Defense

DE Nick Perry, USC
DT Alameda Ta'amu, Washington
DE Junior Onyeali, Arizona State
LB Vontaze Burfict, Arizona State
LB Shayne Skov, Stanford
LB Mychal Kendricks, California
LB Chase Thomas, Stanford
CB Cliff Harris, Oregon
CB Nickell Robey, USC
S T.J. McDonald, USC
S Delano Howell, Stanford
P Bryan Anger, California
PR Cliff Harris, Oregon
KR
Robert Woods
, USC
July, 19, 2011
7/19/11
11:00
AM ET
The first official football gathering of the new Pac-12 -- media day -- will be held on July 26 in Los Angeles. It will feature all 12 coaches, and each team brings along a star player.
Hmm. I wonder what
reporters will ask
Oregon coach Chip Kelly about?
I don't wonder what his answers will be: Some form of "no comment," though the exact phrasing might include some chippy Chipperism that we've all grown to love.
But even with those no comments, there will be plenty to talk about -- with Kelly and all the other coaches.
Do you have questions you want asked?
Feel free to send them along
. Or comment below.
Here a list of who will be there and what we're interested in asking.
Arizona

Quarterback
Nick Foles
and coach Mike Stoops
Top questions
: While the rebuilding of both lines is a prime issue, Wildcats fans will want an update on receiver
Juron Criner
's health from Mike Stoops. And they will want to know about 2010's late-season slide.
Arizona State

Quarterback
Brock Osweiler
and coach Dennis Erickson
Top questions
: Are the Sun Devils ready to play as the favorites in the Pac-12 South? And is there any chance cornerback Omar Bolden plays this fall?
California

Receiver
Marvin Jones
and coach Jeff Tedford
Top questions
: Is Zach Maynard the man to restore Tedford's reputation as a developer of QBs? How does Tedford feel about growing fan discontent?
Colorado

Quarterback
Tyler Hansen
and coach Jon Embree
Top questions
: Does it feel different heading into the season as a member of the Pac-12 instead of the Big 12? What went wrong under Dan Hawkins that's going to go right under Embree?
Oregon

Tight end
David Paulson
and coach Chip Kelly
Top questions
: Er, any comment on Willie Lyles? What about those rebuilt offensive and defensive lines? What's up with suspended cornerback Cliff Harris and linebacker Kiko Alonso?
Oregon State

Safety Lance Mitchell and coach Mike Riley
Top questions
: What went wrong last year? How's
James Rodgers
knee doing? And about those lines...
Stanford

Quarterback
Andrew Luck
and coach David Shaw
Top questions
: Does it feel different to be a frontrunner rather than a darkhorse? What's going to be different under Shaw compared to Jim Harbaugh? What about holes at receiver and on both lines?
UCLA
Running back
Johnathan Franklin
and coach Rick Neuheisel
Top questions
: Is this a win or else season for Neuheisel? What's going to happen at quarterback? What's the status of O-lineman Jeff Baca (broken ankle)?
USC
Quarterback
Matt Barkley
and coach Lane Kiffin
Top questions
: What's the approach with no postseason as a motivation? Injury update, please! What about the depth on the O-line and LB? And is Armond Armstead going to play in 2011?
Utah

Offensive tackle Tony Bergstrom and coach Kyle Whittingham
Top questions
: Do the Utes think they will become an immediate contender in the Pac-12 South race? Is quarterback
Jordan Wynn
100 percent and back to his old self after shoulder surgery?
Washington
Running back
Chris Polk
and coach Steve Sarkisian
Top questions
: What's the offense going to look like post-Jake Locker? What's the pecking order at linebacker? What does the bowl victory mean about the state of the program?
Washington State
Receiver
Jared Karstetter
and coach Paul Wulff
Top questions
: Is this a win or else season for Wulff? Will the defense improve enough to support what should be a good offense? How good can quarterback
Jeff Tuel
be?
April, 1, 2011
4/01/11
9:30
AM ET
SALT LAKE CITY -- Ohio State-Michigan? Whatever. Auburn-Alabama? That's a quaint bit of hate. Oregon-Washington? The ranting and raving from the rain-soaked adherents in green and purple fleece just doesn't compare.
To what, you ask? Well, the hottest rivalry in college football, of course.
Utah-Colorado! (Cue "Psycho" shower scene music).
Doesn't do it for 'ya does it?


Think about your college football conference. Every game matters, but some matter just a bit more. Those are your rivals. You don't like them; they don't like you. It's a beautiful thing.
Now consider Utah and Colorado fans. The Utes, who are leaving the Mountain West for the Pac-12, are still under contract with arch-rival BYU for the next two seasons, but there are no guarantees that game will continue to be played annually (though the good money says it will). The Buffaloes, who are leaving the Big 12 for the Pac-12, no longer will play arch-rival Nebraska, which is skipping off to the Big Ten.
Their new schedules include nine conference games with teams that, well, they just don't have any strong feelings about.
"I'm sure we can conjure up some kind of hate for [Colorado]," Utah's colorful offensive tackle Tony Bergstrom said. "Tell us they're Communists or something."
Tony, they are Communists.
Expansion isn't a regular thing. Oh, the Southwest Conference got picked apart in 1996, and the ACC raided the Big East in 2004-05, but when teams jump from conference to conference -- particularly when automatic qualifying conferences are involved -- it sends strange ripples across sport's space-time continuum. The Buffaloes and Utes in the Pac-12 is a new thing in a sport that leans hard on its history to fuel the emotions of obsessive fandom.
You can't force the Utes and Buffaloes to hate each other. That's not how it's done. Confessed Utah linebacker Brian Blechen, "I don't have anything against Colorado."
So what must be done? Obviously, some Pac-12 team must commit a grave offense against Utah or Colorado. This, of course, will be mostly imagined, thereby making it easier to attribute it mythic status over the coming years.
"Invariably, something is going to happen in those games, and School X is going to be the school that you point to," Colorado coach Jon Embree said.
Embree also has been selling to his players that they are a part of program history because they, in fact, are making program history.
"Coach Embree said in the locker room that we get to start new traditions, we get to start new rivalries," Buffaloes quarterback
Tyler Hansen
said. "That's something to look forward to. Ten years from now, if the Colorado-Utah game is a big rivalry, we can say, 'Hey, we were the first game. We started that rivlary.' That could be something special."
There are potential angles for Utah-Colorado hate. Nebraska was all about red. Colorado fans therefore are not big fans of red. Utah is all about red, too. And everyone knows that Utah fans are jealous of the vastly superior skiing in Colorado. Or is it vice versa?
On perhaps a more substantive level, Colorado is entering the Pac-12 as an equal member -- in 2012, per the original agreement -- while Utah will get no payout from the conference in 2011 (other than an equal share of revenue from the Pac-12 championship game), and partial shares for the two years after that (50 percent in 2012 and 75 percent in 2013). There is some "all are equal but some are more equal than others" at play here.
While the Buffaloes have been a mediocre team of late in the Big 12, and the Utes are a national power coming out of the MWC, there's still a bias that favors the AQ team. When Utah -- or TCU or Boise State, for that matter -- was making one of its undefeated runs over the past few seasons, some dismissed it with a, "They wouldn't be able to do that in the SEC/Pac-10/Big Ten/Big 12."
"Coming from the Mountain West, I think a lot of people are going to be look at how we transition into that," Blechen said. "Kind of like a statement on whether we can hang or not in the Pac-12. I think we'll be ready."
Of course, Utah's most recent game with a Pac-12 team was a win over California in the 2009 Poinsettia Bowl. Colorado visited California last fall. That trip went badly.
"A lot of bad," Hansen said with a pained look. "I'm looking forward to playing those guys. That's a big game for me personally because I didn't play well last year."
So there you have it: Colorado has a history with a Pac-12 foe.
Of course, not everyone fuels up on emotion.
"I've been playing different teams my whole life," Colorado running back
Rodney Stewart
said. "I don't care who I'm playing against. I just try to do my job. It's just football."
It is just football, but that's the good news for we lovers of rivalries. Football is too emotional and physical of a game for teams that regularly play to remain neutral about each other.
No hate between Utah and Colorado and other Pac-12 teams? Just give it time.
December, 16, 2010
12/16/10
12:00
PM ET
Third-year players -- juniors and redshirt sophomores -- have until Jan.17 to declare their intentions to enter the 2011 NFL draft, and a number of Pac-12 players are likely to do so.
USC
already has lost two
: Defensive tackle Jurrell Casey and offensive tackle Tyron Smith.
Many of the upcoming decisions -- both to stay or to go -- are going to be surprises. Some certain early draft picks opt to return for whatever reason, including the fact that they will never -- ever -- have as much fun as they did in college. And a handful of obscure players annually decide to enter the draft for whatever reason, including getting bad advice from a know-it-all "acquaintance" who doesn't know a darn thing.
This will not turn out to be a complete list. And our speculation is intentionally vague because it can be nothing else: We don't know what's going on inside these young men's heads.
Note: Though some players have indicated they plan to return, they are included here because, well, you never know -- they might change their minds.
You can review
Mel Kiper's "junior" rankings here
.
Arizona
QB Nick Foles, Jr.:
Foles would benefit from returning for his senior year and could improve his stock considerably. But his knee injury this year and questions about the Wildcats' offensive line might give him pause.
WR Juron Criner, Jr.:
Criner is the best receiver in the country few folks have heard of, but he might want to look at this year's receiver class, which is loaded.
CB Trevin Wade, Jr
.: Wade needs to return for his senior season after taking a step back as a junior.
Arizona State
CB Omar Bolden, Jr
.: Bolden rejuvenated his career this fall, earning first-team All-Pac-10 honors. He also knows what it's like to get hurt and miss a season. The Sun Devils could break through in 2011, and that could greatly benefit his status.
DT Lawrence Guy, Jr
.: The general thinking is Guy wants to return for his senior season. He faces a tough choice.
California
RB Shane Vereen, Jr.:
Mel Kiper ranks Vereen No. 5 among junior running backs. The Bears' questionable supporting cast on offense next year might sway him to the pros.
OLB Mychal Kendricks, Jr
.: Lots of potential, but he's not ready.
Colorado
OG Ryan Miller, Jr
.: Miller has already said he plans to return next fall, though Kiper ranks him No. 2 among junior guards.
Oregon
RB LaMichael James, RSo
.: Kiper ranks James as the No. 3 "junior" running back. The Ducks' first unanimous All-American must choose between college glory -- Heisman Trophy, (another) national championship -- or getting paid now. Probably won't get picked until the second round because of size and middling skills as a receiver, but his top-end speed is enticing.
TE David Paulson, Jr.:
Kiper ranks him No. 4 among junior tight ends. Good bet to return.
Oregon State
RB Jacquizz Rodgers, Jr
.: Rodgers has indicated he plans to return because his brother, James, is likely to get a fifth year via medical hardship because of a knee injury this past season. But Beavers fans are rooting for it to be Jan. 18.
WR James Rodgers, Sr.:
It's likely the Rodgers are a package deal: Both stay or both go.
Stanford
QB Andrew Luck, RSo.:
If he enters the draft, he's almost certain to be the No. 1 overall pick. More than a few folks, however, believe he's seriously considering a return for his junior year, particularly if coach Jim Harbaugh remains at Stanford. We'll see.
UCLA
LB Akeem Ayers, Jr
.: Odds are that Ayers will enter the draft. A likely first-round pick.
FS Rahim Moore, Jr.:
Odds are that Moore will enter the draft. A likely first-round pick.
USC
DL Armond Armstead, Jr
: Armstead has said he plans to return. He should. A healthy season could send his stock skyrocketing.
Utah
CB Brandon Burton, Jr
.: Burton, second-team All Mountain West, is No. 5 on Kiper's list of junior corners. He's definitely on the NFL radar.
OT Tony Bergstrom, Jr.:
It would make sense for the second-team All Mountain West player to return for his senior year.
Washington
WR Jermaine Kearse, Jr
.: Kearse is highly productive but dropped a few too many balls this year. While he'd benefit from another year, he might be worried about the Huskies breaking in a new quarterback.
RB Chris Polk, RSo
: Polk eclipsed the 1,000-yard mark for a second consecutive season. He's admitted that entering the draft is a possibility.
Washington State
DT Brandon Rankin, Jr.:
It would be wise for Rankin to return for his senior season.