January, 27, 2012
1/27/12
11:20
AM ET
Oregon coach Chip Kelly told Eugene sports radio talk show host Steve Tannen Thursday that he never flip-flopped from the Ducks to the Tampa Bay Buccaneers and back again last weekend, as reported in both Tampa and Oregon.
"The only decision I ever made was to not accept the job," Kelly said. "I never changed my mind. I never committed to the job and then flip-flopped."
You can listen to the
full interview here
.
First, response: Interesting, but it doesn't matter. He's still the Ducks' coach. End of story.
But as far as reading the entrails on this, there are four options you can choose from: 1) Kelly is telling the truth; 2) Kelly is lying; 3) Kelly is splitting hairs; 4) Kelly is shortly going to improve to 35-6 at Oregon and not 1-0 at Tampa Bay -- again, end of story.
[+] Enlarge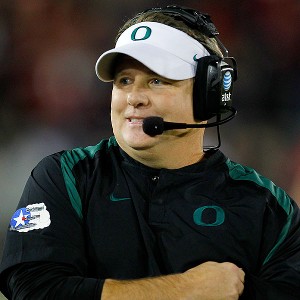 AP Photo/Tony AvelarChip Kelly flirtation with the NFL was a win-win for Kelly and the Ducks.
Whatever Kelly said on the radio, lots of people believed Sunday night that he was headed to Tampa. It's possible -- and perhaps likely in some way -- that Kelly gave a strong indication to principals on both ends that he was leaning toward Tampa and away from Eugene, but when it came time to put pen to paper he got cold feet, likely considering the spiraling void of darkness that would ensue without regular chats with the Pac-12 blog. "Eeek," he said. "Can't do it."
Yes, no one can prove that Kelly didn't return to Oregon because the Pac-12 blog has very little interaction with the coach of the Tampa Bay Buccaneers.
Just as no one can prove that Kelly said "yes" to Tampa before he said "no."
Why is it important whether Kelly flip-flopped or not? In either scenario, he turned down a hefty raise to remain at Oregon. So this flirtation wasn't about contract leverage, and it's reasonable to conclude that money isn't solely driving him. An interesting tidbit from the Eugene Register-Guard:
Kelly pointed out that his decision "obviously wasn't financial, because I turned it down and it was more than I got paid." The Register-Guard has reported that Kelly received a contract extension but that his deal with the Ducks wasn't otherwise dramatically overhauled.
Further, Kelly got to cite a heart-warming reason for returning: "... the relationships I have with the current coaches on our staff and the players was the underlying reason why I came back."
Oregon fans can look at this any way they like, but I'd rate it a win-win for Kelly and Oregon.
The football nation -- NFL and college -- got to see how highly Kelly is held in esteem. Multiple NFL pundits, including former Indianapolis Colts coach Tony Dungy, have said of late that Kelly would be a good NFL coach. Kelly's star, which is already high, just climbed a bit higher. That's good for him, of course, but it's also good for Oregon as long as Kelly is in Eugene.
Some have said Kelly's flirtation would hurt recruiting. They are not only wrong; the opposite is true.
Players respect superstar coaches. Recall that, in his heyday, Florida State's Bobby Bowden used to crush it the final week of recruiting with that last in-home visit. So did Pete Carroll. So does Nick Saban, etc. Oregon fans, not satisfied with winning three consecutive conference titles, want to move up the recruiting rankings. Lots of five-star guys -- in 2012-13 and beyond -- just learned a little bit more about Kelly.
The NFL banging on Kelly's door makes him more of a star, and that will play well in living rooms, much more so than the idea that Kelly might leave for an NFL job at some point.
Further, some have tried to diminish Kelly as a "system" coach. In recruiting, some coaches say that Oregon is a great program but it's not an NFL feeder with pro-style schemes. Well, now there's clear evidence the NFL thinks highly of Kelly and his systems.
The key thing on the Oregon end of things: It will be a huge mistake if the Ducks' top boosters -- Phil Knight, et al. -- want to get grumpy over this. Creating friction to make a point about loyalty or acting wounded will only hasten Kelly's exit. And hurt the program.
The most interesting aspect coming out of this was detailed in
this column from George Schroeder
: Oregon's potential succession plan would have made offensive coordinator Mark Helfrich the head coach.
Helfrich is highly respected, but I'd always thought he'd have to leave for another job -- and call his own plays -- to escape Kelly's considerable shadow and land a head-coaching gig. Schroeder's column shows that the same folks who quickly and accurately identified Kelly's rising star believe Helfrich is made of the same coaching stuff.
So just as Kelly's star rose this week, and Oregon fans got a huge relief after it stayed in the Eugene sky, so did Helfrich's. Know that more than a few ADs at some AQ schools added his name to their list of coaches to watch.
December, 6, 2011
12/06/11
10:05
AM ET
Penn State's coaching search has been fairly quiet to this point, but names of potential candidates are beginning to surface in published reports.
Green Bay Packers quarterbacks coach
Tom Clements is the latest to express interest
, according to the Pittsburgh Tribune-Review. Those who follow NFL coach searches probably know Clements' name, as he has been in the mix for several head-coaching positions. He also was mentioned as a candidate at Notre Dame, where he played quarterback.

Clements hails from McKees Rocks, Pa. He has tutored Packers star quarterback Aaron Rodgers and certainly would bring credibility to a Penn State program that has struggled to develop NFL signal callers in recent years.
The Tribune-Review also reports that current Nittany Lions quarterbacks coach Jay Paterno interviewed for the head-coaching job last week, and that acting head coach Tom Bradley, the team's defensive coordinator since 2000, will interview with the search committee this week. No surprises there. While Penn State will be pressured to hire a candidate from the outside, the committee has said it won't exclude current assistants from the process.
Clements is the second Packers assistant coach to reportedly express interest in the Penn State job. The agent for Packers safeties coach Darren Perry, a former All-American at Penn State, told the
Pittsburgh Post-Gazette
that Perry would "take a hard look" at returning to his alma mater if approached.
The two names mentioned most throughout the process have been Mississippi State coach Dan Mullen and Harvard coach Tim Murphy. ESPN reported last week that Mullen is one of Penn State's top targets, while there is mutual interest between Penn State and Murphy.
Former Indianapolis Colts coach
Tony Dungy denied having interest in the Penn State job
(no surprise), and Tennessee Titans coach Mike Munchak, a Penn State product, also isn't likely to leave his post.
The (Allentown) Morning Call is reporting that
Boise State's Chris Petersen and Murphy are on Penn State's radar
. Petersen's name is mentioned for almost every major-conference opening, and while Penn State offers him some advantages Boise State doesn't, it would be a surprise to see him make the move. Other than a one-year stint as Pitt's quarterbacks coach in 1992, he has spent his entire career on the West Coast and hails from Yuba City, Calif.
December, 13, 2010
12/13/10
3:51
PM ET
I had to chance to catch up with Big Ten commissioner Jim Delany earlier this afternoon before he boarded a flight from O'Hare Airport.
Judging by most reaction to the
league's announcement of division names, a new logo and 18 new football trophies
, Delany might benefit from skipping town for a while.
I kid, I kid.
Here's the first half of my conversation with the commish (just as a heads up, any reference Delany makes to a "mark" means a logo):
You settled on Legends and Leaders for the division names. What other possibilities did you strongly consider?
Jim Delany:
We had one from Teddy [Greenstein], Stars and Stripes. We had Traditions and Legends. We had all of the Prairies, Lakes, and cities and countries. We had lots of names of people. Not much geography. People think [the choices are] generic. Well, everybody in the Midwest, in the country, had an opportunity to submit [suggestions].
Were there any people under consideration for division names, past commissioners and such?
JD:
No. We thought about it a little bit, but not a lot. We pretty much dismissed the notion of naming it after people simply because the big ones were the coaches. There was a little commissioner talk, but not much. We just felt there was a much better way to get at that through the trophy process.
What about more generic geographical names: Plains, Great Lakes, Prairies, and so on?
JD:
Well, we thought that those were not compelling. Like Coastal and Atlantic [in the ACC], you've got people in the mountains that are coastal. We've got schools and how do you tie them in? We've got people who are near cities and near prairies. When you really started doing it and testing it, you're going to run into anomalies of schools not necessarily being in prairies or on lakes. We really examined the lakes concept and we really examined the prairies concept, what I would call the geological concepts.
Do you think the response would be different if you had been more specific with the name choices?
JD:
First of all, I take a little bit with the grain of salt any reaction that comes up in the first 10-20 seconds. The reality is any mark [logo] or any divisional name is a vessel, and it will be filled over time with experiences and memories. I don't care whether it's the mark or a name, it'll take on status, structure and meaning over time. It's not going to happen in the first hour.
Between the logo and the names, which process took longer?
JD:
They're different kinds of processes. The mark is more a function of people reacting to professional [logos], being creative and then trying to tie it in to a little bit of history and a little bit of other marks and a little bit of usage. So it's a very different process than selecting the names, which I think is more tied to deciding which categories you're not going to go to and deciding which categories you will go to. If somebody thinks Mountains and Plains or Plains and Lakes are better, that's a value judgment. We think that we have a pretty good idea of who we are.
We think that there is connection to the Red Granges and the Gerald Fords and the Joe Paternos. We think that there's direct tie-ins, and it allows us to speak about our past. We think the leadership issue is a powerful issue, whether it's Tony Dungy or whether it's Pat Fitzgerald or whether it's [former Big Ten commissioner] Wayne Duke, whoever it is. We think that those things resonate and carry meaning that's tied to who we are, who we want to be. In the case of leadership, that's an awful lot about it, if you've ever been in a locker room or if you've ever been on a team. That's probably the No. 1 experience that people take away.
I resist the temptation to judge the judges because we're the creators. But I would say we've seen significant connection to who we are. Not to say others don't have it, but in terms of the 115 years and in terms of the kinds of people that have been turned out, whether it's the guy who runs Google or whether it's the person who ran the country or somebody like a Tony Dungy, we think that those leadership qualities are powerful.
We're not running away from them. We're trying to run toward them.
November, 28, 2010
11/28/10
7:05
PM ET
In a perfect world, college football's classiest coaches could also be the best ones.
If so, Bill Lynch might be hoisting a crystal football in early January.
Instead, Lynch's
Indiana Hoosiers
players hoisted the Old Oaken Bucket on Saturday at Purdue. Indiana had ended a 12-game Big Ten losing streak and beaten its archrival on the road for the first time since 1996.
[+] Enlarge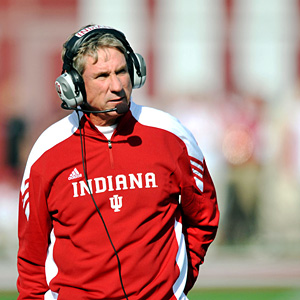 Jim Brown/US PresswireThe Hoosiers had a 6-26 conference record after Bill Lynch took over as head coach in 2007.
It was a great moment for Lynch and the Hoosiers, but that's all it was. A moment. Reality set in Sunday, as Indiana athletic director Fred Glass looked at the football program under Lynch's leadership through a wide-angle lens.
For all the good things that Glass saw -- and that so many of us see in Lynch -- the AD couldn't turn a blind eye to the number three.
As in, three Big Ten wins in the past three seasons.
Glass proceeded to make a bottom-line decision in a bottom-line business and
fired Lynch on Sunday
after the Hoosiers finished 5-7. It was the first major personnel move for Glass, and it likely will be one of the toughest choices of his career.
"I take no joy in this at all," Glass said at a news conference Sunday afternoon, "but I'm confident that it's the right thing to do."
Glass had three options with Lynch following Indiana's third consecutive bowl-less season:
Extend Lynch's contract

Allow Lynch to coach in the final year of his deal

Make a change
"Three Big Ten wins in three years isn't the basis for an extension," Glass said.
You might remember Glass, after being hired, talked a lot about how contracts needed to be honored and needed to mean something again at Indiana. Some might view Sunday's decision as hypocritical because Lynch still had a year left on the extension he received in November 2007 after leading Indiana to its first bowl appearance in 14 seasons.
But in today's college football, a coach with one year left on his deal might as well have no years left. A coach can't recruit without some semblance of security, and going through a season as a potential lame duck would be tortuous.
"That wouldn't serve Bill or Indiana University very well," Glass said.
Glass made the right call Sunday, even though it was a tough one.
Lynch is the consummate gentleman, a total class act and an excellent representative for Indiana and its football program. His players stayed out of trouble for the most part, and he and his staff upgraded recruiting in recent years.
Lynch viewed Indiana like few coaches do -- as a destination job. He grew up in the state, starred as a player at Butler and coached at three in-state schools (Butler, Ball State and Depauw) before taking over at Indiana in 2007 following Terry Hoeppner's death.
But he didn't win enough, plain and simple. Especially in the Big Ten, where he went 6-26 with two last-place finishes in his four seasons. Indiana came so close so many times in league play, especially last season and also this year, but the Hoosiers couldn't get over the hump.
The Big Ten is a tough league that is about to get tougher in 2011 with the addition of Nebraska. Indiana needs a coach who can help the program take the next step. It will take time.
"Any change often results in one or two steps back," Glass said.
Glass called Lynch "a fabulous guy" and "a great teacher" and said several times how hard the decision was to make.
"It's been really hard on me," he said. "But boo hoo for me. It's part of being an athletic director. It's my decision."
The next coach also will be Glass' decision, and he's willing to take his time to find the right man. Indiana won't use a search committee, although Glass will consult many people, including Indianapolis Colts president Bill Polian, former Colts coach Tony Dungy and Chuck Neinas, who runs the Neinas Sports Services consulting firm.
Dungy, for the record, now is being used as a consultant for both Big Ten vacancies (Indiana and Minnesota).
Glass declined to outline the specifics he's looking for in Indiana's next coach but mentioned several times that he'll reach out to the Black Coaches Association. I'd be surprised if Indiana doesn't strongly consider some minority candidates in its search.
Some early possibilities for IU: San Diego State coach Brady Hoke, former Minnesota coach Glen Mason, Houston coach Kevin Sumlin, Wisconsin offensive coordinator Paul Chryst and Michigan State offensive coordinator Don Treadwell.
Glass might not find many coaches who view Indiana as a dream job, as both Lynch and Hoeppner did. But Indiana certainly is a better job than it was several years ago, as the school has upgraded its stadium, its football training facilities and, perhaps most important,
its home attendance
.
"I think it's a fantastic job," Glass said. "Properly understood, it will be highly sought after. Indiana University is clearly committed to the football program."
Indiana can show its commitment by paying its next coach appropriately. Lynch made $650,000 this season, well below the bar for a coach from a major conference.
"We're prepared to make the resources available to get the group that we want," Glass said, "and understand that it's probably going to be significantly more expensive than what we're spending now."
It takes tough decisions to become a better program. Indiana made one today.
October, 17, 2010
10/17/10
11:23
AM ET
Tim Brewster came to Minnesota talking big and dreaming bigger.
I can't remember how many times I heard Brewster mention Minnesota's 18 Big Ten championships and six national championships, never mind the fact that neither event had happened since 1967.
Brewster knew the bar needed to be raised in Minneapolis. You couldn't blame him for aiming high. Why else would the school fire a coach (Glen Mason) who consistently made bowl games?
[+] Enlarge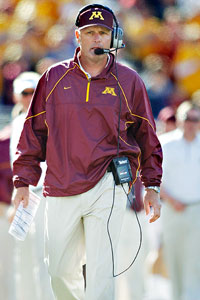 Bruce Kluckhohn/US PresswireTim Brewster went 15-30 as Minnesota's head coach.
But Brewster couldn't make Minnesota into a championship program. In fact, he couldn't get the Gophers to the level Mason had them at the time of his termination following the 2006 Insight Bowl. Brewster never won a trophy game and went 1-9 in November games, with his lone win coming against FCS South Dakota State. His teams have been outscored 67-0 in their past two meetings with rival Iowa.
When he stopped winning in September and October this season, his days became numbered. And after Minnesota lost its sixth consecutive game Saturday at Purdue, dropping to 1-6 on the season, the school
pulled the plug on the Brewster era
.
Brewster went 15-30 at Minnesota and 7-18 since November 2008.
"While I appreciate the passion and commitment that Coach Brewster has shown, it is clear that a change in the leadership of Gopher football is necessary," athletic director Joel Maturi said in a prepared statement. "We have high aspirations for our football program and we are not satisfied with its current direction. The results so far this season have been unacceptable and the program has simply not shown enough improvement over the past three and a half years to continue with the status quo."
Co-offensive coordinator Jeff Horton will take over for Brewster on an interim basis. I hate to see lame-duck coaches in college sports, so this seems like the right move.
Firing Brewster only cost Minnesota $600,000, a buyout lowered in his recent contract extension.
Brewster never lacked passion, and his recruiting abilities as a former Mack Brown assistant showed at Minnesota. I loved the way he upgraded Minnesota's schedule, which had been a joke during the Mason era, and added showcase nonconference games against teams like USC.
But he also showed too many signs of a first-time college head coach.
His decision to replace veteran offensive coordinator Mike Dunbar and switch from the spread to a pro-style offense didn't pay off. He replaced Dunbar with an NFL assistant in Jedd Fisch whose complex concepts flew over the players' heads. Brewster kept shuffling his staff, a formula that rarely works in a sport where sticking to your guns usually is the way to go.
Minnesota is the first FBS program to make a coaching change in 2010, and the school now begins what could be an extensive coaching search. There are some dream candidates Minnesota can pursue (alum Tony Dungy, former assistant Kevin Sumlin, Mike Leach) and some more realistic ones (Montreal Alouettes coach Marc Trestman, former Iowa State coach Dan McCarney).
It will be interesting to see how much control Maturi has in the search since he was the one who hired Brewster.
Minnesota is a challenging job, but it's a better job now with a beautiful on-campus stadium to sell.
There are no excuses why Minnesota shouldn't be a middle-of-the-pack Big Ten team, building toward the high bar Brewster set but never could reach.
March, 13, 2009
3/13/09
12:25
PM ET
Posted by ESPN.com's Chris Low
What's out there in SEC football land?