NCF Nation:

Tony Jerod-Eddie
January, 13, 2012
1/13/12
11:00
AM ET
Here's the All-Bowl team from the Big 12, recognizing the best single-game performances from this year's bowls.
QB:
Brandon Weeden
, Oklahoma State:
Weeden threw for 399 yards and three touchdowns (it could have been four if a game-winning TD pass to Colton Chelf hadn't been overturned) on 29-of-42 passing. His first pass was intercepted, but he had an otherwise solid night and ran for his first career touchdown in the 41-38 win against Stanford.
[+] Enlarge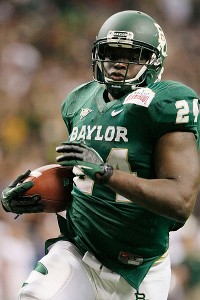 AP Photo/Darren AbateBaylor's Terrance Ganaway rushed for five TDs in the Alamo Bowl.
RB:
Terrance Ganaway
, Baylor:
The Big 12 rushing champion ran for 200 yards and five touchdowns in the Bears' 67-56 win against Washington in the Alamo Bowl.
RB:
Ben Malena
, Texas A&M:
Malena stepped in for the injured
Cyrus Gray
and
Christine Michael
and had a solid game in the Aggies' 33-22 win against Northwestern in the Meineke Car Care Bowl of Texas. He finished with 77 yards and two touchdowns on 23 carries, showcasing his physical running style. He also caught six passes for 36 yards.
FB:
Trey Millard
, Oklahoma:
Millard carried the ball four times for 21 yards but also helped pave the way for three
Blake Bell
touchdowns from the Belldozer formation.
WR:
Ryan Swope
, Texas A&M:
Jeff Fuller
had better numbers in the bowl, but it was aided by big catches late. Swope kept the Aggies offense humming for most of the game, with eight catches for 105 yards in the win against Northwestern.
WR:
Justin Blackmon
, Oklahoma State:
Blackmon was the best offensive player in the Big 12 bowls, spearheading Oklahoma State's offense in the Fiesta Bowl win with eight catches for 186 yards and three touchdowns.
WR:
Colton Chelf
, Oklahoma State:
Chelf made two huge catches over the middle early and a third nearly won the game, but his touchdown was overturned. Still, OSU doesn't win its first BCS bowl without Chelf's 97 yards on five catches.
TE:
Michael Egnew
, Missouri:
By Egnew's standards, it was a quiet game, but he played well with a 25-yard grab and three catches for 39 yards in Mizzou's win.
OL:
Grant Garner
, Oklahoma State:
Oklahoma State's offensive line is keyed by Garner, who helped the Cowboys handle Stanford's blitzes well and give Weeden plenty of time in the Fiesta Bowl win.
OL:
Philip Blake
, Baylor:
Baylor ran for 482 yards and scored 67 points in its win against Washington in the Alamo Bowl. Blake's the man who keyed it all.
OL:
Levy Adcock
, Oklahoma State:
Adcock's the best overall talent on OSU's line, and he showed it in the win against Stanford.
OL:
Dan Hoch
, Missouri:
Missouri rolled over one of the nation's best rush defenses, North Carolina, for 337 yards on the ground.
OL:
Luke Joeckel
, Texas A&M:
The Aggies' offense was potent for most of its win against Northwestern, and Joeckel was solid in run and pass blocking for the balanced attack.
DEFENSE
DL:
Jackson Jeffcoat
, Texas:
Jeffcoat made five tackles, two sacks and 2.5 tackles for loss in the Longhorns' 21-10 win against Cal. The Texas defense dominated, and the defensive line's play was the catalyst. He did it all with a torn pectoral muscle, too. He'll miss the spring after having it surgically repaired this week.
[+] Enlarge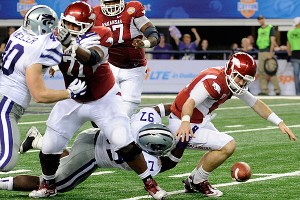 AP Photo/Matt StrasenKansas State defensive end Adam Davis, 97, had two sacks and forced this first-half fumble by Arkansas QB Tyler Wilson in the Cotton Bowl.
DL:
Adam Davis
, Kansas State:
Davis sacked Arkansas'
Tyler Wilson
twice and had three tackles for loss with a forced fumble in the loss to the Razorbacks.
DL:
R.J. Washington
, Oklahoma:
With
Ronnell Lewis
ineligible, Washington showed up big in the win against Iowa. He had two sacks and made three tackles.
DL:
Tony Jerod-Eddie
, Texas A&M:
Jerod-Eddie made eight tackles and had a sack in the win against Northwestern.
LB:
Damontre Moore
, Texas A&M:
Moore was a monster in the season finale for the Aggies, making nine tackles and forcing a fumble on his lone sack.
LB:
A.J. Klein
, Iowa State:
Klein flew around for the Cyclones, making 15 tackles in a physical game against Rutgers, though the Cyclones lost.
LB:
Jordan Hicks
, Texas:
Could this be a big piece of momentum heading into 2012? Hicks starred with seven tackles, 1.5 sacks, 2.5 tackles for loss and a pass breakup in the win against Cal.
CB:
Jamell Fleming
, Oklahoma:
Fleming was the Big 12's best defensive player of the bowls and the best player on the field in the Insight Bowl, making seven tackles, intercepting a pass and returning it 21 yards. He also broke up three passes.
CB:
David Garrett
, Kansas State:
Garrett made 10 tackles and had two tackles for loss in the loss to Arkansas.
S:
Kenny Vaccaro
, Texas:
He hates the nickname Machete, but Vaccaro was hacking away at Cal. He made three tackles, including two for loss and a sack.
S:
Markelle Martin
, Oklahoma State:
Even if it was illegal (it was), Martin had the hit of the bowl season with a huge blast on Stanford's
Ty Montgomery
that took Montgomery's helmet off on the opening drive. He finished with nine tackles and a tackle for loss, with a fumble recovery.
SPECIALISTS
P:
Tress Way
, Oklahoma:
Way averaged 50 yards on his six punts, including a 67-yarder.
PK:
Randy Bullock
, Texas A&M:
Bullock made all four of his field goal attempts, including two from beyond 40 yards.
PR:
Dustin Harris
, Texas A&M:
Harris looked the part of the Big 12's best, returning a punt 35 yards and finishing with 54 yards on his four returns.
KR:
Justin Gilbert
, Oklahoma State:
Gilbert had a 50-yard return and returned his four kicks for a total of 136 yards.
December, 10, 2011
12/10/11
6:06
PM ET
Texas A&M has its man.
Kevin Sumlin is ready to get started in College Station, but he'll have to get his hands dirty very early.
Sumlin's become one of the hottest names in coaching after a 12-1 season in 2011, but he'll have a laundry list of things to prove during his first big-time job after leaving Houston.
The Cougars were his first head-coaching job after stops around the Big 12 at Texas A&M,
his new home
, and in a variety of positions (including offensive coordinator) in five seasons at Oklahoma under coach Bob Stoops.
Every coach with a résumé comparable to Sumlin's faces the same question: Can that small-conference success translate to a bigger pond with bigger fish?
For Sumlin, it's tough to imagine a more difficult scenario for a coach taking over a major program for the first time, especially as a coach who has yet to guide a team to a conference title.
Texas A&M will head into the torture chamber that is the SEC West, where Arkansas finished third after going 10-2, with both losses against teams that will meet for the national title.
Mississippi State? It won nine games in 2010 and finished fifth in the division.
[+] Enlarge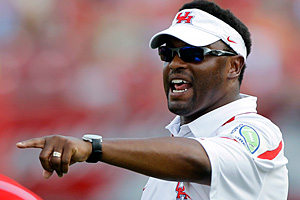 AP Photo/David J. PhillipKevin Sumlin spent four seasons guiding the Houston Cougars in Conference USA, and now he'll tackle the SEC as Texas A&M's newest head coach.
Sumlin knows Texas. He's recruited it for a decade and will continue to do so at Texas A&M, where he'll go head to head with former Big 12 rivals Texas and Oklahoma to convince players to help the Aggies ascend the SEC totem pole after going 6-6 in their final Big 12 season.
Sumlin's a man with spread sensibilities, though. He'll have to prove he can adjust that system as necessary to succeed in the SEC.
Success in the SEC, as national title participants Alabama and LSU can attest, correlates with defensive success, with rare exceptions for 6-foot-5, 250-pound Heisman-winning quarterbacks/No. 1 picks who can throw for 30 touchdowns, run for 20 more and rack up 1,400 yards rushing.
Sumlin's job in that department will be finding the right man to coordinate his defense. Current interim coach Tim DeRuyter could certainly stay in that role, despite a rough 2011 season in which the Aggies at one point went 22 quarters without forcing a turnover and finished 66th nationally in total defense and 76th in scoring defense.
The Aggies' linebacker-rich roster suits DeRuyter's 3-4 scheme well, and is better suited to defend the power running games in the SEC versus the pass-happy quarterbacks' league that is the Big 12.
If DeRuyter's not the right man, Sumlin better find the right one.
Can he carry over his success without
Case Keenum
? He threw an outlandish 45 touchdowns to five interceptions this year, including one game with nine scoring tosses.
Two of those interceptions came in the conference championship game loss to Southern Miss, where Sumlin was denied a league title for the second time in four seasons. Last year, when Keenum tore his ACL, the Cougars went 5-7.
The Aggies brass believed Sumlin could succeed without Keenum, and now, Sumlin will have to convince plenty of others.
Sumlin's personnel will look much different at Texas A&M. In the immediate future, his best player on offense will be former blue-chip recruit and 221-pound power back
Christine Michael
, who packs plenty of speed but will be coming off ACL surgery on his knee in 2012.
Sumlin will have a first-year starter at quarterback and loses his most physically gifted receiver,
Jeff Fuller
, while he'll retain his most productive receiver,
Ryan Swope
.
Defensively, the Aggies will lose top talents like four-year starting safety Trent Hunter. Cornerbacks Coryell Judie and Terrence Frederick will be gone. Defensive linemen Tony Jerod-Eddie and Eddie Brown will say goodbye, too.
Sumlin will have to adjust his wide-open passing attack at Houston that shredded Conference USA defenses to life among speedier, more instinctive SEC defenses.
He'll have the resources at Texas A&M, which built some recruiting momentum under Mike Sherman and will welcome a top-10 recruiting class in 2012 to some of the best facilities around.
Sherman proved that facilities and lots of talent don't equal wins. The Aggies were 1-5 in games decided by less than a touchdown in 2011.
Sumlin will set out to prove he's the right guy to fix that number and lots of others.
It won't be easy.
October, 17, 2011
10/17/11
11:00
AM ET
It's time for a new midseason project here on the Big 12 blog.
We've ranked the
Big 12's best players before the season
. We've
done it after the season
.
Time for a midseason checkup. This list looks vastly different than the one we made before the season, with guys moving way up, way down and off the list. There will be some surprises, but I feel pretty good about it.
As usual, the list is locked away in a vault in an undisclosed location, but before we begin, a quick rundown of the criteria:
FIRST RULE: This list is based solely on what players have done over the past six games. I didn't factor in any other part of any player's career. Six games to rule them all. My preseason lists factor in a player's entire career. This list, and postseason lists, do not.
NFL Draft potential is not factored into the list.
The way I go about this list is as if I were drafting the best overall talents in the league. Each player's personal role or meaning to his team is irrelevant. This is not a "most valuable" list. It's the Big 12's best players.
Sometimes stats tell the whole story. Other times, they don't. Player X may have had more tackles or more yards or interceptions than Player Y, but that doesn't necessarily mean he'll be higher than him on the list.
All that said, let's get started.
No. 21: Tony Jerod-Eddie, DL, Texas A&M:
Jerod-Eddie has been a disruption up front all season, and is fourth in the Big 12 with four sacks. He has 4.5 tackles for loss and has broken up a pass and forced a fumble. The Aggies lead the nation with 26 sacks, and though TJE hasn't gotten a ton of them in the stat sheet, his play is a big reason why his teammates have.
No. 22: Emmanuel Acho, LB, Texas:
Acho leads the Horns with 47 tackles, and ranks fifth in the Big 12 in stops. He has two sacks, six tackles for loss with a pass breakup.
No. 23: Collin Klein, QB, Kansas State:
Klein has been a constant for Kansas State's offense. He's doing it ugly, but he's making the plays necessary to keep Kansas State undefeated. He leads the Big 12 with 10 rushing touchdowns and his 138 carries are 25 more than anyone else in the Big 12. He's turned them into 578 yards rushing, and has thrown for 739 yards with seven touchdowns and three interceptions.
No. 24: Travis Lewis, LB, Oklahoma:
Lewis has been slowed by a broken bone in his foot that forced him to miss the Sooners opener, but Von Miller suffered an injury early last season before rebounding to win the Butkus Award. Will we see a similar rise from Lewis? For now, he has 40 tackles (12th in the Big 12) with two tackles for loss, a pass breakup and a forced fumble.
No. 25: Markelle Martin, S, Oklahoma State:
Martin is back to his old ways laying big hits on receivers with two forced fumbles and 37 tackles. The senior safety has also broken up five passes.
Stay tuned to the Big 12 blog for the next five players in the rankings.
October, 6, 2011
10/06/11
1:00
PM ET
Texas A&M needs a win.
Seasons that begin in the top 10 usually don't feature three-game losing streaks. But after two second-half collapses they'd rather forget, this is where the Aggies sit.
"If you start looking at what-ifs, it becomes overwhelming and you start to fall apart," Texas A&M coach Mike Sherman told reporters this week. "But you have to have the maturity and the focus to fix what you can fix at that second, and not worry about what-ifs. You can't play with what-ifs, you have to play with what is, right now."
And what is right now? A trip to Jones AT&T Stadium in Lubbock, Texas. The Aggies won in West Texas in 2009, but before that, hadn't won in Lubbock since 1993.
That stretch of seven games included losses by 28, 39 and 31 points, as well as a shutout loss.
The good news for A&M? Despite the second-half breakdowns, it still has a team capable of making those past struggles an afterthought.
"Both games we should have won, but for whatever reason we didn't. We have no one to blame but ourselves. It's nothing that any of our opponents did to us. We didn't win," said defensive end Tony Jerod-Eddie.
Said quarterback
Ryan Tannehill
: "We are so close. Things haven't worked out. We haven't capitalized on our opportunities. We haven't gotten the lucky bounce we need to get. The ball they fumbled into the end zone and ended up recovering, if it bounces to the left or the right, we recover it and the game is totally different. But that's part of football, sometimes the ball bounces your way and sometimes it doesn't."
Fixing that has to start with the defense.
A unit that ranked among the Big 12's best a season ago has slipped to the nation's worst pass defense in two weeks. With
Seth Doege
quarterbacking a business as usual offense at Texas Tech, rewriting Texas A&M's history in Lubbock will require a better night from the secondary. The Red Raiders rank ninth nationally in pass offense and would love for those numbers to improve.
"Their confidence is probably hit a little bit," said defensive coordinator Tim DeRuyter. "As we showed them the bad plays we had from Saturday -- and there were way too many of those -- we showed them the things we did as good as any defense I've been a part of. Our challenge to them is, who are we guys? Are we this team that busts these coverages, or don't read routes, and are playing soft, and we don't get lined up? Or are we this defense that gets after a really, really good offense in Arkansas?"
September, 6, 2011
9/06/11
11:11
AM ET
Baylor quarterback
Robert Griffin III
and Texas A&M defensive end Tony Jerod-Eddie took home offensive and defensive player of the week honors in the Big 12 this week.
Baylor kicker Aaron Jones and Oklahoma State kicker/punter Quinn Sharp shared the special teams award for Week 1.
Griffin III completed 21 of 27 passes for 359 yards and a career-high five touchdowns in Baylor's 50-48 upset of No. 14 TCU. It was Baylor's first win over a ranked team since 2004 and its first win over a top 15 team since 1991. Here's
video with Griffin after the game
.
Jerod-Eddie had just two career sacks entering this week's game against SMU. In the 46-14 win, he made three of Texas A&M's eight sacks, and finished with six tackles. Here's
video with Jerod-Eddie on his thoughts about the game
.
Jones made a 37-yard, game-winning field goal to beat TCU on Friday night, and took over kickoff duties in the second half for a struggling Baylor special-teams unit. TCU's average starting position on his kicks was the 18-yard line. Here's
video with Jones talking about his historic kick
.
Sharp does everything for Oklahoma State and did it all well in a 61-34 win over Louisiana-Lafayette. He made all four field goal attempts (46, 27, 22 and 23 yards) and made all six of his extra points. He also had punts of 48 and 52 yards on his only two attempts, and notched touchbacks on all seven of his kickoffs. He's led the nation in touchbacks the last two seasons.
September, 4, 2011
9/04/11
9:25
PM ET
COLLEGE STATION, Texas -- Time to look back on a high-scoring first half...
Turning point:
After throwing interceptions on his first two drives, SMU benched
Kyle Padron
, who threw for over 3,800 yards last season, in favor of senior
J.J. McDermott
. The Mustangs inched closer with a pair of touchdown drives after Padron's benching, but A&M's offense looks unstoppable and very balanced so far.
Stat of the half:
Quarterback
Ryan Tannehill
has completed 11 of 13 passes for 141 yards.
Cyrus Gray
and
Christine Michael
have combined for four touchdowns and 95 yards on 19 carries. A&M's offense is rolling and as advertised in its opener.
Best player in the half:
Texas A&M's defensive line. It's struggled to defend the run (SMU's
Zach Line
has 108 yards and a score on 15 carries), but the Aggies are getting lots of pressure up front and already have four sacks, equaling their top total in any game in 2010. Tony Jerod-Eddie already has two sacks.
Second guessing:
Down 14-7 late in the first quarter, SMU elected to try an onside kick, but the short kick failed miserably, hitting the kicker's foot twice and going only a couple yards. For the third consecutive drive to begin the game, Texas A&M began with the ball in SMU territory.
What Texas A&M needs to do:
Relax, and feed the Mustangs a steady diet of Gray and Michael. Turnovers are the only way the Aggies lose at this point, so hold on to the ball. The offensive line has been very good so far for the Aggies, and they'll need to impose their will (Just like Texas!) in the second half.
July, 19, 2011
7/19/11
4:50
PM ET
The Big 12 has released its All-Big 12 preseason team as voted on by the media, including yours truly.
Here's my ballot
, for reference.
And here's the preseason team, in all its glory.
OFFENSE
QB:
Landry Jones
, Oklahoma
RB:
Cyrus Gray
, Texas A&M
RB:
Bryce Brown
, Kansas State
RB:
Roy Finch
, Oklahoma
WR:
Justin Blackmon
, Oklahoma State
WR:
Ryan Broyles
, Oklahoma
TE:
Michael Egnew
, Missouri
OL:
Levy Adcock, Oklahoma State
OL:
Kelechi Osemele, Iowa State
C:
Ben Habern, Oklahoma
OL:
Lonnie Edwards, Texas Tech
OL:
Luke Joeckel, Texas A&M
DEFENSE
DL:
Brad Madison, Missouri
DL:
Ronnell Lewis, Oklahoma
DL:
Kheeston Randall, Texas
DL:
Frank Alexander, Oklahoma
LB:
Travis Lewis, Oklahoma
LB:
Jake Knott, Iowa State
LB:
Keenan Robinson, Texas
DB:
Coryell Judie, Texas A&M
DB:
Markelle Martin, Oklahoma State
DB:
Blake Gideon, Texas
DB:
Demontre Hurst, Oklahoma
SPECIALISTS

K:
Grant Ressel, Missouri
P:
Quinn Sharp, Oklahoma State
KR:
Coryell Judie, Texas A&M
PR:
Ryan Broyles, Oklahoma
AWARDS
Offensive Player of the Year:
Justin Blackmon, WR, OSU
Defensive Player of the Year:
Travis Lewis, LB, Oklahoma
Newcomer of the Year:
Malcolm Brown
, RB, Texas
Selections by team:
Oklahoma (9), Oklahoma State (4), Texas A&M (4), Missouri (3), Texas (3), Iowa State (2), Kansas State (1)
And a few thoughts:
Generally, I agree with most of the selections. Nothing was really shocking. Brandon Weeden vs. Landry Jones is pretty close to a coin flip, and let's not act surprised that the quarterback from the bigger program got the nod. Perception is reality, even if the numbers are so, so close. Jones has the Heisman hype coming into the season, certainly more than Weeden, based on little more than the possibility his team runs the table.
Running back is going to get a lot of attention, but let's not get riled up. This is going to sound bad, but believe me when I say I don't mean it to: Bryce Brown's selection is more an indictment of the returning talent at running back in the Big 12 than an endorsement of the hype surrounding Brown, who isn't even the clear-cut starter at K-State just yet. Here's what I wrote when I posted my ballot earlier this month. "The second running back spot is near impossible. Just about anyone might get it on the official vote when its revealed by the Big 12. You could realistically make a convincing case for James Sims, Eric Stephens, Joe Randle, Roy Finch and even newcomers like Malcolm Brown, Bryce Brown or Oklahoma's Brandon Williams. And that's the first team!" Well, there you go. For the record, I voted for Christine Michael, and still feel good about it.
Finch and Brown tied for votes, giving the Big 12 three running backs. There weren't three spots on the ballot. And it also explains how Malcolm Brown got Newcomer of the Year and Bryce Brown got first-team All-Big 12 running back, despite both being newcomers. It's a little confusing, I suppose, and maybe not everyone did it, but my guess is a lot of ballots had Finch as the first-team running back and Malcolm Brown as the Newcomer of the Year. Not all that surprising.
I originally had Luke Joeckel on my ballot, but took him off for Missouri's Elvis Fisher. I think Joeckel will end up being better, and maybe even by the end of this year, but right now, Fisher is the better lineman, and that's how I define the ballot. Perhaps others see it differently. There's no concrete rubric for this.
I'm not very surprised to see Ronnell Lewis and Blake Gideon grab spots on the team, though I voted for Tony Jerod-Eddie and Trent Hunter in those spots on my ballot. Second safety and defensive line were pretty tough for me to fill out. Neither spot is very deep in this league, and both Lewis and Gideon have two of the biggest names, which matters in a media vote.
Quite a huge gap between Oklahoma and the rest of the league. The Sooners had a lot of guys on my ballot that were close, but five more selections than anyone else in the league? That's impressive, and if ballot deadlines had been after Jamell Fleming's reinstatement, Oklahoma might have had 10 guys on the team. My ballot had Oklahoma State leading the way with seven selections, followed by Texas A&M with six and Oklahoma with five. My ballot also only had six teams represented. The media's Bryce Brown vote put Kansas State on the board, making it seven teams represented on the official team.
June, 30, 2011
6/30/11
9:00
AM ET
Heading into the season, I see five teams in the Big 12 with a realistic chance to win the league. I'll be breaking them down in order (which
won't be the same as my post-spring power rankings
) of their chances to leave the season with the Big 12 title.
No. 1 on the list was
the favorites: Oklahoma
Today, we take a look at my No. 2: Texas A&M.
Why the Aggies will win the Big 12
[+] Enlarge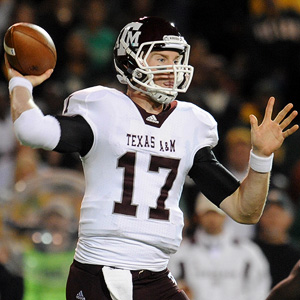 AP Photo/Rod AydelotteQuarterback Ryan Tannehill will be crucial to Texas A&M's success in 2011.
1. They've got the most complete offense.
Center Matt Allen is the only offensive starter not returning, but the Aggies have a solid line, headlined by a maturing, but already talented pair of bookends with big potential, tackles Luke Joeckel and Jake Matthews. At the skill positions, you won't find anything close to a weakness. Texas A&M returns the best running back corps in the league and maybe the best 1-2 punch in the nation with
Christine Michael
and
Cyrus Gray
. All of the team's top five receivers return, and
Jeff Fuller
, who chose to return for his senior season, is arguably one of the five best in the country.
Ryan Tannehill
doesn't have a ton of starts (six) under his belt, but he was great in a tight spot last year, and led the team in receptions his first two years on the field.
2. They're especially strong in great places on defense.
Those places: Secondary and pass-rushers. That's huge in the Big 12. New joker Damontre Moore, defensive end Tony Jerod-Eddie and linebacker Sean Porter should combine for more than 15 sacks this year and tons of quarterback pressures that could result in some big plays for another defensive strength: the secondary. All four starters return, and Terrence Frederick, Coryell Judie are experienced seniors at corner, while Trent Hunter and Steven Campbell hold down the safety spots.
3. They made it hard to win nine games last year.
Texas A&M already won a share of the Big 12 South last year, despite ranking 10th in the Big 12 in turnover margin at minus-5. Its 30 turnovers (15 INTs, 15 fumbles lost) were the most in the Big 12 and 111th most in the nation. You'd have to think that number will drop this year with Tannehill at quarterback. He struggled in the loss to LSU, throwing three interceptions, but he had just three in his six previous games at quarterback, compared to 11 touchdowns. Five of those 30 turnovers came from
Jerrod Johnson
in a loss to Oklahoma State, and if the Aggies take care of the ball then, or this time around, they're likely Big 12 champions.
Why the Aggies won't win the Big 12
1. The defensive losses will be too much.
Damontre Moore should slide in and replace Von Miller. I'd expect him to do well, but what about middle linebacker? Michael Hodges was the heart of the defense in 2010 and its leading tackler. When a knee injury forced him out of the Cotton Bowl against LSU, the Tigers gashed the Aggies' defense, which for the few weeks to end the season, looked like one of the Big 12's best and topped the league in rush defense. Hodges is gone for good now, and the Aggies left spring without a solid replacement. For now, it looks like Jonathan Stewart will slide in, but it could end up being true freshman Donnie Baggs. Either way, A&M won't be as strong there, and teams that can run the ball (i.e., OSU, OU) may take advantage. Lucas Patterson is the only other loss on the defensive side of the ball, but my money is on Hodges being missed the most on the field, even though Miller was the No. 2 pick in the NFL draft.
2. They have to travel to Norman.
Texas A&M has been outscored 107-24 in its last two trips to Norman, and Les Miles at Oklahoma State in 2001 is the only Big 12 coach to ever beat Bob Stoops at Owen Field. The odds are definitely against Mike Sherman becoming the second. The Aggies knocked off Oklahoma in College Station last year, but did it largely on the strength of the linebackers, and Hodges and Miller, who helped orchestrate those three goal-line stops to beat the Sooners, are gone.
3. Hype and the Aggies are not happy bedfellows.
Texas A&M looked like a possible Big 12 South contender last year, but the Aggies lost all three of their first real tests, and nearly lost to Florida International in College Station, erasing a 21-7 fourth-quarter deficit to avoid embarrassment. After being written off by most, they rallied for a share of the Big 12 South, but this year, the attention is back on the Aggies, who will likely be toting a top-15 ranking into the preseason. How will the team handle big games early in the season against Oklahoma State and an early trip to Lubbock before the showdown in Norman? Their recent history suggests "not well."
March, 22, 2011
3/22/11
7:30
PM ET
Schedule:
Texas A&M opens spring practice today and will close with its spring game on April 16. Selected practices are open to fans and media. Here's
the schedule
.

What's new:
Not very much, and that's a good thing for Texas A&M's immediate future. Defensive coordinator Tim DeRuyter is back for a second year after being heavily pursued by Tulsa in the offseason following his re-establishment of the Wrecking Crew in 2010. The Aggies bring back nine offensive starters, eight defensive starters and two special-teamers from a team that won nine games in 2010. That's the most in the Big 12.
On the mend:
Running back
Christine Michael
is expected to return in the spring after breaking his tibia in the middle of his sophomore season last year. After his injury,
Cyrus Gray
emerged with seven consecutive games of at least 100 yards, but getting both Michael and Gray on the field is a big help for the Aggies offense. Cornerbacks Terrance Frederick and Coryell Judie will be held out of the spring with injuries, but should be healed up by summer.
On the move:
Damontre Moore played plenty of the Joker position last season, especially when Von Miller was slowed by an ankle injury early in the season. He's likely to slide into the same spot, but the coaching staff is open to moving him to a more traditional defensive end spot if the rising sophomore's frame fills out past the 6-foot-4, 248 pounds he played at during his freshman year in 2010. Lucas Patterson is gone, so if necessary, there's a hole at defensive end for Moore to fill. This spring will be a critical period in deciding his future role on the defense. Wherever he plays, he's likely to be a big piece of the Wrecking Crew.
New faces:
Quarterback Johnny Manziel is on campus, but early on, he might play a bit of receiver like the Aggies' starting quarterback,
Ryan Tannehill
, used to. Linebacker Donnie Baggs and offensive lineman Joseph Cheek have also enrolled early.
Breaking out:
Linebacker Sean Porter was overshadowed by a pair of stars at linebacker in Michael Hodges and Miller last season, but he could become one of the leaders of the Wrecking Crew this spring and a star himself. The junior outside linebacker could be a household name soon.
Don't forget about:
Defensive lineman Tony Jerod-Eddie. He suffered a broken foot last season against Texas and missed the rest of that game, but he should be back for a big senior season this year.
All eyes on:
Tannehill. He took over as the starter midway through last season and was a big reason behind the Aggies' six-game winning streak to close conference play. All of his top targets are back, but he needs to grab a hold of the offense this spring. It will get more difficult next season for Tannehill as teams collect more tape and learn his tendencies. He already knows the offense as well as anyone, but making sure running it is second nature will be integral to making sure his late-season success last year continues into 2011. He'll get a chance to shore up his timing and chemistry this spring.
January, 7, 2011
1/07/11
8:19
PM ET
ARLINGTON, Texas -- The Cotton Bowl couldn't ask for much better in its primetime debut. Two fan bases with reputations as some of the nation's loudest snatched up tickets and sold out the game within days, and they've made the trek to Dallas a month later.

Even the top corners of the stadium are full, and the sellout crowd has sounded every bit like you'd think, with "L-S-U" chants and only moments between each "Whoop!" from the Aggie faithful.

Kickoff is only a few minutes away, and Aggies defensive end Tony Jerod-Eddie will start, as expected, after breaking his foot earlier this season.

It's already pretty loud inside the stadium. Don't expect that to change any time soon.
December, 4, 2010
12/04/10
8:14
PM ET
ARLINGTON, Texas -- I'm back in the press box from some time down on the field and Big 12 commissioner Dan Beebe's pregame press conference. Both teams have finished warm-ups, and we're only a few minutes away from kickoff. The crowd looks pretty close to 50-50, and with the ends and roof of Cowboys Stadium closed, it's already pretty loud.
Here's a few quick notes:
I'd expect Nebraska quarterback Taylor Martinez to start, but he's definitely still favoring his right ankle, however slight. Additionally, he's wearing two different kinds of cleats. It looked like the left cleat might be offering some additional support for his turf toe.
Oklahoma running back DeMarco Murray didn't look too bothered by a knee injury that left his status in doubt this week. He didn't do much full-speed work in pregame, but his movement looked normal.
Beebe's press conference offered little of note. He mentioned he did have some additional security for tonight's game, but nothing "significant." As for the talk of the Big 12 championship returning, don't hold your breath. Beebe noted that the coaches have been nearly unanimous in opposition of the game for the duration of its existence, and said he'd be surprised if that changed. I'd agree with him on that point.
He was asked about talks of conspiracy and the Eric Martin suspension, but didn't say anything we haven't heard before. Namely, that the notion of a conspiracy is silly and they don't spare any expenses when it comes to the integrity of officiating. On Martin's suspension and the lack of suspension of Texas A&M's Tony Jerod-Eddie after an ugly incident in a pile, Beebe cited the desire of the league to remove hits like Martin's from football.
On his no-show in Lincoln this year, Beebe noted that he didn't hand out any of the five divisional trophies this year, and hasn't been able to do it on several occasions for various reasons, most often tiebreakers. He also brought up that he delivered Nebraska's trophy last year, but did not do so for Texas.
He also stressed, once again, that the portion of Huskers fans sending hateful messages to him and other Big 12 officials is a small one, but did note that former Huskers star Ed Stewart, a Big 12 employee, received several as well.
That's all for pregame. I'll be blogging throughout tonight's game, but
I'll be chatting right here, too
. So come hang out for tonight's game.