August, 22, 2013
8/22/13
10:15
AM ET
By
Isabelle Khurshudyan
| Special to ESPN.com
Houston Cougars
Coach
: Tony Levine (6-7 overall, 6-7 at Houston)
2012 record
: 5-7
[+] Enlarge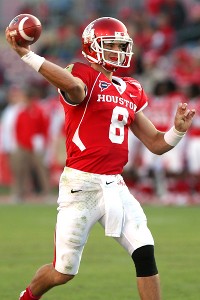 Troy Taormina/USA TODAY SportsCougars quarterback David Piland will lead an experienced offense returning 10 starters.
Key losses
: RB Charles Sims, DB D.J. Hayden, LB Phillip Steward
Key returnees
: CB
Zachary McMillian
, QB
David Piland
, LB
Derrick Mathews
Newcomer to watch
: K
Ty Cummings
Biggest games in 2013
: BYU (Oct. 19), Cincinnati (Nov. 23)
Biggest question mark heading into 2013
: Kevin Sumlin had Houston on the national radar before taking the head-coaching position at Texas A&M. A season after going 13-1 and beating Penn State in the TicketCity Bowl, Houston was 5-7 in Levine's first full year as the head coach. In his second season, Levine has the challenge of getting Houston back to its glory days of two years ago. With new practice fields and a new stadium being built, is Levine on the hot seat if he can't make this season a successful one?
Forecast
: Returning 10 starters from an offense that averaged 32.4 points and 480 yards per game in 2012, the Cougars will need that unit to compensate for the holes on defense. Piland is entering his third season as a starter after amassing 2,929 passing yards and 16 touchdowns last season. Furthermore, 10 of the top 13 receivers from last year are back. Houston will be without its top two running backs from last year, so
Ryan Jackson
is expected to be the No. 1 rushing option, providing some balance to a pass-heavy offense. Piland had 12 interceptions last season, and Levine wants to see that number reduced.
"We were a young football team last season," Levine said. "And we did some great things offensively in terms of putting points on the board, but certainly we turned the ball over way, way too much."
Levine's main change for this season was on defense, making David Gibbs the defensive coordinator. While the Cougars will miss Hayden, who was taken in the first round of the NFL draft, their most experience on defense will be in the secondary with
Trevon Stewart
returning after garnering freshman All-America honors.
Picked to finish sixth in the preseason media poll, Houston has one of the easier nonconference schedules in the American Athletic, so if it wins those games, it has a chance of a winning record this season. Five of the Cougars' last six games will be against the expected top five teams in the American Athletic.
"Everybody certainly remembers two years ago being 13-1 and beating Penn State in the Ticket City Bowl, and the year before that we were 5-7," Levine said. "So we want to build into a consistent winner, one that's going to bowl games and competing for championships every season."
June, 21, 2013
6/21/13
9:39
AM ET
You've seen the college football future power rankings. Let's take that to another level here, using the eye test to look at how this conference is set up in the years to come.

1) Cincinnati
. With at least a share of four of the past five conference titles, and with a proven coach in Tommy Tuberville aboard, the Bearcats are the class of the conference.

2) UCF
. The most ready-made of the conference newcomers this fall, the Knights have the ideal talent, recruiting tools and coaching to compete for the conference crown year-in and year-out moving forward.

3) USF
. Like rival UCF, USF is ideally located to land top talent. The Bulls have had that talent in recent years, but the hope is that new coach Willie Taggart can make the most of it and thrive back on the recruiting trail in Tampa, Fla.

4) Tulsa
. Three straight eight-plus win seasons show that this program is on the rise, as the Golden Hurricane, much like UCF, look ready to compete with the league's elite upon their arrival.

5) UConn
. The last of the "old guard" of the old Big East is in need of a turnaround following consecutive 5-7 seasons under Paul Pasqualoni. A Fiesta Bowl appearance in 2010 and five draft picks this past April show that there is potential here.

6) SMU
. June Jones and Hal Mumme together will be a fascinating experiment to watch this year. But with their history and an always-strong nonconference slate, the Mustangs can put themselves in position to be a conference contender only if the breaks fall their way.

7) Navy
. The Midshipmen won't be aboard until 2015. But eight-plus wins in nine of the past 10 seasons against a solid independent schedule suggests the triple-option can give its new conference brethren problems upon its arrival in two years.

8) Houston
. Kevin Sumlin had a great run in 2011. Tony Levine still has some work to do, especially on the defensive side of the ball, after a down season in 2012. But landing big-name receivers like
Deontay Greenberry
and Markeith Ambles shows that there is promise for the Cougars moving forward.

9) Temple
. The Owls started off 2-0 in the Big East last season, but then received a rude awakening. New coach Matt Rhule seems perfect for the role, but the cupboard is bare as he tries to turn things around in Year 1.

10) East Carolina
. The Pirates always face their share of tough nonconference opponents, but Ruffin McNeill seems to have the program trending upward after going bowling in two of his first three seasons.

11) Memphis
. Justin Fuente won't let the Tigers get too high on themselves after a three-game winning streak to end last season. By opening up key spots -- including quarterback, where
Jacob Karam
returns -- he has shown that he is set on taking this program to another level as it enters a new conference and tries to put the Conference-USA era behind it. Still, Fuente faces an uphill battle.

12) Tulane
. The Green Wave haven't won five games in a season since 2004. They have their work cut out for them, as they move up to a better version of the C-USA they have struggled in.
April, 3, 2013
4/03/13
3:00
PM ET
Willie Taggart's youthful exuberance is palpable everywhere, from the music he blasts at South Florida practices to the declarations he
makes about his Bulls team to the media
— "come out every single day with an enthusiasm unknown to mankind."
The 36-year-old Taggart is the youngest head coach in a Big East that boasts no shortage of them. Taggart is the fifth-youngest coach in the nation in 2013, according to a list of 14 that Temple provided to the
Philadelphia Inquirer's Keith Pompey
.
Taggart is less than a month younger than the sixth-youngest coach on that list, second-year Memphis coach Justin Fuente. Two spots lower? That would be 38-year-old Temple head man Matt Rhule, giving the Big East three of the nation's eight youngest coaches.
As for the flip side of things, UCF coach George O'Leary is the elder statesman of the league, at 66 years old. O'Leary is the sixth-oldest coach in the nation in 2013.
Connecticut's Paul Pasqualoni (63) and SMU's June Jones (60) also crack the 60-and-over crowd, coming in as the ninth- and 17th-oldest active coaches, respectively.
Here is a list of Big East coaches by birth date:
Willie Taggart, USF (Aug. 27, 1976)
Justin Fuente, Memphis (July 30, 1976)
Matt Rhule, Temple (Jan. 31, 1975)
Tony Levine, Houston (Oct. 28, 1972)
Kyle Flood, Rutgers (Jan. 20, 1971)
Charlie Strong, Louisville (Aug. 2, 1960)
Tommy Tuberville, Cincinnati (Sept. 18, 1954)
June Jones, SMU (Feb. 19, 1953)
Paul Pasqualoni (Aug. 16, 1949)
George O'Leary (Aug. 17, 1946)
March, 27, 2013
3/27/13
9:00
AM ET
Houston defensive end
Eric Eiland
changed sports, then changed positions on the football field in short order.
His resiliency was built from near tragedy.
[+] Enlarge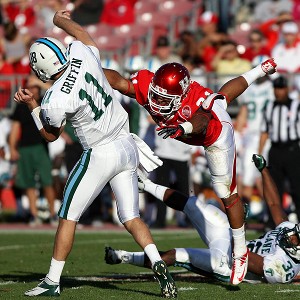 Troy Taormina/USA TODAY SportsA 24-year-old true sophomore, defensive end/linebacker Eric Eiland is a speedy threat for the Houston Cougars.
When he was a junior in high school, starring in both football and baseball, a fire destroyed his house. Eiland was at home at the time, with his mother and brother in an upstairs bedroom. They heard a noise coming from the dryer in the garage downstairs. When they went to take a look, a wall of flames greeted them.
Thankfully, the three were able to make it to safety, but they watched as all nearly all of their possessions were taken from them. All the trophies Eiland worked so hard to earn: gone. Team photographs: gone. A photographer chronicling his high school sports career ended up following Eiland around
for the year that followed
, as his family slowly put the pieces of their life together.
The resulting photo essay shows in moving detail what a teenager in the prime of his high school career had to go through. Suddenly, deciding whether to play baseball or football was not a matter of life or death.
"It was a life learning experience and it definitely changed me a little bit," Eiland said in a recent phone interview. "My outlook on life changed. Anything can happen."
Eiland and his family moved into a small apartment across from his high school for a year, until they found a new house. During that time, he had to make a tough decision about which sport to pursue. He had committed to Texas A&M to play football, but word began spreading that he could be a top pick in the Major League Baseball draft.
Sure enough, in the summer of 2007, the Toronto Blue Jays selected him in the second round. Though he had signed with Texas A&M, Eiland decided to pursue his baseball career. He was rated the top athlete, top base runner and best defensive outfielder in the Blue Jays' system after the 2007 season.
But Eiland struggled as a professional, spending five years in the minors. He never made it past Single A.
"I just wanted to go in there and work as hard as I could and do it to the best of my ability and if it was good enough, then it would be good enough," Eiland said. "I told myself at the beginning that once I felt like I wasn't going to make it, I was going to give football another opportunity."
After walking away from baseball, he went back to his high school football coach and told him he wanted to get back into the sport. Eiland is from Houston, so playing for the hometown Cougars most appealed to him. He enrolled last fall as a walk on and started out as a safety.
Eiland eventually moved to linebacker, and now the Cougars envision him playing a rush end role as a hybrid end/linebacker. Those plans came to fruition after Eiland had a breakout performance to end the 2012 season. In the finale against Tulane, he had a sack, forced fumble, interception and four tackles in his most extensive action on the football field since his senior year of high school.
"They told me the last game we're going to get you in there, we're going to see how this position works for you," Eiland said. "I'm a pretty fast guy, so the combination of speed and strength makes it tough on the tackles who have to hold me off the end. I think it's an advantage for me."
Eiland still has plenty of room to grow and develop, but coach Tony Levine has raved about his potential. Eiland is already up to 238 pounds after coming in at 205. At 24, he will be just a true sophomore in 2013. The talent certainly is there. The maturity that may have been lacking early in his baseball career is there.
And, perhaps most importantly, an ability to keep life in perspective is there.
January, 8, 2013
1/08/13
11:00
AM ET
Time to take an early look at the new-look Big East headed into 2013. Now, a few caveats: First, these rankings are subject to change many times before the season begins. Second, I am basing them mostly on returning starters and results from 2012. Since a majority of this league is new, I have not had time to sit down and watch every single game from every program.
Third -- we still have no idea if this is what the league will look like in 2013!
So give me a little time and take these for what they are -- a first take on 2013 with much more to come. *Note: Those looking for Pitt and Syracuse, check the ACC blog.
1. Louisville.
I think we can all agree here -- the Cardinals will go into the season as the prohibitive favorite to win the Big East.
Teddy Bridgewater
returns, along with just about every starter on a team that beat Florida in the Sugar Bowl. Get ready for this team to try to make another run.
2. Cincinnati.
I know the Bearcats have had a coaching change, but I like that the core nucleus returns. Cincinnati should have the best offensive line in the league;
Brendon Kay
got his sixth year, and so did emerging middle linebacker
Greg Blair
. While there are major players who have to be replaced, Cincinnati showed this year it has players to step right in and get the job done.
3. Rutgers.
I honestly think this might be too high for the Scarlet Knights. I may just still be suffering from sitting through the entire Russell Athletic Bowl. But there are major questions that have to be answered -- is
Gary Nova
any better at quarterback? Can
Savon Huggins
step right in for
Jawan Jamison
? Who steps up on a defense that loses its biggest playmakers? Far too many unknowns.
4. UCF.
I like
Blake Bortles
, and I like
Storm Johnson
, and the Knights are coming off a 10-win season as they join the Big East. To me, they are the best looking of the newcomers. Key players on defense have to be replaced, and don't forget that this team could be serving a postseason ban.
5. San Diego State.
The Aztecs return a majority of their starters, including Mountain West Offensive Player of the Year
Adam Muema
, who ran for 1,458 yards and 16 touchdowns this year. I watched their San Diego County Credit Union Poinsettia Bowl meltdown from start to finish. My takeaway -- if this team wants to make a serious run, it needs much better play out of quarterback
Adam Dingwell
.
6. USF.
In all honesty, the Bulls could be lower, given their performance the past two years. They have no quarterback. No running back. Questions all over the place on defense. And a new coach. Willie Taggart is going to need some time to change the program, but I think there is enough talent at some of the skill positions and up front for the Bulls to be more competitive in 2013.
7. Connecticut.
Considering the best players on defense are gone, it is hard to believe the Huskies will be much improved in 2013 over 2012. The defense was the best part of this team, and now it must replace the Big East leader in sacks, (
Trevardo Williams
), along with
Sio Moore
,
Blidi Wreh-Wilson
,
Jory Johnson
and
Dwayne Gratz
. Offensively, this group needs an overhaul. Will it get one before it's too late?
8. Houston.
The Cougars had a rough first year under new coach Tony Levine, finishing 5-7 in 2012. But there are some key players returning and a new offensive coordinator who should help steady the ship. Watch out for cornerback
Trevon Stewart
, named a FWAA freshman All-American.
9. Temple.
I think the Owls have a chance to make some major leaps up this list depending on how spring practice shakes out. There is a new coach in town in Matt Rhule, who knows better than anyone what it takes to win at Temple. He needs to make a decision at quarterback and find a running back, for starters.
10. SMU.
I do not have much hope for the Mustangs in Year 1, at least not yet. This team is taking bigger losses than any Big East newcomer. Starting running back
Zach Line
is gone. So are defensive standouts
Margus Hunt
,
Ja'Gared Davis
and
Taylor Reed
.
11. Memphis.
The Tigers made marked improvement in 2012 under Justin Fuente, going 4-8 -- including a three-game winning streak to end the season. Seventeen starters return, including quarterback
Jacob Karam
, so the Tigers definitely have momentum going into Year 1 in the Big East.
September, 5, 2012
9/05/12
5:00
AM ET
1. One reason that freshmen may be able to contribute more quickly is that most of them attend summer school. Conventional wisdom dictated that midway through the season, freshmen would hit a wall as their academic load overwhelmed them. But going through a summer semester will ease that burden. Georgia coach Mark Richt, noted that tailback
Todd Gurley
made two As in this past summer. "He's been showing up to everything that we ask him to, and he does it on time and prepared," Richt said at his press conference Tuesday. Sounds as if Gurley already has adjusted.
2. One game into his head coaching career, Houston's Tony Levine said that his staff is "tweaking" the offense. Some tweak -- coordinator Mike Nesbitt resigned after the Cougars gained 326 yards of total offense and held the ball less than 17 minutes in a 30-13 loss to Texas State. That can't have been a spur-of-the-moment decision. It couldn't be just that Houston fell so far off last season's averages (599 yards, 49 points) As for tweaks, Levine said, "We are not going to come out Saturday night (against Louisiana Tech) and run the wing-T. Gotta save some changes for next week's tweaks."
3. My favorite anecdote from my Penn State week that didn't make it into my story: Head coach Bill O'Brien walked into a 7:30 p.m., post-practice staff meeting and announced that one of the Nittany Lions' top recruits had asked him to call later that night. O'Brien looked at offensive-line coach Mac McWhorter, who played for Georgia in the mid-1970s. "Mac," O'Brien said, "did you ever call Vince Dooley?" McWhorter replied, "He didn't talk to you until you were a senior."
April, 3, 2012
4/03/12
5:00
AM ET
1. Head coaches have been saying that the kicking game is one-third of football going back to the days of leather helmets. In the past decade, as coaches have bestowed more and more titles on their assistants, many schools have special-teams coordinators. But that title and those responsibilities have translated into very few head coaching jobs. Houston promoted Tony Levine. Will that move push open the door for guys like John Baxter at USC and Brian Polian at Texas A&M?
2. USC head coach Lane Kiffin explained away the seven interceptions that quarterback
Matt Barkley
has thrown this spring by pointing out that wide receiver
Robert Woods
is injured and not practicing -- not all picks are the fault of the passer -- and that Barkley is, in his fourth spring practice, bored. Kiffin's acknowledgement that Barkley is human is refreshing. But I'm pretty sure Vince Lombardi and his small playbook didn't exactly captivate the Packers season after season.
3. New York Yankee fans are delighted that Kentucky won its eighth NCAA men's basketball championship Monday night, if only because the Yankees won the World Series in the previous seven years that the Wildcats won. There's also good news in the SEC. In the last 50 years, when Kentucky won the Final Four -- 1978, 1996 and 1998 -- an SEC team also won the football national championship. As if the SEC needed another omen to win its seventh consecutive BCS title.
March, 21, 2012
3/21/12
9:00
AM ET
At various points throughout his coaching career, Tony Levine would ask athletic directors and other coaches for some advice.
What is the best way to become a head coach?
The answers were invariably the same -- you need to be either an offensive or defensive coordinator at the highest level; or you need to take a job as a head coach at a lower level, then work your way up. Levine always listened, realizing these were two pretty big gaps on his own résumé if they served as job qualifications. He had never held either job -- unless you count serving as ninth grade football coach when he was 23.
Levine would simply have to break some pretty deeply ingrained notions about what made the perfect head coach. He had done a bit of that in four years as an assistant at Houston, having been contacted about other head-coaching opportunities. But there never was one that made sense for him or his family.
[+] Enlarge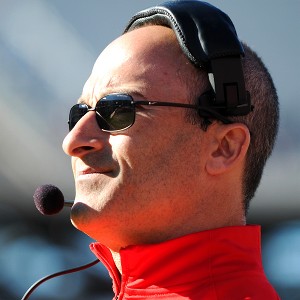 Cal Sport Media via AP ImagesHead coach Tony Levine knows he has his work cut out for him in Houston.
Until Dec. 10.
When Levine left home that morning, he told his wife he would be home around 4 p.m. That afternoon, when he should have been pulling his truck into the driveway, Levine was holding a news conference in front of 20 cameras -- as the interim head coach at Houston.
Two weeks later, he was promoted to replace Kevin Sumlin -- having never been an offensive or defensive coordinator, or a head coach. How about that for a unique path?
"I have coached on offense, coached on defense and coached special teams for 10 years. I've been a director of football operations. I've been a strength coach, I've been recruiting coordinator. Out of college, I had my own sports marketing company," Levine said in a recent phone interview. "I have coached at every level and every position. I was just never offensive or defensive coordinator and never a head coach. But to me, all of the great experiences I have had have really prepared me for this position."
Levine had been special teams coordinator, along with tight ends and inside receivers coach during his tenure as a Houston assistant. What many casual fans may not realize is the role the special teams coordinator plays with the entire team. There is only one other coach who holds entire team meetings and is as responsible for game management as the head coach -- that would be special teams coordinator.
So Levine was already quite familiar with speaking to his players, with what it takes to manage a game. Learning under Sumlin the past four years put him in a great spot to continue the continuity that already has been established at a program coming off a 13-1 season and a bowl victory over Penn State. Levine led the team in that game, so he goes into spring practice Wednesday with a perfect 1-0 record as a head coach.
Now comes the huge challenge. Levine is charged with maintaining that level of excellence without the face of the program. The most popular question in Houston this spring: How do the Cougars go on without record-setting quarterback
Case Keenum
? First up to fill that slot is
David Piland
, who started eight games in 2010 after Keenum tore his ACL, throwing for 2,641 yards and 24 touchdowns. Piland was able to redshirt last season, but he was completely involved during practice, shadowed Keenum during meetings and traveled to games, all while adding weight and strength.
The experience gives Piland an advantage, but Levine said every position is open for competition this spring. His pre-spring practice depth chart is blank.
Another concern is developing receivers. Not only did Houston lose Keenum, the NCAA career passing leader, the Cougars also lost their all-time receptions leader in
Tyron Carrier
, their all-time yardage leader in
Patrick Edwards
and first-team Conference USA performer
Justin Johnson
.
"A couple years ago, we had Kevin Kolb leave, and everybody asked [former coach] Art Briles what was he going to do. Along came Case Keenum," Levine said. "We've had tradition here at quarterback, we've had tradition here at wide receiver. I made it clear to our team that now it's their turn to step up and contribute for us on the field. Nobody has to be Case Keenum and nobody has to be Patrick Edwards. They just have to be themselves and help us continue the success we've had and be consistent."
So the high-powered offensive scheme remains. Defensively, Houston will switch back to the 4-3. The Cougars have seven senior defensive linemen, so that definitely helps the transition. Replacing
Sammy Brown
is a major priority this spring.
There is no doubt this is a critical juncture for Houston. The Cougars have to maintain what they have done, all while keeping an eye to their next destination -- a home in the Big East in 2013. They have turned to a man without the usual credentials on his résumé. But Levine brings continuity, consistency, energy, passion and a deep-rooted commitment to the city of Houston.
Now we will see how all those traits serve him -- and this program -- moving forward.
February, 16, 2012
2/16/12
9:00
AM ET
Let's take a look at some spring storylines for selected non-AQ teams.
ARKANSAS STATE

Spring practice start date:
March 12
Spring game:
April 14
End date:
April 16
What to watch:
Gus Malzahn era begins. Hugh Freeze took Arkansas State to the Sun Belt title in his only year on the job. Now the Gus Malzahn era begins, with promises to continue the high-flying attack that dominated the league last year. Malzahn obviously has made his name as one of the top offensive minds in the game, so it will be interesting to see how he interacts with reigning Sun Belt Player of the Year Ryan Aplin.
Michael Dyer's eligibility? The former Auburn running back has transferred to Arkansas State, but his eligibility for 2012 is unclear. The school has considered filing a hardship waiver to the NCAA because of an ailing family member. If approved, he would be eligible immediately.
Big defensive losses. The Red Wolves are losing some of their best players on defense -- Sun Belt Defensive Player of the Year Brandon Joiner as well as first-team selections Demario Davis, Darryl Feemster and Kelcie McCray. In fact, only 10 starters return to the team, so there will be plenty of position battles this spring.
BOISE STATE

Spring practice start date:
March 12
Spring game:
April 14
What to watch:
Replacing Kellen Moore. This is not just a local story. It is a national story. Trying to replace the winningest quarterback in NCAA history is going to overshadow anything Boise State does during practice in the spring or fall. There are several contenders: junior Joe Southwick, sophomore Grant Hedrick, redshirt freshman Jimmy Laughrea and true freshman Nick Patti, already enrolled. Southwick has served as the backup to Moore the past two seasons, while Patti is a highly heralded recruit out of Florida with similarities to Moore. You can bet this will not be settled in the spring.
Youth. Moore is not the only starter who has to be replaced. This will be a relatively inexperienced team when it comes to starts. Several big-time contributors are gone, including running back Doug Martin, left tackle Nate Potter and defensive linemen Shea McClellin, Billy Winn, Tyrone Crawford, Chase Baker, linebacker Byron Hout and safety George Iloka. By some counts, Boise State has only six returning starters for 2012.
Big East early? This has nothing to do with on-the-field matters, but there remains the possibility that Boise State could jump to the Big East a year early to fill the hole left by West Virginia.
BYU

Spring practice start date:
March 5
Spring end date:
March 30 (spring game TBA)
What to watch:
QB depth. Riley Nelson goes into the season as the unquestioned starter after replacing Jake Heaps nearly midway through last season. Nelson's energy and enthusiasm helped the Cougars end with a 10-win season in Year 1 as an independent. This team is now officially his from the start of the season. Now, can he stay healthy? He has gotten injured in 2010 and 2011, and there is not much experience behind him with Heaps having gone to Kansas. Depth must be developed.
Replacing Matt Reynolds. Reynolds was a rock for the Cougars at left tackle the past several seasons, so his shoes are big ones to fill on the offensive line. It helps that three starters are returning on the line, but Reynolds tied a school record with 52 starts in his BYU career. High school All-American Ryker Mathews would seem to be the favorite to win this spot. He missed last season with a foot injury.
Eason gone. Perhaps one of the most underrated players on the defense was Corby Eason, who was tied for the team lead with 14 pass breakups. He is gone, and Jordan Johnson will get his chance at cornerback.
HOUSTON

Spring practice start date:
March 21
Spring game:
April 13
What to watch:
Bye-bye, Case. Just like Boise State, the Cougars must replace record-setting quarterback Case Keenum, who got a sixth year of eligibility and proceeded to smash a number of NCAA passing marks. Unlike Boise, the Cougars have a quarterback with starting experience. That would be David Piland, who took over in 2010 when Keenum and backup Cotton Turner got hurt. Piland got the luxury of redshirting last season, and he goes into spring as the heir apparent. How much has he improved?
Tony Levine takes over. Kevin Sumlin is gone, and Levine was promoted to head coach. That should certainly ease the transition, but Levine is going to want to put his own stamp on the program. What changes will we see with the way he runs practice and schemes? This will be a perfect time for Levine to learn with trial and error before spring practice begins.
Sammy Brown gone. Brown was just as important to the defense as Keenum was to the offense, and his departure is a major hole. The entire linebacker corps has questions, with Marcus McGraw and Phillip Steward also gone. Those three players ranked among the top four in tackles for the season.
NAVY

Spring practice start date:
March 19
Spring game:
April 14
What to watch:
Miller time. Trey Miller goes into the spring as the starter at quarterback. He did play in several games last season and was pretty inconsistent. But now that he has some playing time under his belt and the full-time starting quarterback job, he can start to take some ownership of this team.
Get tougher. Coach Ken Niumatalolo wants his players to get tougher, both physically and mentally. Last season was not what anybody at Navy anticipated, and the heartbreaking losses are simply tough to accept. But Niumatalolo is not going with scheme changes in the spring to get his team back to a bowl game. It is all about making sure his players are tough-minded and fighting for one another.
Discipline. That means playing with much more discipline, and paying attention to detail. When you lose five games by three points or fewer, you start to understand you have to do everything right, even the little things.
NORTHERN ILLINOIS

Spring practice start date:
March 28
Spring game:
April 21
What to watch:
Lynch time. All-everything quarterback Chandler Harnish is gone, leaving the job to his backup for the past two seasons, Jordan Lynch. He is a former safety and, according to the folks who know, plays like one. He also is apparently a better runner than Harnish. Lynch has seen his share of playing time, but how will he fare now that he is in command of the entire offense?
Offensive line. How do the Huskies replace four seniors with a combined 151 career starts? With Trevor Olson, Joe Pawlak, Scott Wedige and Keith Otis gone, Logan Pegram is the lone returner. The line had much to do with the success of Harnish and the offense last season. They gave up just 12 sacks and ranked No. 12 in the country in rushing offense and No. 11 in total offense.
Defensive strength. Northern Illinois returns eight starters on defense but also should get a boost from two more players -- 2010 starters Devon Butler at middle linebacker and Tyrone Clark at weakside linebacker. Butler sat out after he was injured in a shooting last April; Clark sat out for undisclosed personal reasons but practiced with the team throughout the year. Butler dressed out for bowl practices, although he didn't do any contact.
SOUTHERN MISS

Spring practice start date:
March 5
Spring game:
April 14
What to watch:
No Austin Davis. Terrific dual-threat quarterback Austin Davis is gone, leaving a big question mark at the position. Backup Arsenio Favor is expected to get the first-string reps during spring practice, but there definitely will be those watching for incoming freshman Anthony Alford come the fall. New coach Ellis Johnson tried to recruit Alford to South Carolina. Alford also was a baseball player, like Davis.
Ellis Johnson takes over. Southern Miss has built a winning tradition, and Johnson is taking over the surprise Conference USA champs. But he faces some rebuilding questions both on offense and defense. How does he handle these in his first head-coaching opportunity? Johnson has been a lifelong assistant, and worked under many good head coaches. How he adapts now that he is in charge is definitely something to watch.
Defense rebuilding. Six key players from the front seven are gone, including Cordarro Law and Ronnie Thornton. There also is a new coaching staff in place for these players to get used to. Remember, some are going on their third defensive coordinator in three years.
December, 22, 2011
12/22/11
10:19
AM ET
Let's be honest here for a minute. There are very few outside of Houston who have ever heard of Tony Levine.
He has never been a head coach before. He has never been a coordinator before. He has never been an opportunist screaming, "Hire me!" at the first available opportunity.
What he has been makes him the most qualified candidate to coach the Cougars.
Levine has been on the ground floor of the grand rebirth at Houston, and that trumps all the name recognition in the world. He joined the staff when former coach Kevin Sumlin did back in 2008, and helped turn this program from good to great. Under Sumlin, Houston has posted multiple 10-win seasons, produced its first bowl win in 24 years and played for two Conference USA championships.
This season, the Cougars won a school-record 12 games, and were on the verge of the first BCS berth in program history before losing to Southern Miss in the C-USA title game. Levine coached alongside Sumlin every step of the way, learning as he went along to understand everything it takes to run a program, how to earn the respect of players, to recruit, to build.
He knows what Houston is today and where Houston is going. This is a critically important hire because the Cougars are on the verge of even bigger opportunities. They join the Big East in 2013, and need a coach who can steer this program into the uncertainty surrounding such a big move. Because he has worked and learned under Sumlin the past four years, he is the perfect man to lead the charge.
While at Houston, he has coached special teams and receivers and seen prolific play from guys such as Patrick Edwards, Tyron Carrier and James Cleveland. His football bloodlines are good, too, as he served under Bobby Petrino at Louisville for three seasons. During that time, the Cardinals went 29-8, including an 11-1 record and a No. 6 national ranking in 2004.
This is the second year in a row that a Sumlin assistant has gotten an opportunity to become a head coach. Over at West Virginia, former Houston offensive coordinator Dana Holgorsen went 9-3 in Year 1 and is headed to the Discover Orange Bowl. Though Holgorsen did much of his learning under Mike Leach, he and Sumlin are close -- and he credits Sumlin for allowing him to be even more innovative with his unique style of offense.
Holgorsen's hire has worked out well for the Mountaineers. Will this hire work for Houston? Hiring any coach requires a leap of faith. But Levine has plenty going for him, and an excellent base from which to start. When athletic director Mack Rhoades informed the football team late Wednesday night that Levine had been promoted to head coach,
each player rose to give him a standing ovation
.
Levine told the players Houston is a dream job, a destination. When his own children are asked where they are from, he wants them to proudly say, "Houston." Those words play well to his audience. And really, that is the biggest and best audience he needs to help him become a success.
December, 22, 2011
12/22/11
5:00
AM ET
1. The Poinsettia Bowl provided a textbook example of why motivation is critical in bowl games. No. 18 TCU, 10-2, almost made a BCS bowl. Instead, the Horned Frogs ended up in a pre-Christmas bowl playing 8-4 Louisiana Tech. TCU failed to understand that the Bulldogs lost narrowly to three bowl teams before winning seven consecutive games to take the WAC championship. That's why the Horned Frogs had to come from a touchdown down in the fourth quarter to win, 31-24. That's why bowls are so much fun.

2. Houston athletic director Mack Rhoades promoted interim head coach Tony Levine to the top job, replacing departed coach Kevin Sumlin. It's an interesting choice as the Cougars head to the Big East. Levine worked for Tommy Tuberville and Bobby Petrino, with a brief stint in the NFL as well, before Sumlin hired him. In six years at Akron and Houston, Rhoades has never before hired a football coach. If he can pick them like his predecessor Dave Maggard, who brought Art Briles and Sumlin to Houston, then the Cougars will be fine.

3. After 39 seasons as an assistant coach in colleges and the NFL, Norm Chow returns to his home state of Hawaii to become the Warriors' head coach. Chow, 65, did wonders as a quarterback guru at BYU, NC State and USC from 1973-2004. Stanford nearly hired him several years ago, and other schools interviewed him. But he never found the right fit. That's not an issue at Hawaii, which is a good thing, because he will find enough built-in obstacles (geography, fan base, facilities, etc.) to keep him busy.