NCF Nation:

Travian Robertson
January, 25, 2012
1/25/12
10:56
AM ET
Now that you've seen the recruiting needs for the
SEC Western Division
teams, it's time to check what teams in the East needed to focus on when it came to recruiting for the 2012 class:
FLORIDA

Offensive line:
There's no getting around how much Florida's offensive line struggled in 2011. Florida doesn't lose a lot from its line, but the Gators need more talent. There are a lot of questions surrounding this position and getting qualities bodies is a must.
Running back:
Florida loses seniors
Chris Rainey
and
Jeff Demps
, and will enter the fall with unproven players in
Mike Gillislee
and
Mack Brown
. As Florida continues to move closer to a more traditional/pro-style offense, the Gators also need to add size to the position.
Wide receiver:
Again, this is a position in which the Gators need to improve in the talent category. Florida lost just one senior from last year's squad, but unproven players lurk. What Florida needs to get in this class is a true playmaker at receiver. There is hope that
Quinton Dunbar
,
Andre Debose
and
Frankie Hammond
can step up, but some solid competition won't hurt.
GEORGIA

Offensive line:
Georgia loses three starters in
Cordy Glenn
,
Ben Jones
and
Justin Anderson
. The Bulldogs would like to add a few more big bodies up front in this class to help with all that unproven depth.
Linebacker:
In Todd Grantham's 3-4 defense, linebackers are extremely important. The Bulldogs will likely lose a couple bodies at outside linebacker next year, including star
Jarvis Jones
, and would like to add a couple of true playmakers at that position in this class.
Wide receiver:
Come 2013, Georgia will have taken some hits at its wide receiver depth. There is young talent in
Malcolm Mitchell
,
Chris Conley
and
Michael Bennett
, but veterans like
Tavarres King
,
Marlon Brown
and
Rantavious Wooten
will be gone. Adding a couple standouts at wide receiver in this class would be nice.
KENTUCKY

Offensive playmakers:
Whether it comes at quarterback, wide receiver, running back or tight end, the Wildcats need to find players who can make plays when they get the ball in their hands. Kentucky's offense was hard to watch all season because there was no one who could consistently move the ball.
Offensive line:
Kentucky loses three starters --
Chandler Burden
,
Stuart Hines
and
Billy Joe Murphy
-- from its offensive line and needs to load up here in this class. There is a handful of young players at each offensive line position, but the Wildcats need to think about adding more for the future.
Defensive back:
Veterans are leaving the Wildcats' secondary, so it's time to stock up.
Winston Guy
,
Taiedo Smith
,
Randall Burden
and
Anthony Mosley
will all be gone, meaning the Wildcats are in need of adding some depth to both the cornerback and safety positions.
MISSOURI

Running back:
Leading rusher
Henry Josey
suffered a severe knee injury toward the end of the 2011 season and the Tigers have some veterans jam packed at the top of the depth chart at the position. Getting help to add to future rosters would really help this offense as it moves to the SEC.
Defensive line:
The Tigers are losing three starters along the defensive line and 10 players from 2011 will be gone by the end of next season. There are some youngsters there, but it's time to getting into restocking mode along the defensive line. Also, this is where games are won and lost in the SEC. Finding more athleticism here is crucial.
Offensive line:
Like the defensive line, Missouri will lose three starters here. There are some bodies to fill in for now, but you can never have too many offensive linemen and now that the Tigers are headed to the SEC, getting some bigger, more athletic linemen will be key to survival in this jungle.
SOUTH CAROLINA

Defensive line:
The Gamecocks have gotten a ton of production from here lately, but South Carolina will lose two starters in
Melvin Ingram
and
Travian Robertson
. South Carolina might want to add to defensive end the most, with Ingram leaving and
Devin Taylor
getting ready to depart in a year.
Linebacker:
Over the next two years, the Gamecocks will lose some quality players at linebacker and even the spur position. A handful of veterans occupy the depth chart at linebacker, so that means South Carolina needs to add a few quality bodies for the future.
Defensive back:
South Carolina's depth in its defensive backfield could be considered thin. The Gamecocks are down two starters at cornerback and will lose solid players in
D.J. Swearinger
and
DeVonte Holloman
in 2013.
TENNESSEE

Running back:
The Vols never figured out how to run the ball last year and will now turn to a group of unproven running backs.
Marlin Lane
has the talent to excel, but he needs to be more consistent. Finding a couple talented backs in this class would help this position tremendously.
Defensive tackle:
The Vols need some help inside, and now that they are moving to the 3-4, getting quality nose guards is a must for Tennessee. Adding some girth inside will be very important in order to improving this position.
Defensive back:
Tennessee will say goodbye to quite a bit of their defensive backs in the next couple of years, so getting a head start on adding to players to both safety and corner would be a plus.
VANDERBILT

Offensive line:
The Commodores return the bulk of their offensive line next year, but after that, Vanderbilt will be pretty thin and very young up front. Adding four or five bodies to the offensive line would go a long way for Vanderbilt.
Linebacker:
Vanderbilt loses one starter, in
Chris Marve
, here for next season, but the year after will see a lot of turnover at the position, with four rising seniors on the roster.
Defensive end:
Two starters —
Tim Fugger
and
T.J. Greenstone
— are gone and Vanderbilt will lose a handful more after the 2012 season. Getting some help at this position is another must for coach James Franklin.
January, 2, 2012
1/02/12
12:19
PM ET
When Antonio Allen looks back at his South Carolina career, he can't help but feel that it was almost perfect.
Almost.
Though South Carolina has undergone a tremendous transition since the senior safety stepped on campus, he has yet to savor the sweet taste of a bowl victory.
He has hoisted no trophies with his teammates at the end of the season, and until he does, his South Carolina career will feel incomplete.
Getting a win Monday against Nebraska in the Capital One Bowl would end a three-game losing streak in bowl games for the Gamecocks and it would also give the program its first 11-win season.
[+] Enlarge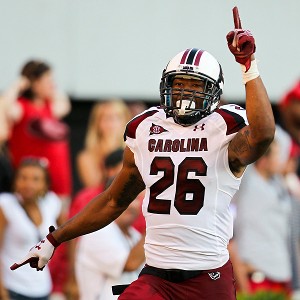 Daniel Shirey/US PresswireAntonio Allen and the Gamecocks are hoping to secure the program's first 11-win season.
"It would be great to get that 11th win because no one has ever done it in South Carolina history. We want to be the first to make history," Allen said.
South Carolina didn't exactly have a rich tradition before Steve Spurrier arrived. Spurrier has done wonders for the program, but this group of seniors has also been a major factor in elevating South Carolina to a program that made it to its first SEC championship game in 2010 and won 10 games for only the second time in school history in 2011.
"We came a long way," senior defensive tackle Travian Robertson said.
"It's been a great ride coming from the bottom and trying to get to the top."
But that run has come without much success in the postseason. Spurrier is just 1-4 in bowl games and the Gamecocks have been outscored 77-38 in their last three losses.
Allen said the losses have been frustrating, but what's been more frustrating is seeing a lack of chemistry at times. Allen said that before last season's run to Atlanta, he noticed that players were never as close as they should have been. The Gamecocks were more of a group than a team.
Now, Allen said he sees more of a family inside South Carolina's football complex. There is more trust and players are happier around each other. That mentality has the Gamecocks feeling much more confident heading into the Capital One Bowl.
With South Carolina's recent success have come heightened expectations. Robertson and Allen agreed that fans are proud of where the program has come but expect the winning to continue and expect the Gamecocks to be competing for championships more often.
Allen and Robertson are OK with that because they feel South Carolina is on track to do just that.
"We came in with the purpose to win and try to win championships," Robertson said. "We've accomplished some of our goals, but it feels great to know that we started something that's going to be great around here. I know that once we get it started, Coach Spurrier and all of the other coaches are going to keep it going."
Regardless of Monday's outcome, Allen said he'd always look back at his South Carolina career and feel as though he helped accomplish a lot for the program.
Still, hoisting that bowl trophy for the first time wouldn't be so bad.
"Hopefully it means a lot and I can tell my kids and they can tell their kids about it," he said. "Hopefully, the tradition doesn't stop with me and it goes along with my kids."
August, 16, 2011
8/16/11
9:00
AM ET
Shortly after one last shriek from the electrically charged rooster hiding inside South Carolina's PA system triggered an end to the Gamecocks' 35-21 upset of No. 1 Alabama last season, everything seemed to change about South Carolina's football program.
[+] Enlarge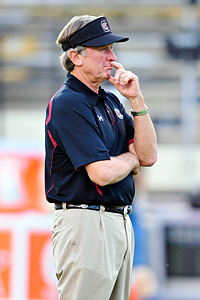 Grant Halverson/US PresswireSteve Spurrier believes this season's team is the best he's coached at South Carolina.
For a moment, we looked up at the Gamecocks, wondering how far they would go and who they would leave hurting along the way.
That feeling lasted about a week as the Gamecocks went out and blew an 18-point lead to a 3-3 Kentucky team, losing 31-28, reassuring everyone that South Carolina still had a ways to go before it could be taken seriously as a title contender.
However, South Carolina rebounded and made it to its first SEC championship game, where the Gamecocks lost to eventual national champ Auburn 56-17.
South Carolina then lost in the Chick-fil-A Bowl to Florida State, ending both an encouraging and head-scratching 2010 season.
As the Gamecocks enter the 2011 season, they are the overwhelming favorites in the East, but there is still the perception that South Carolina can only go so far.
"We hear that and we're going to keep that in the back of our heads," safety D.J. Swearinger said. "There are a lot of people out there that said South Carolina would never win a SEC championship.
"We're trying to stay consistent this year and we're trying to get back to the SEC championship and redeem ourselves."
And redeem themselves they can. Coach Steve Spurrier believes this is the best team he's had in Columbia. If there is a team that should be getting the extra publicity, it's this one.
"We've accomplished a few firsts, but there's plenty more for us to go after," he said. "We feel like we've probably assembled the best group of players we've had in the seven years now that I've been there. But time will tell. Time will tell how this year's team will do."
Time will also tell if this team can finally get over the hump of underachieving. South Carolina has seen this all before.
In 2005, the Gamecocks tied for first in the East, going 5-3 in conference play. However, South Carolina missed out on a trip to Atlanta because of a "coulda shoulda woulda game", as Spurrier puts it, in which the Gamecocks fell 17-15 to Georgia. In 2006, they started 6-1 before losing their last five games. And Spurrier is just 1-4 in bowl games.
But players insist this time it's different. The mindset is different. There is more confidence, camaraderie and closeness.
"We don't worry about that stuff. We know what we have to do and what we have to take care of," defensive tackle Travian Robertson said. "We try to block all of that negative talk out and do what our coaches ask us to do.
"We set our goals. Other people don't set our goals."
The Gamecocks return 13 starters from a year ago, including one of the nation's best one-two punches in running back
Marcus Lattimore
and wide receiver
Alshon Jeffery
. Troubled quarterback
Stephen Garcia
is back, with supposedly a new outlook on life, and the defense is solid and should feature the league's top pass rush.
There is no question this team has the talent to make back-to-back trips to the SEC title game, but with the expectations higher than ever, can this group keep itself in check? Can it keep from wilting under the pressure?
"We're more experienced and more confident," Jeffery said. "Going into this season, we're more together and just one. This year, we are more prepared."
One reason for South Carolina's improved togetherness is last season's disappointing finish. Robertson said this team rallied around the mutual disgust of the 0-2 finish. They felt they were better, and this season Robertson knows this team will be better.
"Anytime you fail or you lose, you have to think about what you did to keep winning and thinking about what you did to stop yourself from losing," he said. "We didn't end well, so we know we have to finish strong this year, and that's one thing we lacked last year."
August, 7, 2011
8/07/11
6:10
PM ET
COLUMBIA, S.C. -- There were times this summer when
Stephen Garcia
wanted to throw in his garnet towel.
[+] Enlarge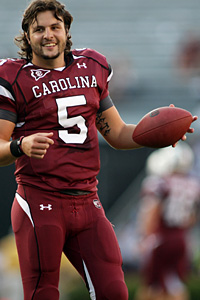 Frankie Creel/US PresswireSouth Carolina hopes quarterback Stephen Garcia has put his off-field troubles behind him.
His careless off-the-field lifestyle had gotten him suspended for the sixth time in his five years on campus and he felt things had finally fallen apart.
Garcia was suspended indefinitely this spring after an alcohol-related incident at a mandatory leadership seminar event. At South Carolina's media day Sunday, Garcia said he reached out to the man running the event and apologized, thinking his actions wouldn't garner such attention.
But they did, and Garcia could only watch as his teammates went through the early motions of defending their Eastern Division title.
As the mocking and scrutinizing intensified -- again -- Garcia's only support came from his teammates. Players like
Alshon Jeffery
and
Marcus Lattimore
took to Twitter and Facebook to support him and gush about the Stephen Garcia they knew.
After seeing the lavish outpouring, Garcia, who had fallen into a major funk, lifted his head and decided he couldn't leave his teammates -- not now.
"It really put it in my head that I really love these guys a lot and I'm very thankful to still be here," Garcia said.
He met with coach Steve Spurrier and discussed transfer options; much like they did in 2008 after off-field antics also got him suspended from the team.
He was allowed to transfer, which he seriously considered before his teammates' actions, but told Spurrier he was committed to the program and turning his life around.
Garcia was officially reinstated just before preseason camp and while he's still competing with sophomore
Connor Shaw
, there was little said Sunday to make anyone think that Garcia isn't
the guy
.
His improved level of commitment had Spurrier singing his practice praises Sunday.
"He's not goofing around as much as he used to, well, he's not goofing around at all, really," Spurrier said.
That's a good start. His head should be on the field, not on the social scene. Focus is good because Spurrier took a major chance bringing the enigmatic Garcia back.
Players have insisted Garcia's troubles haven't become a distraction -- their silly exchanges with him during Sunday's news conference proved as much -- but this team will undoubtedly change that thought if Garcia falls out of line again.
"We're going to follow Stephen no matter what," defensive tackle Travian Robertson said. "He's like a brother to all of us.
"Just to hear his name is back on the team, we're going to follow him and try to help him out because he's a great player and a great guy."
This team will follow Garcia as far as he's willing to take them, but any sort of slip-up might cause both parties to change directions. The expectations and goals are too high for one person to derail this season.
Garcia never elaborated on his "lifestyle changes" and was visibly tired of all the questions about his off-field life, but he understands that he brought it on himself and he'll likely hear them for the rest of his time at South Carolina.
"It is what it is. I've been dealing with it since I first got here, my first month here," he said. "I've developed some pretty thick hide, so I'm used to it. I hope that it's passed, but if it's not then it's not and it is what it is."
Alcohol factored into Garcia's hijinks before, and while some have suspected he's receiving counseling for his drinking, Garcia emphatically denied those rumors, saying he and the team doctor "chit-chat" from time to time. He also denied having a problem with alcohol.
Through everything, Garcia insists he wouldn't take anything back. He considers his experiences ones that have made him grow as a person and a football player.
"I've learned a lot since I've been here," he said. "Coming in here, I didn't think it was going to be this kind of a fishbowl. I learned the hard way, which I tend to do over the course of my life, but I wouldn't do it any other way. It's made me who I am today. You only live once."
August, 3, 2011
8/03/11
3:00
PM ET
Yes, you've read correctly: South Carolina will enter the 2011 season as the favorite to win back-to-back SEC East titles.
It's not something you hear often, if ever, but it's reality.
The Gamecocks open preseason practice Wednesday, and while the hype for this season won't literally make them faster or stronger, it has fueled this team to improve its workout habits during the offseason. There is a more positive attitude around the football program and the mindset is better heading into this season compared to last year, defensive tackle Travian Robertson said.
[+] Enlarge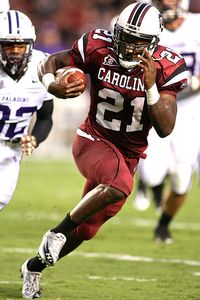 Jeremy Brevard/Icon SMIMarcus Lattimore said the Gamecocks have their sights set on a bigger prize than a conference title.
"It's helping us work harder and a lot of guys understand we have a great team and we have a chance to do something big this year," Robertson said. "It's helping us work harder in the weight rooms ... and in summer conditioning."
And it doesn't help that those players working harder have some decent talent to go along with it -- the best coach Steve Spurrier said he's had in Columbia. The Gamecocks return one of the fiercest defensive lines in the league, starting with Robertson in the middle and ending with two of the SEC's best in Devin Taylor and Melvin Ingram outside. And incoming freshman Jadeveon Clowney has the talent and to have an immediate impact for the Gamecocks.
Behind them, Shaq Wilson, the unquestioned quarterback of the defense, is back at the Mike linebacker position. In his only appearance last season, Wilson registered seven tackles and recovered two fumbles against Auburn. He led the Gamecocks with 85 tackles in 2009.
All-American Stephon Gilmore headlines a defensive backfield that should be much improved and DeVonte Holloman, one of South Carolina's top defensive playmakers, will play the hybrid linebacker/safety position known as the Spur.
Offensively, you'd be hard-pressed to find a better one-two punch than
Marcus Lattimore
and
Alshon Jeffery
. Lattimore burst onto the scene with a monster freshman year carrying the ball, while Jeffery proved he's nearly impossible to cover one-on-one.
Throw in quarterback
Stephen Garcia
's supposed off-field transformation, and it's hard to pick against the Gamecocks.
But can they live up to the hype? We've seen them struggle with it in the past -- most recently with a loss to Kentucky after upsetting No. 1 Alabama last fall and two losses to close out the year.
The Gamecocks have heard both sides and neither really matter. Lattimore said expectations are high for the defending East champs, but the focus is on something bigger than hype -- much bigger.
"[The hype] really doesn't matter to me," he said. "The main goal is to win the national championship and that's what we plan on doing.
"We have a lot of talent coming back. We're trying to build a family. If we do that, then it's going to be hard to beat us."
June, 20, 2011
6/20/11
11:30
AM ET
We take a look at the interior players on the defensive line next. The frightening thing about this area is that there is a lot of young talent that could be just as good as the veterans around the league.

That just goes to show you how good the recruiting is in this league. There are a couple of junior college players who could also make instant impacts on SEC lines in this league.

Here's a look at some of the big fellas in the middle:

1. Jaye Howard, Florida, Sr.: Howard has never wowed people with his stats, but when he's playing to his potential, he's one of the toughest interior linemen to stop in this league. The athletic 300-plus-pounder is already a top NFL draft prospect at tackle. He had just 29 tackles and three sacks in 2010, but would have added to that had he not suffered a nagging ankle injury. He had his ankle cleaned out this spring and should be back to full strength for two-a-days.

2. Malik Jackson, Tennessee, Sr.: Jackson will be the center of attention on Tennessee's line. He's not only talented but he makes those around him better, and the Vols' line should greatly improve around him. Jackson had 48 tackles and five sacks a year ago after transferring from USC and making the switch from end to tackle.

3. Fletcher Cox, Mississippi State, Jr.: Cox started four games as a freshman and was a staple on the defensive front last season for the Bulldogs. He managed 29 tackles and 2.5 sacks and improved even more during the spring. Cox had a solid spring and looks to be even more of a force in the middle this fall.

4. John Jenkins, Georgia, Jr.: Jenkins has resided in the JUCO world for the past two years, but he arrives at Georgia as someone expected to have a profound influence on the Bulldogs' defense. He's perfect for Todd Grantham's 3-4 defense and will be immediately thrown into the noseguard battle. At 6-foot-4, 340 pounds, Jenkins will be a player who stuffs the run and collapses the pocket.

5. Josh Chapman, Alabama, Sr.: He's the anchor on the line and started 12 games a year ago after backing up and learning a lot from Terrence Cody in 2009. He's not as big, but he's more athletic than Cody and improved his strength this spring. Chapman enters the fall as the Tide's most-experienced lineman.

6. Travian Robertson, South Carolina, Sr.: Robertson returned in 2010 after a season-ending knee injury cost him most of 2009. All Robertson did was record 42 tackles, including 10 for loss and four sacks. He's become more of a leader on defense and should improve on his solid numbers from a year ago.

7. Josh Boyd, Mississippi State, Jr.: Boyd is the second part of Mississippi State's talented duo in the middle. He was right behind Cox with 24 tackles and also had 2.5 sacks. Boyd has been a tremendous player since his freshman year and seemed to grow even more throughout the spring.

8. Sharrif Floyd, Florida, So.: Floyd was the most consistent of Florida's much-heralded freshmen defensive linemen last season. The thing is that he could have been even better, but it took him some time to adjust to the college game. He'll battle for time at noseguard when Florida is in the 3-4 and will be a regular on the line when the Gators go back to the 4-3.

9. Ego Ferguson, LSU, Fr.: He redshirted last season, but people on the Bayou expect him to be a big-time player this fall. He has tremendous size and strength and should be an excellent run-stopper in the middle. His spot in the middle hasn't been guaranteed, but it will be hard to keep him out of the lineup.

10. Robert Thomas, Arkansas, So.: Sure, Thomas has yet to play a down of SEC football, but coach Bobby Petrino said this spring that Thomas might be the most-talented player in the middle for the Hogs. Thomas had 48 tackles, including 15 for loss, and 4.5 sacks as a JUCO standout last year. The coaches gushed over his athleticism after he took advantage of the reps he got with Byran Jones and DeQuinta Jones injured this spring.
June, 20, 2011
6/20/11
9:55
AM ET
Today we look at the big uglies that cause all the mayhem in the trenches. The SEC consistently spits out nasty defensive linemen and this year has more of an athletic feel.
Here's how the teams stacked up:
1. South Carolina:
The Gamecocks return a defensive line that would make any offensive line shutter. Plus, incoming freshman Jadeveon Clowney comes in as the top high school player in the country and could be one of the best ends in the league this fall. Devin Taylor leads the group at end and was second on the team with 7.5 sacks as a sophomore. Helping on the outside is Melvin Ingram, who plays inside on passing downs, and led South Carolina with nine sacks a year ago. Senior Travian Robertson, who came off injury to get four sacks last year, is solid in the middle as well.
[+] Enlarge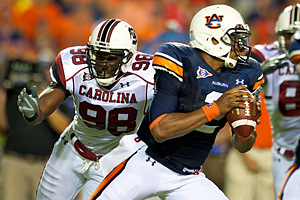 Dale Zanine/US PresswireDevin Taylor made a habit of harassing quarterbacks last season.
2. Arkansas:
The Razorbacks might have the best pass-rushing group Arkansas has seen in a while. Things revolve around defensive end Jake Bequette, who was one of the more unheralded players in the league last year, despite having seven sacks. On the other side of the line is Tenarius Wright, who will make up the second part of a formidable outside duo in Fayetteville with his speed and athleticism. In the middle, there are plenty of options. Byran Jones and DeQuinta Jones missed spring due to injury, but will be back this fall and there's a wealth of depth behind them. Junior college transfer Robert Thomas might be the best and most athletic option in the middle is primed to break out.
3. LSU:
There are some questions about the experience the Tigers bring back, but no one will question the talent and athleticism in Baton Rouge. Sam Montgomery is back at defensive end, after suffering a serious knee injury. He hasn't played much, but the coaches believe he's got what it takes to be a top end in this league. Kendrick Adams started 11 games last year at end, while Lavar Edwards filled in for Montgomery. Ego Ferguson redshirted last year, but should get a ton of playing time in the middle this fall. He is already one of the most athletic tackles in the SEC. Don't forget about five-star early enrollee Anthony Johnson, who made very strong impressions on his coaches this spring and will be in the rotation inside.
4. Florida:
This unit was criticized for lacking toughness last season, but will be full of that and even more athleticism in 2011. Jaye Howard is returning from spring ankle surgery and is already considered a top defensive tackle prospect in next year's NFL draft. Alongside him are youngsters Sharrif Floyd and Dominique Easley. Floyd was the most consistent of the much-ballyhooed freshman class last fall, while Easley struggled with attitude problems. Easley has rebounded and both excelled this spring. Omar Hunter is finally healthy and will share time with Floyd at noseguard and senior William Green will occupy an end spot. This group is even better when Ronald Powell lines up at end in the 4-3.
5. Alabama:
On paper, there are a few questions with this group, but it's hard to drop Alabama very far on this list. The 3-4 scheme will have senior Josh Chapman at noseguard. Chapman started 12 games in the middle last fall, totaling 31 tackles, including 3.5 for loss. Damion Square will compete for time on the outside, and since returning from his ACL injury, he's gained a lot more playing confidence and could be a budding star in the league. Junior college transfers Quinton Dial and Jesse Williams will compete for time on the line as well, while sophomore Ed Stinson will stay at end after starting last season at Jack linebacker.
6. Mississippi State:
The Bulldogs have arguably the top returning tackle tandem in the SEC. Fletcher Cox and Josh Boyd are the behemoths in the middle who combined for 53 tackles, 13 for loss and five sacks last year. Finding any sort of inside running game against Mississippi State will be extremely tough. Developing a pass-rusher is the next step for the Bulldogs' staff. Sean Ferguson occupies one side, but the other is still up for grabs. Trevor Stigers and Shane McCardell battled for the spot this spring, but neither has really pushed ahead.
7. Georgia:
There is a lot of talent in Athens, but there could be a lot of movement on the line. JUCO transfer John Jenkins is the big -- and we mean big -- name up front and he's yet to play a down in the SEC. He arrives with a ton of hype, but is perfect at noseguard in Todd Grantham's 3-4. DeAngelo Tyson moves to his natural position outside after playing noseguard last year. Kwame Geathers played in the middle this spring, but could be usurped for Jenkins this fall and move outside. Abry Jones is still maturing after moving to end and recording 34 tackles including 3.5 for loss last season and had a 16-tackle performance against Georgia Tech.
8. Auburn:
The Tigers must replace three starters this season. Inside, Auburn is talented but inexperienced with Kenneth Carter and Jeffrey Whitaker having 13 combined tackles from a year ago. There's less concern on the outside with lone returning starter Nosa Eguae on one side and sophomore Corey Lemonier on the other. Eguae might have more experience with 11 starts, but Lemonier appears to be more athletic and should be near the top of the defensive end pool this year. After that, the Tigers are young across the board.
9. Tennessee:
The Volunteers' line will grow with senior Malik Jackson running things in the middle. He had 48 tackles and five sacks a year ago and some think he'll be even better this fall. A lot will also be expected from incoming JUCO transfer Maurice Couch. He's pretty athletic at 6-foot-4, 327 pounds and he'll be greatly needed, considering the dismissal of Montori Hughes. Jacques Smith has All-SEC potential and will hold one of the end spots. After that, Tennessee has some young, but encouragingly talented bodies at each position.
10. Ole Miss:
Some of the best news of the spring coming out of Oxford was the return of Kentrell Lockett at defensive end. Lockett was granted an extra year of eligibility by the NCAA and will not only be the Rebels' top lineman but possibly their best defensive player. After that, the questions roll in with four tackles gone and youth coming in. Tackle Justin Smith has yet to really emerge as the All-SEC talent he was expected to be and Ole Miss is smaller up front. JUCO transfer Gilbert Pena could add some size in the middle. Gerald Rivers returns to get time at end, but has played in just 15 career games in two years.
11. Vanderbilt:
This was supposed to be a strength for the Commodores last year until injuries hit. Still, Vanderbilt returns three starters. Experience is there, but this unit has to continue to improve, especially in the pass-rushing department where the Commodores had just 20 sacks in 2010. Rob Lohr led Vanderbilt with four sacks a year ago and had 35 tackles. T.J. Greenstone is coming off of injury and will line up inside. Tim Fugger was one of the Commodores' most consistent players at end, playing in every game and registering three sacks and four forced fumbles.
12. Kentucky:
End Collins Ukwu and tackle Luke McDermott return with the most experience on Kentucky's line. Ukwu improved not only on the field but in the weight room this spring and is expected to be a more consistent pass-rusher. McDermott is a walk-on currently ahead of Donte Rumph, who has the talent to be one of Kentucky's top defenders, but has yet to fully buy in to the program. The coaches are also waiting for tackle Mister Cobble to finally break out of his funk and be a regular contributor. The rest of Kentucky's linemen have some developing to do and are inexperienced.
March, 22, 2011
3/22/11
11:35
AM ET
COLUMBIA, S.C. -- If the SEC's run of five straight national championships has taught us anything, it's that winning at a high level in this league usually begins and ends up front defensively.
Nobody needs to tell Ellis Johnson that.
[+] Enlarge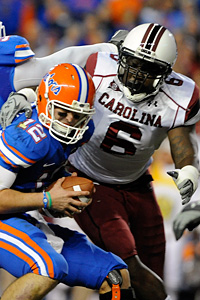 AP Photo/Phil SandlinMelvin Ingram led the Gamecocks with nine sacks last season.
As South Carolina's assistant head coach for the defense, he's coached enough football in the SEC to know what a championship-caliber defensive line looks like.
While Johnson isn't ready to say the Gamecocks are there, it's difficult to survey the collection of talent they will put on the field next fall in the defensive line and not think they have an excellent chance to get there.
"We're getting closer," said Johnson, who has also headed up defenses at Alabama and Mississippi State. "When you say you might be one of the best fronts South Carolina has had, that's good. But in the neighborhood we play in, it's just another real tough SEC front. Maybe I'm wrong, but I've been in this league a long time, and I think it's just another damn good front.
"These kids have to play like their hair's on fire to play with the kind of talent that's in this league."
In other words, Johnson wants to see it. He's not real interested in talking about it.
Not yet, anyway.
Still, the Gamecocks' defensive line should be one of the strengths of this team next season along with the
Marcus Lattimore
-
Alshon Jeffery
tandem on offense.
Junior Devin Taylor was a first-team All-SEC performer last season at one end, and on his way to campus this summer is prized recruit
Jadeveon Clowney
, who was ESPN's No. 1-ranked prospect in the country.
Nobody expects Clowney to come in and be an All-American his first game in a South Carolina uniform, but he has freakish athletic ability and will give the Gamecocks another explosive presence up front.
The 6-foot-7 Taylor coming after the quarterback from one end and the 6-6 Clowney bearing down from the other end is an ominous sight for any quarterback.
The Gamecocks led the SEC with 41 sacks last season. Taylor had 7.5, and
Melvin Ingram
led the team with nine.
The 6-2, 271-pound Ingram is South Carolina's designated inside pass-rusher on passing downs, but he's more of an end on first and second downs.
"Melvin is not an inside player in this league on first down," Johnson said. "We tried to make him do that for us because we needed depth, and he fought his butt off. But Melvin is an end. When he moves inside for us on third down, he's done some great things for us. I don't worry about the speed and pass-rush. We're starting to bring some kids in that can do that."
What Johnson is looking for is more depth inside. South Carolina was third in the SEC in rushing defense last season, and Johnson was pleased with the way the Gamecocks improved against the run.
Senior
Travian Robertson
returns at one starting tackle spot, and one of the guys Johnson thinks might be the key to how well the Gamecocks play up front next season is freshman
Kelcy Quarles
.
He's had an impressive start to spring practice and is a little older than your normal freshman. Quarles spent last season at Fork Union (Va.) Military Academy after originally signing with the Gamecocks in 2010.
"He kind of snuck under the radar in all the recruiting hype, because he was at prep school and then here in January," Johnson said. "If spring ball brings him to the point fundamentally where he's ready to make that transition, Kelcy has a tremendous upside."
Also, Johnson said it's been a good start to the spring for junior tackle
Byron Jerideau
, who transferred in from junior college last season. The 6-foot, 315-pound Jerideau has a chance to be that run-stuffer in the middle now that he's been around for a year and has a better feel for the league.
"It's like he's all of a sudden made a transition now and is doing more than just lining up and trying to play hard," Johnson said.
Robertson, the veteran of the group, likes the way it's all fitting together.
"We took a lot of pride in setting the tone last year," Robertson said. "It's going to be on us even more this year, and that's what we want."
For Johnson, it's about building on what the Gamecocks have started.
"There has been a player or two to come through here, an interior tackle, but he was usually by himself," Johnson said. "There have been some big-time players in there, but there weren't three or four of them.
"That's what you have to have, I think, to survive in this league."
It looks like the Gamecocks have them.