NCF Nation:

Travis Miller
March, 12, 2010
3/12/10
4:45
PM ET
STILLWATER, Okla. -- Oklahoma State's new offense will be heavily reliant on playmakers. Identifying who those are could be simpler than its sounds.
[+] Enlarge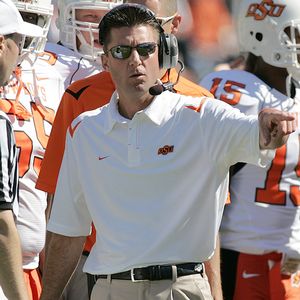 Tim Heitman/US PresswireOklahoma State coach Mike Gundy is willing to give a wide range of players a chance to prove themselves on offense.
"Anybody that's going to take the time to learn the system and can make a play with the ball in their hands will get a chance," coach Mike Gundy said.
Added offensive coordinator Dana Holgorsen, who's busy installing his system this spring:
"We get the ball to people that make things happen. I don't care what position they line up at. We try to get it to everybody," said offensive coordinator Dana Holgorsen. "There's five spots and we try to get it to all five, but the guys that make things happen after it's in their hand are going to get it more than the other guys."
Chief among those is shifty running back
Kendall Hunter
, who Gundy said could touch the ball 250 times as a senior. After leading the Big 12 in rushing as a sophomore, he struggled in 2009. His yards per carry averaged dropped by more than two yards and an ankle injury kept him out of five games. When he did play, he never topped 75 yards in a game.
"Last year was a tough year, because I wanted to be out there helping my team, just the injuries were kind of holding me back a little bit," Hunter said.
He's healthy now, and his coaches seem intent on getting him the ball.
"I think he's very excited," Gundy said. "For him to have the opportunity to have to touch the ball in space, I think is an advantage for our offense, but its also an advantage for him."
If he doesn't get the ball, Gundy said it won't be for lack of opportunity. If Hunter doesn't show himself as one of those playmakers, he'll turn to backups
Jeremy Smith
or
Travis Miller
.
Cowboys receivers will get the ball in a different system with similar personnel.
Dez Bryant
lit up defenses in his first three games, but forced his teammates to grow up quickly after he was suspended for the final 10 games 2009 for lying to the NCAA about his relationship with Deion Sanders.
"Once the middle of the season up through the bowl game, they became primary receivers," Gundy said. "That experience should help them a lot going into this season."
Junior
Hubert Anyiam
caught 42 passes last season, 36 in the final eight games. Sophomore
Justin Blackmon
finished with 20 catches, as did junior
Josh Cooper
, who caught 10 of his 20 passes in the final four games of 2009.
"The thing I'm excited about is we've got some competition going on at each spot," Holgorsen said, adding that both the receivers and running backs' ball skills were better than he'd anticipated. "With competition, there's a level of, 'You've got to come every day ready to go.' We got about eight guys right now competing for the top two spots, and the thing that I'm excited about even more than the competition is they're all young.
"It's going to be that way for a couple years."
March, 10, 2010
3/10/10
8:42
AM ET
STILLWATER, Okla. -- The storm clouds that delayed the opening of Oklahoma State's spring practice on Monday rolled out as Dana Holgorsen's offense rolled in on Tuesday. With it came a new-look Cowboy offensive attack that had everyone in Stillwater trying to adjust.
"It was different. I'm not exactly sure what I did, or what I accomplished out there, but I'm learning," said Oklahoma State coach Mike Gundy.
Holgorsen will take over play-calling duties from Gundy, who still has the final say for play calls, but for Gundy, that meant he has time to spend half his practice watching the defense, a luxury he hadn't enjoyed in his first five seasons.
[+] Enlarge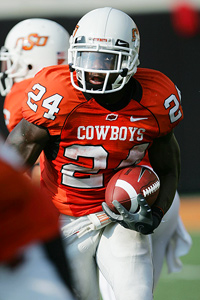 Paul Jasienski/US PresswireKendall Hunter may see a different distribution of his touches this season.
Gundy said one practice wasn't nearly enough to identify more than the most obvious differences between his offense and Holgorsen's.
"It's fast-paced, very similar to what we have been the past few years here," Gundy said. "There's some variety to the ways the running backs can touch the football, which I think is good for us."
Gundy said he envisioned running back
Kendall Hunter
touching the ball 250 times as a senior. As a sophomore, Hunter led the Big 12 with 1,555 yards and 16 touchdowns on 241 carries and added 198 yards on 22 catches. That's a total of 263 touches.
This season, the difference will come in the distribution of those touches.
"He may have 150 or 160 rushes, and maybe it's more catches," Gundy said.
Gundy also added that the system could provide opportunities for young players who couldn't find opportunities in the previous scheme. Among those who could benefit: 5-foor-10, 170-pound sophomore inside receiver
Isaiah Anderson
and sophomore running back
Travis Miller
.
The quarterbacks went through adjustments of their own, running through new drills and new exercises in the new offense.
Brandon Weeden
is the likely starter ahead of a pair of freshmen, Johnny Deaton and
Clint Chelf
.
"[Deaton's] head was spinning, which most kids, their head is going to spin," Holgorsen said. "Weeden's head was spinning a little at times, too, as mature as he is. But you could tell that kids had never been put in that situation before; that's natural. It happens everywhere."
Tuesday was my first opportunity to meet Holgorsen, a branch of the Mike Leach coaching tree who spent the past two seasons at Houston. Holgorsen's laid-back demeanor likely meshed well with Leach during their eight seasons together, and I sense Holgorsen's quirky quotability was only enhanced as a member of Leach's staff. I should note I didn't see any pirate memorabilia during my visit to the Oklahoma State facilities.
Said Holgorsen, who has yet to formally move to Stillwater: "I'm enjoying [my hotel in Stillwater] right now. I got me a nice, big king bedroom suite and they make my bed for me every day, wash the towels on the floor. What more can you ask for?"
How about a season opener that's not akin to "
doing surgery with a chainsaw instead of a scalpel
," to quote Holgorsen's former boss.
But last year, his Cougar offense averaged 58 more yards per game than college football's second best. Keep that pace, and Holgorsen can keep his license to be as quirky as he wants.