September, 6, 2012
9/06/12
10:15
AM ET
With several key conference tilts on tap, we take a look at what to watch in the SEC in Week 2:
1. Hello Missouri, Hello Texas A&M:
Even though Missouri has already played a game as an SEC member, Missouri and Texas A&M "officially" become league members Saturday when the Tigers take on Georgia and the Aggies face Florida. It's fitting that the two newcomers would play traditional powers in their first league games, and it's also fitting that both would open SEC play at home. The eyes of the league will turn to College Station, Texas, at 3:30 p.m. ET and then to Columbia, Mo., at 7:45 p.m. ET. It is indeed a new day in the SEC.
2. Missouri's inexperience up front:
Blocking Georgia's defensive front with a veteran offensive line is no easy task, but the Tigers will try to do it a bit short-handed. Senior right guard
Jack Meiners
is questionable for the game with a knee injury. His size and strength inside would be invaluable against the Bulldogs. Former walk-on
Max Copeland
is scheduled to start in Meiners' place. And at left guard, true freshman
Evan Boehm
is the starter. Senior
Travis Ruth
was slated to be the starter at left guard, but tore his left triceps tendon in August and underwent surgery.
3. More touches for Gurley:
In his debut last week, Georgia freshman running back
Todd Gurley
carried the ball eight times for 100 yards and had touchdown runs of 55 and 10 yards. He also had a 100-yard kickoff return for a touchdown. Coach Mark Richt said he would "definitely" like to see Gurley touch the ball more Saturday against Missouri than he did last week. But the Bulldogs aren't going to forget about fellow freshman
Keith Marshall
and sophomore
Ken Malcome
. Richt said Gurley probably would have carried it a few more times last week but that he got a little light-headed after his 100-yard kickoff return.
4. Driskel takes the reins:
It's
Jeff Driskel
's job, and Florida coach Will Muschamp has told him that there's no need to be looking over his shoulder Saturday. It was important that the Gators settle on a starting quarterback prior to going to Texas A&M, and that's exactly what Muschamp did coming out of Florida's ho-hum 27-14 season-opening victory over Bowling Green. Driskel is a better runner than
Jacoby Brissett
and has a better chance of extending the play when things break down. More than anything, though, it's going to be imperative that the Gators play well around Driskel. The running game looks to be in good hands with
Mike Gillislee
, but the Gators are going to need more big plays like the one
Frankie Hammond
turned in against Bowling Green. He took a quick out, shook a tackle and turned it into a 50-yard touchdown. It's been a while since the Florida receivers have made those kind of plays consistently.
[+] Enlarge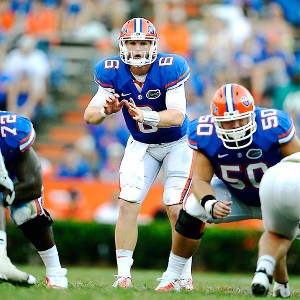 AP Photo/Phil SandlinJeff Driskel earned the nod as Florida's starting quarterback heading into the SEC opener at Texas A&M; can his receivers step up?
5. More first-timers:
In Week 1, Tennessee's
Cordarrelle Patterson
, Georgia's Gurley, Alabama's
T.J. Yeldon
and Ole Miss'
Bo Wallace
stole the show among the newcomers in the league. There are sure to be a few more that break out this week. Keep an eye on Missouri freshman receiver
Dorial Green-Beckham
. The Tigers will look to get him more involved in the offense. And at Texas A&M, redshirt freshman quarterback
Johnny Manziel
makes his debut along with true freshman cornerback
De'Vante Harris
, who earned his way into the starting lineup soon after preseason camp began. Two other true freshmen worth watching at Texas A&M are both known for their big-play skills -- receiver
Thomas Johnson
and running back
Trey Williams
.
6. Ascending to No. 1:
Alabama coach Nick Saban scolded the media this week for not giving Western Kentucky proper respect. That said, we'll change the subject a little bit from the impending blowout this Saturday at Bryant-Denny Stadium. The Crimson Tide moved to No. 1 in both polls after routing then-No. 8 Michigan 41-14 in the season opener. Since the preseason Associated Press poll began in 1950, only two teams have ascended to No. 1 in the poll after Week 1 and stayed there the rest of the season. Nebraska did it in 1971 after Notre Dame was the preseason No. 1 selection, and USC did it in 1972 after Nebraska was tabbed preseason No. 1.
7. Connor Shaw's status:
There's still no final word on whether South Carolina quarterback
Connor Shaw
will play Saturday against East Carolina, but he gave a thumbs-up to reporters as he left the practice field Wednesday. Coach Steve Spurrier said it could be a game-time decision. Spurrier said the key was Shaw being able to throw effectively Wednesday and Thursday in practice without considerable pain. Shaw's teammates said he looked like his old self Wednesday in practice. Shaw is dealing with a bruised right (throwing) shoulder after taking a knee to the shoulder area last Thursday against Vanderbilt. Wednesday was the first time he'd done anything in practice since the season-opening victory over the Commodores. Sophomore
Dylan Thompson
is Shaw's backup.
8. Breaking through in the SEC opener:
Dropping the SEC opener hasn't just been a problem for Mississippi State since Dan Mullen has been on the job. The Bulldogs haven't won their SEC opener since 1999, when they beat South Carolina 17-0. They started 8-0 that season. Under Mullen, they've lost their past three SEC openers to Auburn, including the past two by a combined 10 points. The Bulldogs get a chance to end that drought Saturday when Auburn visits Scott Field. It's also a chance for Mullen to break through in the West. His only three wins over Western Division foes since taking the job in 2009 have been over Ole Miss. He's 0-12 against everybody else in the West.
9. LSU's running back carousel:
As problems go in this league, it's a great one to have. LSU may have too many good running backs ... if that's possible.
Kenny Hilliard
and
Alfred Blue
each rushed for more than 100 yards in LSU's opener. Hilliard had 141, and Blue, who started the game, had 123. A year ago, it was
Michael Ford
and
Spencer Ware
carrying most of the load for the Tigers in the running game, although Hilliard's role grew later in the season. Ford led the team with 756 yards in 2011, and Ware had 707 yards. Ford had eight carries for 50 yards in the opener. His eligibility had been in question until he won an appeal the week before the game. Ware didn't play in the opener after he was slowed by a thigh injury. Can you play four running backs and keep them all happy? Something says the Tigers are going to find out. Either way, it's a sweet luxury to have.
10. Hamilton does Little Rock:
Arkansas senior receiver
Cobi Hamilton
left the Hogs' opener last week in the first quarter after catching two passes for 13 yards. Arkansas didn't specify his injury other than to say it was above his shoulders. Coach John L. Smith said Hamilton should be fine for this week, which goes without saying. The game is in Little Rock, and Hamilton has been at his best in War Memorial Stadium. He's played in six games there for the Hogs and has 22 catches for 644 yards and seven touchdowns. Three of his five 100-yard receiving games have come in Little Rock. In other words, if you have Hamilton on your fantasy team, you might want to be sure he's in your lineup this week.
August, 24, 2012
8/24/12
11:15
AM ET
As the season gets closer we're continuing to look at some of the SEC's newcomers in 2012.
This time, we're taking it a little further by involving all of the new faces that could see the field this fall.
Today, we're looking at true freshmen, redshirt freshmen, transfers and junior college transfers who could help teams right away. So we don't get too cluttered, we're picking three players from each team.
I'll take a look at the candidates in the Eastern Division, while Chris will pick his Western Division players later today.
Let's see who could strut his respective stuff in the East this fall:

FLORIDA

GEORGIA

KENTUCKY

MISSOURI

SOUTH CAROLINA

TENNESSEE

VANDERBILT
September, 10, 2011
9/10/11
2:40
AM ET
Ouch. Those are the losses that hurt the most for fans.
Missouri stormed back from a 14-point deficit in the fourth-quarter, but settled for a deep field-goal attempt late in the fourth quarter and -- in what's sure to be a controversial decision -- iced its own kicker.


Grant Ressel missed the 48-yard kick and the game went into overtime, where Missouri couldn't match Arizona State's touchdown and lost,
37-30
.
Let's start with the nasty stuff.
THE BAD
Argue the statistics surrounding icing kickers all you'd like. It's dubious if not counterproductive. But I've never seen a coach ice his own kicker, and unless Ressel explicitly asked for Pinkel to do it, I don't see the benefit. Additionally, Missouri went superconservative offensively once it was in field goal range, instead of fighting to get an easier attempt. Both of those decisions are ripe for second-guessing, and will be digested to no end throughout the week for the black-and-gold inclined. Outside of being embarrassingly unconventional, I don't see the huge harm of the kicker icing. I do think the Tigers needed to keep running their usual offense and ride the wave of momentum that got them there, rather than settle for a big kick from Ressel, who is usually reliable and a legitimate Lou Groza Award candidate.
Ouch, secondary. It was out of position a lot throughout the night, and failed to make plays when it was in position several times. E.J. Gaines especially had a rough night, getting burned twice for scores by Aaron Pflugrad, who finished with eight catches for 180 yards. The secondary solidified late in the game, which was good to see, but Missouri took a huge step defensively under coordinator Dave Steckel last season. It looks like this year, with young corners, it may take a step back. There's lots of room for growth, sure, but the Tigers better do it fast. There are a lot better offenses than Arizona State waiting for the Tigers in the Big 12. Osweiler would probably be the fifth or sixth best QB in the Big 12, and he finished with 353 yards, three TDs, no turnovers and completed 24 of 32 (77 percent) passes. Not good.
The flip side of those secondary struggles? Where was the defensive line? The Tigers are the most talented in the Big 12, but didn't look like it on Friday. It didn't reach Osweiler often, and where was top pass-rusher Brad Madison? His spin move wasn't working and he was quiet when Missouri needed him to step up. The defense was much better late when momentum turned, but Osweiler picked apart the defense for the better part of the night, in part because of the lack of pressure up front.
Awful luck for Missouri at running back. Henry Josey was great (9 carries for 94 yards), but we'll see how long De'Vion Moore is out. He injured his ankle on the opening drive and didn't return. Missouri had four great backs to begin fall camp. Now, with starter Kendial Lawrence sidelined with a broken fibula, Moore out and Marcus Murphy likely done for the season with shoulder surgery, Josey may be leaned on a whole lot more. Those guys combined for 1,557 yards and 19 TDs last year, but two games into the season, only one is standing. Josey accounted for 437 yards, five scores and 76 carries as a freshman in 2010.
Arizona's penalties stole the show, but Missouri was undisciplined, too. The Tigers had 11 for 114 yards, compared to Arizona State's 12 for 110 yards. Bad, bad, bad.
THE GOOD
What a difference a week makes for James Franklin. He's going to be sporadic all year, but he's going to improve fast, too. He had some awful throws, yes, but he had a lot more good ones, and kept Missouri alive with a handful of high-pressure passes in big positions. It's a loss, and he didn't make a play in OT when Mizzou needed it most, but you've got to feel good about the future behind Franklin. His mechanics looked better, he was more accurate, and did a decent job of running when he needed to. Very good signs.
Missouri needed more receivers to show up and help out T.J. Moe and Michael Egnew with a banged-up Jerrell Jackson in uniform, and they answered. Marcus Lucas had a huge catch in the fourth quarter to get the Tigers into scoring position, and finished with four catches for 87 yards. L'Damian Washington also had a big catch in traffic on a beautiful throw from Franklin to cut the lead to 30-23 in the fourth quarter. He finished with three catches for 39 yards. Six different receivers had at least two receptions, and Josey caught two for 51 yards. All good things for Missouri's offense.
The offensive line looked rough late in the game, but without left tackle Elvis Fisher and center Travis Ruth, the patchwork line had a pretty good game, especially against a good front seven. Vontaze Burfict wasn't running wild, which is a nice start. The offensive line didn't play so well in overtime, but Franklin had room to operate for most of the game and wasn't rushed too often. Not great, but good. Like Franklin, they'll get better as they move along without Fisher for the season and whenever Ruth returns from his sprained knee.