NCF Nation:

Travon Patterson
January, 26, 2011
1/26/11
9:00
AM ET
Signing day is exactly a week from today, and it's time to take a look at who needs what in its 2011 class.
Some schools have addressed these with their current class. Some haven't. Others are still trying.
We'll kick things off with the artists formerly known as the Big 12 North and examine the South later today.

COLORADO
Cornerback:
Jalil Brown and Jimmy Smith were pretty reliable for the Buffaloes, but both are headed to the NFL, and the Buffaloes could definitely use some depth behind their first-year starters. It's not quite as pressing of an issue considering their move to the less pass-happy Pac-12, but they still like to sling it out west.
Receiver
: Colorado isn't exactly starving anywhere on offense, but receiver sticks out a bit.
Toney Clemons
was good, but maybe not quite what the Buffaloes hoped he'd be in 2010, but they caught a break in getting
Paul Richardson
back after a great freshman season. The Buffaloes need some complementary pieces around Clemons and Richardson to replace departed pass-catchers
Scotty McKnight
and
Travon Patterson
. Next year, that should be tight end
Ryan Deehan
and receiver
Will Jefferson
.

IOWA STATE
Receiver:
It's been a struggle for Iowa State in recent years, but they have to get better outside to help out their quarterback.
Sedrick Johnson
's transfer only worsens the Cyclones depth at the position, but
Jake Williams
and tight end
Collin Franklin
, the team's leading receiver, are gone.
Shontrelle Johnson
looks ready to become a big factor in the offense, but the Cyclones filling the space at receiver will make it easier for Johnson to replace running back
Alexander Robinson
.
Safety:
Both starters, David Sims and Zac Sandvig, are gone. So is the Cyclones top reserve at the position, Michael O'Connell. Sims was a top-notch talent that will be tough to replace, but Iowa State needs more depth here. They should be solid at corner with Leonard Johnson, Ter'ran Benton, Jeremy Reeves and Anthony Young, which could make the new safeties' jobs easier.

KANSAS
Defensive line:
KU is losing three of four starters on the line, including the team's only All-Big 12 talent, defensive end Jake Laptad. Turner Gill wants more speed, and this is a place to install it. Tackles that tip the scales at 320 pounds aren't too necessary in this league, but speed on the edge can go a long way in stopping the pass.
Quarterback:
Neither
Jordan Webb
or
Quinn Mecham
look like long-term answers at quarterback for the Jayhawks. Mecham will be a senior, and Webb might develop into a better player as a sophomore next year, but Kansas needs other options. The Jayhawks hope Brock Berglund, the top-rated recruit in Colorado, is the solution to the problem.

KANSAS STATE
Running back:
I hear your cries for
Bryce Brown
, Wildcats fans, but K-State can't expect to hitch their wagon to the former blue-chip recruit turned Tennessee transfer in the same way it did for
Daniel Thomas
. Thomas and his backup,
William Powell
, are gone, and the Wildcats need some depth at running back to show up.
Interior offensive linemen:
K-State loses both guards and its center from an offense that produced the Big 12's leading rusher in 2010. Don't expect them to do it again in 2011 without Wade Weibert, Kenneth Mayfield and Zach Kendall, as well as Thomas and Powell, but finding some new talent behind them will help them come close.
Cornerback:
David Garrett emerged as a budding star in 2010 ready for a breakout senior year in 2011, but the Wildcats lose Terrance Sweeney and Stephen Harrison, as well as safety Troy Butler. Like we've mentioned earlier, good secondaries are a must for success in the Big 12, and K-State had one of the league's worst in 2010.

MISSOURI
Receiver:
Missouri has some good ones ready to suit up in 2011, namely
Wes Kemp
,
Jerrell Jackson
and
T.J. Moe
, but the Tigers don't have a true gamebreaker. They have some younger players in
Marcus Lucas
and
Jimmie Hunt
who they hope will develop into big-time, All-American caliber receivers, a la Jeremy Maclin and Danario Alexander. In Missouri's system, though, adding a few receivers is always a good idea. They certainly don't need any more running backs.
Defensive backs:
Mizzou doesn't have any huge holes that need to be filled with recruiting, but the Tigers lose both corners, Carl Gettis and Kevin Rutland from their 2010 team. Kip Edwards and E.J. Gaines look likely to fill those roles, but the Tigers could use some depth and keep recruiting in the secondary to help add some talent around Tavon Bolden and Matt White, safeties who will replace departed Jarrell Harrison, who actually had to play some linebacker in 2010 because of injuries.

NEBRASKA
Every kind of kicker:
Alex Henery, the team's punter and kicker is gone. So is kickoff specialist and lover/producer of touchbacks, Adi Kunalic. Fan favorite Henery was hardly underappreciated by the Nebraska faithful, but they'll miss him even more if the Huskers can't find a suitable placekicker and punter. Bo Pelini was reportedly after Wake Forest commit Mauro Bondi this week.
Receiver:
Niles Paul
and
Mike McNeill
are gone. The Huskers need
Brandon Kinnie
to come through with another good year and it'd be nice if
Quincy Enunwa
broke through in 2011, but
Taylor Martinez
needs some more help at wide out, and a couple new recruits could provide it as Martinez's passing prowess matures.
September, 4, 2010
9/04/10
5:23
PM ET
Definitely an impressive 24-3 win for Colorado, even though Colorado State isn't on the level of competition the Buffaloes will see for most of this season. After winning just three games last year, beating anyone 24-3 is a great sign for Colorado, who may have convinced a few more folks that all the optimism out of coach Dan Hawkins and the rest of his players is different than what they've been saying for the past few seasons. I'll reserve judgment until we get closer to conference play, but the Buffaloes should be one of the more intriguing teams in the Big 12.
Tyler Hansen's stat line (17-26, 191 yards, 2 TD, INT, 1-yard rush TD) isn't going to make anyone say, "Wow!" but he moved the offense for most of the day, and helped set up Rodney Stewart, who finished with 69 yards on 16 carries. Good sign for Hansen, though, who continued his solid play from last year and should take some good vibes into next week's game against soon-to-be (or perhaps later) Pac-10 roommate, Cal.
Scotty McKnight proved once again why he's one of the conference's best, giving Hansen a nice target with six catches for 78 yards and a score. The newbies I wrote about earlier today got off to nice starts, but Travon Patterson and Toney Clemons didn't do a lot after Colorado jumped out to a 17-0 lead at halftime. We'll learn more about them if Colorado gets down in nonconference play and Hansen is forced to throw the ball around 40 times.
This will sound backhanded, but I don't mean it to: I'm very impressed with the three interceptions, even if they came at the expense of true freshman Pete Thomas. Colorado only had nine INTs all of last season, so that's a very good sign for the development of Colorado's defense, which was getting torched this time last year.
Colorado was very close to Iowa State as having the most impressive debut of any team in the Big 12 so far in Week 1.
August, 13, 2010
8/13/10
11:03
AM ET
If you haven't noticed just yet, Friday's college football content at ESPN.com is all about the quarterbacks. We've
ranked the conference's top 5 individual quarterbacks
, but now it's time to take a broader look at who's in good shape behind center and who's in trouble across the conference.
The discrepancy between the South's QBs and the North's is somewhat jarring, especially when you see it on paper (bandwidth?) like this. Only one North team made the top six, and the bottom five teams are all from the North.
Five schools (four in the North) still have their starters up in the air, and that makes this a little tricky, but here's how I'd rank them:
[+] Enlarge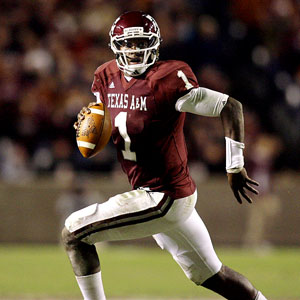 Brett Davis/US PresswireJerrod Johnson is not only the best quarterback in the conference, he's also the best player.
1. Texas A&M
: The Aggies boast the preseason player of the year at quarterback and the man at the top of our Big 12 player list from earlier this summer,
Jerrod Johnson
. I also got a few e-mail requests from some Aggies fans to stress -- once again -- that it's juh-RAHD, not Jared from Subway. Word has apparently not reached every corner of Big 12 country just yet. It might if the Aggies can win more than six games like they did in 2009. But Johnson broke out in a big way last season, throwing for 3,579 yards, 30 touchdowns and just six interceptions while also running for 506 yards and eight touchdowns.
2. Baylor
: Trust in
Robert Griffin
's knee lands the Bears here, significantly higher than they're used to considering the strong quarterback tradition across the Big 12 for the past decade. But Griffin will still have to regain his status as the conference's most electrifying player on a reconstructed knee after missing the final nine games of the previous season with a torn ACL. Baylor also has a nice situation at backup quarterback because of the injury with sophomore
Nick Florence
, who threw for 427 yards in Baylor's lone conference win -- at Missouri -- last season.
3. Missouri:
Blaine Gabbert
has a claim as the conference's best quarterback, and he'll try to snatch it as a junior after playing much of his sophomore season with a bum ankle, courtesy of a soggy Ndamukong Suh sack. Despite being hobbled for most of conference play, he still racked up 3,593 passing yards and 24 touchdowns. If he stays healthy, he might get a chance to showcase his underrated wheels, too. Freshman James Franklin is impressing in camp and hanging on to his job as Gabbert's backup over
Jimmy Costello
,
Ashton Glaser
and little brother Tyler Gabbert.
4. Oklahoma
:
Landry Jones
should benefit from his first full spring and preseason camp taking the first-team reps, but he'll need a second reliable target opposite
Ryan Broyles
to emerge if he wants to improve on his 26 touchdowns and 3,198 yards as a redshirt freshman. Jones also needs to limit his turnovers after throwing a league-high 14 interceptions in 2009, but it's worth noting that seven of those came away from Owen Field against top-tier defenses in Texas and Nebraska. He didn't play a good defense in Norman, but he threw 18 touchdowns to just four interceptions and helped the Sooners stretch their home streak to 30 games. Backup
Drew Allen
is untested and inexperienced, but has potential and wouldn't inspire panic if Jones finds injury in 2010.
5. Texas Tech
: No team has two quarterbacks with as much skill and experience as Texas Tech, but unlike receivers or running backs, the Red Raiders can't play both of them. Regardless of who wins the competition in Lubbock, Texas Tech will be in great shape with
Taylor Potts
or
Steven Sheffield
. You heard
a few hundred words on the details of this race
earlier this morning.
6. Texas
: This may look silly in November, but it's tough to put
Garrett Gilbert
on top of anyone else on this list who has already proven themselves. Clearly, the potential is there, and he's inspired a lot of confidence from his coach and team, but making good on that potential will mean finding a solid target to replace the only player he's ever thrown a real touchdown to: Jordan Shipley. If Gilbert goes down, Texas would have to rely on a pair of true freshmen: Connor Wood or Case McCoy, Colt's little brother.
7. Oklahoma State
: This won't be the last time you hear about the Cowboys 26-year-old former minor leaguer,
Brandon Weeden
. Just make good decisions, make easy throws to open receivers who make plays with the ball and he should put up big numbers in new offensive coordinator Dana Holgorsen's version of the Air Raid. Oklahoma State got to see Houston's offense in person last season and wanted it for themselves. Now they've got the man who coordinated the best offense in college football a year ago and an unquestioned, mature starter to run it. If he's injured, the Cowboys would have to rely on one of two freshmen,
Clint Chelf
or most likely Johnny Deaton, to run the offense.
8. Iowa State
: Coach Paul Rhoads says no player on his team has improved from Year 1 to Year 2 more than
Austen Arnaud
, but he'll need to prove it on the field to move up this list. He's probably likely to improve on his 2,015 yards passing to go with 15 touchdowns, but he's right behind Jones in the interception column, with 13. That number has to shrink for the Cyclones to get back to a bowl game. Talented sophomore Jerome "JT" Tiller led the Cyclones to their marquee win over Nebraska and should take the reins next year. The future looks bright in Ames.
9. Colorado:
Tyler Hansen
not emerging from preseason camp as the starter would be shocking, and he'll get a lot more help this year with a beefed-up receiving corps that's among the conference's most underrated. Newcomers Paul Richardson, Travon Patterson and preseason Big 12 Newcomer of the Year
Toney Clemons
will join the reliable
Scotty McKnight
. If Hansen goes down, at least they'll have an experienced vet behind him in
Cody Hawkins
. Freshman Nick Hirschman looked good in the spring and provides some hope for the position in the future.
10. Nebraska
: A two-quarterback system is never ideal, but it might work for the Huskers.
Zac Lee
is the best passer of the group competing for the starting job, but using the athletic
Taylor Martinez
or
Cody Green
in spot duty, similar to last year, could very well happen. But Bo Pelini would much prefer if one player -- most likely Lee, in my opinion -- would emerge and improve on his play from 2009, when he threw for 2,143 yards, 14 touchdowns and 10 interceptions.
11. Kansas
:
Kale Pick
is untested, and so are
Jordan Webb
and junior college transfer Quinn Mecham. Pick, however, seems like the favorite to win the job. The Jayhawks need a spark on offense, and Pick could provide it. He'll have some nice receivers to throw to in sophomore
Bradley McDougald
, senior
Johnathan Wilson
and tight end
Tim Biere
. Former cornerback Daymond Patterson looks ready for a good year in the slot.
12. Kansas State
:
Carson Coffman
needs to improve from his play last year that cost him his job early last season. Beating out
Collin Klein
and
Sammuel Lamur
won't be easy -- and the competition between the three is still pretty tight -- but Coffman's experience gives him a slight edge. Whoever wins the race will lean on the league's leading rusher,
Daniel Thomas
, and a revamped receiving corps with transfers
Brodrick Smith
from Minnesota and
Chris Harper
from Oregon. The Wildcats hope the duo will add the spark that was missing from the team's offense in 2009.
August, 10, 2010
8/10/10
10:00
AM ET
1. Texas:
Texas' big-time freshmen receiving recruits Darius White and Mike Davis are on campus to compete with the remainder of the Longhorns receivers after the departures of Jordan Shipley and
Dan Buckner
. Whoever develops solid chemistry with quarterback
Garrett Gilbert
first should have a nice advantage heading into the season. Very few questions surround the Longhorns on defense, who also have exciting freshman Jordan Hicks competing for playing time at linebacker.
2. Oklahoma:
Honestly, my gut tells me to slide the Sooners above the Longhorns based on
coach Bob Stoops comments at media days
, but I'll give the champs their due entering the preseason. Oklahoma loses its top three blockers from a season ago, and any growth from Oklahoma's eight-win team last season will have to start on the offensive line. Stoops believes it will. If it does, look for the Sooners and Longhorns to switch positions if Oklahoma earns wins against Florida State and Cincinnati while Texas beats up on Rice and Wyoming. A convincing win at Texas Tech might keep the Longhorns on top.
3. Nebraska:
The Huskers quarterback issues can't end soon enough. The Big 12 blog's pick:
Zac Lee
. With its offensive line and quality running backs, Nebraska will be able to run the ball. If Lee can establish himself as the best passer of the group, his skills will better serve the offense than the more athletic
Cody Green
and
Taylor Martinez
. We won't know very much about how good the defense will be again this year until the Huskers' date with
Jake Locker
and the
Washington Huskies
on Sept. 18 in Seattle.
4. Missouri:
A solid contender in the North, Missouri's key to hopping over the Huskers lies in the secondary. That group returns all four starters and has another experienced player in junior Kenji Jackson entering camp as a new starter at safety. If it solidifies, Missouri will be a force that spends most of the season in the top 25.
Jerrell Jackson
and
Wes Kemp
should share the spotlight catching balls from
Blaine Gabbert
along with slot man
T.J. Moe
and tight end
Michael Egnew
.
5. Texas A&M:
The Aggies have
the conference's best player
, but its worst defense. Both will need to improve for the Aggies to earn a South title. On defense, new defensive coordinator Tim DeRuyter will have to build around tackle Lucas Patterson, linebacker Von Miller and safety Trent Hunter. Three freed-up offensive line spots -- which might all be filled by freshman -- will have to be solid and consistent for the offense to remain one of the Big 12's best, despite the Aggies' talent at the skill positions.
6. Kansas State:
Running back
Daniel Thomas
led the Big 12 in rushing with almost no help from the quarterback spot last season, so the competition between
Carson Coffman
,
Collin Klein
and
Sammuel Lamur
isn't immensely important to Kansas State's success. No doubt, they'll be a lot better with great play from one of those three, but they won't be a bad team without it. Two of the Wildcats' top four tacklers will be junior defensive backs in 2010, Emmanuel Lamur and Tysyn Hartman.
And yes, I am very proud that I'm still batting 1.000 in not mixing up Sammuel and Emmanuel Lamur. Stay tuned, though.
7. Texas Tech:
The Red Raiders have a great chance to move up this poll after hosting Texas on Sept. 18. Whoever wins the quarterback competition between
Taylor Potts
and
Steven Sheffield
should excel, which not every team in the Big 12 with a quarterback battle can say. Tech's aggressive new defense will have to limit big plays to see success in the first year under coach Tommy Tuberville and defensive coordinator James Willis. A convincing opening-week win against SMU will look better in December than some Tech fans might think after the team's Sunday, Sept. 5 debut.
8. Oklahoma State:
One of the conference's wildcards, the Cowboys bring back just eight starters from last season, and will showcase a radical new offense in Dana Holgorsen's version of the Air Raid. Oklahoma State's receiving corps, led by
Hubert Anyiam
and
Tracy Moore
, is extremely underrated and could surprise plenty of folks in 2010. Their first real test comes Sept. 30, when they'll get a chance to knock off media darling Texas A&M in Stillwater.
9. Iowa State:
The Cyclones nonconference schedule has made plenty of headlines this offseason, and Iowa State isn't shying away from its dates with Northern Illinois, Iowa and Utah. The legal issues surrounding defensive star
David Sims
appear to be resolved with an opening-game suspension, and running back
Alexander Robinson
looks ready for another big season after rushing for over 1,000 yards in his 2009 breakout season. Iowa State will need to steal a few games like last season to qualify for a second consecutive bowl game.
10. Baylor:
Freshman safety Ahmad Dixon is impressing early in camp with a few big hits, and is making good on his status as one of the best recruits in Baylor history. Another -- Robert Griffin -- is already dealing with the pressures of delivering a bowl game to Waco. Coach Art Briles will need more players like Dixon and Griffin to move the Bears goals past just making a bowl game.
11. Colorado:
The only team to move up from its position in
the post-spring power rankings,
Colorado simply brings back more talent than Kansas, and added two new receivers in UCLA non-qualifier Paul Richardson and
Travon Patterson
, whose transfer from USC was finalized on Monday. The offensive line has a lot of talent in Nate Solder and Ryan Miller, but the other three members will have to improve if the Buffs are going to rush for more than 1,055 yards like in 2009 (11th in the Big 12) and give up fewer than 43 sacks, 11 more than any other team in the Big 12.
12. Kansas:
Losing your three best players from a team that finished last in the Big 12 North a season ago -- plus implementing a new coaching philosophy -- is a recipe for a rebuilding year. That's where the Jayhawks sit to begin 2010. They've got good young talent in linebacker Huldon Tharp and receiver
Johnathan Wilson
, who are both sophomores, but they face major questions at quarterback with inexperienced candidates
Jordan Webb
and
Kale Pick
battling for the No. 1 spot. Last season's leading rusher,
Toben Opurum
, is also nowhere to be found on the depth chart after battling injuries throughout the spring. The Jayhawks were the only team in the conference to return all five starters on the offensive line, but
a season-ending injury to tackle Jeff Spikes
eliminated that status. Brad Thorson, who played both guard and tackle last season, is also recovering from a broken foot. A win against Southern Miss and a competitive loss to Georgia Tech would earn the Jayhawks some more respect.
August, 20, 2008
8/20/08
2:26
PM ET
Posted by ESPN.com's Ted Miller
| | |
| --- | --- |
| | |
| | AP Photo/Kevork Djansezian |
| | Pete Carroll and the Trojans have their sights set on a Pac-10 title. |
LOS ANGELES -- Sat down with USC coach Pete Carroll on Sunday night. He ate ice cream and answered questions.
What's your feeling on this scenario: Let's say Mitch Mustain starts at quarterback against Virginia and has a lights out game. Do you have a philosophical opinion on whether an injured starter [Mark Sanchez] always retains his job or do you go with the hot hand against Ohio State?
Pete Carroll: I would never... I can't even answer a question about that. To surmise what's going to happen with one guy and then what we're going to do with the next guy? I wouldn't even tell you what the first stage of it is let alone the second or third. So I'm not going to answer that. Too much conjecture there.
You talk about getting better and growing every year. What have you changed in the past couple of years about how you do things?
PC: Not very much. We do mostly the same stuff with just small changes. It depends on our staff continuity. This year, we've got 99 percent staff continuity so it's really easy [only staff change was the GA who works with the secondary]. We're able to do more things with that. When we're bringing new people along, we can't do that. We can't afford to go off and experiment. This year, we've done more things but it's kind of like if you have a philosophy then why would you change? The consistency is part of the philosophy -- how you recruit, where you recruit, who you recruit. The consistency of what the expectations are, the consistency of the standards for practice, the offseason programs. All of those things are the same. We get better at them. We get better versed on knowing what we want and getting more astute as we go along but we don't change much.
I know this is going to sound pretty stupid, but you're the only coach who can be asked this: Is winning the Rose Bowl ever not enough?
PC: No. You've got to understand that our mindset is to focus only on what we can control. We can only control getting to the Rose Bowl. Winning our conference and going to the Rose Bowl is what our goal is every year. Our goal isn't about national championships, because we don't have control of that -- that's in somebody else's hands. We found that out years ago [2003], when we were No. 1 but then we were No. 3. We already knew that but that just proved it. If we win our games and we're out there and they want us to go somewhere else, then we'll go. We love the Rose Bowl.
Does it ever register with you that there's such a small margin for error for USC that if you don't win the national championship then some believe it hasn't had a successful season?
PC: I know people say that but I don't care. They can say whatever they want.
Could you give me a couple of names of younger guys who have stepped up in preseason practices?
PC: A guy who's had a really good camp is Travon Patterson, a wide receiver. He's caught touchdowns on every big day, every big scrimmage we've had. He's playing fast and has made a lot of plays for us. The guys who have done a lot of good stuff are the freshmen -- [TE] Blake Ayles is a guy you might not have expected to but he's looked great. The other guy is [RB] Allen Bradford. He's had a great camp again. I really like [WR] Jordan Cameron. All four of the freshmen defensive linemen [Armond Armstead, Jurrell Casey, Wes Horton and Malik Jackson] -- they look great. These guys have a chance to play early. Uona Kaveinga has been playing second-team "Mike" linebacker. [Safety] Drew McAllister has looked really good -- he's had three or four picks in big, scrimmage-type situations and hit well. It's been a really solid freshmen class. The offensive linemen have looked good but it's going to take them some time.
Things get a little juicer in Part II, when Carroll talks about new UCLA coach Rick Neuheisel, his future and what he thinks of his legacy.
July, 23, 2008
7/23/08
5:41
PM ET
Posted by ESPN.com's Ted Miller
| | |
| --- | --- |
| | |
| | Matt Brown/Icon SMI |
| | USC offensive coordinator Steve Sarkisian would "love someday to be a head football coach." |
USC offensive coordinator Steve Sarkisian is a hot head-coaching prospect and runs a unit that -- if recruiting rankings are to be believed -- is almost as talented annually as any in the nation.
Of course, when an offense is perceived as owning elite talent, the margin for error is small and fans are quick to criticize when things aren't perfect. More than a few believe the Trojans 32.6 points and 434.9 yards per game in 2007 qualified as underachieving, regardless of the critical injuries at many key positions.
So with just four starters back on offense, what's in store in 2008? Is quarterback Mark Sanchez the man? What's up with the logjams at tailback and receiver? And is an offensive line with just one returning starter in trouble?
Sark stopped by for a chat.
What did Mark Sanchez do in the spring to jump ahead in the quarterback race?
Steve Sarkisian: The first thing that jumps out is he has a great comfort level with the offense. He does a nice job handling the offense as far as making the proper checks, the audibles, getting the ball into guys' hands quickly. But on top of that I think we felt and saw his energetic leadership. We saw a charismatic guy who loved to come out and work and practice every day and I think it was contagious for the entire football team. Those are some of the qualities you like to see in a leader, a guy who makes those around him better.
Is there a chance that someone else will start at quarterback in the opener at Virginia?
SS: Up until now [Sanchez] won the job. But we're going to give those other guys their opportunities in fall camp to go out and compete and prove they're worthy of playing time. But up until this point, Mark is the guy for us.
It seems like the competition remains wide-open at tailback, with a bunch of guys who could end up starting or at least get a lot of carries: How does the pecking order stack up there?
SS: If we were going to play today you'd see three guys: You'd see Joe McKnight. You'd see Stafon Johnson. You'd see C.J. Gable. For sure those three. But I think you're also going to get a little dose of Allen Bradford as well. Now that doesn't mean Allen Bradford couldn't be the lead dog by the end of camp. And that doesn't mean Marc Tyler or Broderick Green couldn't get in the mix. But coming out of spring football, those three guys really established themselves. And Allen Bradford made a lot of noise.
You guys have so many talented running backs, but has there been much discussion among the coaches about maybe picking one horse, one guy who gets 25 carries a game?
SS: Not really. We've always had -- go back to when it was Justin Fargas and Sultan McCullough -- we've always had sort of a two-horse-type backfield with a third guy who was kind of a variety-type guy who can do a lot of different things. So we've always been that way. Sure, preferably you'd like it to be two solid guys where you know what you're getting. But right now we're looking at three or four guys. But I think that kind of stuff kind of settles itself out. Injuries come into play and guys step up. But it's good to know we've got that luxury at that position because it is a tough position to sustain and stay healthy at. As you saw last year. The moment Stafon Johnson established himself as the back, he got hurt and then Chauncey Washington played and Joe McKnight stepped up when we lost C.J. Gable after the third game. So, obvious, it's a luxury to have three guys there -- or four or five.
Same thing at receiver: What's the pecking order there?
| | |
| --- | --- |
| | |
| | AP Photo/John Froschauer |
| | Wide receiver Patrick Turner had 48 catches for 569 yards last year, including 3 scores. |
SS: Coming out of spring football you really saw Vidal Hazelton really rise to the challenge. He was a [50]-catch guy as a sophomore and really was playing injured. He got healthy during spring football and looked fantastic. Patrick Turner, I think, is poised for a big-time senior season, and Damian Williams, a transfer from Arkansas, really impressed people. The two young guys, David Ausberry and Ronald Johnson, really stepped up in spring and got better. Then there are some dark horses in there: Travon Patterson, and a true freshman by the name of Brice Butler is coming into the mix. I think it is a really good position group for us because we've got a lot of depth there. But, again, we're looking for two or three guys to really step up and take over that spot and be the go-to guys for us.
The receivers as a group took some criticism last year. Was that fair? Were you disappointed in some of the production?
SS: Well, I think as a group offensively we were disappointed in ourselves as a whole. That position group was young and inexperienced and had some drops early in the season. And to compound that they were replacing maybe the greatest tandem of receivers in college football history in Steve Smith and Dwayne Jarrett. I think that made that discrepancy even bigger. There was a lot of pressure on them last year, but I really like how they ended the year. They grew up. I like the way Vidal ended the year. It was unfortunate that Patrick Turner couldn't pla
y in the bowl game. But he got better during the year. And I think David Ausberry got better and Ronald Johnson got better and it carried over to spring practice. They'll be ready for fall camp.
The offensive line needs four new starters. Is this a reload or rebuild?
SS: Last year we were hit with an injury bug up front all last year; it seemed like every week we had a different starting five. That forced a lot of our young kids to have to play last year, whether that was Charles Brown or Zach Heberer or Kristofer O'Dowd, the true freshman. So those guys got a lot more experience than I think people realize. It sounds like we're an inexperienced group because we're replacing four starters. But in reality these guys have played a lot of football and we're excited about them. This is an ornery group. They're competitive and athletic and tough and nasty. I think realistically we're a good eight deep with guys who can play. The challenge for us is to just get cohesive as we go through fall camp.
Of the guys we maybe haven't heard much about, who's going to break out this year?
SS: I don't know how to answer that. We've got a lot of kids who are very talented who have kind of just waited for their opportunity. The guy who jumps out at me is [tight end] Anthony McCoy, the guy who's played behind Fred Davis the last couple of years. I'm anxious to see [fullback] Stanley Havili as a sophomore. Damian Williams the transfer from Arkansas. And I'm anxious to see our quarterback play. I expect him to play really well and I think he expects to play really well. I wouldn't be surprised if he went out and had a great year.
Your name seems to come up a lot during coaching searches the past couple of years. What are your thoughts on your future as far as becoming a head coach? Do you have a timeline? Are you anxious about it?
SS: There's no question I'd love someday to be a head football coach. But I'm extremely fortunate. I am at a tremendous place at a tremendous time. Pete Carroll has been very good to me. We're winning. We've got great kids. We get to live in Los Angeles. I love it. I'm in no rush to get out of here. Every day is learning, watching how Pete handles our football team. I have fun going to work every day. So, yeah, I want to be a head football coach. But I'm not in any rush.