October, 20, 2013
10/20/13
2:00
AM ET
SOUTH BEND, Ind. -- Maybe if
Tommy Rees
were like the rest of us, he would have laughed to himself throughout the second half Saturday.
Maybe, with his hoodie on and his night done after a vicious third-quarter hit, he would have looked out to the field and watched a Notre Dame offense that had been forced to run six meaningful drives without him. Maybe he would have struggled to contain an I-know-something-you-don't smirk as the Fighting Irish, accounting for penalties, netted 30 total yards and gained one first down in his absence. Maybe he would have offered a hearty chuckle when seeing his backup and friend,
Andrew Hendrix
, misfire on all four of his pass attempts.
[+] Enlarge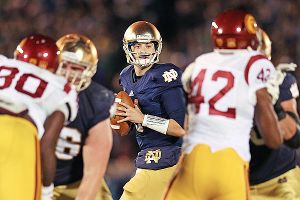 Jonathan Daniel/Getty ImagesBefore getting injured, Notre Dame quarterback Tommy Rees was efficient vs. USC, completing 14 of 21 passes for 166 yards and two scores.
Yes, Notre Dame's offense was that ugly without Rees in its
14-10 win here over rival USC
. And yes, the Irish's defense deserves plenty of credit for bailing out the offense with its back against the wall time and time again, even if the Trojans -- already without top running back
Tre Madden
-- lost star receiver
Marqise Lee
for the second half and did themselves no favors with several costly penalties late.
But a glimpse at life without Rees left everybody outside the program eating their words for most of the second half. Notre Dame wasn't just bad offensively; it was downright brutal, with even the sure-handed
Cam McDaniel
coughing up the ball late and not a soul among the raucous sellout crowd exhaling until the final zeroes were on the clock after Hendrix's two kneel-downs on his seventh and final drive.
And as it turns out, Rees had been one step ahead of everyone. His biggest play had actually come at halftime, two drives before he would be on the receiving end of a big knock from USC linebacker
Lamar Dawson
with just more than nine minutes to play in the third quarter. Rees was slow to even sit up, then walked gingerly off the field under his own power. He was standing up on the sidelines being interrogated by team medical personnel before heading to the locker room for further evaluation. Coach Brian Kelly said afterward that Rees had suffered a neck strain and was all there mentally, and that the team should know more in the next 24 hours.
But when the teams had gone to their locker rooms for halftime Saturday, Rees had taken it upon himself to deliver a speech that proved to be prescient in a game that featured no scoring during the final 30 minutes.
"It was a passionate speech, one of the more passionate things I've ever heard Tommy say," captain
TJ Jones
said. "It was really, 'Just keep your head in the game, don't give up. We've got this, 30 minutes wasn't enough. We need another 30 to win this game.' He had a lot of the guys almost in tears. It's the first time Tommy spoke out like that, and it was definitely emotional."
It had come after one of Rees' better performances to date. The senior finished the game 14-of-21 passing for 166 yards with two touchdowns and no turnovers over the course of one half and one more series. He had run the offense at a much quicker pace, and the unit even left some points on the board on the game's first drive after McDaniel failed to reach the end zone on four consecutive runs.
Rees had also passed Rick Mirer on the school's all-time passing yards list, becoming the fifth Notre Dame quarterback to eclipse the 6,000-yard mark for his career.
"I think it does say a lot about the kid and his perseverance," Kelly said of the milestone. "He's just a tough kid, and he just keeps battling. I'm sure he'll look back on that a little bit later and be able to point out, 'Hey, I did play at Notre Dame and I wasn't that bad.' "
No kidding. From stepping up for an injured Dayne Crist and leading Notre Dame to four straight wins as a freshman, to surviving a turnover-plagued 2011; from getting arrested and then being relegated to a glorified graduate assistant role as Everett Golson took control, to then bailing Golson out late throughout last year's 12-0 run, Rees has nearly seen it all.
He has taken plenty of heat, too, whether it was getting booed by his home fans in his 2012 debut or withstanding a recent social-media firestorm that is coming his way only because of the poor academic judgment that the man initially in front of him displayed this past spring.
Golson, by the way, does not have to worry about schoolwork or bad weather the way Rees does, as he is training with noted quarterback guru George Whitfield out in sunny San Diego.
From there, Golson could see what the rest of us saw once his old teammate was no longer an option against the Trojans.
"As you could tell, our performance in the second half was a little difficult to adjust," tight end
Troy Niklas
said. "But I think we were able to make do with what we could."
Rees might have provided that extra lift just moments earlier, the son of an NFL scout always worrying about what's next.
"He was just kind of reiterating what the coaches had said, and probably a little something else," team captain
Zack Martin
said of Rees' halftime speech. "But we had an opportunity to beat SC at home and we hadn't done that in a long time. But to be able to win three out of four years for this class is pretty special."
Whatever checks Notre Dame had written to the devil before last season had been cashed since the calendar turned to 2013 -- Manti Te'o's girlfriend hoax, four notable transfers and Golson's suspension getting sandwiched between the Alabama beatdown and the two losses the Irish had suffered through six games this season.
Then came Saturday night against USC, and everyone got a look at just how much worse it could get if the starter everyone wanted gone could no longer return.
September, 21, 2013
9/21/13
6:29
PM ET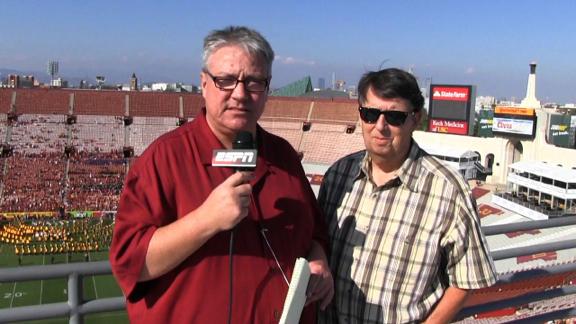 LOS ANGELES -- USC was hoping to use the game against Utah State as a way to build some positive momentum, but the 17-14 victory over the Aggies showed that the Trojans still have a long way to go.
Make no mistake, it's always nice to get the win but this is a game where the Trojans had a huge advantage in field position and also got the usual solid game from the defense. Unfortunately, the USC offense couldn't take advantage of the opportunities to put the game away in the second half and, if not for some special teams miscues by Utah State, the result could have been very different.
"It was a very hard fought game today," USC coach Lane Kiffin said. "Very much like what we anticipated. I felt like there was a rhythm early on when we were able to run the ball, but obviously we wanted to finish better in the second half."
USC started off strong with a
Tre Madden
touchdown run on the second series of the game to go up 7-0. The Trojans defense put good pressure early on Utah State quarterback
Chuckie Keeton
, primarily with defensive linemen
Leonard Williams
and
George Uko
as well as outside linebackers
Devon Kennard
and
Morgan Breslin
. USC dodged a bullet when Utah State clanged a first-quarter field goal off the upright, a miss that would loom large.
[+] Enlarge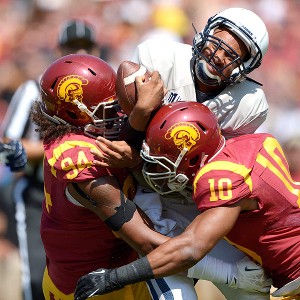 Kirby Lee/USA TODAY SportsLeonard Williams (left) and the USC defense put the crunch on Utah State on Saturday.
Each team added a touchdown in the second quarter, and as the second half started it was clear it was anyone's ball game.
The Trojans had their chances with the Aggies playing an eight-man front, leaving the USC receivers against man coverage. Normally, that would spell a big day for
Marqise Lee
and/or
Nelson Agholor
, but there were some dropped passes and some pressure on
Cody Kessler
which prevented the Trojans from capitalizing. Lee ended the day with six catches for 72 yards, while Agholor had two catches for 38 yards. Neither player reached the end zone.
"I missed some throws and we had some drops, but they are things we can fix," Kessler said. "Thanks for the job our defense did, we were able to come away with the win."
The USC defense is rapidly becoming known as the side of the ball which will win games for this team. Williams led the team in tackles with eight and added three tackles for loss. Uko had five tackles and a sack, Breslin had two sacks and Kennard added a sack. They did a terrific job of limiting Keeton -- who came into the game completing 78 percent of his passes -- to a rather pedestrian stat line of 21-of-39 passing for 179 yards and a pair of scores. Good numbers to be sure, but not enough to get it done against the Trojans.
"We had a good game plan from Coach O (Orgreon) the whole week," Uko said. "We just wanted to angle in and rush tight and keep them in the box"
The battle for field position really started to impact the game in the second half, as the Trojans' average starting field position was the Utah State 45, while Utah State started at its own 16. It didn't help the Aggies that their punter had a shanked 12-yard kick at the end of the third quarter that led directly to a 25-yard
Andre Heidari
field goal, which proved to be the winning margin. There was also a strange fake punt from the Aggies on a fourth-and-11 from their own 34-yard line in the fourth quarter, resulting in an incomplete pass from tight end
D.J. Tialavea
.
If you're looking for bright spots for the Trojans, look no further than punter
Kris Albarado
, who pinned five punts inside the Aggies' 20-yard line to help win the field position battle. Little things like that are big on a day when the two teams are basically even in total yards (285 for USU to 282 for USC).
Madden fell short in his bid for a fourth-straight 100-yard rushing day but did run for 93 yards on 24 carries and a touchdown. Kessler completed 13 of 27 passes for 164 yards and a touchdown, but he was also sacked three times and took several big hits.
Now the Trojans turn their attention to a big road game next week in Tempe against Arizona State. There was hope that things would be clicking after a four-game opening stretch that included three games at home but at this point the offense can best be described as a work in progress. Thankfully the Trojans have their defense, a unit which once again put the team on their shoulders to come away with a tougher-than-expected win.
September, 19, 2013
9/19/13
10:15
AM ET
A few storylines to keep an eye on in the Pac-12 this week.
Keep it rolling: The Pac-12 is 23-4 in its nonconference games this year and 16-3 against FBS competition. It's also 8-0 against Mountain West teams. USC and Oregon State can extend that streak with matchups against Utah State and San Diego State. Washington State also renews its border war with Idaho for the first time since 2007 -- a series the Cougs have owned 70-17-3.

Air it out: Eight Pac-12 quarterbacks rank among the top 16 in total offense, headlined by Cal's Jared Goff (429.7 ypg). Through three weeks, three Pac-12 quarterbacks (Goff, Marcus Mariota and Sean Mannion) have combined to throw for 440-plus yards four times. Only two other seasons in Pac-12 history have seen league quarterbacks throw for 440 or more yards more than four times -- 1998 (six times) and 2002 (five times).

Speed it up: Pac-12 offenses are scoring, and scoring fast. There have been 195 scoring drives, and so far 83 have taken less than two minutes. As you'd expect, Oregon tops the list with 23 of its 28 scoring drives taking less than two minutes. Utah is next on the list with nine.

[+] Enlarge

Bruce Thorson/USA TODAY SportsUCLA QB Brett Hundley was impressive against Nebraska and should be even more so this week.

Heisman moments? Mariota, who sits atop the ESPN.com Heisman poll, is off this week. But Brett Hundley has a chance to bolster his numbers against a New Mexico State team that is allowing nearly 50 points per game. Look for Mannion to continue rolling against a San Diego State team that is yielding 41 points per game. Same for Washington running back Bishop Sankey against an FCS Idaho State squad.

The headliner: For the first time this year, we have two ranked Pac-12 teams squaring off with No. 23 ASU's trip to No. 5 Stanford. The focus is, and should be, on the lines. Stanford wants to do what Stanford does -- pound at ASU's interior defense. The Sun Devils were pretty good defending at Wisconsin's inside rushing attack but were caught off guard by sweeps. Will be interesting to see if Stanford goes after the edges the way Wisconsin did.

Sankey rolling: Sankey now has rushed for at least 100 yards in six of his past seven games -- including a career-high 208 yards in the win last week over Illinois. Through three weeks and two games, he's the national leader in average yards per game with 184.5. Dating back to last year, he has rushed for 1,142 yards in his last seven games.

Take a breather: Four byes this week, with Arizona, Cal, Colorado and Oregon all getting the week off. Colorado coach Mike MacIntyre, whose team had an unscheduled bye last week, said his team is back to practicing after several players were displaced by flooding.

Running like a Mad(den) man: Only six players have started the season with three consecutive 100-yard rushing games. We don't want to assume, but Sankey probably will have his third straight this week. For now, USC's Tre Madden is the only Pac-12 player among those six (Paul James, Rutgers; Melvin Gordon, Wisconsin; Mark Weisman (FB), Iowa; Alex Collins and Jonathan Williams, Arkansas). Per our friends at ESPN Stats & Information, USC is running the ball on 62 percent of its plays this year, up 18 percent from last year. Of those six mentioned, Madden is the only one who has faced three FBS opponents. He leads the Pac-12 with 149 yards after contact.

Mobile Hogan, mobile Kelly: Also from Stats & Info: Kevin Hogan and Taylor Kelly are the only Pac-12 quarterbacks who have attempted at least 20 percent of their passes outside the pocket over the last two seasons. Kelly leads all AQ quarterbacks with 115 passes attempted from outside of the pocket. When out of the pocket, Hogan has completed 76 percent of his passes, including 20-of-24 passes on designed rollouts. In comparison, Kelly has completed a lower percentage of his passes thrown outside the pocket, but his average throw travels 10 yards, 4.5 yards longer than Hogan.

Goodbye for now, Holy War: The Utah-BYU rivalry will go on break for a couple of years after Saturday. Kyle Whittingham insists that doesn't mean anything. I'm guessing having two extra years of bragging rights, however, means plenty to the fans. Utah has won four of the past five and holds a 56-34-4 edge in the series, which dates back to 1896. Though BYU doesn't recognize six games, split 3-3, from when it was Brigham Young Academy. But since this is the Pac-12 blog, we'll recognize it, cause we're cool like that. And Utah SID Liz Abel is awesome at her job for bringing that nugget to our attention. Utah quarterback Travis Wilson is coming off of a 142-yard rushing performance -- the second most ever by a Utah quarterback and the most since 1979. Should this one be a nail-biter, it's worth noting that both kickers -- Utah's Andy Phillips and BYU's Justin Sorensen -- are 5-for-5 on field goals this season. Neither has missed a PAT.
September, 14, 2013
9/14/13
8:03
PM ET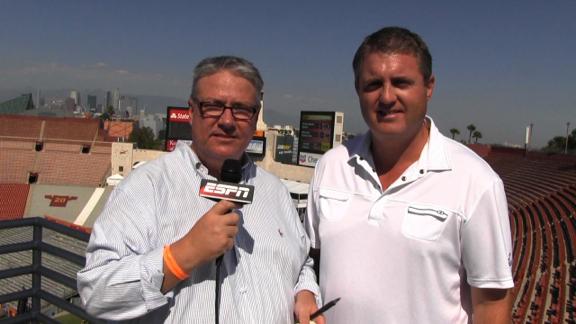 LOS ANGELES -- That was exactly what the cardinal and gold doctor ordered.
After a week filled with questions about the passing game and the definition of players-only meetings, the Trojans let their play do all the talking on Saturday with a 35-7 victory over Boston College at the Coliseum.
[+] Enlarge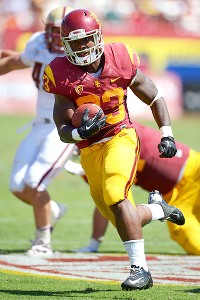 Kirby Lee/USA TODAY SportsTre Madden had a touchdown reception to go with this 30-yard TD run.
The Trojans didn't waste any time in letting the home crowd know that this game would be different from last week as new full-time starter
Cody Kessler
let fly on the opening play with a deep pass intended for
Marqise Lee
. The pass was overthrown, but the Coliseum crowd erupted in cheers, an obvious nod to the lack of downfield throws in the loss to Washington State.
"That was [USC president] Max Nikias' play," USC coach Lane Kiffin said. "He said just throw it deep and they will cheer no matter what."
That was about all that went wrong for Kessler as he hit his next 14 passes. His first six went to six different receivers. By the time the game was over Kessler was 15 of 17 for 237 yards and two touchdowns, including an 80-yarder to Lee against one-on-one coverage from the Eagles defense, which was forced into that coverage since the Trojans were spreading the ball around.
"Coach Kiffin called a great game," Kessler said. "He put me in position to have some multiple reads, and it was great to have options like that. I'm excited about our overall play. There was whole new confidence this week and I think it showed in our play."
In addition to the success with the passing game, the Trojans also had a strong showing on the ground as
Tre Madden
went over 100 yards for the third game in a row and freshman
Justin Davis
also flashed his potential. That helped lead to 521 yards of total offense and more than 36 minutes time of possession.
Madden was the dominant performer in the first half with a short touchdown catch from Kessler to go along with 13 carries for 65 yards as the Trojans built a 14-0 lead. There were counter running plays, something that had not been a big part of the USC offense to this point, and Madden was taking advantage behind a nice performance from the offensive line.
Madden added a 30-yard touchdown run in the third quarter and finished with 16 carries for 102 yards. The majority of damage on the ground for the Trojans in the second half came courtesy of Davis, the electrifying newcomer who had 96 yards on 10 carries, including a pretty 17-yard touchdown run early in the fourth quarter. The most impressive run for Davis came on a 39-yard play where he switched the ball from his inside arm to the outside arm like a seasoned veteran.
"We finished the game on the ground and I'm proud of that," Kiffin said. "We had 43 rushing attempts and that really helped to open up the play-action passing game."
The Trojans have rushed the ball 40 times or more in each of the first three games for a total of 130 attempts compared to 79 for their opponents.
As has also been the case so far this season, the USC defense once again played well and put tremendous pressure on the Eagles offense. Boston College featured a four-year starting quarterback in
Chase Rettig
and a productive running back in
Andre Williams
, but the Trojans ended the game with eight tackles for loss and didn't allow an Eagles score until the USC reserves were in the game in the fourth quarter.
"I thought our first defense was lights out," Kiffin said. "We were worried about their running back because we hadn't played a Power I offense yet. It was all about tackling for the defense and I thought they did a great job. To give up only 184 total yards shows we did that well."
Williams finished with 38 yards on 17 carries after rushing for 318 yards in the first two games of the year.
The Trojans improve to 2-1 on the season and return home next Saturday to take on Utah State. The victory over an outmanned Boston College team doesn't mean that all of the early-season issues are gone for Kiffin and his team, but it was certainly a much-needed step in the right direction.
September, 5, 2013
9/05/13
9:01
AM ET
A few storylines to keep an eye on in Week 2.
Heavy favorites: The Pac-12 is favored in all eight of its nonconference games this week. In fact, the league is favored by at least 10 points in every game and by at least 20 points in six of the eight. It should be a strong week for the conference. Should being the operative word.
League play kicks off: The ninth game this week features the first conference showdown of the season with Washington State traveling to USC. The Cougs are coming off a tough loss at Auburn, where Connor Halliday completed 35 of 65 passes for 344 yards and a touchdown. Cody Kessler is expected to start for the Trojans, but Max Wittek likely will see time again. USC's defense had four interceptions and seven sacks in its Week 1 win over Hawaii. WSU's last win at USC was in 2000.

Debuts: After spending last Saturday lounging around and watching football, Arizona State coach Todd Graham and Stanford coach David Shaw have to get back to work. The Sun Devils open the season on the cusp of the Top 25 and host Sacramento State on Thursday night. Stanford hosts San Jose State in the Bill Walsh Legacy Game. The Cardinal opened the season ranked No. 4 but got bumped down to No. 5 for their Week 1 laziness.

Off and running: The Pac-12 had seven players rush for at least 100 yards in Week 1, headlined by Washington's Bishop Sankey. He and the Huskies are off this week prepping for their game against Illinois on Sept. 14. Three of those seven came from Oregon -- a school record with De'Anthony Thomas, Byron Marshall and Marcus Mariota all eclipsing 100 yards. The other 100-yard rushers were Jordon James (UCLA, which is off this week), Daniel Jenkins (Arizona) and Tre Madden (USC).

2-oh? Colorado snapped an eight-game losing streak last week with its win over Colorado State. The Buffs host Central Arkansas on Saturday with a chance to start 2-0 for the first time since 2008.

Crazy eights: Stanford and San Jose State are both riding eight-game winning streaks dating back to last season. That's the first time in all of the years the schools have played that both have enjoyed simultaneous streaks.

Dominating the MWC: The Pac-12 went 5-0 against the Mountain West last week with Utah (Utah State), Colorado (Colorado State), USC (Hawaii), Washington (Boise State) and UCLA (Nevada) all scoring victories. The Pac-12 has three more games against the Mountain West this week with Arizona traveling to UNLV, Hawaii visiting Oregon State and San Jose State at Stanford. It was a rough opening weekend for the West Coast's little brother league, which went just 3-9.

Road warriors: No. 2 Oregon goes on the road for the first time this season and is riding the nation's best winning streak away from home. The Ducks have won 15 straight road games. Alabama and Northern Illinois are tied for second with nine. Oregon's last road loss was at Stanford in 2009.

Strong debuts: The three new coaches in the Pac-12 went 2-1 in their season openers. Mark Helfrich (Oregon) rolled over Nicholls State (no shocker there). Mike MacIntyre led Colorado to an emotional win over an in-state rival in Colorado State, and Sonny Dykes' California team put up a gritty effort in defeat against Northwestern.

Suspensions lifted: After being suspended for Week 1, Arizona running back Ka'Deem Carey, the nation's leading rusher last season, will make his debut against UNLV. Daniel Jenkins filled in quite nicely, rushing for 139 yards on 12 carries, including a 91-yard touchdown run. Washington tight end Austin Seferian-Jenkins, who was also suspended for Week 1, is expected to be on the field when the Huskies return to action next week. Cal linebacker Chris McCain had his suspension rescinded after he was ejected per the NCAA's new targeting rule and will play against Portland State.
April, 16, 2013
4/16/13
12:00
PM ET
Lane Kiffin and Co. have released their official post-spring two-deep depth chart. And not surprisingly, there aren't a lot of surprises.
One of the most watched quarterback competitions in the country lists
Max Wittek
OR
Cody Kessler
OR Max Browne. Leaving us with what we knew a month ago. It's going to be Wittek OR Kessler OR Browne.

Steve Bisheff of WeAreSC
makes his case
-- and a compelling one at that -- for Kessler, who clearly had the strongest spring of all three quarterbacks.
Despite Kessler's clear advantage coming into the (spring) game, Kiffin had Max Wittek starting with the first unit at the Coliseum on Saturday. And even after Kessler outplayed his main competitor, throwing for 242 yards and three touchdowns with no interceptions compared to Wittek's 145 yards, two touchdowns and two interceptions, Kiffin insisted that no quarterback had emerged as a front-runner for the position and that he won't name a starter until the fall.
Sticking with the offense, there was already an assumed pecking order at wide receiver, but it's more solidified now. Darreus Rogers and
Victor Blackwell
are behind Biletnikoff winner
Marqise Lee
.
Nelson Agholor
will start opposite Lee with
De'Von Flournoy
and
George Katrib
backing him up.
Some intrigue at running back with
Silas Redd
at the top, but the starting gig is listed as Redd or Justin Davis or
Tre Madden
. Same for the fullback, which lists
Soma Vainuku
or
Jahleel Pinner
as the starter.
So while the entire offensive backfield is a grab bag of "ors," there is at least some solidarity on the offensive line, where four of the five starters appear to be in place.
Aundrey Walker
and
Max Tuerk
make up the left side with
Marcus Martin
at center and
John Martinez
at right guard. The only spot still in doubt is at right tackle between
Kevin Graf
or
Chad Wheeler
.
The new-look 52 defensive front has
Devon Kennard
and
Morgan Breslin
at the outside linebacker spots (that's going to be a scary combination, by the way) with
Leonard Williams
and
George Uko
(also a darn good tandem) at the ends. Nose tackle is still up for grabs between
Antwaun Woods
or
Cody Temple
.
In the secondary, where there are almost as many holes as there are questions -- little has been determined. Three of the four starting spots have an "or" attached to them. Only
Anthony Brown
looks like the inked-in starter.
Torin Harris
and
Kevon Seymour
are battling for the other corner spot and
Demetrius Wright
or Leon McQuay III are battling for free safety.
Josh Shaw
and touted freshman Su'a Cravens -- who missed a significant portion of spring drills -- will head into fall battling for strong safety.
March, 1, 2013
3/01/13
12:00
PM ET
While quarterback competitions are typically front-and-center during Pac-12 spring practices, there are always other interesting spring storylines.
Here are two.
[+] Enlarge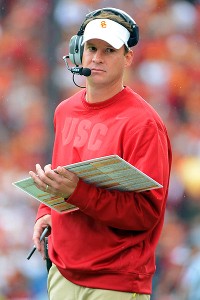 Harry How/Getty ImagesUSC coach Lane Kiffin enters the spring with several new assistants, a new defensive scheme, and uncertainty at quarterback.
Ted Miller
: It was a horrible, no-good, rotten, very bad 2012 season for USC coach Lane Kiffin. And the 2012-13 offseason has been no picnic either. Some Trojans fans wanted Kiffin fired. Just about all were frustrated. Justifiably so, by the way.
Lane: Welcome to spring, the season for rebirth! Time to turn the page. Or, perhaps, pick up an entirely new book.
At the very least, the situation at USC is interesting. One of the nation's premier programs is front-and-center for many of the wrong reasons, but there is enough talent on hand for Kiffin to turn things around and shut up his critics.
Interesting plot lines? Kiffin will be breaking in four new assistant coaches, including a pair of new coordinators, his defense will be transitioning from a 4-3 base to a 3-4, and he's looking for a new quarterback for the first time in his tenure.
There's a lot going on. Lots of questions. Lots of doubt, too. Yet negative momentum isn't irreversible.
What if the Trojans have an exceptional spring?
What if Clancy Pendergast shakes things up and, suddenly, the defensive guys are playing hard and fast in a sound scheme they understand? And what if the offense, nonetheless, makes plenty of plays because the quarterbacks are sharp and the line is manning up? What if the fitness level of the Trojans improves? What if offensive tackle
Aundrey Walker
breaks through, realizing his future NFL contract will be based on performance, not measurables? What if
Devon Kennard
proves a perfect fit as a 3-4 outside linebacker, as we believe he is? What if guys like
Marqise Lee
,
Hayes Pullard
,
Silas Redd
,
Dion Bailey
and
Kevin Graf
step up as leaders? What if receivers
George Farmer
and
Victor Blackwell
decide they don't want to be left in the dust behind Lee and
Nelson Agholor
? What if running back
Tre Madden
says, "Hey, remember me?"
What if Kiffin simultaneously refocuses and relaxes? What if he uses his capable brain to be smart, not a smart aleck, to be creative, not sneaky? What if he realizes the media is not an enemy, but just a bunch of folks trying to do their job whom he should humor with vague though sometimes amusing answers?
There are a lot of "What ifs?" with USC and Kiffin. It's not difficult, by the way, to talk yourself into believing a bounce-back is entirely possible.
That's what is interesting. Kiffin 2.0 was 2010 and 2011, when he seemed to find his rhythm as a coach after controversial stints with the Oakland Raiders and
Tennessee Volunteers
. Kiffin 3.0, was 2012, a complete face-plant.
This spring presents us with Kiffin 4.0. It could prove to be the most important transition of his career as a head coach.
And that is interesting.

Kevin Gemmell
: Besides quarterback battles -- which I think are always the most exciting position battles there are -- I'm most curious to see how the running back battle is going to play out at Stanford.
When you look at a Stanford squad that is very heavy on upperclassmen -- on both sides of the ball -- you have to wonder if all of the pieces are in place for Stanford to make a legitimate run at the national championship.
I wasn't sure before, but with the addition of Tyler Gaffney to the running back corps, I'm warming up to the idea that the Cardinal could challenge any team in the country for a BCS championship -- if they can get out of their own conference (or division for that matter) -- which anyone will tell you is no easy task.
It's no surprise that Stanford's primary offensive weapon is the quarterback. Not because of what he does with his arm -- but because of what he does when he goes under center -- checking out of bad plays and putting the offense in the best possible play against the defense shown. This allows running backs to flourish. Andrew Luck was phenomenal at it.
Kevin Hogan
should get better.
So, when Hogan turns to handoff on power right or power left, who is going to be the primary ball carrier?
Anthony Wilkerson
has shown bursts and outstanding top-end speed. But injuries have slowed him, and playing behind
Stepfan Taylor
the past few years didn't allow him to really break out following his strong true freshman season. Gaffney is a rock and hard to bring down. He's the kind of guy who could carry the ball 10 times for 4.5 yards a pop.
Barry Sanders
is an interesting X-factor. He obviously was a high-profile recruit because of his name -- but beyond that, he's supposedly a pretty darn good back. Maybe he ends up winning the job and can be a 15-carry type of guy.
Then you have
Ricky Seale
, a shifty runner with great vision who has been trapped at the bottom of the depth chart, but continues to receive praise from David Shaw.
Remound Wright
and hybrid
Kelsey Young
are also in the mix.
Whoever is Shaw's go-to back, he'll have the benefit of running behind an outstanding offensive line that is only going to get better with
David Yankey
-- an All-American and last year's Morris Trophy winner -- moving back to his natural position at guard. And Shaw has said he plans to keep
Ryan Hewitt
at fullback -- giving the running backs a cadre of blockers that rivals any other in the country.
By season's end, this could be your national championship team. The question is, which back will carry it there?
April, 6, 2012
4/06/12
6:00
PM ET
This is a preview -- and only a preview, mind you -- of USC's nightmare scenario.
The Trojans are so solid in their starting 22, but so questionable in their depth that one major injury to a load-bearing player could cause the whole thing to collapse.
Linebacker-turned-running back
Tre Madden
isn't that load-bearing player. But he certainly was expected to take some of the pressure off of
Curtis McNeal
. News broke earlier today that Madden will miss the entire 2012 season with a torn ligament in his left knee -- a non-contact injury that occurred when he planted off his left leg.
Writes Erik McKinney of WeAreSC.com
:
Through only a handful of practices after making the transition from outside linebacker, Madden had impressed with his combination of balance and forward lean and looked like he would make a case to become the big back the Trojans could rely on this season.

With Madden out of the lineup, the Trojans are again down to three scholarship tailbacks, as redshirt senior Curtis McNeal will be relied on heavily to carry the load this year.
Madden, a 6-0, 220-pound sophomore from Aliso Vieja, Calif., was the talk of USC's spring ball for both his versatility to make the position change and his athleticism. As a true freshman, he appeared in all 12 games last season at linebacker and special teams, notching 15 tackles and one for a loss. He started one game at Colorado and had a career high three tackles against Washington.
This kind of scenario was always the elephant in the room for the Trojans -- whether they could last an entire season without having to dip too far into the depth chart. Madden's injury leaves the Trojans right back where they were before spring in terms of running backs. Only now, they are also down a linebacker.
March, 30, 2012
3/30/12
11:00
AM ET
LOS ANGELES -- The guy who had the best touchdown-to-interception ratio in the Pac-12 last season is tossing a few more picks during spring ball than his coach would like to see. But USC coach Lane Kiffin isn't too worried about quarterback
Matt Barkley
, who has thrown seven interceptions in eight practices. No expletives are being hurled, no panic buttons being pushed.
[+] Enlarge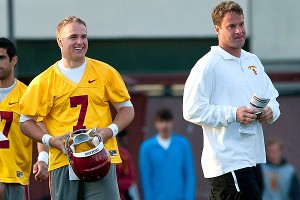 Joe Andras/WeAreSC.comQB Matt Barkley, left, has thrown more interceptions with his favorite receivers absent from spring practices, USC coach Lane Kiffin said.
"He can still declare for the supplemental draft so I can't yell at him quite yet," Kiffin joked after practice Thursday night.
Not to worry, Kiffin said, explaining that the rise in picks is a product of Barkley not being able to work with his usual guys.
Robert Woods
is out for spring.
Marqise Lee
is balancing football with track and
George Farmer
continues to be hampered by a hamstring injury.
"Part of it is him getting a little bored," Kiffin said. "He scrambles out and gets frustrated because he doesn't have his normal guys out there and he throws the ball downfield. We'll get him back out of it. We don't like it, but it's not the end of the world. As we get closer to game time, we'll get him back to normal."
Kiffin said to keep Barkley motivated, they have installed some different routes and concepts they've taken from the NFL.
"It's been good to expose him to those and really challenge him to continue to master what he already has, but also add to his game," Kiffin said.
Last season, Barkley threw 39 touchdowns to just seven interceptions. His 69.1 completion percentage was tied for second-best in the conference.
In other practice notes:
With so many injuries at wide receiver, Lee has been rotating in at every receiver spot. Kiffin recently said he thought Lee has the chance to be the best wide receiver ever at USC. "Marqise is doing great," Kiffin said. "We're so hurt so we move him around so much that he has to play every position with Robert and George not being there. But it's good for him, any time you have to play all the spots. We really try to wear him out when we get him because we lose him sometimes [to track] so we try to maximize the time we get with him."

The Trojans were scheduled to hold a scrimmage on Saturday – which will be open to the public at 11 a.m. at Los Angeles Memorial Coliseum – but might have to put that on hold due to the number of injuries. Tight end Junior Pomee re-injured his foot on Thursday, and with Xavier Grimble, Randall Telfer and Christian Thomas all dinged up, there aren't many options left at tight end. Kiffin said they might ditch the scrimmage and just hold a normal practice. "Unfortunately we can't seem to keep a tight end healthy," said Kiffin. "The problem right now is the offensive skill players [who are out with injury] aren't allowing us to practice the way we'd like, but we're making the best of it."

Tre Madden, who made the move last week from linebacker to running back, fumbled for the third time in three practices.