September, 22, 2013
9/22/13
10:00
AM ET
Iowa State, TCU, Oklahoma and Oklahoma State were all off. But we still learned plenty about the Big 12 in Week 4:
[+] Enlarge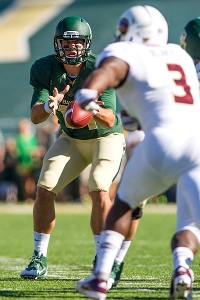 Jerome Miron/USA TODAY SportsBaylor QB Bryce Petty leads the nation in QBR and the Bears have been nearly unstoppable in its nonconference games.
1. Baylor can't be stopped:
What the Bears have accomplished in three nonconference games has been incredible. Sure, the nonconference slate was bad. But the numbers Baylor is putting up are absurd. Capped with the 70-7 win over Monroe, the Bears outscored their three nonconference opponents by a combined score of 209-23 -- the largest scoring differential in an opening three games, according to ESPN Stats & Information, by any FBS team of the past 10 seasons. The Bears lead the nation in scoring,
Bryce Petty
leads in the nation in QBR and running back
Lache Seastrunk
is averaging 11 yards per carry. This offense, obviously, faces tougher tests ahead. But Baylor has the look of an offense that will be scoring on everyone it faces.
2. West Virginia can't score:
How far the West Virginia offense has fallen since that 70-point outburst in the 2011 Orange Bowl. In the first half against Maryland, the West Virginia offensive effort was futile. West Virginia compiled 65 yards compared to 61 yards in penalties; the Mountaineers also had as many first downs (two) as interceptions in the first half, as Maryland jumped to a 30-0 halftime lead before coasting to the 37-0 victory in Baltimore. Coach Dana Holgorsen said afterward he's sticking with
Ford Childress
at quarterback, but the quarterback can only do so much with the West Virginia offensive line and receivers. Had running backs
Charles Sims
and
Dreamius Smith
not transferred in, this offense would be completely hopeless -- assuming it isn't already.
3. Texas proved it doesn't always lie down:
During Big 12 media days, Kansas State linebacker
Tre Walker
was quoted saying that "Texas laid down a little bit" in their game last season because "that's what they do." Despite tumbling in with a two-game losing streak, the Longhorns didn't lie down Saturday, instead grinding out a 31-21 win over the Wildcats. Who knows what -- if anything -- the win will do for Mack Brown or the Longhorns' season? At the least, the win offered a little respite for a team that's had to endure nothing but negativity since the first week of the season.
4. The Kansas schools have issues offensively:
Both Kansas and Kansas State should be better offensively than what they've showed. Despite having former blue-chipper
Jake Heaps
at quarterback and one of the league's better running back tandems in
Tony Pierson
and
James Sims
, the Jayhawks needed 10 points in the fourth quarter to edge out Louisiana Tech, 13-10. Meanwhile, against a Texas defense that had been porous stopping the run, the Wildcats managed just 115 yards rushing on 38 carries. If not for wideout
Tyler Lockett
, K-State might not have scored the whole night. Both the Kansas and K-State offenses have good players. Just not good offenses at the moment.
5. Texas Tech is back to square one at QB:
For the second straight game,
Davis Webb
replaced fellow true freshman
Baker Mayfield
at quarterback. Last week, it was due to injury. In Saturday's sloppy 33-7 win over Texas State, it was due mostly to the offense remaining stagnant, though Mayfield did get shaken up after taking a shot to his back. Mayfield completed 13 of 18 passes for 122 yards and an interception before getting replaced. But Webb didn't fare all that much better, going 19-of-43 passing for 310 yards and an interception. Webb also badly missed
Jakeem Grant
and
Jace Amaro
wide open in the end zone near the end of the game. Coach Kliff Kingsbury said both quarterbacks would play going forward, but he also noted the position "just has to get better." It's unclear how Kingsbury will use his quarterbacks, but
Michael Brewer
is getting closer to practicing again after sitting out the past several weeks with a back injury. Brewer, the projected starter going into the preseason, could ultimately become Kingsbury's answer at quarterback once he returns.
September, 19, 2013
9/19/13
9:00
AM ET
Instead of going to a game this weekend, I stopped by Waco, Texas, earlier in the week to check out Art Briles' bunch in person.
Our guest picker this week is Roger Berman, a Red Raider who hails from Orange, Texas. Here is Roger's guest picker submission:
I have been around a few years. Just turned 60 in August. I attended Texas Tech, and got my B.S. in chemical engineering in 1976. Older brother went to Oklahoma State. Little brother was smart -- he graduated from Texas Tech. I have been following the Southwest, Big 8 and Big 12 conferences for more than 45 years. I know I can pick 'em better than a young pup like you. What you say to that?
Well, Roger, compared to you, I suppose I am a young pup. Challenge accepted.
By the way, thanks to Roger's Red Raiders, I dispatched of last week's guest picker, James. Get ready to join him, Roger.
If you want to be next week's guest picker,
contact me
, and tell me why. And, as always, creativity counts.
Now, to the picks for Week 4:

SEASON RECORD
Last week:
7-1 (.875)
Guest picker last week:
6-2 (.750)
Overall:
21-4 (.840)
Guest picker overall:
6-2 (.750)
Saturday
Kansas 33, Louisiana Tech 21:
Jake Heaps
struggled in the loss at Rice, but Charlie Weis said this week the one player he's not worried about is Heaps. I'm not worried about the Kansas quarterback, either. As for the rest of the team, well, that's another story. The Jayhawks will be fine in this one, before they embark on another long season in the Big 12.
Roger's pick:
Heaps takes it up a notch with more than 200 yards passing. Kansas, 28-17
West Virginia 30, Maryland 27:
The Terrapins are 3-0, but their best win came last week over Connecticut, which fell to Towson in its opener. In other words, Maryland has yet to play anybody. The Mountaineers lost at Oklahoma, but they hung tough. That moral victory should give them the confidence they can win this game. Especially with
Ford Childress
now at quarterback.
Roger's pick:
I think Childress has a great day; once again, a freshman steps up in the Big 12. West Virginia, 35-27
Baylor 63, Louisiana-Monroe 10:
By picking the Bears to score nine touchdowns, I'm actually picking them to have a down day. Baylor, which is averaging 70 points a game, has scored four touchdowns in the first quarter of both games this season. Mercifully for Monroe, the Bears don't touch that first-quarter mark this game, due to a little rust coming off an open week. Not that it really matters. Baylor drops off four touchdowns in the second quarter to put another game away before halftime.
Roger's pick:
Bryce Petty
has another good day; not sure who can stop this offense. Baylor, 49-7
Texas Tech 45, Texas State 13:
The Red Raiders won ugly last week. This week, they get back to winning pretty. Boosted by Kliff Kingsbury's vote of confidence, quarterback
Baker Mayfield
gets back on track with a 400-yard passing game. The Tech defense gives up a couple of scores early, but settles in to keep the momentum going from last week's gutty performance against TCU.
Roger's pick:
Jace Amaro
has a coming-out party; 150-plus yards and three touchdowns. Texas Tech, 56-14
Texas 31, Kansas State 28:
The reasons to pick against Texas are many. The Longhorns have been an embarrassment stopping the run, and K-State's
Daniel Sams
runs as well as any QB in the league. The Wildcats also own Texas with a five-game winning streak in the series. But QB
David Ash
should be back in the lineup for Longhorns, and K-State has had its own problems defensively this season. Plus, after K-State linebacker
Tre Walker
accused Texas this summer of always rolling over, the Longhorns -- if they have any heart at all -- have to show up for this game, right?
Roger's pick:
Texas finally gets it together; plus, very rarely has Texas lost three games in a row. Texas, 24-21
September, 17, 2013
9/17/13
9:00
AM ET
Tre Walker
tried to soften it but it didn't change the underlying message when he was asked about Kansas State's 42-24 win over Texas last season.
"They kind of laid down a little bit," the Wildcats linebacker said during Big 12 media days in July.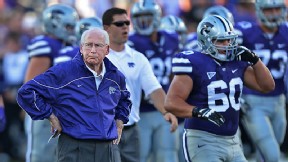 Peter G. Aiken/Getty ImagesBill Snyder and Kansas State have owned the Longhorns recently, winning the last five games.
Undoubtedly, Texas players, coaches and fans look at that statement and scoff. Yet, if anyone in the nation has the right to make that declaration it would be Walker, who is part of a Kansas State program which holds the longest current winning streak against the Longhorns in college football. The Wildcats have the last five meetings starting in 2006.
"They have played better than us for sure and coached better than us," Texas coach Mack Brown said. "We haven't played very well against them. They've been more physical than we have."
The Wildcats won 45-42 in 2006, 41-21 in 2007, 39-14 in 2010 and 17-13 in 2011 during the winning streak. For Kansas State, the win streak could bring confidence but the past will only mean so much on Saturday.
"It probably depends on the individual," KSU coach Bill Snyder said when asked about the Wildcat's win streak. "Most of the youngsters are probably more concerned with preparation and ourselves than things that have happened in the past."
In other words, they're focused on playing K-State football. And K-State football is exactly what has provided the foundation of the win streak. The Wildcats have found a way to beat Texas the same way they usually find a way to beat any other team that has the overall talent advantage.
Defense, turnovers and special teams.
In KSU's wins over the Longhorns, the Wildcats' average turnover margin is 2.6 (13 turnover margin in five games) and their average starting field position margin was 9.2, meaning they consistently started almost 10 yards closer to the end zone than UT during the winning streak.
The Longhorns have had the clear advantage when they have ball and when playing defense. The Longhorns are averaging 369.8 yards while holding KSU to 274.2 yards during the streak. The Wildcats didn't outgain the Longhorns in any of those wins. KSU's offense has been horrible, going three-and-out 42 percent of the time and averaging 3.07 yards per carry during the win streak.
< How do you overcome being outgained by an average of nearly 100 yards?
Simply taking the ball away is a great start. On average, the Longhorns have had to make up 15.6 points off turnovers against KSU thanks to 16 turnovers in five games. KSU's 45-42 win in 2006 was the only time the Longhorns didn't have to overcome a double digit, points off turnover margin. It's hard to spot a Big 12 opponent more than 15 points and expect to win.
The often overlooked third part of the game is another way the Wildcats win. KSU consistently produces terrific special teams play featuring a great return game and its victories over UT are no different. The Wildcats average starting line has been their own 39-yard line and they've averaged 22 yards per punt return and 28.64 yards per kick return during the win streak, including punt and kick returns for touchdowns in 2007.
And the Wildcats defense has had a bend but don't break mentality, allowing 4.88 yards per play and only allowing UT to score points 33.3 percent of the time after the Longhorns have started a drive by making a first down. The Wildcats defense has been resilient and come up with key plays when they need them allowing UT to gain just 38.3 percent of the possible yards to gain on 69 total drives in those five games.
Defense, turnovers and special teams make Kansas State football come to mind, so it's no surprise those three words have defined the Wildcats' current five-game winning streak over Texas.
December, 21, 2012
12/21/12
4:00
PM ET
Thanks for all the emails this week, everybody.
Here's where you can reach me
if you've got more to say.
Let's get to your mail.
Sam Brooks in Overland Park, Kan., writes:
David, I saw in
your Big 12 stock report that you have Kansas State's stock as going down
, and your logic for this is very skewed. Sure, the Cats are losing two very important players with major leadership roles on both sides of the ball in Collin and Arthur, but don't think for a second that the quality of leadership will drop off.
Tre Walker
is more than ready to become the vocal leader of the 'Lynch Mob' (probably already was), and
John Hubert
and
Daniel Sams
have spent countless hours learning the intangibles from CK7. As for talent, they are taking a big hit on the defensive side pretty much only returning Zimmerman and Walker. However, as for the offense, look for them to be more explosive than this year. 5 returning on the O-Line, John Hubert, Tremaine Thompson, and
Tyler Lockett
all return, making it very plausible for D-Sams to ease into Snyder's system and put up huge numbers. The intense QB battle with Waters will only make both players better too. Combine that with a very favorable schedule (8 home games) and I believe K-State takes care of business in Austin early (as they did in Norman), and the Big 12 title will once again run through Manhattan, KS. (Cue November 16 hype [TCU])
David Ubben:
It's possible, Sam, but I simply don't buy that K-State has pieces ready to just replace a guy as integral to the offense as
Collin Klein
and
Arthur Brown
. Both of those guys won their respective Big 12 Player of the Year awards on their side of the ball, and you don't simply replace Klein's experience and toughness or Brown's athleticism and instinct. Walker's a great player, but Brown held the defense together and missed so few tackles. The Sams/Waters quarterback derby in the spring will be interesting, but we'll see if Hubert continues his production without Klein and if Sams or Waters can prove to be a quarterback in the top half of the Big 12. That's a must if you're going to win the league.
Ask Oklahoma State how easy it is to replace pieces that are that important. OSU was a good team this year, but winning 11-12 games in this league is really difficult. The simple truth is next year's Kansas State team will not be as good as this year's team. Considering this year's team has a pretty solid case as the best in school history, I hardly think that's an insult.
K-State's a bowl team next year, but a Big 12 title contender? I don't buy that one bit, unless Sams or Waters just absolutely blows up next season. I expect one of them to be solid, but not one of the league's best.
---
Jamie Hoggatt in San Antonio writes:
David,I really like Baylor's chances to get to 7 or 8 wins again next year.
Tevin Reese
will be the go to guy and will step up like TW did this year for the departed Kendall Wright. You have the Best Big 12 Lineman (
Cyril Richardson
) the best Big 12 back ( Lache Seastruck ) and
Bryce Petty
will do great. On defense you get all 3 LB's back ( Lackey, Hagar and Dixon ) plus 4 other starters return. The kicking game needs improvement. Art Briles is the glue and the last year in Floyd Casey should be promising.. 4 bowl games in a row for the Bears.
DU:
I definitely buy it. I think Baylor's got a lot of upside next season. The receivers won't be as good as they were the past two years, but they'll still be solid, and I think Petty will be better than Florence but not as good as RG3. I do think Seastrunk is better than any back Baylor's had under Briles, and he'll get a whole lot of touches next season. I would be absolutely shocked if Baylor didn't make a bowl next season, but in a wide-open Big 12 with tons of turnover on the offensive side of the ball, a 10-win season or a Big 12 title run would be far from shocking.
I don't think it's likely, and I do think Baylor looks more like a 7 to 8-win team, but the upside is big, and guys like Petty and Seastrunk may easily surpass expectations next year. The defense has to get better, obviously, but I think the offense can maintain yet again, despite losing Florence and
Terrance Williams
.
---
Tommy in Dallas writes:
When will someone please come and take Paul Rhoads out of the conference? As an opposing team fan, I don't ever want to play his teams. I can't imagine why more teams haven't come and tried to take him away yet? Or am I overlooking how much him being an ISU alumn effects the situation?
DU:
You're not alone, Tommy. It's all about finding the right fit, really. There was plenty of rumblings earlier this month that Wisconsin was interested after Bret Bielema checked out to my old stomping grounds at Arkansas, but that never really materialized into anything significant. I don't know if that's the right fit for him. Pittsburgh showed lots of interest last year but Iowa State kept Rhoads around with a contract extension and a raise.
When a truly big-time program comes after Rhoads, I do expect him to leave, but right now, that opportunity hasn't come around. Until then, he's loved at Iowa State. He loves it there, too. He's a native of the state. I don't get the feeling that he believes he can turn the program into a power like Art Briles believes at Baylor, but he's building for the future, and he's not going to leave unless he does so for a major, major step up.
---
Nick in Fort Smith, Ark., writes:
TOP HEAVY SEC!? wow! you know, i expect BIG 12 fans to be delusional, but a sports writer? pathetic. Bama, Georgia, LSU, A&M, South Carolina, Florida. ALL ten wins or more!!! thats nearly have the league! Vandy is no push over and they AND Miss St. will possibly finish with NINE wins! Arkansas with Bobby as their coach would have challenged for the pathetic BIG-12 title this year! ALL they would have had to beat was K-State and OU!!! They already throttled K-State once this year. Get your head out of Bob Stoops rear.
DU:
Hey, I respect those top six teams. They're all good. All top 15 teams, though? I think there's plenty of reason to doubt that, considering as a group, they don't have a ton of great wins out of conference play. They've inflated their ranking by beating up on the bottom eight teams in the SEC, who went 0-30 against the top six this season. That's a top-heavy league if there ever was one. K-State's probably not as good as Alabama or Georgia or maybe even Florida, but teams in the bottom half of the Big 12 like Baylor or West Virginia are far superior than the bottom half of the SEC. The Big 12 is a more balanced league, but the top half of the SEC ascended in the polls largely on the back of the league's success the past 5-6 years, not what they actually did this year.
---
Daniel La Frankie in Temple, Texas, writes:
Dave, enjoy your columns very much.Quick question. Always hear about the "Grant of rights" like it's cement.If people can sue to get out of exit fees of 10, 20, 25, now maybe 50 million dollars, and lawyer it down to a lesser fee...............why couldn't a school sue to get out of "Grant of rights"???Thanks, Dan
DU
: I'm not a lawyer, but it seems highly, highly unlikely. I'll explain. The "exit fees" are, in theory, based on recouping a conference the money that it would lose if a team left the conference. That's why the supposed $50 million exit fee in the ACC may not stand up in court. Granted, we don't know that yet. We'll see. That's only a small part of it, but that's my understanding on why some schools have gotten out of paying the full fees.
The grant of rights, however, isn't based on any losses. It's an agreement to hand over your media rights to the conference for "X" period of time. In the Big 12's case, it's three years. I suppose, in theory, you could sue to get out of that, but there's no doubt that those "handcuffs" are going to be a lot more strict than
the Big 12's weak exit fees that Nebraska, Colorado, Missouri and Texas A&M left in the dust.
November, 15, 2012
11/15/12
10:15
AM ET
Here's what I'm keeping an eye on in the Big 12 this week:
1. Remember all the little people.
K-State has dealt with the distraction and hype really well this season. The Wildcats have been consistent and solid every week. This week, though, the pressure is at a whole new level. They're the nation's No. 1 team.
Collin Klein
's presence will test the Sports Illustrated cover jinx. Oklahoma State lost in its 11th game last season. K-State should roll Baylor on paper, but can it keep its focus in uncharted territory?
2. To care or not to care, that is the question.
West Virginia was hyped all offseason for this game. Carrying a four-game losing streak into the Oklahoma game was not part of the plan, though. It's asking a lot for fans to come in droves and provide a big-time atmosphere. Will the Mountaineers fans do it and try to help their team reach bowl eligibility? Tough test for a fan base that has had a pretty terrible month or so and hasn't seen a win since Oct. 6 or a win in its home stadium since Sept. 29.
[+] Enlarge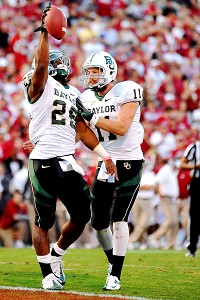 Denny Medley/US PRESSWIRELache Seastrunk (25) rushed for 91 yards and three touchdowns on 15 carries against Oklahoma.
3. Baylor breaks out its Jet Ski.
Lache Seastrunk
was officially set free last week, emerging as Baylor's No. 1 back with three touchdowns. Can he go to work against K-State's front seven this week, a solid unit headlined by
Arthur Brown
but still missing
Tre Walker
?
Jarell Childs
has played well, but Seastrunk's game-breaking speed could come into play.
4. Just do it.
If Kansas is going to beat Iowa State, it will do so on the backs of its, uh, backs.
Tony Pierson
and
James Sims
are fantastic. Charlie Weis talked about needing to do creative things to run the ball when everybody knows the Jayhawks are going to run the ball. Well, everybody knows KU is going to run the ball. What does Weis have prepared this week for KU's best chance to crack its 19-game Big 12 losing streak?
5. Get a medical team on it, stat.
Klein's injury saga is over, but K-State has more injury issues this week to keep an eye on. Starting safety
Ty Zimmerman
left the stadium in a boot last week, and
Tyler Lockett
suffered an ankle injury late against TCU. Both are key pieces to the nation's No. 1 team. Will they play, and will they do so effectively? All bets are off in this one.
6. At what point does someone start swiping chairs?
Oklahoma State has played musical chairs at quarterback, and it shocked a lot of folks when Mike Gundy confirmed
J.W. Walsh
was available last week but didn't play. He is not on the depth chart this week, instead with an "or" between
Clint Chelf
and
Wes Lunt
. The good news: All three can play, and OSU can win with all of them. The bad news: This is turning into a bit of a circus. At least it's unpredictable for opponents, so that plays to OSU's advantage while the competition has to prepare for all three.
7. If you're so inKleined.
A.J. Klein
has had a quiet couple of games since
Jake Knott
's injury, making just 11 tackles total in the past two games after tallying at least 11 in three of the past five before Klein left the field. Klein has moved to weakside linebacker and wants more production out of the position. Iowa State needs that while
Jeremiah George
replaces Knott and the duo teams up to slow KU's running game.
8. Gotta fix the leaks.
Oklahoma dominated Baylor's passing game, but the defense was hot after the game after giving up a season-high 252 yards on the ground to the Bears. Can WVU's
Shawne Alston
and
Andrew Buie
have a little success? Dana Holgorsen wasn't happy with the Mountaineers' run game, but this matchup will have an influence on the winner in Morgantown.
9. Time for the hook ... again?
Steele Jantz
has gone back to struggling after tearing up Baylor. He completed just more than 50 percent of his passes in consecutive weeks -- both losses -- and hasn't topped 200 yards through the air with one touchdown to three picks. If he struggles again, does
Jared Barnett
get a shot against KU? I seem to
remember another Big 12 team switching QBs
late and having it pay off.
November, 1, 2012
11/01/12
10:15
AM ET
Here's what I'm watching for in the Big 12 this week:
1. Welcome back -- your dreams were your ticket out.
West Virginia's offense stumbled in big losses to Texas Tech and Kansas State and had a bye week to sit in the corner of the classroom and think about what it just did. Or something like that. WVU is back and plays an underrated but beat-up TCU defense. Can
Geno Smith
& Co. finally get back on track? It'll be the difference between 7-5 or 6-6 and 10-2 or 9-3.
2. You wouldn't like them when they're angry.
Oklahoma has never lost consecutive conference games under Bob Stoops. Notre Dame's not a conference game, of course, but it might as well be. Point is, late in the season the Sooners don't take too well to losing consecutive games. Iowa State hosts an angry bunch of Sooners. The last time OU was coming off a loss, it destroyed a pretty good Texas Tech team on the road back in September.
3. Get a push, or end up on your tush.
If the Cowboys can't slow down Kansas State's rushing attack on some level, it's going to be an ugly, ugly game. OSU might have to do it without its best tackle, too.
Calvin Barnett
was arrested for driving with a suspended license -- the third time that has happened.
[+] Enlarge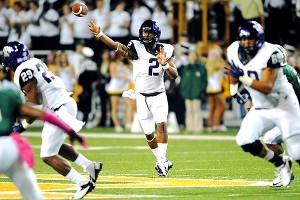 Jerome Miron/US PresswireTCU could get quarterback Trevone Boykin back this week, but a knee injury might limit his effectiveness.
4. Are the kinfolk OK?
Gary Patterson sounds like he thinks he'll have quarterback
Trevone Boykin
this week against West Virginia. Boykin's a speedy guy who uses his legs a lot. With a knee injury, will that affect TCU's game plan? If Boykin's sitting in the pocket all day, that certainly will have an impact on his effectiveness.
5. Back to the start.
Texas Tech's defense gave up scores on seven consecutive drives last week, and K-State scored 55 points. TCU scored 53 in triple overtime the week before. The Tech defense has taken some lumps over the past couple of weeks. It gets a struggling Texas offense this week. Can Texas Tech return to its early-season ways on defense?
6. Losing is the hardest part.
Kansas State leads the Big 12 in scoring offense and defense, but the defense lost a big piece in linebacker
Tre Walker
last week. He may be out awhile.
Arthur Brown
gets all the publicity, but Walker was a fantastic player, too. How badly will he be missed this week against Oklahoma State?
7. If you don't rush, they won't hurry.
Texas didn't have
Jackson Jeffcoat
last week after he suffered a season-ending pectoral injury, but Kansas isn't exactly a test for your pass rush. The Jayhawks threw nine passes last week against Texas. Just a hunch: Texas Tech will throw more than that this week -- in the first quarter. How will Longhorns defensive end
Reggie Wilson
handle a heavier load, and will Tech's line be able to slow
Alex Okafor
this week?
8. Time for a Sims 5 release party.
James Sims
has rushed for 100 yards in four consecutive games, and I'll go ahead and predict he rolls over Baylor for a fifth this week. However, can Baylor's defense show some fight? The Bears are ninth in the Big 12 in rush defense.
9. West Virginia learned this the hard way, Baylor.
When WVU lost
Stedman Bailey
, defenses were able to slow down
Tavon Austin
. With
Tevin Reese
banged up a little bit, will the same happen to
Terrance Williams
? I'm betting no, and that Kansas doesn't have the athletes in the secondary to make that happen, but it'll be interesting to see how KU tries to cover Reese, and if Reese is still effective after suffering a knee injury last week. He's expected to play.
10. Two in a row is the hard part.
Steele Jantz
blew up one of the Big 12's worst defenses last week, throwing for almost 400 yards and five touchdowns against Baylor. This week, he faces one of the best, and probably the league's best secondary in Oklahoma, which has surrendered only three passing touchdowns all season. Can Jantz keep it rolling for a second consecutive week?
September, 23, 2012
9/23/12
1:15
AM ET
NORMAN, Okla. --
Tre Walker
climbed the wall in the southeast corner of Owen Field just to reach a few loved ones Saturday. He had to hug somebody, and couldn't wait until his pads were off to do it.
While the Kansas State linebacker took care of his business there, a "K-S-U" chant echoed through Norman after Bill Snyder's Wildcats finished making history. Walker was climbing to get off the field, but the rest of his team never wanted to leave after Kansas State's
24-19 victory over Oklahoma
. Coaches and players hugged and high-fived.
Kansas State and Oklahoma players both had glassy eyes, for very different reasons.
"I mean, I was shocked," defensive end
Adam Davis
said.
Sure, the Kansas State faithful knew they
could
win. But that they
would
? History shot disapproving glances the way of anyone who believed otherwise.
Oklahoma was a perfect 14-0 versus ranked teams at home under Bob Stoops, dispatching opponents by an average of 28.2 points dating all the way back to 1999. The Wildcats hadn't beaten the seven-time Big 12 champs in the regular season since 1997.
Those stats, though, hadn't reached Davis. And he was still shocked. So were the raucous 85,276 Sooners fans in attendance who provided the best Big 12 atmosphere to date.
"It feels like you're on top of the world," Davis said of the postgame party on the field.
The big names on Saturday will attract plenty of attention.
Landry Jones
' shortcomings.
Collin Klein
's toughness and passing prowess, highlighted by a 12-yard completion on third-and-11 to
Tramaine Thompson
that all but iced the game in the final minutes.
[+] Enlarge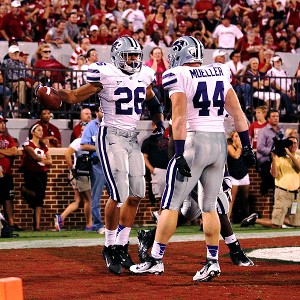 Matthew Emmons/US PresswireJarell Childs (26) celebrates with Ryan Mueller after recovering a Landry Jones fumble in the end zone for Kansas State's first touchdown.
The real story? A dogged defense that harassed Jones into two game-breaking turnovers and got lucky with a third when a low snap scooted past
Blake Bell
, leaving the Belldozer broken down on the way back to the sideline instead of into the end zone.
Snyder, ever the exploiter of weaknesses, saw a big one in Jones that plenty of others saw, too.
Asked if Jones was "spooked," Davis replied: "I noticed it in the first half. When we'd get upfield, he'd start jabbing his feet real quick and moving. That let us know that he don't like nobody in his blind side, and we tried to attack it all night."
The Wildcats succeeded. They flushed Jones from the pocket in the first quarter and linebacker
Justin Tuggle
, playing defensive end on that particular play as part of a specialized package, caught Jones from behind and stripped the ball.
Jarell Childs
scooped it up just a yard in front of the goal line and scored.
Kansas State's defense believed.
"What we did all week was worked on trying to flush him out of the pocket, because we know he ain't good with pressure," Davis said. "If we get to his blind side, he's going to get jittery and try to move out the pocket and scoot up and stuff. We tried to get our D-tackles to cause pressure on the edge and try to get him."
The Wildcats notched two sacks, but the constant pressure had Jones looking mediocre for most of the night. His second turnover came when tackle
Vai Lutui
lunged at Jones from his knees. Jones threw off his back foot and promptly sailed a probable completion into the waiting arms of Kansas State safety
Ty Zimmerman
.
"It was a little bit of a struggle offensively. ... Our defense, I think, created the turnovers that took place, by and large," Snyder said. "I thought they did a heck of a job."
Snyder was a cool customer holding a hot cup of coffee with cream and sugar, taking sips while he answered questions after the victory in his Cotton Bowl windbreaker on a brisk fall night in Oklahoma. At one point during the conference, a cricket flew in and landed an inch from Snyder's left eye. He broke an answer for only a moment to swat away the pest.
Nothing could get to the unflappable SnyderCats on this night.
"When you play somebody as good as an Oklahoma team, it really does mean something special to them, and they feel good about it," Snyder said.
Snyder's demeanor wouldn't have been much different if the 14-point underdogs had gotten waxed by 30, like so many teams at Owen Field before them. Still, his message to the team remained consistent.
"He said he was very proud of us," Davis said with a grin.
Expecting maybe something a little more dramatic?
"Yes, we were, but you never really know what to expect," Davis said.
Well, that just wouldn't be very Snyder. Saturday's win, though? Doing what no team had ever done before and getting outgained in total yardage while doing it?
Could anybody else but Snyder do that?
September, 8, 2012
9/08/12
5:36
PM ET
MANHATTAN, Kan. -- Three times, Kansas State and Miami players crammed into a dogpile.
Three times, Kansas State quarterback
Collin Klein
was in the middle of it, with the ball inched across the goal line. It's a new year in the Little Apple, but in Saturday's
52-13
romp against Miami, the results looked much the same for Bill Snyder's team.
The offensive line dominated. "Optimus Klein" looked nearly impossible to tackle at times, and Kansas State emerged with the win after a bushel full of Klein rushing touchdowns.
Only this time, instead of stunned Miami fans sitting in silence, Bill Snyder's Wildcats left the Kansas State student section chanting, "Hail Snyder!" which the 73-year-old coach acknowledged with a wave as he left the field. That's an experience tough to duplicate unless the stadium bears your name, which was the case at Bill Snyder Family Stadium on Saturday.
The biggest difference on the field? In Kansas State's first real test of the 2012 season, you had to look far and wide to find much sweat on the brows of the folks in purple Saturday.
"I honestly didn't see it coming like this," linebacker
Tre Walker
said of the blowout.
Last year's heart-pounding contest ended with a game-winning goal-line stand, the second of what eventually would be eight wins by one-score differentials last season. Saturday? No such thing.
Kansas State was better, stronger, faster and more prepared. It showed for all 60 minutes, save a head-scratching disaster of an attempt at a Statue of Liberty trick play near the goal line at the end of the first half.
"It wasn't supposed to look
that
way," Snyder said of the play that resulted in a 19-yard loss. Kansas State missed a field goal attempt on the next play.
Besides that hiccup, the Wildcats most often made The U look like Football Bowl Subdivision newbie UMass.
Snyder said his offensive line did a "pretty decent job." Miami's defensive line probably would disagree after giving up 289 yards on the ground. When Miami had the ball, it gained just 43 rushing yards a week after surpassing that output on two different
Duke Johnson
touchdown runs. Johnson finished with just 22 yards on seven carries in this laugher.
"We're not doing anything different," Snyder said of his defense.
Nope. But they're doing what Kansas State does a whole lot better than they did it last season.
Early in the fourth quarter, Kansas State's workhorse -- the "BillSnyder Kleinsdale" -- was back in the barn, ceding to backup quarterback
Daniel Sams
, who marched untouched for a 15-yard touchdown on his first carry of the day and added another 11-yard score two carries later.
Last week's slow start -- Missouri State played Kansas State to a 9-all tie until late in the third quarter -- was a distant memory. Snyder walked into a team meeting Monday and tried a little dry humor on his team, suggesting it start slow this time.
"He just really said that to say this: I'm gonna back up off you guys and let you play ball," Walker said.
Play ball they did, jumping to a 14-0 lead with points on their first two drives while shutting Miami out in its first quarter.
There was plenty of reason to doubt Kansas State entering Saturday's game.
Does a Big 12 title contender really go toe to toe with Missouri State for three quarters like Kansas State did a week ago before a 35-point, fourth-quarter explosion broke open the game? Can the Cats' ball-control offense really control the ball with three new starters on the offensive line? Was last season's team really that good? It lost to Oklahoma by 41 points, after all.
The answers to those questions will have definitive answers as the calendar pages turn, but for Saturday, Kansas State's answer to all of those questions was clear: Yes.
The other big difference for Kansas State? Klein's arm. The Wildcats' 6-foot-5, 226-pound bulldozer showed big improvement against a speedy Miami secondary. He finished 9-of-11 (82 percent) for 210 yards, a touchdown and an interception.
"He's the same guy. He's just improved at everything because he works diligently to get better at everything," Snyder said. "And he gets better across the board."
His throwing motion still features a Tim Tebow-like windup, but his rushing touchdown totals mimic the current New York Jet, too.
Klein's three rushing scores Saturday were his first three of the season after racking up 27 in 2011, one short of Ricky Williams' Big 12 record at Texas.
"Collin is a great leader and a great quarterback, and when he comes out and makes those plays -- sometimes we say, 'Punt ready,' on the sideline when it's third down -- and Collin busts out an 8- or 10-yard run to get the first down, those things are what separate him from other great players and great quarterbacks," Walker said.
Who knows how long Klein can look the part of a dart-thrower in the pocket, but he stood out on this day.
With only North Texas standing between Kansas State and a road date against preseason Big 12 favorite Oklahoma on Sept. 22, so did the Wildcats.
February, 29, 2012
2/29/12
9:00
AM ET
We're moving on with our postseason position rankings. Today, it's time for linebackers. If you missed it,
here's how I ranked them in the preseason
.
At this position, depth is a major factor in these rankings. Additionally, I included nickelbacks in this grouping. Hybrid defensive end/linebackers will be grouped with defensive lines.
[+] Enlarge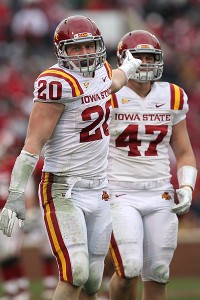 Matthew Emmons/US PresswireIowa State linebackers Jake Knott, 20, and A.J. Klein combined for 231 tackles in 2011.
More postseason position rankings:
1. Iowa State:
The Cyclones top the list after a huge year from their outstanding duo,
Jake Knott
and
A.J. Klein
. They combined for 231 tackles in 2011, both finishing among the top four in the Big 12 in tackles. They had 241 together in 2010, but this season Knott played through injuries and Klein was awarded co-Defensive Player of the Year honors from the league's coaches.
2. Texas:
The Longhorns will sorely miss an outstanding duo of their own with tons of experience.
Keenan Robinson
and
Emmanuel Acho
are both NFL-bound after combining for 215 tackles.
3. Oklahoma:
The Sooners weren't quite as good as expected in 2011, but part of that was because of a
Travis Lewis
preseason toe injury that slowed him for much of the season. Lewis,
Tony Jefferson
and
Tom Wort
all topped 70 tackles in 2011, and are a solid group.
4. Kansas State:
Arthur Brown
reinvigorated this group, finishing eighth in the Big 12 with 101 tackles, but the Wildcats linebackers were more than just Brown.
Tre Walker
and converted safety
Emmanuel Lamur
combined for 135 stops and helped lead one of the league's most underrated units and a much-improved run defense.
5. Texas A&M:
The Aggies' backers were big pass-rushers, though they struggled in coverage this season.
Sean Porter
was the Big 12's sack champion with 9.5, and
Caleb Russell
and
Jonathan Stewart
combined for six more.
Damontre Moore
is the rawest talent of the bunch, but built on that in 2011, making 72 tackles.
6. Oklahoma State:
OSU's group was good, but not great.
Alex Elkins
' crazy story came to an end with 90 stops in 2011. He showed up everywhere for the Cowboys, but reigning Big 12 Freshman of the Year
Shaun Lewis
didn't quite have the sophomore season some had hoped.
Caleb Lavey
added some solid play for the turnover-hungry unit, producing 74 tackles and five tackles for loss.
7. Missouri:
Zaviar Gooden
wasn't quite the impact player Mizzou had hoped, but he was solid alongside a group that's been injury prone over the past two years. Sophomore
Andrew Wilson
emerged as the team's top tackler with 98 stops, and
Luke Lambert
added 82 more. A high ankle sprain in the season opener kept
Will Ebner
off the field, but he'll be back in 2012 after the NCAA granted him a fifth year of eligibility.
8. Kansas:
Steven Johnson
led the Big 12 with 119 tackles, but the rest of the unit left a lot to be desired.
Darius Willis
has some potential, but the rest of the team's linebackers have their work cut out for them in 2012.
Tunde Bakare
also returns from a unit that ranked ninth in the Big 12 in rushing defense.
9. Baylor:
The Bears needed help just about everywhere.
Elliot Coffey
was solid, and finished tied for fourth with 114 stops, but Baylor was eighth in the Big 12 in rush defense. Baylor has solid athlete in the secondary and on the defensive line, but at linebacker,
Rodney Chadwick
and
Brody Trahan
leave a bit to be desired.
Ahmad Dixon
was better in 2011, but still has a lot of potential that needs to be filled.
10. Texas Tech:
The Red Raiders are looking for a new defensive coordinator and the 4-2-5 made a short stop in Lubbock. The Red Raiders were awful everywhere on defense, but especially up front. Nobody in college football was worse at stopping the run, and
D.J. Johnson
,
Daniel Cobb
and
Cqulin Hubert
turned in forgettable performances. Time to get better for 2012.
September, 29, 2011
9/29/11
3:00
PM ET
Kansas State led the nation in scoring defense and total defense after its first two games.
The problem? The impressive numbers came against FCS Eastern Kentucky and Kent State from the MAC.
"They didn't give us much credit after we played well the first two nonconference games," said Wildcats safety Tysyn Hartman. "People didn't expect us to play well against Miami."
[+] Enlarge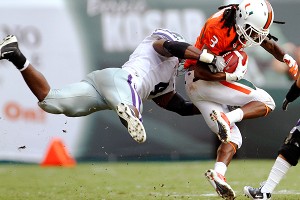 AP Photo/J Pat Carter"He really moves at a different speed than everybody else," teammate Tysyn Hartman said of Kansas State's leading tackler, Arthur Brown.
The reason? Kansas State had one of the nation's worst defenses a year ago. They were one of just two teams to give up 3,000 yards rushing and ranked 106th nationally in team defense.
After the strong start against weak competition, there was reason to doubt how long it would be before Kansas State slipped down the national rankings.
Last week, though, the Wildcats gave up just three first-half points to Miami and won the game with a goal-line stand.
"A week ago, they were in a similar situation with the exception of the game wasn't on the line, but the shutout was, and played as well at that time and had a great goal-line stand," said coach Bill Snyder. "I think it's given them a great deal of confidence."
This week, an even tougher test awaits Kansas State in its conference opener against Baylor. Slow the red-hot Bears offense, and nobody will doubt the change from 2010 to 2011.
"We struggled last year. It was one of the big concerns of the offseason and we got better and better as the offseason progressed, and really, I don't think people expected us to play this well," Hartman said. "We've been flying under the radar for awhile, but if we put up the numbers we did in the first few games, I don't think that's going to happen anymore."
K-State couldn't ask for a better test. Baylor comes into Saturday's game with a quarterback that's shined as one of the brightest stars of the season, and an offense that's outscoring every team in college football but Georgia Tech and Oregon.
"Hopefully we can change that up a little bit, but he's hot right now. He's playing great football and then he has great weapons around him," Hartman said. "It's not really about who we're playing, it's about us getting better. As long as we're getting better week in and week out, that means we can beat anybody and that showed up last week when everybody counted us out."
The change started in the offseason. Last season's struggles were obvious, and the season ended with Syracuse's Delone Carter rushing for 202 yards and two touchdowns in the Pinstripe Bowl, a Kansas State loss. Goal No. 1 in the offseason was to get faster, a weakness a defense can't afford in the wide-open Big 12 where offenses seek to take advantage of space and athletic ability.
"You can't stop the run unless you have all 11 guys pursuing to the ball, and just training secondary to trigger it and get down there on the run and that's really helped," Hartman said.
The defense also added juco transfer Nigel Malone, who now leads the team in interceptions and former blue-chip recruit Arthur Brown. Brown, a former Miami Hurricane, has nine more tackles than any other Wildcat.
"He really moves at a different speed than everybody else. If you've got a chance to watch him, really just instincts how fast he gets to the ball and he doesn't miss tackles," Hartman said. "Once he gets you wrapped up, I mean, you're going down."
Snyder credits another year of experience and maturity for players like Hartman and cornerback David Garrett, as well as sophomores Ty Zimmerman and Tre Walker, who won Big 12 Defensive Player of the Week after making three tackles in last week's game-winning goal-line stand.
"We've gotten a little bit faster. We've played a bit better up front. We've gotten more sizeable and quicker linebackers," Snyder said. "Our secondary certainly has gained experience as well and has been reasonably responsible. There's just a number of things and if you had to identify one, you probably would say the experience factor and the maturity factor combined would probably give us a little reason to believe we're a little better."
How much better? We'll find out Saturday.
June, 29, 2011
6/29/11
1:15
PM ET
We've taken a look at the Big 12 offensive skill positions in our position rankings, and we'll circle back along to the lines eventually. For now, though, we'll flip to the defensive side of the ball, starting with linebackers.
There's a lot of turnover in this space, and the bottom half was pretty hard to sort out. We haven't seen a lot of these new faces on the field for extended periods of time, so it's somewhat of a crapshoot. I don't feel like there's a wide gap between teams 7-10, and each of those squads have at least one linebacker who could be due for a huge year and shoot them up this list.
I see Nos. 1-3 possibly being great, with dropoffs before the No. 4 and No. 7 teams.
Also, if you missed them, here are the other position rankings we've done so far.
So, without further ado, here's how I ranked the linebackers. (Nickel backs are included in this list, hybrid DE/LBs will be with defensive lines)
[+] Enlarge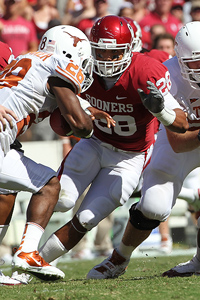 Matthew Emmons/US PresswireOklahoma's Travis Lewis is the Big 12's top returning defender.
1. Oklahoma
-- The Sooners boast the Big 12's top returning defender in Travis Lewis, who has notched at least 100 tackles in each of the past three seasons, and he'll be joined by the Big 12's co-Defensive Freshman of the Year, Tony Jefferson. Tom Wort and Corey Nelson are both loaded with potential, and will fill out the rotation, after the starter at middle linebacker, Austin Box, died on May 19.
2. Iowa State
-- The Cyclones boast two of the Big 12's best in Jake Knott and A.J. Klein, who combined for more tackles than any two teammates in the Big 12 last season. They had 241 stops, and, after healing from a broken leg suffered midseason last year, Matt Tau'fo'ou should join them at middle linebacker.
3. Texas
-- Texas' offense may be lacking, but the defense will be strong once again, led by two others likely to earn spots as some of the Big 12's best. Keenan Robinson and Emmanuel Acho were Texas' top two tacklers last year with 187 stops, and return as likely captains come fall camp. Texas' depth chart is wide open, but look for former blue-chip recruit Jordan Hicks to emerge as another star this year, despite being forced to sit out spring camp with a broken foot. Dravannti Johnson played some defensive end last year at the Buck position for the Longhorns, but may find his way back to linebacker. Tevin Jackson was ineligible last year, but he's ready for 2011, and could make an impact.
4. Oklahoma State
-- The Cowboys "Star" linebacker is occupied by co-Defensive Freshman of the Year Shaun Lewis, and sophomore Caleb Lavey is charged with replacing Orie Lemon, the leader of last year's defense. Oklahoma State has questions on the weak side, but LeRon Furr and Chris Dinkins will compete next fall.
Kris Catlin
could be a factor, too.
5. Texas A&M
-- The Aggies must replace their leading tackler, Michael Hodges, and don't have a clear replacement heading into fall camp. The good news: They've got two others with lots of experience in the linebacking corps that look like budding stars. Garrick Williams should be one of the defense's leaders and Sean Porter returns after making 74 tackles last year to rank third on the team.
6. Missouri
-- The Tigers have lots of experience at middle linebacker, where a pair of seniors (albeit frequently injured seniors) Will Ebner and Luke Lambert will be on the field a lot. One of the Big 12's most exciting players, junior Zaviar Gooden, will hold down the weakside and perhaps become a household name by season's end. Sophomores Andrew Wilson and Donovan Bonner, who missed all of last season with a knee injury, will likely compete for strongside duties in fall camp. Andrew Gachkar, the team's leading tackler, is gone, but here's guessing Gooden emerges as the defense's top playmaker.
7. Kansas
-- The Jayhawks linebackers were solid last year, and could be pretty good again, despite losing Drew Dudley and Justin Springer, two of the team's top four tacklers. Steven Johnson, the team's leading tackler in 2010, is back and he'll be joined by possible star Huldon Tharp, who missed all of last season with a leg injury. Fellow sophomore Darius Willis earned a starting role after spring.
8. Kansas State
-- K-State's front seven struggled last year, but will get a big boost from Arthur Brown. One man won't be enough to totally fix the Wildcats rush defense problems, though. K-State gave up 26 more yards on the ground per game than any other team in the Big 12 (more than 231 per game) but Brown may be playing in a 4-3 next fall rather than the 4-2-5 the Wildcats have employed since Snyder's return. Alex Hrebec, Emmanuel Lamur, Tre Walker and Blake Slaughter will likely fill the rotation along with Brown.
9. Baylor
-- Baylor's defensive depth chart, like Texas', is a bit amorphous after bringing in a new coordinator, but Elliot Coffey figures to be the Bears biggest playmaker at linebacker. Chris McAllister should be solid and Ahmad Dixon is promising at nickelback, too. Brody Trahan is a great story, but him
going from third-string quarterback to starting linebacker
isn't a ringing endorsement for Baylor's depth at the position.
10. Texas Tech
-- Tech will be moving to a 4-2-5 this year under new coordinator Chad Glasgow, and could rise up this list, but the Red Raiders lose a lot of talent from last season's team, which ran the 3-4. Bront Bird and Brian Duncan are both gone, and youth will be a big factor with this group. Cqulin Hubert's outstanding potential is matched by his more outstanding first name, and freshman
Blake Dees
showed promise after arriving early this spring. They'll likely be the rotation at middle linebacker spot alongside Daniel Cobb and Zach Winbush. Terrance Bullitt could be a playmaker at his new safety spot, listed as a strong safety but with plans to spend lots of time near the line of scrimmage, a la nickelback.
November, 15, 2010
11/15/10
2:00
PM ET
Best offensive player:
Brandon Weeden, QB, Oklahoma State
. For all of Texas' struggles this year, the secondary has still been pretty good, ranking second in pass defense this year. Well, before they ran into Weeden, who torched them for 409 yards through the air on 29-of-43 passing, including a gorgeous 67-yard rainbow to
Justin Blackmon
for a touchdown.
Best defensive player:
Quinton Carter, S, Oklahoma.
More good performances this week than any other this year, but Carter owned the back line against a dangerous passing attack, helping keep Texas Tech at just seven points. Carter made 17 tackles, the most of any Oklahoma defensive back since Brandon Everage in 2002. He also had a pass breakup.
Honorable mention:
Orie Lemon, LB, Oklahoma State; Michael Sipili, LB, Colorado; Jared Crick, DT, Nebraska; Lavonte David, LB, Nebraska
Best team performance:
Texas A&M.
The Aggies pitched a second-half shutout against a big-time Baylor offense and earned a 42-30 comeback victory on the road against the Bears to keep their slim South hopes alive.
Honorable mention:
Oklahoma.
[+] Enlarge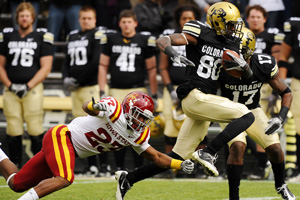 AP Photo/ Matt McClainColorado wide receiver Paul Richardson averaged over 24 yards a catch in a win over Iowa State.
Best offensive freshman:
Paul Richardson, WR, Colorado
. Richardson's becoming a consistent target opposite
Scotty McKnight
, and the lanky 6-foot-1, 175-pounder caught five passes for 121 yards in a win over Iowa State.
Honorable mention:
Kenny Stills
, WR, Oklahoma.
Best defensive freshman:
Tre Walker, LB, Kansas State.
Walker repeats this week, once again leading the Wildcats in tackles with 12. He also picked off a
Blaine Gabbert
pass and returned it 17 yards.
Classiest gesture:
Dan Hawkins
. He said in his farewell news conference he'd be his team's biggest fan down the stretch, and he made good on his word on Saturday,
watching the game from a low-key perch
on a balcony outside the offices he occupied for four-plus seasons in Boulder. You won't see many other coaches do that.
Best play:
Weeden-to-Blackmon
. Texas cornerback Aaron Williams covered the play perfectly, but Weeden hit a pinpoint pass over the top right into Blackmon's arms for a game-changing 67-yard touchdown that put Oklahoma State up 16-3 in the second quarter.
Most underrated play:
Wes Kemp, WR, Missouri
. Kemp hit the key block that freed up the last few yards of Blaine Gabbert's 32-yard touchdown run in the second quarter. He decleated one defender, and blocked another on his follow-through to help give the Tigers an early 14-7 lead.
Most heartbreaking play:
Terrance Frederick, Texas A&M
. Frederick returned a blocked field goal 71 yards at the end of the first half, but went out of bounds at the 1-yard line after time expired, meaning his play was all for naught.
Worst play:
K-State's fumblerooski.
The Wildcats version was slow to develop, but
John Hubert
got the ball from under his legs, ran to his left and fumbled. Missouri's Jacquies Smith recovered the ball.
Dishonorable mention:
Kansas State's goal-line fumble at the end of the first half with a chance to tie the game.
Worst quarter:
Texas' second quarter.
The Longhorns hung around early, but got outscored 23-0 in the period. Playing starters vs. starters, we could have played this one through Tuesday and the Longhorns might not make up a 23-point deficit on Oklahoma State, even if the Cowboys offense wasn't allowed to play.
Best game:
Texas A&M 42, Baylor 30.
The Aggies rebounded from a terrible start that featured
Robert Griffin III
's longest run of the season, a 71-yard touchdown to earn a dramatic win in the Battle of the Brazos and set up a huge game against Nebraska in College Station on Saturday.
November, 8, 2010
11/08/10
2:05
PM ET
Best offensive player:
Brandon Weeden, QB, Oklahoma State.
Weeden completed a school-record 34 passes for a school-record 435 yards, pacing an offense that moved the ball for a school-record 725 total yards. Maybe you didn't notice, but not a lot of guys have had a day like that this year.
Best defensive player:
Michael Hodges, LB, Texas A&M.
Hodges was everywhere against Oklahoma, making 19 stops and a pair of sacks in the Aggies upset win that landed them in the top 25. Eight of his tackles were solo, too.
Honorable mention:
Tie, Tysyn Hartman, S, Kansas State and Ty Zimmerman, S, Kansas State
.
I'll spare you the wordplay on this one, but this pair of safeties both picked off Texas quarterback
Garrett Gilbert
twice and racked up 93 yards of interception return yardage.
Best team performance:
Oklahoma State.
No competition here. The Cowboys dominated a good Baylor team on both sides of the ball and never let the Bears seriously threaten to win, scoring the game's first 34 points.
Best offensive freshman:
James Sims, RB, Kansas.
Sims rushed for 123 yards on 20 carries, but most importantly, his three of his fourth touchdowns came in the fourth quarter, helping Kansas complete its miracle comeback against Colorado.
Best defensive freshman:
Tre Walker, LB, Kansas State.
Walker made 11 tackles in the win over Texas to lead the Wildcats defense in stops.
Classiest gesture:
Taylor Potts, QB, Texas Tech
. After leading a Texas Tech comeback, Potts eschewed postgame interviews
to make this speech to the media
about what the team's jerseys on Saturday meant to him.
Best play:
Justin Blackmon, WR, Oklahoma State.
The only way Baylor was going to come back and beat Oklahoma State was with a big start to the second half. Blackmon was the one who got it, and last I checked, he didn't play for Baylor. The Cowboys faked a screen play and Weeden pitched to Blackmon, who raced down the left sideline for a 69-yard touchdown that put Oklahoma State up 31-0 seconds into the third quarter.
Honorable mention:
James Sims' game-winning 28-yard run in the final minute against Colorado.
Honorable mention:
Any of Texas A&M's three goal-line stands.
Best play II:
Josh Cherry, K, Kansas State.
Cherry had his extra point attempt on Kansas State's final touchdown blocked, but the kicker scooped up the ball and took it into the end zone for a two-point conversion.
Worst play:
Daniel Kuehl, P, Iowa State
. I'm sure
Kuehl's effort on the game's final play
was his best try, but if anyone did that in a game with friends at the park, they wouldn't live it down for decades.
Worst quarter:
Colorado's fourth quarter.
It started off innocently enough, with a touchdown on the first play to go up 45-17. By now,
you probably know the rest
. It wasn't very good.
Best game:
Nebraska 31, Iowa State 30 (OT).
The wind and Nebraska's quarterback injuries were big equalizers for the Cyclones, but Iowa State rallied from a 14-point deficit in the fourth quarter to force overtime, and nearly pulled off the play of the year in the Big 12 with Paul Rhoads' fake extra point attempt for the win.