NCF Nation:

Tredavious White
October, 17, 2013
10/17/13
1:00
PM ET
John Chavis knows what a championship defense looks like.
He's coached a few in his two decades as a defensive coordinator in the SEC, both at LSU and Tennessee.
[+] Enlarge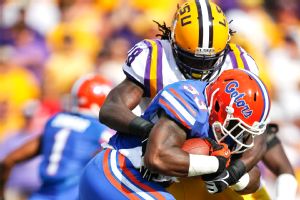 Derick E. Hingle/USA TODAY SportsAfter a shaky stretch, Lamin Barrow and the LSU defense haven't given up a touchdown in six quarters.
He'd be the first to tell you that the defense LSU put on the field to start this season wasn't championship caliber, which wasn't all that surprising considering the amount of talent (six starters) the Tigers lost last season to the NFL draft.
Chavis knew back in the offseason that it was going to be a work in progress with this group, and that some choppy waters were ahead. But seeing his defense shredded the way it was for eight quarters starting with the second half of the Auburn game, extending through the entire Georgia fiasco and then the first half of the Mississippi State game, was nauseating.
"It was difficult, but I always say, 'We're going to live in our hopes, not our fears," Chavis said.
Those hopes have been rekindled thanks to the promise the No. 6 Tigers have shown defensively in their last six quarters of play. And just like that -- with some youngsters growing up in the secondary, some depth developing up front and Chavis making a few tweaks with his combinations -- LSU heads to Ole Miss on Saturday riding the kind of defensive momentum that has been a staple of this program since Chavis took over the defensive reins in 2009.
"But we can't think that we've arrived," Chavis said.
He's been around this league long enough to know that it can change in a flash.
He's also been around long enough to know that playing rock-solid defense and winning championships go hand-in-hand.
Granted, this hasn't been your typical year in the SEC with so many veteran quarterbacks playing at a high level and 10 of the 14 teams in the league averaging more than 30 points per game.
But somewhere along the way, it always gets down to making key stops at key moments.
The Tigers look a lot more equipped to do that on a consistent basis as they plunge into the second half of the season. They're coming off their most complete defensive performance of the season in a 17-6 win over Florida and have now gone six straight quarters without allowing a touchdown.
"I feel like the intensity level now is something that it hasn't been all season, and all 11 guys are on the same page," junior defensive tackle
Ego Ferguson
said. "When we're there, it's a special unit."
The 44-41 loss to Georgia was undoubtedly the low point. The Bulldogs had receivers running free all game, and the Tigers just looked out of sorts defensively. They then went out the next week and gave up 23 points in the first half to Mississippi State.
"We just weren't playing to our potential," Ferguson said.
They also weren't playing as many players, particularly up front. So Chavis made it a point to beef up the rotation in the defensive line, and also made some changes in the secondary.
Sophomore
Jalen Mills
has moved to the nickel position, which has given the Tigers more flexibility on passing downs. True freshmen
Tre'Davious White
and
Rashard Robinson
are now the two cornerbacks outside when Mills moves inside to the nickel, and sophomore
Corey Thompson
has started at safety the last two games.
Chavis said following the win over Florida that it was the best the Tigers had played at safety all season, and getting back a healthy
Craig Loston
was also a big part of that.
Robinson probably would have played even more earlier in the season had he not missed preseason camp while waiting to be cleared academically. He has the skill set to be the next great LSU cornerback.
And LSU coach Les Miles really likes what he sees athletically from this defense.
"I think our defense has always been a confident unit," Miles said. "They just needed to get some things in place. This will be a team that athletically will eventually be one of the more talented defenses that we've had."
Chavis, whose raw emotion is one of the things that endears him to his players, didn't hold back last week when challenging them to get back to playing LSU football.
This is a team that had finished in the top 12 nationally in total defense and scoring defense each of the last three seasons but gave up 962 yards and 70 points in that two-week stretch leading up to the Florida game.
"Guys are really playing with the attitude and swagger that's been played here in past years," Collins said. "Guys are really stepping up and playing their role. We always preach that we haven't played our best game yet."
Judging from the way the Tigers have played on defense the last six quarters, they might be just getting started.
October, 6, 2013
10/06/13
12:50
AM ET
STARKVILLE, Miss. -- They craned their necks like prairie dogs drawn helplessly toward something off in the distance. Some of LSU's defensive players stretched from the bench on the sideline to see the Jumbotron in the south end zone, while others simply stood straight up, turned around and watched their offense race down the field against Mississippi State.
Purple-and-gold-clad coaches in headsets milled around them, shaking their heads at the action. But was it at the success of
Zach Mettenberger
and their offense or at their own ineptitude on defense? The way the game went back and forth for so long, it was hard to tell.
LSU's defense, long the backbone of the program, showed little resolve Saturday night against unranked Mississippi State, surrendering big play after big play in the passing game while simultaneously getting gashed up the middle with runs between the tackles. The final score, a hard-fought
59-26 win
over the Bulldogs, was fine in the short term, with LSU improving to 5-1 overall while remaining squarely in the title picture. But it didn't bode well for the 10th-ranked Tigers' outlook moving forward when it must turn its attention to even more potent offenses like Ole Miss, Alabama and Texas A&M in the second half of the season.
[+] Enlarge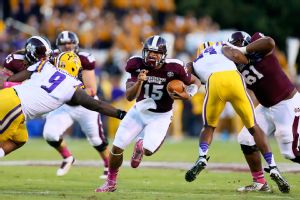 Spruce Derden/USA TODAY SportsDak Prescott rushed for 103 yards and threw for 106 as Mississippi State ravaged the LSU defense.
Everyone has accepted the fact that the defense had to rebuild after losing eight starters to the NFL last spring, but this? Missing tackles and being overwhelmed physically has never been a part of LSU's identity. There wasn't an inch of sideline that Les Miles didn't pace during the first half, when he nervously contemplated the dangerous tightrope his team continues to walk on defense.
Giving up points in bunches to Georgia a week ago was one thing. This was another. This kind of effort, six games into the season, was a trend. All LSU's head coach had to fall back on was the idea that a strong second half was something to build on.
"We weren't perfect in any way," Miles explained after the game, "but we're a young team that's coming, and we'll certainly build on this."
Miles lauded his offense after the game, cheering on a group that has performed a turnaround few could have imagined. Cam Cameron stepped in as offensive coordinator this offseason and worked wonders, harnessing Mettenberger's pro potential to the tune of 15 touchdowns and a per-game average of 290 yards passing. Saturday night marked the sixth consecutive game LSU scored 30 or more points and racked up 400 or more yards, both school records.
But longtime defensive coordinator John Chavis has had no such renaissance. Saddled with a slew of inexperienced players at every level, he has had trouble stopping anyone this year. LSU came into the weekend averaging roughly 40 yards and a dozen more points per game than it did a season ago.
Mississippi State, which has struggled to score points consistently and still hasn't found a clear-cut starter at quarterback, scored at will for the better part of three quarters, racking up 468 total yards, including 13 plays of 15 or more yards. When
Dak Prescott
wasn't burning LSU with the read-option,
Tyler Russell
was picking apart the secondary from the pocket.
It wasn't until a fourth-quarter turnover that the bleeding stopped and LSU looked like a prohibitive favorite again.
Jeremy Hill
made sure
Tre'Davious White
's interception counted when he took the ensuing handoff 5 yards for the touchdown, putting LSU ahead by two scores.
LSU would pad its lead and run away with the win in Starkville, but it didn't come without its consequences. Suddenly Florida, which scored 30 points in a win over Arkansas the same night, didn't look like such a winnable game.
"It's coming along," a hopeful
Ego Ferguson
said. "Rome wasn't built in a day. We're just going to go out there and practice hard every day, prepare hard like we do every week and gradually get better."
LSU's mammoth defensive tackle said he understands that the roles might be different this season. The offense, long the struggling little sister at LSU, is suddenly the one taking the lead, with the defense trailing behind.
"I believe our offense is probably the best in the country," Ferguson said. "We have the best wide receiver duo in
Odell [Beckham]
and
Jarvis [Landry]
and we have four running backs who can play great. Right now we're going to keep fighting for them and they'll keep fighting for us."
One of those running backs,
Kenny Hilliard
, ran for 45 yards and three touchdowns against Mississippi State. He said that with the defensive woes, it has become something of a game of attrition.
"We have to put up numbers," he said. "The defense is going to get the job done to a certain extent, and we're going to have to go out there and put more points on the board than the opposition."
For Miles and the Tigers to stay at the head of the class with Alabama in the SEC West, a high-powered offense won't be enough. Rediscovering its defensive identity is a must, and maybe that process began in the second half against Mississippi State.
"We were a little younger last game," Miles said. "We weren't as young this game. We'll have to see if we can't improve on that and be a little faster and a little older next week."
September, 25, 2013
9/25/13
10:30
AM ET
We're continuing to look at the first quarter of the 2013 college football season today by checking out the effect true freshmen have had. We know that the days of freshmen sitting back and watching are over, and SEC teams have made sure to get the youngsters on the field as quickly as possible.
Who has received the best results from their freshmen through the first four weeks? Who not only has quantity but quality when it comes from the freshmen impact? Take a look:
[+] Enlarge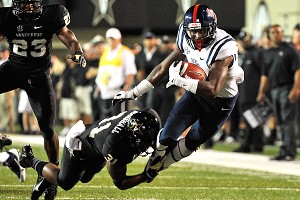 Frederick Breedon/Getty ImagesTrue freshman WR Laquon Treadwell has been one of several instant-impact rookies for Ole Miss.
1. Ole Miss:
The Rebels might have had the most talked about recruiting class this past spring,
and boy has it delivered
. Coach Hugh Freeze was concerned about the class receiving too much hype, but these kids haven't had trouble adapting to the college game. Heading into this week's Alabama game, Ole Miss has five true freshmen as starters on the depth chart. The headliners in the class have been defensive end
Robert Nkemdiche
, who has 10 tackles, including four for loss, and wide receiver
Laquon Treadwell
, who is averaging 5.3 catches per game and has 154 receiving yards. Tight end
Evan Engram
has also had a major impact, catching 11 passes for 175 yards and two touchdowns, while offensive tackle
Laremy Tunsil
will make his second straight start at left tackle. Starting nickel corner
Tony Conner
intercepted a pass on his first career defensive snap, while offensive lineman
Austin Golson
has played around 50 percent of the snaps.
2. Georgia:
The Bulldogs knew they were going to have to get a lot out of their freshman class, especially on the defensive side of the ball. Through the first four weeks of the season, six of Georgia's top 15 tacklers are freshmen: safety Tray Matthews (14), linebacker
Leonard Floyd
(12), cornerback
Brendan Langley
(10), safety
Quincy Mauger
(five), defensive lineman
John Taylor
(four) and linebacker
Reggie Carter
(four). The Bulldogs have played 14 true freshmen this season, which ranks third nationally. Ten of them have played on the defensive side of the ball and three of them -- Matthews, Floyd and Langley -- have started. In addition, freshman receiver
Reggie Davis
has two catches for 134 yards, including a school-record 98-yard touchdown reception against North Texas.
3. Arkansas:
The first thing you think about when you see this Razorbacks team is the running game. Alex Collins became the first freshman in SEC history to begin his career with three straight 100-yard rushing games and the first true freshman in the NCAA to record three straight 100-yard rushing games to start his career since Oklahoma's Adrian Peterson had nine straight in 2004. Collins leads the SEC with 481 rushing yards, is averaging 120.3 yards per game and has been named the SEC Freshman of the Week twice. Tight end
Hunter Henry
is second on the team with eight catches for 125 yards and a touchdown. Offensive tackle
Denver Kirkland
grabbed a handful of snaps against Southern Miss, while fellow tackle
Dan Skipper
blocked a field goal against Rutgers. Cornerback
D.J. Dean
has received a lot of snaps this fall as well.
4. Tennessee:
Fourteen true freshmen and 22 freshmen overall have played for the Vols this season. Three true freshmen have made starts this season: wide receiver
Marquez North
(four), defensive back
Cameron Sutton
(four) and wide receiver
Josh Smith
(two). North, who leads the team with 12 catches for 112 yards, became the first true freshman to start the season opener for Tennessee at receiver since Marsalis Teague in 2009, while Sutton is the first true freshman defensive back to start a season opener since
Justin Coleman
in 2011. Defensive back Malik Foreman intercepted a pass in his debut against Austin Peay, becoming the first true freshman to record a pick in his Vols debut in the season opener since Dwayne Goodrich in 1996. Defensive back
Devaun Swafford
recorded a pick-six in Tennessee's loss to Florida last week.
5. LSU:
The Tigers have played 14 true freshmen this season, and eight of those are defensive players. Cornerback
Tre'Davious White
is the only freshman to make a start this year, doing so against Kent State and Auburn. White has 17 tackles on the season, including one for loss, and has also forced a fumble and broken up a pass.
Kendell Beckwith
has received some good snaps at linebacker and on special teams. He also lines up at defensive end to provide more of a pass-rushing threat on third downs. Defensive lineman
Christian LaCouture
has seen time in the rotation along the Tigers' defensive line.
August, 15, 2013
8/15/13
8:00
AM ET
A year ago, things were much different for
Johnny Manziel
and college football as a whole. The country hadn't yet figured out who he was. And neither had he. Johnny Football hadn't yet been born.
The breathtaking plays, the otherworldly athleticism, the Sharpie-saturated scandal -- none of it had begun to devour College Station midway through fall camp in 2012. We were still wondering how Texas A&M would adjust to the SEC, not the other way around.
It felt like the league had finally caught its breath from Cam Newton's unexpected romp through the conference when Manziel came along, first winning the Aggies' starting quarterback job and then the Heisman Trophy. His ascension was as swift as it was unpredictable. He didn't look the part of a superstar, but he could sure play it. At 6-foot in stilettos, Manziel was a ballroom dancer on the football field, only no one else could figure out the steps.
Can anyone catch on to his act this year? No one knows.
Can anyone duplicate his success? Maybe.
With that in mind, here's a look at some sleeper candidates to pull off a Manziel-like rise from a no-name commodity to a player on the tip of everyone's tongue:
[+] Enlarge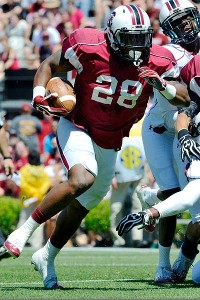 Curtis Wilson/USA TODAY SportsAfter averaging 5.3 yards a carry in spot duty last season, and with a huge line in front of him, Gamecocks running back Mike Davis is poised for a big year.
Mike Davis, RB, South Carolina:
Steve Spurrier put it best when he went on the ESPN airwaves and told the "First Take" desk, "You don't know much about Mike Davis, but watch him play this year." The 5-foot-9, 215-pound sophomore filled in admirably for Marcus Lattimore when he went down, rushing for 5.3 yards per carry. With a mammoth offensive line -- the smallest of the projected starters coming in at 314 pounds -- South Carolina has to feel good about Davis' potential.
Jordan Jenkins, LB, Georgia:
Jarvis Jones and Alec Ogletree got all the attention, but Jenkins was a quiet force on the Georgia defense as a freshman last season. At 6-3 and 246 pounds and with the speed of a safety, Jenkins aims to improve on his five sacks and set his sights on the school's single-season sack record of 14.5 that Jones set a year ago. If he reaches that goal and Georgia is in the SEC championship game again, Bulldogs fans will know who to thank.
Brandon Williams, RB, Texas A&M:
Watch the Aggies long enough this season and your attention will inevitably be turned in two directions: to Manziel and his speedy tailback. Williams, a transfer from Oklahoma, hasn't won the starting job just yet, but give him time. With his burst, he'll be a threat to score every time he touches the football.
Tre'Davious White, DB, LSU:
He's just a true freshman, but White is the type of cornerback LSU has become known for. Big, athletic and physical, he has the upside of former Tigers great Morris Claiborne. And like Claiborne, White came out of Shreveport, La., and knows a thing or two about playing with an edge.
Denzel Devall, LB, Alabama:
Alabama has been something like Linebacker U in recent years, with Rolando McClain, Dont'a Hightower and Courtney Upshaw starring at the position. And though
C.J. Mosley
certainly fits the bill of an All-American talent, he's not as physically imposing as his predecessors. Devall is. At a solid 6-2 and 250 pounds, Devall has the size and the talent to be a force at linebacker for the Tide this season.
Nick Marshall or Jeremy Johnson, QBs, Auburn:
It's down to either Marshall or Johnson, and whomever Auburn ends up with will have the talent to make plays in Gus Malzahn's offense. Johnson has an NFL arm, according to the new coach. Marshall brings more of a running flair to his game, a former Georgia cornerback who went the junior college route to end up on The Plains. Both are raw, but with some polishing they could be playmakers in the SEC.
Matt Jones, RB, Florida:
If Will Muschamp's revitalization of power football really is complete in Gainesville, then Jones will be looked on as the final piece to the puzzle. A bowling ball of a runner, Jones brings a north-south style of play to a Gators backfield that has too long gone sideline to sideline. Up to 226 pounds after backing up Mike Gillislee last year, Jones has the size to shoulder the load and a coaching staff willing to let him do it.
Joshua Dobbs, QB, Tennesee:
He may be a year off, but Dobbs is the type of quarterback who could revitalize the Tennessee fan base with his ability to make big plays with his arm and his feet. Though a true freshman, he has a leg up on his competition in that he's not a typical pro-style passer recruited by coaches from bygone eras. First-year coach Butch Jones is looking for a fresh start at Tennessee, and he could be tempted to dive in head-first with Dobbs, who has the size and athleticism that's perfect for his up-tempo scheme.