August, 30, 2013
8/30/13
6:20
PM ET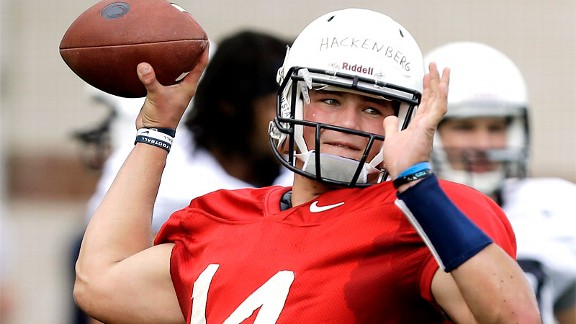 AP Photo/Gene J. PuskarChristian Hackenberg, the top-rated quarterback in the 2013 recruiting class, will start the opener at Penn State.
STATE COLLEGE, Pa. -- Four months ago,
Christian Hackenberg
was kicking up sand near the dugout as part of the Fork Union (Va.) Military Academy baseball team.
He was finding free time, between baseball and classwork, to
break out flash cards and study the Penn State playbook
-- names of plays and formations on one side and blank on the other, so he could scribble what they looked like. He'd catch himself daydreaming about running through that Beaver Stadium tunnel and launching touchdown passes behind a cheering crowd.
Now? All that studying, dreaming and summer training has culminated in what he's waited to achieve since Feb. 29, 2012, the day he committed to the Nittany Lions: According to sources,
he is the starting quarterback
at Penn State.
Hackenberg's father had initially weighed the value of a redshirt, but that was before the senior high school season of ESPN's top-rated passer. And a lot has changed in Happy Valley since then. Sophomore
Steven Bench
, who some expected to be a short-term Band-Aid,
transferred to South Florida
upon learning he wouldn't receive first-team reps in the preseason. Then juco quarterback
Tyler Ferguson
missed about a month of voluntary workouts
for personal reasons.
Ferguson still held the edge early in camp. But Hackenberg, perhaps the biggest-name quarterback to ever sign a Penn State letter of intent, quickly caught up and impressed the coaching staff. A week into camp, head coach Bill O'Brien said
the race became "very even."
Less than three weeks later, Hackenberg pulled ahead. He'll be the second PSU true freshman in the last 100 years to be the starting quarterback.
"Christian has come in here and really done a nice job," O'Brien said early on at camp. "He's attentive. He must be staying up late at night studying the playbook because he's come from Day 1 to Day 2 to Day 3 and improved. And he asks great questions in the meetings."
Hackenberg's strong arm
dazzled onlookers at last year's Elite 11
and the Under Armour All-America Game, and the baby-faced quarterback already shows more ability to stretch the field than his predecessor, Matt McGloin. During part of an open practice two weeks ago, some reporters muttered "woah" when Hackenberg zipped a pass against his body to the opposite sideline -- right at the receiver's numbers.
Between his arm, accuracy and size -- he is 6-foot-4 and 220 pounds -- Hackenberg's potential and raw ability have never really come into question. Talent is oozing from the aw-shucks kid whose father attended high school in Pennsylvania.
Recruiting analysts, opposing players, college coaches and former quarterbacks have thrown almost as much praise Hackenberg's way as they did to O'Brien after an emotional, 8-4 first season. Said Super Bowl-winning quarterback Trent Dilfer: "Christian is a kid you build a program around."
But potential and high accolades don't always translate to success -- at least not immediately. Former No. 1-rated QB Matt Stafford struggled as a freshman at Georgia and threw 13 interceptions and seven touchdowns. Notre Dame's Jimmy Clausen threw seven scores to six interceptions. USC's Matt Barkley had a 15:14 ratio of TDs to interceptions in his first season. ESPN rated each the No. 1 quarterback in his respective class, and all are in the NFL.
So what does that mean for Hackenberg? That future greatness does not necessarily equate to immediate success. Opposing high school coaches have said Hackenberg struggled diagnosing disguised coverages, and the schemes and talent of Big Ten defenses will obviously lie in stark contrast to those Hackenberg saw in high school.
McGloin didn't have the strongest arm but he was a great decision-maker, throwing 24 touchdowns and five interceptions in 2012. Hackenberg is not expected to top those numbers this year, but he is expected to show promise.
The Nittany Lions have had their fair share of busts and underachieving quarterbacks over the years --
Rob Bolden
,
Paul Jones
, Anthony Morelli and Kevin Newsome, to name a few -- but this Lions group also has something different nowadays, namely O'Brien and quarterbacks coach Charlie Fisher.
O'Brien molded McGloin, a former walk-on, into a player the
Big Ten blog thought deserved consideration
for the Davey O'Brien Award. What can he do with the best true freshman quarterback prospect in the nation, one who turned down teams such as Alabama, Florida and Georgia?
We'll start to see at 3:30 p.m. Saturday.
April, 13, 2011
4/13/11
3:23
PM ET
BERKELEY, Calif. -- Quarterbacks are always a big story. Quarterback competitions are typically bigger stories. But quarterback is an almost singular story this spring at California.
For one, no one has any idea who the 2011 starter will be, an uncertainty that has been rare since coach Jeff Tedford took over in 2002. Tedford announced last week that he'd reduced the candidates list from five to three -- senior
Brock Mansion
, junior Buffalo transfer Zach Maynard and sophomore
Allan Bridgford
-- but it's unlikely that troika will be winnowed to one until late in preseason camp.
[+] Enlarge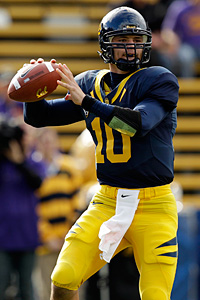 AP Photo/Marcio Jose SanchezBrock Mansion threw for 646 yards and a pair of TDs last season.
Finally, more than a few critics are questioning Tedford's once impeccable bona fides for developing quarterbacks. Sure, Tedford has mentored six who became first-round NFL draft picks: Kyle Boller, David Carr, Trent Dilfer, Joey Harrington, Aaron Rodgers and Akili Smith. But in our "what-has-he-done-lately?" world, folks are asking, well, what has Tedford done lately with quarterbacks, with an incriminating finger-pointing at the less-than-stellar production from Joe Ayoob, Nate Longshore and
Kevin Riley
.
Tedford will call plays this fall and he has been heavily involved with the quarterbacks this spring. He attends all position meetings and spends plenty of practice time with the QBs and new assistant Marcus Arroyo.
Tedford is as aware as anyone that bouncing back from a down campaign -- his first losing season in nine years in Berkeley -- will require at least solid play at quarterback.
"For us to get back to 10- or 11-win seasons, we have to have better play at the quarterback position," he said.
So far, no quarterback has asserted himself.
Mansion, due to experience, would in most situations be considered the front-runner. But he didn't do well in four starts after replacing Riley. His efficiency rating ranked last in the Pac-10 by a wide margin, and he threw five interceptions with just two TDs.
Said Tedford: "You can tell that Brock is better because of the experience he had last year. He's more comfortable. And he's even learned some things physically. You can see the maturity there a little bit. Still not where we need to be."
More than a few folks believe Maynard, the best athlete of the three and half-brother to standout receiver
Keenan Allen
, to be the front-runner. As a sophomore starter at Buffalo in 2009, he completed 57.5 percent of his passes for 2,694 yards and 18 touchdowns with 15 interceptions and added 455 yards rushing and one TD.
Said Tedford: "He does have some athleticism. He can make plays with his legs. He throws the ball accurately. He can throw all the balls on the field. He's a lefty. He can throw the deep ball. He's got zip on the ball. His main thing is just going to be the mental part of understanding our offense and understanding what we're looking for."
Tedford also said that the Bears' offense has some spread-option elements it could adapt for Maynard.
Bridgford is reputed to be a strong pure passer, but he's coming back from shoulder surgery and his mobility also is an issue. The scuttlebutt is he's presently in third place and could be challenged by redshirt freshman
Austin Hinder
, who Tedford said was a strong No. 4.
Said Tedford of Bridgford: "Smart guy. Can throw the ball. He can throw all the balls on the field. Escape dimension? Haven't seen that yet. That's a concern, but he's not a lead foot by any means."
Trying to figure out where things stand isn't easy. Even Allen clings to neutrality, at least publicly. And players appear to be as in the dark as fans about who will prevail.
"I know you guys all want to know that -- we all want to know as well," offensive tackle Mitchell Schwartz said. "I have a lot of confidence in the coaching staff. They are going to put the right guy on the field."
It's been a while since Tedford and Cal found the "right" guy to put behind center. The Bears' success in 2011 probably hangs on Tedford rediscovering his inner QB Yoda.
July, 10, 2008
7/10/08
9:00
AM ET
Posted by ESPN.com's Graham Watson
The slow time of college football -- when coaches are either on vacation or wandering back to their posts on campus -- can create a lull in the nation's journalism about those teams.

Today is one of those days.

So, instead of denying my four loyal readers their Morning Coffee, I decided to compile several stories that make up a cornucopia of entertainment around the non-BCS world.

Enjoy.

Dilfer, 36, played 13 seasons in the NFL and last season with the San Francisco 49ers. He won a Super Bowl with the Baltimore Ravens in 2000. Dilfer was a free agent this offseason and had not yet signed with a team.
"I'm just really thrilled and looking forward to what's next for me, Dilfer said during a conference call for the American Century Championship, a golf tournament he's participated in each of the last 10 years. "And obviously I'm going to miss football. It's been a huge part of my life.

"I think everybody I've talked to says [camaraderie is] the hardest thing to get away from, just the locker room, just being around the guys each day, the routine of the season. But I knew this time was coming, and here it is."