NCF Nation:

Trent Edwards
May, 22, 2013
5/22/13
1:00
PM ET
You may have noticed
this story
Monday from Mackenzie Kraemer of ESPN Stats & Info. It's a nice breakdown of how the 2013 class of quarterbacks across college football might be one of the best ever. Kraemer offers five reasons why:
The best teams of 2012 return their quarterbacks

The best passers are returning

A diverse array of NFL talent

Little QB turnover in SEC

Award winners back on campus
We're going to take this and, point-by-point, give it a Pac-12 rinse.
[+] Enlarge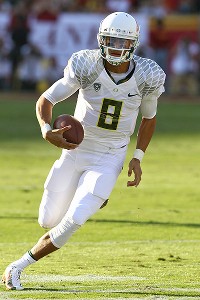 AP Photo/Bruce SchwartzmanOregon QB Marcus Mariota showed that he was more than just a strong runner last season.
The best teams of 2012 (in the Pac-12) return their quarterbacks
: Yep. Stanford (12-2), yes. Oregon (12-1), yes. Oregon State (9-4), yes (and yes). UCLA (9-5), yes. Arizona State (8-5), yes. It should come as no surprise that the top six teams in
our post-spring power rankings
all have their quarterback coming back. In fact, there were only four teams last year that started the same quarterback in every game (Arizona State, Oregon, UCLA, Washington) and those are four of our top five teams in the rankings.
Thus, it's not by chance that the five of the bottom six in the power rankings have an ongoing quarterback competition. That's not to say that a school like USC, which has too much talent to be sitting in the bottom half of the rankings, can't quickly make a jump to the top once their quarterback situation is resolved.
And the same goes for No. 6 Oregon State -- which is fortunate to have two capable starters competing. I don't know who first opined that if you have two quarterbacks, you don't have one. I don't buy it. Ask any coach in the bottom half of the power rankings if they'd prefer zero quarterbacks who have won games or two. I think we all know the answer.
The best passers are returning
: Yep.
Marcus Mariota
led the Pac-12 in efficiency and
Taylor Kelly
wasn't far behind. Matt Barkley was third,
Brett Hundley
was fourth and
Sean Mannion
was fifth. However, it's worth noting that
Kevin Hogan
's efficiency would have ranked him slightly above Hundley had he appeared in more games in 2012 (the cutoff was appearing in 75 percent of the games, Hogan was at 71). That means five of the top six quarterbacks in efficiency are back.
A diverse array of NFL talent:
Yep. Anyone who thinks Mariota is just a running quarterback failed to witness his 32 touchdown passes and league-best 68.5 completion percentage. He will fit nicely into any NFL offense.
Same for Kelly (29 touchdowns, 67.1 completion percentage) and Hundley (29, 66.5). Hogan should be well-versed in the pro-style attack (and NFL scouts love quarterbacks who know the pro-style/West Coast coming out of college) and if Mannion (if he wins the job) bounces back, he's got the prototypical NFL pro-style frame.
And let's not forget
Keith Price
, who we're expecting to have a nice bounce-back year. He was extremely efficient in 2011 (33, 66.9) so the potential and athleticism is obviously there.
Little QB turnover in the league:
Well, the Pac-12 can't make that claim with six starting jobs still in doubt and potentially five schools starting a fresh-faced QB.
Award winners back on campus:
Yep. Pac-12 Freshman Offensive Player of the Year (Mariota). First-team quarterback (Mariota). Kelly, Hogan and Hundley were honorable mention.
While it's true that this might shape up as one of the greatest years in college football history for quarterbacks, it's equally true that the Pac-12 might have its best crop of quarterbacks in league history.
The Pac-12 has sent at least one quarterback to the NFL since 1995 and at least one has gone in the first round in nine of the past 16 drafts. There was 2003 when Carson Palmer (USC) and Kyle Boller (Cal) both went in the first round. 1999 was a strong year with Akili Smith (Oregon) and Cade McNown (UCLA) going in the first round and Brock Huard (Washington) going in the third. Three times the Pac-12 has had four quarterbacks go in the draft (2005, 1991 and 1989).
2004 comes to mind as a pretty darn good collection with Aaron Rodgers (Cal), Matt Leinart (USC), Derek Anderson (Oregon State), Andrew Walter (ASU), Kellen Clemens (Oregon), Trent Edwards (Stanford), Drew Olson (UCLA) and Alex Brink (Washington State).
It's a little too early to start speculating about who is going to go and who is going to stay. But based on what we've seen from this crop in the past nine months, it's possible the 2013 class will be right up there in the conversation as one of the best collection of quarterbacks ever in the league.
December, 29, 2010
12/29/10
9:00
AM ET
Folks throw around terms such as "best" and "worst" and "most" and "least" in sports in all the time, even when their application is more symbolic than real. Extremes are easy to understand. Talking about them can be fun. Actually experiencing them is rare, though. Living through the best of times and worst of times? That was just Charles Dickens rolling out a good opening line.
Richard Sherman and the rest of Stanford's fifth-year seniors, however, know both the best of times and worst of times, at least in terms of college football.
In 2006, the Cardinal went 1-11. That was the most losses in school history and worst record since an 0-10 mark in 1960. It was the program's fifth consecutive losing season, and coach Walt Harris was fired after just two years.
[+] Enlarge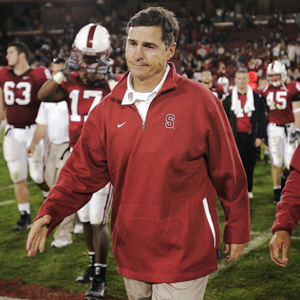 AP Photo/Paul SakumaThe Cardinal went 1-11 in 2006 under former coach Walt Harris.
Worst of times.
In 2010, the Cardinal went 11-1. That set a school season record for victories. Stanford, ranked fourth in the final BCS standings, hasn't finished ranked in the top five of the AP poll since 1940. It's headed for a date with Virginia Tech in the Discover Orange Bowl on Monday.
Best of times.
And, yes, the latter is more fun.
"It's unbelievable," Sherman said. "I can't even express to you the emotions I have and the other seniors have. Coming in the way we did, obviously, 1-11 and now leaving with a record-setting season, one of the best offenses in the country, one of the best defenses in the country. Just a great team. We love each other. I can't explain it to you. It's a combination of joy, happiness, pride, a lot of things. Man, watching these guys grow up. We've all come a long way."
Sherman was a freshman on the 2006 team. It was shut out twice. It lost to San Jose State. It ranked 118th in the nation in scoring (10.6 points per game) and 108th in scoring defense (31.4 ppg), meaning it lost by an average of three touchdowns.
Harris went 6-17, turning in the shortest tenure of any Stanford coach since Rod Dowhower left after one season in 1979 with a 5-5-1 record. It was clear his disciplinarian methods weren't clicking with the sort of players who can get into Stanford.
"It was maybe just a bad fit," receiver Mark Bradford said at the time. "Maybe we didn't respond to the way that was his style of coaching. His style of coaching probably would have worked in a lot of other places. It didn't work here."
Enter Jim Harbaugh, who introduced himself by stating, "I vow I will attack this endeavor with enthusiasm unknown to mankind."
He was the anti-Harris. "It was just a whole different way of coaching. ... Coach Harbaugh definitely brought a different energy and enthusiasm to the program. Basically, he brought a belief in winning that I don't think guys had before he got here," Sherman said.
That can't be undersold. While injuries were a huge issue for Stanford in 2006, there was
plenty of talent on the roster
: Trent Edwards was the quarterback for the first half of the season before he got hurt, and plenty of guys went on to the NFL. And many names are familiar because of their roles in the Cardinal's recent surge under Harbaugh, from running back Toby Gerhart to Sherman to almost the entire offensive line.
[+] Enlarge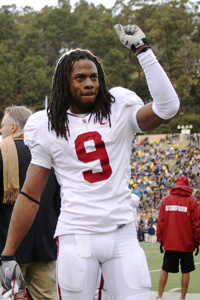 Ezra Shaw/Getty ImagesRichard Sherman is part of Stanford's senior class that has transformed the program.
There was talent in 2006. Sherman said the players worked hard and practiced hard. But the results were terrible. The offense only scored as many as two touchdowns in two games all season.
"It was rough coming from high school," said Sherman, who started out as a receiver. "You don't really know what to expect and then you come into that. It's rough to not get wins. You work hard every week, you game plan every week, and things just don't work out for you. It's obviously frustrating."
Just four years later, Stanford became one of the great turnaround stories in college football history. Louisville, which went 11-1 in 2001 after going 1-10 in 1997, was the last FBS team to win one game and then as many as 11 games four years later. Pittsburgh won the 1976 national championship with a 12-0 record four years after posting a 1-10 mark.
The 2010 Cardinal not only won, they dominated. They outscored foes by an average of more than 22 points. They ranked No. 8 in the nation in scoring (40.3 ppg) and No. 11 in scoring defense (17.83). They recorded three shutouts for the first time since 1969. They set a school record for points (484), and quarterback
Andrew Luck
set a school record with 28 touchdown passes. For the second consecutive year, the program produced a Heisman Trophy finalist -- Luck -- who followed Gerhart, the 2009 runner-up.
"This year was like the perfect storm," Sherman said.
But Sherman & Co. still retain a chip on their collective shoulders. They aren't ready to announce their arrival on the national scene just yet. They won four games in 2007, five in '08 and eight in 2009. It's been a process, and they sense there are still some stragglers who doubt them.
"People don't look at us as a talented team now and they didn't look at us as a talented team then [in 2006]," Sherman said. "Obviously, when you put on the Stanford 'S' it takes your talent and speed away. You're not fast or athletic anymore. It's been that way since I got here. We have great athletes, great players."
Sherman said the Cardinal aren't satisfied with merely earning the trip to Miami for a BCS bowl game. "There aren't going to be many guys trying to live the life in Miami. It's not about the trip. It's about the win," he said.
Winning, of course, is the only way to ensure that 2010 will be remembered as the very best of times on the Farm.
November, 11, 2008
11/11/08
11:34
AM ET
Posted by ESPN.com's Ted Miller
A lesser known Simon & Garfunkel ditty:
Where have you gone, Pac-10 quarterbacks,
The West Coast turns its lonely eyes to you.
What's that you say, College GameDay.
The QBs have left and gone away,
Hey hey hey.
Every season since 2002, at least four Pac-10 quarterbacks averaged more than 240 yards passing per game.
This year? Zero.
Every season since 2002, at least two Pac-10 quarterbacks passed for more than 3,000 yards
Heck, in 2002, nine Pac-10 quarterbacks passed for more than 2,750 yards.
This year? Only USC's Mark Sanchez is on pace to eclipse that total.
In only one other season since 2002 has the Pac-10 not produced a quarterback ranked in the top-10 in the nation in passing yards -- 2006 -- and that season four Pac-10 quarterbacks ranked among the top 30.
This year? Just two in the top 30, with Sanchez at No. 23 and Arizona State's Rudy Carpenter at 29.
What in the name of Carson Palmer, Aaron Rodgers and Derek Anderson is going on with the Conference of Quarterbacks?
The best QBs apparently migrated to fly-over states of the Big 12.
Quick: Name the starting quarterback for every Pac-10 team.
Of course, you can't do that because, even if you are tuned in enough to know who Ronnie Fouch and Kevin Lopina are, there's uncertainty who will start for a couple of teams Saturday.
Here's the starting list in 2004: Matt Leinart, Aaron Rodgers, Kellen Clemens, Derek Anderson, Trent Edwards, Andrew Walter, Drew Olson and Alex Brink.
All of them are presently on NFL rosters, other than Olson, who was waived by the San Francisco 49ers in July.
Only four conference teams this year have started in every game the guy who led the first-team offense during spring practices, and one of them, Stanford's Tavita Pritchard, has been clawing to hold onto his perch every day since.
The mediocrity (and worse) is so prevalent at the position that USC coach Pete Carroll admitted last week that his outstanding defense might look other-worldly at times because of the lack of talent and experience running the offenses opposing the Trojans.
"There's no question that it's helped us play better defense," Carroll said. "Our numbers and the things we put up here at this point is a benefit of teams that have been banged up. And, of course, good play. I don't want to take anything away from it. It's still seizing the opportunity. But sometimes when players aren't there for you, the big-time guys, it makes an enormous difference."
Yes it has, see the national perception of a down Pac-10.
Here's grounds for measured optimism.
Only two (full-time) starting quarterbacks are seniors: Arizona's Willie Tuitama and Arizona State's Rudy Carpenter. California's Nate Longshore is also a senior, but he's closer to sophomore Kevin Riley's backup than the reverse.
Conventional wisdom is that experience is critical for quarterbacks and even more so in the Pac-10 where offenses are far more complicated than in the cavemen conferences.
So that means eight teams should be stronger at the position in 2009.
Otherwise, Pac-10 fans will sing another obscure Simon & Garfunkel song:
Hello darkness, my old friend,
I've come to talk with you again,
Because a QB terribly passing,
Threw more picks and left me weeping,
And the losing that was planted in my brain
Still remains
Within the sound of booing.