NCF Nation:

Trevard Lindley
January, 27, 2010
1/27/10
10:02
AM ET
I'm not the least bit surprised that Ole Miss' Dexter McCluster has been impressive in the first two days of practice at the Senior Bowl. The guy is absolutely fearless and has the kind of game-breaking speed the pro scouts love.
[+] Enlarge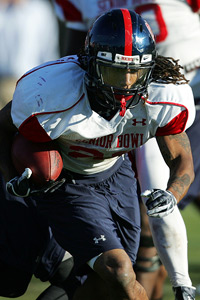 Cliff Welch/Icon SMI Dexter McCluster has impressed scouts in Mobile.
Remember, McCluster feasted on SEC defenses the second half of the season and took a lot of hits along the way.
McCluster and Florida receiver Riley Cooper were two of the guys singled out by the Scouts Inc. crew for
having good days on Tuesday

.
McCluster is an explosive playmaker no matter where you put him, and his speed makes up for his lack of size (5-foot-8, 165 pounds). He's also caught the ball well in Mobile.
Cooper, who's decided to concentrate on football and turned down the Rangers' baseball offer, has been impressive with his route-running, his ability to gain separation, and he also made a one-handed catch over his shoulder that had everybody talking.
One former SEC player who didn't receive high marks from the Scouts Inc. crew on Tuesday was Kentucky cornerback Trevard Lindley, who's been stiff in his hips and hasn't shown top-end speed or great athleticism. The Scouts Inc. crew thinks he may drop into the later rounds.
Another former SEC player who needs a good week is Alabama nose guard Terrence Cody, who weighed in at 370 pounds. Cody has to improve his endurance and demonstrate that he can make it through most of a game.
November, 18, 2009
11/18/09
4:09
PM ET
Kentucky's bowl streak, which is poised to go to four consecutive years this season, may be looked upon in some quarters of this league as no big deal.
But when you look a little closer, it's more obvious than ever what a bang-up job Rich Brooks has done with this program.
The Wildcats (6-4, 2-4) gained bowl eligibility last week with a 24-13 win over Vanderbilt and have won four of their last five games.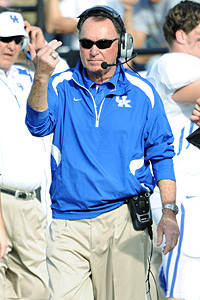 Don McPeak/US PresswireRich Brooks is on the brink of leading the Wildcats to a fourth straight winning season.
Granted, the SEC has nine bowl tie-ins, but going to a bowl four straight years isn't as common as some might think in this league.
In fact, other than Kentucky, only Alabama, Florida, Georgia and LSU are working on a streak of four bowls in four years.
Some pretty elite company, huh?
And counting whatever bowl game they go to this season, the Wildcats also have three more chances to get to the seven-win mark -- which would be four straight seasons of at least seven wins.
The last time that happened at Kentucky was nearly a century ago. The Wildcats won nine in 1909, seven in 1910, seven in 1911 and seven in 1912.
All these numbers aside, Brooks' greatest accomplishment with this program might be the way he's upgraded the talent and improved the depth.
This season is a shining example when you consider how many key players the Wildcats have lost, yet are still closing in on their fourth straight winning season.
It started back in May when the NCAA ruled that All-SEC defensive end Jeremy Jarmon was ineligible for taking a banned dietary supplement. All-SEC cornerback Trevard Lindley has missed half the season with an ankle injury. Quarterback
Mike Hartline
went down with a knee injury and is out for the regular season, and even top offensive playmakers
Randall Cobb
and
Derrick Locke
have been hobbled.
Brooks said Wednesday that Cobb is questionable for this weekend's Georgia game with a shoulder injury.
Still, here the Wildcats are, pointing toward a fourth consecutive postseason.
"The very obvious thing, at least to me, is that our depth is better than it has been," Brooks said of his club's perseverance. "We're at least still competitive and have a chance to win and haven't fallen off the face of the earth like we would have in past years."
Posted by ESPN.com's Chris Low
Despite some changes at the top in other polls, the SEC power rankings stay the same this week:
1. Alabama:
Terrence Cody's two blocked field goals kept the Crimson Tide (8-0, 5-0) atop the power rankings this week … but barely. Alabama's 12-10 escape against Tennessee raised plenty of concerns in Tide Land. Quarterback
Greg McElroy
has gone three straight games now without much success throwing the ball, and Alabama looked like a tired football team at times against the Vols. The bye couldn't have come at a better time.
2. Florida:
The truth is there's not much difference between Alabama and Florida right now. Both teams have their offensive issues to straighten out. The Gators (7-0, 5-0) are struggling in the red zone and haven't been able to generate much of a downfield passing attack. Their 29-19 win over Mississippi State was far from perfect, including two
Tim Tebow
interceptions returned for touchdowns, but there's something to be said for winning on the road when you don't play your best football.
3. LSU:
All of a sudden, the Tigers (6-1, 4-1) look like a team that could contend in the SEC again. Coming off an open date, they took apart Auburn for a 31-10 victory on Saturday and are playing the kind of defense that wins championships. If sophomore quarterback
Jordan Jefferson
can bottle his performance from last weekend, the Tigers look as strong as anybody in the league. They still control their own destiny in the Western Division and head to Alabama on Nov. 7.
4. South Carolina:
The Gamecocks (6-2, 3-2) avoided their annual loss to Vanderbilt, but it was still too close for comfort. These next two games, both on the road, will determine if this is going to be a season to remember or just another average season in Columbia. South Carolina travels to Tennessee on Saturday and then Arkansas on Nov. 7. If the Gamecocks can win both, look out.
5. Ole Miss:
The win over Arkansas is what got the Rebels rolling last season. Maybe we'll see that same script take shape this season. Ole Miss (5-2, 2-2) played its most complete game of the year in taking down Arkansas 30-17 last week and finally has a little momentum to work with heading to Auburn this Saturday. The Rebels might want to keep
Dexter McCluster
loose. Looks like he'll get the ball a few more times this season.
6. Tennessee:
The Vols (3-4, 1-3) are still short in the results department, but they lead the country in quality losses. They outplayed Alabama for much of the game last weekend, but had two fourth-quarter field goals blocked and fell 12-10. If this is going to be deemed a successful season, they need to find a way to go 4-1 over these final five games beginning with South Carolina's visit on Saturday.
7. Georgia:
Do the Bulldogs (4-3, 3-2) have one great one in them this season? A win over Florida and ruining the Gators' hopes of winning a second straight national championship would help ease the disappointment for Georgia this season. The Bulldogs are coming off a bye week and get a Florida team that's frustrated offensively and trying to find itself on that side of the ball.
8. Kentucky:
The Wildcats (4-3, 1-3) are winning games, but keep losing players. Middle linebacker Micah Johnson was the latest to go down with a strained MCL in the 36-13 win over Louisiana-Monroe on Saturday. Johnson is iffy for the game against Mississippi State, and senior cornerback Trevard Lindley remains doubtful with a high ankle sprain.
9. Arkansas:
So much for the Hogs' momentum. They looked listless to start the game on Saturday and were beaten soundly by Ole Miss in a 30-17 loss that leaves the Hogs (3-4, 1-4) in a bit of a hole for the rest of the season. They need to hustle if they're going to have a winning record in the regular season. The good news is that the next four games are at home.
10. Auburn:
The ship appears to be taking on water by the second on the Plains. The Tigers (5-3, 2-3) have lost three in a row after falling 31-10 to LSU on Saturday and will be hard-pressed to win another SEC game at this rate. Their defense isn't stopping anybody, and now Gus Malzahn's offense has bogged down in the last two games. Gene Chizik said he's sticking with
Chris Todd
at quarterback.
11. Mississippi State:
If Dan Mullen had his way, the SEC would just do away with the replay system. The Bulldogs (3-5, 1-3) had another situation where a call should have been reversed by replay but wasn't in their 29-19 loss to Florida. It was still a determined effort by Mississippi State, which got some key plays by freshmen on defense, but just couldn't move the ball against the Florida defense.
12. Vanderbilt:
It's shaping up as one of those seasons for the Commodores (2-6, 0-5). They did everything but finish the game in a tough 14-10 loss to South Carolina last weekend. The Gamecocks drove 99 yards to snap a two-game losing streak against the Commodores, who had a couple of calls go against them.

Posted by ESPN.com's Chris Low
The blowout in the Swamp never materialized. If anything, Florida might want to count its blessings that Tennessee doesn't own a passing game.
Had the Vols been able to throw the ball at all Saturday, we might be talking right now about the biggest upset in the SEC since league expansion in 1992.
But
Tim Tebow
wouldn't let that happen, and the Gators remain atop the latest SEC power rankings this week ... barely:
1. Florida:
Part of the reason for Florida's ho-hum performance against Tennessee in its 23-13 win Saturday can be traced to several players battling the flu. At least, so says Florida coach Urban Meyer. Whatever it was, the Gators looked vulnerable. They're still the most talented team in the league and have won 13 in a row going back to last season. But their hold on the top spot suddenly isn't iron-clad anymore.
2. Alabama:
Nick Saban won't have a less-than-inspired start to complain about this week. Alabama jumped all over North Texas in a 53-7 rout and hasn't been seriously challenged the past two games. It's difficult to pick an area where the Crimson Tide haven't been dominant. They're ranked in the top 10 nationally in total offense and total defense and are right on the Gators' heels for that No. 1 spot.
3. Ole Miss:
Here we are going into the fourth week of the season, and the Rebels haven't come close to being tested. That changes Thursday night when they travel to Columbia, S.C., to face South Carolina. Even though there have been some mistakes elsewhere, Ole Miss has looked every bit as dominant on its defensive line the first two games. All eyes will be on senior end Greg Hardy, who missed the 52-6 blowout of Southeastern Louisiana with a sprained ankle. The Rebels are a different defense when he's healthy.
4. LSU:
That season-opening 31-23 win at Washington is viewed in a little bit different light now. The Huskies took down mighty USC last week. The Tigers have continued to improve on defense since that first game in Seattle. They now turn their attention to Mississippi State on the road and are 3-0 to start the season for the third straight year.
5. Georgia:
The Bulldogs might not have much of a pass defense, but they're making up for it with guts and heart. To get down early like they did on the road at Arkansas and then to come charging back for a 52-41 win tells you a lot about Mark Richt's club. The schedule doesn't get any easier the rest of the way, but scoring points doesn't look like it will be a problem for these Bulldogs after 93 points in the past two games.
6. Auburn:
After rolling up huge rushing numbers in their first two wins, the Tigers turned to the pass last Saturday in rallying from a 14-0 deficit to beat West Virginia at rainy Jordan-Hare Stadium. A fourth straight home game awaits Auburn this weekend against Ball State, as the Tigers should be 4-0 going into the Tennessee game on Oct. 3. This is a team that's starting to believe and a team that has great chemistry.
7. Tennessee:
It's the best the Big Orange Nation has felt about a loss in at least the past 30 years. The Vols were right in the game with No. 1-ranked Florida the whole way, using a conservative game plan offensively and an attacking defense to keep the Gators off balance. They've got to be able to find something in the passing game if they're going to have a chance to win seven or eight games this season. They get Ohio at home this Saturday in the first of three straight home games that will shape their season.
8. South Carolina:
Stephen Garcia
and the Gamecocks' offense have come alive these past two games. Now the defense is teetering a little bit after suffering some injuries to key players. Getting defensive tackle Ladi Ajiboye back from a three-game suspension this week should help. We find out a lot about this South Carolina club on Thursday night when No. 4 Ole Miss invades Williams-Brice Stadium.
9. Arkansas:
We all wondered if the Hogs would be able to stop anybody this season, and after watching the Georgia receivers running free in their secondary all night long Saturday, we're still wondering. This Arkansas defense has a long way to go if the Hogs are going to be an upper-echelon team in the league this season. It only gets more difficult this week on the road at Alabama.
Ryan Mallett
can throw the football. He's certainly proven that, but the Crimson Tide rush the passer as well as anybody in the country.
10. Kentucky:
The Wildcats can thank sophomore receiver
Randall Cobb
for still being unbeaten right now. He saved them in Saturday's 31-27 win over Louisville with a couple of crucial plays in the fourth quarter, including the game-winning touchdown catch. Kentucky turned the ball over on three possessions in the third quarter and was also beaten up physically in the game. Cornerback Trevard Lindley, defensive end DeQuin Evans and center Jorge Gonzalez all suffered injuries that will limit them in practice this week heading into Saturday's home game with Florida.
11. Mississippi State:
Dan Mullen picked up his first SEC win thanks to a defense that showed a little pride in a 15-3 victory over Vanderbilt after having its pride bruised the week before against Auburn. It was a key road win for the Bulldogs, who have a killer home schedule coming up. They get to stay in Starkville for these next three games, but they're against LSU, Georgia Tech and Houston.
12. Vanderbilt:
The Commodores simply can't score. They've been held to one touchdown in their past two games and are coming off an ugly 15-3 home loss to Mississippi State. Carving out a second straight winning season is really going to be difficult now. Vanderbilt is playing well enough on defense to hang around in games. But the offensive production is abysmal -- 367 yards and 12 points in the past two games.
February, 5, 2009
2/05/09
10:45
AM ET
Posted by ESPN.com's Chris Low
Now we turn our attention to defense on the All-SEC recruiting nobody team.
Five of our 11 selections on defense are currently playing in the NFL. We also tacked on a return specialist to the defensive team. All 12 of these players earned All-SEC honors of some sort.
Breaking down the entire offensive and defensive teams, Alabama had the most players with five. Vanderbilt was second with four players.
All of these players played in the SEC during the last four seasons (2005-08):
| | |
| --- | --- |
| | |
| | Joe Robbins/Getty Images |
| | Jamaal Anderson wasn't on many radar screens when he was recruited as a wide receiver by Arkansas. |
DL Jamaal Anderson, Arkansas: He came to Arkansas as a skinny 6-foot-6, 205-pound receiver who wasn't even rated by some recruiting services. Anderson found a home at defensive end and led the SEC with 13.5 sacks in 2006. He turned pro early and was selected as the eighth overall pick of the 2007 NFL draft by the Atlanta Falcons.
DL Mark Anderson, Alabama: When he signed with Alabama in 2001 out of Tulsa's Booker T. Washington High School, Anderson weighed 210 pounds and wasn't seriously recruited by either Oklahoma or Oklahoma State. He became a second-team All-SEC performer at Alabama and set a Chicago Bears rookie record with 12 sacks during the 2006 season.
DL Sen'Derrick Marks, Auburn: A complete unknown in the recruiting process until Auburn and South Carolina jumped onto him at the very end. Former Auburn coach Tommy Tuberville was sold on him after watching him play basketball. Marks went on to carve out an All-SEC career at Auburn and is projected to go in the top two rounds of the upcoming NFL draft.
DL Jeremy Jarmon, Kentucky: A two-star player from Collierville, Tenn., that picked Kentucky over Memphis and was only an honorable mention all-state selection as a senior in high school. As a collegian, Jarmon has emerged as one of the best pass-rushers in the SEC. He enters his senior season with 17.5 sacks, third all-time at Kentucky.
LB Patrick Willis, Ole Miss: More than 50 linebackers were rated ahead of him nationally when he came out of high school in Bruceton, Tenn. He wanted to go to Tennessee, but the Vols didn't seriously recruit him. When he was through at Ole Miss, he'd become the most honored defensive player in school history. He won the Butkus Award in 2006 as the country's top linebacker and was named the NFL Defensive Rookie of the Year in 2007 after being drafted 11th overall by the San Francisco 49ers. He's been voted to the Pro Bowl in each of his first two seasons in San Francisco.
LB DeMeco Ryans, Alabama: Ryans was a three-star prospect when he signed with the Crimson Tide out of Bessemer, Ala. There were nearly 40 other linebacker prospects rated above him. The Tide's chief competition was Mississippi State, Troy State and UAB, and all Ryans did as a senior at Alabama was win SEC Defensive Player of the Year honors. He earned NFL Rookie of the Year honors in 2006 with the Houston Texans.
LB Eric Norwood, South Carolina: His only other official visit was to Oklahoma State. Norwood also tried to latch on with Mississippi State late before getting an offer from South Carolina. He's from Acworth, Ga., right outside Atlanta, but wasn't recruited by Georgia. At South Carolina, he's developed into one of the league's best big-play defenders. He's been named first-team All-SEC each of the past two years, as a defensive end in 2007 and an outside linebacker in 2008, and is South Carolina's all-time leader with 43 tackles for loss.
DB D.J. Moore, Vanderbilt: Nobody was sure what position he was going to play coming out of Broome High School in Spartanburg, S.C. Scouts Inc. rated him as the 142nd receiver prospect nationally. To make a long story short, Clemson and South Carolina are still cringing that they didn't recruit him a little harder. Moore became one of the SEC's best multipurpose athletes at Vanderbilt and was a first-team All-SEC selection at cornerback each of the past two seasons. He also earned second-team All-America honors this season after intercepting six passes for the second year in a row and declared for the NFL draft.
DB Trevard Lindley, Kentucky: Lindley missed most of his senior season in high school with a dislocated knee and actually "grayshirted" at Kentucky. He signed as part of the 2004 class, but didn't enroll until January 2005. His other choices were Southern Miss, North Carolina, Cincinnati, Louisville and Marshall. It didn't take him long at Kentucky to transform into one of the most complete cornerbacks in the league. He was a first-team All-SEC selection in 2008 and chose to return for his senior season despite being projected to go in the first three rounds of the NFL draft.
DB Rashad Johnson, Alabama: Johnson was the ultimate nobody coming out of high school in Sulligent, Ala. His only scholarship offers were to The Citadel and a few other Division II schools. He decided to walk on at Alabama and made a name for himself on special teams. When his college career was over this past season, he'd been named first-team All-SEC twice and earned second-team All-America honors as a senior. A hard-hitting safety and two-time captain, Johnson had 11 interceptions his last two seasons at Alabama.
DB Tim Jennings, Georgia: Jennings didn't have a Division I-A scholarship offer until signing day in 2002. The Bulldogs lost out on a few guys late and then turned to Jennings, who wasn't ranked anywhere coming out of Orangeburg, S.C. He wound up starting for three and a half years at cornerback, earned first-team All-SEC honors as a senior and was a second-round pick of the Indianapolis Colts in the 2006 NFL draft.
RS Javier Arenas, Alabama: Arenas had committed to Florida Atlantic, but Alabama took a chance on him late in the recruiting process. Everybody thought he was too small to play, even though he had seven kick returns for touchdowns his senior season in Tampa, Fla. Well, at Alabama, he's returned six punts for touchdowns, which is tied for the SEC career record, and he started at cornerback for the Tide this past season as a junior.
January, 2, 2009
1/02/09
2:00
AM ET
Posted by ESPN.com's Chris Low

A preview of Friday's AutoZone Liberty Bowl between East Carolina (9-4) and Kentucky (6-6):
WHO TO WATCH: Kentucky junior cornerback Trevard Lindley is a lock down cover guy who's also not afraid to come up and hit you. He has four interceptions, one of which he returned for a touchdown, and he tied for the SEC lead with 11 passes broken up. The Wildcats need to go after the Pirates, force some turnovers and create some short fields for the offense, and that's where Lindley enters the equation. He's always around the football.
WHAT TO WATCH: The Wildcats' defense started the season on fire, and there was a lot of talk about this being Rich Brooks' deepest defense at Kentucky. But as the season wore on, the Wildcats lost some of their edge defensively. Part of that was a glut of injuries, and another part was the competition they faced. They've had some time off now to get some guys healthier. If they're going to win this game, they need to get that edge back and force East Carolina out of its comfort zone.
WHY TO WATCH: Kentucky has won six or more games in a season for three straight years, the first time that's happened since 1954-56. This is the first time since 1949-51 that the Wildcats have gone to bowl games in three straight years. They're trying to win three straight bowl games for the first time in school history. Brooks has done a good job of revitalizing this program. A third straight bowl victory would only solidify what he's accomplished at a place where football has never been king.
October, 1, 2008
10/01/08
8:16
AM ET
Posted by ESPN.com's Chris Low
Rich Brooks has been around enough good defenses during his long and distinguished career to know a good one when he sees one.
| | |
| --- | --- |
| | |
| | Mark Zerof/US Presswire |
| | Rich Brooks is looking forward to playing Alabama on Saturday. |
He doesn't mind saying it: This Kentucky defense is pretty good.
Is it a great one? Ask him after the Wildcats get back from Tuscaloosa this weekend.
"This is an opportunity to see where we stand in the SEC hierarchy and whether or not we'll have an impact on this league," Brooks said. "This is a game where we're going to find out if our defense has really improved. We know it's better, but is it up to the standards of an SEC defense?"
The numbers say Kentucky's defense has few peers. The Wildcats are first nationally in scoring defense and have only allowed two touchdowns in four games. Opponents have moved inside their red zone only three times and managed just one field goal.
The tackle tandem of Corey Peters and Myron Pryor certainly looks SEC-ready. End Jeremy Jarmon is one of the better pass-rushers in the league, and cornerback Trevard Lindley is one of the best shutdown corners in the league.
They just haven't done it against SEC competition this season.
The Louisville win on the road to open the season was impressive, but Norfolk State, Middle Tennessee and Western Kentucky aren't going to be confused anytime soon for Alabama, LSU and Florida.
Even Brooks admits that the Wildcats (4-0) will need to play mistake-free on offense to have a chance. They'll also probably need to take the ball away from Alabama to give the offense some short fields.
"We will have to see if our ability to stop the run has improved against a team that takes great pride in lining up and telling you they're going to bloody your nose and then go about bloodying your nose time after time after time," Brooks said.
If the Wildcats are as loose as their coach, they ought to be in good shape.
Brooks, in breaking down the Crimson Tide earlier this week, remarked how well coached Alabama was and then added, "They ought to be. They have the highest paid coach in the country."
It doesn't appear that Kentucky will be full strength for this game. Starting linebacker Micah Johnson, backup tackle Ricky Lumpkin and backup quarterback Randall Cobb are all doubtful with ankle sprains.