February, 29, 2012
2/29/12
12:00
PM ET
Cornerback
Cliff Harris
admitted during media interviews at the NFL combine that he likes to drive fast -- see his citation for driving 118 mph last June, a significant step toward his ultimate dismissal from Oregon.
His biggest problem now, however, is his apparent inability to run fast. Harris clocked a 4.64 40-yard dash Tuesday, a pedestrian time for a prospective NFL cornerback.
Writes ESPN.com's
Steve Muench:
Former Oregon CB Cliff Harris played in just six games in 2011 before being dismissed form the team, so he needed a solid week both on and off the field. No word yet on how he interviewed, but Harris did not perform as well as expected during drills. He stumbled early on, didn't show great body control overall and failed to field the ball cleanly, including two double-catches in the final drill.
It's also worth noting that the defensive backs end their session with a ball-skills competition, and an excited Harris punted the ball after that second double-catch. While it's good to see competitive spirit coming out and it's important not to exaggerate here, Harris should be more careful and avoid drawing any kind of attention that could be viewed as negative. He needs to show teams he's not going to be a distraction going forward.
Harris wasn't the only Pac-12 DB to run poorly. Former California safety
Sean Cattouse
ran a 4.74.
Former Arizona CB
Trevin Wade
ran a middle-of-the-pack 4.59. Former Arizona State CB
Omar Bolden
didn't run the 40, but did lead all defensive backs with 24 reps at 225 pounds.
Harris will get an opportunity to run again during individual workouts with NFL scouts, as will Bolden, who's status on draft boards won't be established until he shows how well his surgically repaired knee is responding.
January, 19, 2012
1/19/12
9:00
AM ET
The coaches announced their All-Pac-12 team
here
, and the Pac-12 blog followed shortly thereafter
here
.
We even created an
All-Underrated Team
.
Now we recognize our Most Improved Players on both offense and defense.
[+] Enlarge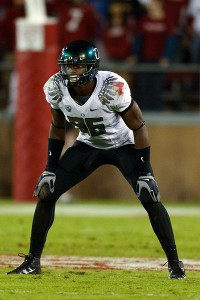 Jason O. Watson/US PresswireAll-Pac-12 junior defensive end Dion Jordan collected 7.5 sacks in 2011.
Defense (tie): Dion Jordan, DE, Oregon
Jordan went from single-game starter in 2010 to first-team All-Pac-12 as a junior in 2011. Jordan had 5.5 tackles for loss and two sacks in 2010, when he showed promise after converting from tight end. He lived up to that promise in 2011 with 13 tackles for loss and 7.5 sacks. Jordan figures to be a leading candidate for Pac-12 Defensive Player of the Year in 2012, particularly if he gets his skinny butt into the weight room and eats a lot of steak.
Star Lotulelei, DT, Utah
Lotulelei started the final three games of the 2010 season and finished with 21 tackles with 2.5 tackles for loss and 0.5 sacks. In 2011, he won the Morris Trophy as the Pac-12's best defensive lineman, as voted on by his peers -- the guys who had to block the 325-pounder. He earned first-team All-Pac-12 honors and was the lineman of the game in the Utes' Sun Bowl victory over Georgia Tech. He finished with 44 tackles, including nine for loss, but his main job was occupying two blockers so linebackers could make tackles. The Utes ranked third in the Pac-12 -- and 20th in the nation -- in run defense.
Honorable mention
:
Conroy Black
, CB, Utah;
Ben Gardner
, DE, Stanford;
Trevor Guyton
, DE, California;
D.J. Holt
, LB, California;
Josh Kaddu
, LB, Oregon;
C.J. Mizell
, LB, Washington State;
Nick Perry
, DE, USC;
Eddie Pleasant
, S, Oregon;
Jordan Poyer
, CB, Oregon State; Nickell Robey, CB, USC;
Trevin Wade
, CB, Arizona
Offense
:
Gerell Robinson, WR, Arizona State
Robinson went from bust to bust-out in 2011. In 2010, the once-touted recruit caught just 29 passes for 387 yards. He was best known for inconsistent hands. And at the start of 2011, he also caught an early case -- or two -- of the dropsies. But Robinson caught fire just as the rest of the Sun Devils started to tank, hauling in more than 100 receiving yards in six of the final eight games, including 13 receptions for 241 yards in the Las Vegas Bowl loss to Boise State. He finished with 77 receptions for 1,397 yards and seven touchdowns. His 107.5 yards receiving per game ranked ninth in the nation, and his 18.1 yards per catch was tied for first in the Pac-12. His late-season surge earned him a spot in the Senior Bowl.
Honorable mention
:
Mark Asper
, OG, Oregon;
Matt Barkley
, QB, USC;
Matt Kalil
, OT, USC;
Brock Osweiler
, QB, Arizona State;
Isi Sofele
, RB, California;
Markus Wheaton
, WR, Oregon State;
Marquess Wilson
, WR, Washington State;
Robert Woods
, WR, USC
August, 26, 2011
8/26/11
11:55
AM ET
The desert hasn't been good to defensive backs of late.
Arizona lost starting cornerback Jonathan McKnight for the season after
it was announced
he tore his ACL during Wednesday's practice. The true sophomore, brother to former USC tailback Joe McKnight, has a redshirt year available.
That's not a total disaster because McKnight was one of three good cornerbacks, but his injury makes Shaquille Richardson and Trevin Wade the starters with little margin for error, and bumps true freshman Cortez Johnson up the depth chart. Redshirt freshman Jourdon Grandon becomes the nickelback.
McKnight is the third member of the Wildcats' defense to suffer a knee injury this offseason: Safety Adam Hall and linebacker Jake Fischer were hurt in the spring. Hall and Fischer
could return to action in October
.
Up I-10 in Tempe, Arizona State also has struggled with injuries, most notably cornerback Omar Bolden and linebacker Brandon Magee.
March, 28, 2011
3/28/11
9:00
AM ET
On Friday, we looked at offensive three-headed monsters --
the best quarterback, running back, wide receiver troikas
-- so it also makes sense to also look at their defensive counterparts, the best threesomes from each of the three levels of defense: defensive line, linebacker and defensive back.
Here's the
tally from last season
, if you are interested.

1.
Arizona State
DE Junior Onyeali, LB Vontaze Burfict, CB Omar Bolden
The Skinny:
No question on No. 1 here. Onyeali was the Pac-10 Defensive Freshman of the Year. Burfict is the nation's best inside linebacker. Bolden was unanimous first-team All-Pac-10.

2.
Stanford
DE Matt Masifilo, LB Shayne Skov, SS Delano Howell
The Skinny:
Masifilo, the lone returning starter on the Cardinal defensive line, was honorable mention All-Pac-10, as was Skov, who was playing as well as any linebacker in the conference over the final third of the season. Howell was second-team All-Pac-10.

3.
California
DE Trevor Guyton, LB Mychal Kendricks, S Sean Cattouse
The Skinny:
Guyton had 8.5 tackles for a loss and 4.5 sacks despite being a part-time starter. Kendricks was second-team All-Pac-10. Cattouse earned honorable mention.

4.
Oregon
DE Terrell Turner, LB Josh Kaddu, CB Cliff Harris
The Skinny:
Two solid returning starters and a second-team All-Pac-10 cornerback who figures to be a preseason All-American after earning second-team honors from the Associated Press and Walter Camp Football Foundation in 2010.

5.
Washington
:
DT Alameda Ta'amu, LB Cort Dennison, FS Nate Fellner
The Skinny:
Ta'amu earned honorable mention All-Conference honors and seemed to find himself over the latter half of the season. Dennison had 93 tackles, 8.5 tackles for a loss and two interceptions. Fellner tied for second in the conference with five interceptions.

6.
Arizona
DT Justin Washington, LB Paul Vassallo, CB Trevin Wade
The Skinny:
Washington's numbers fell off when he got banged up, but he still had 11.5 tackles for a loss and six sacks as a redshirt freshman. Vassallo was honorable mention All-Conference. Wade had an off year last fall, but was second-team All-Pac-10 in 2009.

7.
USC
DE Armond Armstead, LB Chris Galippo, FS T.J. McDonald
The Skinny:
This actually could be one of the best threesomes in the conference, but Armstead and Galippo have injury issues and only put up middling numbers last fall. McDonald was second-team All-Pac-10 in 2010.

8.
Washington State
DE Travis Long, LB Alex Hoffman-Ellis, SS Deone Bucannon
The Skinny:
Long was honorable mention All-Conference, Bucannon, who started as a true freshman, and Hoffman-Ellis were the Cougars' top two tackles in 2010.

9.
UCLA
DE Datone Jones, LB Patrick Larimore, SS Tony Dye
The Skinny:
A solid threesome that is down here more because it gets an "incomplete." Jones missed all of last season with a foot injury, but, if healthy, he's an All-Conference sort. Larimore was solid in seven games before suffering a shoulder injury. Dye led the Bruins in tackles and earned honorable mention All-Pac-10.

10.
Colorado
NG Will Pericak, LB Jon Major, FS Ray Polk
The Skinny:
Pericak earned honorable mention All-Big 12. Major was the Buffaloes leading tackler before he blew out his knee in Game 7 (a knee injury also killed the junior's true freshman season). Polk was the second-leading tackler.

11.
Utah
DE Derrick Shelby, LB Chaz Walker, CB Conroy Black
The Skinny:
Honestly don't know how to rank the Utes here. Shelby and Walker are returning starters -- Walker earned second-team All-Mountain West honors. Black was the top backup cornerback last season.
But
Star Lotulelei might be the Utes' best defensive lineman, and Brian Blechen has moved from strong safety, where he was very good, to linebacker. How highly do the Utes think of him? They list him as an All-American candidate.

12.
Oregon State
DE Dominic Glover, LB Rueben Robinson, S Lance Mitchell
The Skinny:
Three returning starters, but none of them even earned honorable mention All-Pac-10 honors. Mitchell was the Beavers' third-leading tackler, Glover had 2.5 sacks, and Robinson split time with Tony Wilson.
March, 22, 2011
3/22/11
4:00
PM ET
Arizona starts spring practice today, which means it can stop licking the wounds of a five-game losing streak to end 2010 and start looking forward to 2011.
[+] Enlarge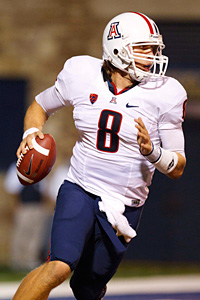 Rick Osentoski/US PresswireArizona enters the upcoming season with lofty expectations, thanks in part to returning quarterback Nick Foles.
But if taking a step forward toward 2011 is the carrot, a lingering backwards glance to 2010 is the stick. The Wildcats should be plenty motivated.
"The kids know we are close, but we need to do some things better to take that next step," coach Mike Stoops said. "We've gotten to this point. We need to go further."
On the one hand, the losing streak happened against a brutal schedule: Stanford, USC, Oregon, Arizona State and Oklahoma State combined for a 49-15 record. But the Wildcats aspire to being a team that wins those sorts of games.
"We just need to be stronger in some ways, stronger against stronger teams," Stoops said.
The Wildcats have intriguing talent coming back -- with quarterback
Nick Foles
and perhaps the Pac-12's best group of receivers leading the way -- but they also have two glaring holes: offensive line and defensive end. All the 2010 starters at those positions are gone.
Here are some notes:
Out of spring
: Just two starters will not participate in full-contact work: defensive tackle Justin Washington and cornerback Shaquille Richardson. Both had shoulder surgery. Receiver Bug Wright was given the boot for repeated team rules violations.
Offensive line questions
? All five starters are gone on the offensive line. Sophomore Mickey Baucus and redshirt freshman Fabbians Ebbelle are the front-runners at the tackles. Kyle Quinn, who started the Alamo Bowl for Colin Baxter, is the leader at center, though mid-year transfer Addison Bachman could make a challenge. Sophomores Chris Putton, Trace Biskin and Eric Bender-Ramsay are in the mix at the guards. Redshirt freshmen Trent Spurgeon and Carter Lees and junior Shane Zink also are in the mix. With a new offensive line coach -- Robert Anae -- there could be plenty of mixing and matching.
End of the line
? Senior Muhammed Usman and redshirt freshman Dan Pettinato will be with the first unit to start spring, but defensive end might be an even bigger question than offensive line. The Wildcats are deep at tackle -- Washington, Sione Tuihalamaka, Willie Mobley,
Chris Merrill
, Dominique Austin, Jowyn Ward, Aiulua Fanene, etc. -- so it's possible things might be fluid on the defensive line. One of the more athletic tackles might move outside to become a big, strongside end. And junior college transfer Lamar de Rego arrives in the fall.
Good to receive
: The Wildcats welcome back potential preseason All-American receiver
Juron Criner
, but the big news is the overflow of enthusiasm for Texas transfer
Dan Buckner
, who will give the Wildcats a second speedy, 6-foot-4 target on the outside. Said Stoops, "I think he gives us the two best outside receivers maybe in the country. Having [Buckner] and Criner on opposite sides is going to create problems for people." When you toss in Dave Roberts,
David Douglas
and
Richard Morrison
on the inside, you have a deep crew that Stoops called "the best receiving group we've ever had, without question." Oh, and don't forget:
Terrence Miller
,
Garic Wharton
,
Austin Hill
and
Tyler Slavin
. Lots of competition for touches here.
Backed by seven
: The Wildcats welcome back all three starting linebackers and a talented secondary. Sophomore Marquis Flowers and junior Adam Hall figure to offer an upgrade in the secondary -- both saw plenty of action in 2010. Robert Golden, Trevin Wade, Shaquille Richardson and Jonathan McKnight provide talent and experience at cornerback. And Stoops thinks Wade, who suffered through a notable slump last fall, is going to bounce back: "Trevin has had a much better out-of-season already. I think he learned a great deal from some of his mistakes a year ago as well as his preparation. I look for him to come back strong." He added, "This is the most athletic back-seven we've had. Best group of corners we've had."
Not special
: The Wildcats didn't get much from their kicker Alex Zendejas and punter Keenyn Crier last season. Zendejas is back, but he needs to step up. Said Stoops: "Zendejas needs to become a much better player... we need more out of him." Junior college transfer Jaimie Salazar arrives in the fall. Junior college transfer punter Kyle Dugandzic was signed to start, so he needs to come through.
Redshirt or backup for Scott
: Stoops wants to redshirt backup quarterback
Matt Scott
, which means he could return for a redshirt senior season in 2012. But that might not be doable. Said Stoops, "In a perfect world, we'd love to redshirt him. But we've got to keep him ready to play if things slide or something happens to Nick." Junior
Bryson Beirne
would make things easier on his coaches with an inspired effort this spring.
This is Foles' team
: Foles has been a good quarterback for two years. If he becomes an All-Conference or even All-American quarterback as a senior, the Wildcats could climb to the top of the Pac-12 South Division. Stoops expects a lot out of Foles. "Nick has to have total control of this team and this offense," he said. "He's a premier starter who will become, hopefully, a first-round NFL draft pick. He needs to assert himself in every way possible as a leader."
December, 16, 2010
12/16/10
12:00
PM ET
Third-year players -- juniors and redshirt sophomores -- have until Jan.17 to declare their intentions to enter the 2011 NFL draft, and a number of Pac-12 players are likely to do so.
USC
already has lost two
: Defensive tackle Jurrell Casey and offensive tackle Tyron Smith.
Many of the upcoming decisions -- both to stay or to go -- are going to be surprises. Some certain early draft picks opt to return for whatever reason, including the fact that they will never -- ever -- have as much fun as they did in college. And a handful of obscure players annually decide to enter the draft for whatever reason, including getting bad advice from a know-it-all "acquaintance" who doesn't know a darn thing.
This will not turn out to be a complete list. And our speculation is intentionally vague because it can be nothing else: We don't know what's going on inside these young men's heads.
Note: Though some players have indicated they plan to return, they are included here because, well, you never know -- they might change their minds.
You can review
Mel Kiper's "junior" rankings here
.
Arizona
QB Nick Foles, Jr.:
Foles would benefit from returning for his senior year and could improve his stock considerably. But his knee injury this year and questions about the Wildcats' offensive line might give him pause.
WR Juron Criner, Jr.:
Criner is the best receiver in the country few folks have heard of, but he might want to look at this year's receiver class, which is loaded.
CB Trevin Wade, Jr
.: Wade needs to return for his senior season after taking a step back as a junior.
Arizona State
CB Omar Bolden, Jr
.: Bolden rejuvenated his career this fall, earning first-team All-Pac-10 honors. He also knows what it's like to get hurt and miss a season. The Sun Devils could break through in 2011, and that could greatly benefit his status.
DT Lawrence Guy, Jr
.: The general thinking is Guy wants to return for his senior season. He faces a tough choice.
California
RB Shane Vereen, Jr.:
Mel Kiper ranks Vereen No. 5 among junior running backs. The Bears' questionable supporting cast on offense next year might sway him to the pros.
OLB Mychal Kendricks, Jr
.: Lots of potential, but he's not ready.
Colorado
OG Ryan Miller, Jr
.: Miller has already said he plans to return next fall, though Kiper ranks him No. 2 among junior guards.
Oregon
RB LaMichael James, RSo
.: Kiper ranks James as the No. 3 "junior" running back. The Ducks' first unanimous All-American must choose between college glory -- Heisman Trophy, (another) national championship -- or getting paid now. Probably won't get picked until the second round because of size and middling skills as a receiver, but his top-end speed is enticing.
TE David Paulson, Jr.:
Kiper ranks him No. 4 among junior tight ends. Good bet to return.
Oregon State
RB Jacquizz Rodgers, Jr
.: Rodgers has indicated he plans to return because his brother, James, is likely to get a fifth year via medical hardship because of a knee injury this past season. But Beavers fans are rooting for it to be Jan. 18.
WR James Rodgers, Sr.:
It's likely the Rodgers are a package deal: Both stay or both go.
Stanford
QB Andrew Luck, RSo.:
If he enters the draft, he's almost certain to be the No. 1 overall pick. More than a few folks, however, believe he's seriously considering a return for his junior year, particularly if coach Jim Harbaugh remains at Stanford. We'll see.
UCLA
LB Akeem Ayers, Jr
.: Odds are that Ayers will enter the draft. A likely first-round pick.
FS Rahim Moore, Jr.:
Odds are that Moore will enter the draft. A likely first-round pick.
USC
DL Armond Armstead, Jr
: Armstead has said he plans to return. He should. A healthy season could send his stock skyrocketing.
Utah
CB Brandon Burton, Jr
.: Burton, second-team All Mountain West, is No. 5 on Kiper's list of junior corners. He's definitely on the NFL radar.
OT Tony Bergstrom, Jr.:
It would make sense for the second-team All Mountain West player to return for his senior year.
Washington
WR Jermaine Kearse, Jr
.: Kearse is highly productive but dropped a few too many balls this year. While he'd benefit from another year, he might be worried about the Huskies breaking in a new quarterback.
RB Chris Polk, RSo
: Polk eclipsed the 1,000-yard mark for a second consecutive season. He's admitted that entering the draft is a possibility.
Washington State
DT Brandon Rankin, Jr.:
It would be wise for Rankin to return for his senior season.
July, 9, 2010
7/09/10
10:00
AM ET
We ranked the
three-headed monsters on offense
Thursday, but it seemed unfair that the skill guys get to have all the fun. What about the defensive guys?
So this is a ranking of the top-five troikas of defensive players at all three levels: line, linebacker and secondary.
5.
Arizona
: DE Ricky Elmore, LB Jake Fisher, CB Trevin Wade
This was a difficult one, but Elmore and Wade carried the Wildcats into the top five, even though Fisher only had seven tackles last year. Elmore had 10.5 sacks, while Wade grabbed five interceptions, with both numbers ranking second in the Pac-10 in 2009. Elmore was No. 12 and Wade 10th on our list of the
conference's top-25 players
.
4.
Arizona State
: DT Lawrence Guy, LB Vontaze Burfict, CB Omar Bolden
Guy ranked 20th in our top-25 and Burfict 17th. Both are All-American candidates, particularly Burfict. Bolden, a former freshman All-American, missed most of the 2009 season with a knee injury but he played well during spring practices.
3.
Oregon
: DE Kenny Rowe, LB Casey Matthews, S John Boyett
Rowe led the conference with 11.5 sacks and ranked 13th on our top-25 list. Matthews earned second-team All-Pac-10 honors in 2009 and ranked 24th on our list. Boyett was the first freshman to lead the Ducks in tackles since they started keeping defensive statistics in 1969.
2.
California
: DE Cameron Jordan, LB Mike Mohamed, S Sean Cattouse
Jordan ranked 15th on our top-25 list, while Mohamed ranked ninth. Jordan had six sacks in 2009, and Mohamed ,who earned first-team All Pac-10 honors, led the conference with 112 tackles. Cattouse earned honorable mention all-conference honors.
1.
UCLA
: DE Datone Jones, LB Akeem Ayers, FS Rahim Moore
Moore and Ayers ranked seventh and eighth respectively on our top-25 list and are the best players at their positions in the conference. Ayers had 14.5 tackles for a loss with four interceptions, four forced fumbles and two fumble recoveries. Moore, who will be a consensus first-team preseason All-American, led the nation with 10 interceptions. In other words, those two combined to create 20 turnovers. Jones had 11 tackles for a loss as a sophomore starter and was dominant at times this spring.
June, 2, 2010
6/02/10
6:07
PM ET
At what position is the Pac-10 deep? At what position in the Pac-10 thin? Here's the second of three parts taking a look at just that.
(By the way, some of you wondered about QB. The Pac-10 is, without question, the nation's deepest conference in terms of quarterbacks -- and it would have been deeper if not for
a certain Duck
making a very, very poor decision. But that's so obvious and been
written about so much
that we're not including it in this three-part package).
Deep: Running back
[+] Enlarge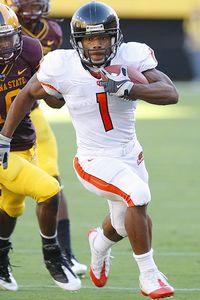 Rick Scuteri/US PresswireJacquizz Rodgers is one of several talented running backs returning to the Pac-10 this season.
Why is it deep
? Six of the top-10 running backs from 2009 are back, and four of them rushed for more than 950 yards. Eight teams welcome back a player who qualifies as a starter or at least an experienced veteran. Only Arizona State and Stanford, which is replacing Heisman Trophy runnerup Toby Gerhart, are uncertain at the position. But it's not just about starters. There's depth. Most teams can point to one or more solid backups, not to mention there are a number of elite incoming freshmen recruits expected to immediately contribute.
The big names
: Start with Oregon State's
Jacquizz Rodgers
, the conference's top Heisman Trophy candidate, and Oregon's
LaMichael James
, who has All-American potential. They combined for just under 3,000 yards and 35 TDs in 2009. Then there's Washington's
Chris Polk
(1,113 yards rushing), California's
Shane Vereen
(952 yards, 12 TDs) and Arizona's
Nic Grigsby
, who rushed for 1,153 yards in 2008. The Wildcats, in fact, have their top four rushers back, including
Keola Antolin
, who's rushed for over 1,100 yards and 14 TDs over the past two seasons. USC and UCLA are both experienced in the backfield and have highly rated freshmen recruits who figure to be in the mix, particularly USC's
Dillon Baxter
, who was spectacular this spring. Washington State has three of its top four rushers back.
Thin: Cornerback
Why is it thin?
Three of the four All-Pac-10 cornerbacks are gone: UCLA's Alterraun Verner, California's Syd'Quan Thompson and USC's Kevin Thomas. Each of them were NFL draft picks. Only second-teamer Trevin Wade of Arizona returns. In fact, only one returning CB even earned honorable mention all-conference recognition (Washington's Desmond Trufant). Only Oregon, Stanford and Washington welcome back both starting CBs from 2009, and each of them is hardly settled at the position after spring practices. Arizona State and USC are replacing both corners, though the return of Omar Bolden from injury and Shareece Wright from academic ineligibility should bolster the Sun Devils and Trojans, respectively.
Fill the void
? Wright might turn out to be the conference's best cover corner and a top NFL draft pick. Wade had five interceptions last year and could earn national attention. Bolden had a great spring after missing last season with an injury and suffering through a disappointing sophomore year. Trufant, UCLA's Sheldon Price, USC's Torin Harris and Oregon's Cliff Harris are youngsters who might break through. Oregon's Talmadge Jackson and Oregon State's James Dockery are veterans who could take the next step.
March, 8, 2010
3/08/10
1:24
PM ET
TUCSON, Ariz. -- Arizona finished tied for second in the Pac-10 last year. It beat Oregon State, Stanford, USC and arch-rival Arizona State. After a mostly miserable decade without a bowl berth, the Wildcats have earned two consecutive postseason invitations.
[+] Enlarge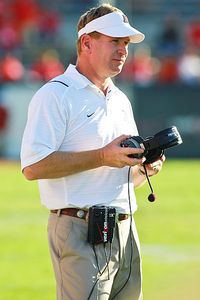 Chris Morrison/US PresswireMike Stoops feels the disappointing Holiday Bowl performance overshadows the progress Arizona has made the past two seasons.
Slowly but surely, Mike Stoops has built a contender.
Holiday Bowl.
That is a conversation-stopper in Tucson. Bring up the Wildcats
33-0 Holiday Bowl drubbing
at the hands of Nebraska, and everyone around the program just shakes their heads.
"It was kind of a meltdown of major proportions," Stoops said.
Yep.
The Wildcats, who started spring practices on Friday, are a combined 16-10 over the past two seasons. Nine of those defeats came by 10 or fewer points and four by three points or fewer. Suffice it to say, Stoops has built a competitive team that is much different than the crew he inherited.
Oh, but that Holiday Bowl. It was so ugly -- Arizona was outgained 396 yards to 109 -- that it seemingly doused much of the momentum for a program on the rise.
"We lost a lot of respect in that game and that's just how it happens -- it can happen pretty quickly," Stoops said. "I think our players are excited to regain their stature."
That's the rub. The embarrassment of the Bawliday Bowl represents a challenge: Move forward and up or sink back down into Pac-10 and national irrelevancy.
There are plenty of challenges ahead that have nothing to do with the bowl game dismantling. Both coordinators -- Mark Stoops on defense and Sonny Dykes on offense -- are gone. The younger Stoops is now running Florida State's defense and Dykes is Louisiana Tech's head coach.
Mike Stoops opted to fill those vacancies with co-coordinators: line coach Bill Bedenbaugh and running backs/tight ends coach Seth Littrell on offense and linebackers coach Tim Kish and secondary coach Greg Brown on defense. Bedenbaugh, Littrell and Kish were promoted from within. Brown was hired away from Colorado.
Toss in Stoops' interest in defense and new quarterbacks coach Frank Scelfo on offense -- he might end up calling the plays; Stoops has yet to assign the duties -- and that's a lot of chefs in the kitchen.
On the players' side of things, there's plenty of continuity on offense with 10 guys with significant starting experience back. The defense is another story, with seven starters gone, including all three linebackers and both defensive tackles.
Still, to avoid taking a step back as a program, the first step forward might be coming to terms with the, well, you know.
What the heck happened?
"We made some tactical mistakes," Stoops said.
Stoops wasn't happy with some of the bowl preparation and his team's frame of mind on game day. And Nebraska surprised the Wildcats with their schemes on both sides of the ball. On offense, the Wildcats "just couldn't get open," Stoops said.
Cornerback Trevin Wade offers his own theory.
"People wanted to go home for Christmas and see their families," he said. "I know it's all business and everything, but we're still college kids and people wanted to go home. Had they given us a couple days, people would have come back happy and ready to go."
Hmm. Asked about that, quarterback
Nick Foles
said, "He might have something there but I don't know. I really have no comment on that."
Foles' ultimate diagnosis seems the most popular: "It was one of those games when it seemed like nothing could go right. I really can't explain it."
Foles was 6-for-20 for 28 yards with an interception, and that performance is perhaps the main reason he still has to look over his shoulder at backup
Matt Scott
this spring. Scott started the first three games last year before Foles took over.
Foles said the game should operate as a "chip on our shoulders" during spring practices.
"It makes your stomach hurt watching that film. It really humbles you," he said. "But I don't think you burn the tape. You want to. But to become a great player, you've got to experience things like that and learn from it."
Stoops accepts the ultimate responsibility for the Holiday Bowl, but it's also clear that he's just a bit irked at how it has obscured what his team accomplished in 2009 and how the team has gained steam the past two seasons.
And he knows that the meltdown will fuel skeptics who believe the Wildcats will fall back into the pack in 2010.
"A lot of people don't think we're going to be this or that. They didn't think that last year. That's fine with us. The proof will be in the scoreboard and in the wins and losses," he said. "We had a lot of good wins. Everyone forgets about Stanford. Everyone forgets about Oregon State. Everybody forgets about USC. You don't beat those teams without having a good program. You just can't do it."
Doing it again will be the best way to make everyone forget about the, er, thing that happened in San Diego.
December, 8, 2009
12/08/09
3:07
PM ET
We copped out at running back, but it just didn't seem fair to recognize only two.
First-team offense

QB
Sean Canfield
, Sr., Oregon State
RB
Toby Gerhart
, Sr., Stanford
RB
Jacquizz Rodgers
, So., Oregon State
RB
LaMichael James
, RFr., Oregon
WR
James Rodgers
, Jr., Oregon State
WR
Damian Williams
, Jr., USC
TE
Ed Dickson
, Sr., Oregon
OG Jeff Byers, Sr., USC
OG Gregg Peat, Sr., Oregon State
OT Charles Brown, Sr., USC
OT Chris Marinelli, Sr., Stanford
C Kenny Alfred, Sr., Washington State
K Kai Forbath, Jr., UCLA
First-team defense

DT Brian Price, Jr., UCLA
DT Stephen Paea, Jr., Oregon State
DE Tyson Alualu, Sr., California
DE Daniel Te'o-Nesheim, Washington
LB Keaton Kristick, Sr., Oregon State
LB Mike Mohamed, Jr., California
LB Donald Butler, Sr., Washington
S Rahim Moore, So., UCLA
S Taylor Mays, Sr., USC
CB Trevin Wade, So., Arizona
CB Alterraun Verner, Sr., UCLA
P Trevor Hankins, Jr., Arizona State
Posted by ESPN.com's Ted Miller
Optimism is a powerful thing. And spring is a time for renewal. So this is a "Best of" list, without any of the "Negative Nellie" stuff.
Best spring game performance by a quarterback: Stanford redshirt freshman Andrew Luck all but won the starting quarterback job over incumbent Tavita Pritchard after completing 18 of 25 passes for 352 yards and five touchdowns to lead the White team to a 42-17 victory over the Cardinal.
Best spring game performance by a quarterback II: Washington quarterback Jake Locker seemed fine working in a pro-style offense after completing 16 of 18 passes for 200 yards and two touchdowns. The two incompletions, by the way, were drops.
Best spring game performance by two quarterbacks: Oregon's Jeremiah Masoli and Justin Roper combined to complete 37 of 56 passes for 516 yards and five touchdowns and neither threw an interception in the Ducks' spring game. Perhaps it was the rainy weather only fit for a Duck?
Best spring, overall, by a quarterback: Under intense, national scrutiny ,USC's Aaron Corp threw only one interception throughout spring practices and was consistently solid throughout the session, which earned him the nod as the Trojans No. 1 quarterback over spectacular freshman Matt Barkley entering the offseason. Under coach Pete Carroll, every previous Trojan quarterback who had been tapped No. 1 out of spring started the season opener.
Best performance by a true freshman: Barkley made the recruiting gurus who ranked him No. 1 look smart.
Best spring game on defense: Talk about a penetrating performance. USC's backup defensive end Nick Perry had six tackles for loss, including four sacks, among his seven tackles. Yeah, USC's defense is going to be hurting in 2009.
Best spring on defense: Six guys stood out: Oregon cornerback Walter Thurmond III, UCLA's tackle Brian Price, Oregon State tackle Stephen Paea, Arizona State defensive tackle Lawrence Guy, Arizona linebacker Vuna Tuihalamaka and USC linebacker Malcolm Smith.
Best surprise: USC transfer and notorious underachiever Jamere Holland suddenly decided to become Oregon's best deep threat and turned in an outstanding spring. Golly, sometimes listening to your coaches helps.
Best breakout: While California has questions at receiver, the general feeling is sophomore Marvin Jones is almost certainly one of the answers.
Best 'it's about time' breakout: USC's Everson Griffen might be the nation's most talented pass-rusher, but his high-performance engine has also been a high-maintenance engine. Yet his effort and intensity were consistentthis spring, which meant no one could block him.
Best comeback: California offensive tackle Mike Tepper has been through a lot, but he's hoping his sixth year will just be about anchoring a line with a lot of upside. Read Tepper's story here.
Best comeback II: Got a funny -- mean, but funny -- note during the 2008 season that instructed the Pac-10 blog to refer to Oregon State receiver Darrell Catchings as Darrell Droppings. Can't do that now because Catchings lived up to his name -- the real one -- this spring.
Best position change: Arizona sophomore Robert Golden, a marquee 2008 recruit, switched from cornerback to strong safety this spring, and early word is he could become an All-Conference player at his new position. The move further allowed the Wildcats to switch Cam Nelson to free safety from strong and get Trevin Wade on the field to complement Devin Ross at corner.
Best coaching decision: Stanford coach Jim Harbaugh wants his best 11 on the field at any given time, and he's willing to get creative to do it. That's why he's got a handful of guys playing both ways, including Owen Marecic (fullback and middle linebacker), Michael Thomas (cornerback and receiver), Richard Sherman (cornerback and receiver) and Alex Debniak (linebacker and running back). Will it work? We'll see. But it's undoubtedly interesting.
Best candidate for a karmic change: No team had worse injury issues this spring than Washington State, which is clearly in the midst of a major rebuilding project. Then promising defensive end Cory Mackay, who'd impressed this spring, suffered a serious back injury after he fell asleep at the wheel of his car. The Cougars are overdue for some luck. Perhaps it arrives this fall?
Best catch of the spring: You may have already watched this grab. Watch Arizona State receiver Kerry Taylor one more time. It's worth it.
Best position in conference: The Pac-10 might have the nation's best collection of talent in the secondary, with USC and California boasting units that should rank among the nation's best. Consider: FS Taylor Mays (USC), SS T.J. Ward (Oregon), SS Josh Pinkard (USC), CB Walter Thurmond III (Oregon), CB Alterraun Verner (UCLA), CB Syd'Quan Thompson (California), CB Devin Ross (Arizona), CB Omar Bolden (Arizona State), FS Rahim Moore (UCLA), CB Shareece Wright (USC), among others.
Best position in conference II: Five running backs who eclipsed 1,000 yards in 2008 are back, led by California's Jahvid Best and Oregon State's Jacquizz Rodgers.
Best potentially surprising position: If you talked about good Pac-10 defensive linemen in recent years, you were basically talking about USC. Not in 2009. Nine of the Pac-10's top 30 players, at least by, er, one person's accounting, are defensive linemen, and that list included only one player from USC (Griffen, at No. 30) and didn't include Cal's Cameron Jordan.
Best quote: "How do we go from nine to one?" said Chip Kelly on what he believes are his marching orders as Oregon's new coach. "Nine" is where the Ducks finished last y
ear in the final coaches' poll.
April, 8, 2009
4/08/09
6:55
AM ET
Posted by ESPN.com's Ted Miller
Arizona finishes spring practices Wednesday, and coach Mike Stoops doesn't see many holes heading into the summer.
Sure, the Wildcats are replacing some good players, such as quarterback Willie Tuitama, receiver Mike Thomas, linebacker Ronnie Palmer and left tackle Eben Britton. But Stoops seems confident he's got guys who can step up and get to another bowl game.
Or maybe more than just any bowl game.
| | |
| --- | --- |
| | |
| | Tom Hauck/Getty Images |
| | Arizona coach Mike Stoops says he feels good about his overall depth heading into the 2009 season. |
The Wildcats started early and now will be the first to finish spring practices. It seemed like a good time to check in with Stoops and see how things looked in Tucson.
First question has to be about the quarterbacks: How do Matt Scott and Nick Foles stack up with one practice left this spring?
Mike Stoops: They both have done some really good things. I think we can win at this level with both players. We don't feel like we're in any need to name a starter at this point. I can probably see both guys playing. Whether we did that in a constant way, I don't think that would be it. But I could see, early on, us playing both to see how they perform in games. It's not something we would like to do, but they are a little bit different styles of quarterback. Matt gives you that ability to run and create plays with his feet. Nick is a more prototypical, drop-back quarterback. They're different but I think both of them could give us a chance to win. We're very pleased with their growth. They still have a lot of work to do. We probably won't name a starter until seven to 10 days before our first game against Central Michigan. And it's possible both could play in that game.
Biggest position change before practices began was Robert Golden from cornerback to strong safety: How did that play out?
MS: That's been probably one of the best moves we've made. We now can get our best four or five DBs on the field at the same time. And it's really been an easy transition for him. He seems very comfortable. He's been easy to coach. We've been very pleased with that move. It puts Trevin Wade, who led our team in interceptions last year -- and he only played 100 and something snaps -- on the field. Robert had corner ability, corner speed, but he gives us great versatility to cover the field now, which you have to do vs. these spread offenses.
Any other guys change positions during the spring?
MS: Nope. That was the biggest move for us.
Tell us about some guys who really improved their stock this spring, guys when went from backups to potential starters.
MS: We feel like our offensive guards played really well, Conan Amituanai and Mike Diaz. Diaz -- you asked about a personnel change -- Diaz could move from left guard to left tackle. He has the range to play tackle. And that gives Conan, who has really stood out with his development and his attitude and confidence, a chance. He's a 320-pound guy who can really play physically. [Guard] Vaughn Dotsy is another guy I'm pleased with, played last year as a true freshman. Our line has a chance to be very athletic and physical. Other guys: Greg Nwoko, our third running back, has had a great spring -- he's a freshman from outside of Austin, Texas. I feel good about our overall depth, but our biggest concern might be depth at linebacker.
March, 4, 2009
3/04/09
2:30
PM ET
Posted by ESPN.com's Ted Miller
Links for your hump day.