NCF Nation:

Trevon Stewart
April, 16, 2013
4/16/13
4:00
PM ET
While a lot of the attention in Houston has focused on the offense and what will happen at quarterback, the defense also went through some changes of its own this spring.
New coordinator David Gibbs went about simplifying the defense to help improve a group that ranked No. 115 in the nation a year ago. Veteran cornerback
Zach McMillian
gives Gibbs and the changes two thumbs up. I had a chance to catch up with McMillian to get his thoughts on spring ball and his hopes for the season. Here is a little of what he had to say:
You love the new defense you are playing. How do you think this will help in 2013?
ZM:
Last year, we had a young defense as it was. People were playing at a young age so a lot of times they were out there thinking too much instead of going out there and doing what got them there to begin with. Coach Gibbs, he told us, 'The scheme is not going be different. I want you out there playing football and flying around. I want you to react and move quicker on the field as far as calls and schemes.' He basically cut that in half, where we can do multiple things but it's a simplified version of it.
[+] Enlarge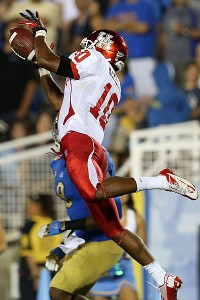 Stephen Dunn/Getty ImagesHouston cornerback Zach McMillian intercepted five passes last season.
And you feel guys embraced the simplified version this spring?
ZM:
Most definitely. I feel like a lot of guys who didn't have a lot of confidence, they believe in what they're doing, they believe in the scheme and want to play hard for him. Confidence is big as an athlete, and we wanted to make sure starting this next year coming up we all had confidence and believed and had a belief system in what we were doing and have faith in each other. You want to establish that trust in spring and I feel like we did that.
You mentioned playing young guys last year. How much will it help now that they have game experience?
ZM:
We have guys like
Trevon Stewart
,
Adrian McDonald
, those guys got acclimated to the speed of the game, and Trevon Stewart was an All-American so he played pretty well. I feel like we're trying to develop that continuity of DBs because we didn't have that last year. We played maybe seven DBs. We had some injuries, some guys weren't playing up to where they thought they should be at. We just want to really develop a tight-knit group.
You are the most veteran guy in the secondary. So do you feel like you are taking on more of a leadership role?
ZM:
I've tried my best to lead by example and so as far as this year I'm trying to do all the little things correct and make sure I'm executing at a high level and playing full speed. When you do that, the young guys see that and I feel that's the best form of leadership. I have a lot of help on the defense with
Derrick Mathews
and Trevon Stewart,
Eric Eiland
he knows what it is to play at a high level.
Last season did not go the way anybody wanted. How much motivation does that give you guys headed into this season, in a new conference?
ZM:
For me, it's a big deal personally because I felt coming in, I played a part of that 13-1 season. I felt like that was a failure for the people who played that season and not carrying it over. I felt like we weren't doing our job as far as the guys who played on that team to carry that tradition over to that next year. We had to get to the bottom of what we did. What was the problem for us defensively? We were thinking too much. We have a lot of great football payers on our team but when you're out there thinking and not reacting and playing not at a fast speed, things get on you too fast and you end up losing games. We try to use that and keep it in the back of our heads -- you pulled a lemon last year, you don't want to put that same product out on a field especially at a higher level conference with higher level competition.
Your dad played at Houston and then in the NFL. How much of an influence has he been on you?
ZM:
It's a humbling experience because he was a good football player here. He went on to play nine years in the NFL but I feel like knowing the history and what they did when he played here, he told me all the war stories, who they played and all that, I just try and remind our players of that. We want to develop that same chip on our shoulder going into this new conference.
Does he give you advice?
ZM:
He's worse than my coach. (Laughing) I appreciate every little bit that he gives me. He played the same position as me at a high level in the NFL so I try and soak in as much knowledge as possible. It's like having an answer to the test before you go in and take the test. If I don't listen to the answers, I'm stupid for not taking the answers. I try and learn and study everything he asks me to do.
January, 8, 2013
1/08/13
11:00
AM ET
Time to take an early look at the new-look Big East headed into 2013. Now, a few caveats: First, these rankings are subject to change many times before the season begins. Second, I am basing them mostly on returning starters and results from 2012. Since a majority of this league is new, I have not had time to sit down and watch every single game from every program.
Third -- we still have no idea if this is what the league will look like in 2013!
So give me a little time and take these for what they are -- a first take on 2013 with much more to come. *Note: Those looking for Pitt and Syracuse, check the ACC blog.
1. Louisville.
I think we can all agree here -- the Cardinals will go into the season as the prohibitive favorite to win the Big East.
Teddy Bridgewater
returns, along with just about every starter on a team that beat Florida in the Sugar Bowl. Get ready for this team to try to make another run.
2. Cincinnati.
I know the Bearcats have had a coaching change, but I like that the core nucleus returns. Cincinnati should have the best offensive line in the league;
Brendon Kay
got his sixth year, and so did emerging middle linebacker
Greg Blair
. While there are major players who have to be replaced, Cincinnati showed this year it has players to step right in and get the job done.
3. Rutgers.
I honestly think this might be too high for the Scarlet Knights. I may just still be suffering from sitting through the entire Russell Athletic Bowl. But there are major questions that have to be answered -- is
Gary Nova
any better at quarterback? Can
Savon Huggins
step right in for
Jawan Jamison
? Who steps up on a defense that loses its biggest playmakers? Far too many unknowns.
4. UCF.
I like
Blake Bortles
, and I like
Storm Johnson
, and the Knights are coming off a 10-win season as they join the Big East. To me, they are the best looking of the newcomers. Key players on defense have to be replaced, and don't forget that this team could be serving a postseason ban.
5. San Diego State.
The Aztecs return a majority of their starters, including Mountain West Offensive Player of the Year
Adam Muema
, who ran for 1,458 yards and 16 touchdowns this year. I watched their San Diego County Credit Union Poinsettia Bowl meltdown from start to finish. My takeaway -- if this team wants to make a serious run, it needs much better play out of quarterback
Adam Dingwell
.
6. USF.
In all honesty, the Bulls could be lower, given their performance the past two years. They have no quarterback. No running back. Questions all over the place on defense. And a new coach. Willie Taggart is going to need some time to change the program, but I think there is enough talent at some of the skill positions and up front for the Bulls to be more competitive in 2013.
7. Connecticut.
Considering the best players on defense are gone, it is hard to believe the Huskies will be much improved in 2013 over 2012. The defense was the best part of this team, and now it must replace the Big East leader in sacks, (
Trevardo Williams
), along with
Sio Moore
,
Blidi Wreh-Wilson
,
Jory Johnson
and
Dwayne Gratz
. Offensively, this group needs an overhaul. Will it get one before it's too late?
8. Houston.
The Cougars had a rough first year under new coach Tony Levine, finishing 5-7 in 2012. But there are some key players returning and a new offensive coordinator who should help steady the ship. Watch out for cornerback
Trevon Stewart
, named a FWAA freshman All-American.
9. Temple.
I think the Owls have a chance to make some major leaps up this list depending on how spring practice shakes out. There is a new coach in town in Matt Rhule, who knows better than anyone what it takes to win at Temple. He needs to make a decision at quarterback and find a running back, for starters.
10. SMU.
I do not have much hope for the Mustangs in Year 1, at least not yet. This team is taking bigger losses than any Big East newcomer. Starting running back
Zach Line
is gone. So are defensive standouts
Margus Hunt
,
Ja'Gared Davis
and
Taylor Reed
.
11. Memphis.
The Tigers made marked improvement in 2012 under Justin Fuente, going 4-8 -- including a three-game winning streak to end the season. Seventeen starters return, including quarterback
Jacob Karam
, so the Tigers definitely have momentum going into Year 1 in the Big East.