NCF Nation:

Trevor Hankins
March, 23, 2011
3/23/11
12:23
PM ET
A year ago, Arizona State headed into spring practices with lots of questions, and most projected the Sun Devils were bound for the bottom third of the Pac-10. This week, the Sun Devils begin spring practices with few questions and expectations that they should win the first Pac-12 South title.
Expectations do not win football games, but 18 returning starters from a team that went 6-6 and pushed three top-10 teams to the brink -- Wisconsin, Oregon and Stanford -- is a reasonable foundation for optimism.
Of course, there are still issues, starting with quarterback
Brock Osweiler
asserting himself as the leader of the offense after
Steven Threet
was forced to retire due to recurrent concussions. Threet is serving as a student assistant this spring.
"I'd love to have Steven, but without having him, I think it kind of identified who our leader is," coach Dennis Erickson said.
Some notes:
Who's out
: Arizona Republic writer Doug Haller was at the first practice Tuesday and
provided this list of players who were out or limited
: "... defensive end Junior Onyeali, receiver
Mike Willie
, safety Keelan Johnson, safety Eddie Elder, cornerback Deveron Carr, receiver
Aaron Pflugrad
and running back
Deantre Lewis
. Linebacker Brandon Magee was with the baseball team and didn't practice."
Haller also provided a depth chart from the first day.
Osweiler then who
? With Threet, Osweiler and
Samson Szakacsy
, the Sun Devils had three quarterbacks with starting experience. Without Threet and Szakacsy, who left the team to pursue other interests, the Sun Devils have a first-team quarterback with two career starts and no experience behind him. Redshirt freshman
Taylor Kelly
and big-armed true freshman Mike Bercovici are competing for the backup role, which is often a key spot seeing how often starters get hurt and miss action.
O-line competition
: If you're looking for a major reason the Sun Devils have high hopes, look no further than the line, which welcomes back, well, just about everybody from the two-deep. This will be a veteran unit led by senior center Garth Gerhart, younger brother of Toby. More than five guys have starting experience, so there may be some mixing and matching and shuffling as players fight for first-unit spots.
DT is the question
: Both starting defensive tackles, Lawrence Guy and Saia Falahola, are gone. The ideal rotation would be Corey Adams and Will Sutton starting, with Bo Moos and Toa Tuitea providing depth. But can Adams stay healthy? Sutton was academically ineligible last year, so he's high on talent and low on experience. Developing depth this spring will be critical. And might the Sun Devils use more three-man fronts? Said Erickson, "We're a 4-3 team," while still leaving the option open.
Can Burfict be perfect
? Of course, no one can be perfect, but Burfict, a junior linebacker likely spending his final season in Tempe, will play himself into becoming a first-round NFL draft pick in 2012 if he saves all his nutty behavior for between the whistles, not after. He needs to lead in word and deed, which means growing up and acting and playing like a man. The way-early returns this offseason are positive. "I'm trying to get us to a national championship," Burfict
told the Republic
, "and to do that, I feel like I need to become more of a leader."
Just for kicks
? The Sun Devils must replace kicker Thomas Weber and punter Trevor Hankins. Alex Garoutte and Parker Flynn are competing at kicker, with Garoutte the front-runner. JC transfer Josh Hubner is expected to win the punting job. Will the Sun Devils get quality or merely warm bodies here?
December, 1, 2010
12/01/10
7:34
PM ET
On page 13 of Arizona State's
weekly release
you find the team's depth chart. You don't need to review it now. We'll come back to that in a bit. The immediate business at hand for the Sun Devils is their game Thursday with rival Arizona.
The matchup is meaningful, and not just because it's a rivalry game that divides the state. It's also meaningful because the Sun Devils are still angling for a bowl berth.
While there are already 70 bowl-eligible teams, and Arizona State can't win seven games, the amount required by NCAA rules on bowl eligibility when you play two FCS teams, as the Sun Devils have, they nonetheless have submitted a waiver to the NCAA Legislative Relief Committee for review, and the Pac-10 office is backing that appeal with "emails and phone calls," according to a conference spokesman, Dave Hirsch.
"It is our hope that the waiver receives full consideration," Hirsch wrote in an e-mail. This was first reported by the
Arizona Republic
.
[+] Enlarge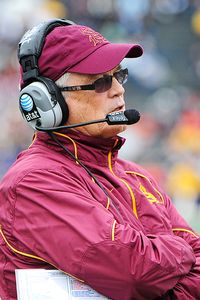 Kyle Terada/US PresswireArizona State coach Dennis Erickson only has 13 seniors on his 2010 roster.
So the Territorial Cup may or may not serve as a launching point for the Sun Devils in 2011. For one, they could lose; they are the underdogs in Tucson, where the 'Zona Zoo can be a bit of a problem. And, if they win, it might not be their last game, with the Holiday, Sun or Las Vegas bowls being potential options if the NCAA grants the waiver.
But now let's return to that depth chart. Just two likely starting position players against the Wildcats are seniors: receiver
Kerry Taylor
and defensive tackle Saia Falahola, who is listed as a co-starter with Bo Moos. In fact, the Sun Devils only have 13 total seniors. The only area in which graduations hits hard is with the specialists: both kicker Thomas Weber and punter Trevor Hankins are seniors.
That youth, coupled with a 5-6 record that includes four defeats by four or fewer points, suggests the Sun Devils could be pretty salty in 2011. As in: Top-25, top-third of the Pac-12 salty.
But, alas, coach Dennis Erickson wouldn't play along with this line of thinking -- Thursday as a potential launching point for promising 2011 campaign -- which is probably wise. He does have a game to get ready for, you know.
"I don't know if you can look at it as that. You've got to look at it as what it is," he said. "We're worried about what is going to happen Thursday, not next year. But when they're young like that, with some of the guys we've got coming back, you look forward to the next year -- when this year is over with."
As for the Wildcats, the present situation is they are headed to a good bowl game, but they'd like to show up at that game without a sign saying "Four-game losing streak!" blinking over their collective heads. A win, and they likely head to the Alamo Bowl. A loss, and they might end up the Holiday Bowl if Washington beats Washington State.
Coach Mike Stoops doesn't beat around the bush when assessing why his team's fortunes have been sagging of late after they played into the nation's top-10 earlier in the season.
"We've played better teams down the stretch, teams that emphasize running the football," he said. "Our inability to stop the run consistently has led a little bit to our demise."
The last three foes -- Stanford, USC and Oregon -- each rushed for more than 200 yards in wins over the Wildcats, including 389 yards on the ground from the Ducks. But the Sun Devils, not unlike the Wildcats, are a passing team. Arizona ranks No. 1 (314 yards passing per game) and the Sun Devils second (288.2 yards per game) in the Pac-10 in passing.
Speaking of passing, both teams have interesting quarterback situations, which will be interesting heading into the offseason and spring practices as well.
When Sun Devils starter
Steven Threet
suffered a concussion early against UCLA,
Brock Osweiler
came off the bench and was brilliant, passing for 380 yards and four touchdowns. He'll start Thursday, and if he plays well, expect there to be another tight QB competition in Tempe before the 2011 season.
As for the Wildcats,
Nick Foles
is one of the best quarterbacks in the country and likely will get preseason All-American attention in 2011. He threw for a career-high 448 yards at Oregon last week. Still, backup
Matt Scott
did enough in two starts while Foles was hurt to make a big impression on Stoops.
"It will be a conversation for another day how we move forward with both of these players moving into their senior year next year," Stoops said.
In other words, he wants Scott to anticipate playing a role next fall as more than a pure backup.
Last year's game between these two was a defensive-minded thriller, a 20-17 Arizona victory that was heartbreaking for the Sun Devils. ASU receiver Kyle Williams made a spectacular catch in the end zone to tie the game at 17, but just moments later he muffed a punt that set up the Wildcats' game-winning field goal. Afterwards, their was a brief fight at midfield as tempers flared.
Expect another tight one in this underrated rivalry.
"They are much improved football team than they were a year ago," Stoops said. "They are way better offensively. They have an identity."
If Stoops' team prevails, it figures to return to the national rankings -- it's already No. 23 in the BCS standings -- and then play in a quality bowl game against a nationally ranked Big 12 team.
It's not yet certain what a win would mean for the Sun Devils in terms of the postseason. But an upset victory might be viewed this way in the big picture: As a launching point for justifiable optimism heading into 2011.
June, 3, 2010
6/03/10
6:13
PM ET
At what position is the Pac-10 deep? At what position in the Pac-10 thin? Here's the third of three parts taking a look at just that.
Deep: Specialists
[+] Enlarge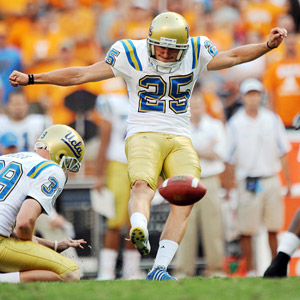 Jim Brown/US Presswire Kai Forbath of UCLA is one of two Lou Groza Award winning kickers returning to the Pac-10 this season.
Why is it deep
? Eight teams welcome back both their punter and kicker, and many of them are quite happy about that. Three conference kickers ranked among the top-20 in field goals per game, while three punters ranked in the top 21. No team is replacing both specialists. Oregon is replacing kicker Morgan Flint and USC is replacing kicker Jordan Congdon, who ranked fifth and seventh, respectively, in field goals per game in 2009.
The big names
: Start with two Lou Groza Award winning kickers: UCLA's Kai Forbath (2009) and Arizona State's Thomas Weber (2007). Then there's Oregon State's Justin Kahut, who made 22 of 27 field goals with a long of 50, and Washington's Erik Folk, who was 18 for 21 with a long of 48. As for the punters, Arizona State's Trevor Hankins ranked No. 1 in the Pac-10 and 10th in the nation in punting (44.2 yards per punt), while UCLA's Jeff Locke (43.6) was 16th in the nation and Washington State's Reid Forrest (43.2) was 21st. Oh, and California's Bryan Anger might have the biggest foot of everyone; he dropped a conference-high 24 punts inside the 20 last year.
Thin
:
Linebacker
Why is it thin
? Four of the six linebackers who made up the first and second All-Pac-10 teams are gone as are five of the 11 LBs who earned honorable mention. Only two teams -- USC and Oregon -- welcome back all of their starting LBs from 2009, and a big story this spring was the Trojans lack of depth at the position, while the Ducks moved Eddie Pleasant to safety (in large part because of depth at the position). Arizona is replacing all three starting linebackers, while Arizona State, Oregon State and UCLA only have one returning starter at the position (though the Beavers outside linebacker platoon of Dwight Roberson and Keith Pankey probably should count as more than one starter).
Fill the void
? This is not a "strength" position, but the cupboard is hardly empty: UCLA's Akeem Ayers, California's Mike Mohamed and Arizona State's Vontaze Burfict are All-American candidates, while Oregon's Casey Matthews earned second-team All-Pac-10 honors in 2009 and Washington's Mason Foster is a likely breakout player. The Ducks, in particular, are fast and deep at linebacker, while the Sun Devils aren't far behind in terms of young talent.
December, 8, 2009
12/08/09
3:07
PM ET
We copped out at running back, but it just didn't seem fair to recognize only two.
First-team offense

QB
Sean Canfield
, Sr., Oregon State
RB
Toby Gerhart
, Sr., Stanford
RB
Jacquizz Rodgers
, So., Oregon State
RB
LaMichael James
, RFr., Oregon
WR
James Rodgers
, Jr., Oregon State
WR
Damian Williams
, Jr., USC
TE
Ed Dickson
, Sr., Oregon
OG Jeff Byers, Sr., USC
OG Gregg Peat, Sr., Oregon State
OT Charles Brown, Sr., USC
OT Chris Marinelli, Sr., Stanford
C Kenny Alfred, Sr., Washington State
K Kai Forbath, Jr., UCLA
First-team defense

DT Brian Price, Jr., UCLA
DT Stephen Paea, Jr., Oregon State
DE Tyson Alualu, Sr., California
DE Daniel Te'o-Nesheim, Washington
LB Keaton Kristick, Sr., Oregon State
LB Mike Mohamed, Jr., California
LB Donald Butler, Sr., Washington
S Rahim Moore, So., UCLA
S Taylor Mays, Sr., USC
CB Trevin Wade, So., Arizona
CB Alterraun Verner, Sr., UCLA
P Trevor Hankins, Jr., Arizona State