NCF Nation:

Trevor Robinson
April, 3, 2012
4/03/12
5:50
PM ET
Representatives from 27 NFL teams were present Tuesday for Notre Dame's pro day. The Irish just released numbers and notes from the event. Here you go ...
Robert Blanton (4.53/4.56) had the fastest 40-time among the five former Irish players who ran it. His 4.53 would have been fourth among safeties at February's combine in Indianapolis, and would have tied for 12th among cornerbacks.
The other 40 times from Tuesday: Darius Fleming (4.58/4.54), Gary Gray (4.75/4.70), Trevor Robinson (5.24/5.22), and Taylor Dever (5.38/5.34).
Robinson, who was not invited to the combine, would have been the only offensive lineman there to rank among the top 10 in vertical jump (30 inches; tied for 8th), broad jump (8 feet, 9 inches; tied for 6th), bench press (31; tied for 8th), and 40-yard dash (5.22; 8th).
Jonas Gray improved his bench press number from 20 at the combine to 22 Tuesday.
David Ruffer hit 13 of 15 field goals.
Harrison Smith's 60-yard shuttle time (11.52) would have been the fastest time among safeties at the combine. That was the only timed drill Smith participated in Tuesday.
Michael Floyd ran an 11.66 in the 60-yard shuttle. The 3-cone drill (7.13/7.11) and pro agility drill (4.23/4.37) were the only other timed drills he took part in Tuesday.
September, 16, 2011
9/16/11
10:00
AM ET
SOUTH BEND, Ind. -- Harrison Smith could do nothing but watch from the sideline four years ago. The frustration that mounted with every play and every loss on seemingly every Saturday had to be put in reserve until he took the practice field the following Monday.
But Smith doesn't want to relive the year he didn't play, his freshman year -- the last time, and only the second time, Notre Dame started a season 0-3.
"All I'm looking at is Michigan State," Smith, now a fifth-year captain, said. "I'm not worried about what happened a couple of years ago, a week ago, yesterday. Focus on right now. Focus on Michigan State and that's where the team's at. That's all we can control, so we're putting everything into preparing for Michigan State."
Smith is one of just six current scholarship players who lived through the Fighting Irish's 2007 season, a campaign that got off to an 0-5 start and ended with a 3-9 record.
[+] Enlarge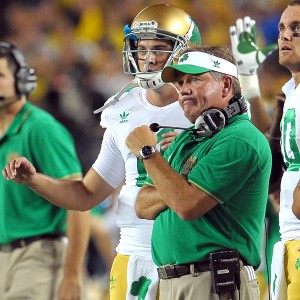 Matt Cashore/US PresswireDespite their 0-2 record, Brian Kelly's Irish have piled up over 1,000 yards of total offense.
But through two weeks and two losses this season, the similarities between the 2007 team and this one ends with the win column and a few familiar faces.
And, in the case of the only other Irish squad to start 0-3, the 2001 group, the parallels are even thinner.
No, Notre Dame certainly didn't envision itself still searching for win No. 1 as it welcomes the defending co-Big Ten champions into town Saturday, not in a season that began with a No. 16 ranking and BCS bowl aspirations.
But the Irish have done enough through two games to suggest that better days are on the horizon.
In two losses this season by a total of seven points, Notre Dame has 1,021 total yards of offense, something it hasn't done through two games since 1974. That season, Ara Parseghian's last as head coach, began with two wins by a combined score of 80-10. More importantly, it ended with a No. 6 ranking after an Orange Bowl win over Alabama made Notre Dame 10-2.
Quite a far cry from 2007, when the Irish were outscored 64-13 through two games. Or even 2001, Bob Davie's fifth and final season as head coach, when Notre Dame was outscored 44-20 and finished the season 5-6.
Which would explain Smith's reaction when asked if any memories from 2007 have popped up this week.
"No, I play DB, so we have a short memory," the safety said flatly, "so I don't remember anything."
The edgy demeanor pleased head coach Brian Kelly, whose message this week was sent by running a live practice Wednesday, the first time he's done so during a game week in his two seasons on the job.
"I think everybody's probably a little bit, I don't know -- I don't want to say annoyed -- but nobody's happy, and I'm OK with that," Kelly said. "Nobody should be in a great mood. We've got work to do, and I think those guys probably reflect the feelings of the entire team."
Kelly has been in this situation before, just never under the spotlight that comes with coaching the third-winningest program in college football history. He has suffered through five 0-2 starts in his previous 20 years as a head coach, even going 0-3 in 1999 and in 2000 at Div. II Grand Valley State. But Kelly finished only one of those five seasons with a losing record, going 4-7 in his first year at Central Michigan in 2004.
Naturally, Kelly has refused to call Saturday's contest against the No. 15 Spartans the most important game of his two-year tenure with the Irish.
And he won't look ahead to what's still left for Notre Dame to accomplish over 10 more games.
"I don't think you can look at it anymore about what's at the end of the season other than playing better right now," Kelly said. "We have to be focused right now on Saturdays, because we haven't played well. We can't think about what's in the future; we have to focus on making money right now. And that means winning for our guys. So it hasn't been hard for me to keep our guys focused because they're 0-2. They're focused on one at a time.
"Hey, if we string together seven or eight in a row, then we can start thinking about hey, what's it look like at the end of the season. But it's too early."
For now, a loss Saturday would be nothing more than just that.
"0-3," guard Trevor Robinson said, "would mean the fourth game is that much more important."
September, 14, 2011
9/14/11
2:00
PM ET
SOUTH BEND, Ind. -- If nothing else, Notre Dame knows what it will see this Saturday as it goes for its first win of the season.
"The Big Ten champions are coming to town," Fighting Irish defensive coordinator Bob Diaco said. "They're a smash-mouth team, pride themselves on knocking people around, and if you're a tough guy and you see yourself as a big guy and tough guy, well then you're getting ready for that game and you're mentally preparing for that style of battle."
[+] Enlarge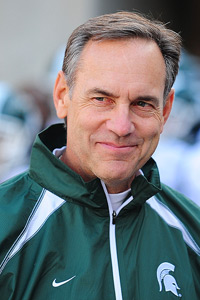 Andrew Weber/US PresswireMark Dantonio's teams are know for being disciplined and physically tough.
Michigan State doesn't boast a
B.J. Daniels
or a
Denard Robinson
, dual-threat quarterbacks who create nightmares for opposing defenses as they prepare. The Spartans play a more deliberate brand of football, one reliant on a running game that utilizes four different backs and a defense that currently ranks fourth overall in the country.
In other words, the Irish know what they're getting, know what they need do and know they just have to go out and do it.
"They're the same team every year," center Braxston Cave said. "They're big, they're physical and that's their game -- they're going to try to come in and out-physical you. And this isn't a team you want to out-physical, and we're planning on proving that on Saturday."
The Irish have shown a steady run game themselves this year, with
Cierre Wood
surpassing the 100-yard mark in each game and the team rushing for 315 yards overall.
But the offense's fourth-quarter performance Saturday in which it went 0-for-3 in third-down situations of three yards or fewer itches at the linemen.
"Definitely," Cave said, "because you'd like to go man-on-man and just out-physical the other team, but when you get those extra guys in there it becomes maybe one against two, and that's really not in your favor sometimes."
Running game coordinator and offensive line coach Ed Warinner believes the ground game has been much more efficient in the second season under this staff, short-yardage plays excluded.
That's where execution comes into play, and the Irish's ability in those situations will determine whether the run game can ultimately be deemed successful or not.
"Production is what you look for, and that doesn't necessarily mean the total number of yards," guard Trevor Robinson said. "It means being efficient when you need to. Just like being a balanced offense doesn't mean you run the ball and pass the ball the same amount of times; it means you do them efficiently when you need to."
As the Irish have learned through two weeks, turnovers and blown assignments can be costly, something that takes on even greater meaning this week against a sound team like MSU.
Irish head coach Brian Kelly succeeded Mark Dantonio as head coach at Cincinnati, and he knows the trademarks of a Dantonio-coached team.
"He demands discipline, attention to detail," Kelly said of the MSU coach. "He demands all those things on a day-to-day basis, a toughness to his football team. He wants them mentally and physically tough, and that's what you've got to be to be a Big Ten champ like they were last year. I know Mark does a great job in attention to those specific areas."
September, 14, 2011
9/14/11
10:30
AM ET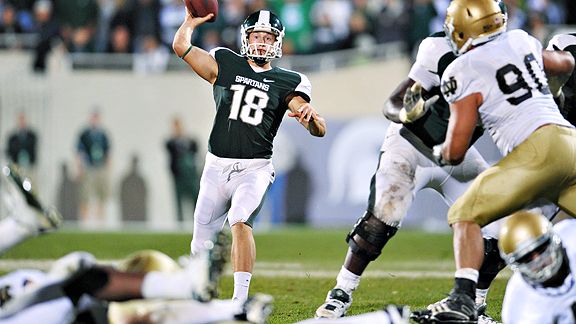 Matt Cashore/US PresswireNotre Dame hasn't forgotten how it lost last year's game to Michigan State.
SOUTH BEND, Ind. -- Trevor Robinson sees it over and over again and can't help but run through number of possible ways Notre Dame could have prevented it.
"You think all we had to do was this ..."
But ...
"But when I was sitting there watching the field goal, it took me until the play was over to realize they're in a fake, because I was zoned in on them missing the field goal. I was picturing that in my mind.
"It is what it is. It's a gutsy play call and it worked out for them."
For the Fighting Irish, a matchup with Michigan State this Saturday serves as a harsh reminder of the way the Spartans utilized a play out of a video game to record a home victory last season.
The situation: Overtime, down 31-28 and facing a fourth-and-14 and from the Irish 29, MSU trotted out its field goal unit, seemingly hoping to force a second overtime.
"I was getting ready, me and Armando [Allen] were sitting right next to each other,"
Jonas Gray
recalled, "and we were sitting and going over what we thought the defense was doing."
But not even the best-prepared unit could have predicted punter, holder and former high school quarterback Aaron Bates taking the snap, hopping to his feet and hitting tight end Charlie Gantt with a perfect throw for a game-winning touchdown, securing a 34-31 Spartans win and making the play call, "Little Giants," a smashing success.
"We were on the sideline just watching, and it was unbelievable," Braxston Cave said. "I couldn't believe it just happened. It did. It took some time. Even walking back into the tunnel I couldn't believe it just happened. I still can remember the feeling of walking off the field after that play."
Added head coach Brian Kelly: "I think the down and distance was a bit of a surprise. We know in that situation, regardless of it, we had to defend it better. But no, I thought it was a great call. It worked."
Offensive line coach and run-game coordinator Ed Warinner called the ending "devastating." Warinner coached the Spartans' linebackers and secondary from 1985-86, when he met his wife, Mary Beth.
She, of course, was working in the school's football office. And, of course, is from a family full of MSU graduates.
"I always go back there, there are so many people there that I still know that I worked with that are part of the shaping of my career and the support mechanisms," Warinner said. "Mark Dantonio and I coached together at the University of Akron, we actually lived together for six months, so we're very close and I know other guys on that staff very well as well.
"So it's one of those things."
Gray drew parallels to that loss and the one Notre Dame is currently rebounding from, a 35-31 loss to Michigan that saw three lead changes in the final 72 seconds.
But Kelly's 24-hour rule couldn't prevent Gray from running into the fake field goal while randomly turning on the television during the offseason.
"You pretty much take the reaction you had before," Gray said. "Still surprised, and realizing how close we were and just a guy here, there and they were able to get that play. You just realize how close you are and how you don't ever wanna be put in that position again."
Hours later, Dantonio, the Spartans' head coach, suffered a mild heart attack. He returned to coaching in the press box three weeks later at Michigan, then to the field two weeks after that at Northwestern.
The Spartans won that game thanks in large part to a fourth-quarter fake-punt call, appropriately titled "Mousetrap."
MSU finished the regular season 11-1 and in a three-way tie for the Big Ten title, and it now has the bull's-eye on its back against a 0-2 Irish squad all-too-familiar with last-second defeats.
"Very shocking," Cave said. "It was the last thing I expected, and it's disappointing. Definitely still got that bad taste in our mouth from that, and to see the highlight over and over when they show the top plays from last year, makes you sick to your stomach.
"And it's definitely something we haven't forgot about, and it's a little extra motivation going into this week."
April, 12, 2011
4/12/11
11:00
AM ET
SOUTH BEND, Ind. -- Like most people, Notre Dame guard Trevor Robinson had a preconceived notion when he first heard that Brian Kelly would be the new Irish head coach.
"My first thought was, 'Are we going to be pass-blocking 50 to 60 times a game?'" he said.
Kelly was known for his wide-open, high-powered spread offenses at Central Michigan and Cincinnati, and some wondered if that could work when the weather turned cold in South Bend. The opposite turned out to be true. Notre Dame took off late in Kelly's first season just as November arrived and it became -- dare we say it -- more of a smash-mouth team.
[+] Enlarge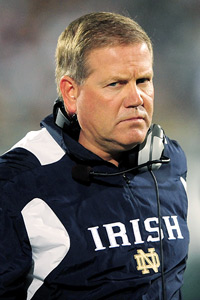 Andrew Weber/US PresswireCoach Brian Kelly has emphasized developing toughness in his football team.
Kelly had preached building toughness and putting the fight back in the Fighting Irish, which might have come across merely as good slogans. But that's just what happened in the final four games of 2010, all victories. In three of those four wins, Notre Dame ran the ball more times than it passed; the exception was the USC game, when the Irish used the ground game for the winning drive. The defense also threw its weight around, allowing fewer than three yards per carry in those four wins.
Last year's finish made it clear that Kelly had no intention of repeating the Charlie Weis era (i.e., throwing out gaudy offensive stats but folding up when other teams punched the Irish in the mouth). Yes, he had little choice but to change his style of play once skill players like
Dayne Crist
, Armando Allen and
Kyle Rudolph
got hurt. He also found out the true heart of his team lay in the trenches.
"I think it takes away any of the concerns that we're just going to run the spread because that's all he knows," Kelly said. "Our playbook is pretty thick, and we're going to do the things offensively that takes advantage of our strengths. The only group that was together for whole year for us was the offensive line, and I told them, 'Listen, you're going to have to carry the load for us.' That's how I think we started to have an identity."
There was no way of knowing that early in the year, as Taylor Dever and Zack Martin were first-time starters at the tackle spots, while Braxston Cave took over starting duties at center. Dever and Martin exceeded even optimistic expectations, and the line gained confidence as the year progressed. The offense leaned on the guys up front once true freshman
Tommy Rees
became the starting quarterback.
"The last four or five games were maybe the first time in my career that I felt like the offensive line was the unit that stepped up and increased our production to help the team out," Robinson said.
That line could once again lead the way in 2011 as every starter but guard Chris Stewart returns. Andrew Nuss and Chris Watt are competing for that spot, and the Irish think youngsters Tate Nichols and Chris Lombard can add depth.
"With the veterans coming back now, we can push past beyond just assignment and get to really good fundamentals," offensive line coach Ed Warriner said. "We can focus on footwork, technique and the little intricacies that make you a really good player. We're trying to go from gaining four or five yards on a running play to gaining six or seven."
The veteran offensive line's counterpart is a defense that came on strong at the end of last year and has added blue-chip talent in the front seven. Even when it looked like star receiver
Michael Floyd
could face a long suspension for his DUI arrest, Kelly remained confident Notre Dame could win without him because of the lines on both sides of the ball.
That type of toughness may not be what Kelly was known for in the past, but he appears to be building it in the present and for the future.
"At Central Michigan, they were starving for an offense," Kelly said. "At Cincinnati, we were trying to make that program relevant, so we had to have something we could sell, which was a no-huddle, exciting offense.
"Then you get to Notre Dame, and it's just about winning. We don't have to sell tickets, we don't have to raise money, we don't have to worry about any thing other than winning football games. So, schematically, it's about who on our football team will allow us to win games, and our strength is our offensive and defensive lines."
August, 7, 2010
8/07/10
4:12
PM ET
SOUTH BEND, Ind. -- Notre Dame hit the practice field at 3 p.m. Saturday for its first official fall workout under new coach Brian Kelly.
The media was allowed to watch the first 30 minutes of practice, and I'd be lying if I said it was an illuminating time (we saw mostly stretching and some positional work, and of course the players are just in shorts and jerseys at this point). But here are a few minor observations from the first Irish practice of the 2010 season:
Much of the spring was about the players getting used to Kelly's fast-paced drills. They look better equipped to handle that today. The first drill after stretching for the offense is called "Tempo," where the quarterback, running back, receivers and linemen sprint through a series of plays down half the field. The pace is dizzying, and a few players were breathing heavily after the first couple of minutes. But they got through it.
Well, maybe they're not totally accustomed to the pace. During a drill where teammates try to strip the ball from each other, wide receivers coach Tony Alford screamed, "Is that as fast as you can run? Because if not, you're screwing the drill!"
Quarterback Dayne Crist wore a brace on his surgically-repaired right knee, but he ran full speed and looked sharp. Health is no longer a concern for him.
Kelly spent most of his time in the open part of practice with the quarterbacks, which isn't surprising since that position needs a lot of attention. Freshmen Luke Massa and Andrew Hendrix got their first indoctrination into a Kelly practice, and their arrival gave the team six quarterbacks to work with. Massa is tall -- listed at 6-foot-4 -- and very lanky at 215 pounds.
There weren't any depth chart surprises. Freshman TJ Jones lined up with the first-stringers at receiver instead of senior Duval Kamara, who was listed at No. 1. The starting offensive linemen, as expected, were Zack Martin at left tackle, Chris Stewart and Trevor Robinson at guard, Dan Wenger at center and Taylor Dever at right tackle. Kelly said Friday that the offensive line is the one position where there could be a lot of moving and shaking, though Stewart and Robinson sure seem like locks.
Freshman defensive tackle Louis Nix is listed at 350 pounds and if it's possible, looked even bigger. He appeared to be struggling in some of the basic conditioning drills to start practice. It's too early to say he won't contribute this year, but Nix has a long way to go at a position that lacks depth.
Not much to glean from the defense on a day when it isn't in pads or hitting anybody or even covering an offense during the open period. I did notice that nose guard Ian Williams -- whom Kelly singled out on Friday as one of the biggest weight room gainers -- appeared noticeably bigger than a year ago and certainly passes the look test for a run-stuffer.
Only four weeks until the 2010 opener against Purdue.
May, 4, 2010
5/04/10
6:06
AM ET
Notre Dame

2009 overall record:
6-6
Returning starters
: Offense: 6. Defense: 8. Punter/kicker: 2
Top returners
: WR
Michael Floyd
, RB Armando Allen, TE
Kyle Rudolph
, OL Chris Stewart, OL Trevor Robinson, LB Brian Smith, LB Manti Te'o, DE Ethan Johnson, DE Kapron Lewis-Moore, S Harrison Smith, LB Darius Fleming
Key losses:
QB Jimmy Clausen, WR Golden Tate, C Eric Olsen, OT Sam Young, OT Paul Duncan, S Kyle McCarthy
2009 statistical leaders (* returners)
Rushing:
Armando Allen* (697 yards)
Passing:
Jimmy Clausen (3,722 yards)
Receiving:
Golden Tate (1,496 yards)
Tackles:
Kyle McCarthy (101)
Sacks:
Ethan Johnson* (4)
Interceptions:
McCarthy (5)
Spring answers
1. Picking up the pace:
When spring practice began, first-year Irish coach Brian Kelly lambasted his team's inability to work at the break-neck speed his system requires. It was a culture shock for players groomed in the more NFL-style practices of Charlie Weis. By late spring, though, both Kelly and his team seemed comfortable in the new tempo, which should help both sides of the ball be in shape this fall.
2. There is a backup quarterback on campus:
Dayne Crist
entered the spring after ACL surgery, and there was precious little depth behind him at quarterback. Nate Montana stepped forward in the spring game, though, completing 18-of-30 passes for 223 yards and three touchdowns. You shouldn't read too much into a spring game performance -- Montana himself said it was his best practice of the year -- and Joe Montana's son could easily get usurped by one of three freshmen this fall. But at least the cupboard isn't completely bare behind Crist.
3. Defensive fits:
The Notre Dame defense will remain a concern until it actually stops people on a consistent basis. Still, Kelly sounded pleased with where the defense was at the end of spring. Guys like Ian Williams, Ethan Johnson, Darius Fleming and Manti Te'o just look like they fit in their spots in a 3-4 defense more than they did in last year's 4-3. That and added experience could make the Irish a little stronger on that side of the ball in 2010.
Fall questions
1. The offensive line:
Kelly mixed and matched players on the O-line this spring, trying Trevor Robinson at tackle at one point. There's no depth chart, so it's hard to say what mix the Irish are looking at right now. But tackle and center appear to be question marks, which is no surprise following the graduations of Sam Young, Paul Duncan and Eric Olsen.
2. For Crist's sake:
The public didn't get a chance to see Crist in many competitive situations this spring, and let's remember that he was limited in his mobility because of that ACL surgery six months earlier. Still, he threw two interceptions in the spring game without a defensive pass rush to worry about, and Kelly is notoriously hard on his quarterbacks. The Irish offense should be loaded in 2010, but Crist will have to continue to develop and improve this summer.
3. Inside linebacker depth:
Te'o has a chance to emerge as a superstar at middle linebacker, but the true sophomore might be the most experienced player at his position right now. Carlo Calabrese, Anthony McDonald, David Posluszny and
Steve Paskorz
-- who moved over from fullback -- have to establish themselves in the middle to make the 3-4 defense really work.
February, 16, 2010
2/16/10
11:30
AM ET
Notre Dame players will get their first experience of what it's like to play for Brian Kelly this spring.
It will be an important time for the Irish and their first-year coach as he uploads his spread offense, evaluates roles and generally instills a new way of doing things.
Here is a primer on what to watch for during spring practice in South Bend.
Notre Dame Fighting Irish
Spring practice starts:
March 26
Spring game:
April 24
What to watch:

• The quarterback situation. There's no more important position on the field, especially in Kelly's system, and he usually likes to have gobs of quarterbacks available. However, he'll have to undergo his first spring at Notre Dame shorthanded. Sophomore
Dayne Crist
, the presumed starter in 2010, is recovering from a torn ACL he suffered midseason, and just how much he'll be able to do remains a question. Certainly the coaching staff won't want him to endure contact or risk further injury, because the depth behind him is almost nonexistent.
Signee Tommy Rees enrolled early and can chip in, and perhaps receiver
John Goodman
can go under center for some reps. Notre Dame will likely just have to get through the spring until reinforcements -- from the likes of signees Andrew Hendrix, Luke Massa and possibly multi-talented athletes Derek Roback and Danny Spond -- arrive in the summertime.
• Defense, defense, defense. Quite simply, the Irish didn't play much of it in 2009, and how they fare in 2010 will likely depend largely on the improvement Kelly and new defensive coordinator Bob Diaco can bring to the unit. Diaco will install the 3-4, which will put a premium on defensive linemen like Ethan Johnson and Ian Williams continuing to make strides.
Going into his first spring after a promising rookie year, linebacker Manti Te'o could be ready to take the next step toward superstardom. The secondary was hit hard by graduation, and early enrollees Chris Badger, Spencer Boyd and Lo Wood may be given a shot to win playing time there. Most of all, Kelly and Diaco need to find out who the playmakers are and figure out the best way to utilize them.
• The offensive line transformation. The Irish started four seniors on the offensive line last year, and super sub Dan Wenger also graduated. Only guard Trevor Robinson returns, though luckily for the team he had a strong sophomore season. Replacing longtime starters like Sam Young and Eric Olsen won't be easy. And though the previous coaching staff planned for the eventual departure of the '09 starters, Kelly wants more athletic, faster offensive linemen for the spread system than Charlie Weis needed for his pro-style attack. The spring will be a key time for that changeover to begin to take root.
Posted by ESPN.com's Brian Bennett
Here's some of what's being written about Notre Dame as the Irish approach their game against Navy on Saturday:
"It was a concern when I got here, because I know they were like -- for lack of a better term -- abused," Irish offensive line coach Frank Verducci said. "It was like they'd been locked in the closet."
Posted by ESPN.com's Brian Bennett
Irish links are smiling.
August, 7, 2009
8/07/09
6:00
PM ET
Posted by ESPN.com's Brian Bennett
SOUTH BEND, Ind. -- A few leftover notes from the first day of Notre Dame's weekend media extravaganza:
• A new depth chart was handed out shortly before coach Charlie Weis addressed reporters, and there were some changes from the spring. The most significant differences were on the offensive line.
Senior Eric Olsen, who started all 13 games at left guard last season, is now listed as the first-team center. Last year's starter at center, Dan Wenger, was banged up this spring. Sophomore Trevor Robinson is now No. 1 at right guard, while Chris Stewart has moved from right guard to left guard.
"We intend to play the best five guys," Weis said. "If Danny can beat out one of those three guys, then we'll shuffle accordingly. Right now, going into day one, that's where they are."
Weis said he's been planning this move for a while, but Robinson wasn't available in the spring because of a shoulder injury.
"With our scheme, the guy who gets isolated a whole bunch of times is the right guard," he said. "I think we believe that he's a guy that could athletically be in that position to give us the best chance to be successful."
• Speaking of the offensive line, Weis was encouraged by the newfound depth at the position.
He said this will be the first time in his tenure that he'll have 15 O-linemen on scholarship, and some young players have stepped forward in the weight room. He mentioned sophomore Braxston Cave, who bench-pressed 520 pounds this summer.
"That's not numbers; that's big numbers," Weis said. "Now, I don't know how that's going to translate into performance, but I do know that I'm encouraged with the number of people we're going to see when we walk out there."
• Freshman Manti Te'o, one of the nation's top recruits in last year's class, is currently listed as the backup will linebacker behind Brian Smith. But Te'o could play any of the three linebacker spots and has a great chance to start right away.
"He's very confident and understands the game from both sides," defensive coordinator Jon Tenuta said.
Weis said Te'o was physically no different than Smith and other upperclassmen at 6-foot-2, 244 pounds. I'm really looking forward to seeing Te'o running around in the open portion of tomorrow's practice.
• Wide receiver Golden Tate was one of 30 players nominated for the Walter Camp Award, which is given to the nation's top player.
TOP 25 SCOREBOARD
Saturday, 12/21
Monday, 12/23
Tuesday, 12/24
Thursday, 12/26
Friday, 12/27
Saturday, 12/28
Monday, 12/30
Tuesday, 12/31
Wednesday, 1/1
Thursday, 1/2
Friday, 1/3
Saturday, 1/4
Sunday, 1/5
Monday, 1/6
TOP PERFORMERS