December, 10, 2014
Dec 10
9:00
AM ET
ATLANTA -- In the waning moments of Alabama's
42-13 win
against Missouri in the SEC championship game, quarterback
Blake Sims
beelined toward the man in white.
Rocking that patented visor and his light, white Alabama jacket, offensive coordinator Lane Kiffin embraced his signal-caller, swaying back and forth, as if they were the only people inside the Georgia Dome.
[+] Enlarge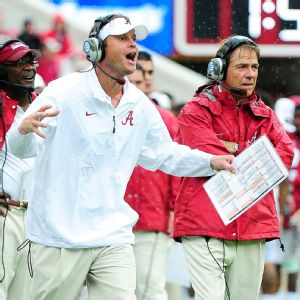 Scott Cunningham/Getty ImagesOffensive coordinator Lane Kiffin has helped to revolutionize an already powerful Alabama offense under coach Nick Saban -- in just one season.
It was a sign of victory and raw elation. It was also a sign of the times, something many familiar with Alabama's program didn't see coming the day Kiffin, essentially a runoff head coach, was hired by Nick Saban to guide his offense.
"He is exactly what I thought he was, does what I expected him to do," Saban said of Kiffin the day before the SEC title game. "I got exactly what I expected. I don't think anybody else expected what I expected, to the point where I even got criticized for doing it by a lot of people.
"But I got what I expected. You all didn't get what you expected."
Saban isn't one to make many mistakes, especially when it comes to who he puts around himself and within his program. He knew what he was doing with Kiffin, and now, No. 1 Alabama (12-1, 7-1 SEC) is weeks away from playing in the first round of the College Football Playoff (the Allstate Sugar Bowl vs. Ohio State, Jan. 1, 8:30 p.m.) because of Saban's willingness to evolve and leap outside of his incredibly successful box.
The master of controlling, power football decided to speed things up and spread things out. He supported "fast ball" and "speed ball" after initially challenging the up-tempo philosophy. He has mixed in some of that previous burly ball, but for the most part, Saban has adapted to the more modern offensive approach. He is letting his passing game set up the run and has his most explosive Alabama offense ever.
This likely wasn't easy for Saban, but it was necessary.
"A couple of years ago, I don't know if we would have done that," senior center
Ryan Kelly
said of Alabama's new fast-paced offense. "That's just kind of the difference that [Kiffin] brings. Whenever you can do that, it throws the defense off track."
The man who famously -- or infamously -- left Knoxville under the cover of darkness and never excelled as a head coach on the West Coast has become a born-again genius inside the Church of Saban. When Kiffin is dialed in, as he was for most of Alabama's 504-yard offensive clinic in Atlanta at the SEC championship game, you'd be hard-pressed to find a better coordinator in the game.
He immediately befuddled Mizzou's impressive defense with a barrage of quick passes and a tiring pace on Alabama's opening drive that led to 10 plays, 68 yards of brilliance, and a touchdown by the Crimson Tide -- and 3½ minutes of pain for Mizzou.
During Alabama's 14-point second quarter, Kiffin threw more misdirection in with the short passes and tempo. He even called a third-down quarterback draw with an empty backfield on Alabama's side of the field. Kiffin had no fear. He trusted his players and knew exactly where and how to hurt his opponent.
"He's a great offensive coordinator for a reason," Kelly said.
And after a lull in the third quarter, Kiffin mixed bruising ball with speed to bury the Tigers with 134 rushing yards, 21 straight points and 9.5 yards per play in the fourth quarter.
"When we can do that in the fourth quarter," Kelly said, "that's when we finish people off."
The diversity of Kiffin's play calling has been the backbone of this offense. Sims, who is second in the SEC with a school-record 3,250 yards this season, has been the one coming up in the clutch and extending plays with moves and decisions that Saban's quarterbacks rarely ever contemplate. Sims, a former running back and safety at Alabama, has been molded into an SEC title-holding quarterback who set a record for completion percentage (85.2 percent) in the SEC championship game and has thrown an SEC-leading 26 touchdowns this season.
Kiffin's management has Alabama averaging 490.5 total yards and 281 passing yards per game, the highest ever during Saban's eight years in Tuscaloosa. This isn't Alabama's typical ground-and-pound approach; this is Kiffin's near-Air Raid philosophy that has Alabama cruising into the modern age of offensive football.
He has a Heisman Trophy finalist in receiver
Amari Cooper
(115 catches, 1,656 yards, 14 touchdowns) and an offense that has registered 500-plus yards eight times, including the past three games; the next highest during Saban's tenure came in Alabama's 2012 national title season (five).
There is so much movement, and there are so many signals and so many unique formations that Alabama can utilize now, thanks to Kiffin. Speed is killing at Alabama, and it isn't just because of foot speed anymore.
"You kinda never know what he's gonna draw up," offensive lineman
Austin Shepherd
said. "I think he's a genius at it -- offensive mastermind, as I'd say."
Kiffin has put the pedal to the metal with his offensive vision and has created a dangerous partnership with Saban that has Alabama's offense chugging into the playoff.
"When they get rolling, they get rolling," linebacker
Trey DePriest
said of his offensive counterparts.
"I wouldn't want to play against them."