February, 13, 2015
Feb 13
11:00
AM ET
When the 2014 season began,
Michael Brewer
could hardly navigate his way across Virginia Tech's campus without a map, let alone recite the intricacies of the playbook. He'd arrived from Texas Tech just two months earlier, and the bulk of his supporting cast on offense hadn't been around much longer.
Last year was one long, tumultuous learning curve. This year, Brewer knows it will be different.
"We've got a really good chance to make some noise offensively with the talent we have coming back and the fact that this group has never really had a true offseason together," Brewer said.
For the Hokies' offense, there's really nowhere to go but up.
Last season was a constant battle. Brewer won the starting job out of fall camp, but he called his grasp of the offense at the time "remedial." The Hokies worked with a limited playbook, and Brewer succeeded largely on sheer determination in those early games.
[+] Enlarge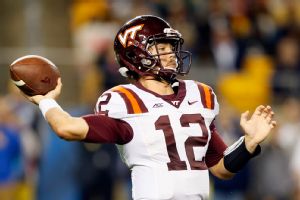 AP Photo/Keith SrakocicWith time to get comfortable with the playbook and build a rapport with his young receivers, Michael Brewer is confident the Hokies' offense will be more consistent in 2015.
While Brewer was learning on the fly, his teammates were, too. There was little experience in the receiving corps. Virginia Tech cycled through running backs on a nearly weekly basis. The offensive line was in tatters by midseason. The end result was an offense that averaged just 4.7 yards per play against Power 5 foes -- the sixth-worst mark by any Power 5 team.
The fallout was ugly. A 6-3 loss to Wake Forest was one of the most discouraging in program history. A second seven-win season in three years had fans restless and Frank Beamer's job in jeopardy. The Hokies lost five games by a touchdown or less, and a hefty contingent of fans pointed the finger squarely at Brewer for the team's shortcomings.
"People put a lot of stuff on him, and a lot of times it wasn't his fault," tight end
Bucky Hodges
said. "But people didn't see that. They blamed it on him. But he'd take shots during the game, get hit big, and he'd get back up and still deliver the ball and make plays, and that gives you confidence."
Brewer had his moments. He upended eventual national champion Ohio State in Week 2, nearly overcame a 21-0 deficit late in the fourth quarter against ECU a week later, threw a late touchdown to earn bowl eligibility and knock off rival Virginia for the 11th straight time.
Still, it was hard to overlook the struggles. Brewer threw at least one interception in his first six games, and he was widely criticized for his risky throws. He made strides in the second half of the year, cutting his turnover total from 11 to four, but his sack rate more than doubled and the Hokies' offense was routinely stagnant. Over the final six games of the regular season, Virginia Tech scored just 10 offensive touchdowns.
The biggest culprit was the offensive line — a battered unit that, by year's end, was scraping the bottom of the depth chart just to find able bodies. So as the Hokies begin looking for solutions this offseason, priority No. 1 is the line.
"They struggled with injuries last year, and you never want to use that as an excuse, but the fact of the matter is we got thin at that position," Brewer said. "Guys had to step up and they did a good job for the most part, but we're going to have a new crop of guys, three new guys stepping in, and an entire offseason to compete for jobs."
While the makeshift line struggled to protect Brewer down the stretch, Virginia Tech did seem to finally find an effective ground game.
J.C. Coleman
topped 95 rushing yards in each of his last four games, a trend which offers ample optimism for 2015 as the Hokies look to get
Marshawn Williams
,
Shai McKenzie
and
Trey Edmunds
healthy around him.
"That was very encouraging seeing the running game pick up like that," Brewer said. "It makes everybody's job easier. It opens everything else up."
But the biggest reason Brewer is so bullish on 2015 is simply time -- time to get comfortable with the playbook, time to build a rapport with his young receiving corps, time to put the struggles of last season behind him.
In spite of all the bluster, there were no major shake-ups on the coaching staff. Brewer said those discussions never rattled the locker room, but keeping consistency on a team that's in desperate need of some offensive stability was crucial. Hodges,
Isaiah Ford
and
Cam Phillips
make up one of the ACC's best young receiving corps, and now they all have a year of experience under their belts. The recruiting class coming in is a strong one -- including highly regarded QB
Dwayne Lawson
-- and some extra competition can only make this offense better. Overall, the Hokies return 16 starters this year, including eight on offense. Only North Carolina returns more in the ACC.
"Last year's offense had really one month together as a team to go through practice with the coaches," Brewer said. "That's a lot to cram in to a short amount of time."
Now, things are different. There's no rush to the starting gates, but rather a meticulous march toward consistency.
That's the key, Brewer said. The Hokies aren't shooting for fireworks every game in 2015, but simply a steady performance for an offense that can finally find its footing.
"That's why I'm so excited is that we finally get a chance to really get some consistency and fix a lot of those mistakes," Brewer said. "We showed glimpses of what we can do last year with the talent we have, but we also showed we can be pretty flat. If we can stay even keel, it's going to be a good deal."