September, 12, 2014
Sep 12
2:00
PM ET
I won't sit here and claim that I can predict the future, but if Arkansas is going to make a bowl game this season, the Razorbacks have to beat Texas Tech Saturday.
It's that simple.
Given the nation's toughest schedule (there are currently six ranked teams on Arkansas' schedule, including four top-10 opponents), the Hogs have to sweep the nonconference slate and pull at least two upsets in SEC games. It certainly isn't impossible, and there is no doubt this Arkansas team is better than last season's, but finding three conference wins on this slate isn't exactly easy.
[+] Enlarge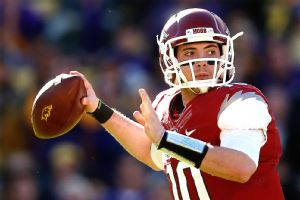 Chris Graythen/Getty ImagesBrandon Allen and the Razorbacks know a win at Texas Tech could really boost their confidence.
That means the Red Raiders have to fall by the sound of calling the Hogs.
Though Arkansas coach Bret Bielema and his players aren't ready to call this a make-or-break game, they all understand how important it is for the confidence and psyche of this team going forward.
"I'm excited to see exactly where we can go with this chance," Bielema said. "It's an opportunity for your guys to gather confidence, and that's something this program needs really needs a lot of."
Added senior defensive end
Trey Flowers
: "Getting a win over a pretty good team will put us up there and help us move forward for the rest of the season."
Yes, it would.
The thing about this Arkansas team is we didn't know if it could be physical enough to survive this season. Last season, the Hogs were continuously pushed around during their 0-8 SEC journey, and little was done on the surface to tell us anything would be different in 2014.
Well, look at the tape from the first two games, because change has come. Yes, Arkansas lost steam in the second half of its opening loss to Auburn (45-21), but the Hogs kept it very tight in the first two quarters and actually erased a 21-7 deficit.
Last week's 73-7 drubbing of Nicholls State might be scoffed at by some, but it was a chance for this team to get better and iron out some of the deficiencies it saw in the second half against Auburn.
"This year, we go into every game knowing we can win every game -- we can play with the best of them out there," quarterback
Brandon Allen
said. "It all comes down to us executing and playing clean football. We've shown that when we do that we can play with anyone, we can beat anyone on any day."
That game also stood as a very important notch on the win belt.
The truth is that we still don't know a ton about this team. Though it might be better -- and Bielema said he sees more talent and development in his locker room now -- it's still an enigma.
With the coaching turnover this program has dealt with in recent years, it's only natural for Arkansas to still be behind the rest of the SEC West. But improvements have been made in the first two weeks.
The offensive and defensive lines have played with a tougher demeanor. The running game went from a two-headed monster with
Alex Collins
and
Jonathan Williams
to adding a third weapon in speedster
Korliss Marshall
. And Allen looks more confident and comfortable in Arkansas' offense, something this team desperately needs.
So can this team survive a schedule that includes consecutive games in the middle of the season against Texas A&M, Alabama and Georgia -- all current top-seven teams -- and make it to the postseason? What about with a November that houses Mississippi State, LSU, Ole Miss and Missouri?
Those are legitimate questions for a program that still has a lot of building to do in all areas.
Allen wouldn't say that a Texas Tech win holds the key to Arkansas' postseason, but he knows it would go a long way toward empowering the Hogs before the teeth of conference season approaches.
"I think it's going to be huge, especially when you go into SEC play where you're going to play a tough opponent every week," he said. "Anytime you can have the momentum and the swagger on our side, it's only going to help us play better and compete with some of the best teams in the country."
That is the kind of confidence this team didn't have last season, and as the loses piled up, players' spirits disappeared. However, in the months since last year's dismal showing, attitudes have changed, and Arkansas players feel they can -- and will -- surprise a lot of people this fall, starting Saturday.
"We're capable of doing something special," Flowers said. "A lot of people are looking down on us. Our backs are pretty much against the wall and they gave us the toughest schedule. Those are the cards we were dealt, but we're capable of doing some big things around our league, shock a few people and get some big wins."
July, 14, 2014
Jul 14
2:30
PM ET
The opening of SEC media days isn't the only news of the day. Two more college football award watch lists debuted Monday, and the SEC is a major player on both.
Thirteen of the 123 watch list honorees for the Lombardi Award, which is given annually to the top lineman or linebacker, are from the conference. Likewise, nine of the 51 nominees for the Butkus Award, which goes to the top linebacker, are SEC players.
Here are the full lists of SEC nominees:
Lombardi
G
A.J. Cann
, South Carolina
OT
La'el Collins
, LSU
C
Reese Dismukes
, Auburn
DE
Trey Flowers
, Arkansas
LB
Leonard Floyd
, Georgia
LB
A.J. Johnson
, Tennessee
DT
Chris Jones
, Mississippi State
OG
Arie Kouandjio
, Alabama
LB
Benardrick McKinney
, Mississippi State
DT
Robert Nkemdiche
, Ole Miss
OT
Cedric Ogbuehi
, Texas A&M
DE
A'Shawn Robinson
, Alabama
LB
Ramik Wilson
, Georgia
Butkus
Trey DePriest
, Alabama
Leonard Floyd, Georgia
Kris Frost
Jordan Jenkins
, Georgia
A.J. Johnson, Tennessee
Benardrick McKinney, Mississippi State
Braylon Mitchell
, Arkansas
Reggie Ragland
, Alabama
Ramik Wilson, Georgia
March, 13, 2014
Mar 13
1:30
PM ET
You could hear the commotion in the background as Bret Bielema was handed the phone late Wednesday night. The
Arkansas
coach has been in the news lately as the most vocal proponent of the
now-tabled 10-second rule
. Not all of his remarks have gone over well, and he has come under fire for it, becoming a talking point in the media and at watercoolers around the country.
[+] Enlarge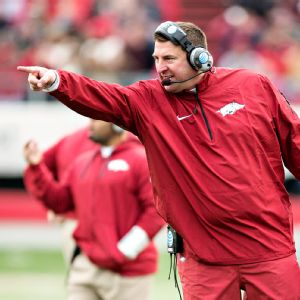 Wesley Hitt/Getty ImagesArkansas coach Bret Bielema wants competition at quarterback this spring, though junior Brandon Allen is the favorite to start in 2014.
But the noise on the other end of the line was clearly enthusiastic as Bielema left a Razorback Club event in Central Arkansas, loading into a vehicle that would take him to the airport and back to Fayetteville. He does a number of similar booster club gatherings during the spring, and Wednesday's event promised to be one of the final get-togethers before spring practice begins Sunday. The message that night: Last season wasn't a starting point, it was a launching point. Some 500 people filled the room for fried fish and football, a record draw for the event.
"It's always a little crazy, it just depends what kind of crazy," Bielema said of the road to spring practice. "But it's good. I'm excited. I know our kids are.
"A year ago at this time, we were getting to know these kids, trying to know their names. ... Now a year into it we have 88 kids who are going to partake in practice, and 84 of them you've seen before."
Bielema and the Razorbacks are putting last season's 3-9 finish behind them. In December, the team watched the SEC championship game and the second-year coach asked his players why they couldn't be there in 2014. Auburn and Missouri combined for two SEC wins in 2012 and now they were playing in Atlanta. Only a month earlier, Arkansas threatened a fourth-quarter comeback against Auburn, falling short despite getting almost 200 combined rushing yards from
Jonathan Williams
and
Alex Collins
.
"I really wanted to challenge them that it's not one but two teams that decided to make a stand," Bielema said. "And to do that, you need to change your actions. I knew they were going to work hard, they were going to listen, they were going to try and do the things we asked them to do. But maybe off the field they needed to dedicate themselves."
The results, Bielema said, have been positive. He has seen a number of players change physically since then, pointing out Williams in particular. The rising junior has put on 15 pounds and "is actually faster and more limber" than he was before, according to his coach.
Collins, who ran for 1,026 yards as a freshman last season, and Williams will once again make up Arkansas' tandem at tailback. Fellow tailback
Kody Walker
will play much more at fullback this spring, switching back and forth between the two positions much like
Kiero Small
did last season.
With
Hunter Henry
back at tight end, there's a good nucleus to build around on offense. Henry had his highs and lows last season, said Bielema, who is hoping for more consistency from his standout freshman. What he's seen from Henry this offseason has been promising.
"He's bigger. He's faster. He's stronger," Bielema said. "I think he understands what it means to play in the SEC in an eight-game schedule, and hopefully beyond that."
For Arkansas to go "beyond that" -- as in, the conference championship or a bowl game -- other players need to step up.
The defense got a boost from the return of defensive end
Trey Flowers
, who was second-team All-SEC last season. New defensive line coach Rory Segrest will "allow him to play faster and a little more aggressive," Bielema said. And with new defensive coordinator Robb Smith in place, expect a slightly different look from the defense as a whole.
"

We'll let him work through the process, feed him as much as he can be fed and see where he can go with it. He's a guy that if he can play we will. If not we'll give him a redshirt year.

"

Razorbacks coach Bret Bielema on early enrollee quarterback Rafe Peavey.
"If you're inside the huddle, you'll hear a lot of things change," Bielema said. "We're going to try and simplify it for our players and get them lined up quickly and put them in a position to play aggressively."
Despite its 12th-place SEC finish in points per game allowed last season, the biggest question facing the Razorbacks isn't defense. Instead, it's who will start under center.
Brandon Allen
started 11 games as a sophomore, ending the season 13th on the SEC leaderboard for passing yards per game (141.1). His double-digit interceptions (10) were the most troubling, though.
Bielema said he wants competition at quarterback this spring, all the while acknowledging that Allen has "gotten stronger" and is the favorite to win the job.
"In theory, the first time we yell out for the ones, he's going to step out there," Bielema said. "But ... there will be other guys who get opportunity. Who is able to produce and run the offense effectively and who gives us the best chance to win next year's opener against Auburn will be at that position.
"If it's B.A., that's great. If it's not, hopefully that next person is ready."
Watch out for
Rafe Peavey
. The four-star prospect enrolled in January and has the tools to push Allen. Bielema likes Peavey's talent and "football junkie" attitude, but Peavey is still just a freshman.
"We'll let him work through the process, feed him as much as he can be fed and see where he can go with it," Bielema said. "He's a guy that if he can play, we will. If not, we'll give him a redshirt year."
Peavey was just one of a handful of freshmen to enroll early, the four unknowns of the 88 players Bielema referred to earlier on the phone. When Bielema spoke to the Razorback Club that night, much of the talk surrounded recruiting, and with good reason. Approaching the second season of his tenure at Arkansas, Bielema is slowly putting his imprint on the program with the way he brings in players and the changes in attitude on the roster as a whole.
When Arkansas opens camp on Sunday, his message will be much as it was Wednesday night. The record is wiped clean, he'll say. It's time to launch forward.
"Don't worry about what happened yesterday and focus on getting great today. At the end of this stretch we'll all be better," he said. "We'll take where we're at, take all the things that were positive and all the things that were negative, evaluate it and move into the next phase."
October, 7, 2012
10/07/12
9:00
AM ET
We hand out our helmet stickers for Week 6 in the SEC:

Chad Bumphis, WR, Mississippi State:
He caught nine passes for 104 yards in helping the Bulldogs stay unbeaten in a 27-14 win over Kentucky. Bumphis caught a 27-yard touchdown pass over the middle in the third quarter to complete the Bulldogs' scoring. It was the 18th touchdown of his career, which set a Mississippi State record. Bumphis passed Eric Moulds and Justin Jenkins.
Florida's offensive line:
Coach Will Muschamp said coming into the season that the offensive line was the most improved part of the team. Never was that improvement more evident than the second half Saturday when the Gators' offensive line took over the game in the 14-6 win over LSU. Florida ended the game by running the ball 25 straight times and didn't throw a single pass in the fourth quarter.
Mike Gillislee
finished with a career-high 146 rushing yards and two touchdowns on 34 carries -- all this against an LSU defensive line considered to be one of the best in the country.
Trey Flowers, DE, Arkansas:
The Hogs' defense had taken it on the chin this season, but not Saturday. Flowers led a spirited effort from the defense in a 24-7 win over Auburn, snapping Arkansas' four-game losing streak. He had 3.5 of the Hogs' eight sacks and also had two quarterback hurries. Arkansas forced five turnovers, and Auburn managed just 40 rushing yards in what was a dominant defensive performance by the Hogs.
Kevin Minter, LB, LSU:
It's rare that we give a helmet sticker to a player on the losing team, but Minter was sensational in LSU's 14-6 loss to Florida. He had a career-high 20 tackles, including 17 solo tackles, and also recorded two sacks and a forced fumble.
South Carolina coach Steve Spurrier:
What a huge win for Spurrier's Gamecocks. They outclassed Georgia in every phase, and Spurrier has done what a lot of people thought wasn't possible. He's moved the Gamecocks into elite status in the SEC. They're likely to go to No. 3 in the latest polls after their 35-7 dismantling of No. 5 Georgia and have positioned themselves to be in the hunt for the national championship. The win Saturday was Spurrier's 250th overall as a coach (both pro and college).