August, 13, 2013
8/13/13
10:30
AM ET
This year Tulsa has decided to introduce a dog ambassador for games and among the most important of Goldie the golden retriever's tasks will be actually retrieving the kickoff tee after kickoffs -- reason enough to tune in for at least one game.
TULSA GOLDEN HURRICANE
Coach:
Bill Blankenship (19-8, 19-8 at Tulsa)
2012 record:
11-3 (7-1 Conference USA)
Key losses:
LB DeAundre Brown, C Trent Dupy, OG Brian DeShane, OT Jared Grigg, and the entire defensive line -- DE Jared St. John, DT Daeshon Bufford, DT Derrick Jackson and DE Cory Dorris
[+] Enlarge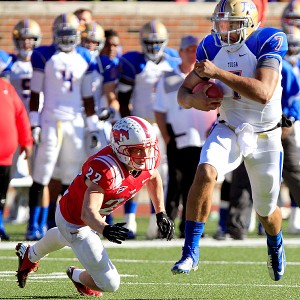 AP Photo/John F. RhodesCody Green is one of the few returning starters that will have to lead a young Tulsa team.
Key returnees:
QB
Cody Green
, WR
Keyarris Garrett
, WR
Jordan James
, RB
Trey Watts
, DB
Marco Nelson
, LB
Shawn Harris
Newcomer to watch:
CB
Will Barrow
. Tulsa lost three top guys in its secondary (including both corners) and Barrow comes in as the Golden Hurricane's top defensive back in the 2013 class. This one-time Texas Tech commit has great instincts for the ball and is a player who could step in and contribute immediately.
Biggest games in 2013:
at Oklahoma (Sept. 14), vs. Rice (Oct. 5), at East Carolina (Nov. 9), vs. Marshall (Nov. 16)
Biggest question mark heading into 2013:
Can Tulsa get the same kind of defensive pressure while attempting a wholesale change of its D-line? Last season, the Golden Hurricane defensive line could regularly get to opposing quarterbacks without needing to blitz. This freed up its linebackers and secondary to make plays, specifically Brown, who accounted for 125 tackles during his senior campaign.
The starting D-line accounted for 144 tackles (including 41.5 for losses), 26 sacks and four forced fumbles. But with those four players gone, the chances that the D-line can build that kind of chemistry and accomplish the same amount for the defense just seems farfetched.
Forecast:
A lot of production -- both on the offensive and defensive sides of the ball -- are gone and fresh faces will be replacing those. And with the number of replacements that Blankenship needs to make, it seems doubtful that this year's Golden Hurricanes will be the same as last season.
The defense, which ranked in the top 25 nationally in several categories -- tackles for a loss (fifth), red zone defense (fifth), sacks (third), total defense (25th), rushing defense (16th) -- just won't be the same.
Even with that kind of changeover, though, another run at the Conference USA title isn't out of the question completely for the Golden Hurricane.
Green returns for his senior season. In 2012 he threw for 17 touchdowns and more than 2,500 yards. Like much of the team, his receivers will be new but the run game (which actually does return some experience) will open up the passing game for Tulsa.
And Green isn't the only bright spot -- their kickoff return game could be freakishly good. Tulsa finished the season last year as the third best return team in the nation with an average of 27 yards per return. Place kicker
Daniel Schwarz
also returns. He was 12-of-18 on field goals last season and 52-of-59 on extra points made. Another year of practice and maturity should help both of those numbers go up.
So while there are several question marks surrounding this transitioning team, it's not all bad news. In its final year in Conference USA, Tulsa could definitely make a run for the title. Or they could end up being nowhere close. That's the joy of a young team and Blankenship gets to try and make it work.
December, 31, 2012
12/31/12
7:23
PM ET
It was a rainy afternoon in Memphis, Tenn., but Tulsa won this rematch with Iowa State in pretty convincing fashion. The Golden Hurricane flipped the script from the teams' first meeting of the season in September, when Tulsa raced to a 16-7 lead after one quarter before being dominated from that point on. This time around, Iowa State grabbed a 17-7 lead after the first quarter before Tulsa took over and clearly looked like the better team.
The loss for the Cyclones dropped the Big 12 to 3-3 in its bowls and improved Conference USA to 4-1 for the second consecutive season.

Let's get to some instant analysis.
It was over when:
Tulsa capitalized on an Iowa State turnover with a 1-yard touchdown from
Alex Singleton
with 1:50 to play in the third quarter. Iowa State scored 17 points in the first quarter (including an interception returned for a touchdown by
Jeremy Reeves
), but the offense was shut out over the final three quarters. With a double-digit lead and a running game that rolled over Iowa State for most of the game, there was no coming back for the Cyclones.
Game ball goes to:
Tulsa running back
Trey Watts
. The son of Oklahoma quarterback great J.C. Watts, Trey had another big game against the Cyclones but got the win this time with 149 yards on 25 carries. He didn't score, but he did break the Golden Hurricane's longest play from scrimmage all day, a 48-yard run that set up a touchdown. He ran hard and gave the Iowa State defense fits when it tried to bring him down.
Stat of the game:
Tulsa rushed for 320 yards and four touchdowns on 58 carries. That was the story. Iowa State looked outmanned and Tulsa simply looked like the better, more physical team. It proved it on both sides of the ball and in the trenches with a strong pass rush and a great performance from the offensive line. That's how you win games.
Second-guessing:
Cleyon Laing
's self-control. The senior defensive lineman was flagged for a cheap shot late after Iowa State made a third-down stop deep in its own territory while trailing 21-17. Instead of settling for a field goal, Tulsa eventually scored a touchdown on the drive. Coach Paul Rhoads gave Laing a pretty intense lecture after he came to the sidelines, and it was deserved. Not only was it a cheap play, but it was one of the game's biggest plays -- and it never should have happened.
What Iowa State learned:
It still has a quarterback problem on its hands, but the offense has other issues too. Sam Richardson showed some promise to close the season, but after a strong first quarter, including a 69-yard touchdown pass to tight end
Ernst Brun Jr.
, he struggled to establish much of anything. Outside of that Brun touchdown, Richardson was just 9-of-20 for 60 yards and an interception. Iowa State didn't have a first down in the third quarter and Brun was benched for
Steele Jantz
, just as
Jared Barnett
was in last year's Pinstripe Bowl. Jantz never engineered a comeback, turning it over twice in his final game as a Cyclone. Look for a competitive spring at the position between Richardson, Barnett and
Grant Rohach
.
What Tulsa learned:
It has yet another coach who can win big. Winning the C-USA title was plenty of evidence, but the bowl game provided even more. Todd Graham and Steve Kragthorpe helped build the Golden Hurricane into one of the best non-AQ programs in the nation, and second-year coach Bill Blankenship looks very capable of continuing that tradition after an 11-win season. That tied Graham's 2008 team for the most wins in school history.
December, 2, 2012
12/02/12
10:42
PM ET
Iowa State Cyclones (6-6) vs. Tulsa Golden Hurricane (10-3)
Dec. 31, 3:30 p.m. ET, Memphis, Tenn. (ESPN)
Iowa State take by SoonerNation's Brandon Chatmon:
Big 12 Conference play was unkind to the Cyclones, who have won just two games since Oct. 6. They finished 3-6 in the conference and 6-6 overall.

Nonetheless, ISU has plenty of hope heading into bowl season with the emergence of redshirt freshman quarterback Sam Richardson in its final two games. He was 36-of-58 for 412 yards and seven touchdowns with zero interceptions in the final two games.
Richardson has played with a confidence and poise that should make Cyclones fans excited about the future. The month of bowl practices will help his development, and a good performance in ISU's bowl game could give him the confidence to take his game to another level as a sophomore.
The Cyclones feature a solid defense which allowed 23.3 points per game this season, so their offensive success tends to make the difference between a win and a loss for ISU. It's also the final game for linebacker
A.J. Klein
, who has 98 tackles this season and is two tackles away from recording the third 100-tackle season of his college career. ISU surely wants to send one of the best defensive players in school history out with a bowl win.
---
Tulsa take from RecruitingNation's Brandon Chatmon
: Tulsa earned its AutoZone Liberty Bowl berth after winning their first Conference USA title since 2005. The Golden Hurricane won the Conference USA championship game, 33-27, over Central Florida in overtime on Saturday.
Tulsa hasn't had one spectacular individual on offense this season yet the Golden Hurricane saw three different running backs rush for 765 yards or more in 2012. Running backs
Trey Watts
,
Ja'Terian Douglas
and
Alex Singleton
helped TU average 240.2 rushing yards per game this season.
The Golden Hurricane won seven straight games after a 38-23 season-opening loss to Iowa State and rebounded from a disappointing 35-27 loss at SMU, which finished 6-6, before winning the C-USA title game.
December, 29, 2011
12/29/11
2:30
PM ET
You saw the preview and prediction. Now here are three keys for BYU and Tulsa in the Bell Helicopter Armed Forces Bowl on Friday.


BYU (9-3)
1. Slow down G.J. Kinne.
There is no question that Kinne is the most valuable player on the Tulsa offense because he can do a variety of things. Kinne leads the team with an average of 273.4 yards of total offense per game and is always a threat to run out of the backfield. What should help BYU is practicing against its own running quarterback in
Riley Nelson
. But Kinne has a much better arm and is much more experienced, so BYU has to contain him if it has any shot at winning the game. The only true rushing quarterback BYU has faced this season was
Chuckie Keeton
at Utah State, and he had 22 yards on six carries.
2. Stop the run.
Tulsa averages more than 200 yards on the ground per game, so making sure the Golden Hurricane are not running at will and chewing up clock will be a huge part of this game. Kinne certainly can win contests with his arm, but it puts an incredible amount of strain and pressure on any quarterback when his offense becomes one-dimensional. Tulsa does well with play-action passes, so stopping the run means taking away those calls as well.
3. Keep Nelson healthy.
BYU goes into this game with no experience behind Nelson, so it is going to be extremely important to protect the starting quarterback. Nelson can run, and he is not afraid to give up his body -- that already led to one injury this season in which he missed several games.
Jake Heaps
, who was demoted and would have served as the backup, left the team when he decided to transfer. So that leaves James Lark behind Nelson. Lark has attempted only 10 passes in his career.
Tulsa (8-4)
1. Run it.
Just as BYU has to make an effort to stop the run, Tulsa is going to try to run the football effectively. The Golden Hurricane failed to rush for more than 100 yards just once all season -- against North Texas. They also have rushed for 200 or more yards five times this season. Like BYU, Tulsa does not rely on one primary back --
Ja'Terian Douglas
and
Trey Watts
have each run for more than 800 yards this season, and they are vastly different runners.
2. Force third-and-long.
Third-down defense is going to be important for Tulsa in this game. BYU ranks No. 3 in the nation in third-down conversions at 52.94 percent. Tulsa has not been the best in this category, ranking No. 83 in third-down defense while allowing opponents to convert 42.7 percent of the time. Coach Bill Blankenship knows his team has to limit the big plays and force BYU into uncomfortable passing situations, because that is not an area of strength for the Cougars.
3. Limit the mistakes.
Neither team has been great in turnover margin. In fact, both teams are in negative territory here. But both coaches realize this is an important aspect to this game because one turnover could really change the outcome. After leading the nation in interceptions a year ago with 24, that number has dropped to 16 for Tulsa, so it will be important to get to Nelson and force him into mistakes.
December, 29, 2011
12/29/11
1:00
PM ET
BYU (9-3) takes on Tulsa (8-4) in the Bell Helicopter Armed Forces Bowl on Friday at noon in Dallas. Here is a quick preview:


WHO TO WATCH:
Tulsa quarterback
G.J. Kinne
. What Kinne has been able to do with the Golden Hurricane is pretty remarkable, when you consider he has played for three different offensive coordinators. This season, Kinne became the third Tulsa quarterback to go over 9,000 yards passing in a career. He now has 9,258 career passing yards, ranking third on the school's all-time list. Kinne also has thrown 78 touchdown passes and ranks second in school history. He is five behind Paul Smith, so catching up with a huge game against BYU is not out of the realm of possibility. Kinne can run, too -- he is the only quarterback in school history to pass for more than 6,000 yards and rush for 1,000 yards.
WHAT TO WATCH:
Tulsa run game versus BYU run defense. Both teams rank in the top 25 in the nation in their respective categories of run offense and run defense. The Golden Hurricane have two backs that have gone for more than 800 yards -- in addition to Kinne racking up more than 400.
Ja'Terian Douglas
,
Trey Watts
and Kinne have more combined rushing yards than BYU's entire team. Seeing Douglas and Watts emerge has been huge for the Golden Hurricane -- Kinne led the team in rushing the past two seasons. BYU has been solid against the run this season, allowing only three 100-yard rushers. BYU does have a size advantage on its defensive line and rotates in plenty of players. Linebacker Kyle Van Noy has been the best player on the defense, leading the team with 10 tackles for loss and five sacks. He has come up big in run support and has defended the pass as well, so he is a definite player Tulsa must watch.
WHY TO WATCH:
BYU has been one of the most consistent programs in the nation, save for last season. A victory would give the Cougars their fifth 10-win season in the past six years. It will also be the 16th 10-win season in school history, which ranks 13th among all current FBS teams, according to ESPN Stats & Information. Given that success, BYU has never won three bowl games in a row. The Cougars go into this game having won two straight bowls.
PREDICTION:
BYU 30, Tulsa 27. These teams are about as evenly matched as you can get, with quarterbacks who like to run, a backfield that isn't reliant on one player and linebackers who are capable of making plays. Kinne has an edge on
Riley Nelson
, but BYU has the edge on defense and up front -- and that will be enough to lead BYU to the victory.
May, 10, 2011
5/10/11
8:00
AM ET
2010 overall record:
10-3
2010 conference record:
6-2, second in West

Returning starters
Offense: 10, defense 8, punter/kicker 1
Top returners
QB
G.J. Kinne
, AP
Damaris Johnson
, LB Curnelius Arnick, CB Marco Nelson
Key losses
FB
Charles Clay
, WR
Trae Johnson
, LB Tanner Antle
2010 statistical leaders
(* denotes returners)
Rushing:
Kinne* (158 carries for 561 yards, 7 TDs)
Passing:
Kinne* (275-of-460 for 3,650 yards, 31 TDs, 10 INTs)
Receiving:
D. Johnson* (57 catches, 872 yards, 4 TDs)
Tackles:
Arnick* (115)
Sacks:
Shawn Jackson* (8.5)
Interceptions:
Nelson*, Dexter McCoil* (six each)
Spring nswers
1. Trey Watts could be a go-to running back.
The Golden Hurricane have had a hard time getting their running backs going, but Watts showed flashes this spring. Perhaps a running back will end up leading the team in rushing this season.
2. Jordan James emerged.
After finishing last season with just one catch in limited action, James caught the eye of new coach Bill Blankenship this spring. James had 65 yards and a touchdown in the spring game and could be a playmaker this season, especially after Jameel Owens left the team.
3. Lowell Rose impressed.
The transfer cornerback out of UCLA had a good spring and is near the top of the depth chart to start in place of the departed Charles Davis.
Fall Questions
1. How does the coaching change impact the team?
Kinne will be playing for his third offensive coordinator at Tulsa, making you wonder just how many plays he has had to memorize over his career. He had a breakout year in 2010, but with somebody else in charge once again, will he be able to keep up the pace?
2. How will the defense do in the new 4-3?
New defensive coordinator Brent Guy switched the defense up this spring and now the Golden Hurricane will feature four starting down linemen. Blankenship thought his front seven dominated the spring scrimmage, so that is a good sign.
3. Can Tulsa survive a tough nonconference schedule?
Many believe Tulsa could be poised for a breakout year (myself included), but the nonconference schedule is highly challenging with games against Oklahoma, Oklahoma State and Boise State.
September, 16, 2010
9/16/10
12:41
PM ET