NCF Nation:

Tristan Roberts
October, 20, 2011
10/20/11
3:00
PM ET
SOUTH BEND, Ind. -- On USC's second offensive play this season,
Robert Woods
ran a curl route, hauled in a 9-yard pass and was hit by Minnesota's Troy Stoudermire, who jarred the ball loose.
Woods, doing his best David Tyree impression, simply snatched the ball with his right hand and pinned it to the back of his helmet while falling out of bounds. He got up, pigskin secured in his palm, and handed the ball back to the official.
On Notre Dame's first play in Week 4,
Michael Floyd
ran a drag route, had a pass bounce off his right shoulder at the line of scrimmage, absorbed a hit, tipped the ball in front of him with his left hand before securing it and then left Pitt's
Tristan Roberts
behind for an 11-yard gain and a first down.
[+] Enlarge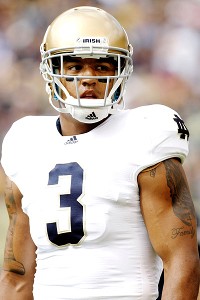 Charles LeClaire/USPRESSWIRE"He's fast and he's really elusive and breaks tackles a lot and can see the whole field," Michael Floyd said of Robert Woods,
The potential for those kind of jaw-dropping plays will be high this Saturday, when Woods and Floyd take the field under the lights in what will be a showcase of two of the college game's best receivers.
"He's fast and he's really elusive and breaks tackles a lot and can see the whole field," Floyd said of Woods, "which makes him a good football player and also a great wide receiver."
Woods' 60 catches and 783 receiving yards are good for second and fifth in the nation, respectively. Floyd's 53 catches for 639 yards rank eighth and 13th.
"Not easier, but yeah, it helps a lot," Gary Gray said of facing Floyd every day in practice. "Floyd's one of the best receivers in the country, so whenever I get a chance to go against him I go against him every day, so it helps me out a lot."
Floyd has broken virtually every school receiving mark through six games of his senior season. Woods, only a sophomore, looks poised to do the same for USC.
In fact, through five games, Woods appeared headed for a few national receiving marks as well. His 14-catch, 255-yard performance in a win over Arizona had him atop the national statistics and on pace or within striking distance of several single-season records.
After an uncharacteristic five-catch, 36-yard game against Arizona, he may have to settle for USC's single-season catch record of 102, set by Keyshawn Johnson.
"I would say that he's got a unique ability to run fast and catch," defensive coordinator Bob Diaco said. "He's got not only long-speed but short-space quickness. So he can get open based on speed just in tight quarters. He can also gas it past you. And then he's got something very unique to the position. He has tackle-break ability.
"So not just make you miss, but he's got tackle-break ability. He's got a violent strong stiff arm. He's a leg-drive player. He's got contact balance. He can give with impact and continue to gas it."
Floyd had one blemish through six games as well, grabbing just four passes for 27 yards at Pitt, and the low numbers suggested the Panthers possibly developed a blueprint for stopping him.
A 12-catch, 137-yard performance a week later at Purdue proved otherwise, and Irish cornerbacks coach Kerry Cooks won't count on one bad performance signaling the slowing down of Woods, either.
"Cal looked like to me like they just played their defense," Cooks said. "I didn't see a lot of brackets, I didn't see a lot of double-teams, and USC, they took their shots down the field and they made a lot of them and Cal came up with a few of them. But they didn't do anything special. As you review the tape I think again, they make it so hard to put in certain coverages because if you try to double Woods then they're gonna go backside to Marquise Lee.
"Their tight ends are guys that can stretch the field. They've got capable running backs back there. So again there's no magical coverage, we've just gotta be sound in what we do."
Cooks said seeing Floyd every day can help prepare his cornerbacks, but acknowledged he is a different receiver from Woods, who is 44 pounds lighter and two inches shorter than the 6-foot-3, 224-pound Floyd.
Regardless, the capabilities of Woods and Floyd are enough to give defensive coaches headaches in the days before facing either one.
"He'll line up as a running back, he'll line up as a fullback, he'll line up as a tight end," Cooks said of Woods. "They move him around, so you can't really get a beat on him to where you'd like to be able to run some combination coverages and maybe potentially bracket the guy. You can't do that. He's at the No. 1 spot, he's at the No. 2, he's at the No. 3. He's at the fullback spot. So they do an excellent job of moving him around, and obviously his play-making ability when he has the ball in his hands is exceptional."
September, 22, 2011
9/22/11
3:00
PM ET
Pitt has had breakdowns in its pass coverage that have really hurt the Panthers in all three of their games.
Now they face another quick-strike offense in Notre Dame on Saturday, putting the pressure once again on the linebackers and defensive backs to step up and make something happen. Many of the problems have come on underneath routes against the linebackers, who have been slow to cover and react.
[+] Enlarge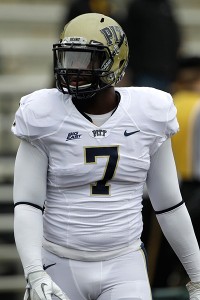 AP Photo/Charlie NeibergallBrandon Lindsey is switching positions as Pittsburgh tries to shore up its pass defense.
That has Pitt ranked next-to-last in the nation in pass defense, giving up an average of 336 yards a game. The Panthers have moved around their starting linebackers -- true freshman Ejuan Price is now starting at Panther, while Tristan Roberts has replaced Shane Gordon and Todd Thomas is starting over Greg Williams.
Brandon Lindsey, who the Panthers wanted to play linebacker, is now back at defensive end because he is more effective lining up with his hand on the ground.
Defensive coordinator Keith Patterson said it is a matter of finding the right players to fit into the 3-4 scheme as they get adjusted to the new defense.
"We're constantly evaluating what we're doing, making sure what we're doing fits the talent and skill level," Patterson said in a phone interview. "We're not asking young men to do something they're not capable of doing. You can sit here and go against your own offensive personnel but until you get out there in a game situation, you don't know how certain people are going to react, you don't know how well they match up with other people's personnel.
"Through three games, we're able to evaluate that and maybe get guys in different positions better suited for their talents and ability."
Buffalo and Maine play more of a quick-style offense than Iowa, so the breakdowns in each game were different. The Hawkeyes were able to erase a 24-3 deficit in large part because quarterback James Vandenberg passed for 162 yards in the fourth quarter.
Coach Todd Graham said there were 12 errors by the pass defense in that quarter. Iowa was aided by good starting field position on several of its drives, and the Pitt offense simply could not sustain a drive to get the defense off the field. Still, Pitt could not make a play on defense when it needed to despite dominating the game for three quarters.
Finishing the fourth quarter has been a theme. The Panthers have given up 41 fourth-quarter points -- 35 in the past two games.
"What's been really strange about this season is how we've been so dominant in certain parts of every game and then all of a sudden, it's almost like I don't know. It's been hard to explain," Patterson said. "I haven't been a part of that.
Another problem that has plagued the defense has been a lack of turnovers. Pitt only has two on the season -- both interceptions. Patterson counted three dropped interceptions against the Hawkeyes.
Notre Dame has turned the ball over 13 times this season, so creating more is a huge point of emphasis. But above all else, coaches have harped on their players to finish.
"We shut teams out in the first quarter and have not been able to finish," Graham said. "We've made a lot mental mistakes in the fourth quarter. A lot of those have come off blitzes and things like that. We're trying to execute a new system. We'll keep working hard to eliminate the errors."
June, 21, 2011
6/21/11
2:12
PM ET
Former Ohio State signee Ejuan Price joined Pittsburgh on Tuesday and is eligible to play for the Panthers this fall.
The Woodland Hills (Pa.) linebacker originally signed with the Buckeyes in February but recently asked for and was granted his release from Ohio State. ESPN ranked Price the
No. 12 linebacker prospect
in the nation in the class of 2011.
"Ejuan Price is an outstanding addition to our freshman class," coach Todd Graham said in a statement. "He comes from a tremendous football program in Woodland Hills. Ejuan is an explosive player who has great leadership abilities. He will fit in well with our defensive schemes and philosophies."
The 6-foot, 235-pound Price was selected All-State Class AAAA by the Pennsylvania Sports Writers and played both as a tight end and linebacker. He had a hard time deciding between Ohio State and Pittsburgh back in February. The turmoil at Ohio State was a big factor in his
decision to ask for his release
.
It stands to reason Price will be given every opportunity to be a contributor this season. There is uncertainty at the linebacker position headed into the fall. Pittsburgh is switching to a 3-4 and experimented with different lineups there this spring. Dan Mason is still recovering from a brutal knee injury and Todd Thomas also missed the spring with an injury. There is talent at the position with the return of Max Gruder, Greg Williams and Tristan Roberts. Adding Price into the mix is a bonus.
May, 23, 2011
5/23/11
11:03
AM ET
Time to get back at it in the hope and concern series, where we look at the top reasons for optimism and pessimism for each Big East team's 2011 season. What things should new Pittsburgh coach Todd Graham be hopeful and concerned about? Let's take a look.

Biggest reason for hope: Increased scoring
Pitt wasn't exactly a plodder last year, averaging more than 26 points per game and reaching 40 points three times. Yet there was usually a feeling that the offense could have done more with weapons like Dion Lewis,
Ray Graham
and Jon Baldwin. One thing Todd Graham promises to do is ratchet up the pace and the points. Tulsa led the nation in total offense in 2007 and 2008 and finished fifth in 2010. It might take a couple of years for Graham to assemble the kind of players he wants to run his spread at peak efficiency, but expect the Panthers to put a lot of pressure on opposing defenses this year.
Biggest reason for concern: The back end
While the offense should produce and Graham loves the depth and talent along the defensive line, there are questions elsewhere. The linebacking corps did not play well at times this year, especially in pass coverage. Are guys like Tristan Roberts and Max Gruder quick enough? Will Greg Williams be more fundamentally sound? Or can younger players like Shane Gordon and
Todd Thomas
step up? At cornerback, the Panthers exited the spring with a pair of new starters in K'Waun Williams and Buddy Jackson. Williams is talented but largely unproven, while Jackson has been an enigma his entire career. Safety is in good hands at one spot with Jared Holley, but the Panthers have to replace all-league performer Dom DeCicco. Pittsburgh could be vulnerable to good passing teams.
October, 16, 2010
10/16/10
5:59
PM ET
SYRACUSE, N.Y. -- For Pittsburgh, thankfully, it's in with the new. For Syracuse, depressingly, it was on with the old.
Both teams came into Saturday's game in unexpected places. The Panthers, after being picked to win the Big East almost unanimously, were 2-3 and teetering on the brink of collapse. The Orange stood at a surprising 4-1 and had the Carrier Dome jumping at kickoff in anticipation of a breakthrough win.
[+] Enlarge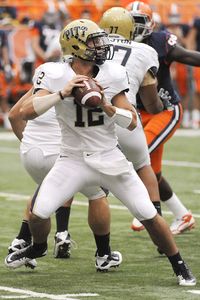 Richard Mackson/US PresswirePittsburgh quarterback Tino Sunseri completed 17 of 24 passes for 266 yards and four touchdowns Saturday against Syracuse.
Before halftime even arrived, roles had reverted back to normal.
Pitt blasted Syracuse 45-14
in a game all too familiar to long-suffering Orange fans. Many of the 40,168 hopeful headed for the exits midway through the third quarter. By the final 10 minutes, the place looked like a ghost town from the Greg Robinson days.
It was the kind of lopsided result you might have expected before the season, but not after the way the Panthers bumbled through the nonconference portion of their schedule. They saved their most complete performance for the start of Big East play after coach Dave Wannstedt preached all week about beginning a new season.
"We knew it was a tale of two seasons all along," quarterback
Tino Sunseri
said. "We had a tough out-of-conference schedule, but we still have all of our goals ahead of us. The Big East championship is ahead of us. We wanted to come out fast today and let the Big East know that we can play."
Sunseri looked like one of the team's weak links earlier in the year, never more than when he struggled so badly against Miami that many fans called for backup
Pat Bostick
. But the sophomore has progressed since then, and on Saturday the game plan revolved around him.
Wannstedt said when he arrived in the team hotel on Friday night, he flipped on the TV and saw Syracuse coach Doug Marrone's show. Marrone, he said, "must have said the word 'physical' 10 times during the course of the show." Wannstedt also saw how the Orange brought pressure against South Florida last week, daring Bulls quarterback
B.J. Daniels
to burn them with big plays.
Daniels couldn't. But Sunseri could. He completed 17 of 24 passes for 266 yards and four touchdowns. Pitt's first play from scrimmage was a short pass that
Devin Street
took 79 yards for a touchdown. Sunseri also made third-down touchdown throws to
Ray Graham
and
Mike Shanahan
as he stood in against the blitz.
"That was probably his most complete game," Wannstedt said. "He has showed little spurts, signs of getting better. But today I thought from start to finish, he maintained a consistency he had to have."
Pitt's improvement has coincided with its shuffling of the offensive line, moving Lucas Nix inside, Jordan Gibbs to tackle and replacing Greg Gaskins.
Dion Lewis
(15 carries for 80 yards) and Ray Graham (11 for 54) both found running room against a good Syracuse run defense. But neither went off, and
Jon Baldwin
finished with only one catch, yet the Panthers scored 45 points.
"Everybody thinks it's just Ray, Dion and JB," Graham said. "But Tino spread it out, and that's what is great."
The defense also played its best game, holding star back
Delone Carter
to just 38 yards before Syracuse was forced to throw nonstop in catch-up mode. The Panthers created four turnovers, including cornerback Ricky Gary's 80-yard pick-six, while moving pieces around. Shane Gordon got his first start at strongside linebacker, Dom DeCicco went back to safety and Tristan Roberts returned to start at the weakside linebacker spot.
Wannstedt was hesitant to use the "new season" theme, lest his team forget its mistakes of the past. But it was hard not to think that this looked like a different Pitt, one that could compete with West Virginia for the Big East title if it maintains this level of execution.
"We should be unstoppable," defensive end Jabaal Sheard said. "We have great athletes and tremendous talent everywhere on the field. If we play like we did today, with everybody stepping up to make big plays, we'll be all right."
If Pitt looked renewed, Syracuse appeared to relapse.
The Orange benefited from a soft early schedule, and now they face consecutive road games at West Virginia and Cincinnati that could turn that 4-1 start to a 4-4 crossroads. They don't have another home game until November, and by then the excitement they built up may have significantly eroded.
"What I feel bad about is for the people who came out to watch the game," Marrone said. "Their expectations were high, and so were ours. My expectations were high for these players to get over the this hump."
Not quite yet. What's old is new again, and vice versa.
October, 16, 2010
10/16/10
11:39
AM ET
SYRACUSE, N.Y. -- Pittsburgh is making some lineup changes. Freshman Shane Gordon will start at linebacker over Greg Williams, while
Brock DeCicco
will start at tight end over
Mike Cruz
. Both are performance based.
Dom DeCicco will be back at safety after two games at weakside linebacker, with Tristan Roberts starting there. Andrew Taglianetti (knee) is not expected to play. Also, defensive end Brandon Lindsey is banged up and may be limited today. Expect to see true freshman Bryan Murphy to get his first playing time of the season. He had a foot injury in the preseason, but coaches raved about him before the injury.
Big East commissioner John Marinatto is in the house, so you know it's a big game.
September, 16, 2010
9/16/10
9:43
AM ET
There's
more fallout
from the
Jason Douglas
, hit-and-run DUI charge at Pittsburgh.
Starting middle linebacker Dan Mason was a passenger in the car with Douglas when his teammate allegedly struck a pedestrian and drove off while intoxicated over the weekend. Mason wasn't charged in the incident.
But head coach Dave Wannstedt said Mason needs to learn to make better decisions, and he has stripped the sophomore of his starting spot before the Miami game.
"This is for his good," Wannstedt told reporters. "He needs to prove to me that he can do the right things and be accountable off the field, in the classroom and on the football field. When he does that, he will get his job back."
Max Gruder, the starter at strongside linebacker, will now move to the middle, while Greg Williams will flip from the weak side to Gruder's old spot. Tristan Roberts will start at weakside linebacker.
I picked Mason as one of my breakout candidates this season, and he's got a lot of talent. But clearly he still needs to figure some things out.
As for Douglas, who has been indefinitely suspended, don't look for him to return to the program. Wannstedt said that possibility was "in serious jeopardy."