July, 11, 2014
Jul 11
5:20
PM ET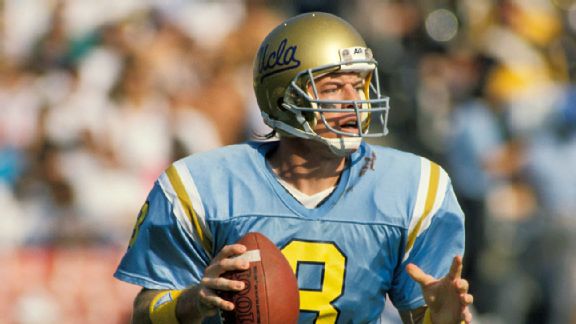 USA TODAY SportsTroy Aikman played under Barry Switzer in Oklahoma before enrolling at UCLA.
Have you logged on Twitter today? Turned on the TV? Went to the grocery store or picked up your child from the babysitter? Then chances are you know the King has returned.
LeBron James is going back to Cleveland.
That has us at CFB Nation thinking: Which college football players originally left home only to transfer back to put together a successful career? So we racked our brains and came up with a handful of the most successful transfers from the last 25 years of college football. The condition, obviously, is the transfer had to be made back to a school in their native state or at least within 100 miles, give or take a few.
If LeBron ever asks, they can all attest that there truly is no place like (playing at) home.
QB Troy Aikman, UCLA (by way of Oklahoma)
The California native left the Golden State and played his high school football in Oklahoma before enrolling with nearby perennial power Oklahoma, led by legendary coach Barry Switzer. Aikman was promised the Sooners' offense would be more passer-friendly, but when Aikman broke an ankle Switzer went back to the wishbone offense. The Sooners went on to win the national championship under the direction of a freshman quarterback, essentially closing the door on Aikman's Oklahoma career. The Covina, California, product returned to the state and enrolled at UCLA. In his first season with the Bruins, Aikman was awarded with the Pac-10 Offensive Player of the Year. He led UCLA to consecutive 10-win seasons and finished third in the Heisman balloting in 1988. He was the No. 1 overall pick of the 1989 draft and is a three-time Super Bowl champion.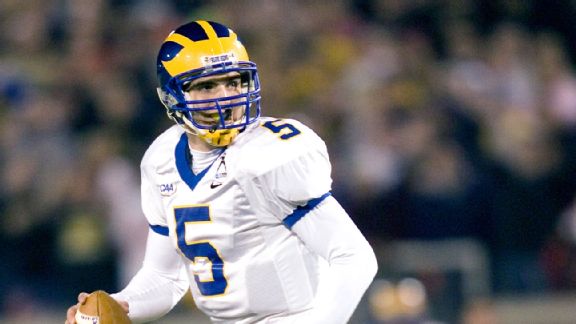 Marvin Gentry/USA TODAY SportsJoe Flacco transferred to Delaware to play near his hometown in southern New Jersey.
QB Joe Flacco, Delaware (by way of Pittsburgh)
Technically Flacco did not return to his home state of New Jersey. However, Delaware's campus is less than an hour from Flacco's South Jersey home, making it a closer option than in-state Rutgers, the only FBS program in the state. Flacco played sparingly his first two seasons at Pitt before transferring to FCS powerhouse Delaware. He took the Blue Hens to the FCS national championship and his name is littered throughout the school's record book. He was taken in the first round of the 2008 NFL draft and has a Super Bowl ring and Super Bowl MVP award in his trophy room.
QB Scott Frost, Nebraska (by way of Stanford)
Rarely does an elite prep player from Nebraska leave the state, especially during the Cornhuskers' glory years under Tom Osborne. That's what Frost did, though, spending two seasons at Stanford before returning to the nation's heartland. In his first season, he was named the Big 12 Offensive Newcomer of the Year. As a senior, he led Nebraska to an undefeated record and a share of the national championship. He was the first quarterback in school history to rush and pass for 1,000 yards in the same season.
QB Ryan Mallett, Arkansas (by way of Michigan)
The second-ranked quarterback in the Class of 2007, Mallett signed with then-Michigan coach Lloyd Carr as the heir apparent to senior Chad Henne. However, spread-option coach Rich Rodriguez replaced Carr at season's end, prompting the traditional pocket passer Mallett to transfer. The Batesville, Arkansas, native moved home to play for the Razorbacks and Bobby Petrino, and he had two exceptional seasons. A two-time All-SEC second-team selection, Mallett threw for more than 3,600 yards in both of his seasons in Fayetteville and led the Razorbacks to the Sugar Bowl in 2010. He finished seventh in Heisman voting that season.
WR Randy Moss, Marshall (by way of Notre Dame and Florida State)
Transferring was not entirely up to Moss, whose own transgressions cost him the opportunity to play at his dream school, Notre Dame, and under coach Bobby Bowden, who told Sports Illustrated in 1997 Moss was just as gifted as Deion Sanders. Notre Dame denied his enrollment for his role in a fight, and Florida State removed him from the football team after he tested positive for marijuana, violating his probation. Moss transferred to Marshall, which at the time was a Division I-AA school, allowing him to play immediately. In two seasons, he accumulated 174 receptions, 3,529 yards and 55 total touchdowns. He was taken in the first round of the 1998 NFL draft and is considered one of the greatest receivers in league history.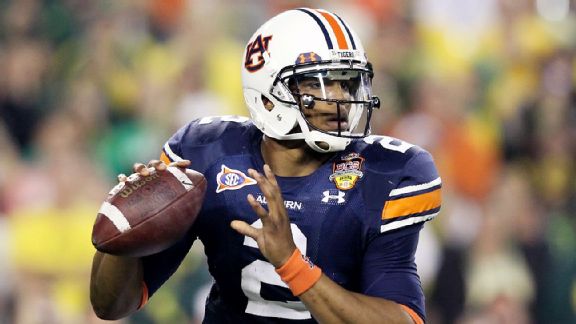 Christian Petersen/Getty ImagesGeorgia native Cam Newton won a Heisman Trophy after transferring to Auburn.
QB Cam Newton, Auburn (by way of Florida and Blinn College)
Much like Moss, Newton's transfer issues were self-inflicted. Urban Meyer removed Newton from the Gators' roster following charges of felony burglary, larceny and obstructing justice stemming from an incident in which he stole another student's laptop. He enrolled at Blinn College (Texas) and led the program to the junior college national championship. The following season, Newton was the starting quarterback at Auburn and won a second consecutive personal national title, leading the Tigers to an undefeated season and BCS trophy. He won the Heisman Trophy in the weeks leading up to the BCS national championship. He declared for the NFL draft in the days following the national title and went No. 1 overall to the Carolina Panthers. He was the 2011 Offensive Rookie of the Year and is a two-time Pro Bowler.
Honorable mention: Urban Meyer, Ohio State (by way of Bowling Green, Utah and Florida)
So he isn't a player and technically never transferred, but it certainly has a transfer feel to it. He left Florida after the 2010 season, sat out 2011 and then was named Ohio State's coach before the 2012 campaign. An Ohio native, Meyer's first college coaching job was as a graduate assistant at Ohio State. Even as the coach at other programs, he always spoke fondly of former coaches Woody Hayes and Earle Bruce, who hired Meyer away from a Cincinnati high school.
@KingJames Welcome home my friend. See you this fall!!! pic.twitter.com/6rj8uwiHCp

— Urban Meyer (@OSUCoachMeyer) July 11, 2014
This week ESPN.com spent time looking at the future of college football, so here are a few players returning home -- not all are eligible in 2014 -- who could be the next impact transfers.
QB Jacob Coker, Alabama (by way of Florida State)
Coker is immediately eligible and is the favorite to be the Crimson Tide's starting quarterback for the opener. He left Florida State after the 2013 season after losing out on the job to
Jameis Winston
.
QB Brandon Connette, Fresno State (by way of Duke)
The change-of-pace and red zone quarterback for the Blue Devils' run to the ACC championship, Connette left for Fresno State to be closer to his ailing mother.
QB Tyler Murphy, Boston College (by way of Florida)
Murphy is from Connecticut, but there aren't many FBS programs up in New England, and Boston is only 100 miles from Murphy's hometown. The BC coaches believe Murphy is a better player than he showed at Florida and can help Steve Addazio take the program to the next level.
LB Mike Mitchell, Texas Tech (by way of Ohio State)
A blue-chip prospect in the 2013 class, Ohio State was considered the long-time favorite for the athletic product. He signed with the Buckeyes but only lasted one season before transferring to Texas Tech, which was not a finalist during Mitchell's recruitment.
DT Eddie Vanderdoes, UCLA (by way of Notre Dame)
This situation got a little ugly last summer. Vanderdoes was the center of a signing day controversy as Notre Dame listed him on their list of signees before Vanderdoes publicly committed at his announcement later in the day. Before ever playing a down for Notre Dame, Vanderdoes decided he wanted to enroll at UCLA, but Notre Dame would not grant him a release. He petitioned the NCAA and was able to play at UCLA this past fall.
January, 29, 2013
1/29/13
1:00
PM ET
Arizona's biggest question heading into 2013 is at quarterback. Not only are the Wildcats replacing
Matt Scott
, who earned second-team All-Pac-12 honors and was sixth in the nation with 343.8 yards of total offense per game, but the options on hand this spring are decidedly unproven.
There's 2012 backup B.J. Denker, a JC transfer who was a late addition last summer. And there's Jesse Scroggins, another JC transfer who had academic issues at USC after signing in 2010.

Both have some skills. Neither, however, would be considered a sure-thing, particularly when you consider how valuable Scott was in 2012.
It's possible then that coach Rich Rodriguez might consider a third, youthful option, and it turns out that he's received a commitment from a quarterback that Sports Illustrated believes might have an "instant impact": Anu Solomon.
SI ranks Solomon
No. 1 among incoming freshmen QBs
in terms of potential "instant impact":
Solomon was a four-year starter at Bishop Gorman. Over that span, the Gaels went 57-3 and won four state championships. Solomon passed for 10,112 yards and 138 touchdowns to just 17 interceptions throughout his career, and he participated in nationally televised showcases against high school powerhouses from California, Florida, Arizona, New Jersey and Maryland. He told Rivals.com analyst Dallas Jackson in October, "The coaches have told me that they want me to come in and compete for the starting job."
Arizona fans are rightfully excited about Solomon, who seems like a nice fit for Rodriguez's spread-option offense.
But the Pac-12 blog would like to insert a "Be Careful What You Wish For." The Wildcats might be better off if Solomon ends up redshirting. At the very least, it would be better for Solomon to see spot action rather than take over the starting job.
Why? Well, the history of true freshman QBs is pretty spotty, other than Jamelle Holieway, who won a national championship as a true freshman at Oklahoma in 1985. And, of course, Holieway's best season was his first for the Sooners.
Few true freshmen QBs start from Day 1, and most are forced into action, rather than winning the job outright. Holieway only stepped in due to an injury to Troy Aikman. Same with Peyton Manning at Tennessee. Ohio State's Terrelle Pryor, Notre Dame's Jimmy Clausen and Georgia's Matt Stafford all became the starters when more senior players faltered.
Chad Henne went 9-2 as a true freshman leading Michigan in 2004, but he was surrounded by a lot of talent. We can all agree Robert Griffin III became a spectacular player, but Baylor went 4-7 with him as a true freshman QB.
The best recent example of a true freshman QB in the Pac-12 is USC's
Matt Barkley
in 2009. He was the first true freshman to start at QB for a top-five team since Michigan's Rick Leach in 1975. That USC team finished 9-4, losing three of its final four regular season games. The Trojans had lost seven games the preceding six seasons. Barkley threw 14 interceptions and 15 TD passes.
We've seen a number of freshmen QBs play really well of late. Texas A&M's
Johnny Manziel
became the first freshman to win the Heisman Trophy, and in the Pac-12 Oregon's
Marcus Mariota
and UCLA's
Brett Hundley
posted outstanding seasons this past fall, with Mariota winning first-team All-Pac-12. And, of course, there's Andrew Luck. He turned out OK.
But they all were redshirt freshmen when they became starters.
It's also notable that a lot of true freshmen QBs, such as Barkley, enroll early and participate in spring practices. That gives them a significant advantage in terms of getting use to the speed and complexity of the college game.
Solomon won't report until fall camp.
Solomon might indeed become a revelation for the Wildcats next fall. He could win the job, play admirably and three years later become an All-American.
But history suggests he won't be immediately ready, and that the best course is patience. It seems like at least a year of seasoning really helps create a tastier quarterback.
April, 22, 2011
4/22/11
3:20
PM ET
LOS ANGELES -- The savior is going to prom next week.
That would be UCLA's true freshman quarterback Brett Hundley, a charismatic, strapping young man who left high school early in order to compete for the starting job and immediately discovered that many believe he will lead the football program out of the wilderness of mediocrity into the promised land of Pac-12 championships. And, of course, while on that glorious path, he will plant a footprint on USC's collective forehead.
Hundley admits it's been a bit surreal having folks he doesn't know know who he is, even when it's "volleyball girls" saying "
Hey, you're the savior
!" He's enjoying taking it all in. But any euphoria over his newfound celebrity has been put in perspective by the realities of the practice field this spring
"Going from high school to college, it's really a big difference," he said.
Yes, it is. Just ask
Kevin Prince
and
Richard Brehaut
, who have struggled as UCLA's starting quarterback over the previous two seasons.
What's clear is the quarterback quandary in Westwood won't be resolved until the fall. Prince, who has flashed ability when healthy (which hasn't been often), is sitting out while still recovering from a knee injury. Brehaut has turned in a solid spring but hasn't yet won over his coaches. Hundley, the best athlete of the three, is still trying to digest the playbook and get a feel for the speed of the game.
"It's to be continued," offensive coordinator Mike Johnson said. "I don't think anyone has clearly put themselves in position to say they are going to be the starter."
UCLA has a strong history at the position: Bob Waterfield, Heisman Trophy winner Gary Beban, Tom Ramsey, Troy Aikman and Cade McNown come to mind. But the position has been pretty lousy since Drew Olson left in 2005.
More than a few observers believe Prince will be the starter if he is 100 percent in fall camp. But that's a big if. As a redshirt freshman in 2009, Prince threw the ball fairly well at times. And he did a solid job with the options portion of the pistol last year, particularly in the upset win over Texas. Of course, that's also when he also first hurt his knee.
"He's a proven player... not a proven consistent player," coach Rick Neuheisel said. "The question for him is whether he can stay healthy."
Brehaut replaced Prince but struggled. In seven starts, his efficiency rating ranked 96th in the country and ninth in the Pac-10. Brehaut said he's focused on his footwork this spring, while Neuheisel wants Brehaut to become more proficient checking down to his second and third options.
"I think Richard has played well," Neuheisel said. "I still thing there is a lot more improvement to be had, whether it's by him or someone else, before we're going to be playing the position as well as it needs to be played. He still has too much predetermination in him. That's got to get weened out."
That leaves the savior.
"He's taking strides, but a lot has been thrown at him that he's never done before," Johnson said. "So there are times he is a deer in headlights."
And when those headlights are on him, Hundley typically chooses to run. That's not the right thing to do based on the play call, but Hundley can make the wrong thing seem right when he busts a big gain with his feet, and that's not lost on his coaches.
"He's going to be a guy who is wrong sometimes," Johnson said. "But we encourage him that if he is going to be wrong, do it fast, do it hard. Because he has the athletic ability to overcome some of those mistakes."
Prince and Brehaut are aware that fans are clamoring for Hundley.
"Of course, everyone roots for that incoming guy who no one has seen yet," Brehaut said. "That's something Kevin and I, as veteran guys, can't worry about. There's nothing we can do that's going to affect Brett. It's all about making sure we know what we are doing and are executing like we know how. As long as we're doing that, we're doing our part."
While Hundley admits to struggling this spring, he still has his eyes affixed to the prize: the starting job. He left high school early because he had a clear goal to get on the field as soon as possible.
That savior stuff? It's amusing for now. But the business ahead is serious and far more taxing.
"It's pretty funny. When I first got here, that's how some people knew me," Hundley said. "Everyone jokes around about it. But I make sure everyone knows I'm only one person. You can't really save a team. And that's not really what I'm here for."
November, 8, 2010
11/08/10
4:15
PM ET
A look back on the week that was.
Team of the week
: Stanford rolled up 510 yards of offense against one of the nation's best defenses in a 42-17 win against Arizona. The Cardinal defense wasn't too shabby either while holding the Wildcats to 15.6 points less than their season scoring average.
A Facebook page
has been set up to promote the Cardinal's potential availability for an at-large BCS bowl berth.
[+] Enlarge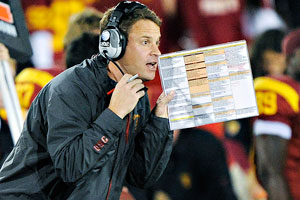 AP Photo/Mark J. TerrillLane Kiffin and USC emerged from a wild game against Arizona State with a 34-33 win.
Best game
: USC's entertaining 34-33 win against Arizona State included: 1. Two long interception returns for TDs; 2. A 100-yard kickoff return for a score; 3. A blocked PAT returned for a critical 2-points for USC; 4. 46 second-half points after a rather slow first half; 5. A missed potential game-winning field goal by slumping Arizona State kicker Thomas Weber, a former Groza Award winner; and, 6. A personal foul penalty from linebacker Vontaze Burfict (again) that helped set up the Trojans game-winning field goal.
Biggest play
: Call this the biggest "replay." With four seconds left in the UCLA-Oregon State game, Bruins quarterback
Richard Brehaut
completed a 12-yard pass to
Randall Carroll
to put the Bruins in position for a 51-yard field goal. But it appeared the play clock had expired, as the field officials ruled. But the Bruins challenged the call and won, getting 1 more second to play, and kicker Kai Forbath connected for a 17-14 win.
Offensive standout
: Stanford quarterback
Andrew Luck
dominated a good Arizona defense, completing 23 of 32 for 293 yards with two TDs in the Cardinal's 42-17 win. He also ran for 25 yards on three carries and avoided getting sacked even once by a defense that led the Pac-10 in taking down quarterbacks.
Defensive standout
: USC linebacker
Malcolm Smith
, who's missed two games with a knee injury, recorded seven tackles and a sack against Arizona State and he also returned an interception 74 yards for a TD in the Trojans' victory.
Special teams standout
: Arizona State's LeQuan Lewis had a 100-yard kickoff return against USC. The return cut the Sun Devils deficit at USC to 29-21 and seemed to ignite a comeback that ultimately fell short.
Smiley face
: California, UCLA and USC each have had their heart questioned this year. All three showed heart this weekend while winning games many thought they'd lose.
Frowny face
: Arizona State and Oregon State. The Sun Devils mounted a nice comeback but (again) let a game slip away. Lots of what ifs (again).
And we are as baffled as coach
Mike Riley about the Beavers' spiritless performance at UCLA.
Thought of the week
: If Stanford and Oregon keep winning, it seems likely that both Cardinal quarterback Andrew Luck and Ducks running back
LaMichael James
will get invited to the Heisman Trophy ceremony. The Pac-10 sent two to New York in 2005 (USC's Matt Leinart and Reggie Bush), but the last time two different conference schools produced finalists was 1988 (USC's Rodney Peete finished second to Barry Sanders; UCLA's Troy Aikman was third).
Questions for the week
: Is the Pac-1o going to end up top-heavy? It seems like there's a solid chance that Oregon and Stanford will win the rest of their games. But what about everyone else? Arizona is the only other ranked team, and it's got some tough games ahead (USC, at Oregon, Arizona State). It's possible the final rankings will feature two top-five Pac-10 teams and no one else. And could there
really
be five teams with losing records?
July, 26, 2010
7/26/10
3:10
PM ET
Want to unscientifically measure the difference between one year of Larry Scott vs. 26 years of Tom Hansen atop the Pac-10?
Do this: Google "Pac-1o commissioner Larry Scott" then do "Pac-10 commissioner Tom Hansen."
Yeah: Stunning. Nearly two million hits vs. 105,000.
While some traditionalists -- and the Pac-10 still has plenty of those -- might not believe that's necessarily a good thing, what Scott has done in one year is dramatic: He's made the conference big news. Even when his grand plan for a "Pac-16" fell apart due to a Texas two-step, Scott's bold behind-the-scenes maneuvering was the lead story of an usually busy college football summer.
When the machinations finally ended, the conference added two teams, Colorado and Utah, and everyone now waits to see how Scott will parlay that into a media deal that keeps the conference financially competitive with the SEC, Big Ten and ACC.
But that answer won't come until 2011. The present "next big thing" is this week: A bi-coastal showcase of Pac-10 football coaches and players. And new, aggressive Pac-10 marketing.
Danette Leighton, an Arizona alum and the Pac-10's new -- and first -- chief marketing officer, uses terms like "sizzle" when she talks about how the conference plans to present itself to the media and public.
"It's about presenting Larry Scott's vision," she said.
That vision means elevating the Pac-10's national profile and waging war on the "East Coast bias" -- real or mythical -- by reaching out in order to overcome instead of merely complaining about perceived slights. That vision means putting the Pac-10 in front of a national audience as much as possible, even if much of that audience supports other conferences and is inclined to boo an interloper from the West.
Cheering or booing -- that means folks are paying attention. And those eyeballs, Scott believes, will translate to increased revenue and a better position in the college football pecking order.
As for the new stuff this week ... You can see the
new Pac-10 website here
when it opens at 2 p.m. PT on Tuesday. And you can pose questions to the coaches and players available during Thursday's media day on the new
Pac-10 Twitter page
.
The Pac-10 blog will be tagging along to all three destinations (image:
Pac-10 blog
walking up to Pac-10 coaches, "Hey, are you guys playing cards?"). That means lots of stories and videos over the next few days. So you may want to take a few days off.
Here's the media days itinerary:
Tuesday (New York)

5 p.m. ET:
News conference at the Manhattan W Hotel featuring all 10 coaches and the unveiling of new Pac-10 logo and football trailer. Pac-10 QBs will visit Times Square -- where the Pac-10 football video will be playing on the Jumbotron -- and the Empire State Building.
6 p.m
.: Private cocktail reception at W's "Whiskey Blue" with TV executives, corporate sponsors, former players and other VIPs.
8 p.m
.: Coaches eat dinner with ESPN's "GameDay" crew. Coach spouses will see Broadway musical, "
Promises, Promises
."
Wednesday (New York, ESPN)
Morning
: Coaches will ring the opening bell at NASDAQ and then conduct East Coast media interviews.
11 a.m.
: Bus to ESPN offices in Bristol, Conn., where players and coaches will do interviews on all ESPN platforms.
5 p.m.
: Charter flight from New York to Los Angeles; check in Peninsula Beverly Hills Hotel.
Thursday (at Rose Bowl, all times PT)
9:30 a.m. - 12:30 p.m. Coach and player group interview session (field)
9:30 a.m. - Introduction and format - Dave Hirsch
9:35 a.m. - Pac-10 commissioner Larry Scott
9:45 a.m. - Paul Wulff & DE Kevin Kooyman, Washington State
10:00 a.m. - Dennis Erickson & PK Thomas Weber, Arizona State
10:15 a.m. - Rick Neuheisel & FS Rahim Moore, UCLA
10:30 a.m. - Steve Sarkisian & LB Mason Foster, Washington
10:45 a.m. - Jeff Tedford & LB Mike Mohamed, California
11:00 a.m. - BREAK
11:15 a.m. - Lane Kiffin & QB
Matt Barkley
, USC
11:30 a.m. - Jim Harbaugh & FB/LB
Owen Marecic
, Stanford
11:45 a.m. - Mike Riley & RB
Jacquizz Rodgers
, Oregon State
12 noon - Mike Stoops & QB
Nick Foles
, Arizona
12:15 p.m. - Chip Kelly & DT Brandon Bair, Oregon
12:30 p.m. - Pac-10 video presentation
12:30-2:30
: One-on-one coach/player interviews during luncheon.
5:30 p.m.
: Reception at the Fox Network Studios: Joe Buck and Troy Aikman host Pac-10 presentation.
March, 17, 2009
3/17/09
10:34
AM ET
Posted by ESPN.com's Ted Miller
What does the Pac-10 envy from other conferences? Read on.
The Pac-10 envies ... the SEC in general: The SEC struggles against the Pac-10 head-to-head but the Pac-10 can't match the hype machine. The SEC is rolling in revenue and fan passion. It's got the nation's best television deals and bowl contracts. It pays its coaches more. It always tops the recruiting rankings. An SEC team seems to always get to play in the national title game even if its record is no better than a handful of other teams. It seems like the Pac-10 is inferior to the SEC in every way. Other than, you know, the football part of football.
The Pac-10 envies... the Big 12's quarterbacks: What in the name of Elway, Aikman, Palmer and Leinart is going on here? The Pac-10 is the "Conference of Quarterbacks"! How the heck did the ole, grind-it-out Big 12 take away that title? You turn away for just a few seconds and these fly-over states stop using the wishbone and start hurling the rock 50 times a game, making the Heisman Trophy a debate about Big 12 quarterbacks. Three Pac-10 teams rank among the nation's top 25 in rushing, but only one in passing, while seven Big 12 teams rank in the top-25 in passing -- including five of the top 10. What in the name of Barry Freaking Switzer is going on here?
The Pac-10 envies... other conference's cost of living: While Oregon, Oregon State, Washington State are in college towns, the other seven Pac-10 teams are located in urban areas, with California, Stanford, UCLA, USC and Washington located in cities that rank among the most expensive in the country. An assistant coach making $100,000 at Auburn needs to make $163,000 if he wants to keep pace at Stanford. That $4.4 million Pete Carroll makes at USC? He'd only need to get $2.7 million to maintain his cost of living in Norman, Okla.
March, 5, 2009
3/05/09
2:30
PM ET
Posted by ESPN.com's Ted Miller
There's a lady who is sure all that glitters is gold, and she's reading the Pac-10 bloooooog!
September, 11, 2008
9/11/08
8:46
AM ET
Posted by ESPN.com's Tim Griffin
Bob Stoops turned 48 earlier this week. And while the Oklahoma coach is revered in the Sooner State, it wasn't a holiday or anything.
At least not that we know of.
Oklahoman columnist Berry Tramel put his spin on Stoops' birthday in a unique way. He compared the career stages for other notable Oklahoma football coaches when they turned 48.
Barry Switzer's wishbone was struggling a little when he turned 48 in 1985 with Troy Aikman as his starting quarterback. Bud Wilkinson was in the middle of his run for the U.S. Senate in 1964. Chuck Fairbanks was trying to rebuild a struggling program at Colorado, well after his salad days at OU. Bennie Owen was getting ready for his 19th season as the Sooners' head coach. And Howard Schnellenberger was preparing for his fourth season as Miami's head coach, only 23 victories into his college head-coaching career.
With Stoops apparently excited about continued coaching at Oklahoma, it will be interesting to see what happens for him in the years after his 48th birthday.
Of a more immediate interest for him will be his team's trip to Washington to attack some nasty road karma. Joseph Duarte of the Houston Chronicle writes that Stoops currently has a nation-best 20-game home winning streak at Owen Field. During that same time, the Sooners are a more pedestrian 12-9 on the road.
Those recent road woes have raised the stakes for Saturday's game at Husky Stadium.
"For me, this is the game of the year because this sets the tone for our future road games and sets the tone for our team," redshirt freshman LB Travis Lewis told the Chronicle. "It's easy playing in front of 85,000 who love you, but what about the 80,000 who hate you?"
It will make Saturday's game the biggest test for the Sooners so far this season. If Stoops can win, he would become the fourth OU coach to have won 100 games during their careers at the school, joining Wilkinson, Switzer and Owen.
Pretty select company, indeed.
Kind of like being included with these morning links: