NCF Nation:

Troy Williams
July, 25, 2014
7/25/14
11:00
AM ET
That's a wrap. Media days have come and gone, and we are officially in full football mode.
The big news from Day 2 was that
Washington Huskies
quarterback
Cyler Miles
will be suspended
for the first game of the season when the Huskies face the
Hawaii Warriors
on Aug. 30.
What does this mean for the Huskies in the short term? Nothing. As my colleague Ted Miller
tweeted
, a certain member of the Pac-12 blog could probably start at quarterback against Hawaii and win (though Ted is giving said member more credit than he deserves). Either
Jeff Lindquist
or
Troy Williams
will be fine.
But it hurts Miles' development in the sense that you are only guaranteed 12 (or 13, in the case of the Huskies this season) opportunities a season to improve, to learn, to develop. And when you lose one of those opportunities, you can't get it back.
We're confident that Miles (whom we all can assume would have won the starting job anyway) would have loved the opportunity to get that first touchdown throw out of the way, that first hit, that first good read and bad read. He'll likely get that shot a week later against Eastern Washington -- a team that gave
Oregon State
fits last season. Not saying the Huskies will share the same fate as the Beavers, but the Pac-12 blog would like its starter to at least have had a game under his belt.
On the flip side, it does give the Huskies a chance to get some valuable playing time for another quarterback. Miles already has some game experience. Last season he completed 37 of 61 passes for 418 yards and four touchdowns with two interceptions. He also rushed 23 times for 200 yards.
So I guess it depends on whether you view the glass as half empty or half full. But for coach Chris Petersen, it's a glass he'd much rather have not had to drink from in his first year with the team.
Hundley stereotyped?
An
interesting read
from Stewart Mandel of Fox Sports on
UCLA Bruins
quarterback
Brett Hundley
. Coach Jim Mora doesn't want Hundley to fall prey to the stereotype that African-American quarterbacks are just runners.
Here's what Mora told Mandel:
"People have a tendency at times to see an African-American quarterback and say, 'Oh, he's a runner.' I hate that stereotype and I always have," said Mora. "I coached Michael Vick and my belief [is] that we stereotype those guys started with him. I don't want that to happen with Brett, and I'm going to make sure that it doesn't, because it shouldn't. The guy's a passer."
Hundley doesn't want to get pigeonholed, either. Here's a story the blog
did on him back in April
, for which he talked about training with several NFL quarterbacks in the hopes of becoming a "complete" player.
He knows the Heisman hype is coming, telling the Pac-12 blog earlier Thursday, "There's nothing I can really do to stop other people from talking about it. I'm just going to do the best I can to block it out and focus on wins."
Is it boring? Yeah. Is it plain? Yeah. But considering some of the questionable off-the-field résumés of some recent Heisman winners, maybe we could all do with a little boring and plain off the field and center our focus on what happens on it.
Stanford-SJSU Take 2
Following up on a link
we brought you yesterday
, about San Jose State coach Ron Caragher addressing the possibility of the
Stanford Cardinal
and the
San Jose State Spartans
reuniting at Levi's Stadium, Stanford coach David Shaw says he's on board.
Shaw told Jon Wilner of the San Jose Mercury News
, "I never wanted to stop the series. I hope we get back to it."
For the Bay Area, for the schools and for the fans, we can all agree we'd like to see the game reinstated.
Injury notes
Some injury updates that came out of media days:
Oregon State's
Isaac Seumalo
should be available early in the season,
according to Gina Mizell of the Oregonian
.
Christian Caple reported that Washington defensive lineman
Jaimie Bryant
has taken a medical retirement
.
Jon Wilner of the San Jose Mercury News first reported that wide receiver
Ty Montgomery
might be inactive for Week 1
against UC Davis.
March, 5, 2013
3/05/13
1:00
PM ET
Call them seeming contradictions if you will, but Washington begins spring practices Tuesday with two mixed messages.
Senior Keith Price is the Huskies' starting quarterback. Unless he isn't.

There is a lot of enthusiasm surrounding the Huskies' potential in 2013. And general frustration with the program.
[+] Enlarge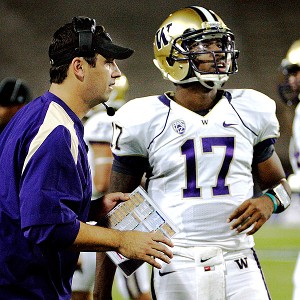 AP Photo/Wily LowCoach Steve Sarkisian says Keith Price is the Huskies' starting quarterback in 2013 -- unless he loses it to four players trying to oust him.
With 20 starters back, including a handful of seeming budding stars, the Huskies have the look of a top-25 team that could make some noise in the rugged Pac-12 North Division after three consecutive 7-win seasons, campaigns that have progressively soured fans pining for the proverbial "next step."
This, coach Steve Sarkisian acknowledges.
"I don't see why we wouldn't be in a position to compete for a division championship," he said.
Sarkisian also acknowledged the Huskies' offensive struggles in 2012. While an equal share of the blame should go to poor offensive line play, which was aggravated by injury issues, the easy guy to point the finger at is Price, whose play decidedly regressed after a strong debut season in 2011.
Price went from a darkhorse Heisman Trophy contender to eighth in the Pac-12 in passing efficiency, trailing three first-year starters and California's oft-criticized
Zach Maynard
. The Huskies averaged just 24 points per game, down nine from the 2011 season.
"We need to get our offensive numbers back to where they were two years ago," Sarkisian said.
And that starts with Price. Unless it doesn't.
"Keith Price is our starting quarterback -- the goal is to get Keith Price back to playing the way he was two years ago," Sarkisian said. "But there are four guys behind him who are going to be chomping at the bit to get an opportunity to make this thing into a competition that either is going to push Keith to be better than he's been or, ultimately, try to surpass him."
So this is Price's job. Unless... "As I've said to Keith," Sarkisian said, "we're not going to be stubborn enough that if we think another guy is playing better that guy won't get that opportunity to beat him out."
Those four guys trying to raise an eyebrow at Price's expense: Redshirt freshmen
Cyler Miles
,
Jeff Lindquist
, sophomore
Derrick Brown
and true freshman Troy Williams.
The bottom line meaning behind Sarkisian's statements is fairly straightforward: 1. He wants Price to win the job; 2. But he wants the Huskies to win as many games as possible in a critical season for him and the program; 3. He's going to play the guy who gives him the best chance for No. 2.
The quarterbacks will be working with a new position coach, Marques Tuiasosopo, whose name immediately evokes pleasant memories for Huskies fans. He quarterbacked the program to a No. 3 final ranking after the 2000 season, the Huskies' last Rose Bowl victory. A former dual-threat player, he's got an NFL pedigree, an easy-going style and a natural follow-me-to-the-gold! ability to lead. He also will allow Sarkisian to be more big-picture with the offense.
If the Huskies get the Price of 2011 -- or someone else who can produce a top-10 in the nation passing efficiency rating -- there are a lot of toys to play with, starting with RB
Bishop Sankey
, WR
Kasen Williams
and TE
Austin Seferian-Jenkins
. A young offensive line that got pushed around in 2012 should be much better, and the (eventual) return of former starters
Colin Tanigawa
and
Erik Kohler
will provide another boost.
The dramatic improvement of the defense in Year 1 under coordinator Justin Wilcox also suggests strong reasons for optimism.
Of course, the program has been glutted with optimism the past few seasons. Seven wins were a revelation in 2010. Not so much in 2012, particularly when the Huskies blew their final two games, most notably a shocking fourth-quarter collapse against Washington State, something that Cougars fans never, ever, ever bring up these days.
Sarkisian, as is his wont, can find a silver lining even there.
"I don't think that taste is going to go anywhere for awhile, which is OK," he said. "We lost two games that we should have won. The end result is we are sitting here talking about a 7-6 football team when we could have been here talking about a 9-4 football team. But I don't know if that's all bad. If we would have finished 9-4 and found a way to finish those last two games, I don't know what January or February would have been like for us as a football team. We may have still been hungry and I would like to think so and striving for more. We might have grown a bit complacent. What I do know is there is zero complacency in our locker room right now."
That lack of complacency must start with Price. He needs to regain his mojo. The same could be said for Sarkisian.
Washington will open a remodeled Husky Stadium this fall, a facility that will immediately rank among the nation's best. That will add to the anticipation of a special season, one that Huskies fans have turned purple -- appropriately -- holding their collective breath anticipating.
Said Sarkisian of Price, "We've been through a lot together and we've got one chapter left that we want to make a great ending."
February, 7, 2013
2/07/13
10:00
AM ET
Continuing with the hits and misses from Pac-12 recruiting.
CALIFORNIA

Needs filled
: The Bears added nice depth to the offensive line with tackles
Aaron Cochran
and
Erik Bunte
. Junior-college transfer
Sione Sina
can also be a nice stopgap at defensive end. They went heavy in the trenches with five offensive linemen and seven defensive linemen.
Holes remaining:
Cal is looking for a quarterback to run the new-look offense under new head coach Sonny Dykes. Could be
Zach Kline
of the 2012 recruiting class. Could be
Jared Goff
of this year's class, an early enrollee. The Bears addressed a lot of positions, but whether some youngsters can step up remains to be seen. The 11th-hour flip of offensive guard
Cameron Hunt
to Oregon has to sting.
OREGON

Needs filled
: The Ducks went heavy on offense, and running back
Thomas Tyner
highlights a group that is loaded with speed (what did you expect, it's Oregon). They added two stellar offensive guards in Hunt and
Evan Voeller
and a premier defensive end in
Torrodney Prevot
, previously a USC commit. There are speedy receivers down the line like
Darren Carrington
. And they added kicker
Matt Wogan
. The Ducks were 11th in the conference in field goals made in 2012.
Holes remaining:
The Ducks still have holes to fill at linebacker. Junior-college transfer
Joe Walker
, an outside linebacker, could step in to help immediately. But with the losses of inside linebackers
Michael Clay
and
Kiko Alonso
, the Ducks have mostly untested talent at the position and this year's class didn't add much depth to a position that is already a question mark.
OREGON STATE

Needs filled
: When you look at the top two players the Beavers lost --
Jordan Poyer
and
Markus Wheaton
-- it's nice to look at their recruiting class and see a cornerback and wide receiver as the two highest-rated players.
Dashon Hunt
and
Hunter Jarmon
might never develop into a Poyer or a Wheaton, but the Beavers saw the holes and addressed them. JC defensive tackles
Kyle Peko
and
Edwin Delva
should help immediately and
Kyle Kempt
could develop into the quarterback of the future in a couple of years. a href="http://espn.go.com/college-sports/football/recruiting/player/_/id/136903/jordan-villamin">Jordan Villamin, 6-foot-4 wide receiver, might also develop into a nice red zone target.
Holes remaining:
The JC transfers help with the defensive line in the immediate future, but the Beavers signed only two high school defensive linemen, leaving some questions about depth in the future. It's likely a position they'll address heavily next season.
STANFORD

Needs filled
: This is a class low on numbers, but extremely high on potential. If quarterback
Ryan Burns
is as advertised, it's possible he could challenge for the starting job as early as 2014.
Francis Owusu
has tremendous upside as a receiver and
Peter Kalambayi
adds depth to one of the best front sevens in the nation. Plus, three tight ends (
Austin Hooper
,
Greg Taboada
and
Eric Cotton Jr.
). How very Stanfordish of them.
Holes remaining:
The Cardinal loaded up on defensive linemen with five last year and there is plenty of depth, albeit untested, at running back. The Cardinal didn't sign any running backs or defensive linemen this year. It's not a bad thing -- for now. But if a couple of guys get injured or if there is any attrition, it could bite them. For now, the Cardinal seem to be in good shape across all positions.
WASHINGTON

Needs filled
: The Huskies added some much-needed depth on the defensive line with five linemen -- headlined by ESPN 150 defensive tackle
Elijah Qualls
.
Damore'ea Stringfellow
and
Darrell Daniels
-- both ESPN 150 wide receivers -- provide a nice one-two offensive punch.
Troy Williams
, the nation's No. 3-rated dual-threat quarterback -- could potentially be the heir apparent to
Keith Price
. It was a good class that fills a lot of needs.
Holes remaining:
For solid as the defensive line class was, the Huskies signed only three offensive linemen -- though one of them is
Dane Crane
, the nation's No. 4-rated center. If you recall, however, the Huskies were decimated with offensive line injuries this year and coach Steve Sarkisian made it a point to talk about the team needing more depth to be able to absorb that kind of injury hit. Three more guys helps; but is it enough to sustain them if another injury bug ravishes the line?
WASHINGTON STATE

Needs filled
: This was quietly a very good encore recruiting class for Mike Leach in his second season at the helm. It's heavy on linemen, heavy in the secondary and it's headlined by a four-star wide receiver in
Vince Mayle
-- a JC transfer from Rocklin, Calif. Interestingly enough, it also has two fairly highly rated running backs. We know Leach isn't going to be a run-first guy -- but the Cougars could certainly use the help after rushing for 29.1 yards per game last season.
Holes remaining:
Who is going to run the offense? It could be
Connor Halliday
. But it's also possible Leach pulls the trigger on
Tyler Bruggman
, the No. 22-rated pocket passer in the country from Phoenix. That remains the No. 1 priority for the Cougars in the offseason. Otherwise, this recruiting class plugged a lot of holes. The question is whether they are the right guys to help immediately.