May, 15, 2012
5/15/12
12:15
PM ET
Before Jimmer Fredette came along, Ty Detmer was the student-athlete most singularly identified with Brigham Young University.

Detmer, who won the 1990 Heisman Trophy as college football's best player, was inducted into the College Football Hall of Fame on Tuesday.
During his four-year career at BYU from 1988 to 1991, Detmer also won the Maxwell Award as the country's best player and two Davey O'Brien Awards as the top quarterback. He also broke 63 NCAA records and left BYU as the sport's all-time leading passer with 15,031 career passing yards and 121 touchdowns. More than two decades after he left BYU, Detmer still holds 10 school records.
A two-time All-American, Detmer thrust the Cougars into the national spotlight with a 28-21 upset of No. 1-ranked Miami on Sept. 8, 1990.
Detmer threw for 406 yards with four touchdowns while leading BYU to an upset of the defending national champions. He had a 37-13-2 record at BYU and guided his teams to three consecutive conference championships.
A ninth-round pick of the Green Bay Packers in the 1992 NFL draft, Detmer played 14 seasons with the Packers, Philadelphia Eagles, San Francisco 49ers, Cleveland Browns, Detroit Lions and Atlanta Falcons.
Detmer is currently the head coach at St. Andrew's Episcopal School in Austin, Texas. He is the fifth BYU quarterback selected to the Hall of Fame, along with Gifford Nielsen, Marc Wilson, Jim McMahon and Steve Young. Legendary BYU coach LaVell Edwards and tight end Gordon Hudson are also in the Hall of Fame.
December, 21, 2011
12/21/11
7:26
PM ET
It's long been one of the difficult questions college football fans ask: Why won't anyone give Norm Chow a chance to run a program?
Chow, widely considered one of the best offensive minds in college football history, got plenty of interviews, most notably of late at Stanford in 2005, and made plenty of "candidates" lists during the annual coaching carousel. He also turned down the head coaching job at Kentucky in 2002 to remain at USC. But, in reputation and reality, he was the perennial bridesmaid.
You'd hear things, of course. All the why-nots. He wasn't terribly good at interviews. He was an Xs-and-Os guy who didn't have people or management skills. Most schools wanted a dashing, young, charismatic guy who could slap backs, enticing a flood of elite recruits and booster checks. Chow was never reputed to be much of a recruiter, something he doesn't particularly enjoy.
[+] Enlarge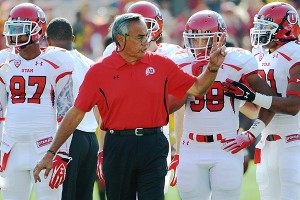 Kirby Lee/Image of Sport-US PresswireNorm Chow, 65, is moving up from Utah offensive coordinator to Hawaii head coach.
Chow, 65, is professorial. His personality isn't "big." He's not a commanding presence. He also is stubborn, territorial and not terribly good at coaching politics. He holds grudges — just ask Washington coach Steve Sarkisian and USC coach Lane Kiffin, whom Chow -- not unfairly -- believes pulled the carpet out from under him at USC with head coach Pete Carroll. (Carroll's almost childish jealousy of the credit given Chow during USC's glory days is another story entirely).
It also was perfectly fair to wonder if Chow's being Asian-American had anything to do with the critiques and whispers. His
hiring at Hawaii
, after all, makes him the first Asian-American head coach of a major football program.
First. That's pretty big, folks, even if most FBS rosters have little to no Asian presence, though if you go with that old standard "Asian/Pacific Islander" category, things change dramatically there.
Not only is Chow, after 39 years as an assistant coach, finally getting his shot as a head coach, he's going home to do it. He was born in Honolulu and is a Punahou School alum. He began his coaching career as head coach at Waialua High School on the North Shore of Oahu from 1970-72. This seems like a good fit, though coaching at Hawaii has built-in challenges, starting with geography.
Chow will serve as Utah's offensive coordinator in the Hyundai Sun Bowl against Georgia Tech on Dec. 31 before officially taking over the Warriors. For the Utes, it's a blow, but not a crippling one. Coach Kyle Whittingham brought Chow aboard to install a pro-style offense with a downhill running game, replacing the spread the Utes had long used. After quarterback
Jordan Wynn
went down in the fourth game against Washington with another shoulder injury, Chow's chief task was managing an extremely conservative, almost run-exclusive offense that didn't mess things up for a very good defense.
Chow did a good job of making running back
John White
into an effective weapon even when everyone knew he and his 24 carries a game were coming. But the Utes never got the full Chow offense. The expectation here is that Whittingham will look for a guy who believes in the same pro-style, run-first concepts. The Utes don't figure to go back to a spread, though that does seem to be the thing in the Pac-12 after the hiring of four new coaches who all run a version of it.
Utes fans should be more concerned about who's going to play quarterback in 2012. Whittingham is going to make a good hire at OC.
And this day is about Chow.
He's a three-time national assistant coach of the year. He's served as offensive coordinator for three national championship teams (Brigham Young, 1984; USC, 2003 and 2004). He has tutored three Heisman Trophy winners (Ty Detmer, BYU; Carson Palmer, USC; Matt Leinart, USC) and six NFL first-round draft picks.
His resume has always been impressive. Just not impressive enough to overcome the things whispered about him.
Over the past decade, he's been portrayed as a bit of a nomadic mercenary, but keep in mind he was a bastion of stability most of his career, coaching at BYU for 27 years before things turned sour and he bolted to N.C. State in 2000, the first of five jobs he'd hold over the next 11 seasons before landing at Hawaii.
Chow is coming home to get his big chance. No matter what happens at Hawaii, his coaching legacy is secure. But, let's face it, if he retires a big winner in 10 years, he'll surely enjoy at least thinking "I told you so" through a big grin.
June, 30, 2011
6/30/11
9:00
AM ET
Ty Detmer never struggled through a losing season at BYU the way he did in 2010, when he became a high school football coach for the first time.
Detmer took over a small school in Austin, and watched as his St. Andrew's Episcopal team lost every game on the schedule. But the results of last season did not discourage him. They motivated him for more.
"We weren't very good, but we only had two seniors, so we feel like we're going to be a lot better this year," Detmer said in a recent phone interview. "We're a small school trying to get off the ground floor and get things going. It's challenging but it's a lot of fun. I learned a lot that first year, probably more than the kids did."
[+] Enlarge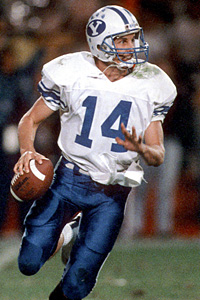 US PresswireTy Detmer won the Heisman Trophy as a junior in 1990.
Indeed, Detmer had only 40 players on his team last season. Twenty of them were freshmen. Everybody, except for the quarterback, played both ways. Detmer expects to have more players this season, so that should help.
He also has a year of coaching under his belt, and the expertise of having been one of the best college football players of all time. When Detmer arrived at BYU out of San Antonio in 1988, he took one glance at the walls around the football offices and wondered whether he one day would have his name up there.
"There are so many great quarterbacks who played before me," he said. "I remember as a freshman sitting in meeting rooms and seeing the All-American plaques on the wall and some of the Davey O'Brien medals on the wall of the football office, hoping that maybe you might have a chance to have one up there.
"When you're in the middle of it, you're playing and trying to win games, but that comes with being a quarterback at BYU. If you're having success and winning games, you're going to have those types of things happen for you."
Detmer still holds school career records for yards passing (15,031), touchdown passes (121) and completions (958), among many others. He won the Heisman Trophy in 1990, when he threw for 5,188 yards and 41 touchdowns.
The Heisman sits in a room off his office at his home, and is a daily reminder of all that he accomplished on the college level. But that same success never followed in the NFL.
There were immediate questions about his size and arm strength. He ended up being drafted in the ninth round in 1992 by the Green Bay Packers.
"When you're picking a college, you get to pick a place that feels right for you," Detmer said. "The NFL, you go wherever they tell you to. It's an uphill battle if you get in the wrong situation, the wrong place. For me, obviously, I didn't have the physical tools they were looking for, but I knew the game and just felt like I made the most of every opportunity, every situation presented. Looking back, there weren't situations I felt like I wish I had done something differently. You make the most of what's given to you and the opportunity and hope for the best."
Detmer never really got the chance to start, but he did spend 14 years in the league as a backup. He ended up throwing 34 career touchdown passes -- seven fewer than he had his Heisman Trophy-winning season with the Cougars.
"Obviously, I would have liked to have been a starter and a guy somebody had taken and said we'll build a franchise around you," Detmer said. "Being a ninth-round pick, that wasn't the case. I felt I was better than some of the guys taken ahead of me but I knew there were some question marks with size and a couple of things. At the same time, I never had a problem at any other level."
Detmer was seen as a smart, capable quarterback who would not do anything to embarrass his coach. A trusty backup.
"Guys get labeled when they come in, and it's hard to shake that label if you're not careful," he said. "Realistically, being a ninth-round pick, I probably should not have even lasted 14 years. I probably shouldn't have lasted that first year but Green Bay took a chance on me, gave me an opportunity and I am grateful for that."
No matter what he did in the NFL, there is no changing what happened at BYU. Now he hopes to duplicate that success with his new high school team.
"I enjoy being back on the field," Detmer said. "Football is what I know, and I just really enjoyed the X's and O's part, managing kids' emotions part. There's a lot to do when you're the head coach at a small school. You're the part-time equipment manager, part-time trainer, part-time psychologist, and you're helping them mature into young men as well. I'm looking forward to this year and building a program there."