NCF Nation:

Tyler Anderson
March, 20, 2013
3/20/13
11:00
AM ET
Get comfortable, Oregon State fans. It's going to be a long quarterback competition.
Addressing the media Tuesday in a pre-spring conference call, Oregon State head coach Mike Riley said it's doubtful anything will be decided between
Sean Mannion
and
Cody Vaz
this spring. Mannion is listed No. 1 on the depth chart -- only because Riley and Co. didn't include an "or" between the two names. Anyone looking for meaning to Mannion being No. 1 can keep looking.
"You can't read anything into that," Riley said. "We're going to split their time evenly. You don't need to ask them daily about what's going on because I probably won't make a decision until the end of fall camp. I'm just going to let them play and grow and try to get better this spring. We'll give them absolute even turns as we go -- unless somebody just takes the bull by the horns and separates. But I don't know if that's going to happen. I think they both did a lot of good things and they both had some rough moments. It's a matter of who comes out of it with the most consistent, best play. And that might take some time. I think they are both knowledgeable. They both work hard and are well-respected. We're going to let them get as much preparation as they can."
This will be one of the more closely watched quarterback competitions in the conference -- and nationally, as the Beavers are expected to start the season in the preseason top 25.
Mannion helped the Beavers to a hot start in 2012, guiding them to victories in their first four games before hurting his knee against Washington State. That paved the way for Vaz, who engineered back-to-back wins at BYU and against Utah.
[+] Enlarge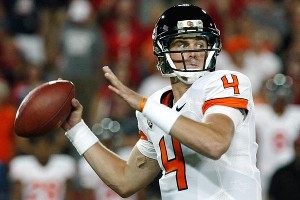 Rick Scuteri/US PresswireSean Mannion is listed as Oregon State's No. 1 QB, but nothing's been decided, coach Mike Riley said.
Then came the first loss of the season, to Washington, in which Mannion threw four interceptions. Oregon State was off and on the rest of the season -- as were its quarterbacks. After a 6-0 start, the Beavers went 3-4 down the stretch, culminating with a 31-27 loss to Texas in the Alamo Bowl.
Mannion finished the year with 2,446 yards and 15 touchdowns to 13 interceptions on 64.7 percent passing. Vaz completed 58.9 percent of his throws for 1,480 yards, but also had 11 touchdowns to just three interceptions.
"We've talked to both of them about the fact there is going to be competition," Riley said. "They have to learn to handle that and be a great leader and a great teammate and focus on doing their best. I think it will be good for both of them. I think it will bring the best out in both of them and then we'll have to see what we're going to do from there. I suppose in the long run we could come out of it stronger."
Other notes:
Players who will miss spring ball include: Safety Tyrequek Zimmerman, left tackle Garrett Weinreich, defensive end Scott Crichton, wide receiver Richard Mullaney and fullback Tyler Anderson. Left guard Chase Eldredge and center Isaac Seumalo will be limited.

Riley talked about the competition between Sean Martin and junior-college transfer Steven Nelson to replace departed cornerback Jordan Poyer: "[Martin] got more opportunities to play last year and that was all good for him, and we'll see if he can step up into what can be a reliable starting role. ... [Nelson] is always around working out, and in a short amount of time has seemed to fit in real well. I anticipate good things from him in spring ball. The best thing that can happen to this team is really develop good competition with good players at the corner. "

Riley on the depth at running back with Storm Woods, Terron Ward and Chris Brown: "That right there is good depth. I hate losing Malcolm [Agnew] because he's a good football player. He's all over special teams and when you watch our cutups or games, he's always doing something. But I think we have good players there. Storm can build on his freshman year for sure and Terron Ward looked really good in the offseason running and has really worked hard. Chris Brown is a young talent trying to break in where he can hopefully fill some of those roles that Malcolm Agnew played and bust into the rotation of playing in the game."
October, 6, 2012
10/06/12
9:47
PM ET
The
Oregon State Beavers
overcame an uncharacteristically inefficient first half on offense, but pulled away from Washington State in the second half en route to a
19-6 home win
.
Luckily for No. 14 Oregon State (4-0, 3-0), Washington State's offense didn't look much better.


The teams combined for eight turnovers -- including three interceptions by Washington State quarterback
Connor Halliday
, who was eventually replaced by
Jeff Tuel
. Oregon State quarterback
Sean Mannion
also had a three-interception day.
Considering the big numbers both of these teams were capable of, the outcome is a bit of a surprise.
Oregon State cornerback
Jordan Poyer
hauled in three interceptions for the Beaver defense, which held Washington State (2-4, 0-3) to 227 total yards of offense and no touchdowns.
The Beavers held a 6-3 advantage at halftime following a pair of
Trevor Romaine
field goals and one from WSU's
Andrew Furney
.
But they found the end zone in the third quarter when Mannion (25-of-42, 270 yards) connected with
Markus Wheaton
on a 12-yard score in the corner of the end zone.
"Wipe that slate clean, we have a brand new second half," Mannion told the Pac-12 Network after the game. "...That's great about our whole offense. We realize we're going to have some good plays and some bad plays. You have to play with a short memory."
Washington State, while struggling offensively, appeared to take another step forward as a defense. safety
Deone Bucannon
, defensive tackle
Ioane Gauta
and
Casey Locker
all had interceptions for the Cougars. Linebacker
Travis Long
also played well with a sack, three tackles and a pass breakup.
But the Cougars, who rushed for just 20 yards, couldn't get much going offensively. Halliday was 9-of-20 for 81 yards with the three picks before Tuel replaced him. Tuel went 11-of-17 for 126 yards and an interception.
Despite the shaky performance, Mannion was 5-of-7 for 64 yards on OSU's second to last drive of the game, a 12-play march that spanned 86 yards and was capped with a
Tyler Anderson
1-yard touchdown run.
July, 6, 2011
7/06/11
4:30
PM ET
We continue our team position rankings with the linebackers. This position was one of the hardest hit in the league with the number of quality players who are gone. You could probably interchange teams 2-7 in the rankings, depending on your point of view. So who is going to step up? Let's peer into the crystal ball.
[+] Enlarge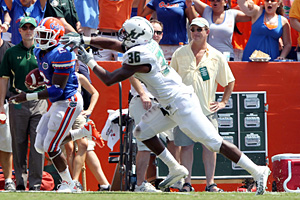 Kim Klement/US PresswireSouth Florida linebacker Sam Barrington, 36, leads the Big East's best group of linebackers.
1. South Florida.
Sam Barrington and DeDe Lattimore form the best linebacking duo in the league, helping put the Bulls into the top spot. By no means have they fully arrived -- plenty of room for improvement here. What also helps with the ranking is depth. Reshard Cliett had a nice spring, after coming into USF as a safety. Junior college transfer Mike Juene was in for spring and also has raised expectations. Mike Lanaris and Curtis Weatherspoon should be important contributors as well.
2. Connecticut.
The strength of the team is on defense, but if there is one group on this unit that has the biggest questions it is linebacker. There is no disputing Sio Moore is one of the best in the league. But the Huskies lost four-year starters Lawrence Wilson and Scott Lutrus. Jory Johnson, Jerome Williams, Mike Osiecki and Yawin Smallwood are all in the mix, but there is no question this group is much more inexperienced than a year ago. Still, Moore makes this a top-tier group.
3. Louisville.
The Cardinals lose Brandon Heath and a few other players who brought valuable experience. But
Daniel Brown
and Dexter Heyman are experienced starters who will anchor this unit. The Cardinals took a hit when Brandon Golson reportedly decided to transfer, so they are going to need to work on some depth.
4. Rutgers.
Some players moved around during the spring -- Manny Abreu moved from strongside linebacker to defensive end, and Khaseem Greene moved from safety to weakside linebacker. These moves should make the defense better. Steve Beauharnais switched back to the strong side from the middle, a move that should benefit him. Ka'Lial Glaud is now penciled in to start in the middle. Marvin Booker had a good spring as well. Depth is an issue and true freshman Quentin Gause and Kevin Snyder could play. But this group should be better.
5. West Virginia.
Najee Goode is a proven big-time player, but there were some huge losses for this unit. Anthony Leonard, JT Thomas and Pat Lazear are all gone. Junior college transfer Josh Francis and Casey Vance are competing on the weakside and Doug Rigg, Tyler Anderson and Donovan Miles on the strong side. Francis would add athleticism to the group, but first he has to win the starting job.
6. Pittsburgh.
The Panthers are transitioning to a 3-4 and experimented plenty during the spring with various combinations. They have experience, with the top seven linebackers on the team returning. Plus Brandon Lindsey is going to play more of a hybrid defensive end/linebacker role. But this was one of the worst units on the team last season. Max Gruder and Greg Williams have to be better for this unit to be ranked higher.
7. Syracuse.
The Orange lose not only two of their best players, but two of their biggest leaders in Doug Hogue and Derrell Smith. Smith led the team in tackles, and Hogue was right behind him, making linebacker one of the biggest question marks on this team heading into the season. Two other contributors, Malcolm Cater and Brice Hawkes, were kicked off the team. That leaves sophmore Marquis Spruill as the only player with significant playing time among the linebackers, and he moved to a new position in the middle. Early enrollee Dyshawn Davis, a receiver in high school, is penciled in to start so that should tell you where this group is headed into the fall.
8. Cincinnati.
JK Schaffer is one of the best in the Big East, but depth here is a concern. Walter Stewart has moved to defensive end, leaving a hole at one of the linebacker spots. True freshmen Nick Temple and Dwight Jackson were in for spring practice are expected to compete for starting jobs. This unit was not very good last year and undersized, making it the group with the most to prove in 2011.
Previous rankings
April, 6, 2011
4/06/11
12:25
PM ET
MORGANTOWN, W. Va. -- Some quick thoughts after attending the viewing window of West Virginia's spring practice on Wednesday, the Mountaineers' first day in full pads:
I was excited to see Dana Holgorsen's new offense in person, and it's not hard to see the reasons for optimism. The Mountaineers have speed at receiver, a promising young quarterback in Geno Smith and were giving their own defenses problems with the mix of run and pass. Bill Stewart had told me on Monday that the team hadn't looked downfield much yet in practice, but Smith threw deep a few times during the 11-on-11 period, and with good success. It wasn't all passing, though, as the offense lined up with two backs frequently and did some inside zone running.
Holgorsen mostly stands on the sidelines during the team periods, signaling in the calls as he will on gameday. He doesn't say a whole lot during practice, letting his assistants handle the bulk of the talking. Holgorsen gives out a lot more instructions during film review, the players say.
No worries about Smith's health. He was participating in all drills and running around well on his surgically repaired foot. This offense doesn't ask him to run much, anyway.
Freshman Paul Millard got the second-team reps and throws a nice ball. Holgorsen told me he's far ahead of fellow freshman Brian Athey at this point, mostly owing to the fact that he played 5-A Texas high school ball. How this kid went unrecruited is baffling.
Still no real standouts at tailback, but Daquan Hargrett had some nice runs while I was watching, including a burst up the middle for a long touchdown.
Brad Starks got behind the defense for a long completion. He looks great and could be poised for a big senior year. Ivan McCartney dropped a pass early but later caught a short one and completely juked Brodrick Jenkins out of his shoes. McCartney has major potential if he continues to develop and mature. J.D. Woods also made a nice catch in traffic. Tyler Urban also got involved, and it will be interesting to see how the offense uses him.
The defense wasn't allowed to tackle the quarterback, of course, but Bruce Irvin was in the backfield a lot -- "No one can block him yet," Stewart said -- and Julian Miller wasn't far behind. That's not surprising, especially since starting offensive tackles Don Barclay and Jeff Braun are out this spring with injuries. Irvin and a few other players were wearing the gold shoes from last year's special Nike Pro Combat uniforms, which made me happy to see.
Linebacker Tyler Anderson had an interception off a tipped ball. Stewart then told him he should have stayed up and tried to score instead of falling on the ground. About the only thing last year's defense didn't do right last year was get turnovers and points.
Overall impression: The Mountaineers weren't as sharp or crisp defensively as they were a year ago at this time, but that's almost a given after losing seven starters. There is still a lot of talent and speed here, and it's just going to take a little time for the defense to gel and the offense to get the system down. If it all comes together, this could easily be the best team in the Big East this year. But there's a long way to go.