NCF Nation:

Tyler Bruggman
March, 21, 2013
3/21/13
11:00
AM ET
When the
Washington State Cougars
kick off spring ball today, the hope is that things will be a little faster. A little crisper. There is an understanding of what coach Mike Leach now expects from his players -- both from a technical and a mental perspective.
"Statistically, a year older if nothing else," Leach said, addressing the media in a pre-spring conference call Wednesday. "I think in spring there is always some introduction and some re-introduction but there will be less of that. We should get out of the blocks a little quicker. Also we'll have a body of work from last year to learn from, which there is a ton to learn from that. If we can tighten everything a tiny bit all the way around, then the whole production will be higher."
But most importantly, the Cougars have to start believing they can be a good football team.
[+] Enlarge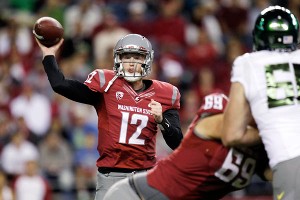 AP Photo/Ted S. WarrenConnor Halliday has experience on his side in the QB competition with Austin Apodaca.
"We spent too many times as a team last year being surprised when something good happened to us," Leach said.
Headlining the spring session will be the quarterback competition between junior
Connor Halliday
and redshirt freshman
Austin Apodaca
. Leach said he isn't going to force the issue, but he wants to see some progress at the position before they break camp.
"[Quarterback competitions] aren't as complicated as everybody makes them out to be," Leach said. "You go out there. You rep them, and the guy that plays the best, you play him more than the other guy. But I think it will be a pretty good contest.
"Starting out they'll be 50-50 [in number of reps]," Leach said. "I do want to get them a lot of reps. The more the better. One guys is a redshirt freshman and then Connor has either started or been involved in a handful of games. I do want somebody to secure and lock down the position. I am going to give them as many reps as possible. It will be 50-50 for a period -- I would anticipate half or more of spring. I do have quite a bit of reps because I don't have a third guy working in. If I have three, then it's a little more tangled. Then it's harder. I'm in pretty good shape rep-wise this year."
There isn't a third ... yet. That will be reevaluated when touted recruit
Tyler Bruggman
joins the team in the fall.
"We'll find out," Leach said of Bruggman's possible involvement in the competition. "Early in camp we'll check and see where everybody is at."
Other notes
Leach on speedy freshman wide receiver Robert Lewis: "He's fast. Has a real quick burst. In two steps he hits high gear and he's pretty elusive right and left. We're kind of excited to see what he can do. He played a variety of positions in high school -- everything from running back to receiver to returner to this, that and the other thing. We need to try to identify what he can do and see how close he is to being ready to play."
On changes he'd like to see to spring rules: "More days, and I'd like to be able to scrimmage somebody. Not like a scrimmage game [setting], more like a mixed practice like they do in the NFL. For example, somebody you don't play or maybe somebody you do, you have the inside drill against them. You have one-on-one against them. You have some team period plays against them."
On trying to speed up the tempo: "We went back and forth a little with it last year and then we got into a musical-quarterback situation. That was harder to do. It's always been part of it. We've done no-huddle for decades ... we'll no-huddle and that will be a part of things."
On former QB Jeff Tuel making an NFL roster: "It will be interesting. The biggest thing he's battling is experience. Jeff hasn't played in a ton of games because his career has been plagued by injuries and things of that nature. He needs to make up for experience as quick as he can and some of that experience has to do with winning games. The mental and physical experience has to pick up as fast as he can. I think he's talented. I think he's a smart guy. And a lot of it is right-place-right-time."
February, 7, 2013
2/07/13
10:00
AM ET
Continuing with the hits and misses from Pac-12 recruiting.
CALIFORNIA

Needs filled
: The Bears added nice depth to the offensive line with tackles
Aaron Cochran
and
Erik Bunte
. Junior-college transfer
Sione Sina
can also be a nice stopgap at defensive end. They went heavy in the trenches with five offensive linemen and seven defensive linemen.
Holes remaining:
Cal is looking for a quarterback to run the new-look offense under new head coach Sonny Dykes. Could be
Zach Kline
of the 2012 recruiting class. Could be
Jared Goff
of this year's class, an early enrollee. The Bears addressed a lot of positions, but whether some youngsters can step up remains to be seen. The 11th-hour flip of offensive guard
Cameron Hunt
to Oregon has to sting.
OREGON

Needs filled
: The Ducks went heavy on offense, and running back
Thomas Tyner
highlights a group that is loaded with speed (what did you expect, it's Oregon). They added two stellar offensive guards in Hunt and
Evan Voeller
and a premier defensive end in
Torrodney Prevot
, previously a USC commit. There are speedy receivers down the line like
Darren Carrington
. And they added kicker
Matt Wogan
. The Ducks were 11th in the conference in field goals made in 2012.
Holes remaining:
The Ducks still have holes to fill at linebacker. Junior-college transfer
Joe Walker
, an outside linebacker, could step in to help immediately. But with the losses of inside linebackers
Michael Clay
and
Kiko Alonso
, the Ducks have mostly untested talent at the position and this year's class didn't add much depth to a position that is already a question mark.
OREGON STATE

Needs filled
: When you look at the top two players the Beavers lost --
Jordan Poyer
and
Markus Wheaton
-- it's nice to look at their recruiting class and see a cornerback and wide receiver as the two highest-rated players.
Dashon Hunt
and
Hunter Jarmon
might never develop into a Poyer or a Wheaton, but the Beavers saw the holes and addressed them. JC defensive tackles
Kyle Peko
and
Edwin Delva
should help immediately and
Kyle Kempt
could develop into the quarterback of the future in a couple of years. a href="http://espn.go.com/college-sports/football/recruiting/player/_/id/136903/jordan-villamin">Jordan Villamin, 6-foot-4 wide receiver, might also develop into a nice red zone target.
Holes remaining:
The JC transfers help with the defensive line in the immediate future, but the Beavers signed only two high school defensive linemen, leaving some questions about depth in the future. It's likely a position they'll address heavily next season.
STANFORD

Needs filled
: This is a class low on numbers, but extremely high on potential. If quarterback
Ryan Burns
is as advertised, it's possible he could challenge for the starting job as early as 2014.
Francis Owusu
has tremendous upside as a receiver and
Peter Kalambayi
adds depth to one of the best front sevens in the nation. Plus, three tight ends (
Austin Hooper
,
Greg Taboada
and
Eric Cotton Jr.
). How very Stanfordish of them.
Holes remaining:
The Cardinal loaded up on defensive linemen with five last year and there is plenty of depth, albeit untested, at running back. The Cardinal didn't sign any running backs or defensive linemen this year. It's not a bad thing -- for now. But if a couple of guys get injured or if there is any attrition, it could bite them. For now, the Cardinal seem to be in good shape across all positions.
WASHINGTON

Needs filled
: The Huskies added some much-needed depth on the defensive line with five linemen -- headlined by ESPN 150 defensive tackle
Elijah Qualls
.
Damore'ea Stringfellow
and
Darrell Daniels
-- both ESPN 150 wide receivers -- provide a nice one-two offensive punch.
Troy Williams
, the nation's No. 3-rated dual-threat quarterback -- could potentially be the heir apparent to
Keith Price
. It was a good class that fills a lot of needs.
Holes remaining:
For solid as the defensive line class was, the Huskies signed only three offensive linemen -- though one of them is
Dane Crane
, the nation's No. 4-rated center. If you recall, however, the Huskies were decimated with offensive line injuries this year and coach Steve Sarkisian made it a point to talk about the team needing more depth to be able to absorb that kind of injury hit. Three more guys helps; but is it enough to sustain them if another injury bug ravishes the line?
WASHINGTON STATE

Needs filled
: This was quietly a very good encore recruiting class for Mike Leach in his second season at the helm. It's heavy on linemen, heavy in the secondary and it's headlined by a four-star wide receiver in
Vince Mayle
-- a JC transfer from Rocklin, Calif. Interestingly enough, it also has two fairly highly rated running backs. We know Leach isn't going to be a run-first guy -- but the Cougars could certainly use the help after rushing for 29.1 yards per game last season.
Holes remaining:
Who is going to run the offense? It could be
Connor Halliday
. But it's also possible Leach pulls the trigger on
Tyler Bruggman
, the No. 22-rated pocket passer in the country from Phoenix. That remains the No. 1 priority for the Cougars in the offseason. Otherwise, this recruiting class plugged a lot of holes. The question is whether they are the right guys to help immediately.
February, 6, 2013
2/06/13
7:00
AM ET
ESPN RecruitingNation
has signing day covered. Follow ESPNU's coverage, chat with analysts and get breaking news on our
Signing Day Live
page beginning at 7:30 a.m. ET through 7 p.m. ET. For more on what to expect on signing day, check out the
Pac-12 conference breakdown

.
Bold prediction for the Pac-12:
UCLA is in a position to shock the conference and perhaps the country on signing day. Already in possession of a top-12 class, the Bruins have a chance to close with a bang, as UCLA is in a good position with ESPN 150 prospects
Eddie Vanderdoes
,
Isaac Savaiinaea
and
Asiantii Woulard
. If all goes well in Westwood on signing day, Jim Mora could finish the day with a top-five recruiting class.
Arizona
Biggest need:
Linebacker. Arizona's defense is in need of some immediate help in all three levels, but the Wildcats will add some serious depth at linebacker with five commitments at the position.
Biggest recruit:
QB
Jesse Scroggins
. A case could be made for either quarterback commitment --
Anu Solomon
is the other -- but with Scroggins' experience at USC and his status as an early enrollee, he could have an advantage when it comes to battling for the vacated starting quarterback spot.
Arizona State
Biggest need:
Secondary. Arizona State is set to add plenty of help at the offensive skill positions, but the Sun Devils needed to add depth on the defensive side of the ball, and they did so. Safeties
James Johnson
and
Jayme Otomewo
are strong additions, as are cornerbacks
Damarious Randall
and
Will Earley
.
Biggest recruit:
DT
Marcus Hardison
. Getting defensive tackle Will Sutton back for another year was a big win for Arizona State's defense. Getting the No. 5 junior college player in Hardison, a 6-foot-4, 275-pound defensive tackle who can help Sutton inside this year, is another big win.
California
Biggest need:
Offensive line. With head coach Sonny Dykes and offensive coordinator Tony Franklin, Cal is looking to take off offensively, but that can't happen without a dominant front. Six offensive line commitments, including four-star tackles
Aaron Cochran
and
Erik Bunte
, are a good way to continue building up front.
Biggest recruit:
OT Aaron Cochran. This is true figuratively and literally. Cochran, at 6-foot-8 and 364 pounds, is an important recruit for Cal, as the offensive tackle plays a position of need. He is the younger brother of Cal lineman Matt Cochran. Honorable mention here to
Cameron Hunt
, who committed to Cal last summer but opened his recruitment after the coaching change and now appears to be headed to Oregon.
Colorado
Biggest need:
Offensive line. The Buffaloes need help everywhere, but solidifying the offensive line is step one for the new regime. Colorado holds commitments from five offensive linemen as it looks to take a step forward in the Pac-12.
Biggest recruit:
QB
Sefo Liufau
. While building along the lines is important, Colorado needs to add playmakers at every position, and Liufau is definitely that at quarterback. He understands and appreciates the challenge at Colorado and is the kind of player the Buffs need to bring in and build around.
Oregon
Biggest need:
Running back. While the Ducks have been blessed with an embarrassment of riches at tailback, it's important that they continue to stock the cupboard in order to keep finding those gems and running the blur offense. Three tailbacks were a possibility in this class, as there will be an opportunity for playing time.
Biggest recruit:
RB
Thomas Tyner
. This was big on two fronts as Tyner has an opportunity to contribute as a freshman, and the Ducks were able to keep Oregon's top recruit from leaving the state. Tyner's commitment became even more important when
Dontre Wilson
flipped from Oregon to Ohio State on Monday.
Oregon State
Biggest need:
Defensive line. The Beavers looked to get bigger and better up front and did so in a big way. Six defensive linemen are headed to Corvallis, including four junior college defensive tackles capable of playing as soon as they arrive on campus.
Biggest recruit:
CB
Dashon Hunt
. Oregon State needed to add talent in the secondary as well and Hunt -- the Beavers' lone ESPN 300 commitment -- will help there. Hunt's commitment also helped Oregon State continue its presence in Southern California, which it recruited extremely well with this class.
Stanford
Biggest need:
Wide receiver. The Cardinal needed to add receiving threats in this class, and adding wide receivers
Francis Owusu
and
Taijuan Thomas
did that. Of course, at Stanford, no position poses more of an offensive threat than tight end, and the Cardinal have commitments from three high school standouts who will suit up there.
Biggest recruit:
WR
Jordan Cunningham
. As the Cardinal continue to hunt for pass-catchers in this class, snagging Cunningham -- an ESPN 150 wide receiver -- on signing day would nicely cap an undermanned but still impressive recruiting class. It would also carry over Stanford's terrific signing-day success from last year.
UCLA
Biggest need:
Offensive line. While it might not be the most immediate need for the roster, the UCLA coaches saw a need to infuse the offensive line with young talent and they went out and did just that. There are offensive line recruits, including two ESPN 300 prospects and a third four-star lineman.
Biggest recruit:
DT Eddie Vanderdoes. The country's top defensive tackle will announce at 5 p.m. PT and the Bruins are thought to be in good position. Landing Vanderdoes -- a former USC commitment -- would be another positive sign for the Bruins in their quest to tip the rivalry in their favor.
USC
Biggest need:
Secondary. The Trojans have been shaky in the secondary for several years now and are in need of players capable of adding depth and perhaps playing as freshmen. Signing day could offer a disappointment if cornerback
Jalen Ramsey
goes elsewhere, but the early enrollee group of safeties
Su'a Cravens
and
Leon McQuay
and cornerback
Chris Hawkins
, gives the Trojans three players capable of stepping in and offering a solution to the pass defense troubles.
Biggest recruit:
S Su'a Cravens. USC is set to add plenty of impact players in this recruiting class, but landing Cravens as an early enrollee was huge. A local player who plays a position of need and has the talent to make an impact as a freshman, Cravens was as close to a must-get recruit as the Trojans had in this class.
Utah
Biggest need:
Running back. With
John White
finished at Utah, the Utes have just one player returning in 2013 who logged more than 25 carries last season. While there are several tailbacks on the roster, Utah looked to add talent at the tailback position in this class and did so with four commitments from running backs, including junior college back
Devontae Booker
.
Biggest recruit:
DT
Lowell Lotulelei
. There is no guarantee that the defensive tackle will turn into his older brother, Star Lotulelei, a likely top-five pick in the upcoming NFL draft. But getting a commitment from Lowell Lotulelei was arguably the most important piece of Utah's recruiting puzzle. The four-star defensive tackle is Utah's top-ranked commitment and will look to take over where his brother left off.
Washington
Biggest need:
Offensive line. The Huskies hoped to find several big bodies to position as the future of the offensive line in this class and have commitments from three high school linemen, including four-star center
Dane Crane
. While the Huskies lost a commitment from
Sean Harlow
, who flipped to Oregon State, they could make up for it in a big way by grabbing ESPN 300 tackle
Nico Falah
away from USC on signing day.
Biggest recruit:
WR
Damore'ea Stringfellow
. The highest-ranked player in the class, the ESPN 150 wide receiver is a playmaker capable of providing an immediate spark for Washington's offense. He also gives the Huskies a big recruiting win in Southern California, as he was sought after by UCLA and USC.
Washington State
Biggest need:
Offensive line. While much of the attention with Mike Leach's offense goes to the offensive skill players, it can't take off without an effective offensive line. Six offensive linemen, including junior college tackle
Jacob Seydel
, are headed to Pullman in this class.
Biggest recruit:
QB
Tyler Bruggman
. The Cougars won a big recruiting battle for Bruggman, as they were able to pull him away from hometown Arizona State. He was someone Washington State targeted early on as a player who could fit into and succeed in the offense.