March, 13, 2012
3/13/12
9:00
AM ET
Boise State opened spring practice Monday with a radically different look -- its record-setting senior class is gone. No
Kellen Moore
, no
Doug Martin
, no
Shea McClellin
.

That means for the first time in a long while, major positions are open for competition. Here is a quick preview of what to watch for the Broncos.
Spring changes:
Boise State lost is offensive coordinator yet again, as Brent Pease left to take a job with Florida. In comes Robert Prince, who will continue to coach the receivers. What coach Chris Petersen has done to help mitigate the losses is promote from within, a system that has served him well over the past several seasons. Boise State will continue to run its offensive scheme, as no wholesale changes are expected. The Broncos also have three new position coaches: defensive line coach Andy Avalos, defensive backs coach Jimmy Lake, and quarterbacks coach Jonathan Smith.
But the personnel changes are what folks are going to notice most, heading into the spring, as Boise State returns just 10 starters. Here are some position battles to watch:
Quarterback.
You are going to be hearing a lot more about this throughout the course of the spring and the fall. Moore led Boise State to uncharted heights, and became the all-time winningest quarterback in NCAA history. Now that he is gone, four players are competing to win the starting job: backup
Joe Southwick
; sophomore
Grant Hedrick
; redshirt freshman
Jimmy Laughrea
; highly touted true freshman Nick Patti. All four are more mobile than Moore, but don't expect the Broncos to morph into a Wildcat team. Patti has drawn the most comparisons to Moore. To ease the pressure, Petersen has made all four off-limits to interviews this spring.
Defensive line.
All four starters are gone, leaving the Broncos in a serious bind. And it is not as if the four starters they are losing were slackers. All four were major contributors to a line that has been solid for several years.
Tyrone Crawford
, McClellin,
Billy Winn
and
Chase Baker
are out. Those four combined for 36.5 tackles for loss and and 16.5 sacks (Boise State only had a total of 24). Valuable backup
Jarrell Root
is gone, leaving inexperienced players like
Tyler Horn
,
Darren Koontz
,
Ricky Tjong-A-Tjoe
,
Robert Ash
and Jeff Worthy.
Secondary.
This was a group that was hit hard by injuries last season, and now will be hit hard again with the loss of
George Iloka
,
Cedric Febis
,
Travis Stanaway
and
Hunter White
. The good news is
Jerrell Gavins
and
Jamar Taylor
are slated to return, so that should help the cornerbacks. But safety is an area of concern going into spring, and players like
Jeremy Ioane
,
Darian Thompson
and
Hazen Moss
-- among others -- have to step up.
February, 15, 2012
2/15/12
12:51
PM ET
Police released the names of four TCU football players
among 17 TCU students arrested in a recent police drug sting
.
The football players arrested are: junior linebacker
Tanner Brock
, junior safety
Devin Johnson
, junior defensive tackle
D.J. Yendrey
and sophomore offensive tackle Tyler Horn.
Brock entered the 2011 season as a starter and one of the team's best defenders, but he hurt his ankle in September and missed the rest of the season.
In 2010, he led the team in tackles with 106 and was named an All-Mountain West performer. TCU hoped he'd be able to slide into the leadership role vacated by linebacker
Tank Carder
.
To state the rather obvious: Don't count on seeing these guys play in 2012. No official word on their status has come down from TCU. From Richard Durrett's report:
Three of the students were arrested on campus; 14 were arrested off-campus. Boschini said the school has never experienced a mass arrest such as this.
"I'm extremely concerned," TCU chancellor Victor J. Boschini Jr. said. "If one kid is involved, it's one kid too many."

The investigation began about six months ago, and the Fort Worth Police Department worked with the TCU campus police. TCU police chief Steve McGee said the students arrested Wednesday were caught in an undercover operation selling marijuana, cocaine, Ecstasy and prescription drugs.

McGee says the six-month investigation was prompted by complaints from students and parents, among others.
Johnson started for the Horned Frogs this season and made 47 tackles. Yendrey made 39 tackles and earned an All-Mountain West honorable mention nod in 2011.
Brock earned All-America status after the 2010 season.
Horn was a reserve lineman.
July, 24, 2011
7/24/11
9:41
PM ET

Boston College:
Linebacker Luke Kuechly led the nation last year with 110 tackles -- so many that his dad often gave him grief last year about how many were legitimate. "He's always like, 'You just walk by the ball and they give you tackles,'" Kuechly said with a laugh. "I'm like, 'Dad, man, I'm working for those.' He said, 'No, you're not, they're just tallying them up for you.'"

Clemson:
The pace of Clemson's offense has sped up under first-year coordinator Chad Morris, and it starts at the heart of the line. Instead of looking to the sideline and getting the play, Clemson center Dalton Freeman said he's running straight to the ball. "When you're looking at the sideline for a couple of years, waiting to hear the signal, to going straight to the ball and getting into your stance, it's a big transition but it's been a smooth one."

Duke:
Quarterback
Sean Renfree
said his improved decision-making was the biggest difference down the stretch last season. "Towards the end of the season I was thinking you don't have to score every series," he said. "Do the little things to give yourself a chance in the fourth quarter." Renfree, who's visibly bigger, faster and stronger, said he's much more confident entering his second season as starter.

Florida State:
The Seminoles are already preparing for their Sept. 17 home game against Oklahoma. "I watch film on them every day," said defensive end Brandon Jenkins. "That's a key factor." Jenkins said last year's 47-17 loss stuck with them for a long time, but they're "going to try to change that this year." He said the Noles have grown most in leadership and maturity since that loss.

Georgia Tech:
While Georgia Tech might not find its next 1,000-yard rusher this fall, A-back
Roddy Jones
said the Jackets will get their yards by committee this year. "I think there will definitely be at least two," he said of the B-backs. "We have four who are capable of doing the job. I don't think any of them will be as explosive as [Jon] Dwyer was, but every single one is capable of being as effective as Anthony [Allen] was."

Maryland:
Linebacker Kenny Tate said his move from safety to linebacker isn't as significant as some might think. "It's really not a huge change," he said. "… I still have the freedom to move around, I'm just closer to the line." Tate said he has heard that the move could be a boost in his NFL stock because he can showcase his ability to blitz and also play safety.

Miami:
The Hurricanes will be hunkered down in a hotel to stay focused during the first few weeks of summer camp, according to center Tyler Horn -- who said the team could use it. "Obviously what we did last year was not good enough," Horn said. "The focus has been an emphasis and being mentally tough … Nothing but good can come out of it."

North Carolina:
Quarterback
Bryn Renner
lost a video game to offensive lineman Jonathan Cooper, and Cooper immediately got the silent treatment. Cooper said Renner is "very competitive. He hates to lose." One of the adjustments Renner will have to make, Cooper said, is accepting the ups and downs of his position. "You're not always going to be the glory guy, you're going to have to take some of the falls with it as well."

NC State:
Tight end
George Bryan
said he kept his personal feelings out of former quarterback Russell Wilson's decision to transfer. He didn't know until he found about it on TV. "I trust whatever decision was made," he said. Bryan said he hopes Wilson does well at Wisconsin. "If it's on TV, I'll definitely watch it and be cheering for him."

Virginia:
Cornerback Chase Minnifield said he "doesn't have many expectations" for himself: Just an All-American, All-ACC, and the best corner in the country. "I don't really care what my interceptions are," he said. "I think a good corner is a guy who doesn't give up too many passes and doesn't give up any touchdowns. If I can get that done, I'll be all right."

Virginia Tech:
Safety Eddie Whitley said he has seen quarterback
Logan Thomas
making "big strides, even from spring to now." Whitley said Thomas is ahead of the curve, but expects opponents to disrespect Thomas' IQ and arm strength. During voluntary workouts this summer, Thomas would run a play, and ask Whitley what coverage the defense was in and why, and how he can throw the ball better against it.

Wake Forest:
One priority for the defense is creating turnovers, as the Demon Deacons ranked tied for No. 94 in the country last season with 17. Linebacker Kyle Wilber said the players were young, "cocky and arrogant" and thought they were going to easily strip the ball last year. "If we don't help out our offense and put them in the best position they can be in, how do we expect to win?"
June, 24, 2011
6/24/11
2:00
PM ET
Ranking offensive linemen is not easy. But hey, either is being an offensive lineman. Here are your best "big uglies."

1. North Carolina:
Three starters and one part-time starter return from last year's team, and this line could be the biggest and best since Butch Davis was hired. Guard Jonathan Cooper (22 starts), center Cam Holland (20) and tackle James Hurst (12) have combined for 54 career starts. Travis Bond has four starts and is the leading candidate to take over at the other guard position.

2. Miami:
The Canes return nine of their top 10 offensive linemen including four starters from last year, and Joel Figueroa was granted a sixth season of eligibility. Even with the coaching change, the Canes should be strong up front. Center Tyler Horn is a veteran, Brandon Washington is a difference-maker, and there's enough competition that Seantrel Henderson spent most of the spring as a backup.

3. Clemson:
First-year offensive line coach Robbie Caldwell has four returning starters to work with in Landon Walker, Antoine McClain, Dalton Freeman and David Smith. They also have top reserve Mason Cloy, who has 19 career starts and has played in 38 games. There is plenty of depth for a dependable rotation.

4. Virginia Tech:
All four returnees started every game last year, and there is enough depth that the Hokies should be able to rotate the most players up front they ever have. It's a veteran group led by Blake DeChristopher, Andrew Lanier, Jaymes Brooks and Greg Nosal.

5. Florida State:
Despite the losses of Rodney Hudson and Ryan McMahon, there's experience up front. This fall, the starting lineup will consist of tackle Andrew Datko, left guard Bryan Stork or David Spurlock, center Jacob Fahrenkrug, right guard Spurlock or Stork, right tackle Zebrie Sanders. Just how good they'll be remains to be seen as the majority of them were out with injuries this past spring.

6. NC State:
The Pack lost Jake Vermiglio and will be without injured left guard Andrew Wallace for about half of the season, but Zach Allen, Camden Wentz and R.J. Mattes are returning starters. There's also a lot of talent waiting to emerge with young players like Duran Christophe, Rob Crisp, Tyson Chandler, Torian Box and Andy Jomantas.

7. Virginia:
Four players return with a combined 64 career starts in Anthony Mihota, Austin Pasztor, Oday Aboushi and Morgan Moses, who started the final seven games of the season as a true freshman. Pasztor is in his fourth season as a starter and has 32 career starts.

8. Boston College:
Despite the losses of Anthony Castonzo, Thomas Claiborne and Rich Lapham, the Eagles are almost settled up front, it's the experience behind the starters that's reason for concern. The No. 2 offensive line is comprised entirely of redshirt freshmen. Mark Spinney returns at center, the projected starting guards are Nathan Richman and Ian White, who started three games as a freshman, and the tackles are Emmett Cleary and John Wetzel.

9. Maryland:
It's been an injury-prone group the past two seasons and that didn't change this past spring. Left tackle Justin Gilbert, one of the top linemen on the team, reinjured the same knee he had ACL surgery on and will be out until October. R.J. Dill was also injured this spring, though he played in the spring game, and Justin Lewis was rehabbing from offseason surgery. Pete White also missed practices, so the group needs to solidify the two-deep roster.

10. Georgia Tech:
The Jackets return three starters in guard Omoregie Uzzi, guard Will Jackson and tackle Phil Smith. Sophomore Jay Finch played extensively last season and Ray Beno and Nick McRae were key reserves. Redshirt freshmen Catlin Alford and Morgan Bailey could also work their way into the rotation. Uzzi will be the leader of the line, but they were outplayed by the defense this spring.

11. Wake Forest:
Four starters are back, but the Deacs will sorely miss the experience and leadership of former center Russell Nenon. Garrick Williams started the final three games of 2010 -- two at guard and one at center, but he struggled with the snaps towards the end of spring and isn't where the staff needs him to be yet.

12. Duke:
The Blue Devils should take another step forward this season under offensive line coach Matt Luke, and they need to -- Duke's running game was last in the ACC last year and 104th in the country. Brian Moore replaces a three-year starter at center, but given his experience at right guard the past two seasons, it should be a smooth transition. That will leave a hole, though, at the right guard position, where Laken Tomlinson and John Coleman are the top candidates.
June, 23, 2011
6/23/11
9:00
AM ET
The quarterbacks in the ACC are not strong this year. They're not weak, either.
They're a complete unknown.
With more than half of the ACC introducing first-year starting quarterbacks, there's not enough on tape yet to determine how this group will fare. There is enough evidence, though, to pinpoint which position groups -- based on past performances and future potential -- enter this fall as the strongest and weakest in the ACC:
STRONGEST/OFFENSE
[+] Enlarge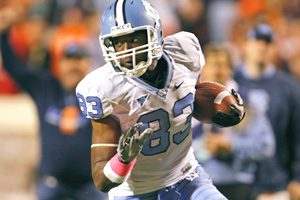 AP Photo/Steve HelberDwight Jones had 62 receptions for 946 yards last season, both good for fourth in the ACC.
Wide receivers:
The ACC overfloweth this year with veteran receivers. Virginia Tech, Florida State and Duke come to mind first, but don't forget about North Carolina. The Tar Heels didn't lose any receivers from last year, and
Dwight Jones
had 946 yards last year. Colin Larmond Jr. at Boston College, who is making his way back from a season-ending knee injury,
Kris Burd
at Virginia and Miami's fast and talented group will also highlight ACC passing games. With Leonard Hankerson gone at Miami, somebody is going to have to emerge as the go-to receiver, and
Tommy Streeter
gets my vote, but he must be more consistent.
WEAKEST/OFFENSE
Center:
There are three above-average centers in the league this year: Cam Holland at North Carolina, Tyler Horn at Miami, and Dalton Freeman at Clemson. Beyond that, it's a thankless yet vital position that's in transition throughout the conference. Brian Moore is replacing a three-year starter at Duke, Florida State loses one of its best players in center Ryan McMahon, the same with Georgia Tech and Sean Bedford, Virginia Tech and Beau Warren, and Wake Forest and Russell Nenon. With the exception of Freeman (22), and Holland (20), no returning starter at center in the league has more than 13 career starts.
STRONGEST/DEFENSE
[+] Enlarge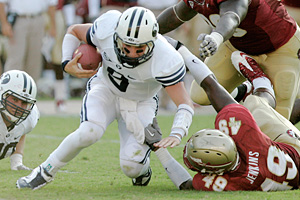 AP Photo/Steve CannonFlorida State's Brandon Jenkins had 13.5 sacks as a true sophomore.
Defensive ends:
The ACC has had a reputation as a defensive conference, and this year shouldn't be any different. Conference fans should be excited about the talent up front. Brandon Jenkins at Florida State and Quinton Coples at North Carolina should be two of the best pass-rushers in the country, but they're not the only players with all-league potential. Andre Branch at Clemson, UNC's Donte Paige-Moss, Virginia's Cam Johnson, and Miami's Adewale Ojomo and Olivier Vernon are all going to cause opposing quarterbacks some pain.
WEAKEST/DEFENSE
Cornerbacks:
Unless, of course, you're Florida State, where Greg Reid and Xavier Rhodes should be one of the best duos in the country. Chase Minnifield at Virginia and Jayron Hosley should also be candidates for national honors, but that's about where the confidence in corners comes to a halt. North Carolina has to replace its entire secondary, and so does Georgia Tech. Clemson also lost two starting corners in Marcus Gilchrist and Byron Maxwell, and Miami lost two starters in Brandon Harris and Ryan Hill.
September, 22, 2010
9/22/10
10:16
AM ET
In evaluating Miami's offense following the Hurricanes'
36-24 loss to Ohio State
on Sept. 11, coach Randy Shannon looked at the numbers that didn't appear in the final statistics:
Nine dropped passes ("If those guys make those plays," Shannon said, "[Jacory Harris] would've been 35-for-39.")

Of the nine dropped passes, one was in the end zone, another was on the 2-yard line, and another on the 3-yard line.

Of the four interceptions, one was a tipped ball and two players didn't finish their routes.
[+] Enlarge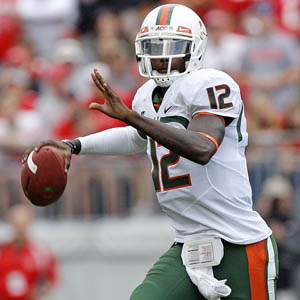 AP Photo/Jay LaPreteJacory Harris said he plans to focus more on his responsibilities instead of "micromanging the whole offense."
"Everything was equal besides the turnovers," Shannon said. "You can't drop the football and have four turnovers if you expect to win the game. We've been working hard in practice to correct those things."
As Miami prepares for Thursday night's game at Pittsburgh
(7:30 p.m. ET, ESPN
), the Hurricanes do so looking to prove they have learned from their mistakes against the Buckeyes. Shannon said he remains confident in the offense despite the turnovers and botched red zone opportunities, and that the offense has improved in the second season under coordinator Mark Whipple.
"Yeah, totally different offense," Shannon said. "We're a whole lot better. I'm excited about it."
Those outside the program are still waiting to see it.
In order to help correct the mistakes, Shannon said he increased the tempo of practice during the bye week, forcing players to make decisions under pressure. He said he wanted to see them run the correct 15-yard route, instead of cutting it short at 12. Miami was able to move the ball against Ohio State -- the Canes only punted twice -- but it wasn't able to capitalize in the red zone and made too many mistakes.
"I just got on them about accepting mediocrity," Shannon said. "You have to stress upon yourself you have to do the things that need to get done. One drop can make the difference in the game. You take one play at a time, and if you don't take advantage of that play, something can happen."
Nobody knows that more than Harris, whose critics grew louder after he threw 17 interceptions last year. In his chance at redemption against Heisman contender
Terrelle Pryor
, the four interceptions separated the two.
"I still take the blame," Harris said. "I have to make better throws, better reads. I have to help those guys out just like they help me out. It's a team thing. It's not just one person that really is getting blamed about everything, but I'm going to take the blame on it."
Harris said his goal now is to be more focused on what he's doing instead of "trying to micromanage the whole offense or defense." He said he's going to leave the offensive line in the hands of Tyler Horn, the receivers to
Leonard Hankerson
, and the running backs to
Damien Berry
. It wasn't just receivers who dropped the ball against Ohio State, it was running backs and tight ends, too, but Harris said he trusts his teammates enough to let them do their jobs.
"I'll be a leader by taking care of my business, making sure I'm focused," he said. "I don't want to get too involved in what they're learning, what they're doing. I want to just focus on the quarterback position and I believe everything will come together."
After three full seasons under Shannon, it's about time it does.
March, 30, 2009
3/30/09
2:00
PM ET
Posted by ESPN.com's Heather Dinich

Virginia Tech hasn't even started spring practices yet (Wednesday is the Hokies' first) and Miami has already wrapped things up. What's next in Coral Gables? The Canes will get back in the weight room for six more weeks, but coach Randy Shannon said the staff won't push them too hard physically. They'll meet for 45 minutes twice a week to help the players retain everything they learned from their new coordinators. The staff will now use the mornings to watch practice tape and the afternoons to watch recruiting tape.
Shannon said both coordinators, Mark Whipple and John Lovett, brought a lot of excitement, enthusiasm and confidence with them, and the staff is on the same page. They kept some of the same terminology. The two areas they'd like to see more improvement in summer camp are building the depth on the offensive line and at linebacker. Colin McCarthy will be back in the fall, but Shannon is looking for four or five linebackers that are interchangeable.
As expected, there were a few bumps in the road, but overall the players picked things up quickly.
"Are we better than we were last spring? Definitely," Shannon said. "Are we better than we were at the end of the season last year? Definitely."
Here were a few highlights from spring ball at Miami:
• Taylor Cook finished the spring with a bit of an edge over Cannon Smith at backup quarterback.
• C.J. Holton's move from safety to linebacker should give him a better chance to get on the field and was a step in helping the depth. Sean Spence and Arthur Brown played well this spring and Shannon said Jordan Futch came around the last two weeks.
• Brandon Washington became an offensive lineman the staff can depend on. They've got seven guys they're comfortable with up front, but Shannon said he is still looking for the eighth guy. That could be Ben Jones, Jermaine Johnson or Tyler Horn.
• Tight end Richard Gordon did a great job while all of the other scholarship tight ends were out with injuries. Shannon said the staff put a lot of pressure on him, and he got a lot of reps. "He should be in great shape," Shannon said. "He responded. When those guys come back, there will be a great competition to see which guy is going to step to the forefront and be that guy."
• Shannon said the media is making too much of Miami's lack of interceptions last year (they had four, the fewest of all 119 FBS schools). Shannon said their priority is to stop the run first, which they got better at this spring as a result of depth and maturity. He also said the Canes had about eight to 10 interceptions minimum this spring. He was particularly impressed with the "unbelievable" transition Sam Shields made from wide receiver to the secondary and considers him a starter who can "step in and play right away."
• The players who made a big impression on Shannon this spring were: Shields, Brown, Washington, Mike James, and Olivier Vernon. He said Vaughn Telemaque and Kendal Thompkins "put their stamp on where they want to be." Also, running back Damien Berry did a "tremendous job."
"Those guys have really taken that next step," Shannon said. "That's the biggest improvement, when you see guys who didn't play last year, see if they can really take that next step and be a guy we can say wow, he's going to be a guy we can depend on. That group of guys has really taken that next step of doing what we want them to do."