October, 1, 2013
Oct 1
11:00
AM ET
TALLAHASSEE, Fla. -- The scenes flickered across the screen as Jimbo Fisher broke down the film on Sunday, and the Florida State coach breathed a sigh of relief.
The outcomes were just as he'd remembered. Boston College's rather mundane attack gashed the Seminoles' defense again and again, big chunks of yardage adding up to 34 points -- the most BC had scored in an ACC game in nearly four years.
Florida State still escaped with a win, thanks to another dynamic effort from
Jameis Winston
, but the defense was exposed, and the future schedule promised to be far less forgiving. Fisher assumed the worst, but the film eased his mind.
[+] Enlarge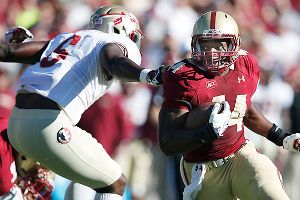 AP Photo/Elise AmendolaBoston College rushed for 200 yards against the Seminoles, led by Andre Williams with 149.
"I wasn't as distraught as I thought I would be," Fisher said Monday, putting a happy face on an otherwise troubling effort. "It was more two or three individuals that caused all the problems."
There is ample room for big-picture concerns. Players admit to being slow to latch on to the subtleties of new coordinator Jeremy Pruitt's defensive scheme. The aggressive approach has yielded a handful of big plays but also surrendered a few more to the opposition. The Seminoles' performance through four games has fans wondering if disaster looms just over the horizon, as the explosive offenses of Maryland and Clemson await.
Instead, what Fisher saw on film were a few minor glitches -- easily correctable mental errors. A few missed assignments here, a few sets of eyes focused on the wrong things there. Rather than panicking, Florida State's defense seems relieved.
"Those mistakes are going to help you," safety
Terrence Brooks
said. "It's bad, but it also can be good for you, too. Those are things you know you've got to key in on. It's just room for improvement."
That's the upbeat spin. These are the raw numbers: Through four games, Florida State has coughed up 606 yards on the ground, nearly half the total its defense allowed in 14 games last year. Boston College amassed 397 total yards Saturday; only Clemson (2010 and 2011) managed more against FSU since the start of the 2011 season -- and the Tigers' high-flying attack gets its shot against the Seminoles in just three weeks. The defense has started slowly in every game, and as a result, FSU has trailed in three of four games. It's a particularly disconcerting picture given that this week's opponent, Maryland, has topped 500 yards of offense three times, is averaging better than 7 yards per play, has a dual-threat quarterback and one of the ACC's most explosive playmakers in receiver
Stefon Diggs
.
[+] Enlarge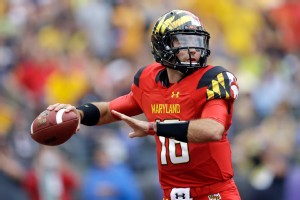 AP Photo/Patrick SemanskyC.J. Brown is averaging 261 yards passing and 71 yards rushing through four games.
And yet, Florida State's players insist they're not worried. The fixes aren't physical failures, but rather mental miscues -- a product of new personnel seeing an increased workload, a handful of gimmick plays by the opposition and a continuing adjustment to Pruitt's new scheme.
"We had some little, stupid mental errors in that game -- letting our guys go, trying to do too much and getting out of gaps," Brooks said. "That's the only reason they were able to get all those points they did get."
It's not an entirely unfair accounting. Two of Boston College's touchdowns came on nearly identical plays, when the offense shifted heavily to one side, then threw the opposite way. FSU's defense aggressively pursued the ball and left a receiver wide open.
Of course, Pruitt's approach also might be part of the problem. As FSU's players raved about the new scheme this offseason, the buzzword used again and again was "aggressive." Pruitt promised to turn the Seminoles' athletes loose to make plays, and the players loved the concept. It all sounded good until Boston College used that mindset against them.
"We're a very aggressive defense, and we want to get to the ball fast," Brooks said. "That right there kind of killed us a little bit."
It's not that the scheme is flawed, however. Pruitt essentially is installing a defense similar to what Alabama used to win three of the past four national titles. There's a track record of success.
The difference is that when Pruitt took over as defensive backs coach at Alabama in 2010, that scheme was already in place, and the veterans already knew it well. At Florida State, it's all new, and the learning process requires time.
"When you come in during the spring and put in a new defense, especially as complex as this one, it's not like you're coaching a team full of guys that have already been in the system," defensive tackle
Timmy Jernigan
said. "It's almost like you're coaching a defense full of freshmen, technically. We're all learning it."
Jernigan insists his teammates have bought in, but the learning process has come more quickly for some. Fisher praised Jernigan's work against BC, saying the junior played perhaps the best game of his career.
Eddie Goldman
earned raves, too, and linebacker
Telvin Smith
earned player of the week honors in the ACC after finishing with 10 tackles.
So where are the problems?
Fisher did his best to avoid criticizing specific players, though the absence of senior
Christian Jones
from his synopsis was noteworthy.
Dan Hicks
was burned for a touchdown, as well, though he was noticeably overmatched in his assignment. Defensive end
Mario Edwards Jr.
and safety
Tyler Hunter
sat out for the second straight game against BC, too, and there are no assurances they'll be ready this week.
But to hear Fisher's analysis, there's no cause for alarm. It's not a matter of a flawed scheme, a too-steep learning curve or a lack of personnel. It's simply about getting the little things right.
Florida State's players are convinced of that, too, and the film from Boston College only burnished that optimism. But even so, this week's practices come with a mandate for improvement.
"Having that happen with these good teams that have mobile quarterbacks, people who can run and pass better, better receivers," Brooks said, "it's just more of a problem at that point."
November, 9, 2012
11/09/12
1:37
AM ET
BLACKSBURG, Va. -- Shh. Don't tell Florida State coach Jimbo Fisher that his No. 10 Seminoles didn't look like a top-10 team for much of Thursday night.
Don't even insinuate it.
Because in the end, it really didn't matter.
Fisher, quarterback
EJ Manuel
, and probably everyone else within the program left Lane Stadium on Thursday night deservedly ecstatic and validated by their
28-22 come-from-behind victory
against a gritty Virginia Tech team that refused to quit. It was an important win not only for the ACC, but also for the Seminoles (9-1, 6-1 ACC), who are now just one win away from clinching the Atlantic Division title for the second time under Fisher. Florida State reached 9-1 for the first time since the 2000 team played for a national championship.
Much like the stunning 17-16 loss at NC State on Oct. 6, it was another down-to-the-wire thriller, but this time, Florida State avoided another disaster on the road in the final minute of the game.
[+] Enlarge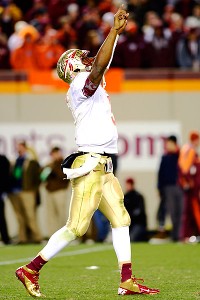 Bob Donnan/US Presswire"I'm just so happy for our team, ecstatic," Florida State QB EJ Manuel, a Virginia native, said.
"We had all kinds of mistakes, there's no doubt," Fisher said. "You'll fix 'em and go on. But you come in here on a Thursday night and win, guys. I'm not disappointed at all. To go 9-1, and be right here and beat Virginia Tech on a Thursday night here. … We can criticize everything we want to criticize, but we came in and won a football game and did a heck of a job competing in the game."
Florida State proved it can win on the road outside of the state of Florida. This was arguably FSU's toughest road trip of the year, but the Noles made it more difficult than it had to be.
An astounding
minus-15
yards rushing by the No. 14 rushing offense in the country? No problem -- the Noles came up with enough big pass plays.
Two turnovers? Small potatoes. The Hokies (4-6, 2-4 ACC) couldn't convert them into points.
Five
sacks? No sweat. Manuel delivered in the clutch.
Only
3-of-14
on third downs?
James Wilder Jr.
's fourth-down conversion on the game-winning drive was bigger.
"People might look and see we didn't execute on a lot of things, and we have to go back and fix those things, but that being said, Virginia Tech, historically, they've always played well on Thursday nights, especially at home," FSU kicker
Dustin Hopkins
said. "I expect more from our guys, and I know everybody else in the locker room does, it's not just me saying that, but at the same time it does feel good to come out of Lane Stadium with a win, because it's not easy."
Even against a Virginia Tech team in the midst of its worst season in 20 years. The Hokies have lost three straight and five of their past six.
Yet somehow they looked like the preseason Coastal Division favorites many expected them to be this season.
That shouldn't come as much of a surprise, considering the Hokies are 11-3 in Thursday night games, and Lane Stadium is one of the most unforgiving road venues in all of college football. Virginia Tech's defense played its best game of the season.
"I told our teammates you're not going to see the same team you see on film," Manuel said. "Virginia Tech is always going to be up and ready to play, especially us. And me being from Virginia, I know those guys, they want to beat me. … I'm just so happy for our team, ecstatic."
With 40 seconds remaining, FSU receiver
Rashad Greene
took what probably should have been an 8-yard catch and instead sprinted 39 yards downfield to give the Noles a 28-22 lead. It was a situation and a scenario the team has practiced numerous times, in its two-minute drills at practice every Thursday.
"When I told them what we were going to call and do, they said, 'That's just like Thursday,'" Fisher said. "I said, 'You're right, here we go.'"
The defense, which had underperformed for much of the game (Tech had 385 total yards and 5.5 yards per play), came up with its most crucial stop when
Tyler Hunter
intercepted
Logan Thomas
with 27 seconds remaining.
Virginia Tech's defense blitzed over and over and over again, leaving the Hokies' defensive backs on an island, and eventually, Florida State exposed that. In a live-by-the-sword, die-by-the-sword gamble, defensive coordinator Bud Foster went with man coverage on the Seminoles' final touchdown drive. For the majority of the night, though, the Hokies had the better defense.
Until the final minute.
The Noles have now beaten the top three teams from the Coastal Division most likely to earn a spot in the ACC championship game: Miami, Duke and Virginia Tech.
They're not quite ready, though, to take the crown.
"We've got to go win a game at Maryland," Fisher said. "I don't ever feel like we've got anything wrapped up. I've been in this long enough to know that. No matter how you play somebody, a second time makes a difference. I just hope we get that opportunity."
With the win over Virginia Tech, FSU got one step closer to it.
November, 8, 2012
11/08/12
11:13
PM ET
BLACKSBURG, Va. -- Here's a quick recap of No. 10 Florida State's bizarre come-from-behind
28-22 win
over Virginia Tech in Lane Stadium:


It was over when:
Virginia Tech quarterback
Logan Thomas
threw an interception on the Hokies' final possession of the game, squandering a last chance at a comeback. FSU safety
Tyler Hunter
grabbed the interception with 27 seconds remaining. The pass was intended for
Corey Fuller
. Thomas squatted down in dispair and FSU took over at its own 33.
Game ball goes to:
FSU receiver
Rashad Greene
. He had six catches for 125 yards and two touchdowns. His 76 receiving yards in the first half was his best effort of the season. His second-quarter touchdown was his first since the Clemson game.
Stat of the game:
FSU was held to minus-15 yards rushing. Manuel was sacked five times, the most given up by the Seminoles this season.
Unsung hero of the game:
Virginia Tech's defense. The Hokies played lights out for a majority of the game and were suffocating against the run.
What it means:
The Noles maintained their grasp on the lead in the Atlantic Division race, further closing the door on Clemson, and they proved they can win outside of the state of Florida.
October, 29, 2012
10/29/12
10:00
AM ET
Here's a look back at the week that was in the ACC …
The good:
Boston College's first ACC win. The Eagles ended a five-game losing streak with a 20-17 win over Maryland on Saturday. It was also the first win over an FBS opponent this year.
The bad:
Wake Forest's defense. The Deacs allowed Clemson 534 total yards and to convert on 10 of 17 third downs.
The ugly:
Georgia Tech's offense on third downs. Oh-fer-10.
The great:
Quarterbacks. NC State quarterback
Mike Glennon
threw for a career-high 467 yards and tied a school record with five touchdowns. Clemson quarterback
Tajh Boyd
threw for a school-record 428 yards with five touchdown passes. FSU quarterback
EJ Manuel
threw for 282 yards and two touchdowns against Duke. UNC quarterback
Bryn Renner
completed 30 of 47 passes for 358 yards, one touchdown and one interception.
[+] Enlarge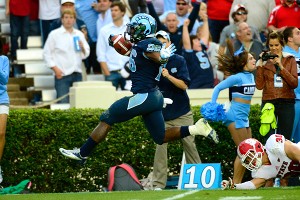 Bob Donnan/US PresswireGiovani Bernard capped off a day in which he gained 230 yards from scrimmage with a 74-yard game-winning punt return.
The spectacular:
Returns for TDs. UNC running back
Giovani Bernard
returned a punt 74 yards for a touchdown to beat NC State with 13 seconds left in the fourth quarter. On only his third punt return ever, FSU sophomore
Tyler Hunter
returned it 75 yards for a touchdown against Duke, the Noles' longest punt return of the season. And Georgia Tech sophomore
Jamal Golden
had a 97-yard kickoff return for touchdown Saturday against BYU, and finished with 174 yards on his five kick returns. The kick return for a touchdown broke a streak of 177 games without one for Georgia Tech.
The quote:
"It feels great, just getting a win it feels so good. You can feel the atmosphere in the locker room. Everyone's just so excited about it. It doesn't fix everything, but it just feels awesome. We're 1-0 today, that's how I think about it." -- Boston College WR
Alex Amidon
.
The quote II:
"We feel like we're ready to prove everybody wrong, that we had that one loss but we let that go and we're ready to move on," FSU cornerback
Xavier Rhodes
told NoleNation's David Hale. "To prove to everybody this is the team they thought it would be."
The record:
FSU kicker Dustin Hopkins' 56-yard field goal in the fourth quarter was a career-best and also set a new ACC record for career field goals with 81, breaking former Maryland kicker Nick Novak's mark of 80 set from 2001-04. The 56-yard field goal also tied for the second-longest in FSU history with Sebastian Janikowski, who made a 56-yarder against Wake Forest in 1997.
The milestone
: Clemson became the second ACC team in history to score at least 37 points in seven straight games.
The stat:
UNC and NC State combined for 1,104 yards, the most in a UNC game since 2002, when the Tar Heels and Arizona State combined for 1,135 yards in a 38-35 Carolina victory.
The streaks:
BC's losing streak has ended, Duke's losing streak against FSU was extended to 18 games. UNC ended a five-game losing streak to rival NC State.
October, 27, 2012
10/27/12
7:12
PM ET
TALLAHASSEE, Fla. -- The game was billed as a battle of division leaders, but Duke hardly looked the part Saturday as Florida State dominated the Blue Devils en route to
a 48-7 victory
.


Despite Duke's upstart status this season, little has changed in its rivalry with the Seminoles.
EJ Manuel
threw for 282 yards and two touchdowns,
Tyler Hunter
added a 75-yard punt return for a score and Florida State cruised to its 18th victory in as many tries against the Blue Devils.
It was over when:
James Wilder Jr.
rumbled into the end zone from 1 yard out just 1:50 into the second quarter. That touchdown put Florida State ahead 24-0, and it was already clear that in spite of all the buzz leading up to the game surrounding Duke's sudden resurgence, the Blue Devils simply weren't in the same class as the Seminoles.
Game ball goes to:
Wilder and
Devonta Freeman
. There were plenty of stout performances, from Manuel's long passes to stellar defensive work by
Cornellius Carradine
and
Christian Jones
. But coming into the game, the big question was how Florida State's ground game would respond to the loss of starting tailback
Chris Thompson
, and Freeman and Wilder offered an emphatic answer. The pair combined for 174 yards on 25 carries and scored three times on the ground. Since Thompson's injury, Wilder and Freeman have averaged 6.8 yards per carry.
Stat of the game:
Manuel wasn't asked to do much against Duke, but when he unloaded in the passing game, it was usually for a big play. Manuel averaged 17.6 yards per attempt against Duke -- the highest average of his career. Five of Manuel's eight completions gained at least 30 yards, and he finished with 282 yards passing. In his two career starts against Duke, Manuel has completed just 17 passes, but five have gained 50 yards or more. Meanwhile, Duke's quarterbacks averaged just 3.6 yards per attempt Saturday.
Unsung hero:
Dustin Hopkins
. OK, so neither of his field goals meant a whole lot in determining the outcome, but Hopkins connected on a 56-yard kick with 9:40 to go in the fourth quarter to set the ACC's all-time record for most field goals in a career, eclipsing former Maryland kicker Nick Novak. Hopkins has 15 field goals in his last five games, but the 58-yarder was a career-long for the senior. He's just 10 points shy of setting the NCAA record for most points scored in a career.
Record performance:
Hopkins provided the only ACC record of the day, as Duke's
Conner Vernon
will have to wait to set the conference record for receiving yards. Vernon entered play needing 94 yards to break Peter Warrick's career mark for ACC receivers, but he managed just three catches for 12 yards.
Cause for concern:
It was an easy win for Florida State, but fumbles remained a big problem for the second consecutive game. FSU coughed up the football four times Saturday, with Duke recovering each of them. This comes on the heels of a six-fumble performance against Miami last week. The problems were across the board, too, with Manuel fumbling on a QB run,
Rodney Smith
fumbling after a long reception, Freeman coughing up the football on a running play and Hunter muffing a return.
March, 29, 2012
3/29/12
5:38
PM ET
Karlos Williams
admitted he did not digest all of Florida State's playbook during his freshman season last year.
"He didn't," Seminoles coach Jimbo Fisher confirmed Wednesday. "And he's still learning a lot right now. He's getting better."
[+] Enlarge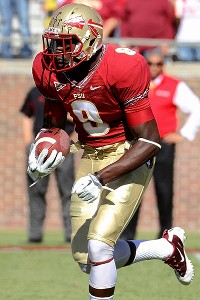 AP Photo/Don Juan MooreFSU's Karlos Williams is looking to make an impact at safety and as a kick returner in 2012.
Williams, a sophomore safety, said that approach has changed this spring, as he enters with a chance to crack the two-deep at strong safety, fighting with
Tyler Hunter
to relieve starter
Terrence Brooks
.
Even with a new outlook, though, the second go-round is not without its challenges.
"It's good. Still getting that work in and trying to learn the playbook, it's difficult," Williams said. "Coach [Mark] Stoops runs a complex defense. Still trying to learn to slow things down and take my time and make plays when they come to me and don't go after them."
Having older brother Vince, entering his fifth year as an FSU linebacker, has paid dividends for Karlos.
"I knew I was coming into a difficult situation," he said. "There were two guys in front of me but I'm lucky to have my brother here. He told me to learn from the guys in front of me and to take my time and develop as a man first before a football player so I can mature."
That may be easier now that he knows where he will line up once his number is called.
Having played running back in high school, Williams was almost used by the staff in the backfield last season, but the crowded race ahead of him ultimately resulted in safety being the more comfortable option for him.
"I'm more comfortable playing on defense and I've built relationships with the guys on defense," Williams said. "Also, at running back it was a little uncomfortable, plus there was a lot of guys that will get a lot of reps. It was just a situation I felt uneasy."
It is not like Williams will not have the chance to make plays with the ball in his hands anyway. Last season he averaged better than 23 yards on eight kickoff returns, and he is hoping the opportunities will still come his way, even if new rules — kickoffs are from five yards closer now — may decrease the likelihood of huge returns.
"I'm very excited. It's a different game now," Williams said. "I tell recruits coming in that you're now looking for guys to hit. In high school you had guys that don't want to be on kickoff, they run down slow but now it's an assignment and it's a big part of the game. Games change on kick off and kick returns. Running down the field is exciting. Be out there and pumping the crowd on kick off. Over the season, [special teams coordinator Eddie Gran] and I talked about it that most of my excitement overplayed me this year. I got too excited running down, I'd miss a tackle or I'd get myself blocked in some situations, but overall it was a great experience and I loved it."
TOP 25 SCOREBOARD
Friday, 12/6
Thursday, 12/5
Saturday, 12/7
TOP PERFORMERS