NCF Nation:

Tyler Lantrip
December, 24, 2011
12/24/11
11:46
PM ET
No. 21 Southern Miss beat Nevada
24-17 in the Sheraton Hawaii Bowl
on Saturday night. Here is a quick breakdown of how it happened:


How the game was won:
One definitive drive. Incredibly, two of the most potent offenses in the nation slogged through most of this game. Special teams were a mess on both sides -- Nevada had a punt blocked and lost a fumble on a kickoff; Southern Miss lost fumbles on a kickoff and a punt return. Midway through the fourth quarter, each team had more punts than first downs. But finally, the Golden Eagles woke up with seven minutes to play.
Austin Davis
fired a 43-yard pass to
Dominique Sullivan
. Davis completed the drive with a 4-yard touchdown pass to
Kelvin Bolden
. It was the longest drive of the game for the Golden Eagles.
Turning point:
The 43-yard pass to Sullivan might not have gone for a big play had Nevada defensive back Isaiah Frey not gambled. Frey went for the interception and missed, allowing Sullivan to race 20 more yards.
Player of the game:
Southern Miss defensive end Cordarro Law. After Nevada gashed Southern Miss on the ground in the first half, Law helped his teammates put an end to that. He had a huge impact in the second half, and ended the game with seven tackles (three for loss) and two sacks.
Second guessing:
Nevada had a chance to answer the go-ahead Southern Miss score. On fourth-and-1 from midfield with 4:01 to go, coach Chris Ault called a running play between the tackles. The Wolf Pack had early success running in that direction, but they had been stymied the entire second half.
Lampford Mark
was tackled for no gain, and that did it for Nevada. After Mark had 162 yards and two touchdowns in the first half, he had 22 after the break.
What it means for Southern Miss:
The Golden Eagles won a school-record 12 games to cap the best season in school history. But now they have to move on without coach Larry Fedora and record-setting quarterback Davis. Fedora moves on to North Carolina, while Davis will try for a shot in the NFL. Both were instrumental in this team's success this season.
What it means for Nevada:
The Wolf Pack played their final game in the WAC, as they head to the Mountain West in 2012. They are now 0-4 in their past four appearances in Aloha Stadium and continue to have key breakdowns on defense late in games. In its past three defeats, Nevada has either been tied or had a lead in the fourth quarter, and lost.
Cody Fajardo
was benched in the second half in favor of
Tyler Lantrip
because he was ineffective, so the Wolf Pack are going to need much more consistency out of him if he is to lead this team going forward.
December, 4, 2011
12/04/11
10:57
PM ET
Nevada Wolf Pack
(7-5) vs.
Southern Miss Golden Eagles (11-2)
Dec. 24, 8 p.m. ET (ESPN)

Nevada take:
Coming off a 13-1 record-breaking season, the Wolfpack started this season 6-3 and in control of the Western Athletic Conference, looking to clinch their second straight conference title. Then they blew a 20-3 home lead to eventual conference champion Louisiana Tech, and they lost by four at Utah State the next week, too. Running back
Mike Ball
was kicked off the team prior to the Utah State team for violating team rules. He had 704 yards and three touchdowns and was a force on kickoff returns as well.
A brutal four-game road stretch to open the season -- which included games against Oregon and Boise State -- led to a 1-3 start, with the lone win coming by three at San Jose State.
Freshman
Cody Fajardo
emerged as the starting quarterback over
Tyler Lantrip
and has completed better than 71 percent of his passes for 1,647 yards and six touchdowns while rushing for 680 yards and 11 touchdowns. Nevada scored at least 37 points in five straight games with Fajardo under center. After two straight losses, the Wolfpack closed the season with a 56-3 win Saturday over Idaho. Their rushing offense, keyed by Chris Ault's vaunted pistol attack, ranks eighth nationally. They averaged more than 522 total yards per game, good for fifth nationally.
---

Southern Miss take:
There's a reason Larry Fedora's name has been mentioned so often for other job openings. He had already led the Golden Eagles to their first 10-win season since 1952 and only their third in school history. It then all culminated with a 49-28 thrashing of undefeated Houston in Saturday's Conference USA title game, giving the Golden Eagles their first-ever 11-win season.
Southern Miss is going bowling for the 10th straight year, the longest active streak in the conference. That is thanks in large part to the play of quarterback
Austin Davis
, who has re-written the school record books and threw four touchdown passes in the victory over the Cougars. He now has the single-season school record for touchdown passes (28) and passing yards (3,331).
Ronnie Thornton's 26-yard interception return for a touchdown in the fourth quarter Saturday was Southern Miss' eighth pick-six of the year, an NCAA record. The defense's quick adjustment to first-year coordinator Dan Disch and his 4-2-5 look has paid dividends early.
"We knew in making that change that there wouldn't be time for a learning curve so we told the kids, 'There is not time for a learning curve you're going to have to spend whatever free time you have learning this system as quickly as possible,' " Fedora said last week. "They all bought in. They were excited about it and they learned it very quickly you have to give credit to Dan Disch and the defensive staff for making things simple."
September, 26, 2011
9/26/11
5:00
AM ET
1. Are you ready to get excited about No. 13 Clemson? The Tigers knocked off Auburn and Florida State, both of them ranked, in consecutive weeks and made it to 4-0. Are you ready? No, I'm not either. Those are impressive wins but they are each easily explained. Auburn is young. Florida State had to play on the road one week after a bruising battle against Oklahoma. If Clemson can maintain its focus after two emotional wins and go on the road to beat No. 11 Virginia Tech, then I'll be impressed.
2. No college head coach is more old school than Chris Ault of Nevada. The Hall of Famer has given fifth-year walk-on quarterback
Tyler Lantrip
every opportunity to be the Wolf Pack starter -- until now. Redshirt freshman
Cody Fajardo
, who split time with Lantrip, rushed for 139 yards and a touchdown and threw for two more scores in the 35-34 loss at Texas Tech. It will be interesting to see how Ault uses them Saturday at No. 4 Boise State, which is looking to revenge the 31-30 loss last year that cost the Broncos a BCS bid.
3. It's official -- the Big East football conference should tell its colleagues at Villanova, "Thanks but no thanks," and invite Temple to rejoin the league. The Big East booted Temple a decade ago because the Owls couldn't sell their tickets. The Owls couldn't sell their tickets because they couldn't compete. That has changed. Al Golden pumped life into the program, and his replacement, former Florida interim coach Steve Addazio, just led the Owls to a 38-7 rout of Maryland. If I were the Big East, I wouldn't wait.
July, 22, 2011
7/22/11
9:00
AM ET
Some of the top non-AQ quarterbacks have more in common this summer than seeing their name put on national watch lists.
Call them the marrying men.
Boise State quarterback
Kellen Moore
is set to get married Saturday to his high school sweetheart in Park City, Utah. He joins two other high-profile non-AQ quarterbacks who already walked down the aisle this offseason --
Jake Heaps
of BYU and
Case Keenum
of Houston. Keenum also married his high school sweetheart, while Heaps married a young lady he met during his freshman year.
Summer must be the season for wedding bells. Oklahoma quarterback
Landry Jones
proposed to his girlfriend this summer. Nevada quarterback
Tyler Lantrip
got married last July.
Having married players on the roster is nothing new at BYU, where many players are older. Heaps put any notion to rest that being married might change him as a player.
"I don't think it's going to change me at all," he said in a recent interview. "There's responsibilities and things I have to take care of with having a wife and focusing on my own family, but as far as football and that goes, she knows that it's a huge part of my life and she's been very supportive of it. She's been through a football season with me and she understands and knows what's going to be required and asked. That was a huge thing for me to see how she was going to react to it. It couldn't have been more perfect. She's always making sure I'm not missing anything. She's been awesome, so as far as that goes I don't think I'm going to change at all. I'm the same person and remain the same person and same type of player.
"Some people go, 'Well, are you going to lose your edge? But you've got guys around the country that are partying and doing all that kind of stuff. What's more of a distraction? It's just who your life partner is and who you're able to be with and do they understand what's required of you and what that all entails. If anything, I'm more focused than I've ever been."
May, 16, 2011
5/16/11
9:00
AM ET
Last week, we asked a series of non-AQ poll questions. Today, I am here to discuss the results. First, we begin with the questions that dealt with the players. The most popular question was: "
Who is the toughest player to replace
?"
TCU quarterback Andy Dalton led the way with 58 percent of the more than 6,400 votes. Nevada quarterback Colin Kaepernick was a distant second with 22 percent of the vote. I understand why fans voted this way because Dalton has meant so much to the Horned Frogs. TCU went to its first two BCS games under Dalton and won a Rose Bowl. But my choice was Kaepernick because TCU has built a national program and likes to think it reloads, rather than rebuilds. Nevada had a special season and it is going to be hard to top what happened in 2010 unless
Tyler Lantrip
can put together another storybook season.
BYU quarterback
Jake Heaps
topped two categories:
Most improved player
and
biggest impact player
. The candidates I selected under impact player came under scrutiny from some fans. Perhaps the question was a bit nebulous because the word "impact" can mean so many different things.
My definition: Which player has the biggest impact on his team. Some wondered why I had Boise State quarterback
Kellen Moore
on the list because he is expected to be just as good as always in 2011. My reasoning is because he has the biggest impact on that team no matter how good he has been in the past. Take Kellen Moore away, and Boise State is not a preseason top-10 team. That is why Houston quarterback
Case Keenum
is on the list. Houston went 5-7 and missed a bowl game without him last season.
Moore did top the
offensive player of the year
voting, while TCU linebacker Tank Carder won the vote for
defensive player of the year
. No surprise there, although some Boise State fans were upset I did not include Broncos defensive tackle Billy Winn among the candidates. Even if I had, I still think Carder would have won the vote.
May, 12, 2011
5/12/11
1:00
PM ET
So which non-AQ player will have the biggest impact in 2011? Let your voice be heard and vote. I am pretty sure I know who is going to win in this category.
It is hard to pick against
Kellen Moore
of Boise State. He is a Heisman Trophy finalist and has helped Boise State make it into a BCS game and will probably have them ranked in the preseason Top 10 once again. Moore is expected to elevate his young receivers because of his experience and his smarts. Another 3,000-yard passing season should be in the offing.
As for the other candidates, I went with three players expected to have good seasons and one wild card in
Tyler Lantrip
of Nevada. He is on the list because I think how he does will largely impact how Nevada does. If he comes right into the Pistol and picks up where Colin Kaepernick left off, the Wolf Pack will win the WAC. If he struggles, then a conference title will be harder to win. The question for Chris Ault in that case is this -- does he stick with a struggling Lantrip, who is a senior, or get redshirt freshman
Cody Fajardo
in if he is the quarterback of the future?
Tank Carder of TCU should be a first-team All-American;
Case Keenum
should put Houston back into a bowl game; and
Jake Heaps
has the potential to get BYU back into the Top 25.
May, 10, 2011
5/10/11
10:00
AM ET
2010 overall record:
13-1
2010 conference record:
7-1 WAC (co-champs)

Returning starters
Offense 6, defense 7, punter/kicker 1
Top returners
WR
Rishard Matthews
, LB James-Michael Johnson, LB Brandon Marshall, S Duke Williams
Key losses
QB Colin Kaepernick, RB
Vai Taua
, DE Dontay Moch, TE Virgil Green
2010 statistical leaders
(* denotes returners)
Rushing:
Taua (1,610 yards, 19 TDs)
Passing:
Kaepernick (233-of-359 for 3,022 yards, 21 TDs, 8 INT)
Receiving:
Matthews* (875 yards, 5 TDs)
Tackles:
Johnson* (88)
Sacks:
Moch (8.5)
Interceptions:
Williams*, Marshall*, Marlon Johnson*, Doyle Miller, Khalid Wooten* (two each)
Spring Answers
1. Lantrip at quarterback.
Though coach Chris Ault didn't anoint
Tyler Lantrip
the starting quarterback, he said the senior was the player to beat going into fall practice. That shouldn't come as a surprise, considering he has spent his entire career backing up Kaepernick.
2. Starting defense is strong.
Ault brought Andy Buh in last season to revamp his defense. Now that unit appears to be the strength of the team going into the fall with seven returning starters, including leading tackler Johnson, Williams and Marshall. Let's not forget tackle Brett Roy, who had eight sacks last season.
3. Matthews looks good.
Matthews had a breakout 2010 and, after what he did in the spring, he should be even better in 2011. He provides the perfect go-to player for Lantrip, who is a better passer than he is a runner. Much will be expected of Matthews this season.
Fall Questions
1. Running back rotation.
Not much was decided this spring on who would step in for Taua, but there are plenty of candidates:
Stefphon Jefferson
,
Mike Ball
, Nike Hale and
Lampford Mark
(who was out for the spring while recovering from a torn ACL).
2. Defensive end.
The Wolf Pack lost two of their best players on the defense in Moch and Ryan Coulson and have not settled on new starters. They took a big hit when Kaelin Burnett broke his pelvis in the spring and was lost for 2011. He was Moch's heir.
3. Leadership.
One of the big reasons why Nevada had the best season in school history is because of the leadership from Kaepernick, Taua, Moch, John Bender and the rest of the senior class. The Wolf Pack are going to need players to step up and be leaders in the same way as the guys who just left.
April, 27, 2011
4/27/11
9:00
AM ET
Here is a look at where Nevada stands headed into the offseason:

Questions answered:
The biggest question was who will replace
Colin Kaepernick
behind center. Though coach Chris Ault has not officially named a starter, he did say
Tyler Lantrip
was the man to beat. Lantrip had a good spring, and went 8-of-18 for 108 yards with one touchdown passing and one rushing in the spring game. Quarterbacks
Mason Magleby
and
Cody Fajardo
also impressed Ault this spring. Receiver looks to be an area of strength with the continued improvement of
Rishard Matthews
, who had an excellent spring after coming on strong in the second half of 2010. This could bode well for the Wolf Pack because Lantrip is better as a passer than a runner. Running back also is an area of depth and strength with the emergence of two more players during the spring -- junior college transfer
Nick Hale
and
Stefphon Jefferson
did well as projected starter
Mike Ball
and
Lampford Mark
sat out most of the drills while they recovered from injuries. This obviously is an important position in the Pistol offense, one that loses 1,000-yard back
Vai Taua
.
Questions unanswered:
The defense showed much improvement last season, but will have some big questions once fall practice rolls around. Starting defensive ends Ryan Coulson and Dontay Moch are gone, leaving bookend holes on the defensive line. Then there was more bad news during the spring. Kaelin Burnett, the heir apparent to Moch, will miss the season with a broken pelvis. Nevada signed five defensive ends, and some are expected to play, including former UCLA signee Rykeem Yates. The good news is defensive tackle Brett Roy had a good spring and linebackers James-Michael Johnson and Brandon Marshall return. What could be a problem on defense is depth, and that could be a big issue in the brutal opening stretch of the season.
Spring stars:
Jefferson had 137 yards and two touchdowns on 10 carries in the spring game. Safety Dean Faddis also had a good spring and a great spring game, with five tackles and a forced fumble.
April, 13, 2011
4/13/11
9:00
AM ET
Nobody has to tell
Tyler Lantrip
about the player he is on the verge of replacing. Lantrip has watched him for years.
[+] Enlarge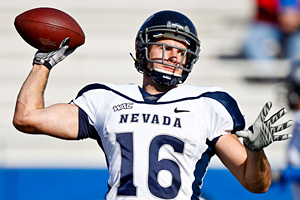 Derick E. Hingle/US PresswireNevada Wolf Pack quarterback Tyler Lantrip has big shoes to fill as the replacement for Colin Kaepernick.
Even before Lantrip and
Colin Kaepernick
ended up at Nevada together, the two worked out during the summers with former California coach Roger Theder, now a quarterbacks guru. It was Theder who told him that Kaepernick was going to Nevada when Lantrip made the same decision.
"Oh, yeah? I'll take Colin down," Lantrip jokingly told Theder.
It did not quite work out that way. Lantrip served as the backup to Kaepernick the past three seasons, watching as the dual-threat quarterback smashed school and NCAA records along the way.
Now Lantrip has his opportunity to start in his final season with the Wolf Pack. He, sophomore
Mason Magleby
and redshirt freshman
Cody Fajardo
are in the middle of a three-man race for the job headed into the spring game Saturday, but coach Chris Ault has made it clear that Lantrip is the front-runner to replace the face of the program.
"I don't feel pressure from outside but I put pressure on myself," Lantrip said in a telephone interview. "I know what we accomplished last season, and I know what it did for this town. That's something I want to do for this city again. I know what it would mean to put together another season like we had. We can't be content with winning the WAC championship. We have to focus on doing it again."
Indeed, Nevada posted the best season in school history in 2010, winning a share of the WAC championship en route to a 13-1 record and No. 11 ranking in the final AP poll. The highlight, of course, was the shocking upset of Boise State. None of that would have been possible without the steely maturity of Kaepernick, who blossomed in his senior season.
Kaepernick learned the Pistol offense on the job, having had the opportunity to start for nearly his entire Nevada career. That allowed him to build toward his incredible 2010 season. Lantrip is headed into his senior season, and has no such luxury. The start to the schedule is also brutal with four straight road games. The Wolf Pack open at Oregon, and also play at Texas Tech and at Boise State.
Lantrip has only thrown 23 passes in his career and carried the ball 24 times. But because he has learned behind Kaepernick and been in this offense for so long, he is best suited for the challenge initially. But he will have to learn how to handle heightened expectations while getting used to a different set of teammates and dealing with questions about Kaepernick.
He deftly answered them during this interview, but there will be more as the season nears. The comparisons are unavoidable when you are replacing a player who did as much for Nevada as Kaepernick did.
As for what he brings to the field, Lantrip is a different style quarterback than Kaepernick. He is more comfortable throwing the ball as opposed to running it, keeping his eyes downfield when he feels pressure in the pocket, as opposed to immediately taking off.
Still, Lantrip has worked on his speed and quickness so he can run a little more. Nevada fans will recall Kaepernick was not a running quarterback when he got to Reno, either. But there will be no mistaking the two in 2011, even if the offense remains relatively similar.
Sitting behind Kaepernick for three years has been a "humbling experience. It has its ups and downs. When you don't get an opportunity to play in a game, it's frustrating at times but that's where my faith comes in. I worked through some of those times knowing my time is coming."
February, 9, 2011
2/09/11
9:00
AM ET
We continue our look at spring quarterback competitions with a look at the WAC. The league has the most turnover of quarterbacks among all the non-AQs. Only Hawaii and New Mexico State return their main starters from 2010.
Nevada
[+] Enlarge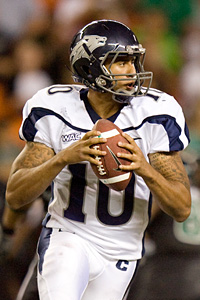 AP Photo/Eugene TannerNevada has big shoes to fill with quarterback Colin Kaepernick headed to the NFL.
Who's out:
Colin Kaepernick
, school and NCAA record-setting quarterback.
Who's in:
Tyler Lantrip
. He has served as Kaepernick's backup for the past several seasons and is a senior, so he should have the knowledge of the Pistol offense to be able to go in right away and attempt to replace Kaepernick. But it's a much different deal when you have to start instead of hold a clipboard. How he handles the job as a starter will go a long way toward determining how far Nevada goes in 2011.
Fresno State
Who's out:
Ryan Colburn
.
Who's in: Derek Carr.
The brother of former Bulldogs quarterback David Carr, Derek comes in with much hype. He played as a backup his true freshman season after battling with Colburn for the starting job, but the coaching staff wisely redshirted him in 2010 to give him three years of eligibility. In his senior year of high school, he threw for more than 4,000 yards and broke more than 20 school offensive records.
Louisiana Tech
Who's out:
Ross Jenkins
.
Who's competing:
Jenkins emerged after Louisiana Tech tried several different players last season. The players to watch going into the spring:
Tarik Hakmi
, who played in three games last season, and junior college signee Zach Griffith from Fullerton C.C.
Colby Cameron
, who played in several games at quarterback last season, could be a possibility, but he moved to receiver after Jenkins won the starting job again last season. Rising redshirt freshman
Taylor Burch
could be in the mix. He also is playing baseball, but is expected to compete in spring football.
Idaho
Who's out:
Nathan Enderle
.
Who's in:
Brian Reader
. He spent the past two seasons backing up Enderle and is now ready to take the starting reigns as a rising senior. The Vandals also have
Taylor Davis
,
Logan Bushnell
and
Justin Podrabsky
on the roster.
Utah State
Who's out:
Diondre Borel
.
Who's competing:
The Aggies are quite young at this position, with
Alex Hart
and
Jeremy Higgins
returning off their freshmen seasons. Higgins served as the backup, but Utah State signed a junior college transfer in Adam Kennedy who will be eligible for spring practice. Kennedy, at 6-foot-5 and 210 pounds played at San Joaquin Delta College in Stockton, Calif., last season, throwing for 1,767 yards in 10 games on 153-of-236 passing with 15 touchdowns and eight interceptions. He also had 368 yards rushing with four touchdowns.
San Jose State
Who's out:
Jordan La Secla
Who's competing:
Matt Faulkner
, a transfer from Fresno State, served as the backup last season but will have healthy competition from rising sophomores
Dasmen Stewart
and
Blake Jurich
. As a senior in high school, Jurich threw for 2,360 yards. Stewart has a redshirt under his belt, so he has been in the program for two years.