November, 12, 2011
11/12/11
7:11
PM ET
STATE COLLEGE, Pa. -- Earlier this week, Nebraska coach Bo Pelini thought Saturday's Penn State game would -- and should -- be canceled.
Running back
Ameer Abdullah
's mother called him, worried about her son's safety when the team traveled to Beaver Stadium.
And the Cornhuskers were constantly reminded all week of the imbroglio they were about to enter every time they turned on the TV or radio or got on the Internet.
Nebraska got roped into the Penn State sex abuse scandal by mere association as the first team to play the Nittany Lions after the story exploded on the national scene. While the Huskers didn't have to deal with nearly as many distractions as Penn State's players did, this still wasn't a normal week for them by any means.
"You talk to them about it, but the fact is there were times it was hard as a coach," Pelini said. "Obviously, the coverage was all over the place; everywhere you turned, that's where the focus was."
But the Huskers managed to keep their focus on the game. There will be much written about how the Nittany Lions battled through their adversity to acquit themselves well in a strong performance. Don't forget the team that actually earned the 17-14 victory, one that showed plenty of grit on the road.
[+] Enlarge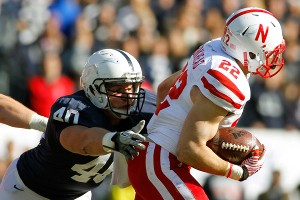 Justin K. Aller/Getty ImagesRex Burkhead rushed for 121 yards and a score against the Nittany Lions.
"You could just feel it before the game," running back
Rex Burkhead
said. "There was something in the air that let you know you were in a different type of game. We did a terrific job of staying away from those distractions."
Penn State actually outgained the Cornhuskers 375-331 in total yards. Both teams had 21 first downs, and both lost fumbles near midfield to set up touchdowns for the other side. So it was a remarkably even game in many ways. Except when it mattered most.
The Nittany Lions had cut a 17-0 third-quarter deficit to a mere three points and faced fourth-and-1 at their 37 in the final two minutes. Naturally, they handed the ball to
Silas Redd
, who had been the Big Ten's best running back in a spectacular October. But Huskers linebacker Lavonte David met him just before the first-down line and pushed Redd backward, a classic mano-a-mano confrontation between two of the league's star players.
One more defensive stand was needed when Penn State got the ball back at its 28 with 49 seconds left. The Lions only got as far as their 46 before running out of time. Nebraska's defensive players were rewarded with their traditional Blackshirts after the Michigan State win but were left black-and-blue in an upset loss last week to Northwestern. They bounced back Saturday.
"We really had to man up," safety Austin Cassidy said. "We had to refocus because we gave up a lot of yards against Northwestern."
Offensive coordinator Tim Beck knew he had to loosen up a Nittany Lions defense that was allowing just 12.4 points per game this season. So he added a few wrinkles, most notably putting Burkhead under center and switching quarterback
Taylor Martinez
to Burkhead's I-back spot a few times. Burkhead was supposed to throw it twice, but the receivers were covered both times.
"Rex is a great thrower," Abdullah said. "He could play quarterback."
Beck is happy just to see Burkhead run the ball like he did Saturday. A week after a disappointing 69-yard day against Northwestern that had fans wondering if Burkhead was worn down, he ran for 121 yards and a touchdown against one of the nation's top defenses.
"He took it personally," Beck said. "He was very upset at himself after last week's game. I'm proud of him."
The new formations were designed to loosen up Penn State's defense, but Nebraska really got going after a listless first quarter when it turned to the option game. Martinez continues to improve his decision-making on the option and made a perfect pitch to Burkhead just before getting dragged to the turf for what turned out to be the decisive touchdown.
"He made some good decisions today," Beck said. "There's some instinct involved in that, but a lot of it is just repetition. He's just got to keep practicing."
The Huskers are lucky that they can just focus on improving in the coming days. They know Penn State has a lot more difficult road ahead. Several of the players expressed empathy for the Lions, and they showed that empathy by joining Penn State in a moving pregame prayer at midfield before the game.
"That helped put everything at ease and let us just play the game," fullback
Tyler Legate
said. "I feel for those guys, and I hope they get over it."
The road win was big for the Huskers, who lost control of their fate in the Legends Division race with the Northwestern loss. They trail Michigan State by one game in the division and need the Spartans to lose at least once in the final two weeks to earn a trip to Indianapolis. That's assuming Nebraska wins out, and it faces another tall challenge on the road next week at Michigan.
"All we can do is worry about us," Cassidy said.
Or at least now they can.
September, 17, 2011
9/17/11
10:14
PM ET
LINCOLN, Neb. -- Nebraska will officially introduce itself to Big Ten play in two weeks at Wisconsin. The league doesn't seem to be getting exactly what it bargained for in the deal.
The Cornhuskers were billed as a dominating defensive squad with a questionable offense. Hardly. They're winning via shootout, leading to this odd quote from linebacker Will Compton after Saturday's
51-38 victory
over Washington:
"Thank God for our offense," he said.
The Huskies seem to bring out the schizophrenia in Nebraska, which played two mirror-image games against Washington last season. In taking the rubber match, Bo Pelini's team showed that it's not all about defense. In fact, sometimes that seems optional.
The Blackshirts ranked among the nation's best in most defensive categories the past two seasons, but they're not leaving too many people black and blue so far in 2011. They've allowed 67 points the past two games and let Washington score three fourth-quarter touchdowns on Saturday after the game looked well in hand.
Huskies players repeatedly broke tackles, and
Keith Price
became the second straight quarterback to bedevil the Nebraska pass rush with his mobility, as Fresno State's
Derek Carr
did last week. Though Pelini said he turned his defensive front loose after building a 44-17 lead, the Huskers managed only one second-half sack (granted, it was a big one, as Cameron Meredith tackled Price on a fourth down in the red zone).
"I wouldn't say it was tough for us to get pressure," defensive lineman Terrence Moore said. "We're keeping our eye out for a lot of things, like the quarterback run."
That raises an obvious question: if athletic quarterbacks pose this many problems, how will Nebraska handle Wisconsin's
Russell Wilson
in two weeks? The Huskers talked confidently in the preseason about roughing up the Big Ten with their defense, but they've gotten sliced and diced by two West Coast teams in the past two weeks. The defense will undoubtedly improve once star cornerback Alfonzo Dennard returns; he warmed up in uniform before the game and appears very close to overcoming a leg muscle injury.
[+] Enlarge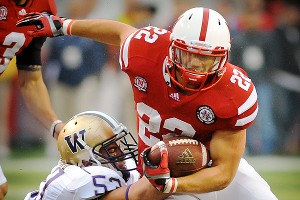 Eric Francis/Getty ImagesRex Burkhead scored two touchdowns and rushed for 120 yards on 22 carries as the offense carried Nebraska to victory.
Yet, as Huskers players gave interviews outside the new weight room Ndamukong Suh helped pay for, they knew guys like Suh wouldn't recognize what's going on.
"All those yards and points, that's unacceptable," Compton said. "We're not at all happy with that."
On the bright side, the offense continues to produce at high levels, and Saturday brought its most consistent effort of the young season.
In the first two weeks, Nebraska was as likely to go three-and-out as it was to score a 50-yard touchdown, and it did a lot of both. Quarterback
Taylor Martinez
had accounted for nearly 80 percent of the total yards.
Offensive coordinator Tim Beck used a more varied attack on Saturday, especially in the second half. Instead of just counting on Martinez to break one, the Huskers got key contributions from running backs
Rex Burkhead
(121 yards and two touchdowns),
Braylon Heard
(34 yards) and
Aaron Green
(36 yards in the fourth quarter). Green, a freshman listed fourth on the depth chart, had only two carries before Saturday.
"We're trying to take some of the load off Taylor," said fullback
Tyler Legate
, who had his own 37-yard run as well as a touchdown catch. "We have enough playmakers that he doesn't have to be the one."
The offensive line, which featured three former walk-ons in the starting lineup, helped establish a much-needed power running game in the second half. Beck said he kept calling the same run with Burkhead in the fourth quarter over and over again, because Washington couldn't stop it.
"I thought it was a good mix," Pelini said of the offense. "There was physicality. We ran the ball at them, we threw the ball, we kept them off-balance. If we execute like that, it's pretty hard to defend us."
Martinez continues to be hard to defend. He threw for 155 yards and ran for 83 against the Huskies, with three total touchdowns. Maybe most importantly, he didn't turn the ball over. Beck said he puts a lot on Martinez's shoulders, expecting the sophomore to change the cadence and tempo and read defenses at the line of scrimmage without help from the sidelines.
"He's done a fantastic job running our offense," Beck said. "I just think the media's been critical of him."
The defense is probably in for much more critiquing this week, especially from the demanding Pelini. But Pelini had mostly praise for his team after Saturday's win.
"We're nowhere close in any respect, in any phase of our game, of where we need to be to be a championship football team," he said. "But I think we're making progress."
Just maybe not the type of progress anybody expected.
September, 17, 2011
9/17/11
6:39
PM ET
LINCOLN, Neb. -- It's safe to say that Nebraska, holding a 44-17 lead in the fourth quarter, will win the rubber match in its third meeting with Washington in a year.
The Cornhuskers offense has been efficient in the second half, and a good sign for them is that it's not all just
Taylor Martinez
. Running backs
Rex Burkhead
,
Aaron Green
and
Braylon Heard
and even fullback
Tyler Legate
all have gotten in on the action as Nebraska has steadily moved the ball on the ground.
The defense is pitching a shutout in the second half, too. Washington had a promising drive end in the Huskers' red zone when
Cameron Meredith
sacked
Keith Price
on fourth down. Credit Nebraska's secondary with good coverage there, too, as Price couldn't find any openings after rolling out on the play.
It's been a very encouraging half for the Cornhuskers, and a very discouraging one for the mistake-prone Huskies. The final score will end up looking a lot like Nebraska's 56-21 win in Seattle last year instead of Washington's 19-7 Holiday Bowl revenge.
November, 21, 2009
11/21/09
6:44
PM ET
By
Tim Griffin
| ESPN.com
LINCOLN, Neb. -- Nebraska and Kansas State used to be the Big 12 North's two Tiffany programs as they combined for every championship game appearance from the division in the first five years of the conference's history.
Neither program has approached the levels of those earlier days. But tonight's winner-take-all battle between the Cornhuskers and Wildcats still will settle who will be playing in Arlington on Dec. 5.
Bo Pelini and Bill Snyder have had their moments over the years. Pelini angrily accosted Snyder after the Wildcats' 38-9 victory in Lincoln in 2003 when he was the Cornhuskers' defensive coordinator when he felt the Wildcats tried to tack on a late touchdown against a young Nebraska defense.
Both have made their amends since then. But their first matchup as rival head coaches will be an interesting one with huge stakes.
Here are some of the things I'll be watching:
For Nebraska:
Follow Legate in the I-formation:
Nebraska has seen much recent success when redshirt freshman fullback
Tyler Legate
was inserted into the lineup. His blocking has helped open holes that have sparked Roy Helu Jr. to back-to-back 100-yard rushing games as the Cornhuskers have run off three consecutive victories. I look for them to utilize a similar offensive strategy – particularly early in the game as they dare KSU to stop them.
Senior Day for the Cornhuskers:
It will be an emotional game tonight for key Nebraska players like Suh, center Jacob Hickman, guard Andy Christensen, linebacker Phillip Dillard, safety Matt O'Hanlon and defensive end Barry Turner who will be concluding their home careers at tonight's game. This group was here to start their careers with Bill Callahan before finishing up with the first two seasons of Pelini's coaching tenure. They've seen the Cornhuskers return to the cusp of another title. Will they be able to get them back there tonight?
Will Cody Green get a call for Nebraska:
If starting quarterback
Zac Lee
struggles early, it will be interesting to see if Pelini and Nebraska offensive coordinator Shawn Watson make a change -- even for a couple of series -- to freshman Cody Green. He's had his moments earlier this season, but lost his job after struggling against Oklahoma. Lee has played with much confidence in the last couple of weeks, so I wouldn't expect the Nebraska coaches to have a quick hook tonight.
Bo's money ball:
If the Cornhuskers can win tonight, it would be worth an extra $150,000 to Bo Pelini for qualifying for the Big 12 title game. He also stands to make an extra $100,000 by taking the Cornhuskers to a Big 12 title and another $100,000 bonus by leading the Cornhuskers into a bowl game.
For KSU:
Protect inside: There will be much pressure against KSU guard Zach Kendall and Kenneth Mayfield and center Wade Weibert to account for Nebraska's talented tandem of defensive tackles Ndamukong Suh and Jared Crick. The middle of the Kansas State defense must do a good job in keeping them away from starting quarterback
Grant Gregory
.
Thomas the Train:
Bullish 227-pound tailback
Daniel Thomas
expected to challenge for the starting job at quarterback when he arrived at Kansas State. Instead, he's become the focal point of the Wildcats' offense in another way. Thomas has accounted for about 35 percent of the Wildcats' offense, leading the team with 1,166 yards. Expect the same kind of use tonight as the Wildcats will try to lengthen their possession with multi-play drives keeping the ball away from the Cornhuskers.
Tackle with abandon:
The Wildcats have been very turnover-productive this season, ranking second in the conference and 19th nationally with a plus-eight turnover ratio. Nebraska has been susceptible to turnovers throughout the season, committing eight against Iowa State. The KSU defense will similarly need a couple of big plays, to take the loud sellout crowd of the game.
Get a cheap touchdown -- or two:
Brandon Banks
needs one more kickoff return to tie the NCAA career record for kickoff returns. With Nebraska's defense likely to be extremely difficult to dent, a special-teams score would be huge. Even if Banks just dictates field position with his returns, it would be important for a KSU team that figures to struggle to producing consistent yardage against the Cornhuskers.