NCF Nation:

Tyler Nielsen
February, 23, 2012
2/23/12
3:30
PM ET
We continue our postseason position rankings today as we move on to the linebackers.
Not surprisingly, Linebacker U takes the top spot, though it was a very close call. Depth helped the top two teams on this list, while star power marked spots Nos. 3 through 5. After that, it's a bit of a dropoff.
Away we go ...
[+] Enlarge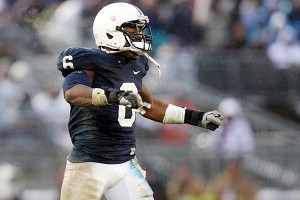 Rob Christy/US PresswireGerald Hodges led a deep group of Penn State linebackers this past season.
1. Penn State:
We thought this group could be the deepest linebacking corps in the league this past season, and that depth proved both true and invaluable when starter
Michael Mauti
went out in the fourth game of the season. Even without him, the Nittany Lions' linebackers played great, led by first team All-Big Ten performer
Gerald Hodges
, who had a breakout campaign. Nate Stupar filled in nicely for Mauti, and
Glenn Carson
was solid in his first year as a starter in the middle.
2. Michigan State:
We wondered in the preseason how the Spartans would replace stars Greg Jones and Eric Gordon. The answer: very nicely, thank you. Sophomores
Denicos Allen
and
Max Bullough
emerged as fierce playmakers, especially on the blitz, and
Chris Norman
provided steady play on the weak side. All three return in 2012 to give Penn State a run for its money as the best group in the league.
3. Wisconsin:
Mike Taylor
and
Chris Borland
were finally healthy in the same season, and what a difference that made. They were a terrific pair, combining for 293 tackles and becoming the only Big Ten duo to average more than 10 tackles per game each. Taylor in particular made great strides.
Kevin Claxton
was overshadowed a bit as the third Badgers linebacker, but that's understandable given the amount of plays Borland and Taylor made.
4. Illinois:
The emergence of Jonathan Brown (108 tackles, 19.5 for loss) as fire-breathing pass-rusher made this unit better than we projected in the preseason.
Ian Thomas
also had a good season at the position with 85 tackles, and
Trulon Henry
rounded out a strong crew before he missed time late following a shooting incident. The Illini defense stayed consistent throughout the team's struggles.
5. Nebraska:
Depth was not a strong suit for the Huskers by any means, but there was no better linebacker in the league and few better in the nation than All-American
Lavonte David
. He had 133 tackles and countless big plays.
Will Compton
came on as the season wore along to provide a good complement to David. Finding consistent play elsewhere at the position was a challenge for Nebraska.
6. Ohio State:
We pegged the Buckeyes at No. 3 in our preseason linebacker rankings, but it wasn't a vintage year for a group that struggled down the stretch drive.
Andrew Sweat
led the way with 72 tackles despite missing two games because of injury, and
Etienne Sabino
had a decent season (62 tackles, 6.5 for loss) if not the breakout season many had predicted. Freshman
Ryan Shazier
announced himself late in the year as a potential star in the making.
7. Michigan:
The Wolverines' defense surprised everyone in 2011, though the defensive line was clearly the vanguard on that side of the ball.
Kenny Demens
led the team with 94 tackles, while freshmen
Desmond Morgan
and Jake Ryan made an immediate impact as starters. This wasn't an overwhelming group, but it was one that mostly did its job.
8. Iowa:
The Hawkeyes had a hard time keeping everybody healthy and consistent, but this spot might have been the best part of their defense.
James Morris
and
Christian Kirksey
tied for the team lead with 110 tackles each, while
Tyler Nielsen
added 73 stops while battling some nagging injuries. The Iowa defense overall was disappointing, however.
9. Purdue:
Danny Hope usually knew what to expect from week to week out of his linebackers: solid, consistent play.
Joe Holland
,
Dwayne Beckford
and
Will Lucas
each had between 82 and 94 stops as the top three tacklers on the team. Lucas and Holland also recorded double-digit tackles for loss. The chief complaint here is that the Boilermakers gave up some big point totals during the season.
10. Minnesota:
The Gophers struggled up front and in the secondary, but linebacker was their most experienced and reliable defensive position, as expected. Veterans
Gary Tinsley
,
Mike Rallis
and
Keanon Cooper
played in every game, and were among the most consistent players on the team. Tinsley led the way with four sacks. Florida transfer
Brendan Beal
was expected to make an impact, but missed the season with a knee injury.
11. Northwestern:
It wasn't a very good year overall for the Wildcats' defense, and linebacker was no exception.
David Nwabuisi
ranked third on the team with 84 tackles, while
Bryce McNaul
was right behind with 76. But Northwestern's starting trio combined for just 2.5 sacks and didn't come up with enough difference-making plays throughout the season.
12. Indiana:
The good news for the Hoosiers was that
Jeff Thomas
was the best player on defense in 2011, finishing with 80 tackles, including 10.5 for loss. The bad news is that he was a senior. Besides Thomas, Indiana was forced to go young at the position, playing freshmen
Chase Hoobler
,
Mike Replogle
and
Mark Murphy
, a safety/linebacker hybrid, at times during the season. Kevin Wilson hopes the experience makes them better in '12, but this is yet another position that needs vast improvement going forward.
July, 14, 2011
7/14/11
3:15
PM ET
James Morris didn't set a goal for number of minutes played as a freshman at Iowa.
He didn't even care which unit -- first team, second team -- he joined on Saturdays. He simply wanted to get on the field. The linebacker ended up appearing in all 13 games, starting the final six, finishing fourth on the squad in tackles with 70.
"It was a pretty awesome experience," said Morris, who added four pass breakups and a sack. "I feel like I got a good jump on most of my competition. I think it'll pay bigger dividends once the season rolls around and I can apply some of that experience."
Morris knows he'll take on an enhanced role for the Hawkeyes' defense this season. He also knows others will have to replicate his rise as Iowa replaces six defensive starters, four of whom were selected in April's NFL draft (Adrian Clayborn, Christian Ballard, Karl Klug and Tyler Sash).
[+] Enlarge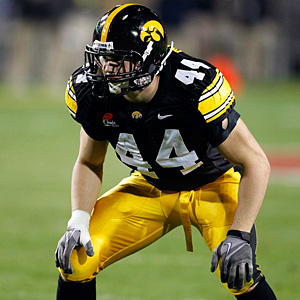 Rick Scuteri/AP ImagesJames Morris looks to build on the experience he gained last season as a freshman.
Iowa entered the 2010 season seemingly with a clear identity on defense, but the unit ended up with mixed results. The Hawkeyes need the opposite to occur this fall -- for a new-look defense to establish its personality and consistently shut down the opposition.
"I feel like we're young, but that's not necessarily a bad thing," Morris said. "We're unproven, and there's a lot of guys on our squad who take offense to that. They want to prove themselves, and I'm hoping people are going to be surprised by what they see with the effort and how determined our guys are to prove what kind of players they are."
Morris began the proving process last season. A rash of injuries at linebacker thrust him into the starting lineup down the stretch, and he recorded 40 tackles in his first four starts.
Like many freshmen, Morris was prone to overthinking things when he first got in games. A National Honor Society member in high school, Morris admits he's "very much" an analytical person.
"You're sort of forced to lead a double life, what's expected of you on the field versus being a civil human being in conversation off the field," he said. "I thought I was doing a pretty good job of not outpacing myself toward the end of the year, as opposed to the beginning, when maybe I was playing a step slow, trying to process everything."
Morris acknowledges he made plenty of mistakes in 2010, but his effort level never wavered. He wants to be a more polished player this fall, especially as he guides the linebackers alongside veteran Tyler Nielsen.
Iowa must build depth around Morris and Nielsen with players like Christian Kirksey, Bruce Davis, Anthony Hitchens and Dakota Getz.
Morris doesn't expect the defense's personality to fully form until the end of training camp, which kicks off next month, but players are motivated to prove themselves and finish games better than they did in 2010.
"A lot of guys on our defense, they're driven and they're determined to improve and create their own identity," Morris said. "Some of them, they feel like last year was somewhat in flux in terms of what our identity was. They're going to come out of camp with a purpose."
July, 5, 2011
7/05/11
3:09
PM ET
Earlier, we took a look at the Big Ten linebackers by position groups. Now it's time to rank the individual players at that spot.
The first and second team All-Big Ten linebackers from both the coaches and media selections last season are all gone. The league isn't flush with established stars at the position, and it's time for a crop of new standouts to emerge. In fact, the top player on our board didn't even play in the Big Ten last season.
Here are how we see them right now:
[+] Enlarge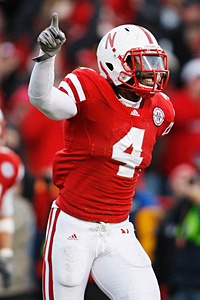 Bruce Thorson/US PresswireNebraska's Lavonte David had a school-record 152 tackles last season.
1. Lavonte David, Nebraska, Sr.:
The league might be light on returning Big Ten award-winners, but David racked up the recognition in the Big 12 in 2010. And with good reason. A junior-college transfer, he had to take on a large role with Will Compton and Sean Fisher injured, sometimes playing as the only linebacker on the field. He responded with a school record 152 tackles. David has gotten stronger in the offseason and will hope his added muscle plus his speed and instincts help him against the more run-oriented Big Ten offenses.
2. Michael Mauti, Penn State, Sr:
If Mauti can just stay healthy, he should challenge for All-Big Ten and perhaps All-America honors. But he missed all of 2009 with a torn ACL and was only able to finish nine games last season because of ankle and shoulder problems. He has been highly productive when not hampered by injuries and should be the leader of a deep and talented bunch for the Nittany Lions.
3. Chris Borland, Wisconsin, Soph.:
Much like Mauti, Borland just needs to stay on the field. He was the 2009 Big Ten freshman of the year after recording 10.5 tackles for loss and five sacks as a rookie. But he missed most of last season and this spring with shoulder problems. The Badgers need him at full strength to live up to their considerable promise this season.
4. James Morris, Iowa, Soph.:
As a true freshman in 2010, Morris had 70 tackles and started six games at middle linebacker. He starred in the Insight Bowl victory against Missouri with seven tackles. Morris looks like a rising star in this league.
5. Gary Tinsley, Minnesota, Sr.:
Tinsley led the Gophers and finished ninth in the Big Ten with 90 stops a year ago in his first season as a starter. He's experienced and productive and should be a leader for a Minnesota defense that's looking to become tougher.
6. Andrew Sweat, Ohio State, Sr.:
Overshadowed by Brian Rolle and Ross Homan, Sweat is now the veteran in the Buckeyes' linebacker corps. He had 41 tackles a year ago, and that number should only rise this season as he takes on more of a leadership role.
7. Ian Thomas, Illinois, Sr:
With Martez Wilson and Nate Bussey moving on to the pro ranks, Thomas needs to hold down the fort. He's got the tools to do so. A starter for the past 25 games, he led the Illini with 95 tackles in 2009 before dipping down to 67 a year ago. He'll have plenty of opportunities to make stops this season.
8. Gerald Hodges, Penn State, Jr.:
We're at the point in this list where it's time to make some projections. Hodges, a converted safety, has shown glimpses of serious potential in limited time. He had a good spring and could be primed to really take off this season. Also watch out for Khairi Fortt among the Nittany Lions linebackers.
9. Jeff Thomas, Indiana, Sr:
Thomas was second on the Hoosiers with 82 tackles a year ago and will be counted on to lead the defense this season. A 100-tackle season is well within reach.
10. Mike Taylor, Wisconsin, Jr.:
Like Borland, Taylor emerged as a star his freshman year in 2009. He has started all 19 games he has played in his career and finished second on the team last season with eight tackles for loss and two interceptions. Getting him and Borland healthy and on the field together would be big for the Badgers.
Just missed: Iowa's Tyler Nielsen, Michigan State's Chris Norman and Max Bullough, Nebraska's Sean Fisher, Michigan's Kenny Demens, Minnesota's Mike Rallis and Ohio State's Etienne Sabino.
July, 5, 2011
7/05/11
1:38
PM ET
It's time to jump back into our preseason position group rankings. We've made our way through the offenses and the front line of the defenses. Now it's time to take a look at the linebackers.
As always, this is a ranking of the entire position group, so depth matters in addition to individual star players.
Away we go:
[+] Enlarge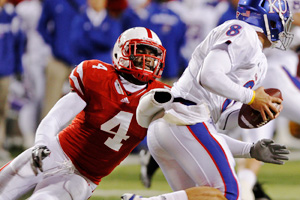 AP Photo/Nati HarnikNebraska's Lavonte David led the Big 12 last season with 152 tackles.
1. Nebraska:
Lavonte David set the school record with 152 tackles last year, best in the Big 12. He also added 15 tackles for loss and six sacks on his way to second-team All-America honors. David was a one-man wrecking crew last year but should get more help this year. Will Compton returns after an injury-shortened season, and Sean Fisher is back after a broken leg cost him all of 2010. With an excellent defensive front leading the way, the Cornhuskers' linebackers should make plenty of impact plays.
2. Penn State:
Is this the return of Linebacker U? The Nittany Lions technically only return one starter at the position but have plenty of talent. The unit got hit by injuries last year, including one that knocked Michael Mauti out of the lineup for several games. He's one of the best in the Big Ten when healthy, which he should be in 2011. Senior Nate Stupar led the team in tackles last year. Sophomores Gerald Hodges and Khairi Fortt are among the skilled youngsters battling for playing time. This could wind up as the deepest linebacking corps in the league.
3. Ohio State:
The Buckeyes lost two starters, including leading tackler Brian Rolle. But the Silver Bullets usually reload at linebacker. Senior Andrew Sweat should emerge as the unit's leader, and hopes are high for Etienne Sabino after he took a redshirt year in 2010. Sabino showed promise this spring and locked down a starting job. The battle is on for the third starting position. Incoming freshman Curtis Grant could make a sudden impact.
4. Wisconsin:
Much depends on the health of Chris Borland, who missed nearly all of 2010 and sat out the spring with a shoulder injury. The 2009 Big Ten Freshman of the Year will move to middle linebacker and should anchor the unit if he's sound. Mike Taylor finished second on the team in tackles for loss and interceptions last year, and Kevin Claxton is expected to take over at the strongside spot. The Badgers like what they have seen from redshirt freshman Marcus Trotter.
5. Iowa:
The Hawkeyes lost a lot of experience from the 2010 team, including leading tackler Jeremiha Hunter. While there's some concern about the leadership void, Iowa has good young building blocks here. James Morris was pressed into service as a true freshman and was terrific; another year of development should only make him better. Tyler Nielsen was missed down the stretch when he suffered a neck injury, and the senior provides a veteran presence. Players like Bruce Davis, Christian Kirksey and Anthony Hitchens need to take on bigger roles.
[+] Enlarge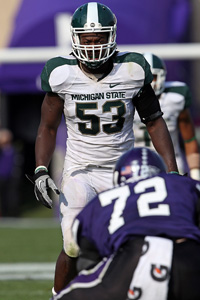 Jonathan Daniel/Getty ImagesReplacing two-time All-American Greg Jones will be a tall order for the Spartans.
6. Michigan State:
It would be difficult to overstate how much the Spartans will miss two-time All-American Greg Jones and Eric Gordon, who combined to start 95 games in their illustrious careers. But life goes on. The lone returning starter, Chris Norman, is a dependable veteran. The Spartans hope Max Bullough and Denicos Allen build on their potential, and TyQuan Hammock inspired confidence with his play this spring.
7. Minnesota:
An experienced linebacker group could be the strength of the Gophers defense this season. All three starters -- leading tackler Gary Tinsley, Keanon Cooper and Mike Rallis -- are back. Rallis needs to stay healthy after only appearing in 12 games the past two years because of injuries. Florida transfer Brendan Beal should provide a boost.
8. Purdue:
The Boilermakers are led by senior Joe Holland, who has 35 career starts under his belt. Junior Dwayne Beckford finished second on the team with 85 tackles a year ago. Will Lucas could break out after an excellent true freshman campaign. Senior Chris Carlino adds veteran depth.
9. Michigan:
The Wolverines struggled defensively last year, and the linebackers shouldered some of the blame. They lost Jonas Mouton to the NFL. Cam Gordon moves down from safety and adds some playmaking ability. Kenny Demens had 82 tackles last year at middle linebacker. Freshman Jake Ryan should contribute right away. This group still has a lot to prove.
10. Illinois:
The Illini have to rebuild after losing a pair of NFL draft picks at the position in Martez Wilson and Nate Bussey. Senior Ian Thomas now becomes the veteran leader. Sophomores Johnathan Brown and Houston Bates -- who had a strong spring -- will be counted on to step forward.
11. Indiana:
Fifth-year senior Jeff Thomas could be the centerpiece of the Hoosiers defense. Another fifth-year senior is Leon Beckum, though he lacks top-end speed. Overall, there isn't a lot of depth here.
12. Northwestern:
Linebacker play was a sore spot last season, and starters Nate Williams and Quentin Davie are gone. Bryce McNaul needs to recover all the way from shoulder surgery and has to stay healthy. Pat Fitzgerald thinks he has some talented young players at the position; they'll need to grow up fast.
April, 8, 2011
4/08/11
6:00
PM ET
IOWA CITY, Iowa -- Greetings from the press box at Kinnick Stadium. Am I early for kickoff?
Unfortunately, football season is about five months away, but Iowa is gearing up for the 2011 campaign in spring practice. I had a chance to visit with head coach Kirk Ferentz and several players earlier today. Most of my Iowa coverage will appear early next week, but there were several interesting nuggets from today.
QUARTERBACK SITUATION

No surprise here, but
James Vandenberg
has established himself as Iowa's No. 1 option. The junior's experience filling in for
Ricky Stanzi
in 2009 certainly helps, but he has continued to make progress this spring after a strong pre-bowl session.
[+] Enlarge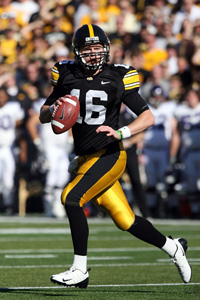 Reese Strickland/US PresswireAs expected, James Vandenberg has taken the lead in the race to replace quarterback Ricky Stanzi.
"James has separated himself from the other two guys," Ferentz said. "And after that, it's a pretty good competition between John [Wienke] and A.J. [Derby]."
Vandenberg's teammates
expressed complete confidence in him
at the start of the spring, and nothing has changed. Barring a significant change between now and Sept. 3, Vandenberg will start the season for the Hawkeyes.
"James is one of those guys, he's not not going to leave the door open too much," Ferentz said. "He really gives himself a chance to be a good player."
LATEST ON RHABDO FALLOUT
Ferentz confirmed that defensive back Willie Lowe, one of 13 Iowa players hospitalized with rhabdomyolysis in January, is not with the team. Lowe and Ferentz last spoke in March before Iowa's spring break, and Lowe's situation with the team is "clearly unresolved," Ferentz said.
Although the school has granted Lowe his release, Ferentz echoed AD Gary Barta in saying he hopes Lowe remains with the team.
The other 12 players remain with the team. There have been non-rhabdo-related injuries within the group that have limited players, but the expectation is all will remain on the squad.
"Everybody's out working, and nobody else has asked for a release," Ferentz said.
Ferentz reiterated his support for head strength and conditioning coach Chris Doyle and Iowa's strength program, which drew criticism after the rhabdo situation.
"Chris Doyle is the top guy I've been around in that realm, and he's widely recognized," Ferentz said. "Chris' name is very highly regarded in the NFL circles, he's had a lot of opportunities to go that route. Fortunately, he's stayed here and I'm very appreciative of that. ... There's no question in my mind he's a huge part of any success we've experienced."
INJURIES
Ferentz mentioned Iowa has 6-8 players who would normally be in the two-deep who aren't practicing this spring because of injuries. Defensive lineman Steve Bigach is out following offseason surgery, and defensive lineman Tom Nardo has been out with a foot injury.
"Those are two older guys we'll have back in the fall," Ferentz said.
Wide receiver
Marvin McNutt
, linebacker Shane DiBona and safety Tanner Miller all are missing the spring with injuries. McNutt looked good walking around the complex Friday and should be fine for preseason camp.
PERSONNEL NUGGETS
It will take some time for Iowa to figure out the secondary for 2011. Micah Hyde, who has played the past two seasons at cornerback, is seeing time at safety this spring, and Jordan Bernstine is being used at both safety and cornerback. Shaun Prater has the left cornerback spot essentially locked down. "If he gets beat out, there's something wrong," Ferentz said. "He's practicing well and performing well." Up to eight players are in the mix for the other three spots.

Ferentz has been pleased with sophomore running back Marcus Coker, who is building off of his superb performance in the Insight Bowl. You never know how success affects young players, but Coker seems to be approaching it the right way. Ferentz noted that if Coker hadn't fractured his collarbone in preseason camp, he could have played a much bigger role in the run game last season. "He showed us a lot about his mental makeup, just how he caught up," Ferentz said. "He did remarkably well from a mental standpoint for all the time that he missed. He's got the potential to be a lot better football player as he moves along."

Ferentz also seems pleased with the spring progress of older defenders like linemen Mike Daniels and Broderick Binns, linebacker Tyler Nielsen and Prater. The offensive line returns three starters and Ferentz noted that Adam Gettis, who would have been a starter if not for injuries last season, has had a good spring.

A final thought from Ferentz on the team: "We're a young team, but we have a good core of seniors that are good players, good leaders and good team guys. We've been pretty enthusiastic about the last couple groups of recruits we've brought on campus. Some of those guys have played and other guys have not played but we feel good about [them]. But I like what I see about the way guys are working. We're not a real good team right now, but I like what I see with the potential they have."
April, 1, 2011
4/01/11
9:00
AM ET
The high point in Iowa's 2010 season marked the end point for one of the Hawkeyes' most improved players.
Tyler Nielsen
seemed to be settling into a groove for the Hawkeyes, providing a much-needed presence in an injury-depleted linebacker corps. He started the first eight games, recording 42 tackles, 4.5 tackles for loss, four pass breakups and an interception.
[+] Enlarge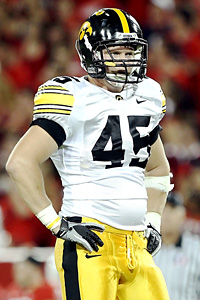 Christian Petersen/Getty ImagesThe Hawkeyes will count on Tyler Nielsen to lead a young group of Iowa linebackers.
But
he hurt his neck while tackling
Michigan quarterback
Denard Robinson
in an Oct. 16 game, and though he played the next week against Wisconsin and recorded a career-best 10 tackles, the injury caught up with him Oct. 30 against Michigan State. Nielsen played most of the first half in Iowa's 37-6 rout before shutting things down. He had suffered a broken vertebrae in his neck, and his season was over.
"We still had a chance to win the Big Ten title at that point," Nielsen told ESPN.com this week. "It was definitely hard to be sitting on the couch at home watching those last four games."
Iowa missed Nielsen as it dropped three of its final four regular-season contests. The Hawkeyes got very young at linebacker and it showed late in the season.
Now recovered from the injury, Nielsen is participating in most of spring practice. Doctors cleared him for full contact in late February, and he's doing all drills but live scrimmaging, just as a precaution.
"I feel like I'm pretty much back," Nielsen said. "Still a little rusty, obviously, because we've had just a few pad practices. But once we get that first hit in, I feel fine. There's no pain in my neck."
Iowa is counting on Nielsen's leadership this fall, specifically for the linebackers but also for the entire defense. Nielsen said himself, defensive linemen Mike Daniels and Broderick Binns and cornerback Shaun Prater are taking the lead for a unit that loses a lot up front and at the safety spots.
Several young linebackers should benefit from being thrown into the fire last fall. Sophomore James Morris entered the spring as Iowa's starting middle linebacker, while sophomores Christian Kirksey and Anthony Hitchens are competing for the starting weakside spot. Sophomore Shane DiBona also is in the mix.
Nielsen will start at strong-side linebacker, if healthy. He hopes to build on an encouraging 2010 campaign.
"I got some experience," he said. "When you're out there in the game, you never know what can happen. It's structured in practice, you've got certain plays you're running. I was just excited to be able to get out there and try to make some things happen."
This fall, he'll get that chance again.
October, 4, 2010
10/04/10
2:01
PM ET
It's time to look back at the first Saturday of Big Ten play before peeking ahead at Week 6.
Note:
I've adjusted the Game Balls section to include players from losing teams who deliver
exceptional
performances. Helmet stickers will continue to go to players
only from winning teams
-- that's been my policy since Day 1 -- but the game balls section is a way to recognize guys who stepped up even though their teams didn't get the job done. You really need to do something special to make the list if your team loses, but it's now possible.
[+] Enlarge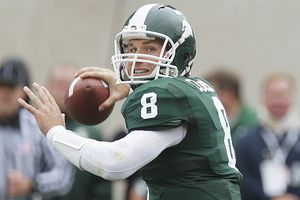 AP Photo/Carlos OsorioKirk Cousins and the Spartans overcame early mistakes to knock off the Badgers.
Team of the Week:
Michigan State. The Spartans overcame three first-half turnovers and the absence of head coach Mark Dantonio to record a convincing win against then-No. 11 Wisconsin on Saturday. A program that has struggled with adversity and mental toughness in the past demonstrated plenty of it throughout the Wisconsin game.
Kirk Cousins
grew as a quarterback, Don Treadwell grew as a playcaller/future head coach and Michigan State grew into a Big Ten title contender. The Spartans ended
John Clay
's 10-game streak of 100-yard rushing performances, and their third-down execution was sharp on both sides of the ball. The fake field goal against Notre Dame provided an emotional lift, but Michigan State will draw a lot more confidence from a 15-play, 84-yard drive to seal the Wisconsin win.
Best game:
Michigan at Indiana
. The game played out as many had forecast, as both quarterbacks surged and both defenses struggled to stop anyone. Quarterbacks
Denard Robinson
(Michigan) and
Ben Chappell
(Indiana) both produced historic numbers, and the teams combined for 77 points and 1,142 offensive yards. Neither team led by more than a touchdown and the game featured five ties before Robinson scored the game-winning touchdown from 4 yards out with 17 seconds left. Northwestern at Minnesota also produced some drama as the Wildcats rallied from eight points down in the fourth quarter to win
29-28
.
Biggest play:
Robinson provided several possible selections with both his legs and his arm, but I'm going with
Jeremy Ebert
's 25-yard touchdown reception in the fourth quarter for Northwestern against Minnesota. Northwestern trailed 28-20 at the time and faced third-and-7. Quarterback
Dan Persa
already had committed two turnovers in the red zone and appeared to make another ill-advised throw on Ebert's touchdown. But Ebert wrestled the ball away from Minnesota's Ryan Collado on the jump ball and Northwestern ended up rallying for the win. Another play worth mentioning is Cousins' fourth-down touchdown pass to
B.J. Cunningham
to put Michigan State up 10 points with 2:43 left. Cousins had wanted to run the play in two other games, only to be turned down. "I guess this was the moment to have it," he said afterward.
Specialist spotlight:
Michigan State's
Keshawn Martin
made the biggest special-teams play around the league Saturday when he returned a Brad Nortman punt 74 yards to the end zone. Wisconsin led 10-6 in the second quarter before Martin's electrifying runback. Martin, who ranked in the league's top five in both kick returns and punt returns last season, appears to be the league's top return man. Iowa punter Ryan Donahue had a nice night, placing three punts inside the Penn State 20-yard line with a long of 53 yards. Illinois punter Anthony Santella continued his stellar season (47-yard average against Ohio State), and Michigan punter Will Hagerup made the most of limited opportunities at Indiana. Northwestern's Stefan Demos converted the game-winning 27-yard field goal.
Coolest image:
Iowa fans deserve a shoutout after making Kinnick Stadium look
like this
Saturday night. The black and gold stripes were well coordinated and well executed.
Game balls
(given to players not selected for helmet stickers):
Indiana QB Ben Chappell: Chappell set school records with 45 completions, 64 attempts, 480 pass yards and 475 yards of total offense against Michigan. He became just the second Indiana player to eclipse 400 pass yards in a game and tied for the third most completions in Big Ten history. Chappell set a team record with his sixth career 300-yard passing performance and tossed three touchdowns to extend his streak of games with multiple touchdown passes to eight.

Michigan State LB Greg Jones: A week after recording the first two interceptions of his college career, Jones returned to his blitzing role against Wisconsin and recorded three tackles for loss, eight total tackles and a quarterback hurry in the 34-24 win.

Ohio State DE Nathan Williams: The Buckeyes' defense showed up in a big way in the second half at Illinois, and Williams recorded nine tackles, including 1.5 sacks and two tackles for loss. He also had a quarterback hurry as the Buckeyes pressured Nathan Scheelhaase.

Iowa CB Shaun Prater: Prater recorded his fourth career interception against Penn State and returned it 33 yards for a touchdown to make any thought of a Penn State rally obsolete. He shares the game ball with fellow defenders Tyler Nielsen (four passes defended), Karl Klug (two tackles for loss) and James Morris.

Michigan WRs Roy Roundtree and Junior Hemingway: The Wolverines wideouts share a game ball after combining for eight receptions, 255 yards and two touchdowns against Indiana. Roundtree had a 32-yard touchdown grab and a 74-yard gain, while Hemingway recorded a 70-yard touchdown grab in the third quarter.

Indiana WR Tandon Doss: The junior recorded career highs in both receptions (15) and receiving yards (221) in the loss to Michigan. He had the fourth-highest receiving yards total in team history and set a career high in all-purpose yards with 363, which included 111 on kick returns.

Wisconsin DE J.J. Watt: Watt continued his push for Big Ten Defensive Player of the Year honors Saturday in East Lansing. He was all over the field and recorded a game-high 10 tackles, 2.5 tackles for loss, a sack and a tipped pass that wound up as an interception for teammate Devin Smith. Watt has been a beast this season.

Minnesota CB Michael Carter: The Gophers didn't deliver a great defensive performance against Northwestern, but Carter came up with several huge plays. He recorded a team-high 11 tackles with an interception, a forced fumble near the goal line and a tackle for loss.
OK, deep breath. Now let's take a quick look at Week 6.
Indiana (3-1, 0-1 Big Ten) at No. 2 Ohio State (5-0, 1-0):
It'll be strength vs. strength as Indiana brings the Big Ten's top pass offense against the league's top pass defense in Ohio State, which begins life without safety/linebacker Tyler Moeller. Chappell and his receivers provide a very good test for the Buckeyes defense, while Ohio State's running backs should gain some confidence against an Indiana D that can't stop the run.
Illinois (2-2, 0-1) at Penn State (3-2, 0-1):
This game looks a little more interesting than it did before the season. Illinois has upgraded its defense under new coordinator Vic Koenning, while Penn State's offense continues to struggle with inconsistency and red zone inefficiency. After falling out of the national rankings, Penn State can't afford another step back. Keep an eye on the matchup between two promising young quarterbacks, Illinois' Scheelhaase and Penn State's Rob Bolden.
Minnesota (1-4, 0-1) at No. 20 Wisconsin (4-1, 1-0):
The
coolest trophy
in college sports is at stake, which adds to an otherwise uninspiring matchup. Minnesota's season is on life support after failing to claim a game pretty much handed to it by Northwestern. An upset victory in a trophy game would mean a lot for coach Tim Brewster and seniors like
Adam Weber
. Wisconsin must rebound from a poor road showing against Michigan State and get more from its experienced offensive players.
No. 17 Michigan State (5-0, 1-0) at No. 18 Michigan (5-0, 1-0):
I'm so excited for this one. The in-state rivalry is spicy enough, but this year's meeting brings new storylines like two top-20 rankings, Heisman Trophy candidate Robinson and the health situation involving Dantonio. Michigan State aims for its first three-game win streak in the series since 1965-67. Robinson faces his biggest test of the season with Jones.
Purdue (2-2, 0-0) at Northwestern (5-0, 1-0):
After surviving a mistake-ridden game at Minnesota, Northwestern will be favored to record its first 6-0 start since 1962. The Wildcats face an injury-ravaged Purdue team that turns to redshirt freshman
Rob Henry
at quarterback. The Boilers come off of a much-needed bye week but will need a strong performance from Ryan Kerrigan and the defense to slow down Persa and the Wildcats' attack.
Bye:
No. 15 Iowa (4-1, 1-0)
August, 17, 2010
8/17/10
1:34
PM ET
It's time to take a look at the top five linebacker units in the Big Ten this fall.
1. Ohio State:
The Buckeyes boast two of the Big Ten's top 10 linebackers in Ross Homan and Brian Rolle, and they also have good depth. Homan might have been the league's most underrated defender in 2009 after tying for fourth in the league in interceptions (five) and finishing eighth in tackles (8.3 per game). Rolle makes up for his lack of size with speed and explosiveness. Ohio State's supporting cast includes Etienne Sabino, Andrew Sweat, Dorian Bell and others.
2. Michigan State:
Back-to-back Big Ten preseason Defensive Player of the Year Greg Jones enters the season as the frontrunner to win the Butkus Award. But he's not alone on what should be a loaded linebacking corps. All-Big Ten candidate Eric Gordon has played a ton of football alongside Jones, and the coaches were pleased with Chris Norman this spring. Hopes are extremely high for true freshmen William Gholston, the Big Ten's top-rated recruit, and Max Bullough. It's clear to see why the Spartans are moving closer to the 3-4.
3. Wisconsin:
Health remains a concern, as
Mike Taylor's knee problems will linger
and Chris Borland comes off of shoulder surgery, but Wisconsin has plenty of talent here. Borland is a rare, do-everything player who won Big Ten Freshman of the Year honors in 2009. Taylor likely would have contended for the same award if not for a torn ACL against Iowa. The Badgers also bring back Culmer St. Jean and Blake Sorensen.
4. Northwestern:
As a College Football Hall of Fame linebacker, Northwestern head coach Pat Fitzgerald loves the look of this group. Senior Quentin Davie is a bona fide NFL prospect who has consistently reached the offensive backfield throughout his career. Middle linebacker Nate Williams enters his third year as the starter, and the coaches have solid options in Bryce McNaul, Ben Johnson and David Nwabuisi. Fitzgerald says this is the most linebacker depth Northwestern has had in his tenure.
5 (tie). Iowa and Penn State:
These teams combine to lose five All-Big Ten 'backers from 2009, including first-team selections Pat Angerer (Iowa) and Navorro Bowman (Penn State). But both have historically reloaded at linebacker, and this year should be no different. Iowa's Jeremiha Hunter returns for his third year as a starter, and Jeff Tarpinian and Tyler Nielsen are primed for bigger roles. Troy Johnson and Bruce Davis are two other names to watch, and hopes are high for freshman James Morris. Penn State loses all three starters, but Nate Stupar and Bani Gbadyu have played a lot of football. Michael Mauti's return from an ACL injury and Penn State's strong recruiting at linebacker also elevate hope for the group.
Next up:
Secondary
More rankings ...
February, 26, 2010
2/26/10
11:00
AM ET
Let's take a look at three issues facing each Big Ten team heading into spring practice:

ILLINOIS
Spring practice starts:
March 30
Spring game:
April 24
What to watch:
The quarterback competition. Four-year starter Juice Williams departs, and a host of young players (and one older one) are in the mix to replace him. New offensive coordinator Paul Petrino wants to shape his system around the starting signal-caller, so he'll be looking for some separation this spring. Jacob Charest got valuable playing time behind Williams in 2009, and Eddie McGee, a part-time wide receiver, has extensive playing experience at quarterback. They'll compete with redshirt freshman Nathan Scheelhaase and true freshman Chandler Whitmer, an early enrollee.
Fixing the defense. New defensive coordinator Vic Koenning brings an impressive résumé to Champaign, but he'll be challenged to fix a unit that hasn't been right since J Leman and Co. left following the Rose Bowl run in 2007. Koenning wants to identify leaders on defense this spring and will look to players like end Clay Nurse and linebackers Ian Thomas and Martez Wilson. Illinois' most pressing needs likely come in the secondary after the team finished 100th nationally against the pass in 2009.
Line dance. Illinois needs to get tougher and better on both lines to turn things around in 2010. The Illini tied for eighth in the Big Ten in sacks allowed last fall, and while the run game got going late, top lineman Jon Asamoah departs. Perhaps a bigger priority is finding a pass rush on defense after finishing last in the league in both sacks and tackles for loss in 2009.

INDIANA
Spring practice starts:
March 23
Spring game:
April 17
What to watch:
Rebuilding the back seven on D. Indiana loses three starters in the secondary and two linebackers, including blog favorite Matt Mayberry. The Hoosiers brought in three junior college defenders, two of whom, linebacker Jeff Thomas and cornerback Lenyatta Kiles, will participate in spring practice. Needless to say, jobs are open everywhere, and coordinators Brian George and Joe Palcic will be looking for playmakers to step up. Several players are moving from offense to defense, including wideout Mitchell Evans to safety.
End game. Indiana loses a lot of pass-rushing production as multiyear starters Jammie Kirlew and Greg Middleton depart. Both starting jobs at defensive end are open this spring, and IU will look to Darius Johnson, Terrance Thomas and others to step up and make plays.
Willis watch. Indiana hopes 2010 is the year when running back Darius Willis becomes a superstar. Getting him through spring practice healthy will be a key first step. Willis has been impressive on the field, but he has struggled with injuries for much of his career. IU's passing attack should be very strong in 2010, and if Willis can elevate the run game, the Hoosiers should put up a ton of points.

IOWA
Spring practice starts:
March 24
Spring game:
April 17
What to watch:
The offensive line. Rebuilding the offensive line is far and away Iowa's top priority heading into the 2010 season. The Hawkeyes are stacked at running back and boast a strong passing attack, but they'll struggle if things aren't solidified up front. Tackle/guard Riley Reiff blossomed last season and guard Julian Vandervelde also returns, but Iowa will look to fill three starting spots this spring.
Refilling at linebacker and cornerback. Iowa's defense has been one of the nation's most opportunistic units the last two seasons, and players like Pat Angerer, A.J. Edds and Amari Spievey were three big reasons why. All three depart, so Iowa needs to reload at linebacker and find a shut-down corner (Shaun Prater?). The spotlight will be on guys like Prater, Tyler Nielsen and Jeff Tarpinian this spring.
Sorting out the running back spot. Iowa is absolutely loaded at running back, but there's only one ball to be carried on a given play. The Hawkeyes likely will use a rotation in 2010, but who will be the featured back? Jewel Hampton will try to reclaim the top spot, which he lost because of a knee injury last summer. Adam Robinson filled in extremely well for Hampton in the lead role, and Brandon Wegher was one of the heroes of the Orange Bowl win.

MICHIGAN
Spring practice starts:
March 14
Spring game:
April 17
What to watch:
Defense, defense, defense. Head coach Rich Rodriguez always will be known for his spread offense, but he won't be around much longer at Michigan if the defense doesn't significantly improve. A unit that ranked 82nd nationally last season loses its two best players (Brandon Graham and Donovan Warren) and must find contributors at linebacker, safety and cornerback. Help is on the way from the 2010 recruiting class, but Michigan can't afford a bad spring on defense.
Devin Gardner. The heralded quarterback recruit enrolled early and will enter the mix this spring. Tate Forcier and Denard Robinson are the front-runners at quarterback, but Gardner might be the ultimate answer for the Wolverines. His ability to pick up the system and push Forcier and Robinson this spring will determine whether he sees the field in the fall or takes a redshirt.
Running back. Carlos Brown and Brandon Minor depart, but Michigan once again should be good at the running back spot. Vincent Smith will miss spring ball as he recovers from knee surgery, but several others, including Michael Shaw and Fitzgerald Toussaint, will be competing throughout the 15 workouts. Shaw, who scored two touchdowns on 42 carries in 2009, could create a bit of separation with a good spring.

MICHIGAN STATE
Spring practice starts:
March 23
Spring game:
April 24
What to watch:
Team morale. The residence hall incident and the subsequent fallout really rocked the Michigan State program. Head coach Mark Dantonio has yet to address the status of several suspended players, and the final outcome could impact the depth chart, particularly at wide receiver. It's important for Michigan State's team leaders -- Greg Jones, Kirk Cousins and others -- to unite the locker room in the spring and do all they can to prevent further problems.
Line dance. Michigan State needs to improve on both the offensive and defensive lines in 2010, and it all starts this spring. The Spartans must replace left tackle Rocco Cironi and center Joel Nitchman, and they also lose top pass-rusher Trevor Anderson at defensive end. As strong as the Spartans should be at the skill positions, they need to start building around linemen like Joel Foreman and Jerel Worthy.
Keith Nichol. The versatile junior could be moved to wide receiver, but he'll get a chance to push Cousins at quarterback this spring. Nichol's skills are too valuable to waste on the sideline, particularly if Michigan State has a pressing need at receiver, but he still could be a factor at quarterback if his improves his accuracy. The speedy Nichol could run the Wildcat in addition to serving as a wide receiver, if MSU chooses to go that route.

MINNESOTA
Spring practice starts:
March 23
Spring game:
April 24
What to watch:
The coordinator and the quarterbacks. Minnesota will welcome its third offensive coordinator in as many seasons, though Jeff Horton doesn't plan to overhaul the system like Jedd Fisch did a year ago. Horton's primary task will be developing quarterbacks Adam Weber and MarQueis Gray, who both struggled last fall in the pro-style system. Weber has the edge in experience, but he needs to regain the form his showed in his first two seasons as the starter. Gray brings tremendous athleticism to the table but must prove he can succeed in a pro-style offense.
The offensive line. Head coach Tim Brewster has insisted that when Minnesota gets the offensive line on track, things really will get rolling. The Gophers need better players and arguably tougher players up front, and the line should benefit in Year 2 under assistant Tim Davis. The group should be motivated by finishing last in the Big Ten in rushing in each of the past two seasons.
Young defenders. Minnesota loses most of its starting defense from 2009, but fans are more excited about the young talent returning on that side of the ball. Spring ball could be huge for players like Michael Carter, D.L. Wilhite and Keanon Cooper as they transition into leading roles. The Gophers' biggest losses come at linebacker, as all three starters depart.

NORTHWESTERN
Spring practice starts:
March 29
Spring game:
April 24
What to watch:
Identify a running back. The Wildcats produced an impressive string of standout running backs under former coach Randy Walker and at the beginning of Pat Fitzgerald's tenure, but they struggled in the backfield in 2009. Northwestern returns the Big Ten's most experienced offensive line, so identifying a primary ball carrier or two this spring is vital. Arby Fields and Scott Concannon showed a few flashes last year but must get more consistent, while Mike Trumpy will be an interesting addition to the mix.
Polishing Persa. Dan Persa steps in at quarterback for second-team All-Big Ten selection Mike Kafka, and he'll try to walk a similar career path. Kafka transformed himself in the offseason a year ago to become an extremely consistent passer, and Persa will need to do the same. Persa could be the best running quarterback Northwestern has had since Zak Kustok, but his size and the nature of the offense suggests he'll need to make strides with his arm. NU also needs to see progress from backup Evan Watkins, as it lacks overall depth at quarterback.
Reload in the secondary. Northwestern loses three starters in the secondary, including all-conference selections Sherrick McManis and Brad Phillips. Fitzgerald will lean heavily on cornerback Jordan Mabin and safety Brian Peters to lead the group, but he needs a few more players to emerge this spring. Defensive backs like Justan Vaughn have experience and must transition into featured roles.

OHIO STATE
Spring practice starts:
April 1
Spring game:
April 24
What to watch:
Running back competition resumes. Brandon Saine and Dan Herron finished strong in 2009, but they can't get too comfortable. Several young running backs, including Jordan Hall, Jaamal Berry, Jermil Martin and Carlos Hyde, will be competing for carries this spring. Saine likely has the best chance to lock down a featured role at running back, but if the hype about Berry pans out, it'll be a dogfight.
Pryor's evolution. After Ohio State's victory in the Rose Bowl, both Terrelle Pryor and Jim Tressel talked about the game being a key juncture in Pryor's development. The junior quarterback must build on his performance this spring, especially from a passing standpoint. Ohio State can be a more balanced and more effective offense in 2010, but Pryor needs to keep making strides.
Safety squeeze. The Buckeyes didn't lose much from the 2009 team, but the safety spot took a hit as first-team All-Big Ten selection Kurt Coleman as well as key contributor Anderson Russell depart. Jermale Hines looks like the answer at one spot, and he'll enter the spring with high expectations. Ohio State needs to build around Hines and identify playmakers for an increasingly opportunistic unit.

PENN STATE
Spring practice starts:
March 26
Spring game:
April 24
What to watch:
Quarterback, quarterback, quarterback. No surprise here, as Penn State's quarterback competition will be one of the Big Ten's top storylines until September. Two-year starter Daryll Clark departs, leaving a major void under center. Sophomore Kevin Newsome played a bit last fall and has been in the system for a full season. He'll enter the spring with a slight edge, but Matt McGloin and early enrollee Paul Jones also will be in the mix before Robert Bolden arrives this summer.
Getting better up front. All-America candidate Stefen Wisniewski leads an offensive line that will have more experience and needs to make strides this spring. The line struggled against elite defensive fronts last year (Iowa, Ohio State) but should have more cohesion after another offseason together. The tackle spots will be interesting to watch, as Dennis Landolt departs. Penn State's defensive line needs to shore up the middle after losing Big Ten co-Defensive Player of the Year Jared Odrick.
Linebacker U. put to the test. Penn State has a proven track record of reloading in the defensive front seven, but it loses a lot of production, especially at linebacker. All three starting spots are open this spring, and the spotlight will turn to players like Nate Stupar, Bani Gbadyu, Chris Colasanti and others to fill the production and leadership gaps left by Sean Lee, Navorro Bowman and Josh Hull.

PURDUE
Spring practice starts:
March 24
Spring game:
April 17
What to watch:
Marve watch begins. The starting quarterback job is open, and all eyes will be on Miami transfer Robert Marve. One of the nation's most decorated recruits in 2007, Marve started for the Hurricanes in 2008 but ran into problems and transferred. Slowed by an ACL injury last summer and fall, Marve will have every chance to establish himself this spring as he competes with Caleb TerBush.
Wide-open secondary. All four starters depart in the secondary, creating plenty of competition back there this spring. Players like safety Albert Evans and cornerback Charlton Williams will be in the spotlight as they try to nail down jobs. Purdue should be better in the front seven in 2010, but you can bet opposing quarterbacks will attack an unproven secondary.
The run defense. It's a huge priority for Purdue to improve against the run after finishing last in the Big Ten in rush defense in each of the past two seasons. Linebacker Jason Werner's return for a sixth year is huge, and Purdue boasts one of the Big Ten's top D-linemen in Ryan Kerrigan. Those two must provide leadership and foster more cohesion from the younger players around them. New D-line coach Gary Emanuel will be instrumental in the process this spring.

WISCONSIN
Spring practice starts:
March 13 (break from March 29-April 2)
Spring game:
April 17
What to watch:
The secondary. Wisconsin looks pretty solid on the defensive line and at linebacker, so getting the secondary up to par will be key this spring. Safety Jay Valai is a vicious hitter, but can he become an All-Big Ten-caliber safety? Aaron Henry joins Valai at safety after struggling at cornerback in 2009. Wisconsin also will look for continued progress from corners Devin Smith and Niles Brinkley.
Replacing Schofield. Bret Bielema told me earlier this week that the competition at defensive line is once again heating up this offseason. Wisconsin must replace first-team All-Big Ten end O'Brien Schofield, who ranked second nationally in tackles for loss (24.5) in 2009. J.J. Watt has superstar written all over him, but Wisconsin will look for more pass-rush ability from David Gilbert and Louis Nzegwu.
The wide receivers/tight ends. Wisconsin showed at times last fall that its passing attack could be dynamic, and it will look for big things from several players this spring. Wideout Nick Toon certainly has what it takes to be a star in the Big Ten, and Lance Kendricks showed in the Champs Sports Bowl that he's a capable successor for Garrett Graham at tight end. The Badgers will look to David Gilreath, Isaac Anderson and Kyle Jefferson to fill the No. 2 wideout spot.